When it comes to warmth, wool is usually the first thing that comes to mind. But, when you're vegan, how do we figure out which alternatives to wool socks will keep our feet from freezing?
Are we destined to wear ferns to cover our feet or plastic bags for protecting our tender toes? No way! You'll get a kick out this list of five awesome vegan wool socks that we've compiled for you, just in time for winter.
Why Worry About Wool?
Some might say that wool is nothing to worry about, that it's"natural" or eco-friendly. Though this may be true to some extent, sheep definitely have a different take on it.
While a sheep might not be killed for their wool, it's usually a painful (and often fearful) process. Sheep are also bred to grow unnatural amounts of fiber, which their body has a hard time carrying—both the weight and heat of their wool cause daily distress.
If you're confused about how wool is not cruelty-free, please see our article:
8 Reasons Why Wool Isn't as Innocent as You Think.
Cruelty-Free Sock Materials
So you're wondering, "What will keep my feet warm without being made of wool?" We're glad you asked! The fabrics below are the perfect cruelty-free alternatives to wool socks.
All plant materials (bamboo, cotton, hemp, rubber)
All synthetic materials (polyester, nylon, spandex, acrylic, elastane)
Specialty materials (Coolmax, Lycra, Repreve)
Hikers, runners, and athletes should choose socks that are mostly synthetic or made of specialty fabrics. When you're moving around for many hours on your feet, you need to steer clear of cotton-heavy fabrics since cotton holds in moisture and can lead to blisters and chafing.
For everyday wear, plant fiber fabrics are the better choice. They're breathable, comfortable, and also more affordable. Remember to buy socks that are your size (or even a little bigger) to give your toes room to move. Tight socks prevent the warm air from moving around and can make your toes lose their toastiness.
Super Vegan Wool Socks for Serious Warmth
These awesome alternatives to wool socks will be wonderfully warm for the winter ahead. Choose your favorite fabric and fit to fill your shoes with snuggly softness. All of these socks are suitable for everyday wear with both sneakers and boots.
Important note! These are not necessarily fully-vegan brands, but the socks we're featuring here are vegan. Double check the materials label to ensure there is no wool or merino wool.
Why we like them: A Certified B Corporation* that donates a pair of socks for each pair that you buy. These socks will keep your feet cool in the summer and warm in the winter and come in calf & quarter sock lengths. They are fully cushioned on both leg and foot with major moisture-wicking properties and a nice, neutral color selection.
Materials: 62% Cotton, 31% Polyester, 3% Nylon, 3% Rubber, 1% Spandex
Price: $16 per pair (multipacks are available)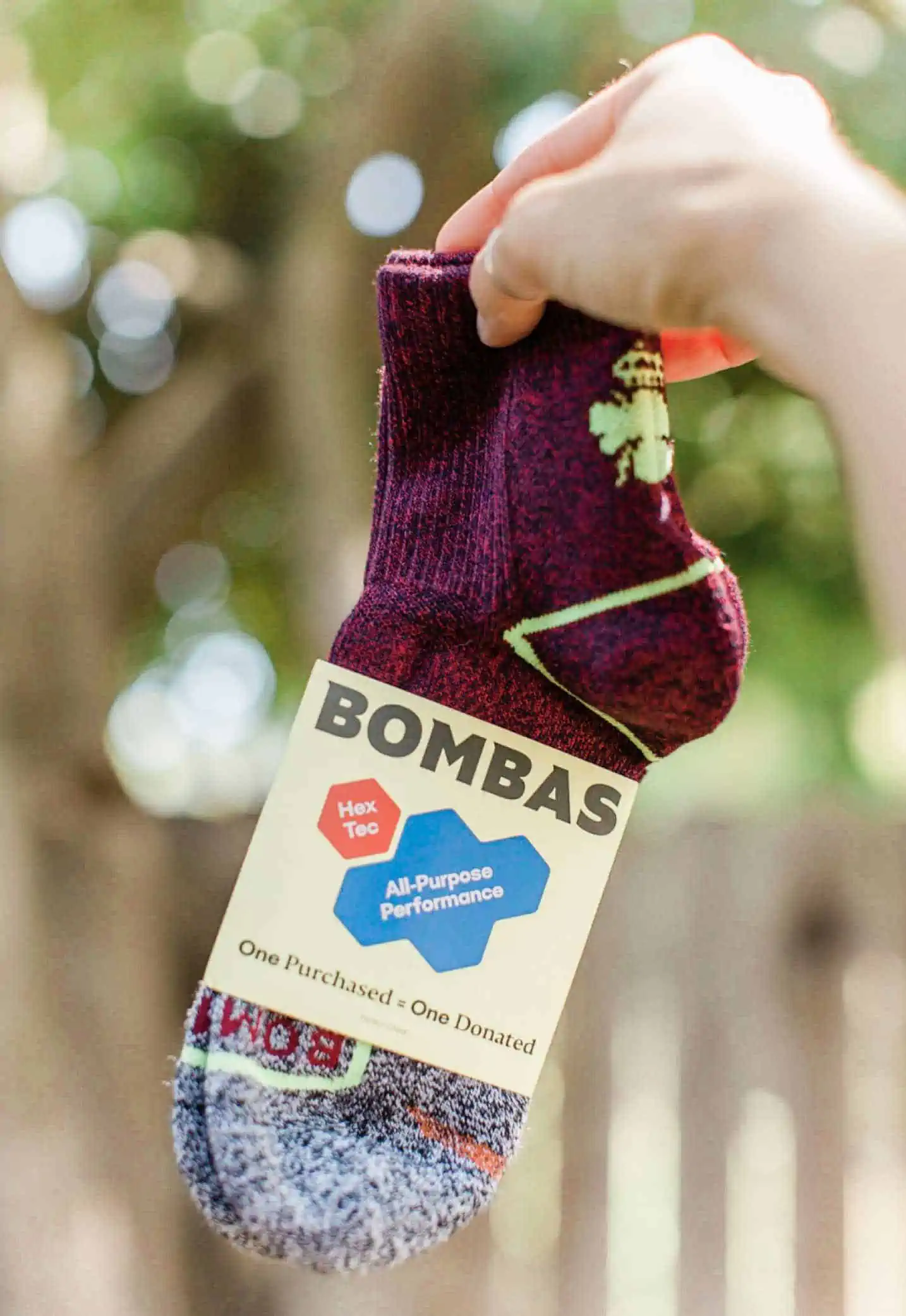 Patagonia Hemp Socks
Why we like them: Patagonia is setting high bars as a true business for good. In 2022 Patagonia made headlines when the founder, rock climbing billionaire Yvon Chouinard, announced that he would be giving away (essentially donating) the entire company. He put the company into a trust and nonprofit organization to ensure all of the profits will continue to go toward combatting climate change and protecting our planet.
Now, about the socks! Hemp is not only one of the most eco-friendly materials, but it's also breathable and durable. Patagonia also utilizes 70% recycled fabrics in these socks, which is a big win for our planet. These socks are comfortable and vegan!
Materials: 35% recycled cotton, 35% recycled polyester, and 30% hemp vegan yarn.
Price: $22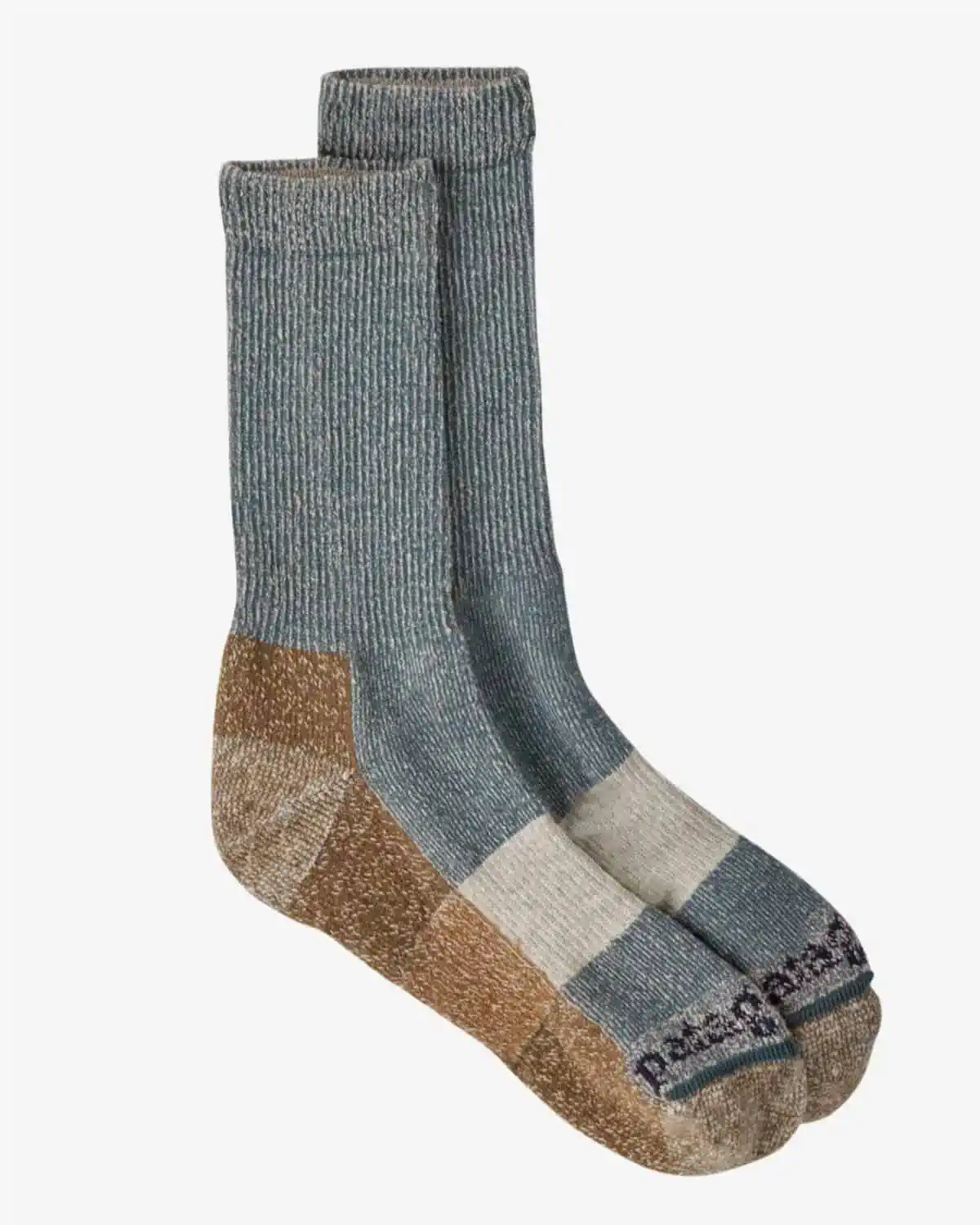 Why we like them: This Vermont-based company guarantees their socks for life, no questions asked. Darn Tough is committed to uncompromising durability, comfort and fit with all of their socks.
These super socks are made to satisfy with no slipping, bunching or blisters. Fast-drying, naturally antimicrobial, and can hold up most weather conditions. Though these socks are the priciest of the bunch, they've got rave reviews online and seem to be well worth the investment.
Materials: 39% Nylon, 34% Coolmax® Polyester, 19% Acrylic, 5% Polyester, 3% Lycra® Spandex
Price: $21-$24 per pair
Why we like them: EcoSox is a partner with the One Tree Planted non-profit organization and plants one tree for each stamped product that is sold. They not only offer socks for leisure and athletics, but also have specialized socks for compression and those with diabetes.
With multiple leg styles—four types of low-profile, crew, and over-the-calf—you'll easily find a type that'll work for you. The bamboo material traps and holds in heat, while the arch support and moisture-wicking materials keep your feet dry, blister-free, and supported all day long.
Materials: 40% Bamboo Viscose, Acrylic, Polyester, Spandex
Price: $12 per pair
Why we like them: Easily purchased on Amazon, these fantastic socks are filled with a furry fleece. The company guarantees their insulated socks will keep your feet warm and cozy, even in extremely cold temperatures.
Super cute and great for gifts, these themed thermal socks are free from itchiness and irritation. They should not slide down during sports or while showing off, sashaying, or shimmying around.
Materials: 91% Acrylic, 8% Polyester,1% Spandex
Price: $11-18 per pair
Why we like them: Also available on Amazon, these wildly warm socks are completely wool-free and super soft. They're offered in both men and women's sizes with a variety of sassy styles. Easy to care for, too—a quick machine wash and dry and they're ready to go!
We love that you can also choose from other foot hugging options such as luscious lounge socks, cozy cabin socks, and even slouchy slipper socks! (ooooh!) Best buy a pair of each, right?
Muk-Luks also has a huge variety of stylish vegan boots, vegan uggs, slippers, and other vegan shoes.
Materials: 91% Acrylic, 8% Polyester,1% Spandex Upper
Price: $16-30 per pair
Why we like them: Not only perfect for hiking, but also the next level up in warmth for severe weather. The extra layer of cushioning helps to avoid blisters and also allows your tootsies total breathability. We love that these socks have added arch support and a padded instep for all-day wear. With four fantastic color options, it would be fun to own every single style.
Materials: 85% Acrylic Wool (vegan), 12% Anti-bacteria & Wicking Polyester, 2% Spandex, 1% Nylon
Price: $16 per pair or $29 for three pairs
*What is a Certified B Corporation? B Corp certification is awarded to companies that achieve much higher standards of social and environmental performance, transparency, and accountability. B Corps are seriously committed to using business as a force for good in the world today.
Why we like them: Made from cotton and hemp, these socks are thick and cozy while also remaining sustainable, eco-friendly, animal-friendly, and wool-free.
Materials: 85% cotton, 15% hemp, with nylon polyurethane yarns added for stretch & composition.
Price: $29.50 per pair.
These aren't specifically thick hiking socks, but they are such a fabulous vegan sock brand that they deserve a mention! If you're looking for the best vegan gift ideas or just want to invest in some fun consciously made socks for yourself, try these socks that support great causes.
Materials: 75% Fair trade Organic Cotton, 23% Recycled Polyester, 2% Elastane
Price: $15 per pair or $35 for three pairs.
Certifications: Vegan Certified, Fairtrade certified, GOTS (Global Organic Textile Standard), 1% for the planet
What to Do With Your Old Wool Socks?
One thing that every new vegan wonders when making the transition to non-wool socks and other cruelty-free clothing is:
"What should I do with my old wool socks (and leather bags, leather boots, and all my other non-vegan items)?"
We discuss this question in-depth in our vegan clothing and fashion episode of The Plant-Powered People Podcast. If you haven't listened yet (though, I hope you will!), let me tell you that there are at least a few choices. Which choice you make is completely up to you, your comfort level, and your budget.
Use your non-vegan items until they're totally worn out, and commit to buying vegan items as you need to replace them.
Donate them to a shelter where they will be given at no cost to someone who can't afford to buy these items.
Give or sell them to a secondhand shop (there are even online thrift stores like ThredUp) so that someone else can use them until they're worn out.
Give them to a friend who you know will get use out of them.
Be crafty and cut up your old wool socks into squares. You can make these squares into pot holders, sew together to make small rugs, mug cozies or even a hot water bottle cover. Give them as gifts to your non-vegan friends.
Avoid Adding to Your Local Landfill
Please don't just throw your non-vegan items away. While it may feel like you're doing the best thing for the animals and for your ethics, these items will ultimately end up in the landfill and this does not help anyone. If you just throw them away, that animal will have suffered (or been killed) in vain. There are people in need who can't afford clothing and to throw away something that's in usable condition is needlessly wasteful.
Know that the vegan lifestyle cannot be 100% perfect (even though we wish it to be) and, from now on, do your best to make more conscious buying choices when it comes to clothing and wearable items.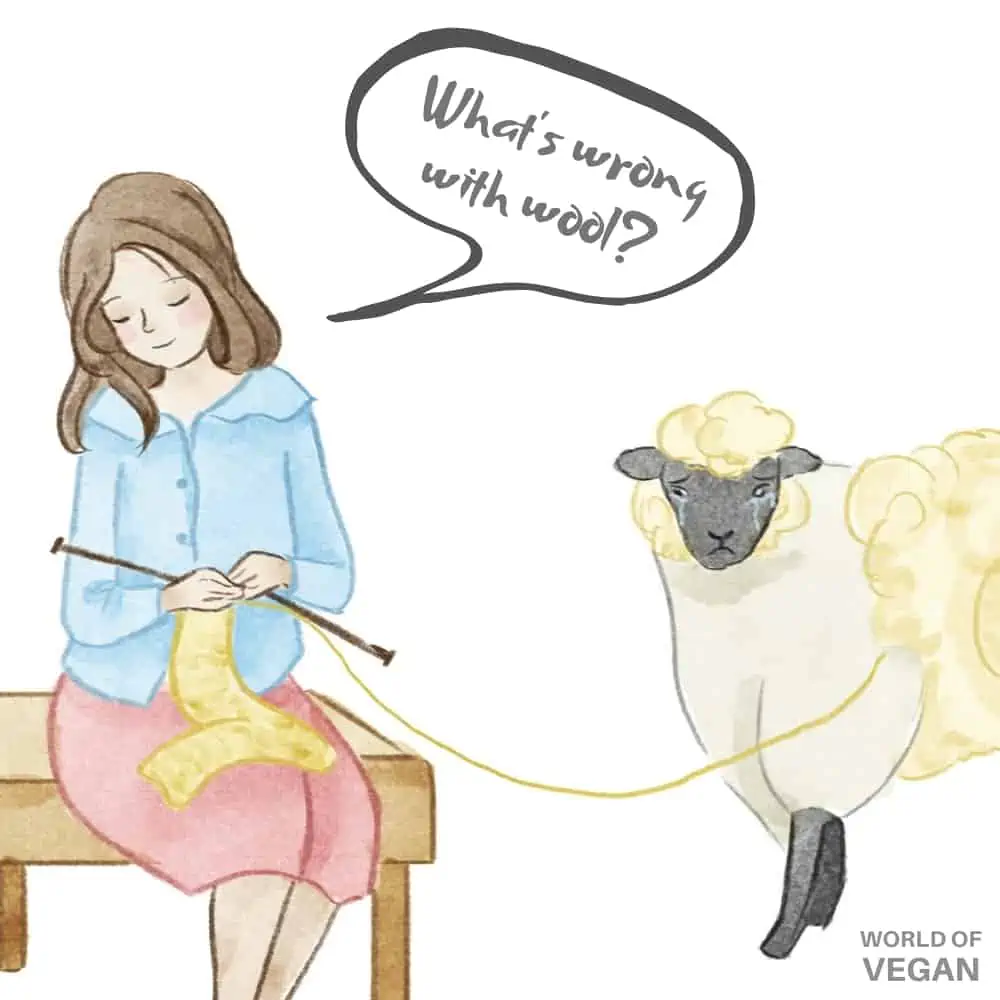 Looking for More Vegan Lifestyle Guides?