Tender vegan blackberry muffins crowned by a crisp streusel topping are the height of breakfast decadence. Even if you're not much of a baker, it doesn't take much to transform everyday pantry staples into divine bakery-style treats! Juicy fresh berries burst from the heat of the oven, exploding with fresh flavor in every bite. Wrapped up in an irresistible banana bread base, you won't be able to leave a single crumb on the plate.
Blueberry muffins may get top billing as the most popular variety, but fresh blackberries offer a bold new world of complex flavors. Balancing sweetness with a tart, tangy edge, they're just the thing to get you out of a muffin rut.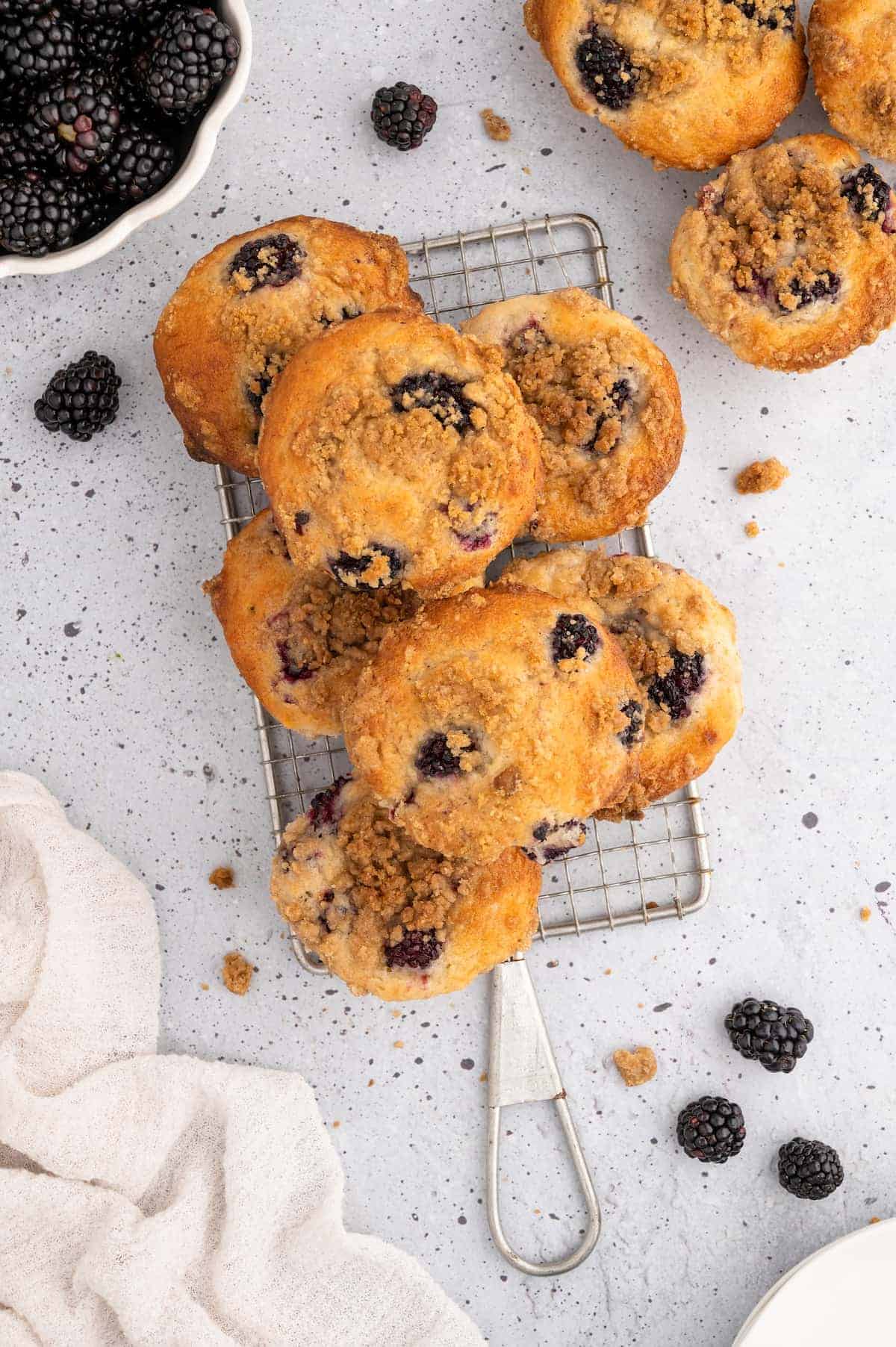 Why You'll Love This Blackberry Muffin Recipe
If you're not convinced these are the very best muffins yet, here are a few more reasons why you'll fall in love. Don't just take my word for it: Tasting is believing!
Make-ahead marvels: It can be stressful to get breakfast on the table for an early morning wakeup call. Set yourself up for success by baking a batch of blackberry banana muffins the day before! You can even stash them in the freezer and thaw them out, one at a time, whenever you need a boost.
Full of fruit: Trying to introduce new fruits to picky eaters? I've found that the best way to do that is to "hide" them in sweet, tender banana bread. This approachable, fun format is an excellent introduction to blackberries for less adventurous little ones.
Great for beginner bakers: Anyone can make wonderful muffins with little to no experience. Get kids in the kitchen to build skills and confidence, all while sharing quality time together.
Always hits the spot. Grab a muffin for a quick snack on the go or treat yourself to a lighter dessert! There's never a bad time to indulge.
Key Ingredients
Skip the bakery and hit your pantry for everything you need to enjoy mouthwatering muffins on demand!
Flour: All-purpose flour is the workhorse kitchen staple that will serve you well, from brownies to cakes, breads to waffles. If you'd like to add more heart-heathy fiber, try using white whole wheat flour or whole wheat pastry flour instead.
Sugar: Granulated, unbleached sugar adds a clean sweetness without any distracting flavors.
Bananas: The riper, the better! Wait for your bananas to get super spotty, to the point that they're almost completely brown, and freeze them until you're ready to bake. This ensures the greatest sweetness and richest fruit flavor.
Canola oil: Neutral and light in color, this vegetable oil keeps all sorts of sweets moist, tender, and simply luscious. Other great oils you could substitute include avocado oil, rice bran oil, grapeseed oil, and light olive oil.
Soymilk: Naturally high in protein, this full-bodied non-dairy milk is my favorite for baking! Feel free to swap in any of your favorite alternatives, such as oat milk, almond milk, coconut milk, cashew milk, and so on.
Blackberries: As the star of the show, make sure you get ripe, juicy blackberries at the peak of perfection! Check the pint before buying to make sure there are no moldy spots or smashed berries at the bottom.
Brown sugar: Just a little touch of extra molasses-infused warmth makes the crumb topping irresistible. For extra crunch, try using large crystals of turbinado or demerara sugar instead.
Vegan butter: This is a job for vegan butter sold in solid sticks, not spreadable tubs! The amount of water is different between the two versions and can result in very different baked textures.
How To Make These Blackberry Muffins
These muffins are easy to make, and come together in four steps. Your kitchen is going to smell amazing with the aroma of these delicious, fluffy muffins!
Make The Muffin Batter
Combine the flour, sugar, salt, and baking powder in a large bowl and mix well. Mix the mashed banana, canola oil, soymilk, and vanilla extract together. Form a well in the flour mixture and gently mix together.
Add half of the fresh blackberries to the batter and gently fold to combine.
Make The Crumb Topping
Add the flour, sugar, cinnamon, and salt to a small bowl. Mix to combine then, using a pastry cutter, cut in the cold vegan butter. Use your hands to mix together until crumbly. The topping is done when it barely sticks together when squeezed.
Assemble The Muffins
Line a muffin tin with 10 liners. Fill each of the liners evenly with the batter. The batter should come all the way to the top of the liners. Press the remaining blackberry slices onto the tops, then top with some of the crumb topping, slightly pressing it down.
Bake The Muffins
In a 400°F oven, bake for 27-30 minutes. They are done when they develop a lightly golden color on top and, when inserted with a toothpick, it comes out clean.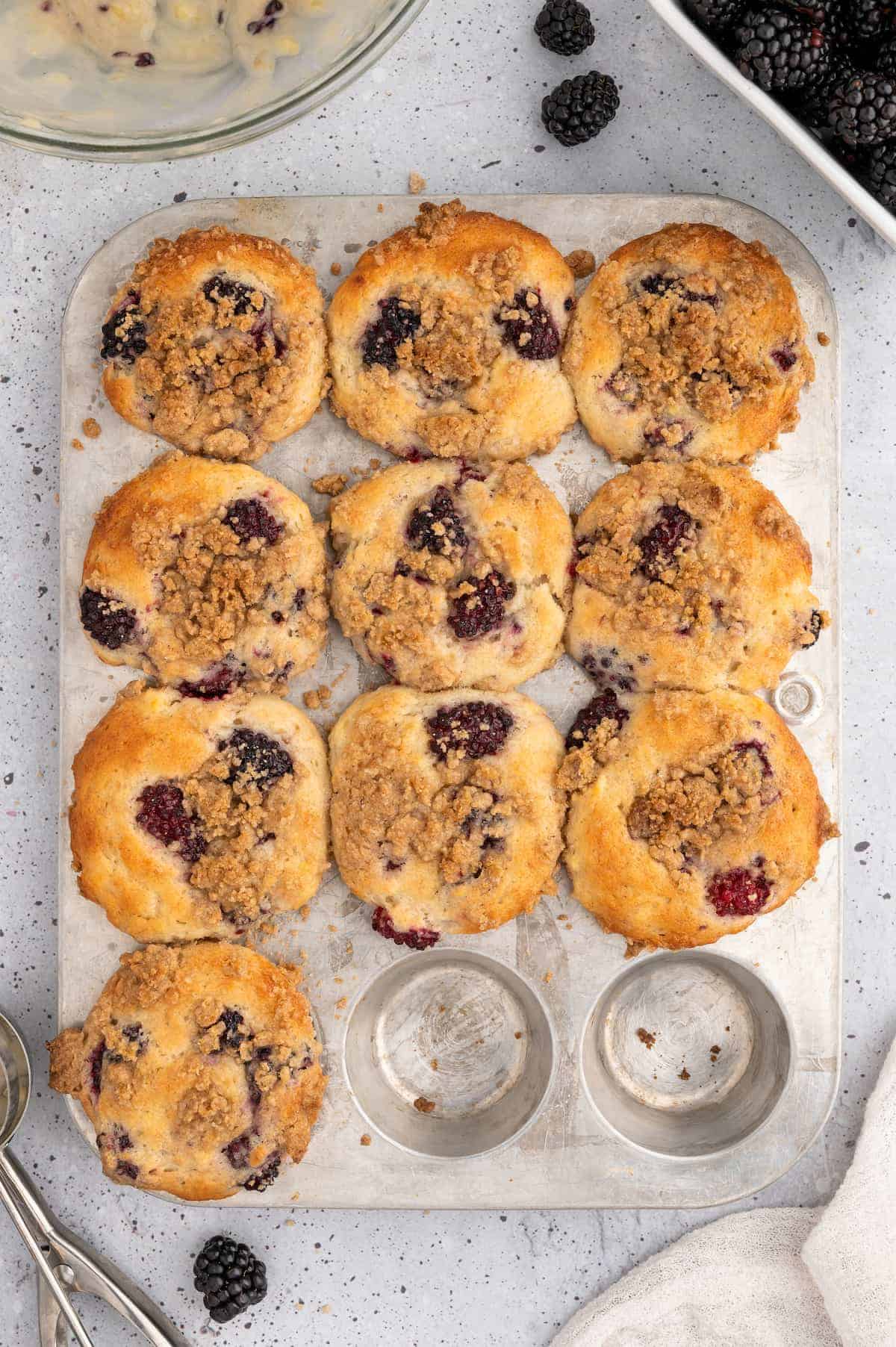 Tips For Success
It's easy to make fantastic muffins on the first try. For next-level baked goods that are perfect every single time, here are some tips to remember:
Be careful not to over-mix. Stirring too much will work up the gluten, creating a tough, crumbly texture.
If you have any empty tins in your muffin pan, fill those halfway with water. That will create steam to help the muffins rise and prevent any residual grease or crumbs from catching fire or smoking under the heat.
Keep a close eye on the oven as your muffins bake. There's a very fine line between perfectly golden brown and overdone! We found that while baking for 29 minutes was ideal, just one minute longer made the tops a little bit darker than desired. All ovens are slightly different so your mileage may vary.
How To Convert Muffins Sizes
This recipe for vegan blackberry muffins makes 10 large muffins as written, or 12 standard muffins for smaller appetites. There's plenty of flexibility for feeding all sorts of cravings by simply switching the pans!
To make mini muffins, use 30 – 36 mini muffin tins and bake at 350 degrees for 10 to 14 minutes.
To make jumbo muffins, use 6 jumbo muffin tins and bake at 375 degrees for 30 to 35 minutes.
To make a loaf cake or quick bread, use one 8×4-inch loaf pan and bake at 375 degrees for 45 to 55 minutes.
FAQs
Can I make these blackberry muffins gluten-free?
Yes, easily! Just replace the all-purpose flour with your favorite gluten-free flour blend to make a treat that's safe to enjoy for those with Celiac disease. 
Can I use frozen blackberries?
In the middle of winter when cravings strike, there's no shame in relying on frozen fruit to get through those dark days. If using frozen blackberries, don't thaw or slice them before adding them to the batter. Gently toss with dry flour first so they don't sink to the bottoms. Fold gently and quickly to prevent them from bleeding in too much, though they'll likely still tint the muffins at least slightly purple. 
Can I reduce the sugar or make these muffins sugar-free?
For a less voracious sweet tooth, you can very happily cut the granulated sugar in half. To make the recipe sugar-free, you can use your favorite dry sweetener that measures the same as sugar. Bear in mind that your muffins may not brown as much, if at all. 
More Baked Breakfast Recipes To Try
Looking for more easy baking recipes? Here are some great recipes check out:
Pastry Cutter

Large Mixing Bowl
1½ cups all-purpose flour
¾ cup granulated sugar
½ teaspoon salt
2 teaspoons baking powder
1 cup mashed super-ripe spotty banana, approximately two medium-sized ripe spotty bananas mashed well with a potato masher or fork into a puree
½ cup canola oil
⅓ cup soymilk
2 teaspoons pure vanilla extract
12 ounces fresh blackberries, sliced in half, reserve ⅓ for topping (approximately two small containers of blackberries)
Sweet Crumb Topping
¼ cup all-purpose flour
3 tablespoons packed brown sugar
¼ teaspoon ground cinnamon
1 pinch salt
2 tablespoons chilled vegan butter
Preheat oven to 400°F and line a muffin pan with cupcake liners.

In a large bowl, combine the flour, sugar, salt, and baking powder and mix well.

Form a well in the flour mixture and add the mashed banana, canola oil, soymilk, and vanilla extract. Gently mix together with a fork or spoon. Fold in two thirds of the sliced blackberries (reserving ⅓ for topping).

To make the crumb topping, add the flour, sugar, cinnamon, and salt to a small bowl and mix to combine. Cut in the cold vegan butter using a pastry cutter or fork until incorporated. Then briefly use your hands to fully combine and create a crumbly mixture that just barely sticks together when squeezed.

Fill 10 cupcake liners evenly with batter (all the way to the top). Press reserved blackberry slices into the top of the muffins, pushing them in to be partially incorporated into the batter. Top with crumb topping, pressing it down into the top of the batter so it sticks to the muffin.

Bake for 27-30 minutes, or until the muffins start to get lightly golden on top and a toothpick comes out of the center of the muffin clean. Remove from the oven and allow muffins to cool fully before enjoying!
Storage: Store in an airtight container on the countertop for up to a few days. These muffins also freeze beautifully. When you're ready to eat them, simply remove muffins from the freezer and thaw to room temperature, or defrost in the microwave. Note: You can also make 12 muffins with this batter, they will just be slightly less pillowy on top.
Calories: 311kcal | Carbohydrates: 44g | Protein: 3g | Fat: 14g | Saturated Fat: 1g | Polyunsaturated Fat: 4g | Monounsaturated Fat: 8g | Trans Fat: 0.5g | Sodium: 229mg | Potassium: 177mg | Fiber: 3g | Sugar: 23g | Vitamin A: 119IU | Vitamin C: 10mg | Calcium: 76mg | Iron: 1mg
Photos by Amanda McGillicuddy for World of Vegan, all rights reserved.