Regardless of the question, the answer is always chocolate cupcakes. Helping with a bake sale? Attending a birthday party? Celebrating an anniversary? Cheering up a friend in need? Moist yet fluffy, tender, and rich, the best chocolate cupcakes are the perfect single serving vegan desserts for every occasion.
Store-bought cakes can't hold a candle to these boldly chocolate beauties, but they're even easier to make than jumping in the car for a grocery run. Top them with your favorite buttercream frosting and you've got a foolproof hit on your hands.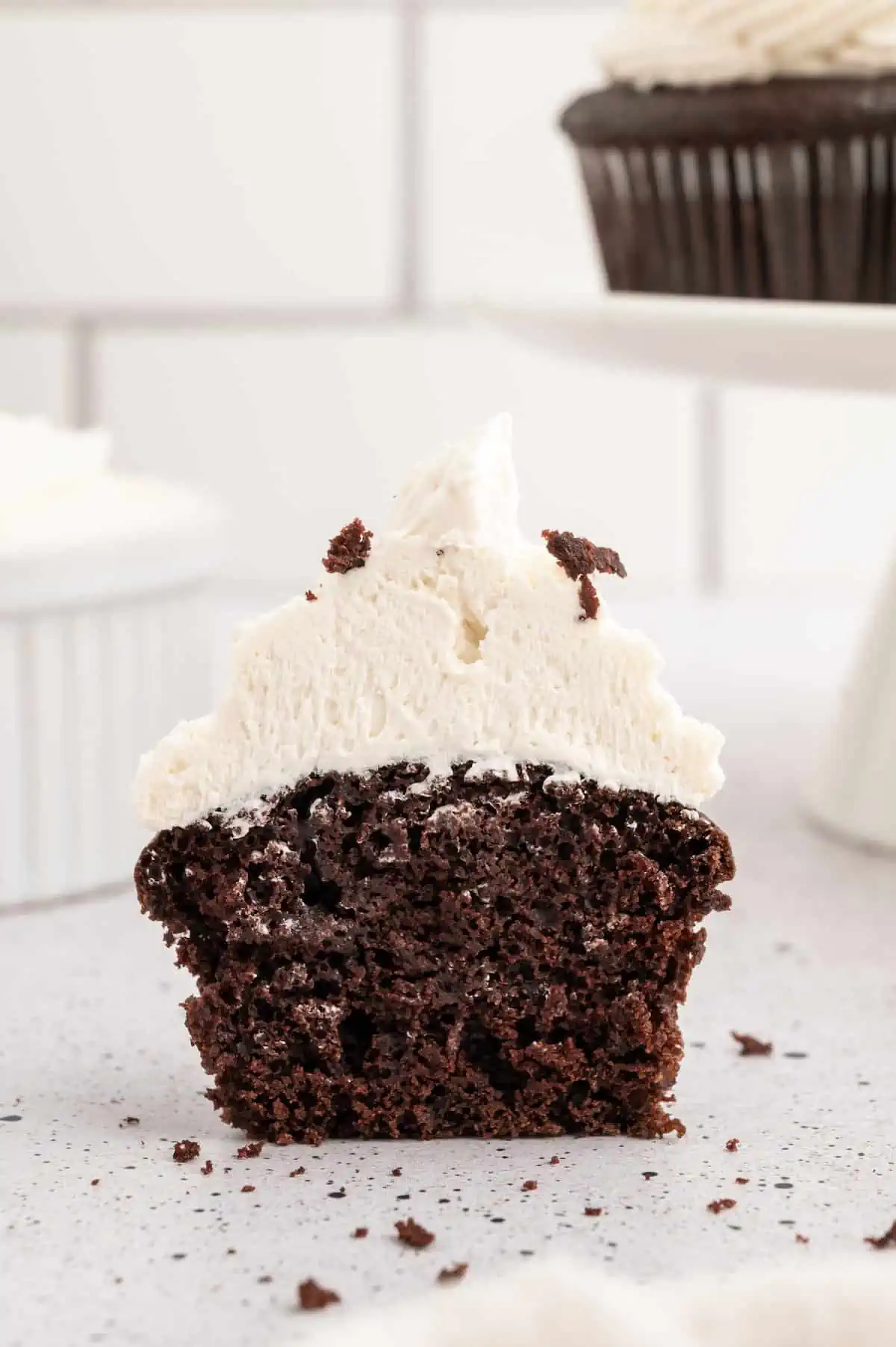 Why These Are The Best Vegan Chocolate Cupcakes
Chocolate cupcakes should be an easy sell, but if you need further convincing, consider the following points that make this particular recipe worth your attention:
One bowl, one spatula. Maximize the flavor with minimal dishes to wash afterwards.
Accessible and affordable. These are ingredients that everyone can find in any market. No one should have to go without cupcakes, after all.
Universally beloved. You're never too old nor too young to appreciate a homemade chocolate cupcake. This remains true across all cultures, demographics, and social status.
Ready in 45 minutes or less. Who needs a mix when you can start from scratch without missing a beat? Last minute deadlines are no match against this almost instant treat!
Key Ingredients
You're never more than eight ingredients away from fresh, luscious, homemade vegan chocolate cupcakes—and that's including salt and water! These are the basics to stock up on:
Flour: All-purpose flour really can do everything, from making hearty loaves of bread to soft cookies and cakes. Seek out unbleached flour, which hasn't been chemically treated and retains a high protein content.
Sugar: Standard granulated white sugar is best for a clean, balanced sweetness without any aftertaste.
Cocoa: Natural, unsweetened cocoa powder, not Dutched cocoa powder is best for this recipe. Dutched cocoa has been alkalized to make it darker and give it a rounder chocolate flavor, but it won't rise as well with acidic ingredients, so you may end up with flatter, denser cupcakes if you use it here.
Vegan butter: Spring for the good stuff and make it count! The right vegan butter can make or break a dessert and with so few ingredients to hide behind, you can really taste it in this recipe. Look for one with a blend of vegetable oils in it which helps recreate a similar butter texture.
Vinegar: Apple cider vinegar is the not-so-secret ingredient that creates an airy rise and more flavorful baked goods overall. You won't taste the overt twang of vinegar since it's such a small, but important, addition.
How To Make
Step One: Start by preheating the oven to 350 degrees F and line a cupcake pan with 12 cupcake liners and set it aside.
Step Two: In a large mixing bowl, sift in the flour, sugar, cocoa powder, baking soda, and salt. Set aside.
Step Three: In a small, microwave-safe bowl, gently melt the butter until just melted. Don't let it get hot. Then, stir in the apple cider vinegar and vanilla extract.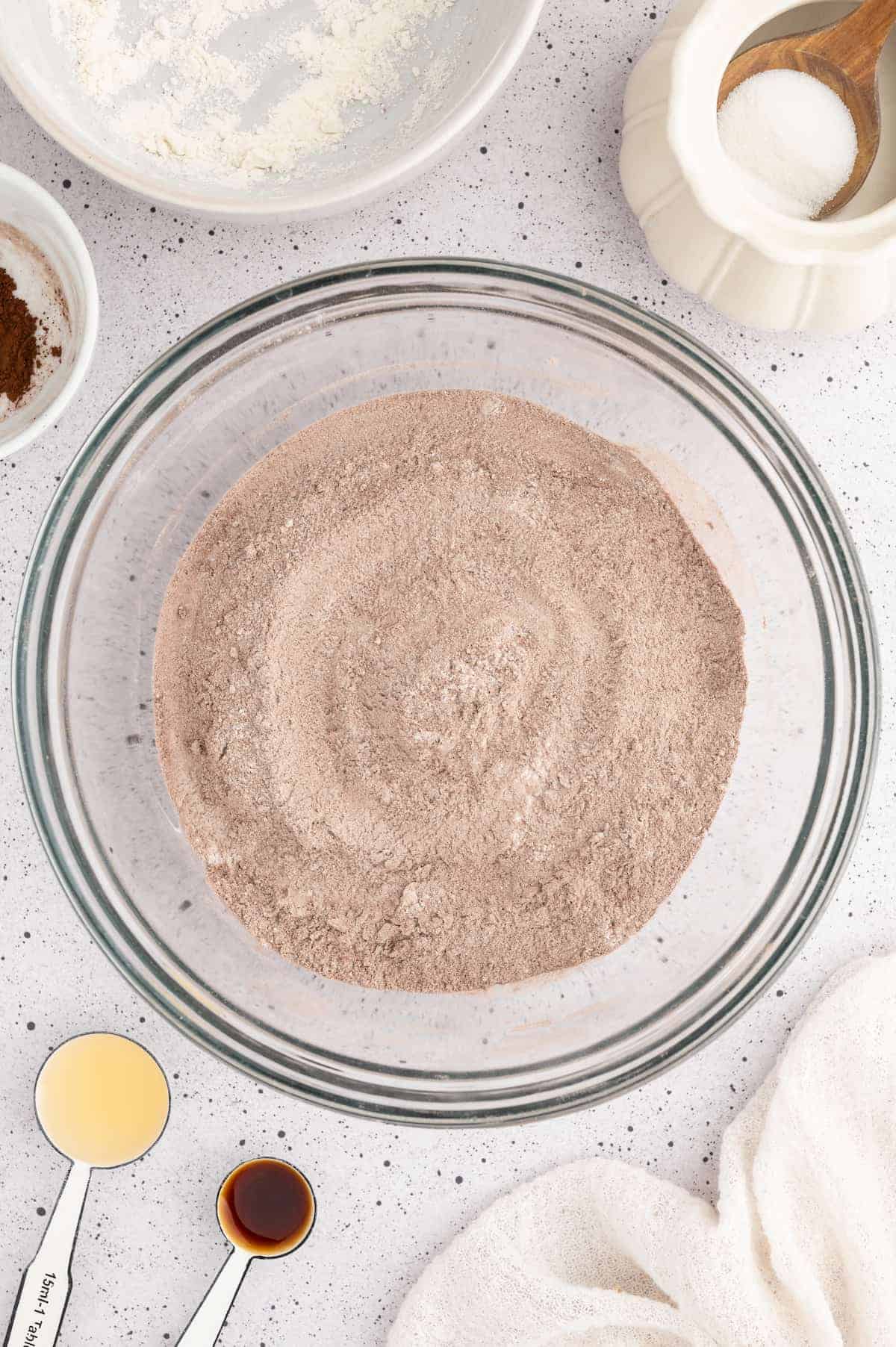 Step Four: Create a well in the center of the dry ingredients and pour in the melted vegan butter mixture, then pour the room temperature water over top.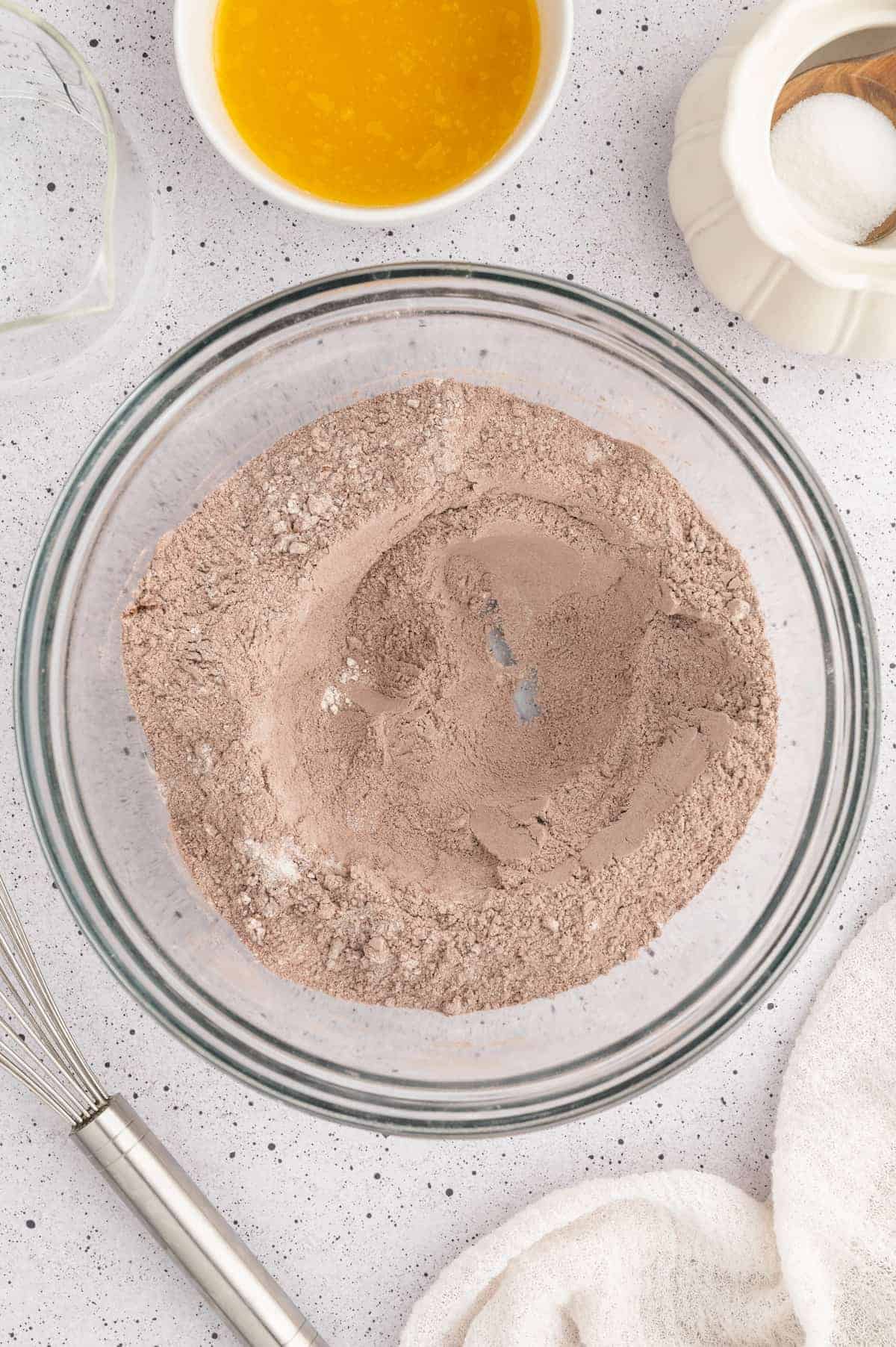 Step Five: Using a spatula, gently fold the ingredients together until just combined and the batter looks slightly bubbly. Use a whisk to work out any clumps if needed.
Step Six: Transfer the batter to the lined cupcake pan, distributing the batter evenly.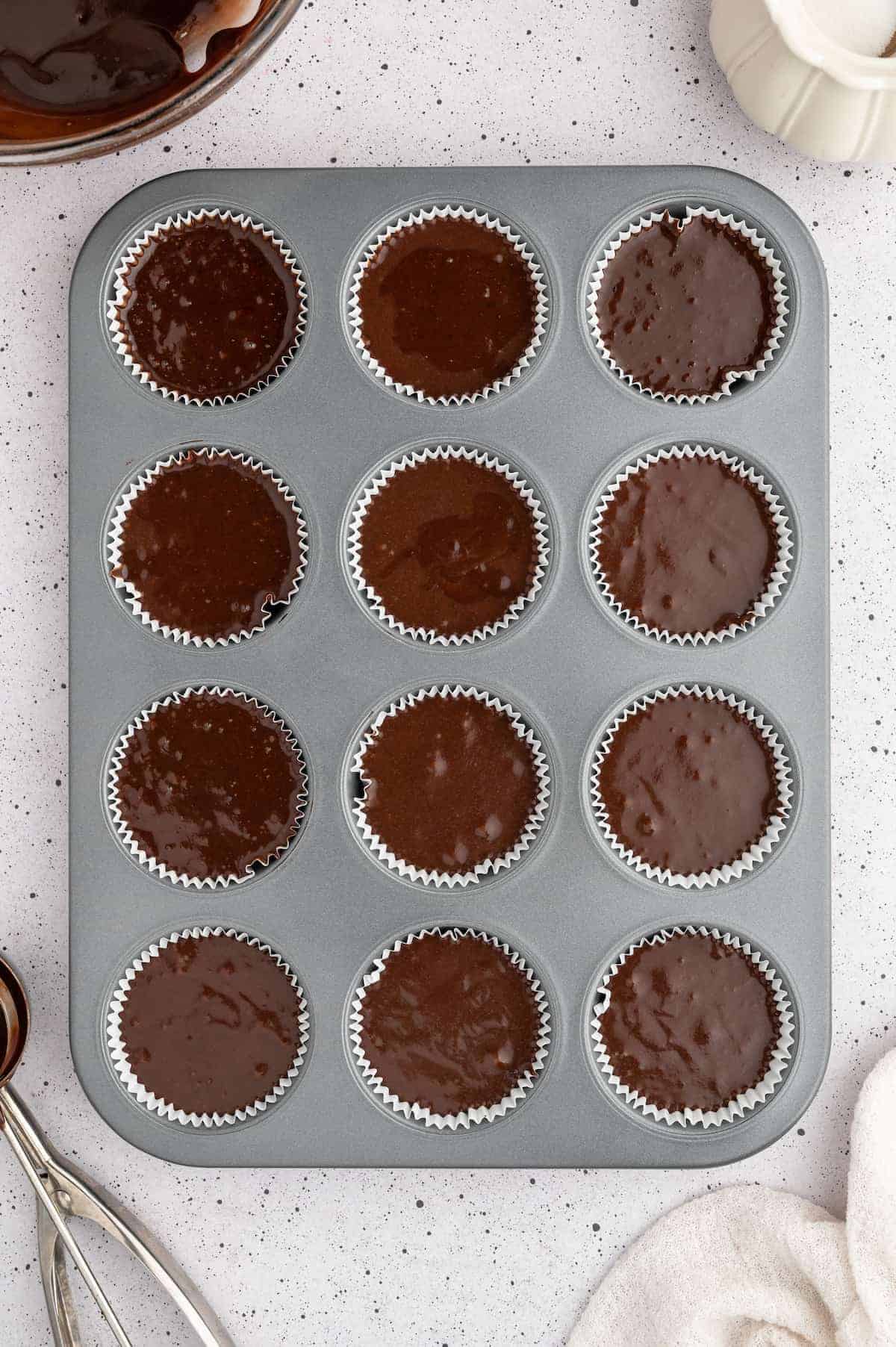 Step Seven: Bake the cupcakes on the center rack for 22-30 minutes, until a toothpick inserted comes out clean with no wet batter. Allow the cupcakes to cool in the pan for 5 minutes, then transfer them to a wire rack to cool completely before frosting.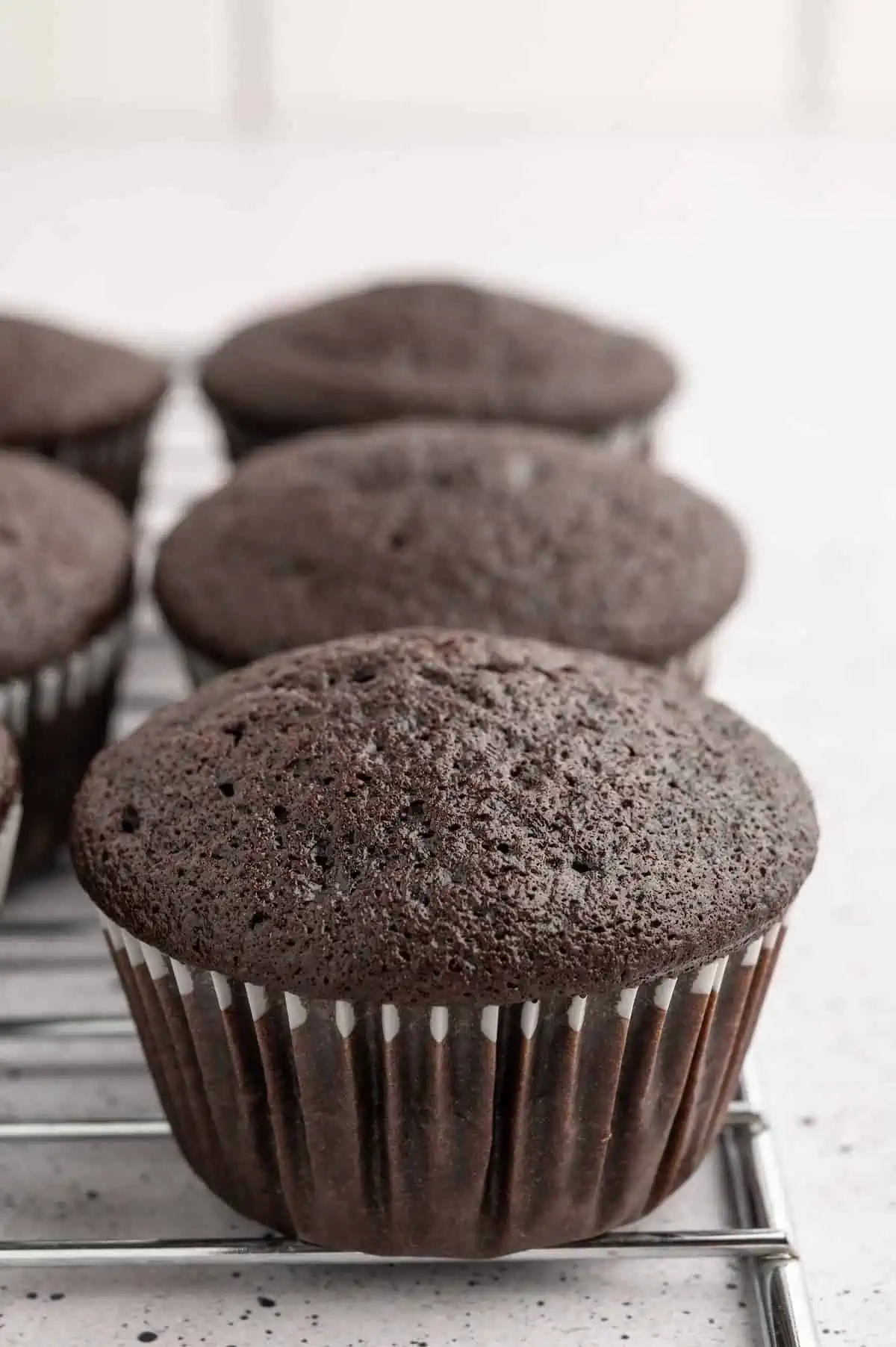 Tips For Success
Cupcakes are a great recipe to start baking with! You can't fail with this simple formula, no experience required. For the best results every time, here are some quick tips to remember:
Sift the dry ingredients to remove any clumps, because no one likes a mouthful of unmixed flour.
Bake the cupcakes on the center rack in your oven to cook more evenly.
Wait for the cupcakes to be completely cool before frosting them. For the best results, chill them in the fridge for at least an hour if possible. This will prevent the frosting from melting on contact while keeping the cake firmer, and thus less prone to tearing during application.
How To Store Your Chocolate Cupcakes
These vegan chocolate cupcakes store well at either room temperature or refrigerated for up to a few days. If you can get your hands on a handy cupcake storage container, this will help protect your little frosted beauties. Keep in an airtight container to preserve freshness.
If making cupcakes in advance, hold off frosting until the day of for best results.
Flavorful Ideas And Additions
Chocolate pairs beautifully with almost anything you can think of, from fruits to herbs and spices. Jazz up your next batch with a few fun, flavorful twists.
Mocha latte: Replace the water with strong brewed coffee or espresso.
Mint chocolate chip: Add 1 teaspoon peppermint extract and ¼ cup finely chopped chocolate or mini chocolate chips.
Chocolate orange: Replace the water with orange juice and add 1 teaspoon fresh orange zest.
Chocolate-covered strawberry: Add ½ cup finely chopped fresh strawberries and swirl 1 – 2 teaspoons seedless strawberry jam into each individual cupcake.
Gingerbread blackout: Replace the natural cocoa with black cocoa, replace the granulated sugar with dark brown sugar, and add 1 tablespoon gingerbread spices.
German chocolate: Add ¼ cup unsweetened shredded coconut and ¼ cup roughly chopped toasted pecans.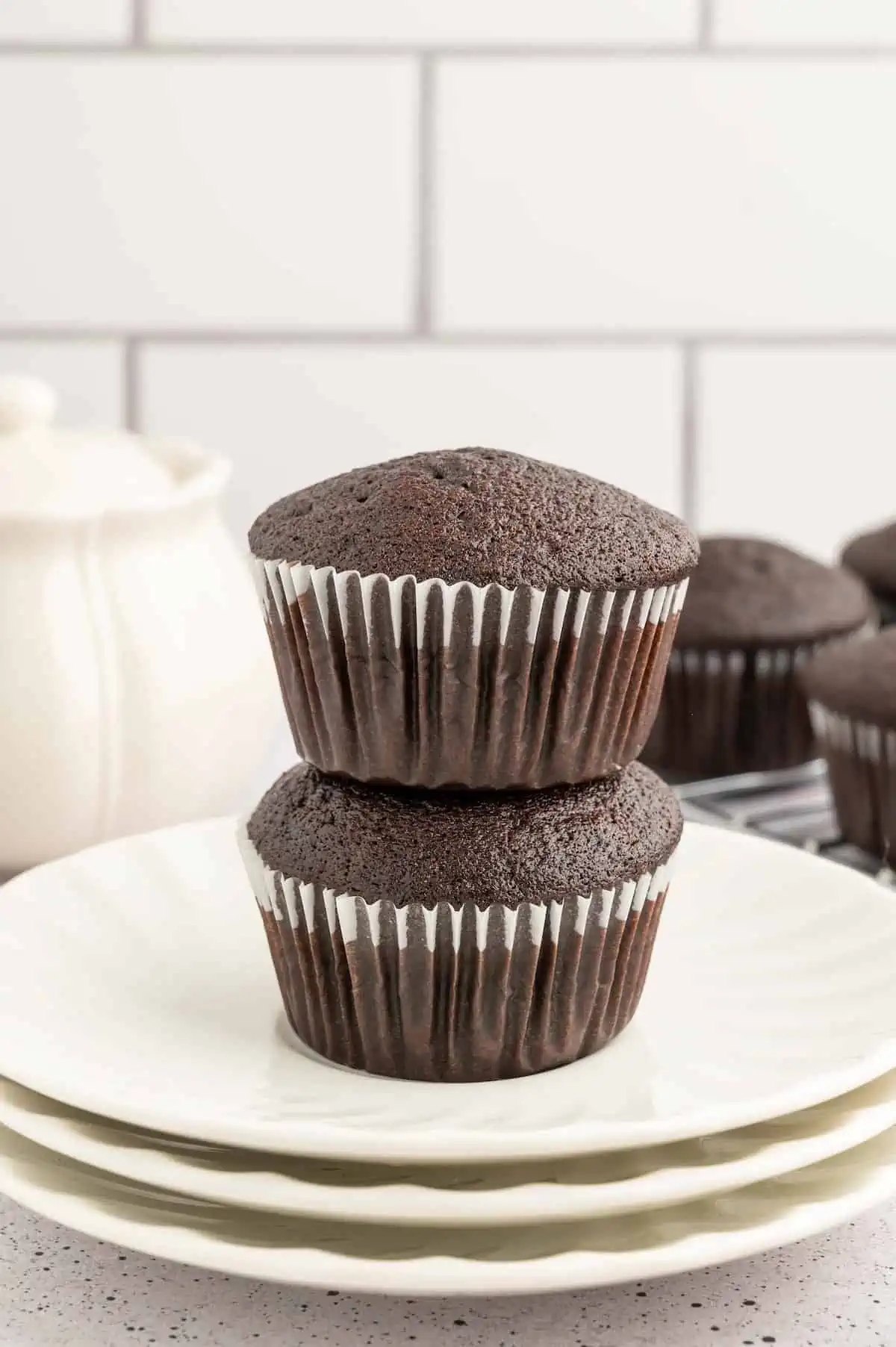 FAQs
Can I make these vegan cupcakes gluten-free?
You sure can! Just use an equal amount of your favorite gluten-free all-purpose flour blend instead of regular all-purpose flour.
How would I convert this cupcake recipe into a layer cake?
For a single layer, pour the batter into a lightly greased 8-inch round cake pan and bake for 30 – 38 minutes, until a toothpick inserted into the center comes out clean. For a two-layer cake, double the recipe and use two 8-inch round pans instead. You may need to double your frosting recipe to have enough to cover.
How would I convert this cupcake recipe into mini cupcakes?
Divide the batter between 36 mini cupcake tins lined with papers or lightly greased and bake for 10 – 14 minutes, until a toothpick inserted into the center comes out clean. Cool and frost as desired.
Can I freeze extra cupcakes?
Baked, cooled, but unfrosted cupcakes are excellent to freeze and save for later. Wrap them individually in plastic wrap, stash in an airtight container, and keep in the freezer for up to 3 months. When ready to enjoy, thaw at room temperature for at least 2 hours before serving.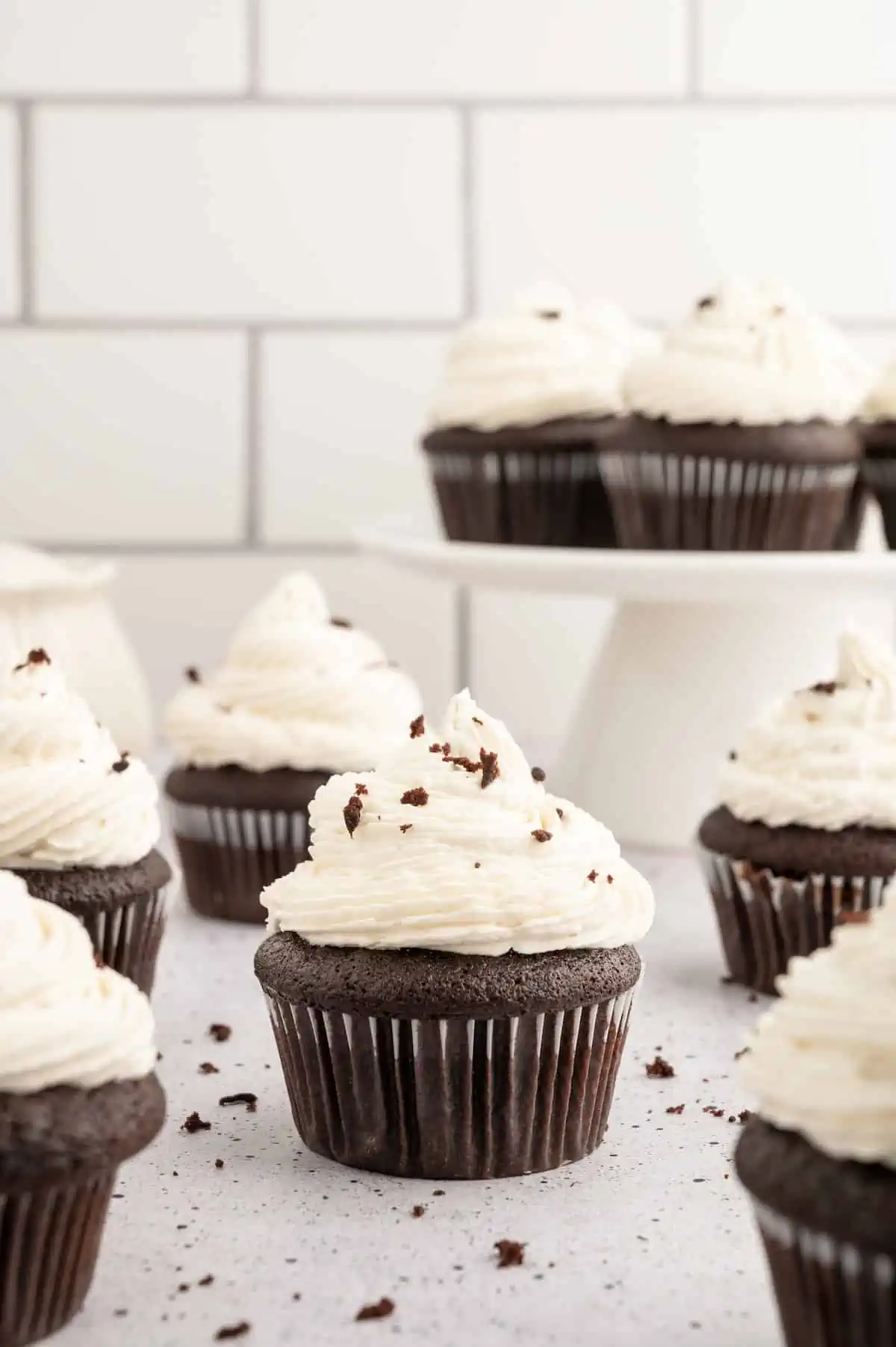 More Homemade Vegan Cake Recipes To Try
Chocolate Cupcakes
1½ cups all-purpose flour
1 cup granulated sugar
¼ cup cocoa powder
1 teaspoon baking soda
pinch salt
6 tablespoons vegan butter, melted but not hot
1 tablespoon apple cider vinegar
1 teaspoon vanilla extract
1 cup water, room temperature
Preheat the oven to 350 degrees F. Line a cupcake pan with 12 cupcake liners and set it aside.

Sift the flour, sugar, cocoa powder, baking soda, and salt into a large mixing bowl and set aside.

Gently melt the vegan butter until it is just melted, but don't let it get hot.

Add the melted vegan butter to a small bowl, along with the apple cider vinegar and vanilla extract and mix it to combine.

Create a well in the dry ingredients and pour in the liquid ingredient mixture. Before mixing, pour all of the water on top as well.

Gently fold the ingredients together with a spatula until it's combined. The batter will appear slightly bubbly. If there are any clumps you can work them gently with a whisk if needed.

Distribute the batter evenly between the cupcake liners.

Bake the cupcakes for around 22 – 30 minutes, until a toothpick inserted comes out clean. Remove the cupcakes from the oven and let them cool in the pan for 5 minutes, then transfer them to a wire rack to cool completely.
Storage – Store the cupcakes in the fridge or at room temperature for up to a few days. 
Frosting Suggestion – This vanilla vegan buttercream frosting pairs perfectly with these vegan chocolate cupcakes!
Calories: 182kcal | Carbohydrates: 31g | Protein: 2g | Fat: 6g | Saturated Fat: 1g | Polyunsaturated Fat: 2g | Monounsaturated Fat: 3g | Trans Fat: 1g | Sodium: 160mg | Potassium: 20mg | Fiber: 1g | Sugar: 18g | Vitamin A: 1IU | Calcium: 6mg | Iron: 1mg
Vegan chocolate cupcakes photos by Amanda McGillicuddy for World of Vegan, all rights reserved.