Looking for the best dairy-free cream cheese options to use on bagels, crackers, dips, frostings, cheesecakes, pies, and kugels? Read on to see the vegan cream cheese brand options available in stores, as well as a great simple recipe for making your own. From cashew cream cheese to coconut and tofu cream cheese, you have dozens of non-dairy cream cheese options to pick from today.
Cream cheese has become an indispensable staple for breakfast, brunch, and baking, and beyond, and for good reason. Is there any breakfast as quick and delicious than a toasted bagel with thick creamy savory schmear?
There's a reason bagels are offered for breakfast at events, cafes, restaurants, airports, Bed & Breakfast hotels, and in many homes. And don't worry, when you drop dairy from your diet you can still enjoy plant-based cream cheese!
Whether you DIY or buy, you've got dozens of dairy cream cheese alternatives for every application.
Vegan Cream Cheese Brands
Most mainstream grocery stores carry at least one brand of dairy-free cream cheese. Here are the best brands to explore.
Kite Hill
Tofutti
Miyoko's Creamery
Violife
Follow Your Heart
Wild Creamery
So Deliciouus
Daiya
Moocho
Plus, stores like Trader Joe's have even released their own version of non-dairy cream cheese!
Many people consider Kite Hill cream cheese to be the best dairy-free cream cheese on the market. It's a gourmet cream cheese that resembles the whipped cream cheese you might find at bagel shops, rather than Philadelphia-style schmear from a tub.
Better yet, they have an array of unique flavors, including seasonal specials like pumpkin pie! Their flavors include:
Plain
Chive (our favorite!)
Everything
Garden Veggie
Strawberry (limited edition / seasonal)
Pumpkin Pie (seasonal)
The original vegan cream cheese by Tofutti used to be the only one on the market, and it has stood the test of time. It's similar to Philadelphia-style cream cheese, and works great on bagels, in cheesecakes, and beyond.
We can always count on Miyoko's to raise the bar for dairy products made from plants, and the cultured cashew-based schmear is no exception. They even have a "Fish-Free Lox" variety perfect for salmon lovers and Jewish brunch spreads. It pairs beauitfully with fresh bagels and carrot lox!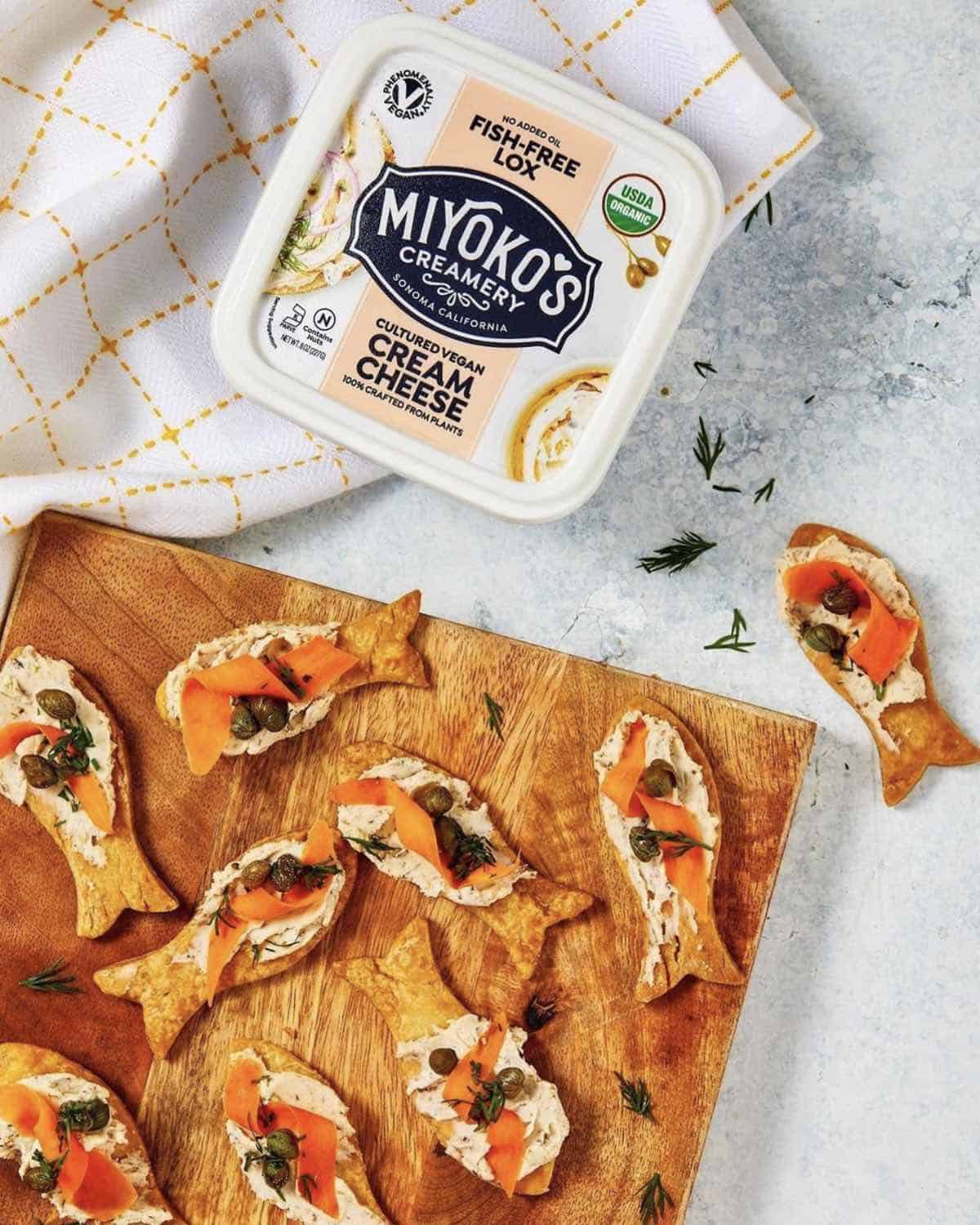 Creamy, delicious, and dairy-free! Violife's "Just like cream cheese" is soy-free, gluten-free, nut-free, lactose-free, and preservative-free. The Original flavor is the most common found in stores, but if you're lucky you may find their strawberry cream cheese or cream cheese with herbs!
Ingredients include: water, coconut oil, potato starch, salt, glucono-delta-lactone, vegan flavors, olive extract, and Vitamin B12.
The makers of Vegenaise, the Vegan Egg, vegan parmesan, and other popular vegan staples joined the cream cheese party too! Follow Your Heart has been around since the 1970s, when they started as a soup and sandwich counter, and they're now an internationally sold brand that was acquired by Danone in 2021.
Newer to the scene are the Wild Creamery cultured plant-based schmears. They are really delicious, but be warned, because they are coconut-oil-based, if you leave them at room temperature the oils will start to separate.
The ingredients are quite clean, and include: water, coconut oil, sunflower oil, cashews, coconut cream, tapioca flour, chickpeas, cabbage, oats, sea salt, sunflower lecithin, and cultures.
This brand is taking over the dairy shelves with plant-based alternatives. Their cream cheese is one of dozens of So Delicious products, including ice cream, plant milk, cheese, yogurt, and more. Their cream cheese flavors include:
Ingredients include: water, coconut oil, modified starches (potato and corn), salt, potato protein, cane sugar, cultured sugar, lactic acid, natural flavor, annatto extract.
We applaud Daiya's widespread distribution and creative flavors, but do want to warn that their cream cheeze has mixed reviews. It is soy and gluten-free, which is a win for many!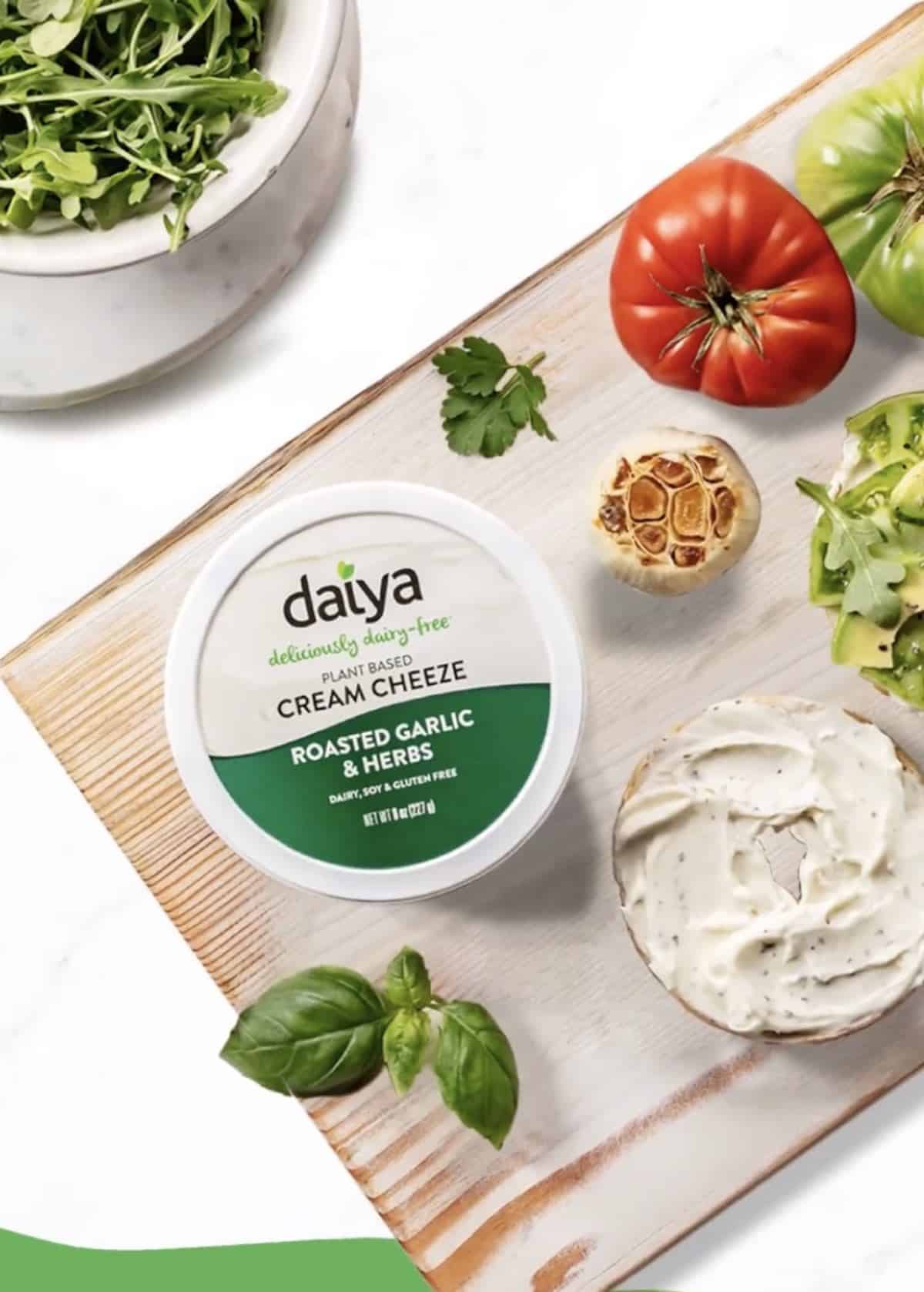 The new kid on the block, Moocho had released vegan cheese shreds and cream cheese spreads! Theri flavors include:
Plain
Garden Vegetable
Strawberry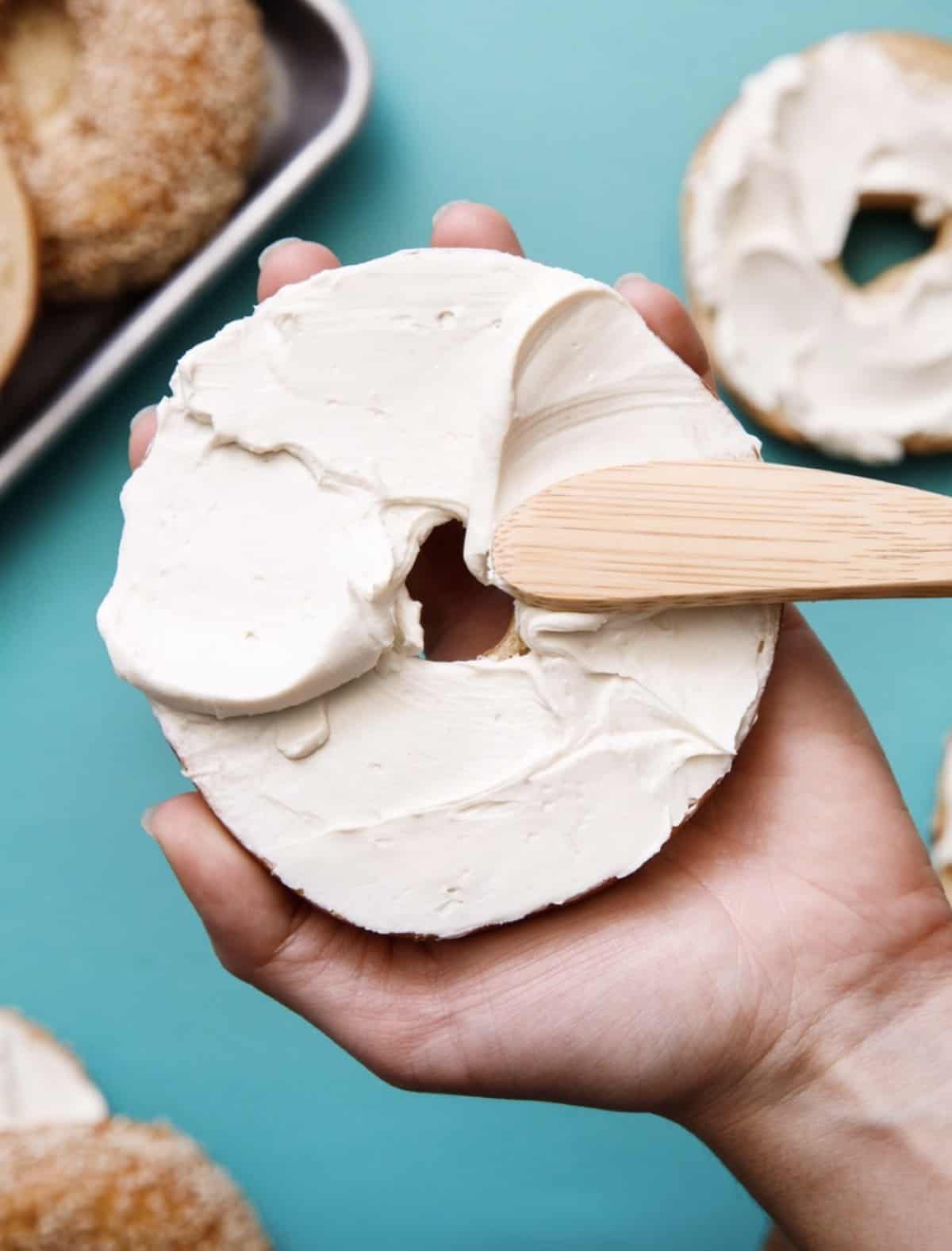 Vegan Foods & Recipes Using Cream Cheese
Cream cheese can be used in so many unique ways. You can spread it on bagels, crackers, or toast, mix it with seasonings into a dip, bake it into cheesecake, and beyond. Here are a few favorites!
Cream Cheese Frosting
Cheesecake
Homemade Vegan Cashew Cream Cheese Recipe
It's surprisingly easy to make your own cream cheese at home using nuts, nutritional yeast, lemon juice, salt, and water! Cream cheese that's actually healthy? Yup! This recipe comes from our friends at Planted Table, vegan caterers in Oakland, California.
1 cup cashews, soaked overnight and drained
¼ cup lemon juice
3 tablespoons nutritional yeast
salt, to taste
water, to reach desired texture
chives, or green onion, optional
In a high-powered blender, add the soaked cashews, lemon juice, nutritional yeast, and salt, and blend until smooth, adding water as needed to reach a thick spreadable consistency. Mix in finely chopped chives.
Calories: 102kcal | Carbohydrates: 7g | Protein: 4g | Fat: 7g | Saturated Fat: 1g | Polyunsaturated Fat: 1g | Monounsaturated Fat: 4g | Sodium: 7mg | Potassium: 172mg | Fiber: 1g | Sugar: 1g | Vitamin A: 22IU | Vitamin C: 3mg | Calcium: 7mg | Iron: 1mg