Waking up to a plate of fresh vegan raspberry white chocolate scones is a surefire way to start every morning on a sweet note. Tart, juicy berries burst in every bite, woven within layers of buttery, tender pastry.
Each mouthful is punctuated by creamy white chocolate morsels that seem to melt upon impact, creating a downright luxurious experience. You don't need a special occasion to indulge yourself to such a decadent treat; they're stunningly easy to make, too!
Why You'll Love This Vegan Scone Recipe
Start preheating your oven and get ready to fall in love! These vegan scones will quickly become your favorite lazy brunch recipe.
Highly versatile. If you're not an early bird or more of a savory breakfast person, there's still room for scones in your life! These are brilliant as a midday snack, or even a light dessert.
Allergen-friendly. Egg free scones are a snap using this simple formula. They're also naturally dairy-free, soy-free (depending on the ingredients in your vegan butter and white chocolate,) and can be made gluten-free with a gluten-free flour blend instead of conventional all-purpose flour.
Perfect to make ahead of time. Go ahead, sleep late. Bake your scones the night before so you can get your beauty rest without sacrificing a great morning meal.
Essential Ingredients
Flaxseeds: Mix ground flaxseeds with water and you'll have a perfect egg replacer in minutes! This works well in all sorts of baking recipes, both sweet and savory.
Flour: All-purpose flour is best for a neutral flavor, and light texture, but you can cut it with whole wheat pastry flour to get in more whole grains, or substitute an all-purpose gluten-free flour to accommodate eaters suffering from Celiac disease.
Sugar: Fine cane sugar is what you'll want for a light sweetness that doesn't overwhelm the delicate tart and tangy raspberries.
Vegan butter: Don't be tempted to cut corners with the plant-based butter! Now is the time to splurge on the good stuff since it makes such a big impact on the final flavor.
Coconut milk: Thick, creamy coconut milk elevates this basic pastry to a whole new level of decadence. Chose full-fat coconut milk rather than light for the best texture.
Dairy-free white chocolate chips: Vegan white chocolate? Yes, it's true! You can find vegan white chocolate chips online and in select gourmet grocery stores like Whole Foods. If you're having trouble hunting them down or just want a change of pace, you can very happily substitute bittersweet or dark chocolate chips instead.
Raspberries: Fresh raspberries can't be beat at the peak of ripeness. That said, frozen raspberries are an excellent alternative to enjoy this recipe all year round.
How To Make These Vegan Scones
These scones are very easy to make, and come together in five simple steps. Let's begin!
Prepare The Dough
Step One: Preheat your oven to 350°F. Prepare your vegan "egg" by mixing warm water and ground flaxseed together.
In a large prep bowl, combine your flour, baking powder, and sugar. Add in the cold vegan butter, using a pastry cutter to cut it into the flour. (See "Tips For Success" below for more pointers on making the dough!) Once the butter is in small bits, use your hands to finish incorporating it into the dough.
Add your flaxseed egg, vanilla extract, and coconut milk. Combine the dough again with your hands. It's ready when it's dry and crumbly and barely comes together.
Step Two: Fold in 1/3 cup of the vegan white chocolate chips. Add the raspberries and fold gently to allow the raspberries to keep most of their shape.
Shape And Cut The Dough
Step Three: Dust your countertop with flour. Shape the dough into a ball and flatten to form an 8-inch round disc. Cut the disc into 8 slices.
Bake The Scones
Step Four: Line your baking sheet with parchment paper or a silicone mat and place the slices onto it. Push the remaining raspberry halves on top of the scones. Bake the scones for 25-30 minutes. Allow to fully cool.
Drizzle The Scones
Step Five: Melt the remaining vegan white chocolate chips and drizzle the cooled scones.
Tips For Success
Scones are a great recipe to make for beginner bakers since they call for few ingredients and no prior experience. However, there are a few little tricks to bear in mind to make the very best vegan scones:
Keep the vegan butter and coconut milk in the fridge right until you need it. The idea is to keep it intact while the batter is raw, so it melts only while baking, creating a flaky, crisp texture throughout.
Mix the dough as little as possible. The more you stir, the tougher the final scones will be, rather than light and tender.
The melting point for vegan butters tend to be lower than regular butter and can vary, so popping the unbaked scones in the freezer for 20 minutes before baking can help ensure you get those flakey "buttery" layers.
Fresh raspberries are very fragile. If you're concerned about folding the raspberries into the dough while maintain their structural integrity, you may want to start with frozen instead of fresh or pop you fresh berries into the freezer for 2 hours before getting started. Work quickly so they don't begin to thaw or bleed into the batter.
Use additional flour sparingly when you're shaping the scones. Too much will make the final treats pasty and bland.
After shaping and cutting your scones, flip them over and place them upside down on the baking sheet. This will ensure they all rise at the same rate, with perfectly even, smooth tops.
How To Serve Up Your Vegan Scones
There's already a lot going on inside each petit pastry, but that doesn't mean additional garnishes are out of the question.
Without adding anything else, a quick trip through the toaster oven or air fryer does wonders to re-crisp the top and create a warm interior full of gooey, melty white chocolate chips.
Serve with tea or coffee, which can be sipped separately or used for dipping.
Smear a generous dollop of vegan butter on top for additional richness.
Amplify the fruit flavor with an extra spoonful of raspberry compote, jam, or preserves on the side.
Split a scone in half and lavish it with vegan whipped cream and fresh berries for a makeshift shortcake dessert.
FAQs
How do I store leftover vegan scones?
Let the baked scones cool completely before packing in an airtight container or wrapping with plastic. Store them at room temperature for up to 3 days, or in the fridge for up to 1 week.
How can I melt chocolate without a microwave?
You can make a basic double boiler by setting a small saucepan on the stove filled with 1 – 2 inches of water. Bring it to a boil and set a medium sized bowl on top, making sure the bottom doesn't touch the water. Place the chocolate in the bowl and stir slowly but continuously, until all the chips have melted. Be careful not to splash any water into the bowl since that will cause the chocolate to seize and become clumpy.
Do these raspberry scones taste like coconut?
Coconut haters, never fear! Although they call for full-fat coconut milk, the flavor itself is completely covered by the robust raspberries, sweet white chocolate, and floral notes of vanilla extract. You can replace it with any non-dairy milk you'd prefer if you're in doubt but bear in the mind the results will be considerably less moist and rich.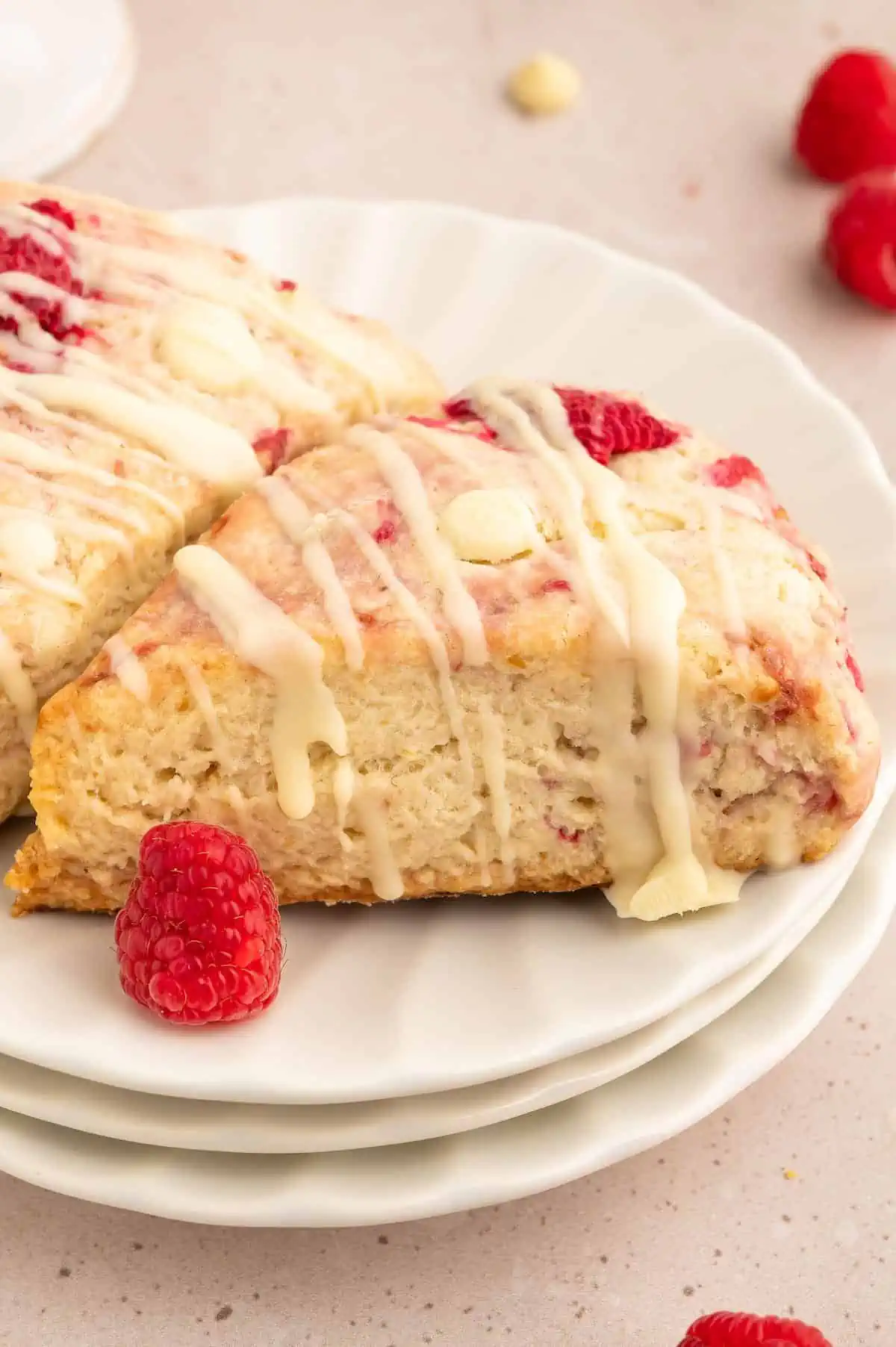 More Breakfast Baked Goods To Try
1 tablespoon ground flaxseed
2 tablespoons warm water
3 cups all-purpose flour, plus more for dusting
2 teaspoons baking powder
⅓ cup sugar
¾ cups vegan butter, chilled, (1½ sticks)
1 teaspoon vanilla extract
⅓ cup full-fat coconut milk + additional tablespoon or two if needed just to get dough to come together
⅓ cup dairy-free white chocolate, chunks/chips
½ cup fresh raspberries, halved, divided
Topping:
⅓ cup dairy- free white chocolate, for drizzling
Preheat the oven to 350°F (180°C). Line a sheet pan with parchment paper or a silicone baking mat.

In a small bowl, add the ground flaxseed and warm water, mix, and set aside for at least 5 minutes. This will be your flax egg.

In a large bowl, add the flour, baking powder, and sugar and mix to combine. Add the cold vegan butter, and using a pastry cutter, cut the butter into the flour. Once the butter is in small chunks, use your hands to further combine until the mixture turns into crumbs.

Add the flax egg, vanilla extract, and coconut milk and combine with your hands. The dough should be quite dry and crumbly and just barely come together so it can be shaped. If needed, add additional coconut milk, just one tablespoon at a time.

Fold in ⅓ cup of the white chocolate chunks. Gently fold in half of the raspberry halves, taking as much care not to smash them.

Dust your countertop lightly with flour and shape the dough into a ball. Gently pat down to form a round patty about 8-inches in diameter. With a sharp knife, slice the patty in half, then into quarters, and then divide those in half again creating eight pizza-like slices.

For triangular scones, place each slice on the lined baking sheet, allowing space for the scones to rise. For round biscuit-shaped scones, use your hands to gently shape each dough slice into a ball, place on the baking sheet, and pat down gently to flatten.

Using your hands, push the remaining raspberry halves on top of the scone dough. Place the pan in the oven and bake for 25-30 minutes.

After the scones have cooled fully, melt the remaining vegan white chocolate in a microwave-safe bowl, microwaving in 30-second increments and stirring in between. It should take 1 to 2 minutes for the chocolate to melt. Drizzle scones with the melted chocolate.
Calories: 461kcal | Carbohydrates: 56g | Protein: 6g | Fat: 24g | Saturated Fat: 8g | Polyunsaturated Fat: 5g | Monounsaturated Fat: 8g | Trans Fat: 3g | Sodium: 244mg | Potassium: 110mg | Fiber: 3g | Sugar: 17g | Vitamin A: 5IU | Vitamin C: 2mg | Calcium: 98mg | Iron: 4mg
Thanks to recipe testers María Estela Highet and Jessica Sabbagh for testing this recipe. Photos by Amanda McGillicuddy for World of Vegan.
Adapted from a recipe from the cookbook One-Pan Vegan by Luce Hosier. Page Street Publishing Co. 2022.