There are some recipes that make you never want to order takeout for lunch again. Recipes that check off the boxes of exciting, easy, and efficient. Well friends, we are pleased to announce that this recipe for Vegan Chicken Salad checks off all those boxes and more!
This "No Chicken Salad" recipe from The Friendly Vegan Cookbook makes an excellent portable meal that can be pulled together in just a few minutes. It is delicious stuffed in pita pockets, atop a salad, and straight from a spoon.
Whether you want to eat it as is or dress it up like it's Fashion Week, you'll never have a boring lunch again with this delicious salad!
Why You Should Make This Vegan Chicken Salad
Sometimes you've just had one too many veggie burgers and you need something that's just as filling and enjoyable to satisfy your hunger. There are several reasons why you should make this awesome salad, including but not limited to just how easy it is to throw together!
Easy Peasy – This vegan chicken salad recipe takes very little effort to throw together. All you have to do is mash the chickpeas, chop the other ingredients, and toss them together! Since this recipe is so simple to make, it's also great to introduce to kids or teens who may be interested in making their own meals.
Totally Tasty – One of the best things about this salad is the dynamic range of flavors and textures. The cool crunch of celery meeting the soft chickpea coated in vegan mayonnaise is quite a party for the mouth!
Full of Fun – While this chickpea salad is perfect for a simple lunch, it's also great for serving at parties or bringing to potlucks. You get to wow the crowd with a well-rounded dish while not having to put in all the work of baking a whole casserole (though, if you really want to be a rock star, you could make both)!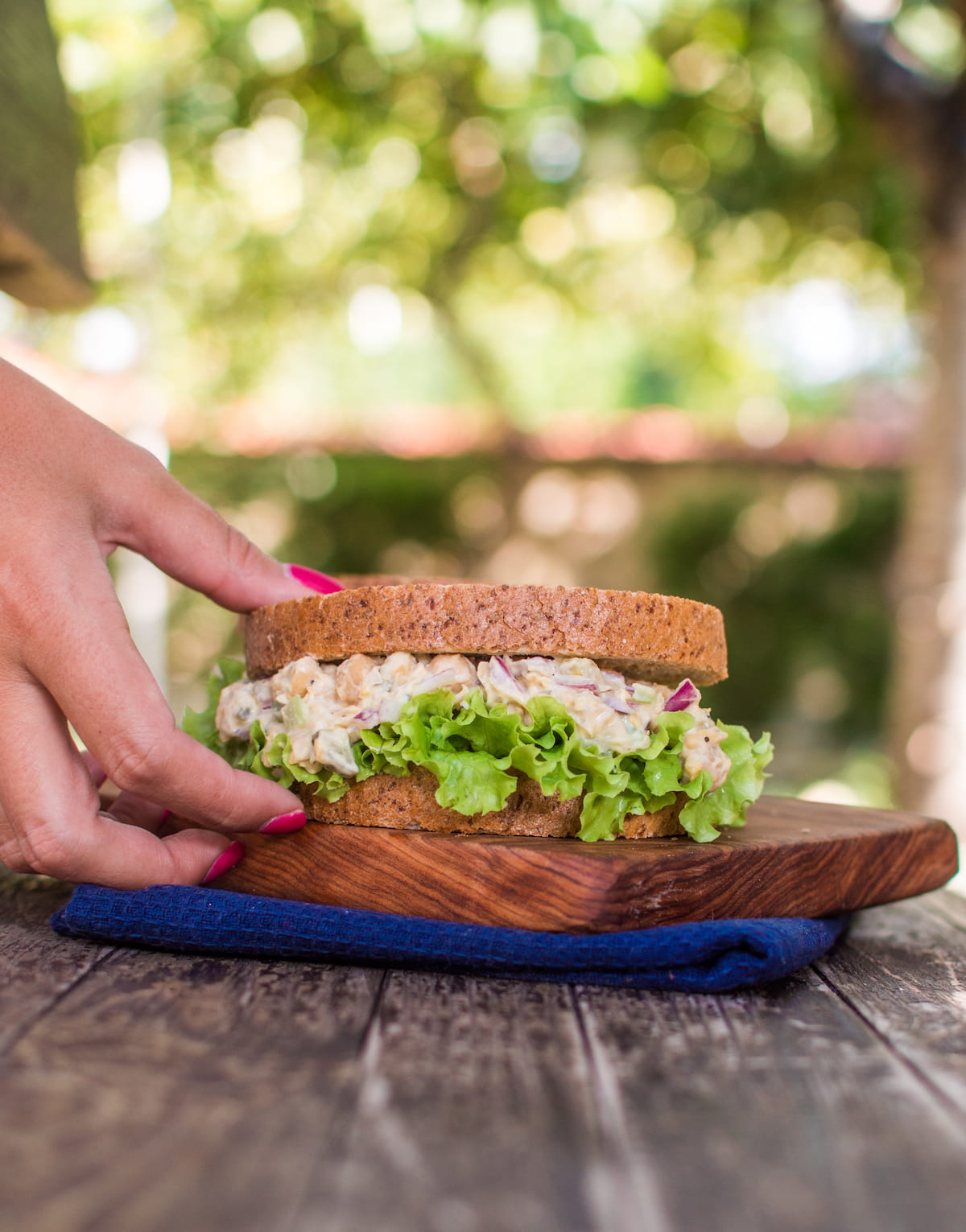 Star Ingredients
This vegan chicken salad features only a handful of ingredients but those ingredients are full of flavor and nutrients, all combining their forces to create one satisfying recipe.
Chickpeas – Chickpeas are the true star of this medley. If you're looking for a more meaty texture, vegan chicken or soy curls are a great substitute. If you don't like meat alternatives, you can also try jackfruit or even tofu cubes instead.
Vegan Mayo – Choose a high-quality vegan mayonnaise to create a creamy texture and rich flavor in the salad. Many brands offer dairy-free options made from ingredients like soy or aquafaba, so you can find the one that suits your taste preferences.
Yellow Mustard – Yellow mustard adds a tangy and slightly spicy flavor to the dressing.
Red Onion – Red onion provides a mild, sweet onion flavor and a pop of color. You can adjust the amount to your taste, but finely chopped red onion is a classic choice.
Celery – Crunchy, salty, and absolutely delicious when cooked into a soup or enjoyed with some peanut butter, celery is a vitamin-packed vegetable that is essential in any vegan chicken or tuna salad.
Dill Pickle – Dill pickles add a zesty, sour, and slightly sweet element to the salad. Dice them finely to evenly distribute their flavor throughout the dish.
Serving Suggestions
One of the best things about this vegan chicken salad is that you can enjoy it in so many different ways! Whether stuffed in a pita pocket or enjoyed straight from a bowl, you'll love how many different ways this salad can be enjoyed.
Sandwich It Up – Want to make the ultimate sandwich with this salad? Serve it atop some focaccia and bask in the heavenly combination of flavors and textures. Feel free to add some lettuce if you so please for an even more picturesque lunch.
More Salad, Please – If you're a salad fanatic or if you're hosting a get-together, adding some other salads to the mix is a great idea! For more crunch, go with a smashed cucumber salad. Craving some carbs? This picnic pasta salad is the answer to your prayers!
Add Some Sides – Serving this salad with a side of soup or potato wedges is a great way to warm up your plate and add some complimentary flavors to your meal. Yum!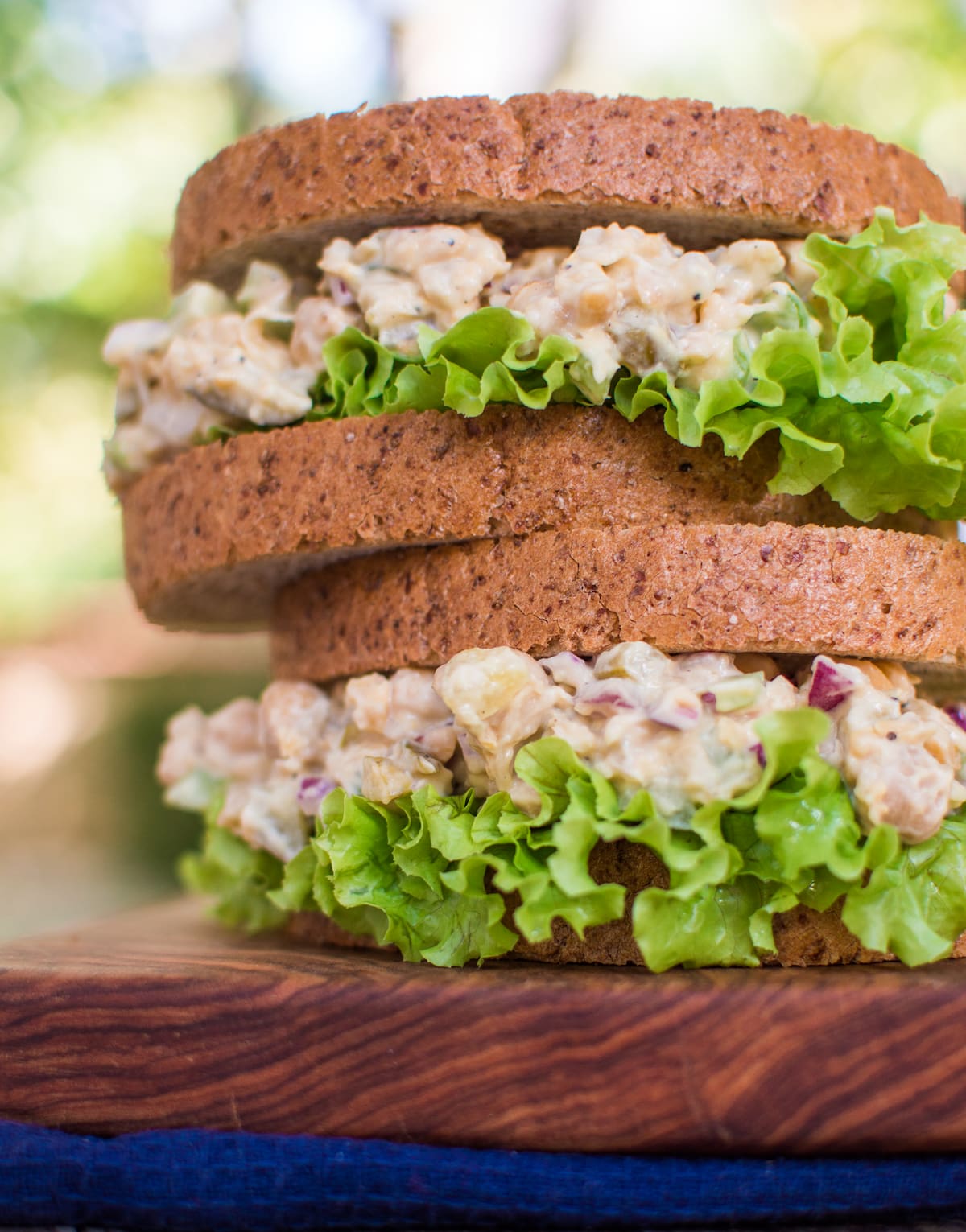 Simple Storage
End up with leftovers? This vegan chicken salad will last up to 5 days in the fridge and might even taste better the next day once the flavors really blend together. You could also technically freeze this recipe but it probably isn't the best idea since the celery and onion will lose much of their crispness this way.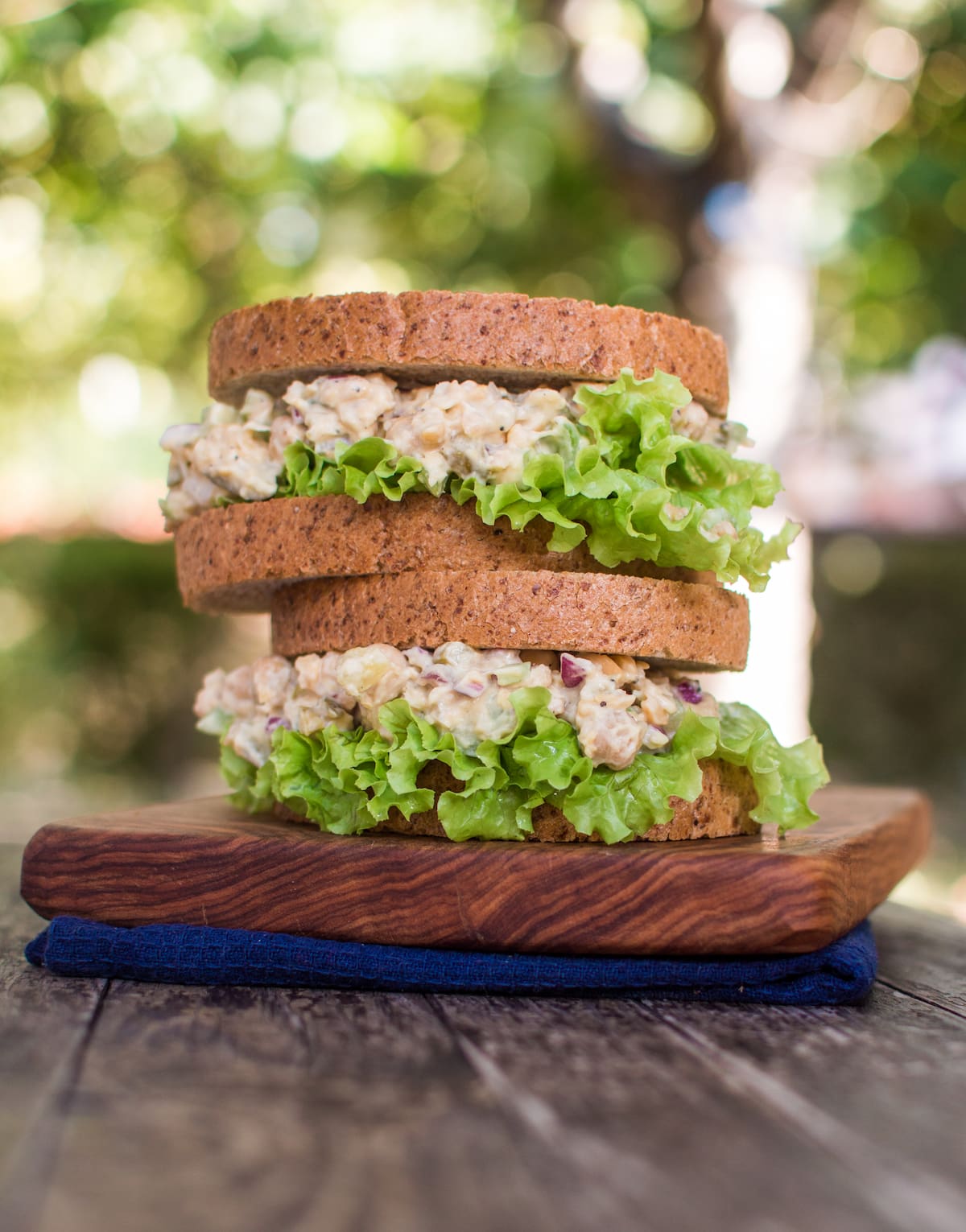 More Delicious Lunch Recipes to Try
If you try this vegan chicken salad, let us know what you think by leaving a comment and rating below! Be sure to follow along on Pinterest, Instagram and Facebook for even more vegan recipe inspiration.
2 15-ounce cans chickpeas, rinsed and drained
¼ cup plus 1 tablespoon vegan mayo
½ tablespoon yellow mustard
½ cup red onion, finely diced
½ cup celery, diced
1 medium dill pickle, diced
¼ teaspoon salt
Ground black pepper, to taste
8 slices bread
Toppings:
½ cup cherry tomatoes, halved (optional)
Lettuce leaves
In a large bowl, mash the chickpeas with a potato masher or large fork.

Add the vegan mayo, mustard, onion, celery, pickle, salt, and pepper, and mix together thoroughly.

Scoop some of the vegan chicken salad onto a slice of bread. Top with cherry tomatoes (if using) and lettuce and press together with another piece of bread to make a sandwich. Repeat for the remaining sandwiches.
Calories: 608kcal | Carbohydrates: 89g | Protein: 25g | Fat: 17g | Saturated Fat: 2g | Polyunsaturated Fat: 3g | Monounsaturated Fat: 2g | Trans Fat: 0.01g | Sodium: 670mg | Potassium: 821mg | Fiber: 19g | Sugar: 15g | Vitamin A: 238IU | Vitamin C: 9mg | Calcium: 196mg | Iron: 8mg
This vegan chicken salad recipe is from The Friendly Vegan Cookbook by Michelle Cehn and Toni Okamoto. Photos by Michelle Cehn. This recipe was published with permission from BenBella Books, 2020, all rights reserved.