Whether you're looking for sustainable sneakers, hide-less heels, fur-free flats, sheep-sanctioned slippers, satin stilettos, fashionable vegan leather boots, the best vegan hiking boots, or any other style of footwear, you can find the perfect pair without harming a soul.
Below we've included a list of the most popular fully-vegan shoe brands. You'll also find a round-up of vegan-friendly brands that offer at least some vegan shoes. And finally, we suggest a few Big Box stores that are likely to carry "accidentally vegan" shoes—an option that's especially useful if you're shopping on a budget.
If you'd like to dive deeper into boots specifically, check out these guides:
Speaking of which, don't forget about secondhand shops! Buying shoes secondhand may not be for everyone, but it is the most sustainable option of all, and it will save you money, too! Plan a fun excursion to your local thrift store and see what treasures you can find. Or, hop over to an online thrift store like ThredUp where you can browse available footwear (and clothing) to your hearts content.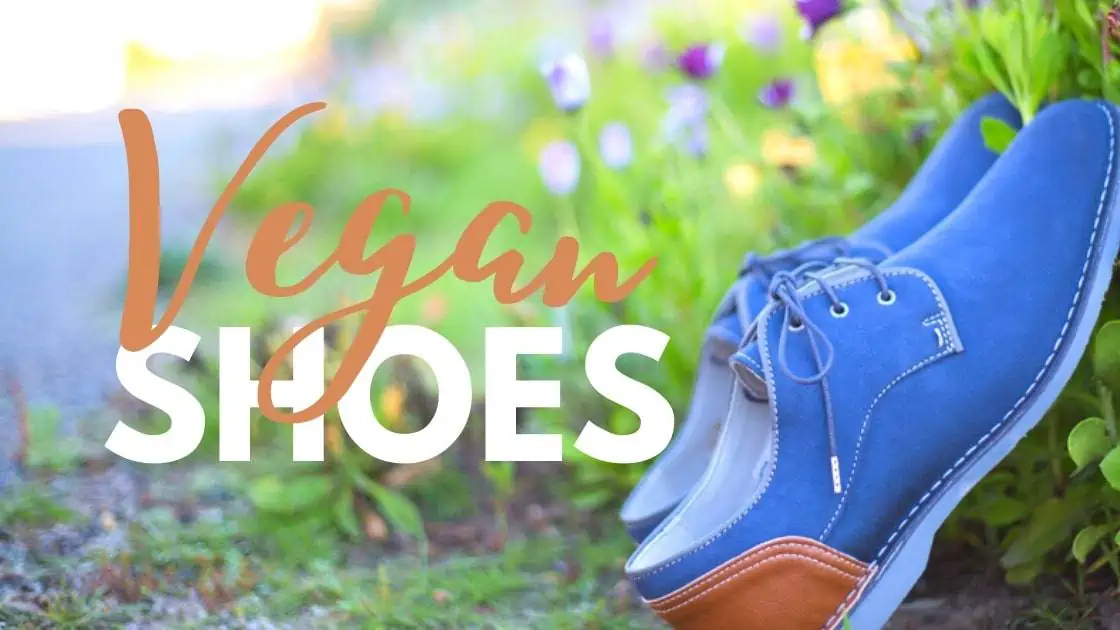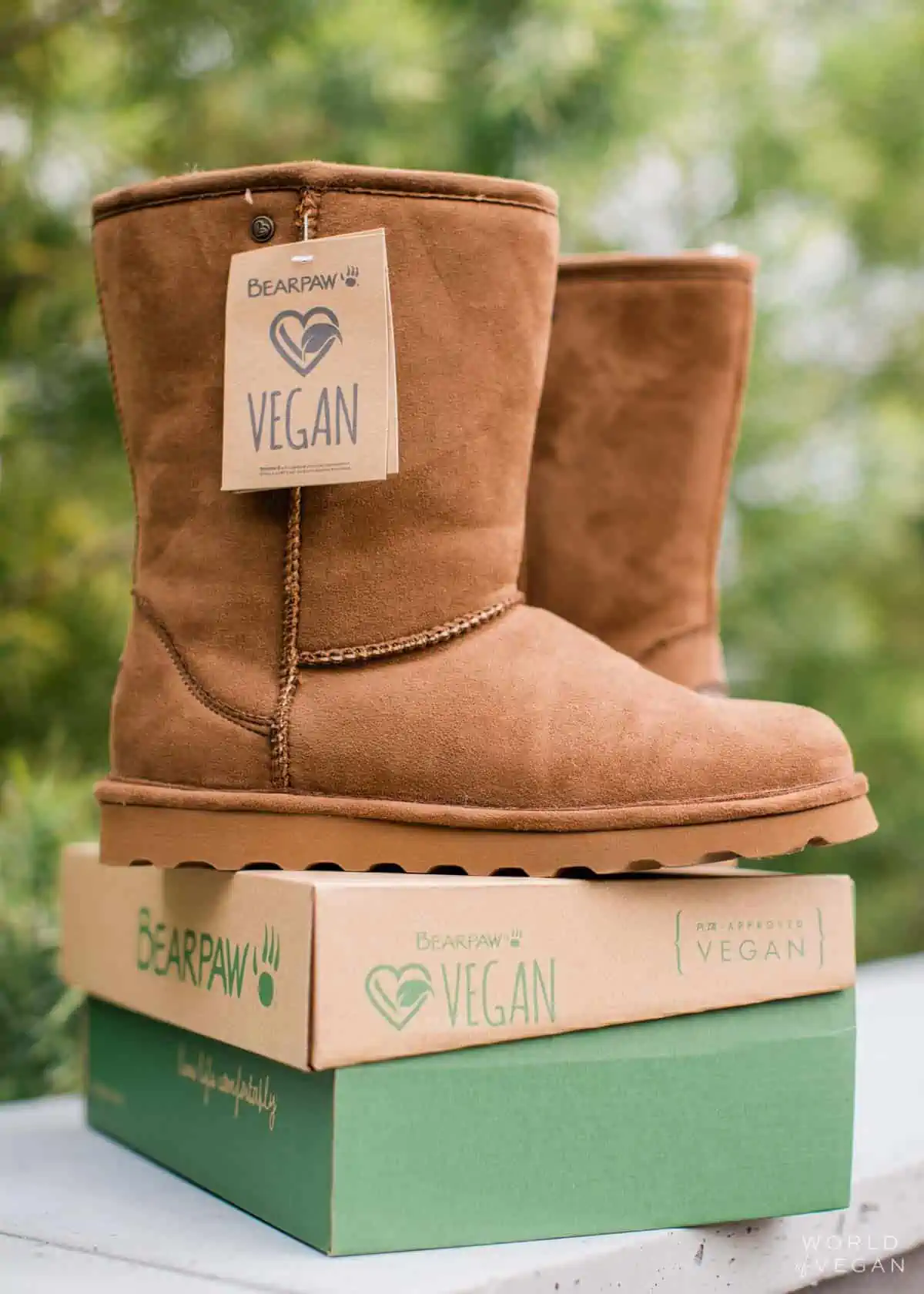 What Are Vegan Shoes?
If the idea of "vegan shoes" seems a little bizarre to you—since, well, shoes aren't food—let us take a moment to explain.
Those who choose to live a vegan lifestyle in an effort to avoid harm soon learn that it's necessary to look beyond our food choices. Cosmetics, body care, cleaning products, home goods, and clothing are all areas that require examination.
In the simplest terms, vegan shoes are shoes made without any animal products or by-products. No animal hide, leather, suede, wool, fur, snakeskin, alligator skin, other varieties of skins, or glues made from animal parts. If a shoe doesn't contain any animal products it is technically vegan. But beyond that, many vegans look for shoe brands that have ethical business practices, are sustainable, and are consciously produced.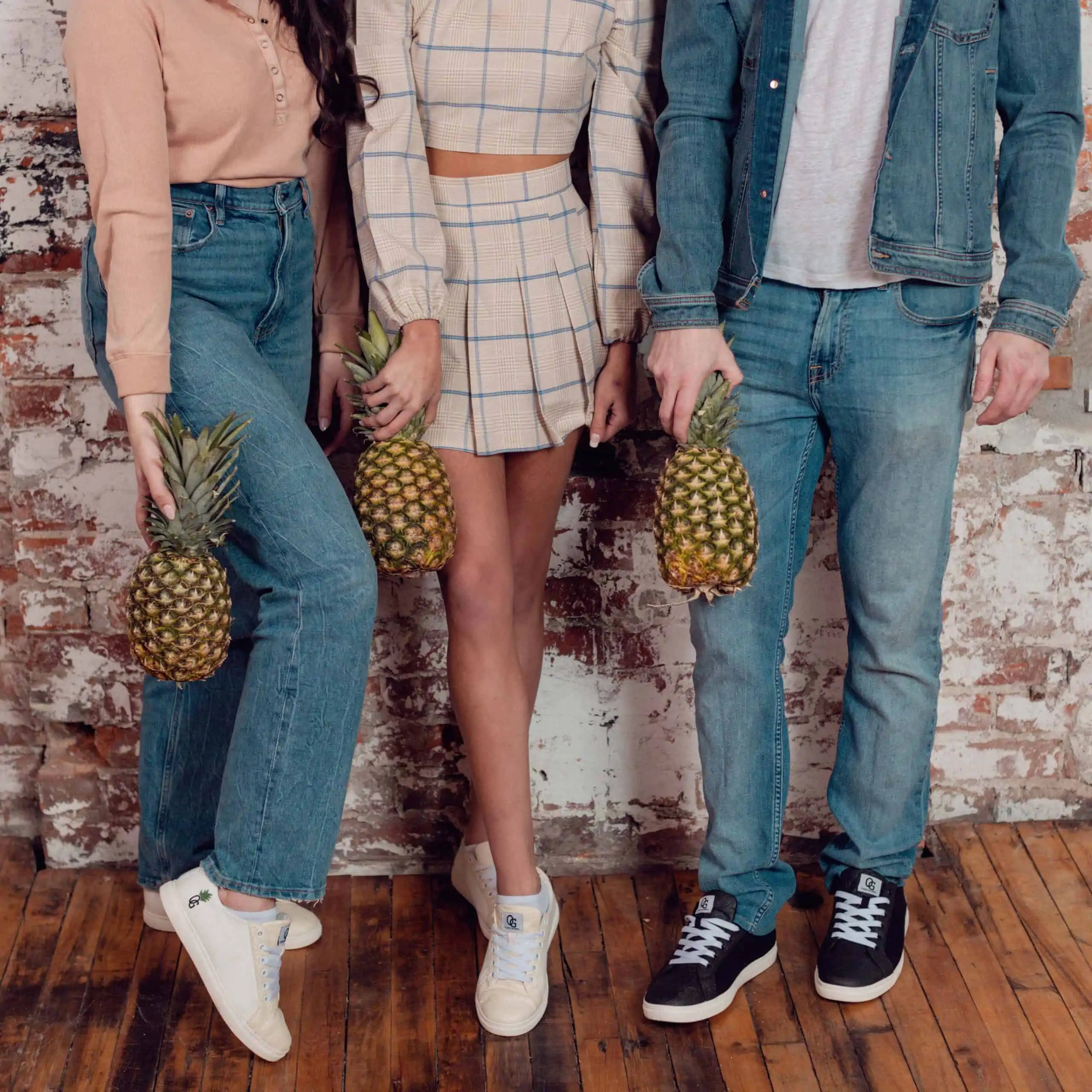 100% Vegan Shoe Brands
Today it's easier than ever to find comfortable, stylish, well-made vegan shoes. Brands like Wills Vegan Shoes in London and MooShoes in New York City have been leading the way in making ethical and sustainable shoes available to the masses. What a time to be alive!
Here are the most notable brands that exist today. Many of these brands are vegan-owned, and while some come with a heftier price tag, you can step into their shoes proudly knowing that you're supporting a company with strong ethics.
100% Vegan Shops That Carry Shoes
Fortunately, for those who want to extend their values into fashion, there are now many 100% vegan shops that offer a wide variety of shoes from made without animal products or byproducts. These shops specialize in ethical fashion, and their collections of brands are curated for you, so you don't have to do the detective work to determine whether a shoe is in fact vegan.
Vegan-Friendly Shoe Brands
These brands are not fully vegan, but they do offer some clearly-labeled vegan options.
Converse (while not certified vegan, most converse shoes are vegan, including their Chuck Taylor All Star collection made from canvas and rubber)
Giesswein (go for the cactus leather model)
Saucony (they have a specifically labeled vegan sneakers!
Zappos (search "vegan")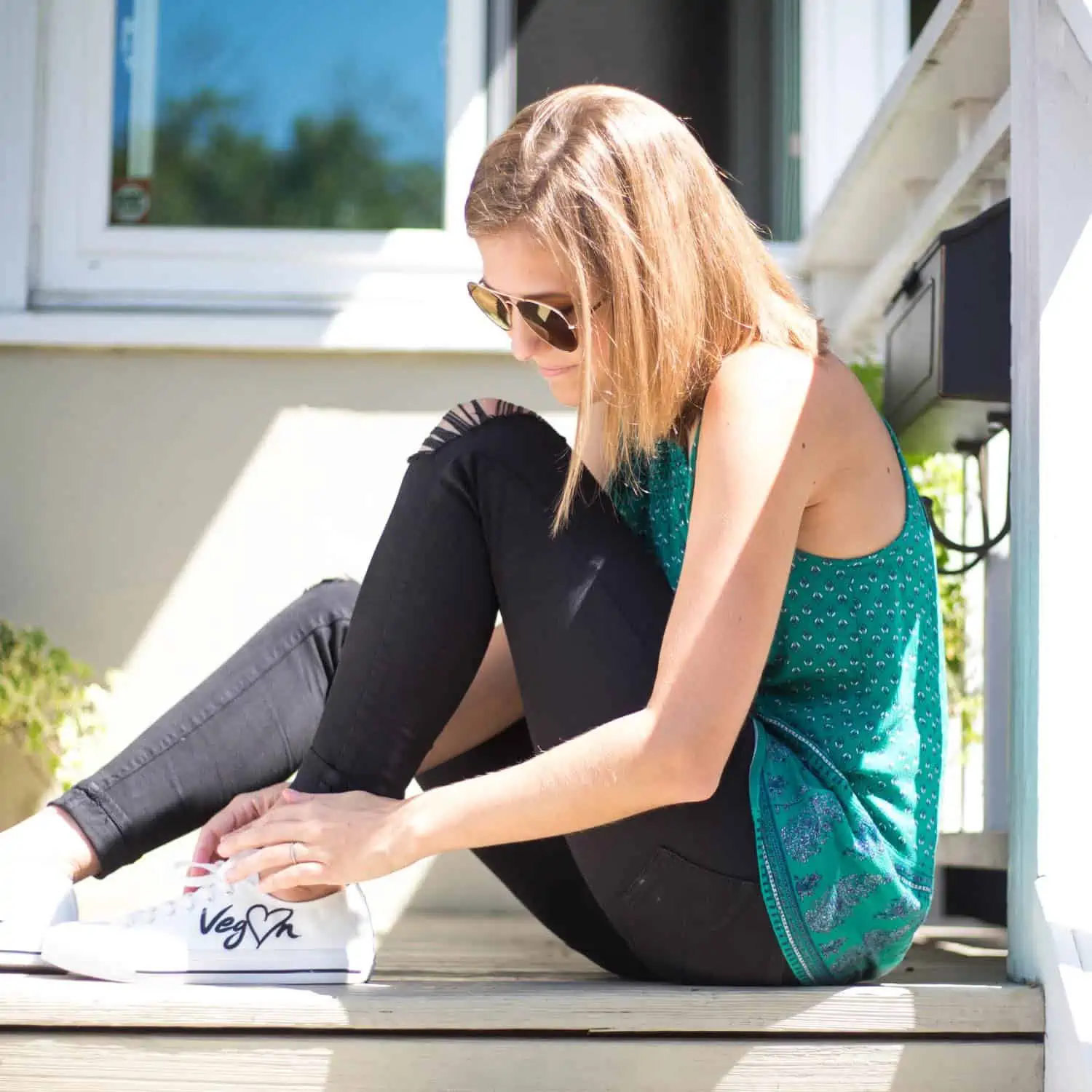 Shops That Carry "Accidentally Vegan Shoes"
DSW
Target
Walmart
Payless
…and many more large chain retailers with generally lower-cost items. Unfortunately it will be nearly impossible to determine what type of glue is used in these shoes (read more on this below). While shoes at these stores that are labeled "synthetic" or "all man made" are likely vegan, there is a small chance they are made with animal-based glues.
Shopping from a vegan brand is of course the most ideal, but few people are in a position to invest that much in their shoes. Make the choice that feels best for you and your family.
Vegan Birkenstocks
In 2017 Birkenstock launched an entire line of vegan Birkenstocks including many of their most popular styles. These are made from microfiber, jute, cork, and manmade Ethylene Vinyl Acetate (EVA), and are available in many colors and prints. If hippie living is in your blood, these are calling you! Vegan Birkenstocks range from $70 – $115 brand new, but occasionally you can find items from The Vegan Collection on sale or used.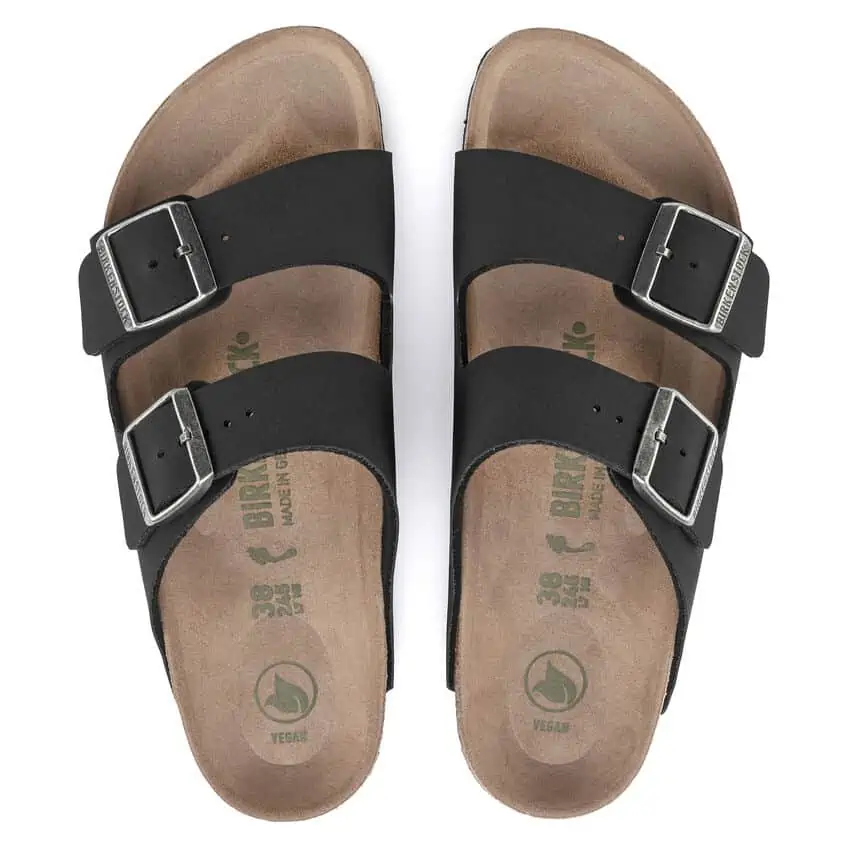 Dr. Marten's Vegan Shoes
Have you been dreaming of vegan Doc Martens? Well, dear reader, you can have your choice of animal-friendly Dr. Marten's—from the classic lace up boots and platform boots to oxford shoes and gladiator sandals. They range in price from around $90 to $200 new, but if you're lucky you can snag a well cared for pair secondhand.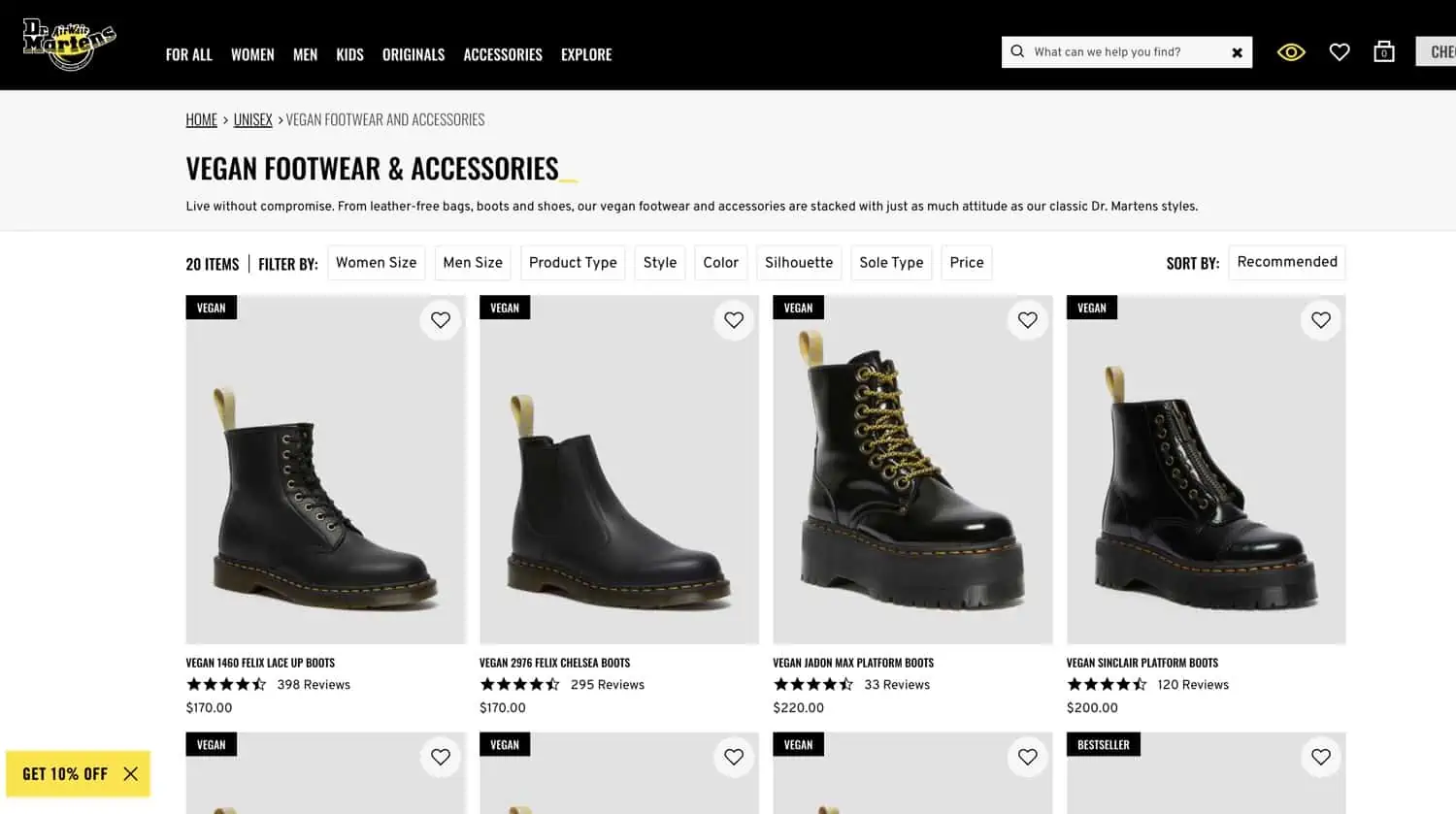 Vegan Hiking Shoes
We have an entire guide to vegan hiking boots to help you choose the best option for you. Plus, several of the vegan brands listed above offer hiking shoes. Astral is just one brand with vegan hiking shoes made animal-free!
Materials Used to Make Vegan Shoes
Say farewell to animal leather, reptile skin, and fur. No thank you! Animals need their skin far more than our feet do—especially when there is such an exciting array of plant-based and manmade materials used to make vegan shoes. Here are a few of the most common:
Acrylic
Bamboo
Canvas, Corduroy, and Denim
Cork
Cotton
Nylon
Polyester
Polyurethane, Pleather, and Recycled Plastic
Rubber
Vegan leather and pineapple leather, mushroom leather, apple leather, leaf leather, and more.
Vegan suede and microsuede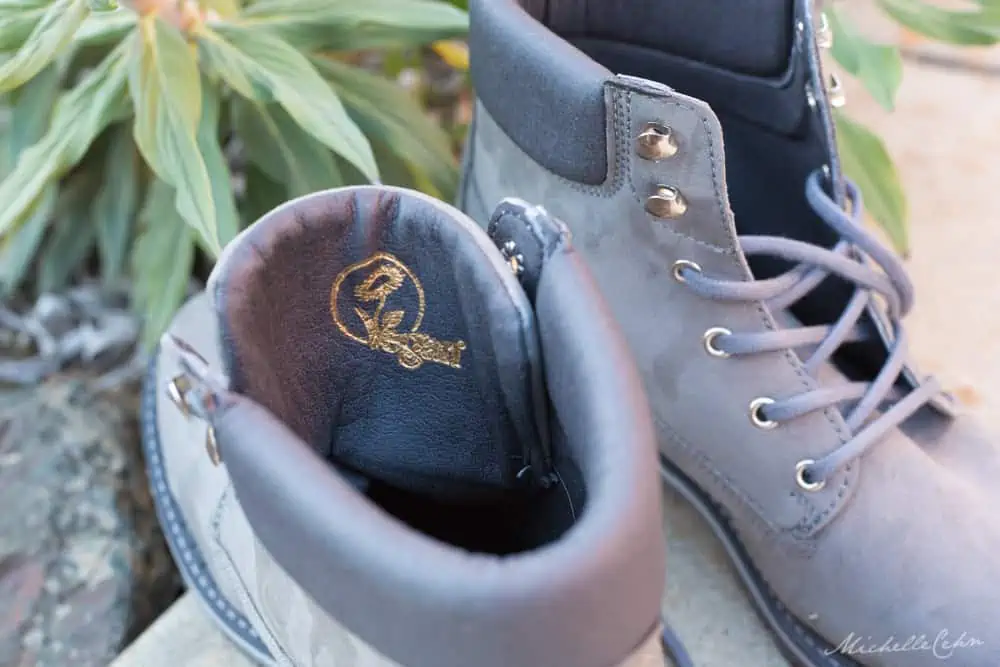 What About The Glue In Shoes?
You may have heard that most shoe glue contains animal collagen and therefore isn't vegan. And you are partially right. Yes, there are animal-based glues made from various animal parts and by-products such as bones, skin, ligaments, and flesh. And yes, these animal glues were once the main source of glue used in shoes. However, today it's becoming less common for brands to use animal-based glues—thank god!
There are many synthetic adhesive glues available now that companies like Converse, New Balance, and Nike are turning to (all three claim to use exclusively animal-free glues).
But here's the tricky part. How can you tell if a pair of shoes is made with vegan glue or animal glue? Unfortunately, in most cases you can't simply by looking at the shoes. Even a detailed visual inspection with careful label-reading and website scrutinizing won't reveal what the shoe glue is made from. So, you do what vegans have become so adept at doing. Ask the company!
Here's a sample message for you to use.
Hi friends at [Company],
I absolutely adore your shoes! I'm hoping you can help me find out if there are any animal products in the adhesives (glues) used in your shoes? I'm vegan and want to make sure the glues are fully vegan before I place my order. Thank you so much!
Sincerely,
[Your Name]
Contacting a company in this way will not only help you get to the bottom of your quandary, but it will also demonstrate to them that their customers care about these issues and are actively seeking consciously produced animal-friendly shoes. Many companies have shifted their practices because of customer messages like this—they can make a world of difference for animals.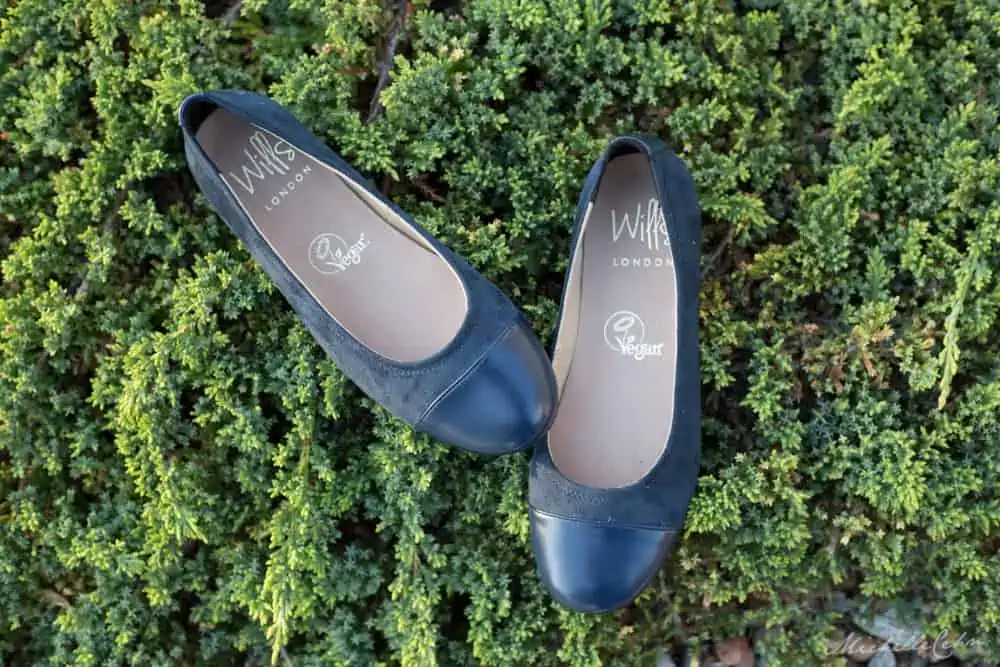 What Can I Do With My Old Non-Vegan Shoes?
This can be a tough deliberation for new vegans—because once you're aware of the suffering that goes into producing a pair of leather shoes, it's hard to wear them anymore. But the deed is done, you've purchased the shoes already, and now you've worn them and they're used.
There is no "one right way" to handle your previously purchased non-vegan shoes—but there is a wrong way, as we see it.
What NOT to do: throw them out. Throwing away your non-vegan shoes is a waste of an animal's life, resources, and perfectly good shoes.
Instead, try one of these approaches:
Continue wearing your old shoes until they're fully exhausted. Then commit to purchasing fully vegan shoes going forward.
Donate or sell them to a secondhand shop or homeless shelter where they may prevent someone from buying new leather shoes.
Pass them on to a friend who you know will get use out of them.
Still not sure how to handle the leather shoes you purchased before you went vegan? Tune in to our Vegan Clothing & Fashion episode of the Plant-Powered People Podcast.
Vegan Shoe Businesses that Closed
Sadly, some fantastic vegan shoe shops and brands have closed, and we'd like to recognize some of them here. If you own shoes from these brands, you have a little piece of vegan shoe history in your possession!
Beyond Skin (after operating for 20 years, this high-end vegan shoe brand that made beautiful vegan high heels, flats, and even vegan wedding shoes, closed in 2022 due to difficult times during the pandemic)
Herbivore Clothing Company in Portland, Oregon
More Vegan Clothing & Accessory Guides
We have dozens of guides to help our readers navigate every aspect of vegan living. From food, to household and cleaning products, to cruelty-free beauty, to vegan clothing and accessories. Here are a few articles you may find helpful.