Say whaaat? Lox made from carrots? Oh yes, sweet reader. Vegan carrot lox is all the rage in the plant-based world. And even omnivores can jump on this bandwagon! It's salty. It's smoky. This lox is incredibly flavorful. And it's perfect on a vegan bagel sandwich with your favorite vegan cream cheese (or homemade cashew cream cheese). Top it off with tomato, finely shredded red onion, cucumber sliced, and capers, and you're ready for the perfect breakfast. 
Table of Contents
What is Lox?
Lox is a bright pinky-orange salmon filet that's been preserved through a process of brining. It's typically served on bagels with cream cheese and other accouterments.
Bagels with lox has become a traditional staple of Jewish cuisine and you'll often find it at Jewish brunches, after-Temple gatherings, Jewish diners, and beyond.
Speaking of which, fun fact. Did you know the word "lox" comes from the Yiddish word for "salmon?" (Yiddish: לאַקס). Okay, okay, I'm done with my spiel. Get in the kitchen and whip this up with chutzpah, you mentsh!
The Perfect Carrot Lox — That Even Your Bubbe Would Approve Of!
This recipe is perfect for an easy buffet-style brunch or for breakfast for overnight guests (if you want to be the world's greatest host). Growing up in a Jewish household, bagels with shmear and carrot lox was the norm for my family brunch occasions.
If you have family is in town for a long weekend, this is the perfect recipe to whip up!
Celebrating a vegan Bat Mitzvah or Bar Mitzvah? This carrot lox would be perfect served at an after-service buffet at your Temple.
Have a caterer? Share this recipe with them an they can easily prepare a platter like the one below for your guests.
My family isn't vegan, but they have been amazed by this recipe and are in awe of what carrots can do in place of salmon.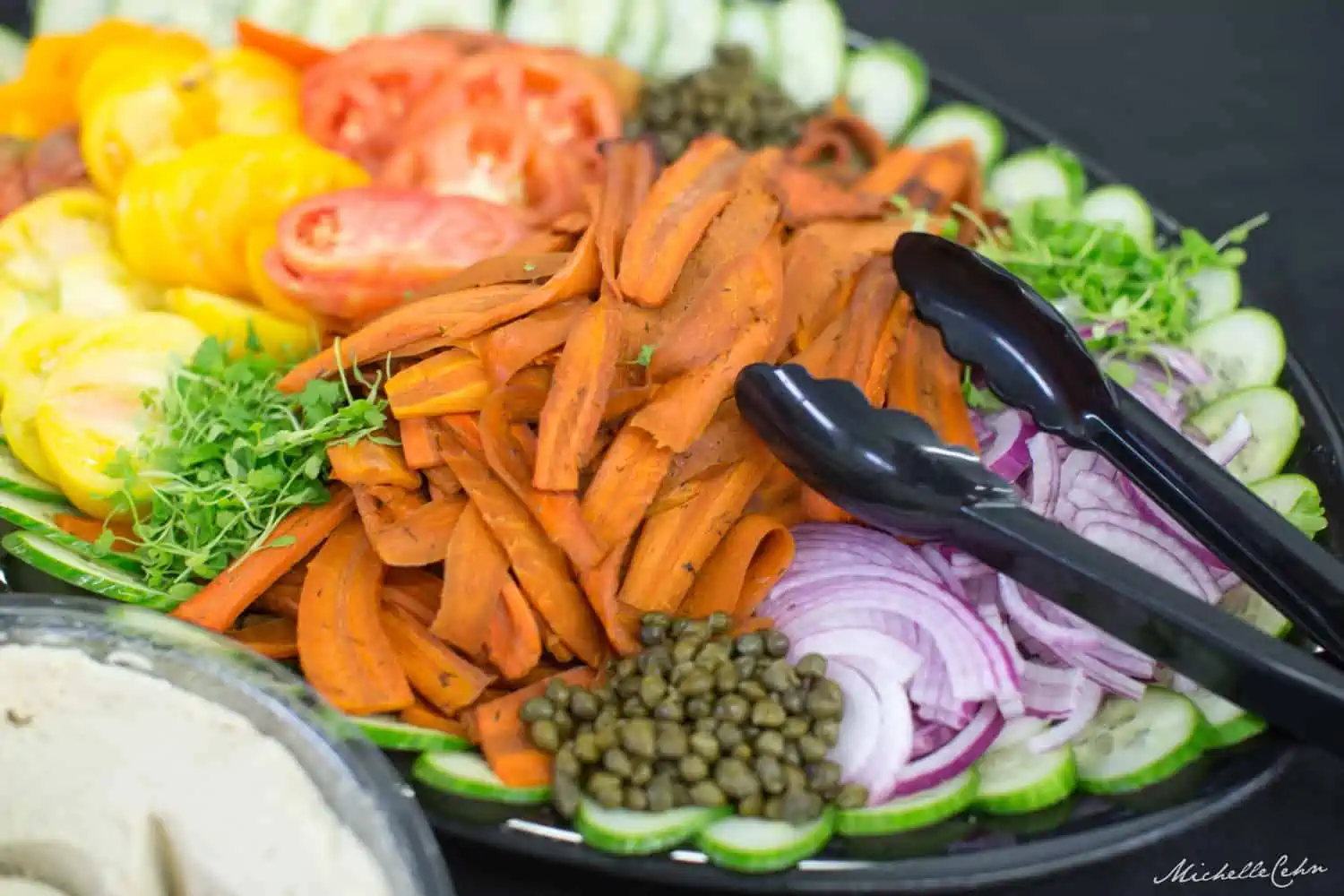 How We Discovered This Amazing Carrot Lox Recipe
I recently attended the Compassion In Action conference—a phenomenal event in Oakland with inspirational speakers and a room packed full of compassionate attendees who are working to make the world a kinder place. The event was catered by a new all-vegan meal delivery duo in
called Planted Table. They served up vegan bagels with carrot lox and cashew cream cheese that were to die for. I loaded up my plate and took about a trillion photos (because if it doesn't go up on Instagram, did it really happen?) before devouring every last crumb. Before the event was even over I sent a message out to my new friends at Planted Table—co-founders Megan Scott and Chef Lauren Mahlke—asking if they'd like to share their amazing recipe on World of Vegan. To my gleeful surprise, they said yes! So here it is, my friends. The most incredible carrot lox recipe with homemade cashew cream cheese.
1 pound carrots, thinly sliced
¼ cup soy sauce or tamari
1 tablespoon liquid smoke
¼ cup maple syrup
2 tablespoons dill, fresh or dried
2 tablespoons nori flakes
¼ cup lemon juice and zest of lemon
In a shallow pan or ziplock bag marinate raw carrot slices for 1-3 days.

Preheat oven to 300*

In a roasting pan with at least 2 inch sides, place carrots and marinade in pan and roast for 90 minutes until carrots are smooth and cooked through.

Remove from liquid and serve. Reserve liquid for another marinade (it's great for tofu or tempeh).
This recipe is best made ahead allowing the carrots to cool. The carrots like to marinate for at least a day.
Calories: 38kcal | Carbohydrates: 9g | Protein: 1g | Fat: 0.1g | Saturated Fat: 0.02g | Polyunsaturated Fat: 0.05g | Monounsaturated Fat: 0.01g | Sodium: 300mg | Potassium: 156mg | Fiber: 1g | Sugar: 6g | Vitamin A: 6364IU | Vitamin C: 5mg | Calcium: 23mg | Iron: 0.3mg
Vegan Cream Cheese Options
Okay, now you have your plant-based lox. But what about the cream cheese? You can make your own cream cheese from cashews (it's absolutely delicious with this lox), but you can also find store-bought options at most grocery stores and natural foods stores today. Here are some popular brands to look out for: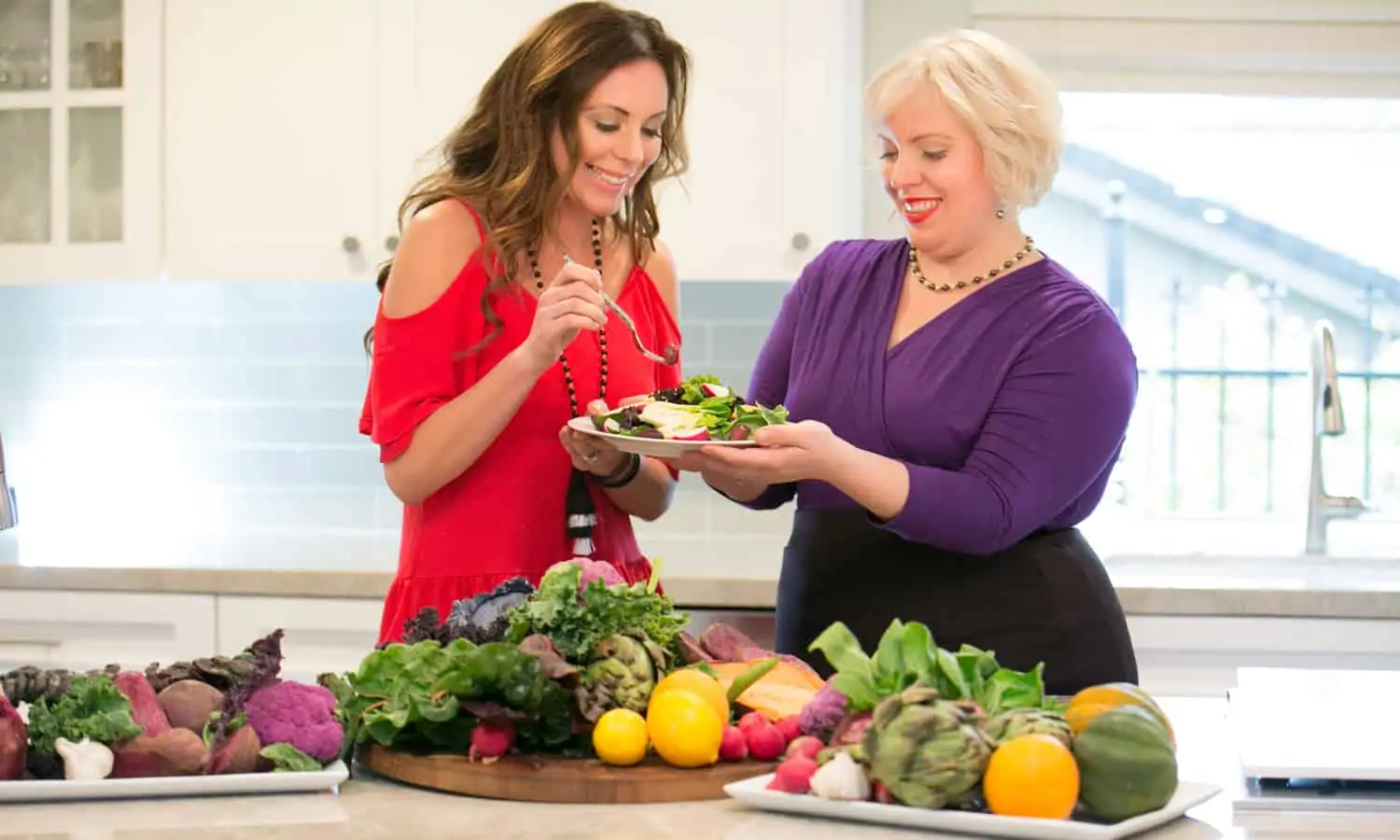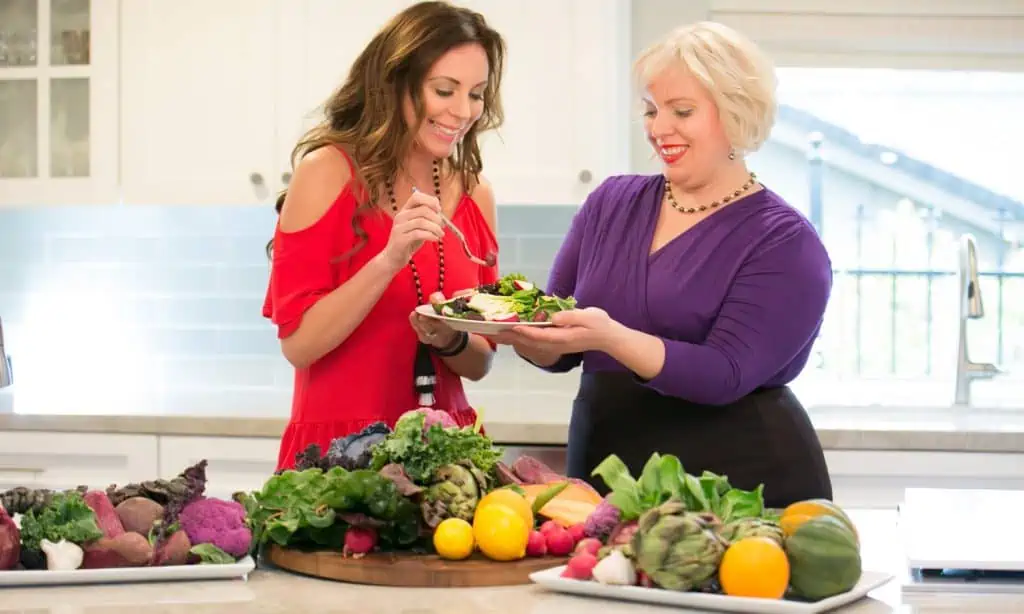 About the Carrot Lox Recipe Creators
Megan Scott and Lauren Mahlke are two vegan sisters rooted in the San Francisco Bay Area who want to help people transform their lives through the power of healing food. In wanting the healthiest diet for their families, they decided to take their health into their own hands and evaluate how the food they eat nourishes and empowers them every day.
After transitioning to plant-based eating, their skin cleared up, they shed pounds, and they felt a new level of energy and wellness. If you're in the Oakland area, you can look forward to dining on Planted Table's chef-prepared, delicious, healthy, vegan meals that can be delivered to your home or office.
They are the first zero-waste vegan meal delivery option out there, which is groundbreaking as most meal delivery services leave lots of plastic containers and packaging behind that end up in our landfills. Planted Table takes waste out of the equation by using reusable glass containers that they pick up at the end of each week, wash, and reuse. They're awesome and ready to help you take the stress out of your family's meal time.
More Deliciously Vegan Jewish Recipes to Try
Also, if you're out and about and your belly is begging for bagels, check out our Vegan Bagels Recipe and Guide and How to Order Vegan at Einstein Bros Bagels guide! You'll be glad you did! Recipe by superstar sisters Megan Scott and Lauren Mahlke. Smoked carrot lox photos by Michelle Cehn. Photo of Megan Scoot and Lauren Mahlke by UltraSpective Photography. Article edited by Amanda Meth. Recipe shared with permission from The Planted Table.