Did someone say vegan BLT? Yes, you heard that right! A fully vegan BLT sandwich with homemade eggplant bacon!
Ok, I know some of you might be horrified by the idea of replacing traditional bacon with eggplant. And that's fine. If eggplant is outside of your comfort zone, you can use any of the vegan bacon options out there made from seitan, tofu, tempeh, coconut, and beyond. You can find ready-made vegan bacon from brands like Upton's Natural's, Sweet Earth, Lightlife, Yves, and Tofurky.
But if you are willing to give eggplant bacon a try, you will be blown away by the texture and the smoky flavor this recipe manages to achieve. It's delicious! See how it's done in the recipe below.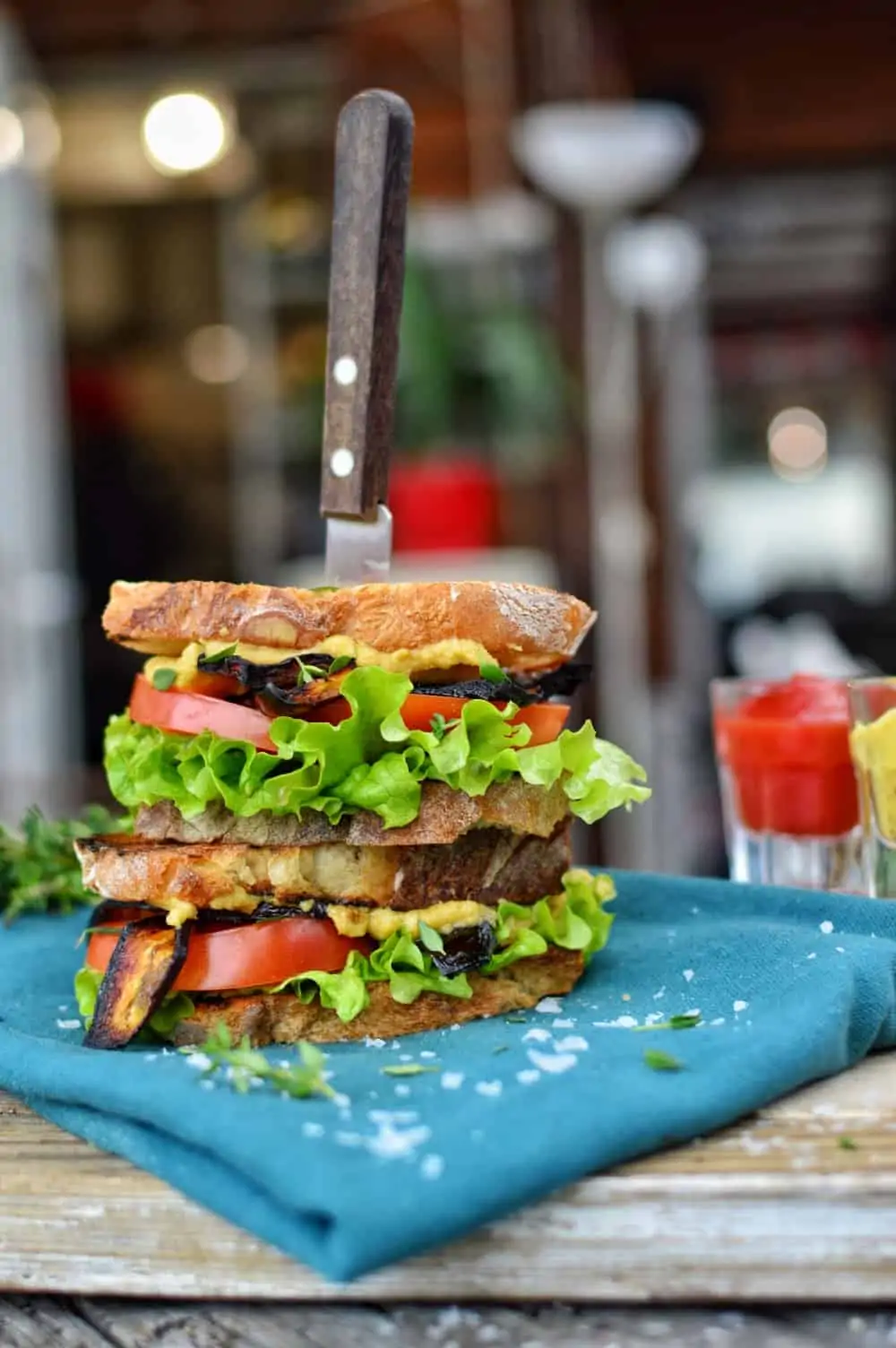 Let's Talk Spreads!
The layers of your sandwich matter, but your spread matters as much. Choosing the right spread can make a world of difference, especially when it comes to texture and flavor.
So what are your options:
I'm sure you have a few favorites already but remember that we are looking for flavor, moist, and for something that holds the layers together.
How to Assemble Your Vegan BLT
Now let's get to the good part! You know, that glorious moment when you start assembling your fantastic sandwich! You have all the ingredients laid out on the table so you can begin carefully placing them on to your (already toasted) bread.
Start with your spread of choice and move on to the lettuce, tomato, and eggplant bacon. Maybe more lettuce on top if you're a fan of the crisp. Press it slightly and cut it in half to appreciate the layers in all its glory.
That's it! It's time to enjoy your well-deserved vegan BLT!
Now It's Time for the Eggplant Bacon!
This is one of those recipes you can learn how to do once and will keep in your arsenal forever. Imagine the endless heavenly meals you can make with vegan bacon!
So much, yes!
The best part about this eggplant vegan bacon is that it is super easy to make and requires very few ingredients. You won't have to struggle to find uses for those beautiful purple eggplants you bought at the market when you were feeling inspired or the lonely ones that come in your weekly produce delivery box but usually end up in the compost.
Try making some ahead of time and save it for a few days in an airtight container inside your fridge. Every time you want to put together a quick sandwich, grab your bacon, and go! And it goes perfectly with this vegan BLT sandwich!
If you like it hotter, remember to take the Tabasco up a notch!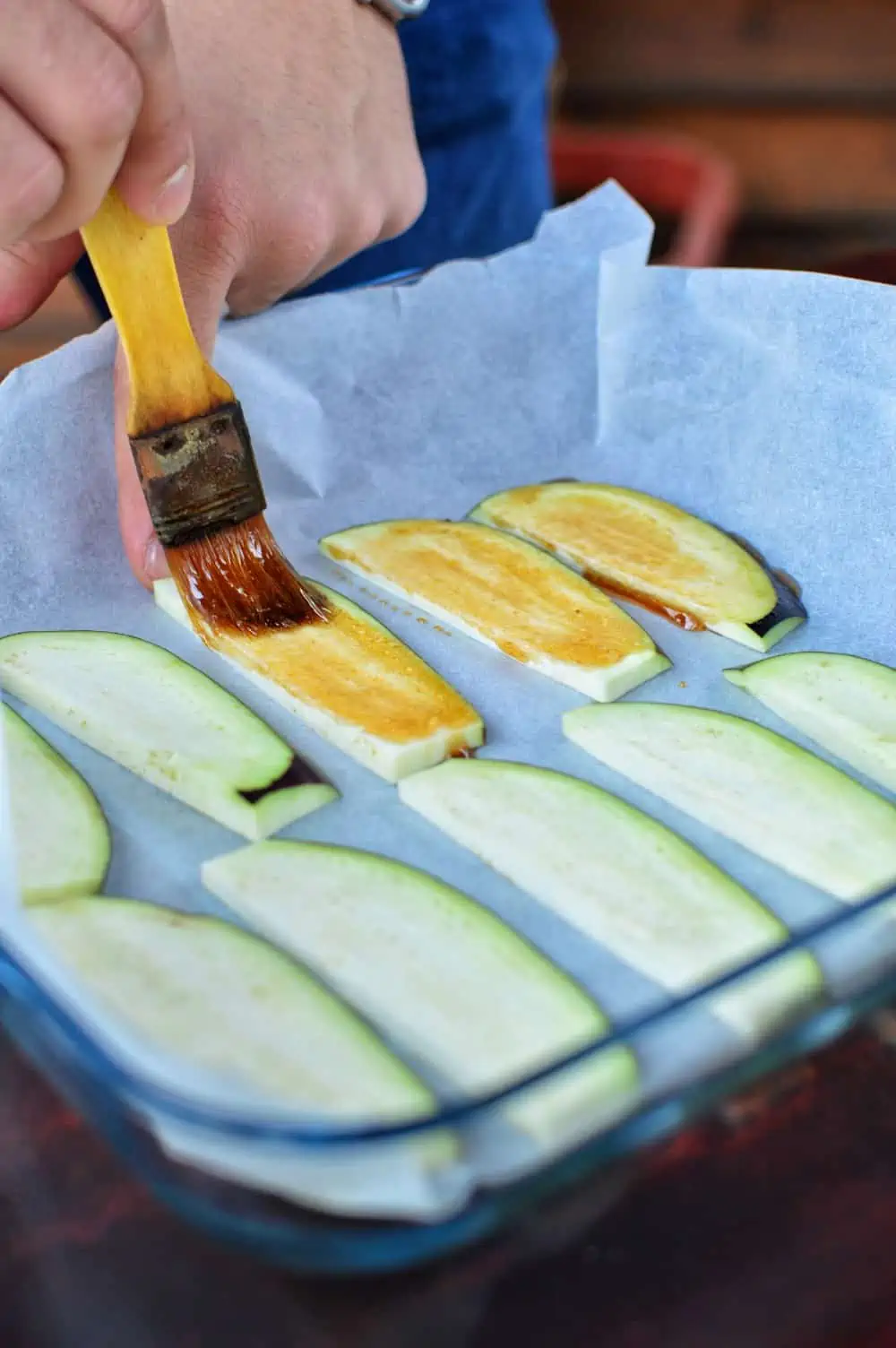 Eggplant Who?
Is eggplant a bit of a mystery to you? Well, it is a very mysterious vegetable for many of us. First of all, it has different identities in different parts of the world. Across the pond, they call it Aubergine, and in South Africa, they call it brinjal. See? Pretty cool.
Another eggplant secret is the fact that it's not a vegetable but a berry and it belongs to the nightshade family. Also, very cool!
In any case, eggplants are uber healthy and versatile. For example…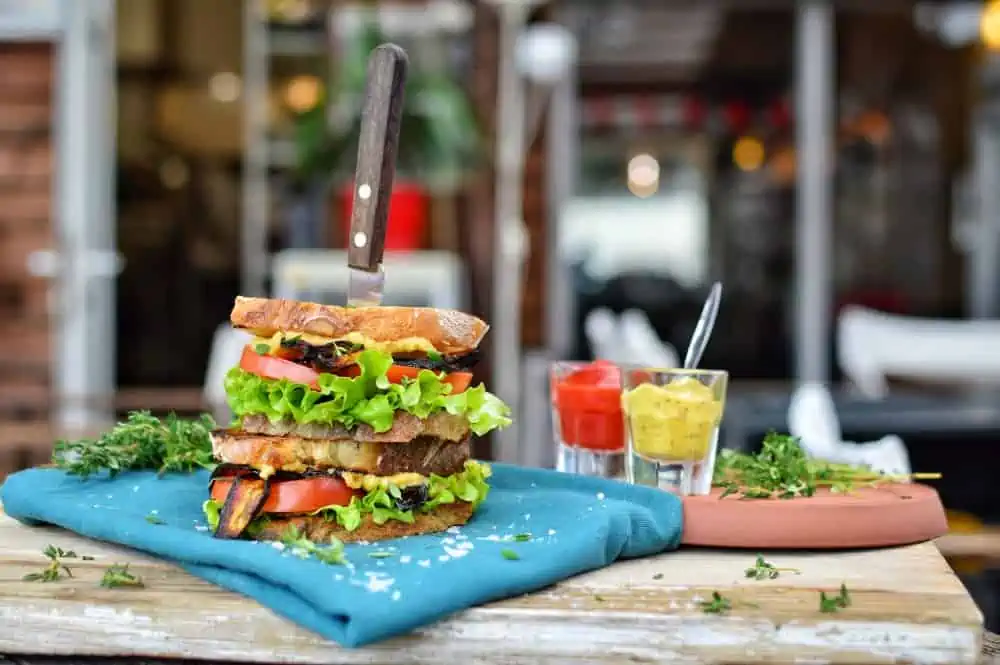 Easy & Quick Vegan Meals
When you've recently moved towards a vegan lifestyle, it's super important to have easy go-to meals you can grab in a hurry. When hunger strikes, you are most likely to eat whatever is available, so having some vegan bacon on your fridge ready to be put on a sandwich is ideal!
What about cooking some quinoa once a week and then mixing it with whatever veggies or canned beans you have available? Seems so doable, right? You get the idea, if you can't plan everything ahead then at least make sure you have quick go-to solutions for when you're faced with the panicky question: Now, what do I eat?
Are tempted yet? You must prepare this vegan BLT! Warning…it's highly addictive!
More Quick & Healthy Lunch Solutions
For the eggplant bacon:
1 medium-sized eggplant
3 tablespoons olive oil
1 tablespoon soy sauce
1 tablespoon white or brown sugar
1 teaspoon Tabasco or 1 teaspoon of smoked chili powder, optional
For the BLT:
2 slices rustic sandwich bread, any will work
2 tablespoons hummus or vegan mayo, or vegan spread of choice
5 slices eggplant bacon
lettuce leaves, a variety with volume would be better
tomato slices
For the eggplant bacon:
Preheat oven to 400° F.

Cut the eggplant into four equal parts, lengthwise, as shown in the photos. Then slice each quarter into strips (as pictured). Don't cut them too thin so they will stay a bit juicy and won't burn or lose flavor.

Place the eggplant strips on a baking tray lined with a sheet of baking paper or a silicone baking mat.

In a small ramekin, mix together the olive oil, soy sauce, sugar, and Tabasco or smoked chili powder.

Brush the raw eggplant strips on both sides with the olive oil mixture.

Bake in the oven for about 30-40 minutes, until golden.
For the BLT Sandwich:
Toast your bread until nice and crispy.

Spread the hummus or mayo (or your spread of choice) on both slices.

Place the lettuce leaves on one side of the bread, followed by the tomato slices, and finally the pieces of eggplant bacon.

Finish it up with the other slice of bread on top and press slightly.

Serve and enjoy!
Calories: 743kcal | Carbohydrates: 70g | Protein: 15g | Fat: 48g | Saturated Fat: 7g | Polyunsaturated Fat: 7g | Monounsaturated Fat: 32g | Trans Fat: 0.02g | Sodium: 1496mg | Potassium: 1252mg | Fiber: 18g | Sugar: 31g | Vitamin A: 121IU | Vitamin C: 13mg | Calcium: 136mg | Iron: 5mg
Vegan BLT Sandwich and eggplant bacon photos and recipe by Zhoro Apostolov from Top Food Facts for World of Vegan. Recipe and photographs copyright of World of Vegan™, all rights reserved. Please note that this article contains affiliate links which means shopping through them helps lights on at World of Vegan!