Vegan double chocolate donuts? Oh yes! I'm telling you, these will be the answer to your prayers. These donuts are baked, not fried, and they're beyond quick and easy to make.
The method is super simple and pretty standard for any of you bakers out there. Simply mix the wet and dry ingredients in separate bowls, stir them together, then pour the batter into your donut pan (we love this silicone donut mold) and pop them in the oven to bake! While the donuts are baking you can quickly whisk together your glaze and set it in the fridge while the donuts bake.
It's easy peasy, and if the thought of making donuts is intimidating to you, this recipe is here to change your mind. The ingredients are all likely ones that you already have in your pantry including flour, cocoa powder, baking powder, baking soda, vegan butter, sugar, and non-dairy milk.
The recipe for these donuts includes a delicious glaze which ads just a bit more sweetness to these already decadent donuts.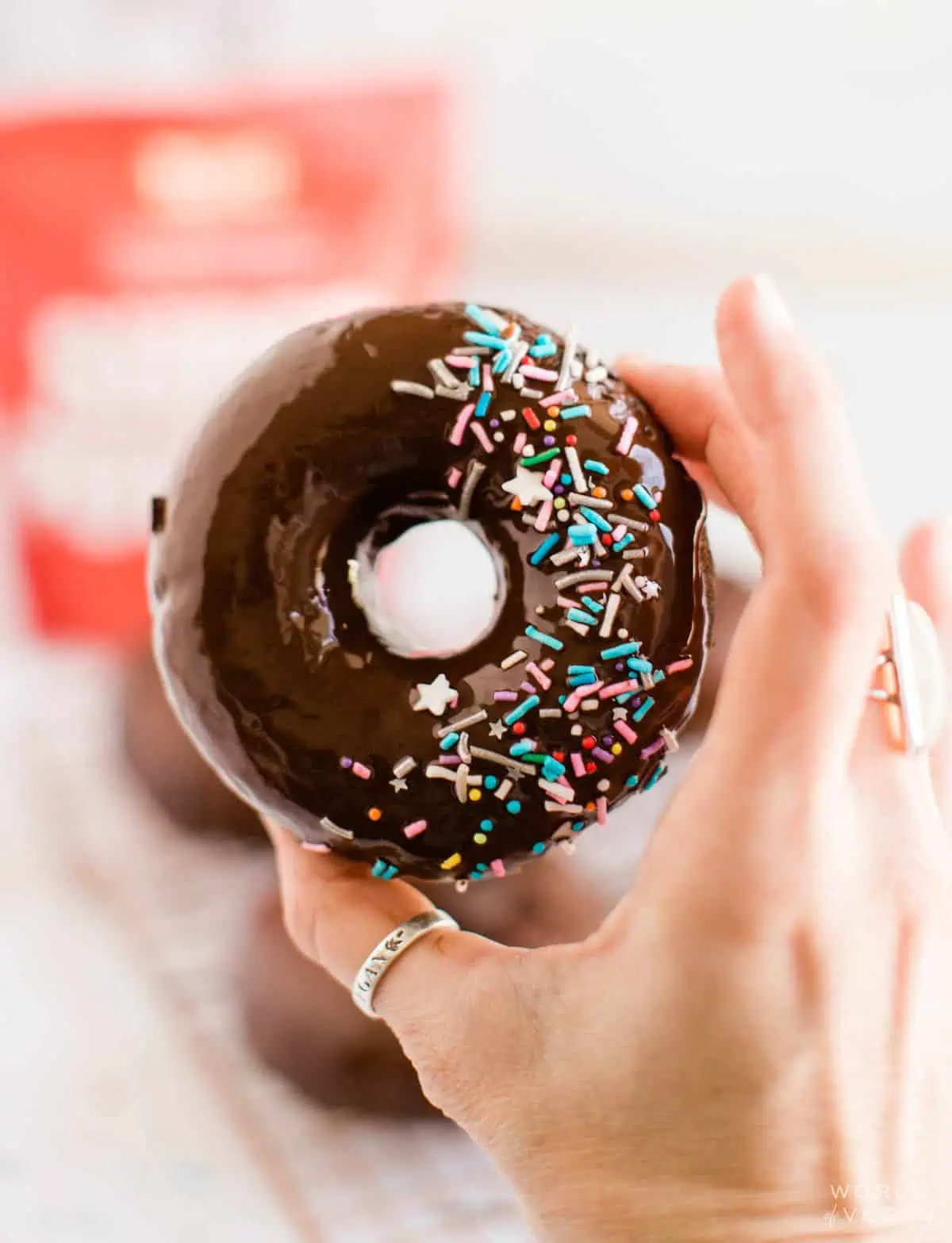 C'mere, Nostalgia!
Donuts have a very special place in my heart. Every Canadian has the flavor of Tim Hortons Donuts and Timbits (which are just donut holes) ingrained in their brains. It's actually a food that I still find myself craving periodically even though I haven't had them in years.
Before going on any road trip, Tim Hortons snacks were always a must and the memory is very nostalgic for me. I always associate the flavor of donuts with early mornings, camping, and cottaging. I love being able to re-create childhood favorites and nostalgic foods like this! While the result doesn't completely replicate the texture of a fried donut, the flavor is on point and it's so chocolaty and cakey that you won't be missing a thing.
Baked, Not Fried
You'll love that these donuts are baked and not fried because the method is so much easier and also healthier. Although I love the taste of fried foods and eat them as a very occasional treat, I'm personally not a fan of frying foods because heating oils at extremely high temperatures creates oxidation which can be very damaging to arterial health. Not to mention the fact that fried foods have an extremely high fat content.
You can still achieve a delicious, cakey, and dense donut by baking them instead! It also saves a few steps and it's less messy, plus you don't have to worry about measuring oil temperatures and being safe using a fryer or hot pot full of oil. It's also a side benefit that these particular donuts don't leave a super heavy feeling in your belly like when you eat a traditional fried donut.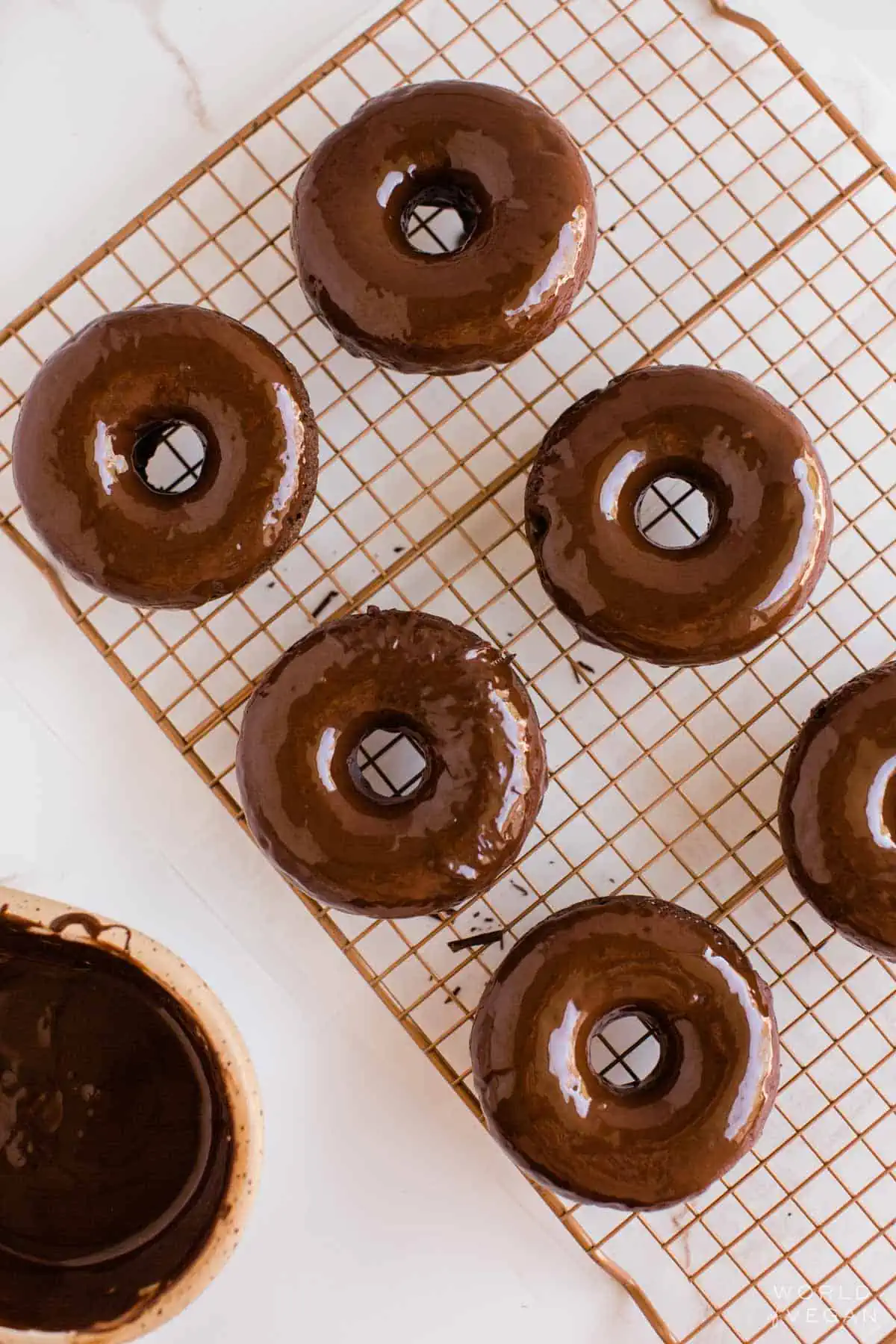 Invest In A Donut Pan Or Silicone Mold
For these vegan double chocolate donuts, you'll need a standard 6-cavity donut pan or silicone mold. You can find these at your local kitchen store, online, or maybe even your local thrift store, and they're pretty inexpensive.
Since this recipe makes just 6 donuts, if you need to make more you can easily double the recipe and either use two pans or bake one batch and then bake the other batch after.
These donuts would be amazing for a birthday party or another event. They're just as satisfying as cake and they're even easier to serve and make. Perfect for those moments when you're in a bind and don't have a lot of time to bake before an event.
Have Fun With Sprinkles & Toppings!
You can feel free to decorate these donuts with some fun toppings if you'd like! After dipping the donuts the second time in the glaze, immediately sprinkle any desired toppings and place the donuts in the fridge so the glaze and toppings set nicely.
The topping possibilities are endless. You could use a variety of any of the following including vegan sprinkles, mini vegan chocolate chips, shredded coconut, graham cracker crumbs, cookie crumbs, mini marshmallows, candies, crushed nuts, fresh fruit, and more…
I'm drooling thinking about all the possibilities.
Just be careful of a few ingredients that may not be vegan in toppings like candies and sprinkles. And remember, some food colorings aren't vegan. Furthermore, some other ingredients like gelatin, shellac, and other additives found in candies are also derived from animal products.
In this day and age, we're so lucky to have so many brands that are not only committed to making vegan products, but also put the effort into labeling the products as fully vegan. There are also many accidentally vegan products, so just do a little bit of research if you're unsure.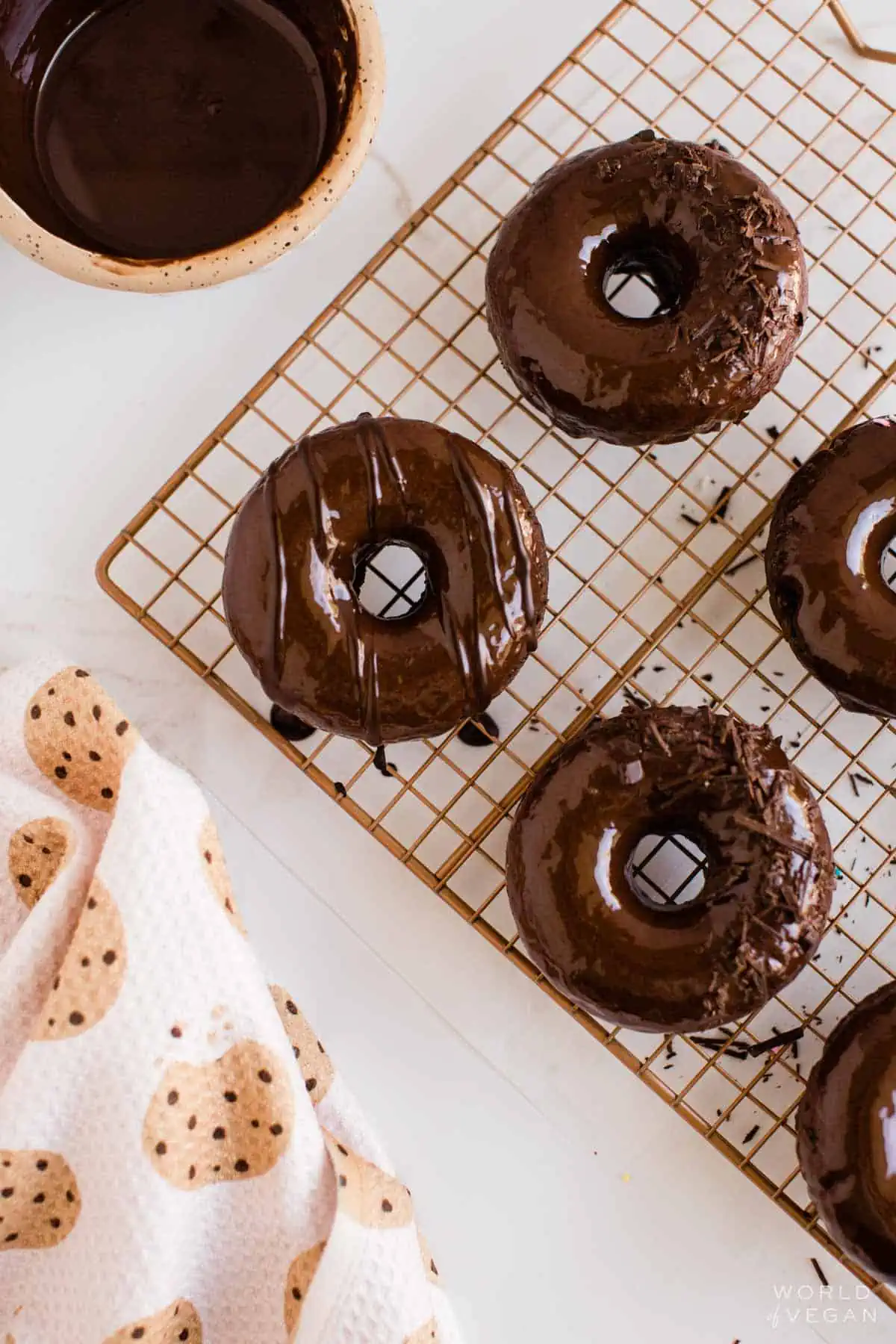 Get Creative With Substitutions & Add-Ins!
There are a few ingredient substitutions that you're welcome to make. If you don't want to use vegan butter you can definitely use virgin or refined coconut oil. Virgin coconut oil carries with it a heavy coconut flavor, and refined coconut oil has no coconut flavor at all! You can also use cane sugar in place of regular sugar if desired. Replace all of these ingredients 1 for 1 if you are doing so.
The original recipe suggests the use regular baking cocoa, but you can absolutely use raw cacao powder if that's what you have in your pantry. While I haven't experimented with the recipe, you could add some other ingredients that compliment chocolate like fresh strawberries, banana, or peanut butter to the batter. With baking there is always room for creativity!
The Power Of Cocoa
Not that these donuts are a health food, but did you know that cocoa is actually an extremely healthy ingredient? Cocoa is amazing because it's rich in a variety of b vitamins, and also minerals including manganese, magnesium, iron, and zinc. It's also very high on the ORAC scale, which measures foods for their antioxidant levels.
Moreover, cocoa increases serotonin, which is one of your main happy hormones, since it's rich in tryptophan. This scientifically explains why chocolate is just so soul-soothing and mood-enhancing.
The nutrients are even more rich in raw cacao powder since this is the most raw form of cocoa powder. As mentioned above you can use either option. I highly advocate to buy fair trade cocoa if you can which supports fair wages, fair treatment of farmers, and also supports small local farms in underdeveloped countries.
With that, cheers, and enjoy!
Donuts
1 cup all-purpose flour
3 tablespoon cocoa powder
1 teaspoon baking powder
¼ teaspoon baking soda
½ cup + 2 tablespoons of unsweetened non-dairy milk, room temperature
⅓ – ½ cup sugar or cane sugar
2 tablespoons vegan butter, melted or room temperature
½ teaspoon vanilla extract
Chocolate Glaze
1 cup vegan chocolate chips or chunks
1 tablespoon coconut oil
Preheat the oven to 400 degrees F.

Sift the flour, cocoa powder, baking powder, and baking soda into a large bowl. Mix to combine and set aside.

In a separate bowl, mix together the milk, sugar, butter, and vanilla until well combined.

Pour the liquid ingredients into the dry ingredients and whisk to combine. The batter will be slightly thick, which is what you want.

Gently grease the donut pan with vegan butter. Use a spoon to scoop the batter into the pan, distributing it evenly between each cavity.

Bake the donuts in the center rack of your oven for 10 minutes.

While the donuts are baking, add the chocolate chips and and coconut oil into a small bowl (just big enough to dip the donuts into), and melt in the microwave (in 30 second increments, stirring between each to prevent burning).

Remove the donuts from the oven and allow them to cool in the pan for 5 minutes.

Transfer the donuts to a wire rack and allow them to cool further.

Dip the donuts in the melted chocolate, place on a cooling rack and allow excess chocolate to drip off, and then then place them in the fridge to chill for about 10 minutes.
Calories: 204kcal | Carbohydrates: 41g | Protein: 4g | Fat: 6g | Saturated Fat: 2g | Polyunsaturated Fat: 2g | Monounsaturated Fat: 2g | Trans Fat: 1g | Sodium: 224mg | Potassium: 125mg | Fiber: 3g | Sugar: 16g | Vitamin A: 82IU | Vitamin C: 1mg | Calcium: 94mg | Iron: 2mg
Vegan chocolate donuts recipe by Kathy Chrzaszcz for World of Vegan. Recipe and photographs copyright of World of Vegan™, all rights reserved.