Are you ready to embark on a mouthwatering journey into the world of vegan cheese? Say goodbye to the notion that dairy-free means sacrificing taste and texture because a wide variety of vegan cheese slices are here to support your culinary adventures. Whether you're a seasoned vegan or just curious about plant-based options, these slices are about to become your new kitchen staple.
In recent years, the vegan food industry has witnessed an explosion of innovation, and vegan cheese has emerged as a shining star. Gone are the days of limited choices and rubbery slices that refuse to melt. Today, vegan cheese slices not only capture the essence of their dairy counterparts but often surpass them in taste, meltiness, and versatility.
Join us as we explore the brands and options available in stores today, whether you're looking to craft the perfect dairy-free grilled cheese sandwich, elevate your pizza game, or simply enjoy a guilt-free snack. So, grab your favorite crackers and let's embark on a cheesy adventure that will change the way you think about dairy-free cheese forever!
Best Vegan Cheese Slices
Cheese-Lovers (aka turophiles), get ready to fall head over heels for even more dairy-free cheese possibilities! Whether you're in the mood for a simple snack of crackers and cheese or extra oomph on your afternoon sandwiches, vegan cheese slices are on your side. All you need to do is crack open a package and peel off some plant-based goodness.
You might be wondering, "Where can I get my hands on some vegan provolone cheese slices?" Or, "Are there different flavors and ingredients to explore?" Let us introduce you to the creme-de-la-creme of vegan cheese slice brands.
One of our favorite cheese brands! Vegan Chao cheese slices are a delicious choice, featuring a creamy texture and a subtle, smoky flavor. Field Roast's savory slices are excellent for topping burgers, melted in sandwiches, or simply enjoyed on their own as a flavorful and dairy-free snack with crispy crackers, veggies, or fruit. Choose from four terrific types including: Creamy Original, Tomato Cayenne, Smoked Original, and Spicy Original.
Our most reached-for brand! Violife's 100% vegan cheese slices offer a delightful dairy-free alternative with an ultra-smooth and creamy consistency. These slices are perfect for adding a cheesy touch to sandwiches, melting over pizzas, or crafting plant-based burgers that satisfy your cheesy cravings. Choose from American, Smoked Gouda, Cheddar, Smoked Provolone, and Mature Cheddar flavors.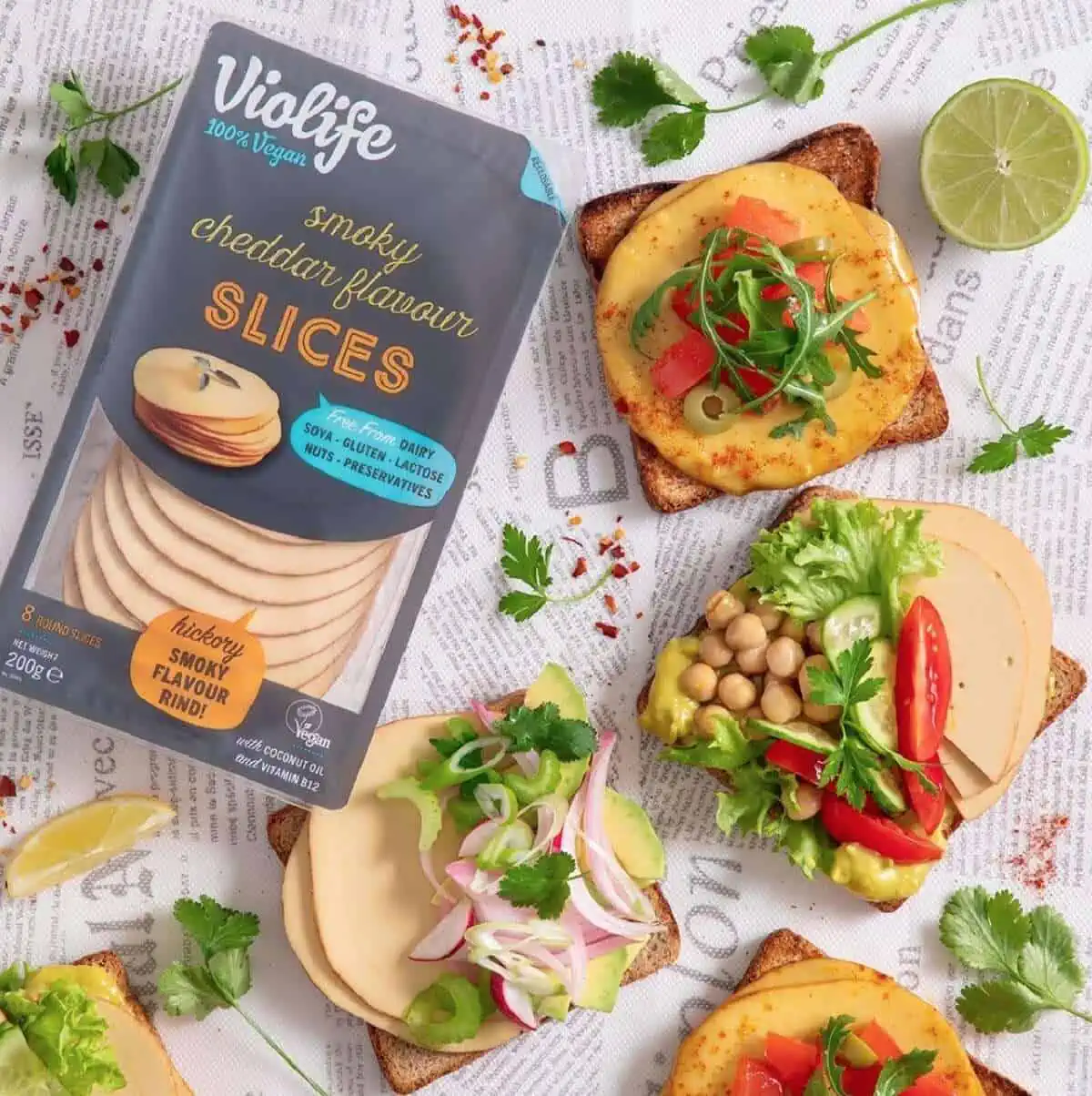 This pioneer brand of cheese-style slices are a popular choice for those seeking a dairy-free, melt-worthy cheese alternative. Daiya's slices have a rich and tangy cheddar flavor, these slices are perfect for melting over burgers, upgrading vegan nachos, or adding a cheesy kick to your favorite recipes. They may be the only brand that offers a Swiss-style cheese, along with American, Provolone, Cheddar, and Smoked Gouda flavors.
FYH's coconut and potato starch cheese slices offer a delectable and creamy dairy-free alternative. Their slices are perfect for creating delicious sandwiches, grilled cheese, or topping your favorite meat-free burgers with melt-in-your-mouth cheesy goodness. Follow Your Heart goes above and beyond with six fabulous flavors such as Smoked Gouda, American, Provolone, Pepper Jack, Medium Cheddar, and Mozzarella.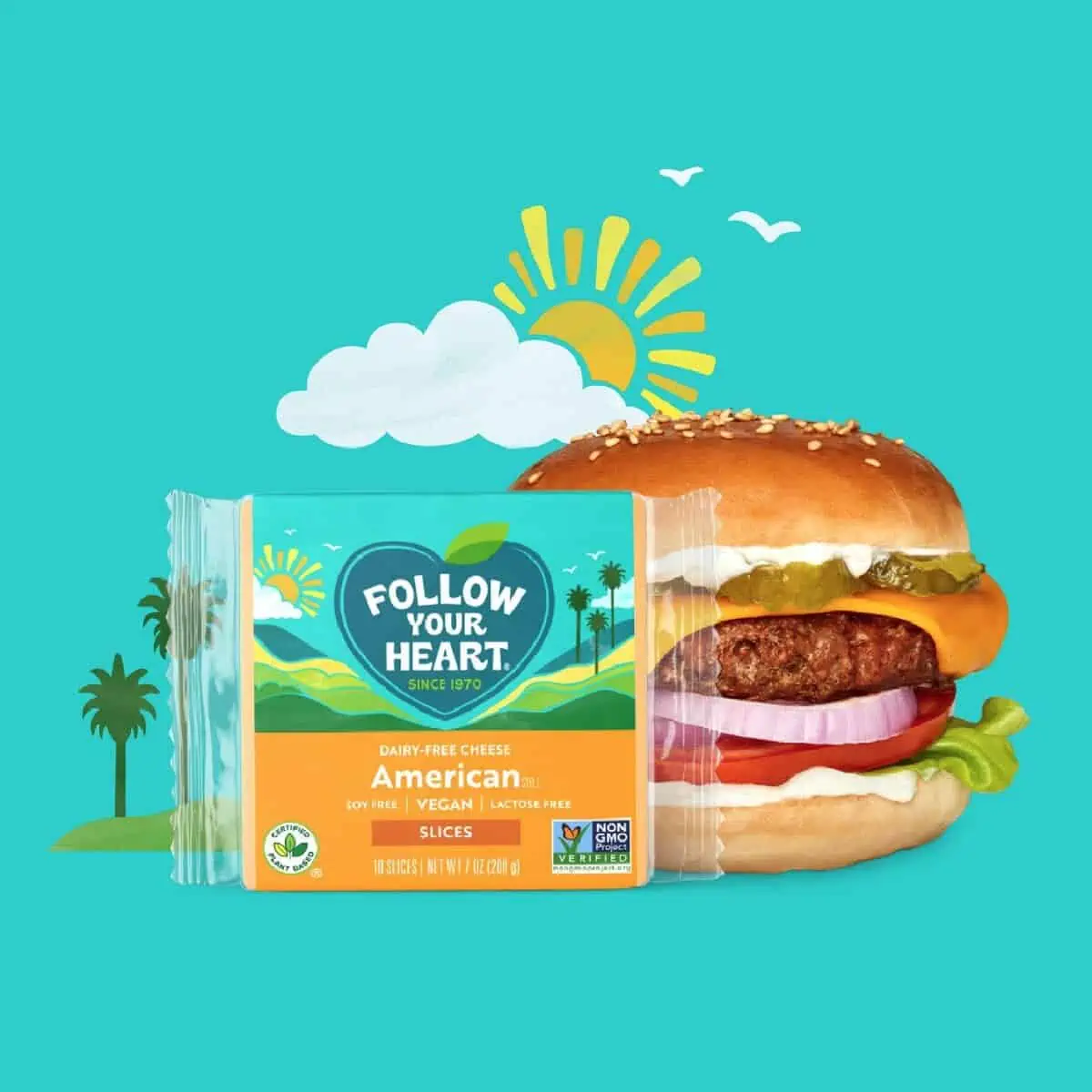 These tasty vegan cheddar slices offer a delectable dairy-free option with a smooth and creamy texture that's perfect for melting. They're free of GMOs, gluten, preservatives, and artificial flavors. Esti's cheese slices boast a robust cheesiness, making them a delightful choice for pizzas, quesadillas, sandwiches, burgers, or adding lots of cheesy goodness to your favorite dishes. Take your pick from Cheddar, Mozzarella, Smoked Gouda, Pepper Jack, Truffle Mozzarella, and American.
Kraft's Notco plant-based cheese slices provide a tasty and dairy-free option with a creamy texture and authentic cheese flavor. A scrumptious option for adding to savory sandwiches, veggie burgers, or salty snacks. Also, a familiar option for those who prefer dairy-free cheese or want to explore plant-based alternatives. Flavors include: American, Cheddar, and Provolone.
Parmela's delicious, cashew milk cheese slices provide a creamy and flavorful dairy-free alternative. These plant-based slices are perfect for enhancing homemade sandwiches, topping tasty burgers, or making gourmet grilled cheese sandwiches. This company offers a variety of types including: Mild Cheddar, Sharp Cheddar, Creamy American, and Fiery Jack.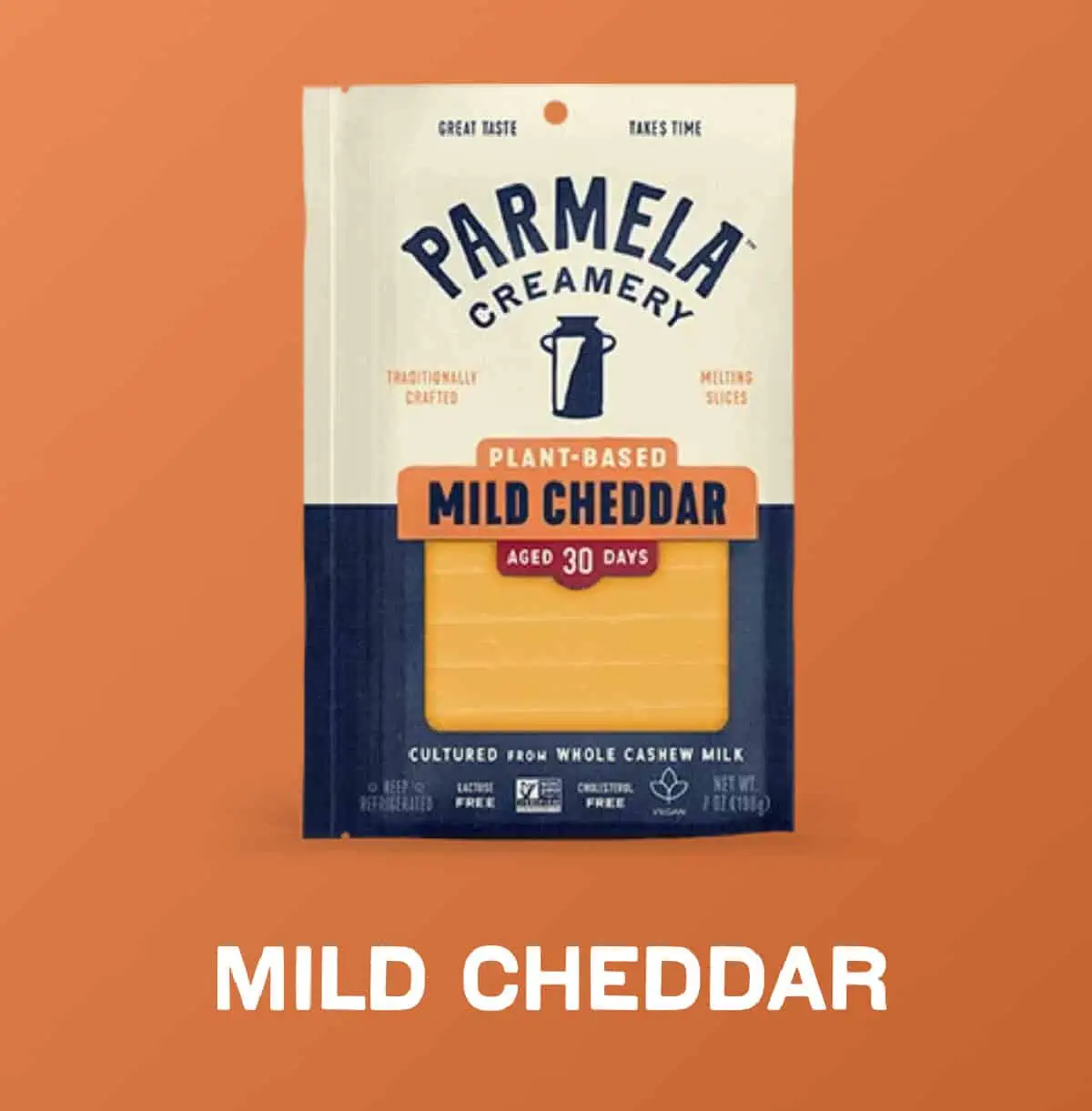 This Kroger brand of dairy-free cheese slices provides a delicious plant-based option known for their creamy texture and rich flavor. These slices are perfect for enhancing your sandwiches, burgers, and snacks with a satisfying cheese experience that's free from dairy.
This store brand's vegan cheddar cheese slices are a delectable dairy-free option with a rich and creamy texture that mimics traditional cheddar. With high-quality ingredients, these slices offer a bold, cheesy flavor, making them a versatile addition to plant-based pizzas, crackers, stacking on sandwiches, or eating along with nuts and fruit. They offer two choices—Cheddar and Smoked Gouda.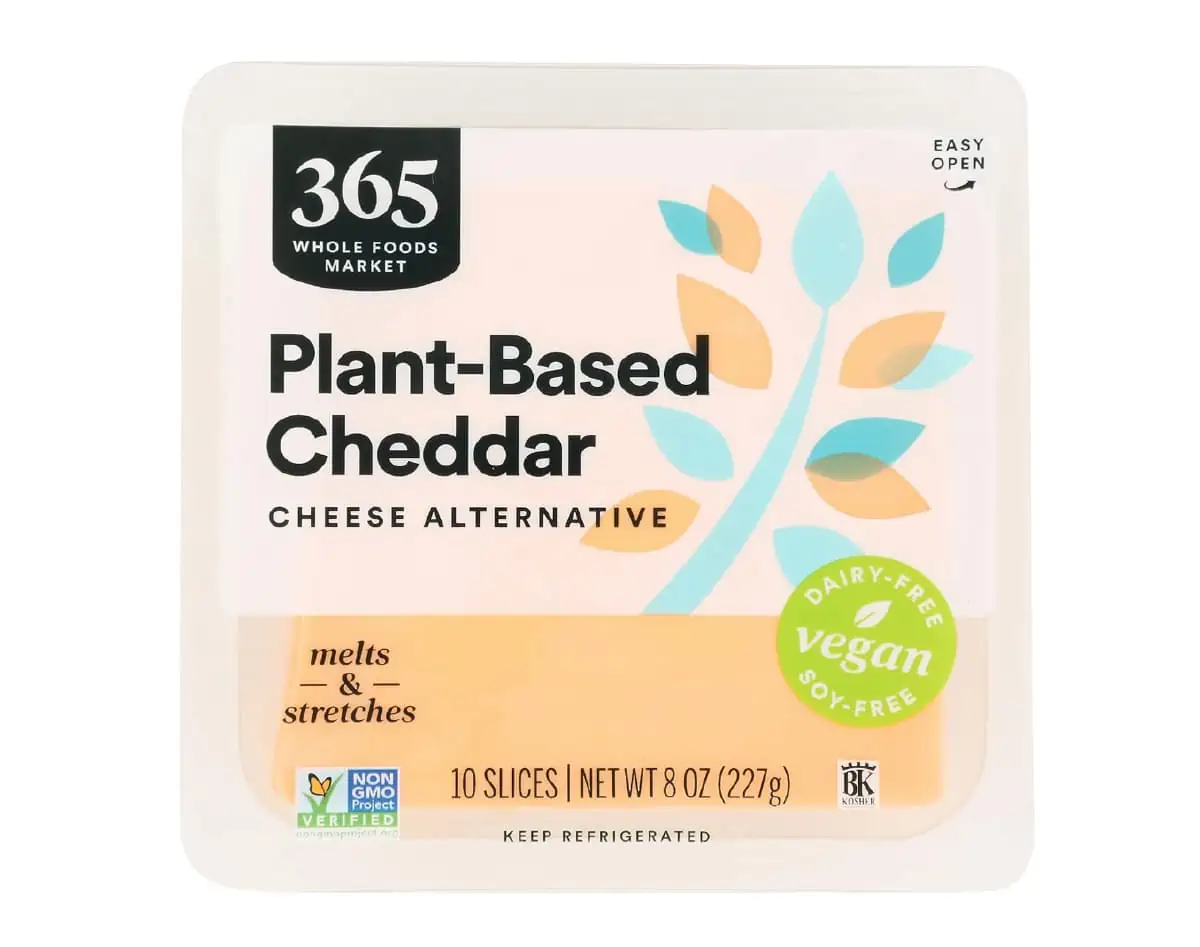 Can I Find Vegan Cheese Slices at Walmart?
You sure can! The dairy-free sliced cheese brands most widely available at Walmart include Daiya, Field Roast, Follow Your Heart, and Good Planet.
To sum things up, vegan cheese slices have now revolutionized the culinary world, offering a luscious, guilt-free alternative to traditional dairy cheese. With an ever-expanding variety of flavors and textures, this plant-based delight is a must-try for both vegans and curious cheese enthusiasts. Finally, go ahead and add a slice of joy to your next meal – your taste buds, the animals, and the planet will thank you!
More Vegan Cheese Guides to Check Out