An indispensable staple for baking and cooking, sour cream is one of the most popular dairy products in America, right behind milk and yogurt. Silky smooth, thick, creamy, and just subtly tart, it's the secret ingredient in countless recipes. Humans are naturally drawn to sweet flavors, but this such a sour staple holds equal appeal.
Conventionally, it's made from cultured cream, so what happens when you remove animal products from your diet? You can still enjoy sour cream made from much more wholesome stuff! Whether you DIY or buy, there's a wealth of vegan sour cream alternatives for every application.
Is Sour Cream Vegan?
Traditional sour cream is not vegan as it is made from dairy, specifically cream that has been fermented with lactic acid bacteria. The cream is pasteurized and then fermented. The lactic acid produced during fermentation thickens the cream and gives it a tangy taste.
For those who are lactose intolerant or follow a vegan diet, non-dairy alternatives made from plant-based ingredients are available as a substitute.
What Is Vegan Sour Cream?
Plant-based milks can be fermented in the same way as cow's milk. But vegan sour cream is typically made using a slightly different approach. Beans, grains, nuts, and seeds typically don't have as much fat when blended with water to approximate conventional dairy, so they need a bit of an assist to achieve that classically spoonable, luscious texture.
For commercial products, that might mean additional thickeners, emulsifiers, and stabilizers, which have the added benefit of keeping longer in the fridge. While those may sound like questionable ingredients, they're typically one of the following:
starches (exactly like you would find in your own pantry)
alginate or agar (which is made from seaweed)
guar gum or xanthan gum (which is essential for gluten-free baking)
If we're talking about homemade vegan sour cream recipes, that same effect can be achieved by leaning in on inherently rich whole foods, like cashews or coconut, while cutting back on the added liquid.
On the plus side, these ingredients are all very accessible and reasonably affordable. On the downside, these fresh blends are liable to spoil more quickly and don't freeze well in bulk.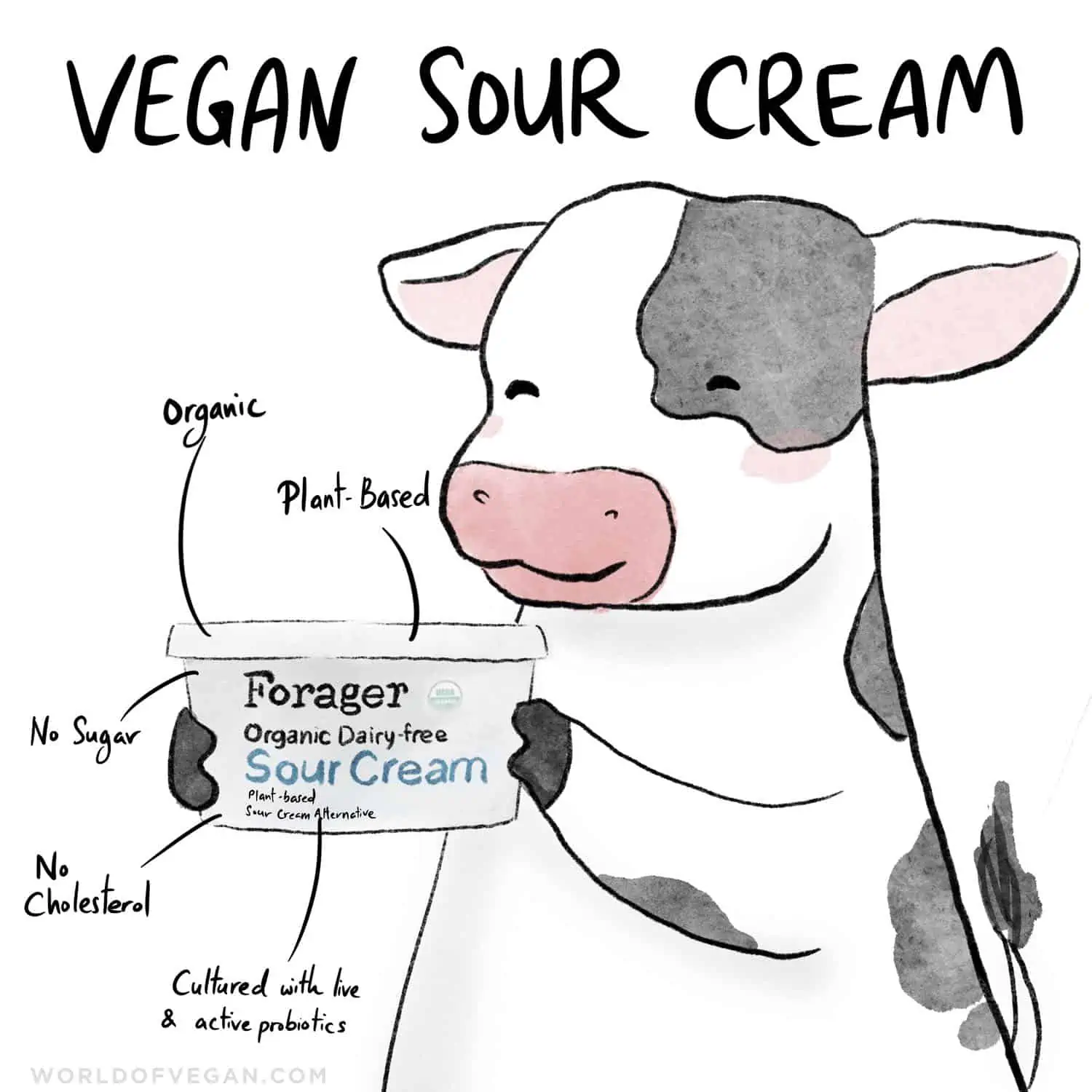 Best Vegan Sour Cream Brands
Vegan alternatives to sour cream are growing in number, not to mention improving in quality, seemingly every day. Even small, mainstream grocery stores are very likely to carry at least one option. Check the dairy aisle with conventional sour cream or the natural foods section if there's a separate refrigerated area from dairy-free alternatives.
Forager Project
Consider Organic Cultured Dairy-Free Sour Cream as the Cadilac of vegan sour creams. It's blended with luxuriously rich coconut and cashew milk and has a distinctive, ultra-tangy taste.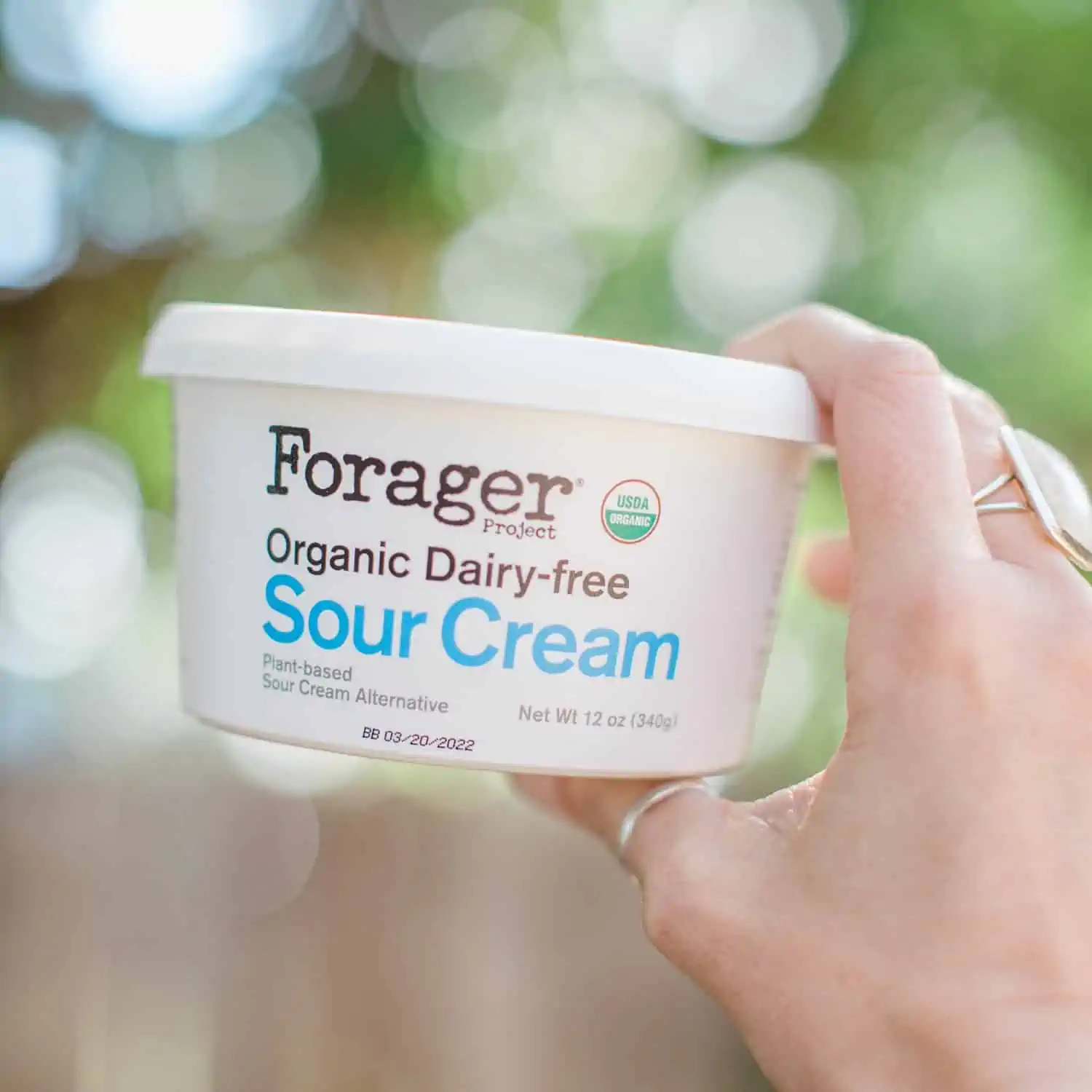 Tofutti
The first vegan sour cream has lived up to its name as Better Than Sour Cream for over 30 years now. Blended tofu and non-hydrogenated oils are whipped together to make a downright silky mixture. Tofutti cream cheese is very similar in texture to Philadelphia style cream cheese, and works beautifully on vegan bagels and in dairy-free cheesecakes alike.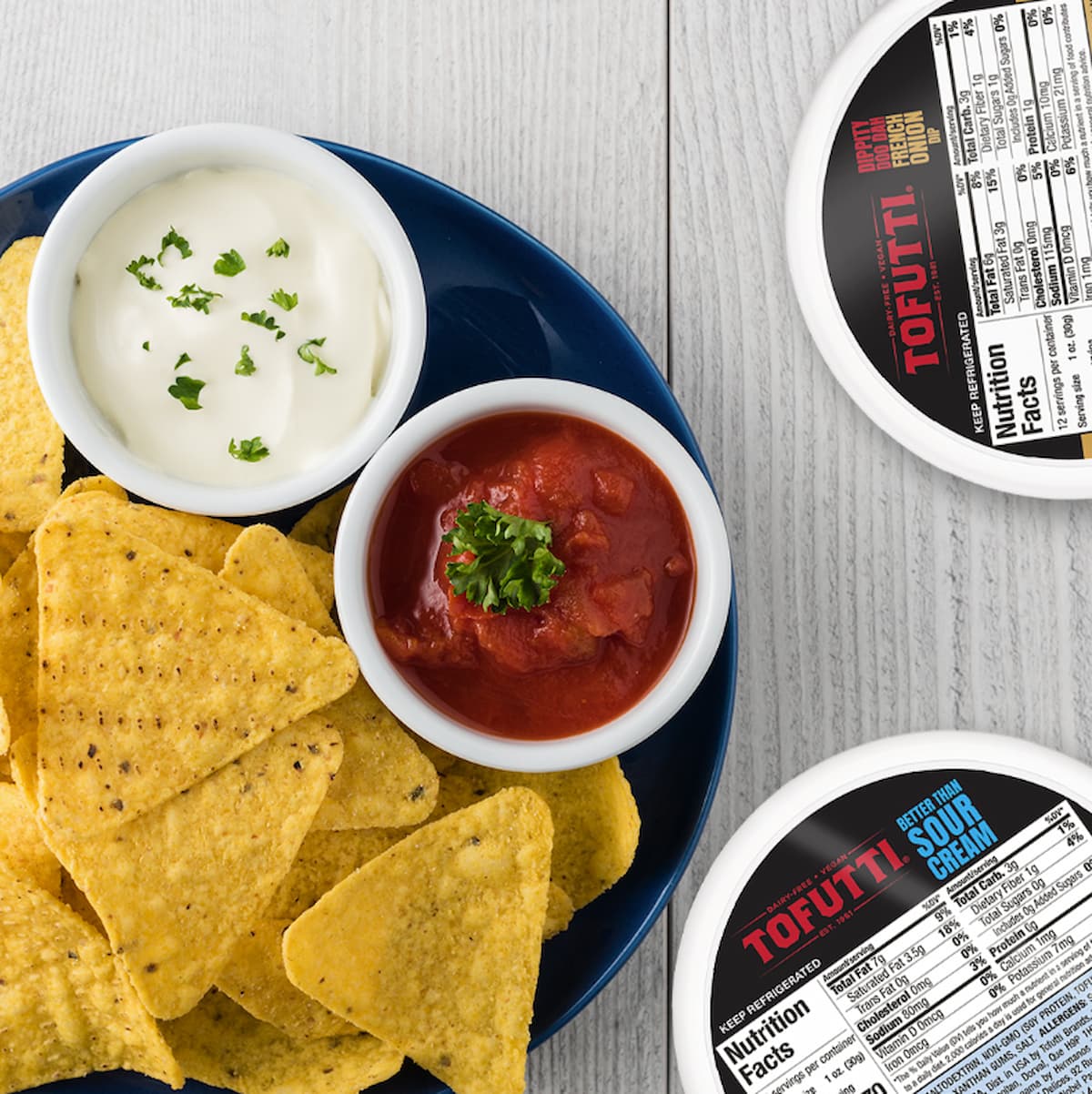 Follow Your Heart
Best known for their groundbreaking Vegenaise, their newer Dairy-Free Sour Cream deserves just as much praise and attention. Even though it's made from coconut cream, it tastes just as good as the conventional option.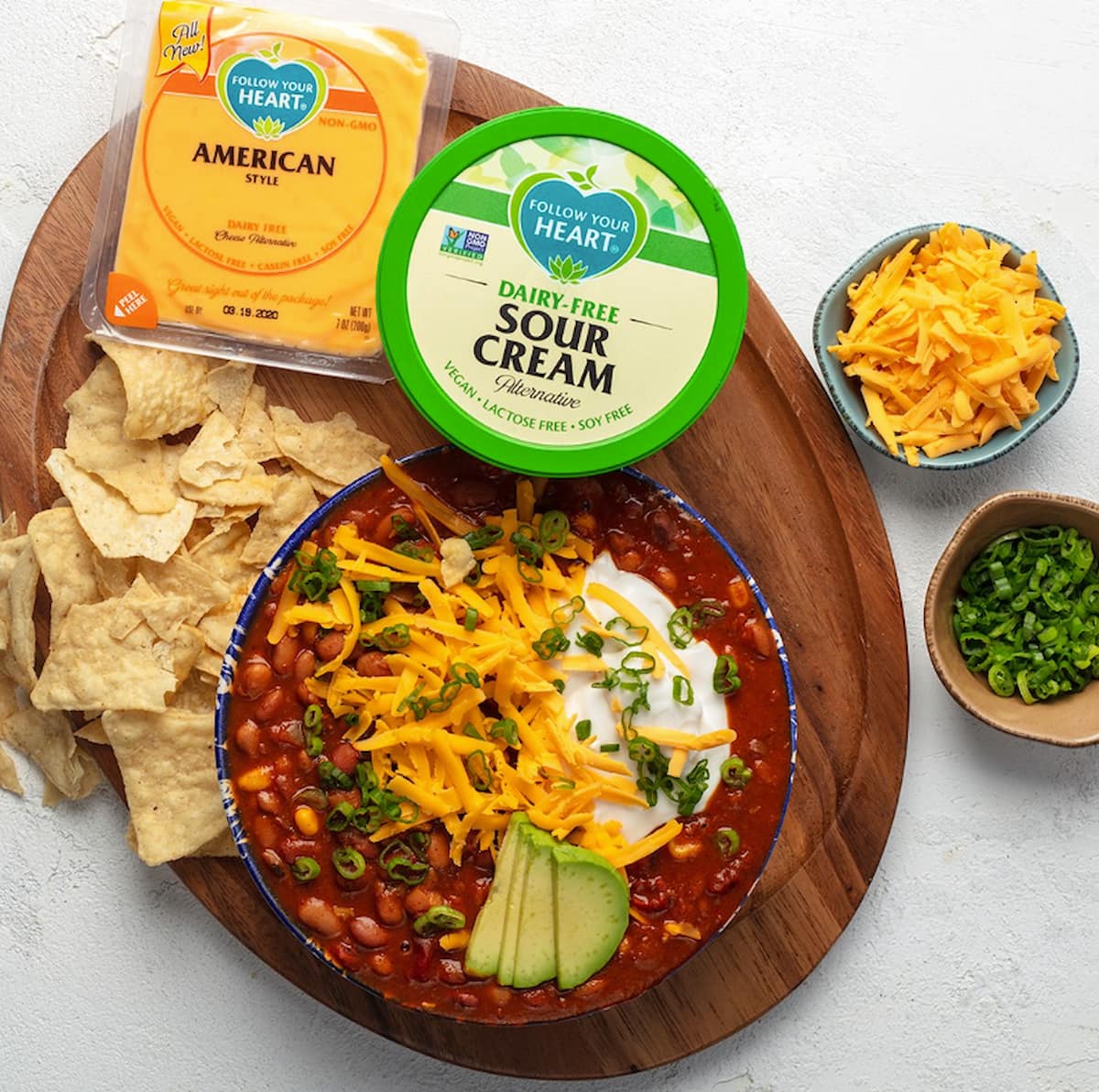 Wayfare
This Dairy-Free Sour Cream is made from a novel base of butter beans and oats for a refreshingly wholesome change of pace.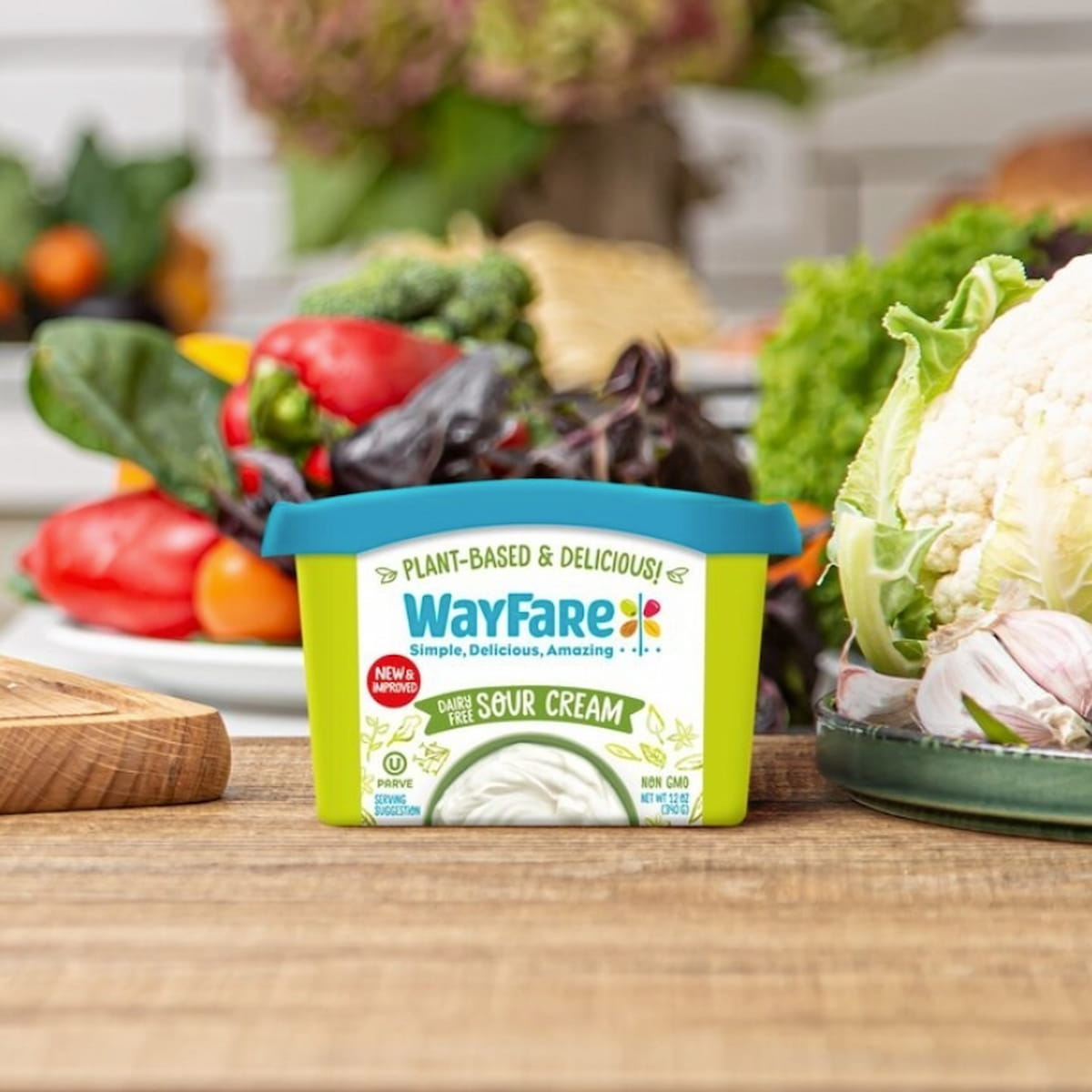 Only Plant Based
Unique from these other refrigerated options, Only! Plant Based Sour Cream is completely shelf stable. If you wanted some crema to take camping, this is you best bet.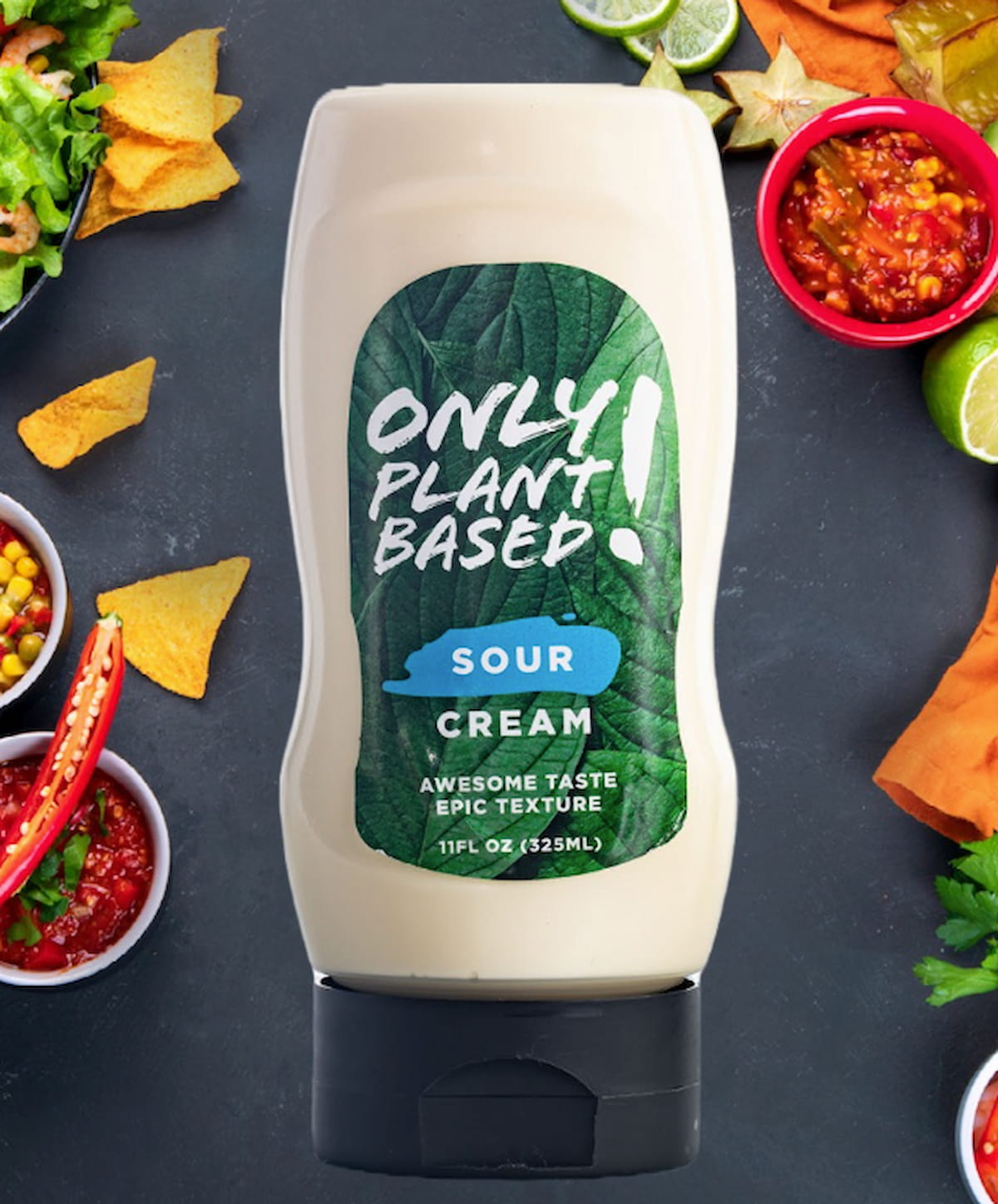 Plant Perks
This "super clean sour cream" has only four ingredients: organic cashews, filtered water, cultures, and sea salt. Serve it with tacos, make a vegan dip with it or use it to top off your baked potato!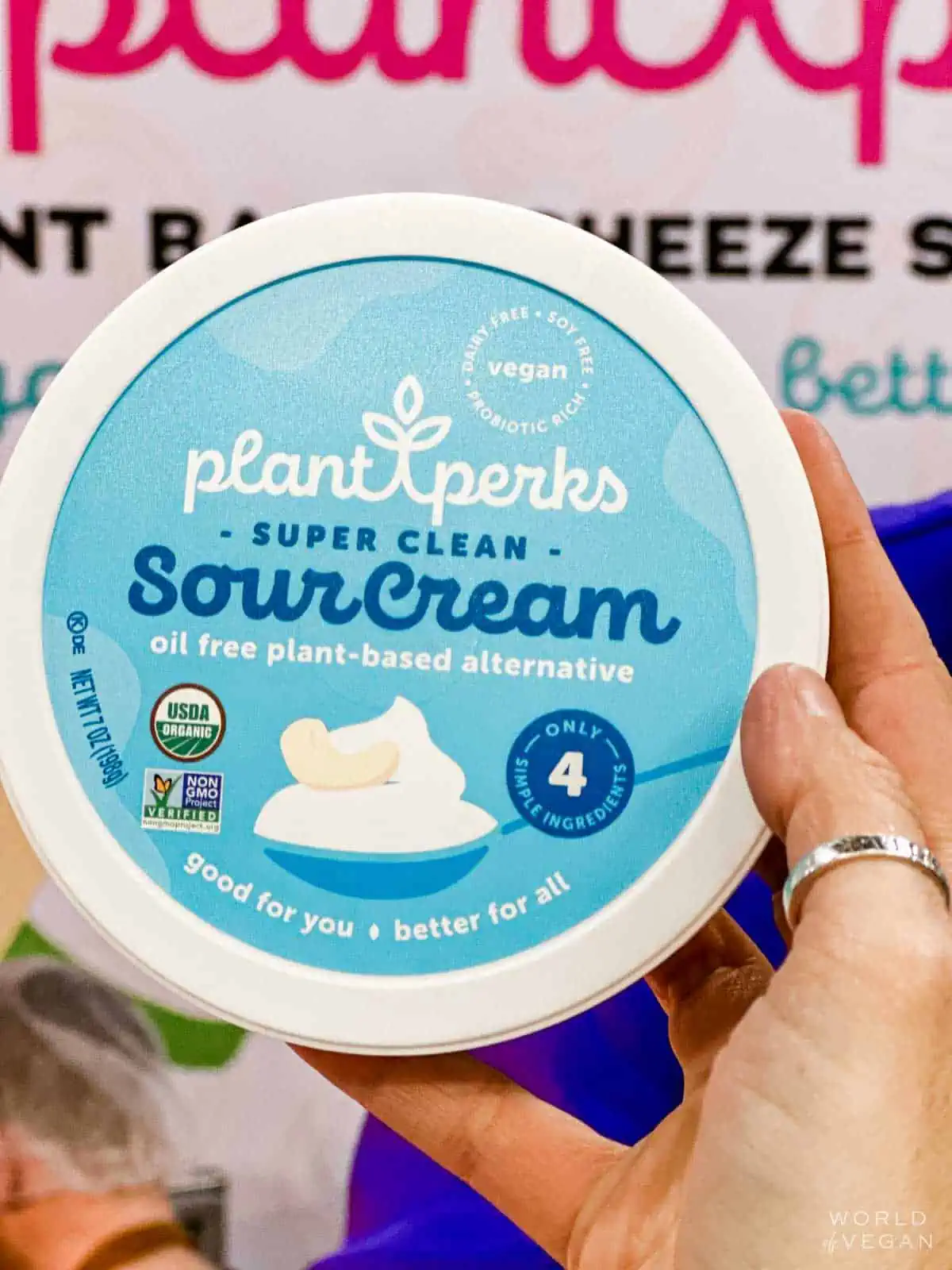 Kite Hill
Blanched almonds are the foundation of the Kite Hill brand, and their Sour Cream Alternative is no different. Bolstered by chickpea protein, the list of ingredients is short, recognizable, and high-quality.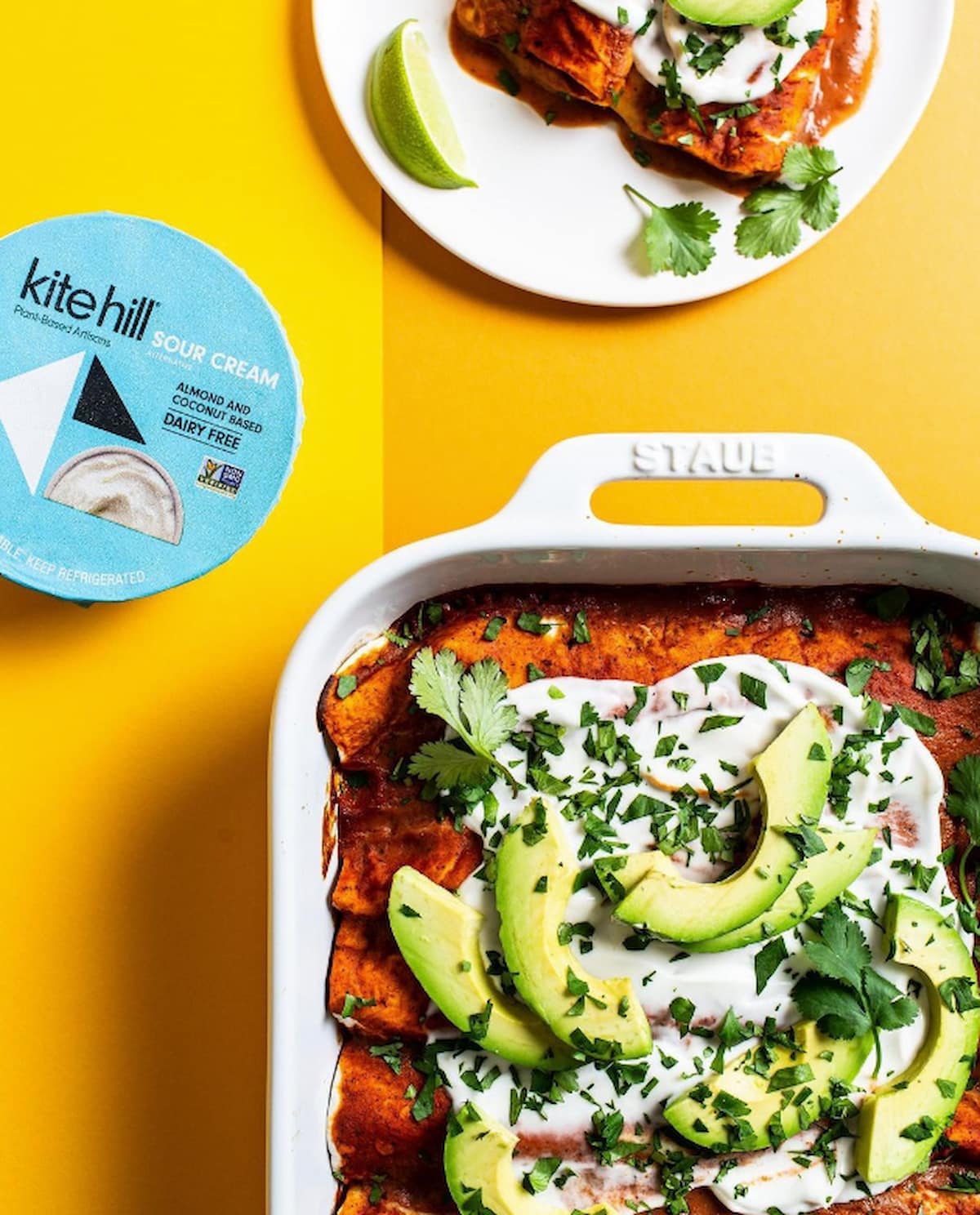 Wild Brine
Winner of the 2021 Next Awards Best New Condiment, Wild Creamery by Wild Brine Cultured Plant-Based Sour Cream Alternative will get a gold star from even the pickiest eaters. You'd never get that it gets that tangy taste from fermented cabbage, AKA sauerkraut!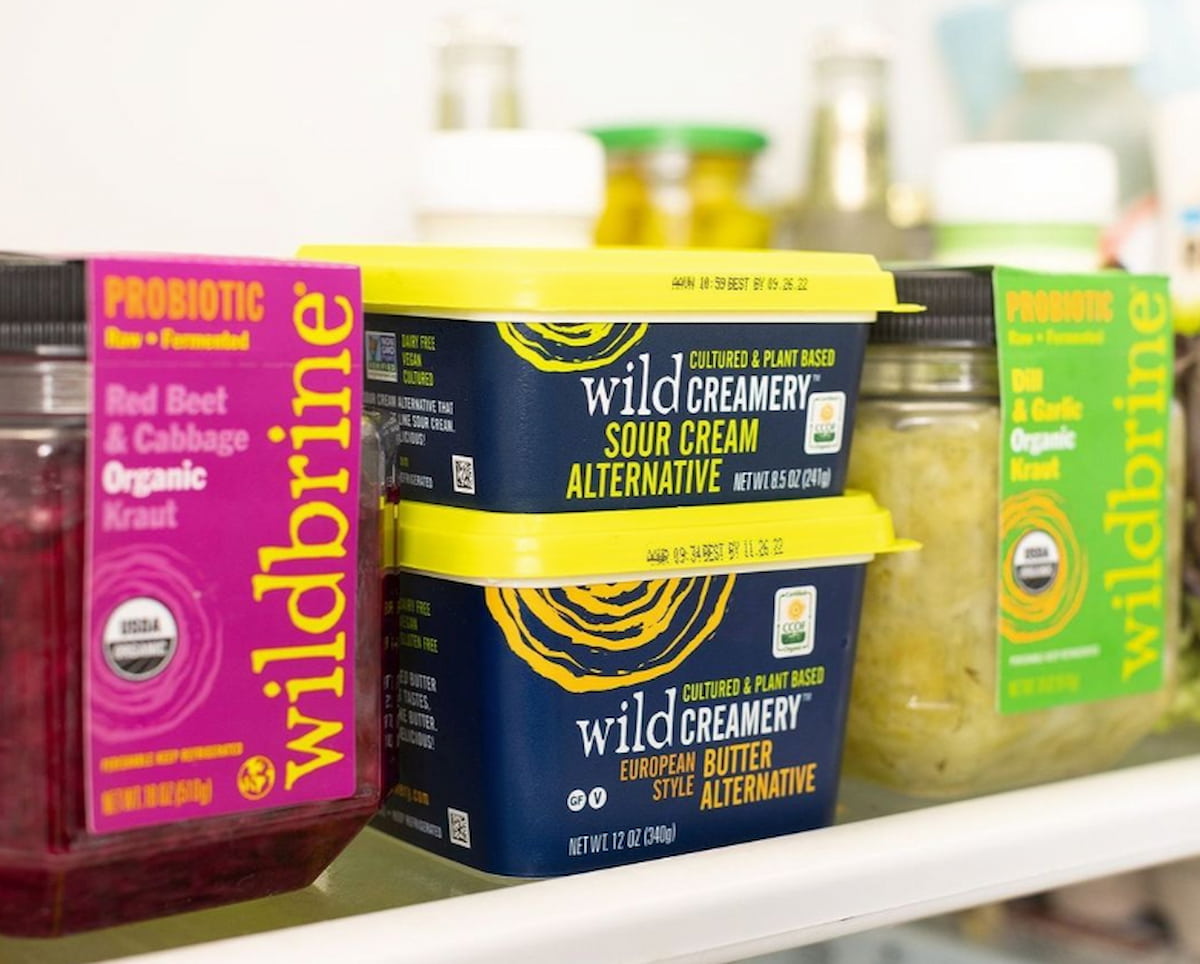 Homemade Vegan Sour Cream Recipes
When you're in the middle of a recipe and realize you need just a dollop of sour cream to make the dish complete, don't panic! There's a good chance you already have everything you need on hand to make an excellent vegan sour cream substitute from scratch.
If you have food sensitivities or allergies, this is the best approach to ensure all the ingredients are carefully vetted. All these recipes are automatically gluten-free and sugar-free, too. Anyone watching their sodium can dial back the added salt accordingly.
Cashew Sour Cream: If you have 4 ingredients and 5 minutes, you can have you own thick, creamy, and tangy substitute for dairy sour cream. See the recipe card below for the full details.
Tofu Sour Cream: Open up a package of tofu and you're already halfway done. This approach is low-fat, nut-free, and super fast.
Coconut Sour Cream: Made with simple, real ingredients, this recipe is of course vegan and dairy-free, but also suitable for those following a paleo, keto, and Whole30 diet.
Aquafaba Sour Cream: Don't dump the brine when you open a can of chickpeas! You can use it in this simple formula to make sour cream that's free of all common allergens.
Quick Substitutes for Sour Cream
Sometimes, it's just too much hassle to make your own vegan sour cream, but it's still necessary for veganizing a recipe. Don't panic! There are plenty of ready-made solutions that work as similar, if not identical, substitutes.
Strained or Greek-style yogurt: Bearing a similar sour and tart taste, plain, unsweetened non-dairy yogurt is a great option, especially if you want to reduce the fat content of the final recipe. Consistency is key, so you may need to drain away some of the excess water from standard yogurt before using or opt for already thicker Greek-style yogurt instead.
Mayonnaise: Vegan mayo works especially well in baking because it's super smooth and very high in fat, replicating the consistency of blended egg yolks and oil all in one spread. Make sure you don't reach for a "light" version or a "sandwich spread" instead, which has more air whipped in and added flavors that may not be quite as harmonious.
Cream cheese: Vegan cream cheese is super thick and flavorful, plus it's great for warm dishes since it won't curdle when heated with acidic ingredients. Make sure you stir it very thoroughly before using to make sure it's perfectly smooth. You may also need to thin it out with a bit of water if it's too thick.
Blended firm tofu: Aseptic packages of firm tofu can blend to a super smooth consistency without any need to add liquid. For anyone looking to add a protein boost to their meals or baked goods, this is the not-so-sneaky shortcut you've been craving.
Ideas for Using Vegan Sour Cream in Cooking and Baking
While good sour cream is delicious simply as a topper for baked potatoes, nachos, or soups, it can do equally mouthwatering things when used in other recipes.
Pound cake: Sour cream works like buttercream in cake batter. It helps activate the baking powder while retaining moisture for a super soft crumb. This Vegan Pound Cake with Lemon Glaze is a perfect example of that delicious chemistry in action.
Cheesecake: Classic cheesecake is often topped with a thin layer of sour cream to add lightness to the super dense cream cheese base. Vegan Cheesecake works the same way, but without any of the dairy!
Stroganoff: No beef need apply when you're making our Vegan Mushroom Stroganoff. Umami cremini mushrooms are tossed with al dente pasta in a creamy sauce that comes together in minutes. It's an ideal dinner for a hot date or a cozy night at home.
Enchiladas: Instead of a red or green enchilada sauce base, these stuffed tortillas are blanketed in a rich sauce made from sour cream. Vegan Sour Cream Enchiladas are a meatless version with roasted vegetables and beans instead.
Sour cream and onion dip: Paired with potato chips and fresh cut vegetables, you can't beat Vegan French Onion Dip when it comes to party starters. Caramelized onions are both sweet and savory for an irresistible balance of contrasting tastes.
Easy Cashew Sour Cream Recipe
With just a few simple pantry ingredients, you can whip up your own sour cream in just a few minutes! Just soak your cashews for a few hours and use a high-powered blender. That will insure your cashew sour cream comes out silk smooth.
1 cup raw unsalted cashews, soaked 4 hours or overnight, and drained
⅓ cup water
2 tablespoons lemon juice, freshly squeezed
1 teaspoon apple cider vinegar
¼ teaspoon salt
In a blender, process all ingredients until completely smooth. You may need to stop to scrape down sides of blender throughout the blending process. If necessary, add extra water—very sparingly—1 teaspoon at a time, or the sour cream may become too thin.

This sour cream thickens in refrigerator. If possible, chill for at least one hour before serving for optimal texture.

Refrigerate for up to 5 days.
Calories: 721kcal | Carbohydrates: 41g | Protein: 24g | Fat: 57g | Saturated Fat: 10g | Polyunsaturated Fat: 10g | Monounsaturated Fat: 31g | Sodium: 601mg | Potassium: 886mg | Fiber: 4g | Sugar: 8g | Vitamin A: 2IU | Vitamin C: 12mg | Calcium: 53mg | Iron: 9mg
We hope you enjoyed this vegan sour cream guide sharing the best dairy-free sour cream brands and recipes out there today! From cashew sour cream to tofu sour cream, the options are plentiful and brands are becoming increasingly accessible. Did we miss any of your favorite brands or recipes? Please show them some love in the comments below!
Many thanks to Allison Rivers Samson for contributing this easy non-dairy cashew sour cream recipe. You can find more dairy-free recipes the The Dairy-Freedom Cookbook from The Dairy Detox. Thanks to Hannah Kaminsky for her help with this article and Jeanne for the vegan sour cream illustration. Photography by Michelle Cehn and from Canva.