In the vast orchestra of culinary delights, few dishes strike as harmonious a chord as vegan potato leek soup. This humble yet hearty concoction offers a melody of rich flavors and textures, intertwining the earthiness of potatoes with the subtle sweetness of leeks. As the world takes a conscious turn towards plant-based meals, this soup stands as a testament to the fact that one need not compromise taste for the sake of ethics and sustainability.
The origins of potato leek soup trace back through the mists of time, from rustic kitchens in the rolling countryside to bustling urban eateries. But its vegan variant, free from any animal-derived ingredients, is not just a nod to the past, but a bold stride into the future. In a world striving for eco-conscious choices, this adaptation emphasizes the power of simple, whole ingredients coming together to deliver a culinary experience that warms the soul and caresses the palate.
Whether you're a seasoned vegan chef or someone looking to dabble in the plant-based realm, this potato leek soup recipe is a classic vegan soup to be revered. As the golden broth dances with delicate pieces of potato and leek, every spoonful becomes a testament to nature's bounty. So, roll up your sleeves, gather your ingredients, and let's embark on a gastronomic journey that celebrates the best of what the earth has to offer.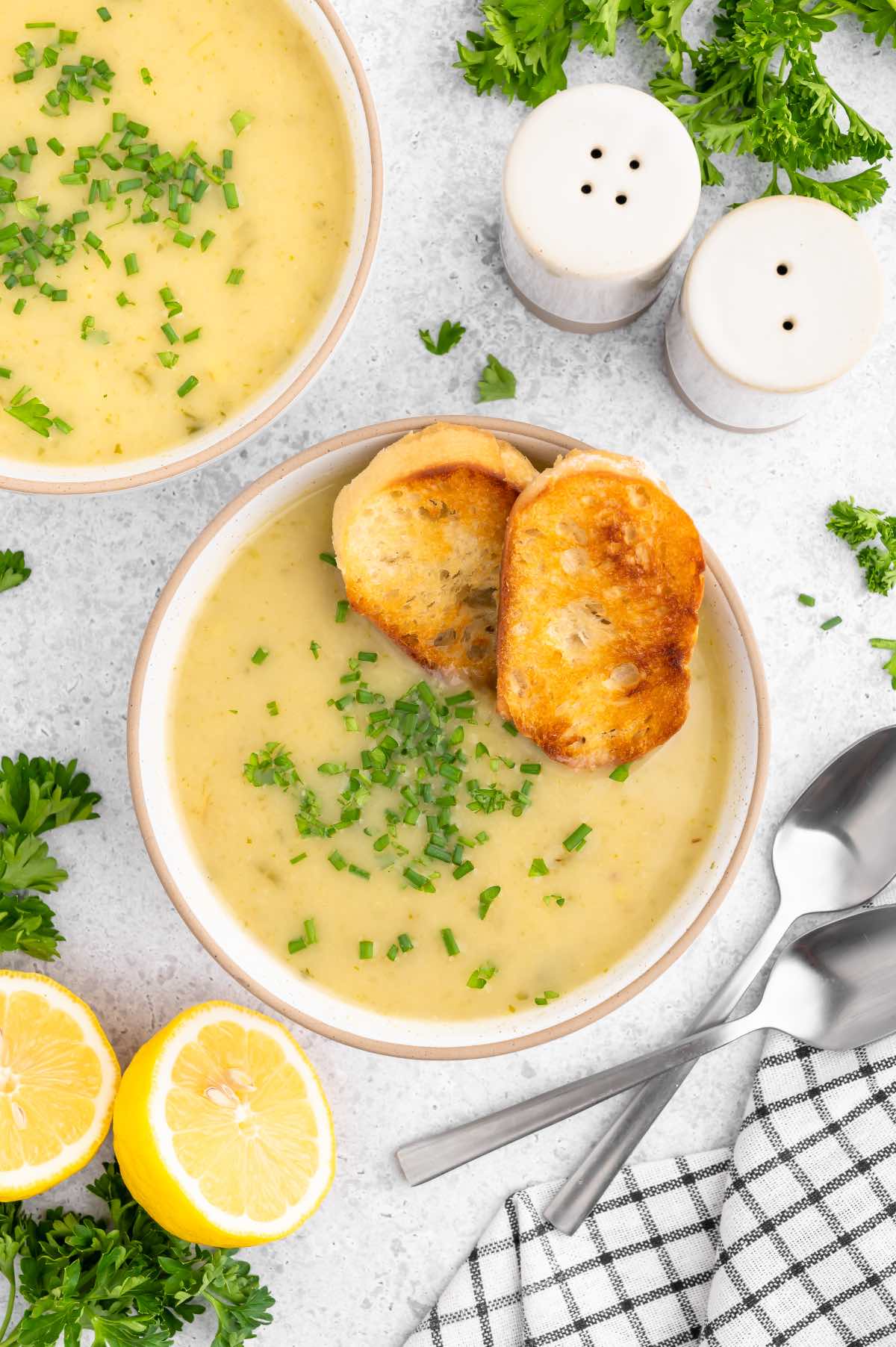 How Nutritious is Potato Leek Soup?
Potatoes are one of the most economical foods out there. They're comforting, they're filling, and they're outright delicious. Did you know they're also rich in vitamins and minerals? The secret's in the skin! Peeling potatoes can greatly impact their nutritional content so unless you're truly averse to it, leave it on!
One medium baked potato contains the following nutritional contents:
161 calories
0.2 grams of fat
4.3 grams of protein
36.6 grams of carbs
3.8 grams of fiber
28% DV of vitamin C
27% DV of vitamin B6
26% DV of potassium
19% DV of manganese
12% DV of magnesium
12% DV of phosphorus
12% DV of niacin
12% DV of folate
What else is so great about potatoes, you ask? Well, they also contain a unique type of starch called resistant starch. This type of starch is actually not broken down and fully absorbed by the body. Instead, it reaches the large intestine where it becomes a source of nutrients for the beneficial bacteria in your gut! This starch has been linked to many health benefits, including reducing insulin resistance, which, in turn, improves blood sugar control.
Leeks are in a league of their own when it comes to health advantages, offering a variety of antioxidants, beta carotene (which supports healthy vision), vitamin K, and manganese.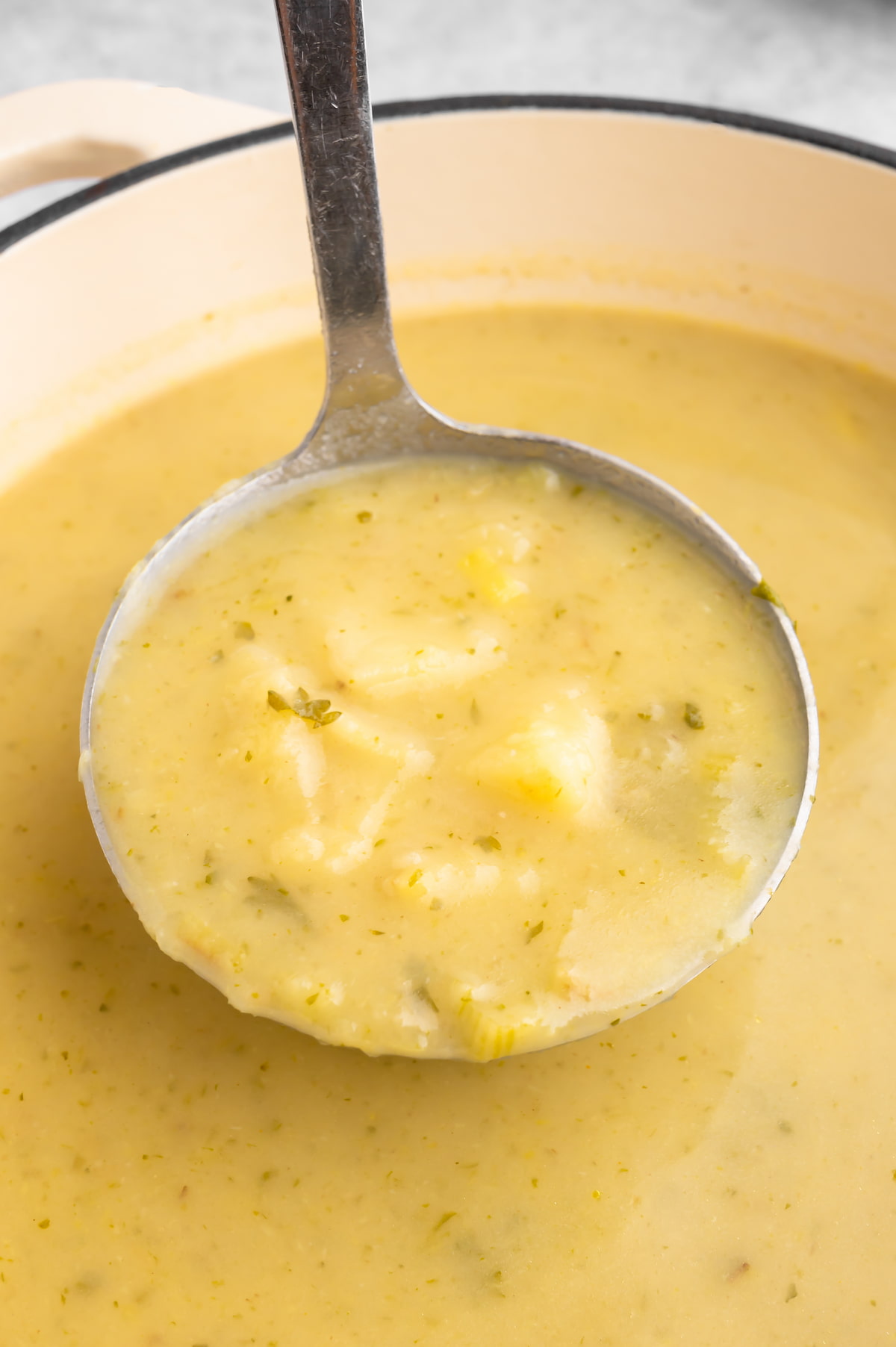 Key Ingredients
Yukon Gold Potatoes: Opt for Yukon Gold for a creamy texture and slightly sweet flavor, enhancing the overall richness of the soup. Red-skinned potatoes also work well.
Celery: Celery adds a subtle earthy taste and contributes to the soup's aromatic base, providing depth of flavor to the dish.
Parsley: Fresh parsley lends a vibrant, herbaceous essence and a pop of color, enhancing the soup's visual appeal while adding a mild, fresh flavor.
Leeks: Leeks, with their mild onion-like taste, form a key flavor base for the soup, adding a delicate and slightly sweet dimension.
Vegetable Broth: Use vegetable broth or stock to infuse the soup with essential flavors and provide a hearty base.
Coconut Cream: Coconut cream adds a luxurious, creamy texture to the soup, complementing the earthiness of the vegetables and bringing a subtle hint of coconut flavor. You can buy canned coconut cream or simply use the top layer of cream from a can of coconut milk.
Lemon Juice: Fresh lemon juice adds a bright and tangy element, balancing the richness of the soup and bringing a touch of acidity for a well-rounded flavor profile.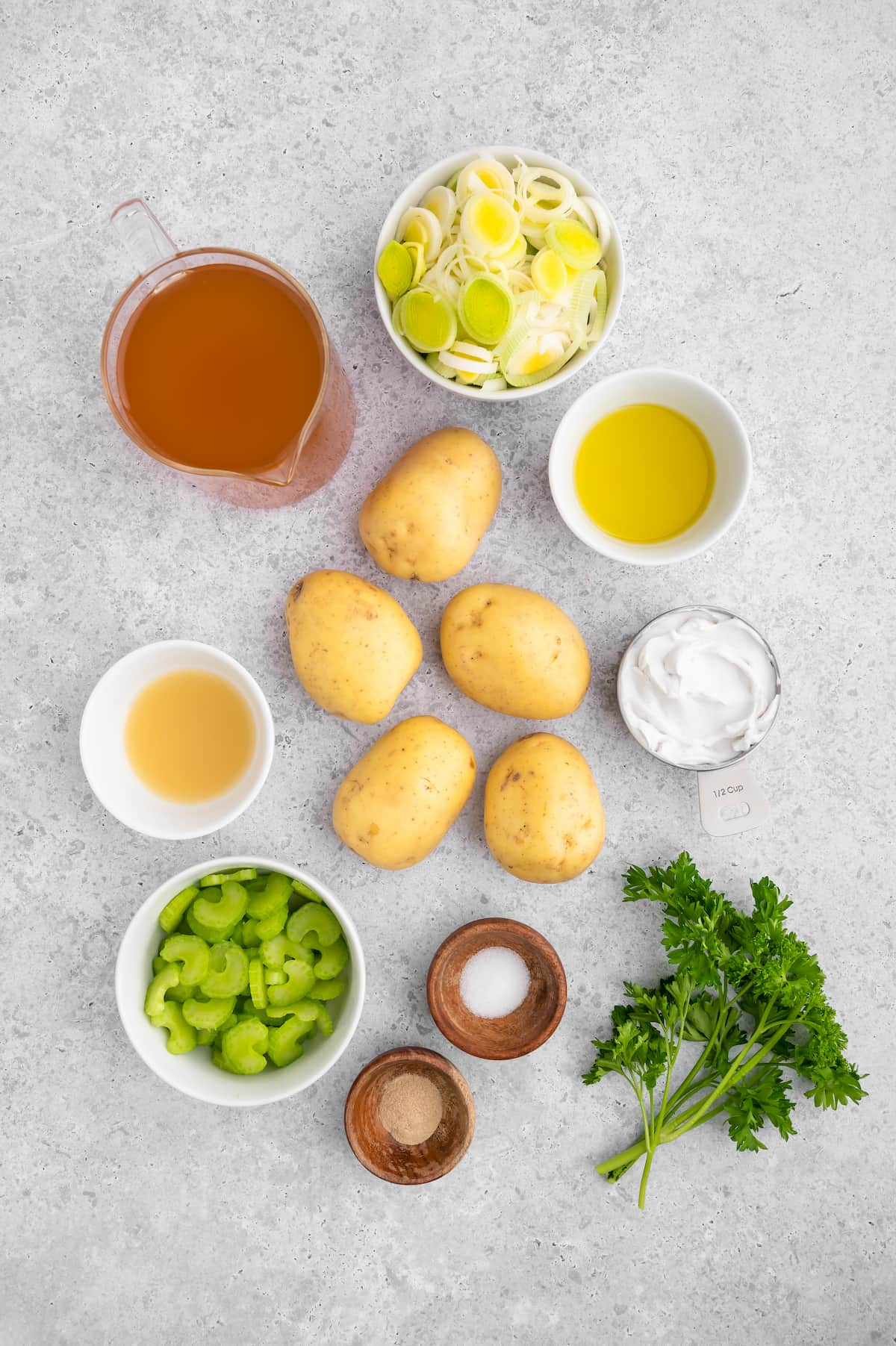 How To Make This Vegan Potato Leek Soup
Sauté Vegetables: Begin by heating olive oil in a large stockpot over medium heat. Add potatoes, celery, parsley, and leeks. Cook and stir occasionally until the vegetables are soft, which usually takes about 8-12 minutes.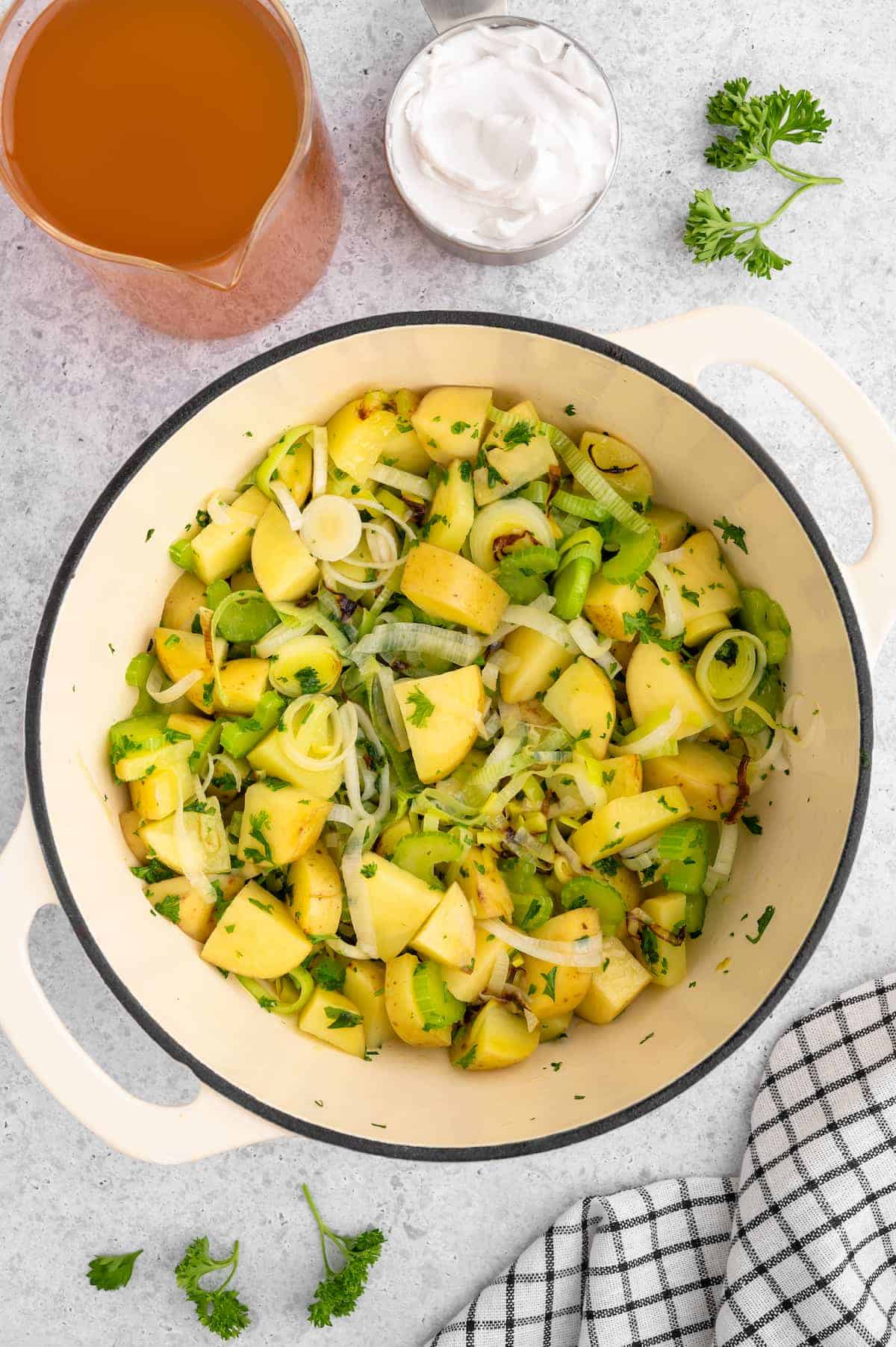 Simmer with Broth: Pour in the vegetable stock and bring the mixture to a boil. Reduce the heat to low and let it simmer for 30-40 minutes, or until the vegetables are tender.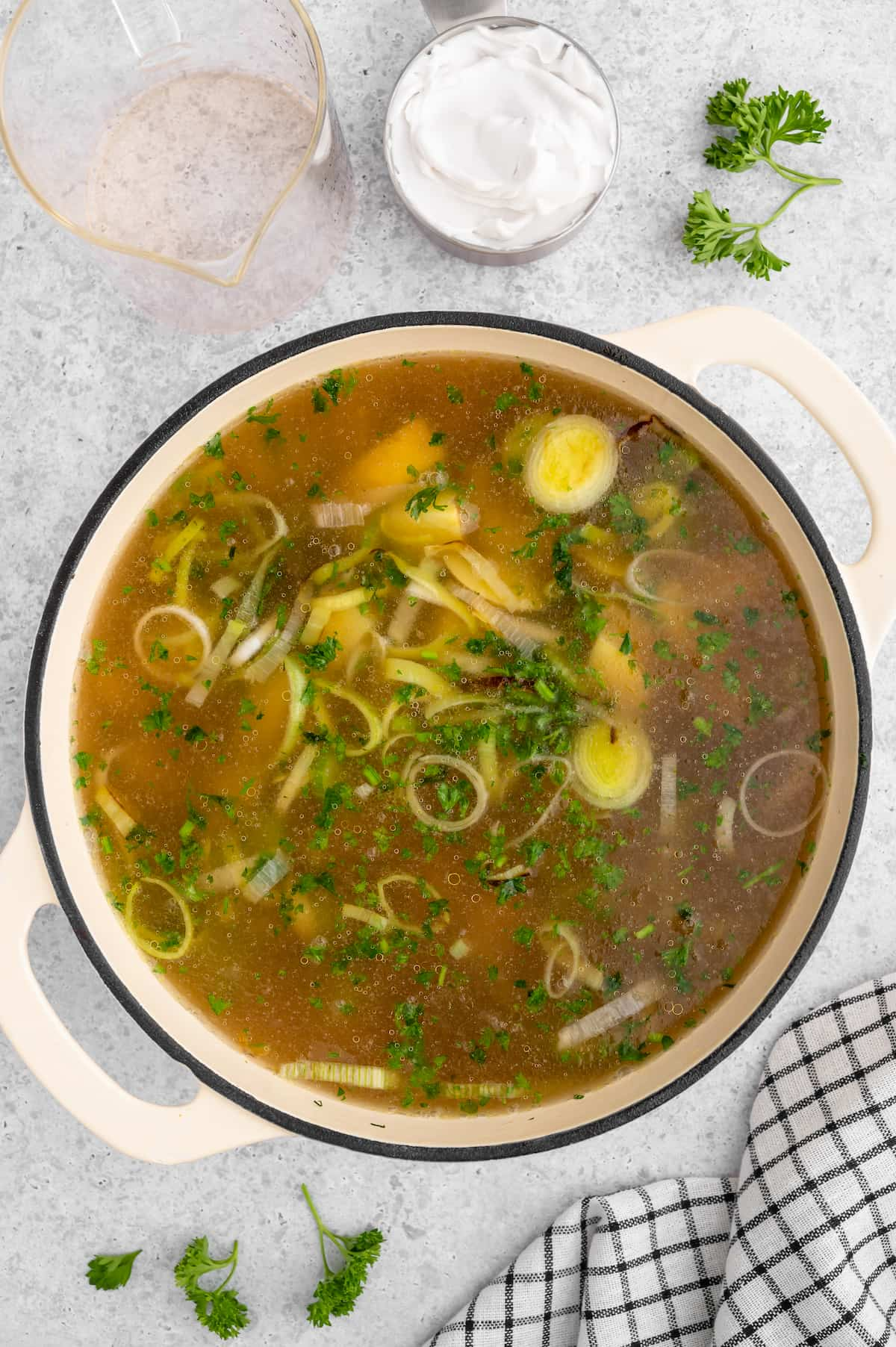 Adjust Texture: Choose to keep the soup chunky or achieve a smoother texture by blending it in a high-speed blender according to your preference.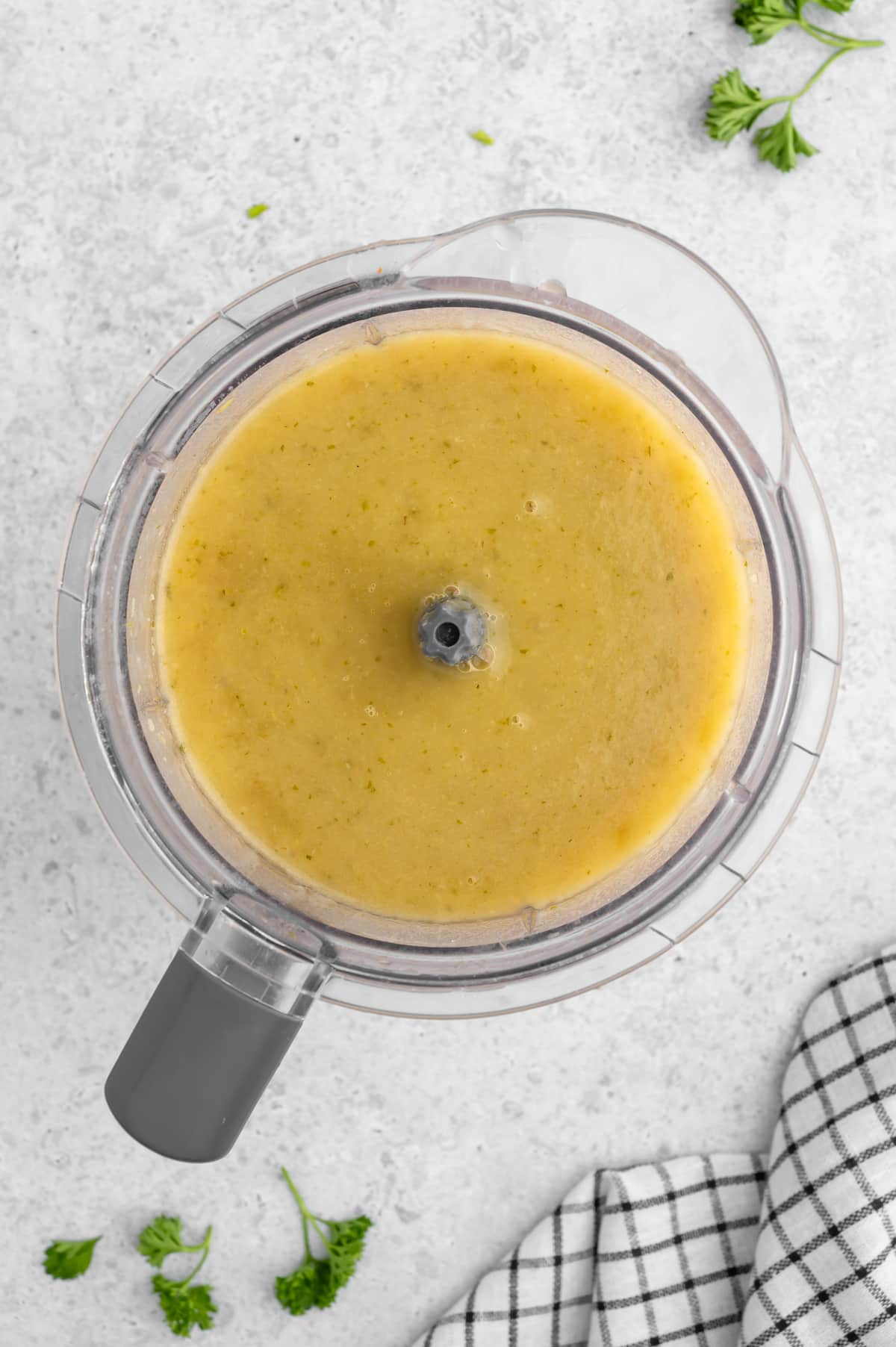 Final Seasoning: Stir in the coconut cream and season the soup to taste with lemon juice, salt, and white pepper for a delightful finish.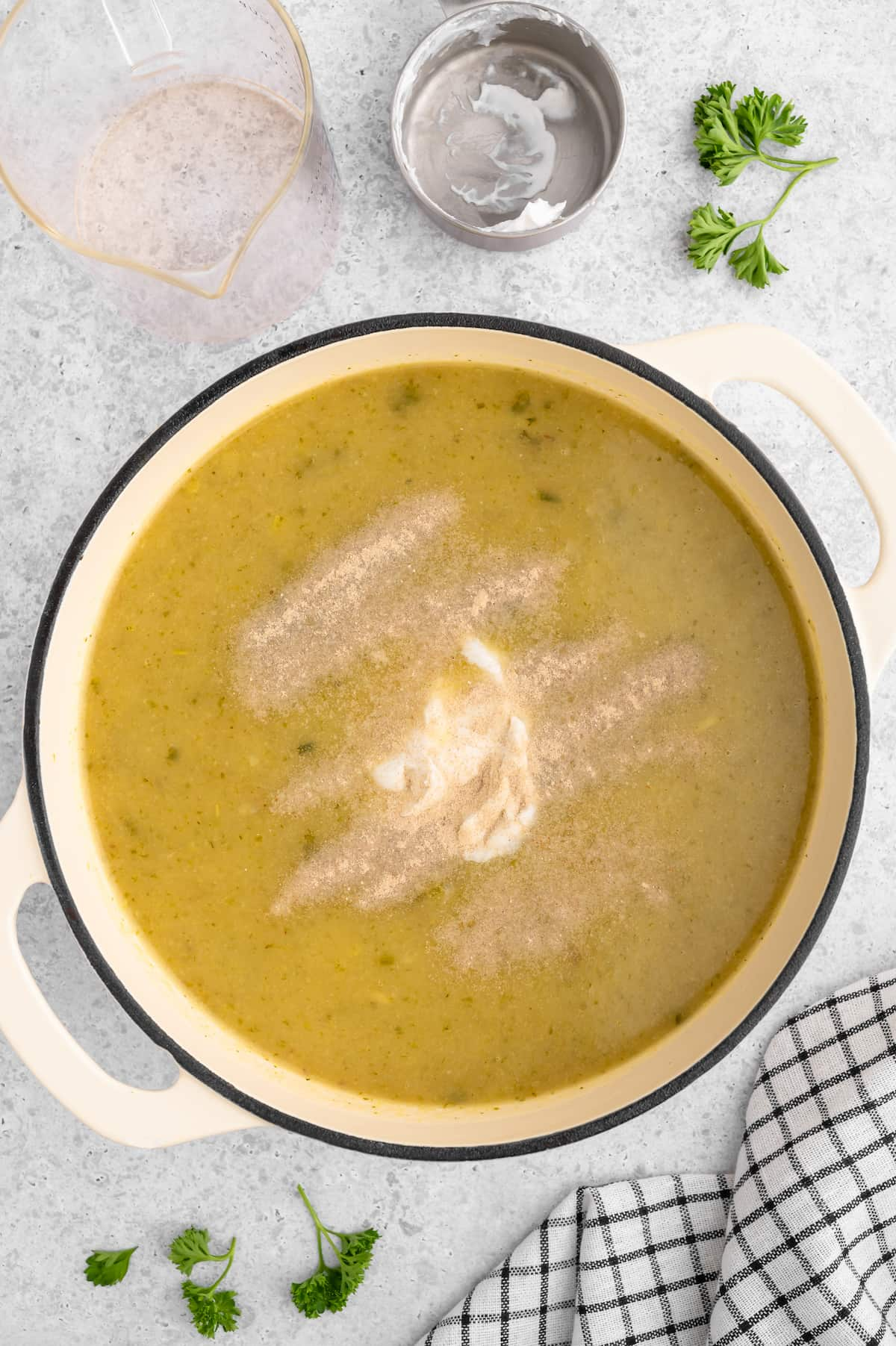 How To Serve Up Your Potato Leek Soup
Bring on the Bread – What better to dip into your potato leek soup than some freshly baked and toasted bread? If you really want a divine dinner, we'd recommend serving up some olive focaccia bread. Just imagine the texture of those olives paired with the soup! If you've got some extra beer laying around, why not bake some of it into this Rosemary Beer Bread?
Salad for Days – Soup and salad are a classic combination—how the cold crunch of greens can offer a refreshing respite from spoonfuls of warm soup is reason enough to include some in your meal. If you like a little protein in your salad, our Sautéed Kale, Bean, & Avocado Salad is a great choice! Prefer to eat the rainbow? Try this Rainbow Salad in a Jar!
A Pinch of Protein, Please – If you'd like to round out your soup with a little protein, you've got some tasty options! How about some roasted chickpeas tossed atop for some added crunch? Prefer tofu but still want the crunch? These Nooch-Encrusted Air Fryer Tofu Cubes will do the trick!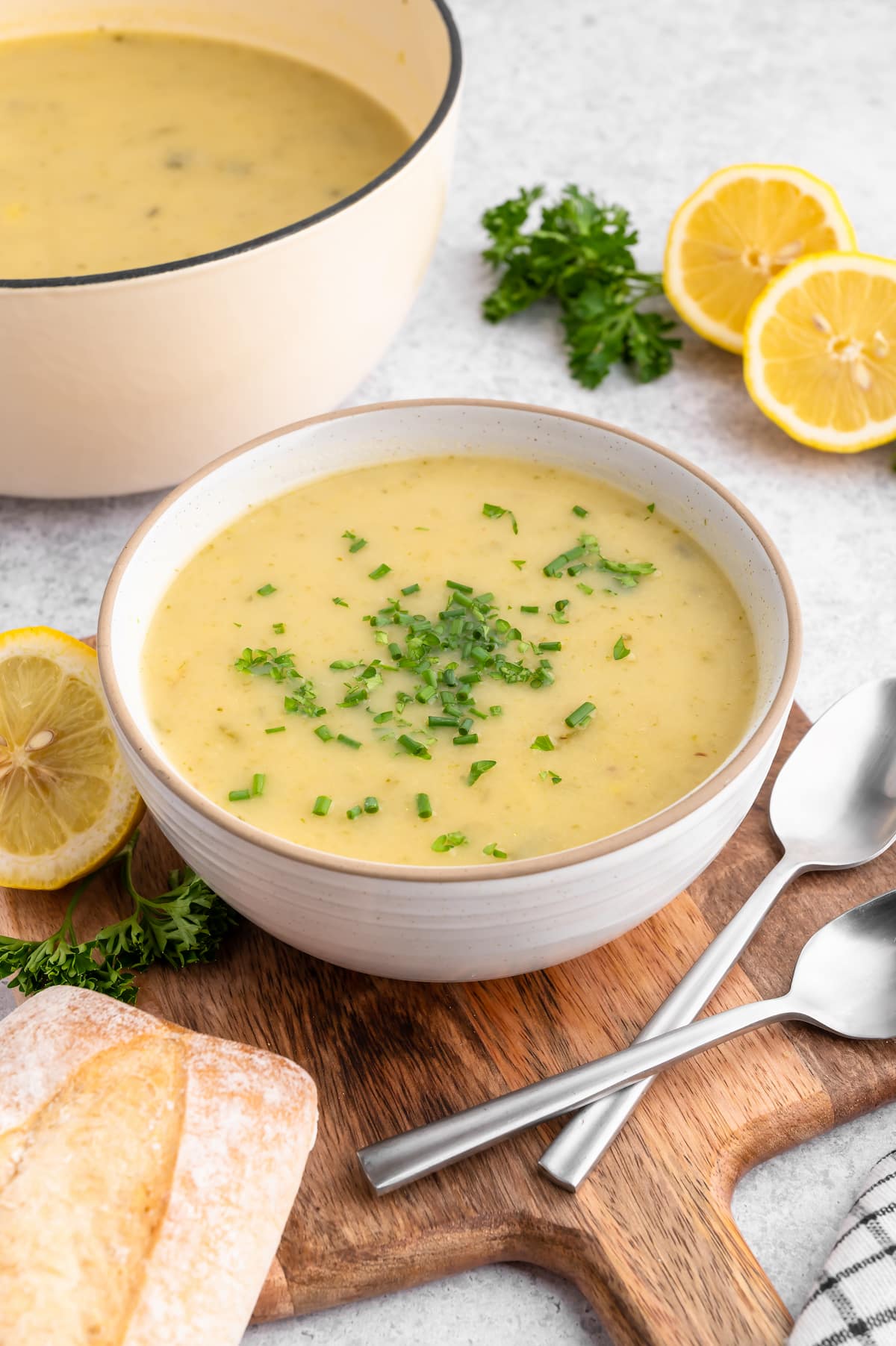 Simple Soup Storage
Soup is one of the best foods for preparing in bulk! If you end up with leftovers, stick some in an airtight container for about 3-4 days. Because potatoes sponge up moisture, they can become grainy when defrosted so freezing is not recommended but if you insist, stick in an air-tight container or freezer-safe bag for up to one month.
When ready to defrost, remove from the freezer the night before or run your frozen container or bag under warm water to defrost. Placing in a bowl of water also works well! Just make sure you have one that's large enough!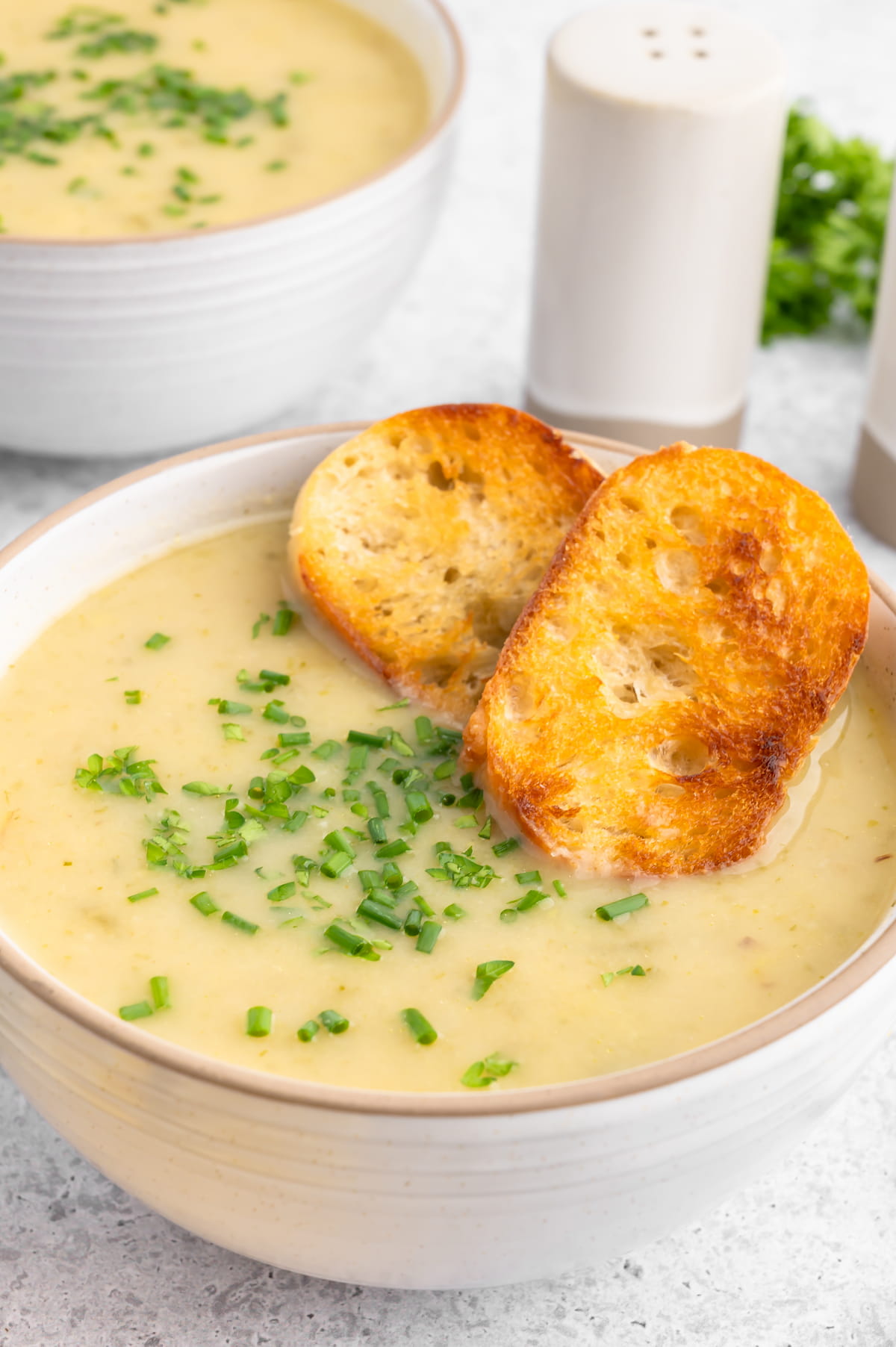 More Scrumptious Soup Recipes
If you try this Vegan Potato Leek Soup let us know what you think by leaving a comment and rating below! Be sure to follow along on Pinterest, Instagram and Facebook for even more vegan recipe inspiration.
2 tablespoons olive oil
4-5 medium Yukon Gold or red-skinned potatoes, roughly chopped
½ cup celery, chopped
⅓ cup parsley, minced
3 large leeks, cleaned and thinly sliced
6 cups vegetable broth
½ cup coconut cream, use the top layer of coconut cream from a can of coconut milk
1-2 tablespoons lemon juice, to taste
Salt and white pepper, to taste
Heat olive oil in a large stockpot over medium heat. Add potatoes, celery, parsley, and leeks. Cook, stirring occasionally, until vegetables are soft, 8-12 minutes.

Add vegetable stock, and bring mixture to a boil. Reduce heat to low, and simmer for 30-40 minutes, or until vegetables are tender.

Leave chunky, or blend in a high-speed blender to desired texture.

Lastly, add the coconut cream, and season to taste with lemon juice, salt, and white pepper.
Calories: 355kcal | Carbohydrates: 47g | Protein: 6g | Fat: 18g | Saturated Fat: 10g | Polyunsaturated Fat: 1g | Monounsaturated Fat: 6g | Sodium: 1448mg | Potassium: 998mg | Fiber: 6g | Sugar: 7g | Vitamin A: 2345IU | Vitamin C: 51mg | Calcium: 75mg | Iron: 4mg
This Vegan Potato Leek Soup recipe is from Dining at The Ravens
 by Jeff and Joan Stanford of The Stanford Inn By the Sea, published with permission from BenBella Books. Photos by Amanda McGillicuddy for World of Vegan, all rights reserved.