If you're looking for a mega upgrade to your breakfast routine then you're in luck! This sweet potato toast will have you eager to roll out of bed right on down to the kitchen.
Sweet potatoes are one of the healthiest foods on the planet. They're packed with Vitamin A, potassium, and fiber, and they're a wonderful food to incorporate into your diet whenever possible.
So…how about swapping out that boring white bread you toast up in the morning with some colorful sweet potato toast? It's healthy. It's delicious. It's even photogenic (for all you Instagram lovers)!
Without further ado, I'm excited to share this easy vegan breakfast recipe from The Plant-Based on a Budget Meal Plan. This has become a staple in our homes, and I hope you love it as much as we do!
Sweet Potato Toast Power
Sweet potatoes are a deliciously nutritious food that offer a variety of health benefits while never lacking in flavor. Here are a few awesome advantages of the almighty sweet potato:
Vitamin City – Sweet potatoes are heavily packed with vitamin A (more than 700% of the recommended daily value!), vitamin B6, manganese, potassium, copper, niacin, and pantothenic acid. Having sweet potato toast for breakfast will give you a serious morning boost!
Full of Fiber – Sweet potatoes contain both soluble and insoluble fiber, which makes them excellent in aiding in gut health and helps keep you fuller for longer.
Awesome Antioxidants – Berries aren't the only food that have a high antioxidant content! Sweet potatoes contain various antioxidants, including anthocyanins (specifically found in purple sweet potatoes), which have been found to slow the growth of various types of cancers.
So Many Spuds
Sweet potatoes come in several different varieties and depending on where you live, you may come across more than a few different kinds!
While jewel sweet potatoes are some of the most common for roasting and traditional baking, other types such as purple and creamsicle sweet potatoes offer a nice variance in color and flavor! If you do go with a purple sweet potato, be sure to check on the baking recommendations since they're best baked at a low temperature due to their low moisture content.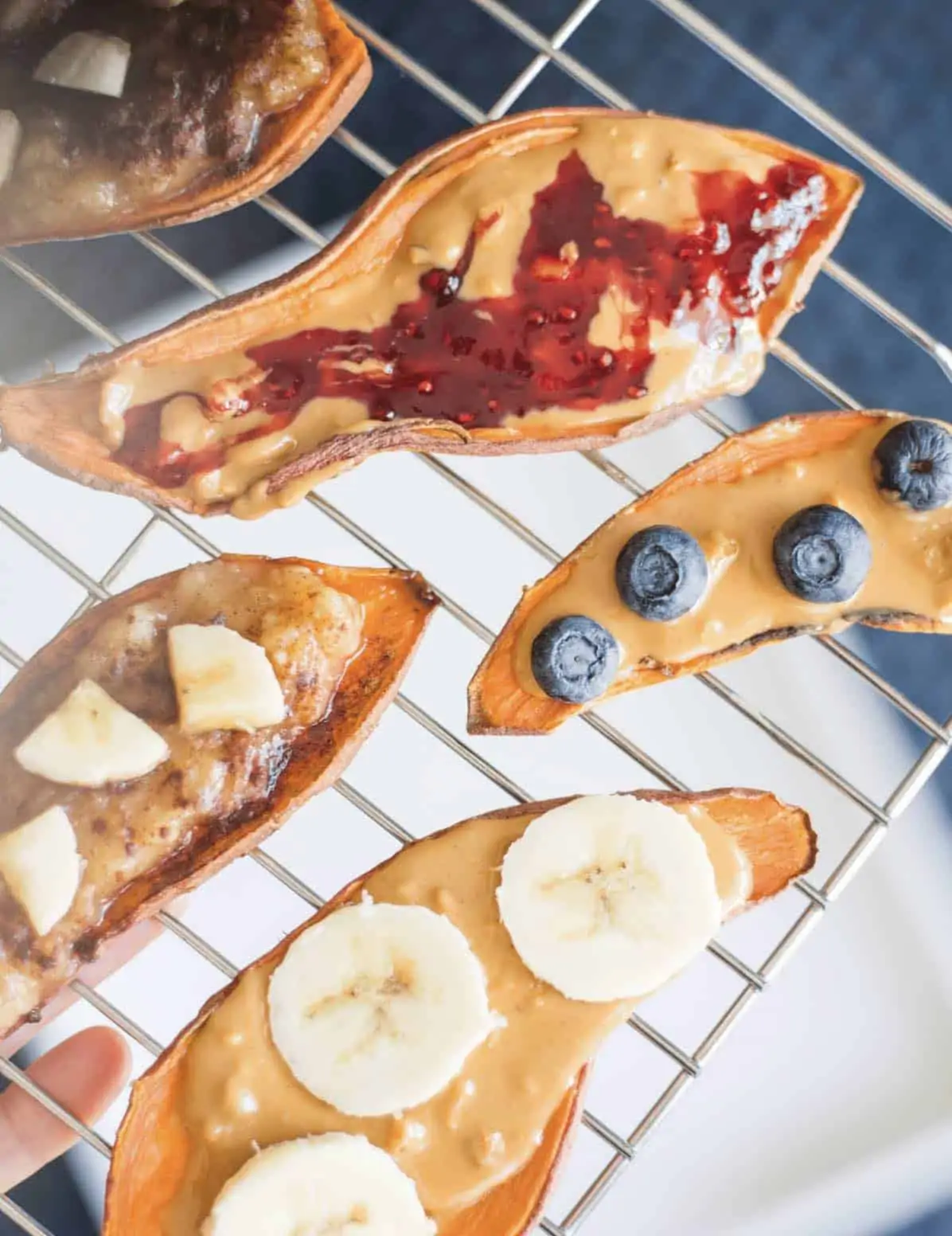 How to Serve It Up
Nut Butter Goodness – Peanut butter is a classic choice for sweet potato toast but cashew and pistachio butter would also make fantastic options. If you're sensitive to nuts, go for some warm tahini mixed with maple syrup instead!
Yay for Yogurt – If you want to get some probiotics into your morning routine, smother some delicious non-dairy yogurt onto your sweet potato toast! Also amazing with a little maple syrup and sliced fruit.
Avocados All the Time – If you're feeling more savory than sweet, why not go for some sliced avocado and a little bit of pepper or nutritional yeast.
Butter and Salt – if you're craving traditional buttered toast, grab your favorite dairy-free butter (or make your own vegan butter!) and spread it on the hot toasted sweet potato with a sprinkle of salt.
Mashed Banana – For a truly zero-waste breakfast option, mash a banana over the sweet potato and enjoy! Top with a sprinkle of cinnamon for extra dimension and flavor
Sweet Potato Toast Storage
With this recipe, we'd recommend only making what you plan to eat but if you do find yourself with leftovers, we'd advise storing the cooked sweet potato in the fridge in an airtight container for 3-5 days separate from any toppings you may plan to add.
More Delish Vegan Breakfast Recipes:
½ large sweet potato or yam
peanut butter
jelly
banana, sliced
Preheat oven (or toaster oven) to 400°F.

Slice the sweet potato in half lengthwise, and then thinly slice using a sharp knife into thin pieces. Note: If the pieces are too thick, they will take significantly longer to cook.

Arrange slices on a baking sheet and bake for 20 minutes (until soft).

Top with peanut butter, jelly, sliced bananas and enjoy!
Have fun with this recipe and mix it up with different toppings!
Calories: 146kcal | Carbohydrates: 34g | Protein: 3g | Fat: 0.1g | Saturated Fat: 0.03g | Polyunsaturated Fat: 0.02g | Sodium: 94mg | Potassium: 573mg | Fiber: 5g | Sugar: 7g | Vitamin A: 24118IU | Vitamin C: 4mg | Calcium: 51mg | Iron: 1mg
Sweet potato toast recipe from the Plant-Based on a Budget Meal Plan (Week 3). Photos by Michelle Cehn. Article edited by Amanda Meth. Please note that this article may contain affiliate links which support our work at World of Vegan.