Break up with boring breakfasts and make a hearty, savory vegan breakfast casserole the whole family will love thanks to this recipe that has been slightly adapted from Kim Campbell's new cookbook PlantPure Comfort Food!
Each thick slice of tender hash browns holds a wealth of fresh vegetables, all coated in a rich cashew cheese sauce. Treat yourself to a slow, leisurely weekend morning in the kitchen, or prep in advance to have all the work done before the sun rises. It's a win-win situation for night owls alike!
Feed a full house of overnight guests without breaking a sweat. There won't be a single potato shred left once this cozy hot dish hits the table. Go ahead, bask in the glory and praise—no one needs to know how easy it is to make.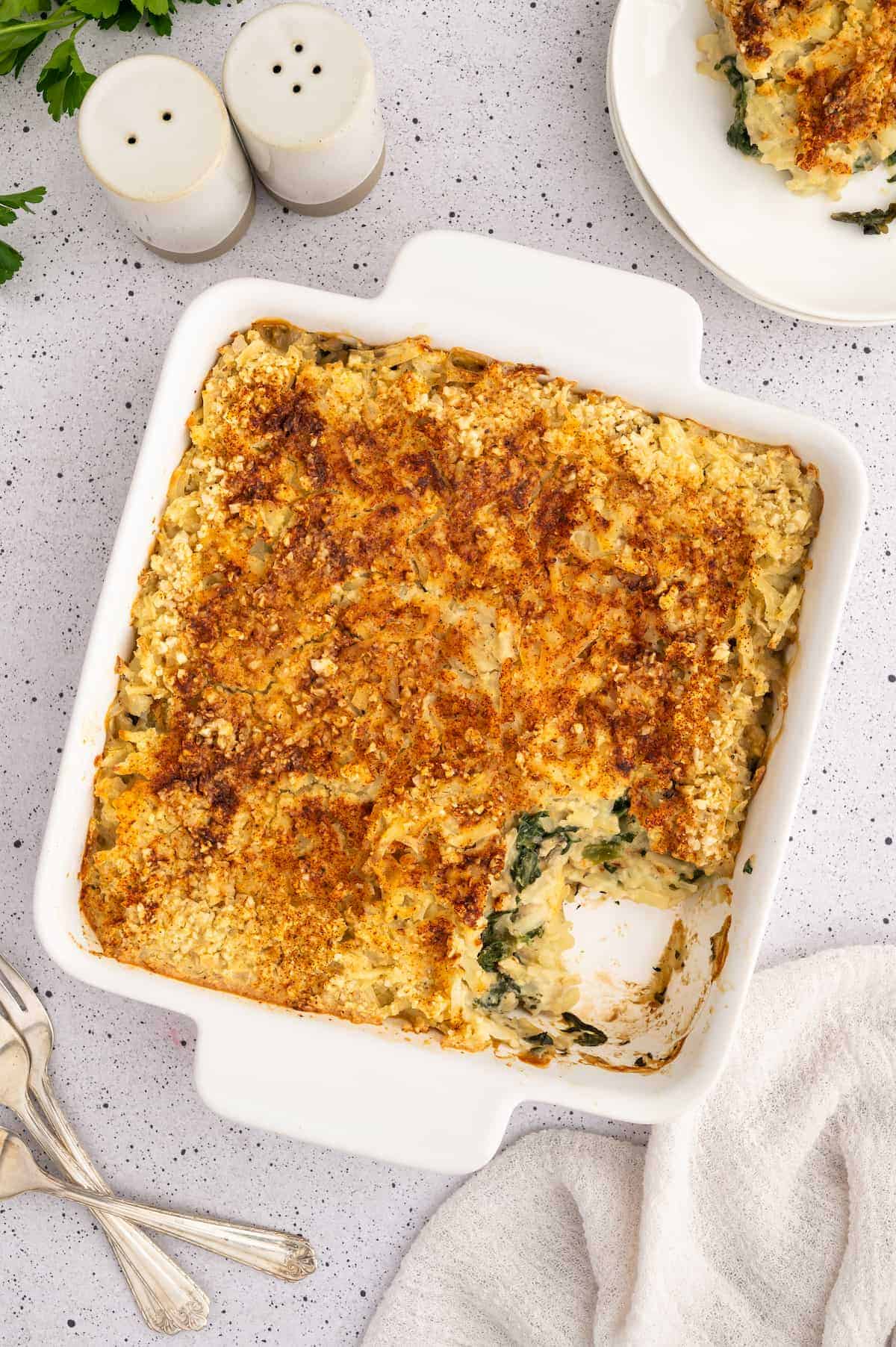 What Makes This The Best Breakfast Potato Casserole
Breakfast foods make the best meals any time of day. This one will be in hot demand after your first batch.
Healthy indulgence: Get all the crave-worthy, comforting flavors you love in a vegan, gluten-free, oil-free, and whole foods package! That all adds up to a high protein, high fiber powerhouse that will help you tackle the day.
Set it and forget it—at least until the timer goes off! Most of the cooking time is inactive, which means you're free to help the kids get ready for school, catch up on emails, or scroll through social media while breakfast makes itself.
Budget friendly: Save your money while eating like royalty. These basic staples are readily available at most grocery stores for great prices and keep for a long time, too.
Key Ingredients
Here's a quick overview of the ingredients needed to make this vegan breakfast casserole, along with our recommended substitutions:
Mushrooms: Be it button, cremini, shiitake, oyster, portobello, or beyond, all mushrooms are welcome here! They add unmistakable umami flavor and a meaty texture that's essential to the eating experience.
Frozen spinach: Chopped, rather than whole leaf spinach is best for more even distribution throughout the casserole.
Plant-based milk: As long as it's unflavored and unsweetened, any vegan milk works brilliantly to make the creamy, cheese sauce holding everything together.
Cashews: No home should go without cashews in the pantry. They're the secret to making the most luscious creamy creations, both sweet and savory. Use raw cashews when you don't want the dish to have an over nutty flavor.
Nutritional yeast: I like to call nutritional yeast "vegan catnip" because it's utterly irresistible! In small doses it tastes buttery, and in larger quantities it tastes cheesy. You could just sprinkle it over popcorn to make a crazy good snack.
Cornstarch: Thicken sauces, puddings, and soups with ease! If you'd like to avoid corn products, you can substitute an equal amount of either arrowroot powder or potato starch instead.
Tahini: Otherwise known as sesame butter, this silky-smooth spread tends to separate as it sits, so stir it well before every use.
Miso paste: Mild white miso is the best choice as a subtle flavor booster. Chickpea miso is a great soy-free option too.
Apple cider vinegar: If you could only stock up on one type of vinegar, make it apple cider vinegar. It's one of the most versatile acidic ingredients out there, playing well in just about any recipe. In case you're a messy cook like me, it's also invaluable as a cleaning agent all around the house.
Hash brown potatoes: Prepared hash browns, sold refrigerated or frozen, make this recipe a breeze. If you can't find any that aren't oil-free, or if you'd simply like to use up a surplus of whole potatoes, you can start from scratch easily. Use a mandoline or box grater to make consistent shreds, or a very sharp knife to make equal cubes.
How To Make This Vegan Breakfast Casserole
This recipe is made for lazy mornings! Prep the veggies and vegan cheese sauce the night before to make this already easy recipe a breeze! Just remove from the refrigerator and allow it to come to room temperature before you start.
Preheat your oven to 375°F. Line a 9-inch square baking pan with parchment paper.
Make The Veggies
Step One: Add the mushroom and spinach to a large skillet preheated over medium-high heat. Season with salt, and cook until the mushrooms are softened. Add the onion and garlic powders, adding water as needed to prevent any sticking.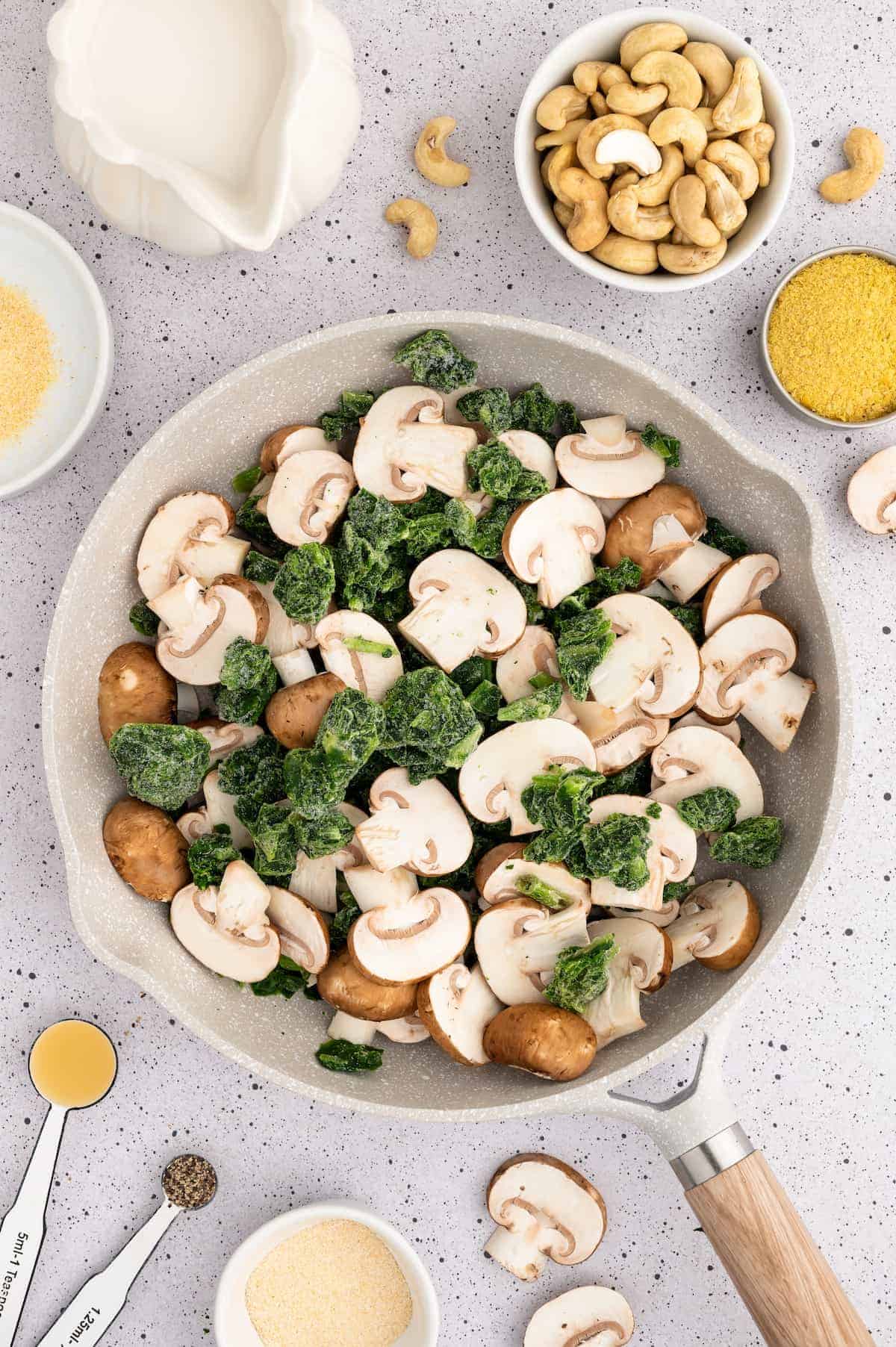 Make The Vegan Cheese Sauce
Step Two: Process the cheese sauce ingredients in a high-speed blender until smooth.
Assemble The Casserole
Step Three: Place the hash browns into a large bowl. Pour half of the cheese mixture and gently mix to combine. Transfer half of the mixture to the parchment-lined dish.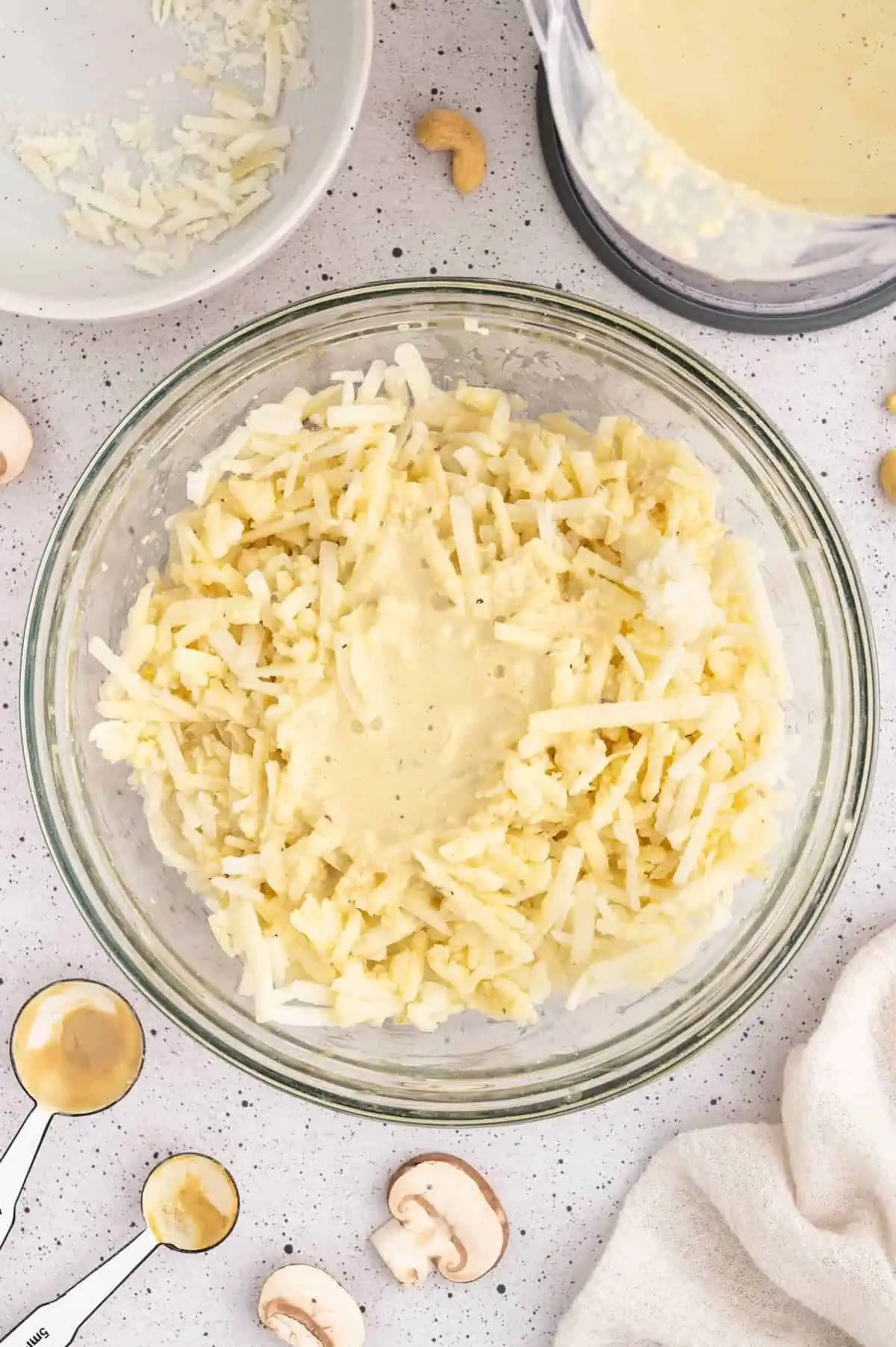 Step Four: Place the mushroom and spinach mixture over the potato layer. Top with the remaining potato mixture. Add the rest of the cheese sauce over the top. Sprinkle with the smoked paprika.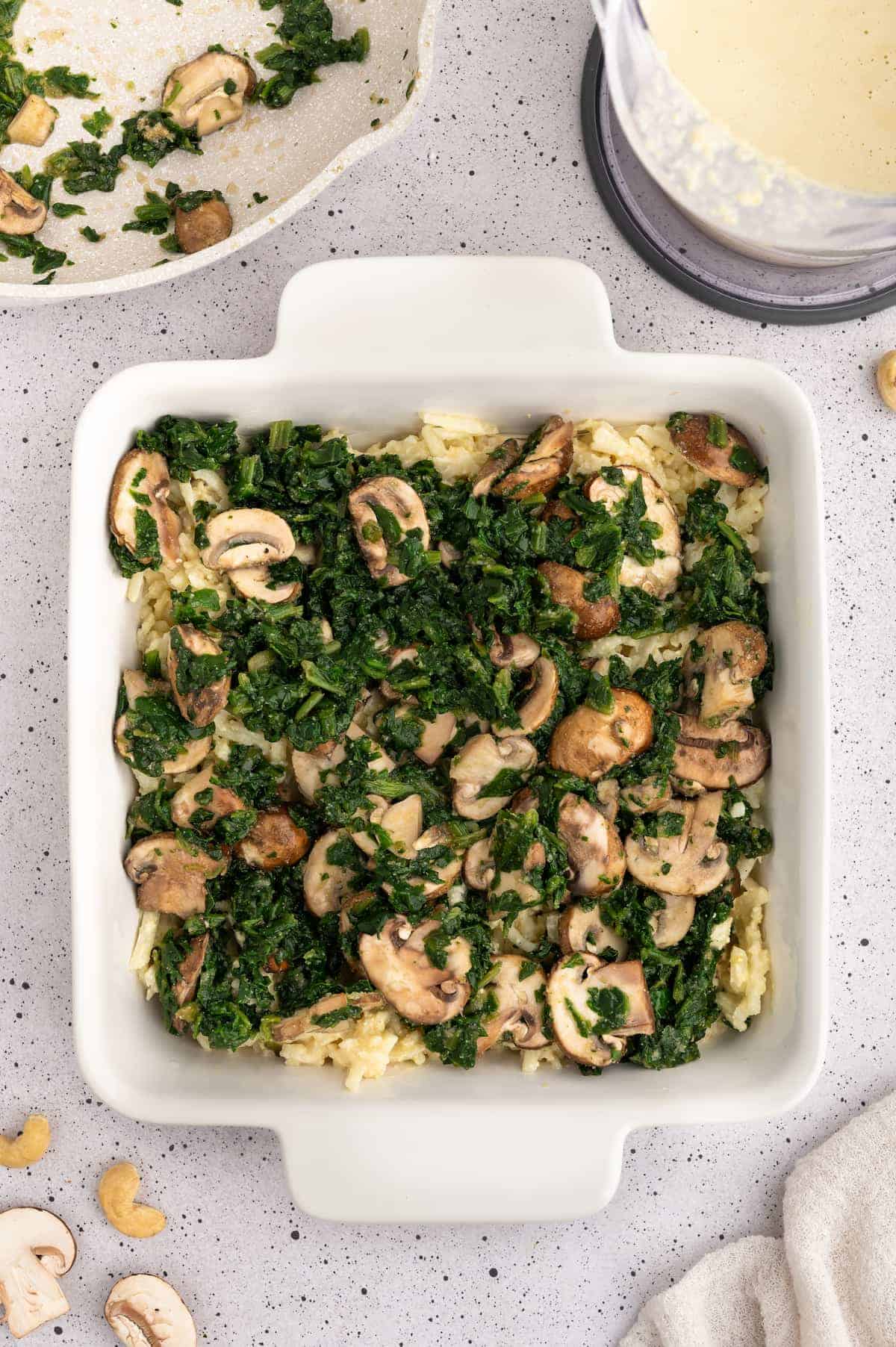 Step Five: Bake for 55 minutes or until the top is golden and bubbling. If you'd like the top more browned, place it under the broiler at the end of the baking time for about 5 minutes.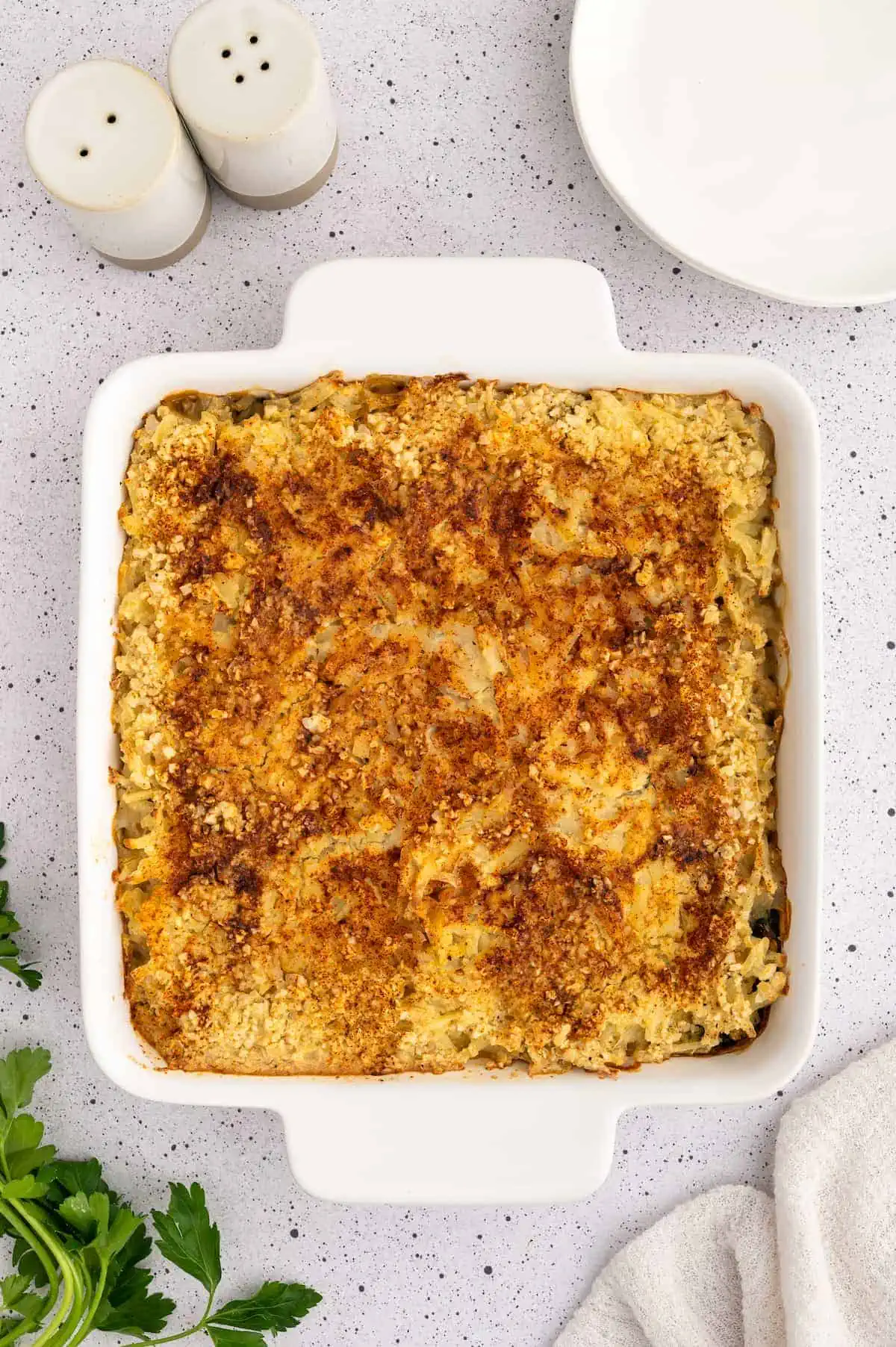 Tips For Success
No experience required! This veggie-loaded vegan breakfast casserole is easy enough for anyone to master in one try. For the absolute best results, here's what you need to know:
Plan ahead. Make your veggie filling and cheesy cashew sauce the night before to streamline the cooking process in the morning. Make sure everything comes back at room temperature before baking.
Sauté with water, not oil. Use a nonstick pan when cooking the mushrooms and spinach, adding a little bit of water if needed to prevent them from sticking. You shouldn't need much though because they should exude a good amount of water themselves.
Hit the sauce. Hash browns vary greatly in size and shape, so depending on the cut of the potatoes, you'll need to adjust the amount of sauce for proper coverage. The veggies should be coated generously, but not drowning. Leftover sauce can be used to make queso, top pizzas, and tossed with pasta. Store in an airtight container in the fridge for 5 – 7 days.
Let cool for cleaner slices. It's delicious piping hot, straight out of the oven, but you'll be better off serving it with a large spoon than a spatula. The casserole sets more firmly as it cools, making it easier to portion out evenly.
Serving Suggestions
Call it a complete meal and get on with your day or dress it up for a special occasion. When you want to go out, you've got tons of options for additions, toppings, and side dishes.
Mix-Ins:
Meatless grounds, bacon, or sliced sausage
Black beans or pinto beans
Olives or capers
Toppings:
Breadcrumbs
Crushed cornflakes
Scallions
Avocado
Hot sauce
Sides:
Toast
Green salad or sauteed greens
Berries or cut melons
Salsa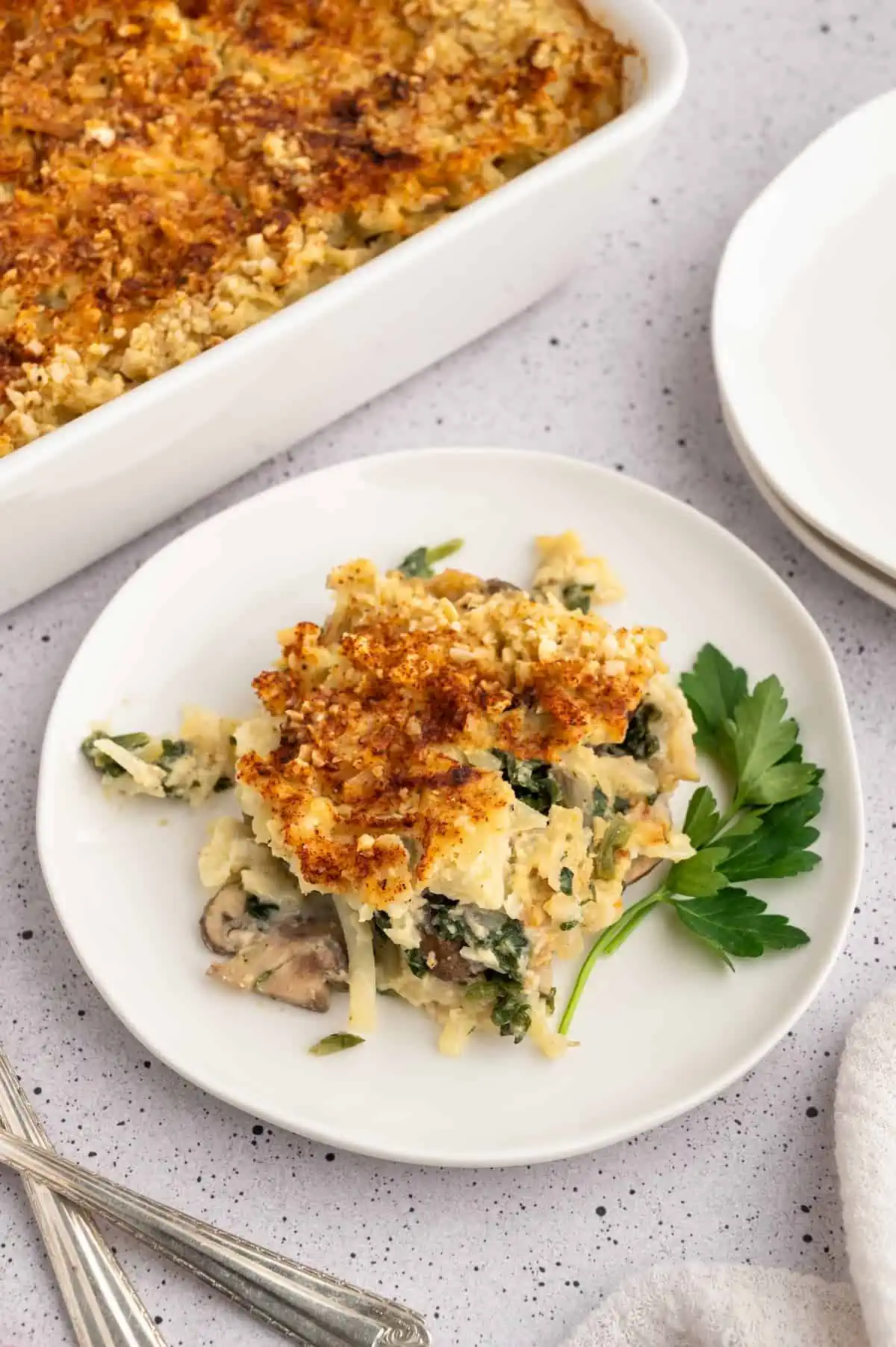 Vegetable Variations For This Casserole
Make this breakfast casserole with hash browns your own by swapping out the vegetables to better suit your personal tastes. Keep changing it up with the seasons to make every serving fresh and exciting. A few of my favorites include:
Broccoli, cut into florets
Zucchini, sliced or diced
Peppers, diced
Asparagus, cut into 1-inch lengths
Cauliflower, cut into florets
Kale, stemmed and chopped
Green beans, cut into 1-inch lengths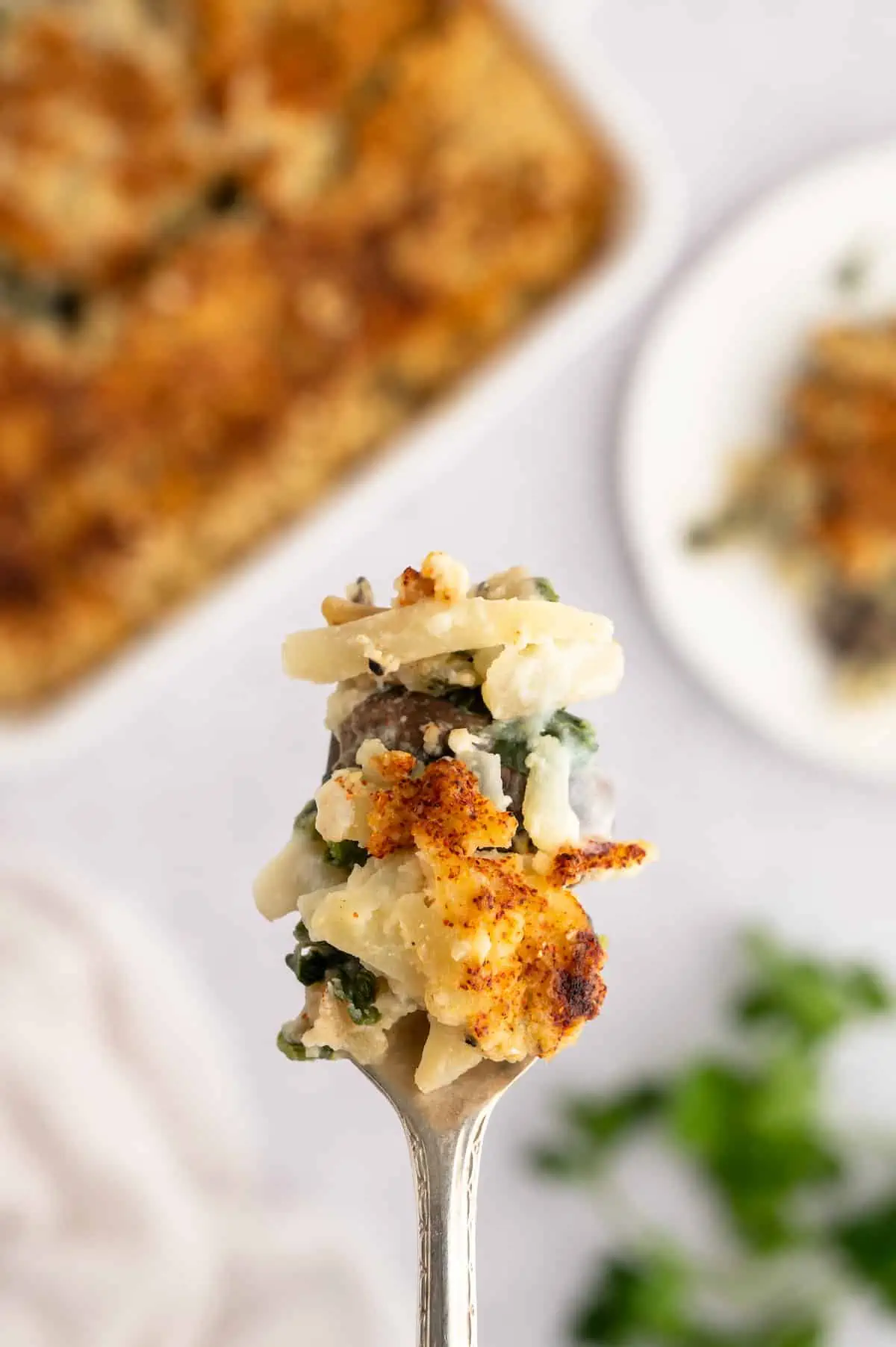 More Perfect Potato Recipes To Try
Want more easy potato recipes? Here are some of our favorites:
For The Veggies: (can be prepped the night before to make morning prep faster!)
8 ounces mushrooms, any type, sliced
1 10-ounce bag frozen chopped spinach
¼ teaspoon salt, plus more to taste
¼ teaspoon garlic powder
¼ teaspoon onion powder
For The "Cheese" Sauce: (can be prepped the night before to make morning prep faster!)
2 cups unsweetened, plain plant-based milk
½ cup raw cashews
¼ cup nutritional yeast flakes
3 tablespoons cornstarch
1 tablespoon tahini
1 tablespoon light or white miso paste
4 teaspoons apple cider vinegar
2 teaspoons onion powder
2 teaspoons garlic powder
1 teaspoon Dijon mustard
1 teaspoon lemon juice
1 teaspoon sea salt or to taste
1 teaspoon hot sauce, optional
¼ teaspoon black pepper
For The Potatoes:
1 20–26-ounce bag frozen oil-free shredded or diced hash brown potatoes, (such as Trader Joe's or Cascadian Farm)
For The Topping:
1 teaspoon smoked paprika
If you prepped the veggies and "cheese" sauce the night before, remove it from the refrigerator and allow it to come to room temperature.

Preheat the oven to 375°F. Line a 9-inch square baking pan with parchment paper.
To Make The Veggies:
In a large skillet, add the mushrooms and spinach season with the salt, and cook over medium-high heat until the mushrooms are tender. Add the garlic and onion powders, stir, and cook for just a minute more. Add water as needed to prevent sticking. Taste and add a bit more salt if needed. Set aside.
To Make The "Cheese" Sauce:
To Assemble The Casserole:
Put the frozen hash browns in a large bowl.

Pour about half of the cheese sauce into the bowl of frozen hash browns and mix until thoroughly combined, then add a bit more sauce if needed to ensure even coverage.

Transfer half of the potato mixture to the lined pan. Cover the potato mixture with the mushrooms and spinach. Top with the remaining potato mixture, then pour the remaining cheese sauce over everything. Sprinkle the smoked paprika on top.

Bake for 55 minutes or until the top is golden and bubbling.

If you'd like the top more browned, place it under the broiler at the end of the baking time for about 5 minutes.
Calories: 277kcal | Carbohydrates: 43g | Protein: 16g | Fat: 16g | Saturated Fat: 5g | Polyunsaturated Fat: 3g | Monounsaturated Fat: 7g | Sodium: 944mg | Potassium: 1076mg | Fiber: 19g | Sugar: 3g | Vitamin A: 285IU | Vitamin C: 3mg | Calcium: 80mg | Iron: 8mg
Thank you to our amazing World of Vegan recipe testers Margo Henderson, Taylor Gillespe, Ruth Havertz, and Marilyn Vega for testing this recipe. Photos by Amanda McGillicuddy for World of Vegan, all rights reserved.
This recipe is slightly adapted from PlantPure Comfort Food by Kim Campbell. BenBella Books 2022.