Making may your vegan sushi at home is easy, fun, and delicious. Although it may seem like an intimidating process, we can assure you it's not! There's no need for raw fish to recreate the taste and texture of traditional sushi. With some creativity, you can build your own sushi masterpiece in the comfort of your kitchen without harming a single sea creature.
Creating your own sushi dishes can also help expand your palate and become more adventurous. You can try a new-to-you kind of produce, visit your local farmers market to see what's available, and explore what's in season where you live. Learning how to make your vegan sushi can open up a sea of possibilities!
These 25+ recipes are some of the best vegan sushi dishes that will inspire you to create something amazing at home. Make them with friends and family, share at a party or get-together, or just for yourself. Before we dive in, let's go over some sushi basics!
What Is Vegan Sushi Made Of?
While the term "sushi" may conjure up images of raw fish, it actually refers to the rice portion. Sushi rice is a short-grain rice that's seasoned with rice vinegar for a pleasant tangy note, with salt and sugar added to balance out the flavors. Create a savory, one-bite experience by adding cooked or raw produce (or a combination of both). You can also add plant-based proteins if you'd like a heartier bite. We'll go over some ideas for that in a bit below!
Basic Components Of Vegan Sushi
Although the ways to fill and top sushi are limitless, you can typically start with these basic components and build your sushi from there: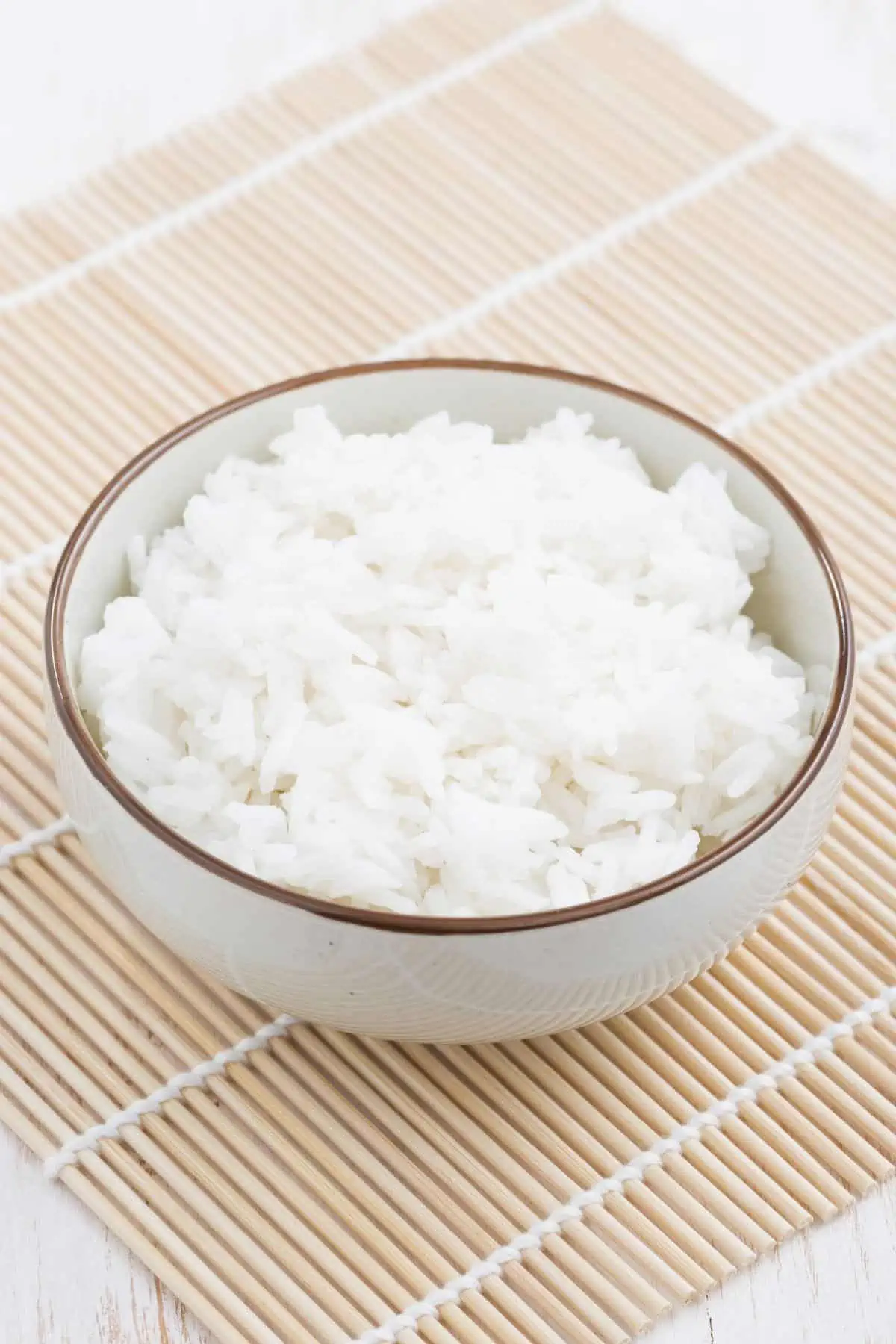 Rice: Use short-grain, high-quality sushi rice. It has a sticky texture and a slightly sweet but mostly neutral taste, which makes it ideal for forming into bite-sized pieces.
Nori: Made from dried, edible seaweed, these thin and crispy sheets have a sea-like aroma and flavor, with a savory quality. You can find it in most grocery stores and any Asian market.
Rice vinegar: This vinegar has a milder acidic flavor than white or apple cider vinegar. This helps the rice hold its shape and adds a slightly tangy and sour flavor.
Sugar: This helps balance the tangy notes of the rice vinegar and salt.
Salt: Enhance the other flavors in the sushi rice by adding a small amount of salt.
Sesame seeds: A sprinkle of sesame seeds over sushi rice adds a nice crunch and nuttiness. It's completely optional but adds a nice touch. Toast them if you'd like in a dry pan over medium heat until fragrant, usually 15 seconds or less.
The Environmental Impact Of Using Plant-Based Ingredients Instead Of Fish In Sushi
Are you hooked on sushi, but looking for a more compassionate option? Vegan sushi is the answer. The fishing industry is a major contributor to overfishing, pollution, and other environmental issues. By choosing vegan sushi instead of fish-based sushi, you are making a more environmentally sustainable choice that can help reduce the negative impacts of the fishing industry.
Fishing can be a cruel and inhumane practice, causing pain and suffering to the fish. By opting for plant-based sushi, you're making a more ethical choice that reduces animal suffering and cruelty. Vegan sushi is kinder and just as delicious, if not more than, fish-based sushi.
Types Of Vegetarian Sushi
Sushi comes in many shapes and forms. It can be quite simple or very intricate. The most common types of sushi include:
Nigiri
In this style of popular sushi, bite-sized, oblong-shaped mounds of sushi rice are topped with various ingredients. Toppings can include produce like carrot, avocado, or cucumber and vegan protein options such as a king oyster mushroom stem, tempeh, or tofu. A strip of nori is secured around the rice to secure the topping to create a classic presentation.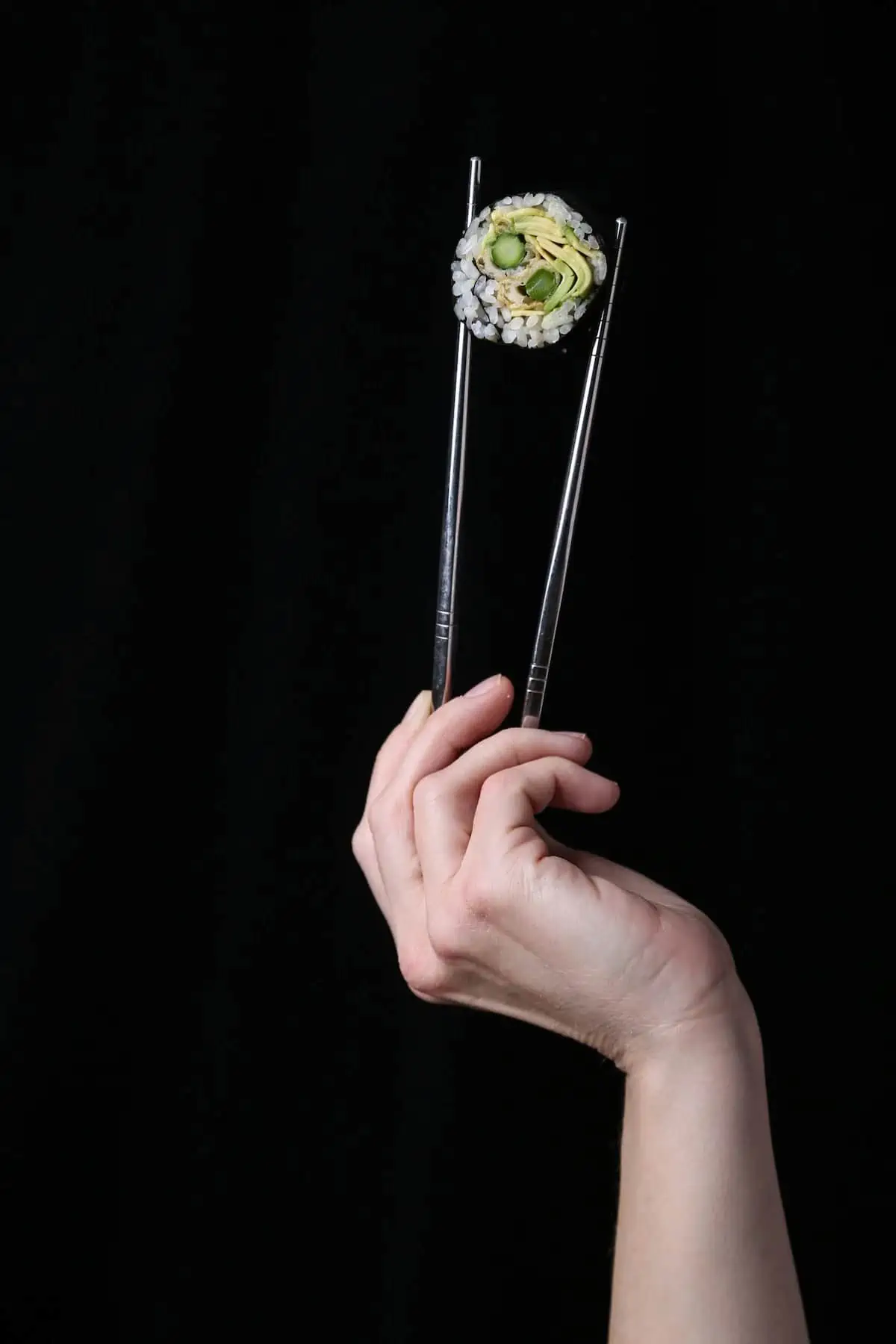 Maki
This popular style of sushi is a cylindrical-shaped roll that consists of sushi rice, nori seaweed, and fillings. Fill maki-style sushi with sweet potato, asparagus, or tofu and even unexpected ingredients like jackfruit or soy curls. Edamame vegan sushi and sushi using oyster mushrooms are both delicious choices!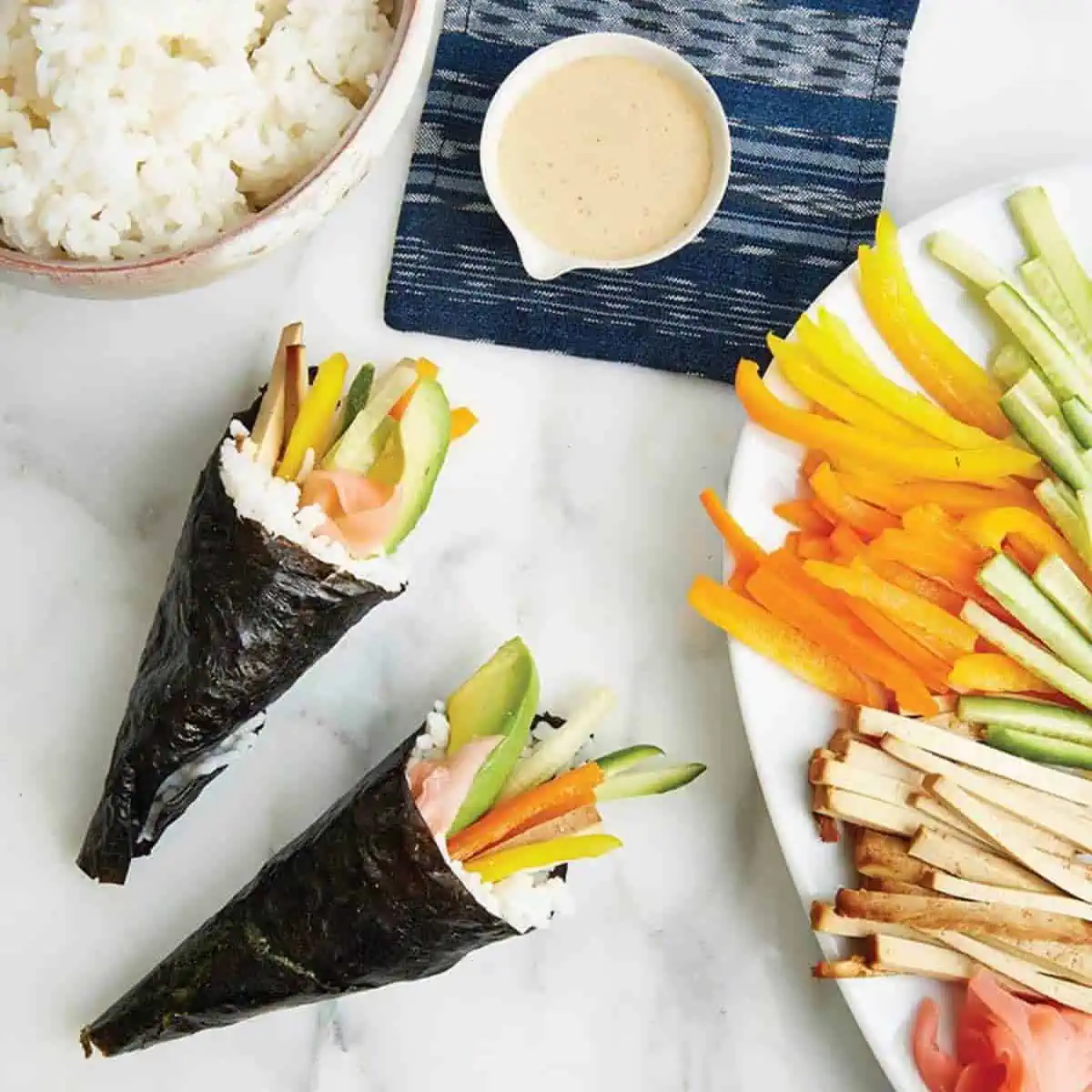 Temaki
This style of sushi, known as hand rolls, wraps sushi rice and fillings with a piece of nori seaweed and forms it into a cone shape. Fill with anything you like—vegetables, tofu, avocado, and even fruit!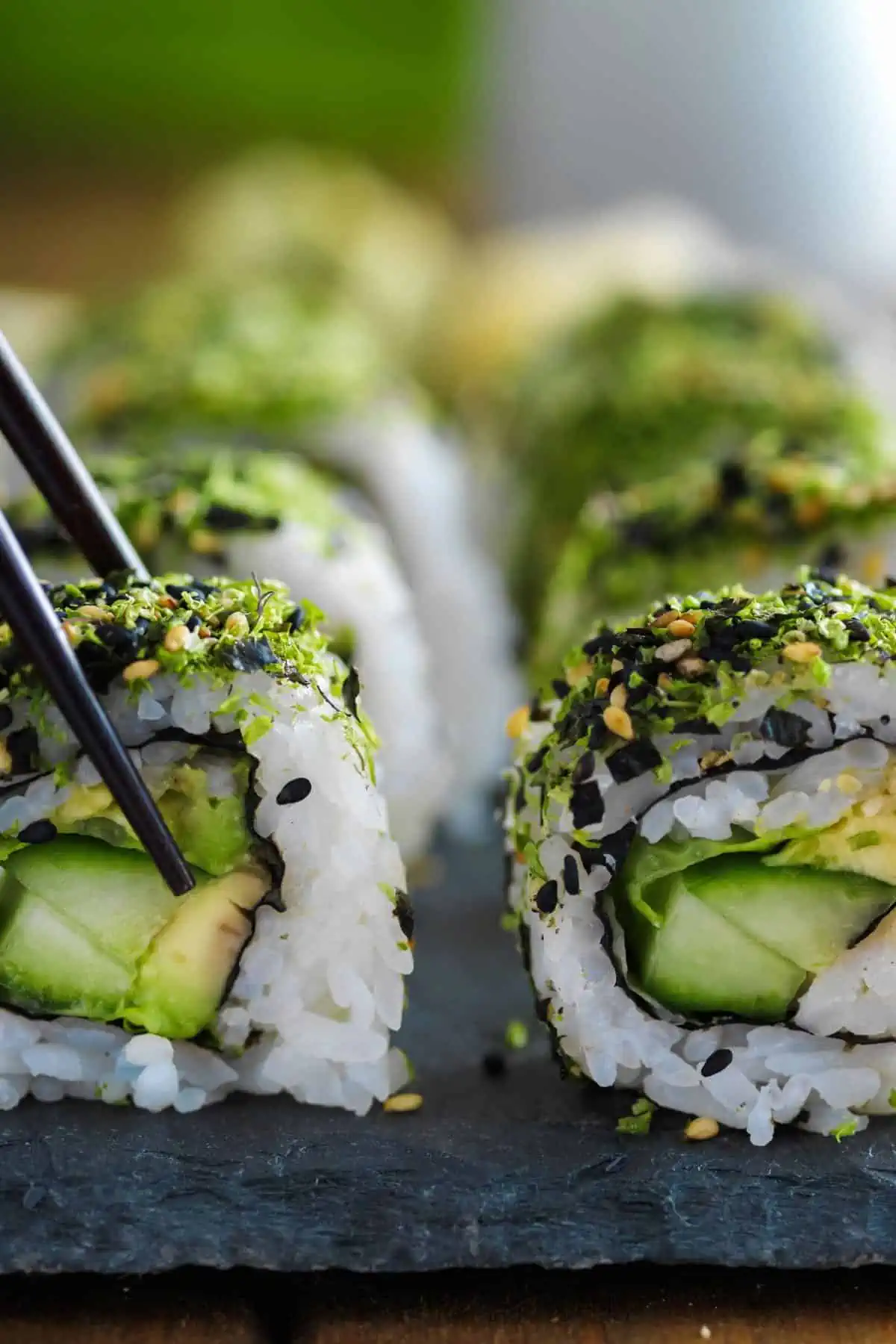 Uramaki
Also known as an inside-out roll, this maki-style roll features sushi rice on the outside of the roll, with nori on the inside. The term uramaki literally means "inside-out roll" in Japanese.
Gunkan
Named after its boat-shaped appearance, ("Gunkan" means "battleship" or "warship" in Japanese) this type of sushi starts with a small, oval-shaped ball of sushi rice. Wrap a strip of nori around it, then top with your favorite sushi fillings. The nori acts as a container to keep the toppings in place.
As you can see, these types of vegetarian sushi allow for so many possibilities and creativity!
Vegan Sushi Ingredients
There are so many options when deciding what kind of sushi to make. Here are a few ideas to consider when planning your next plant-based sushi night. Set up your own vegan sushi bar and have fun!
Vegan Proteins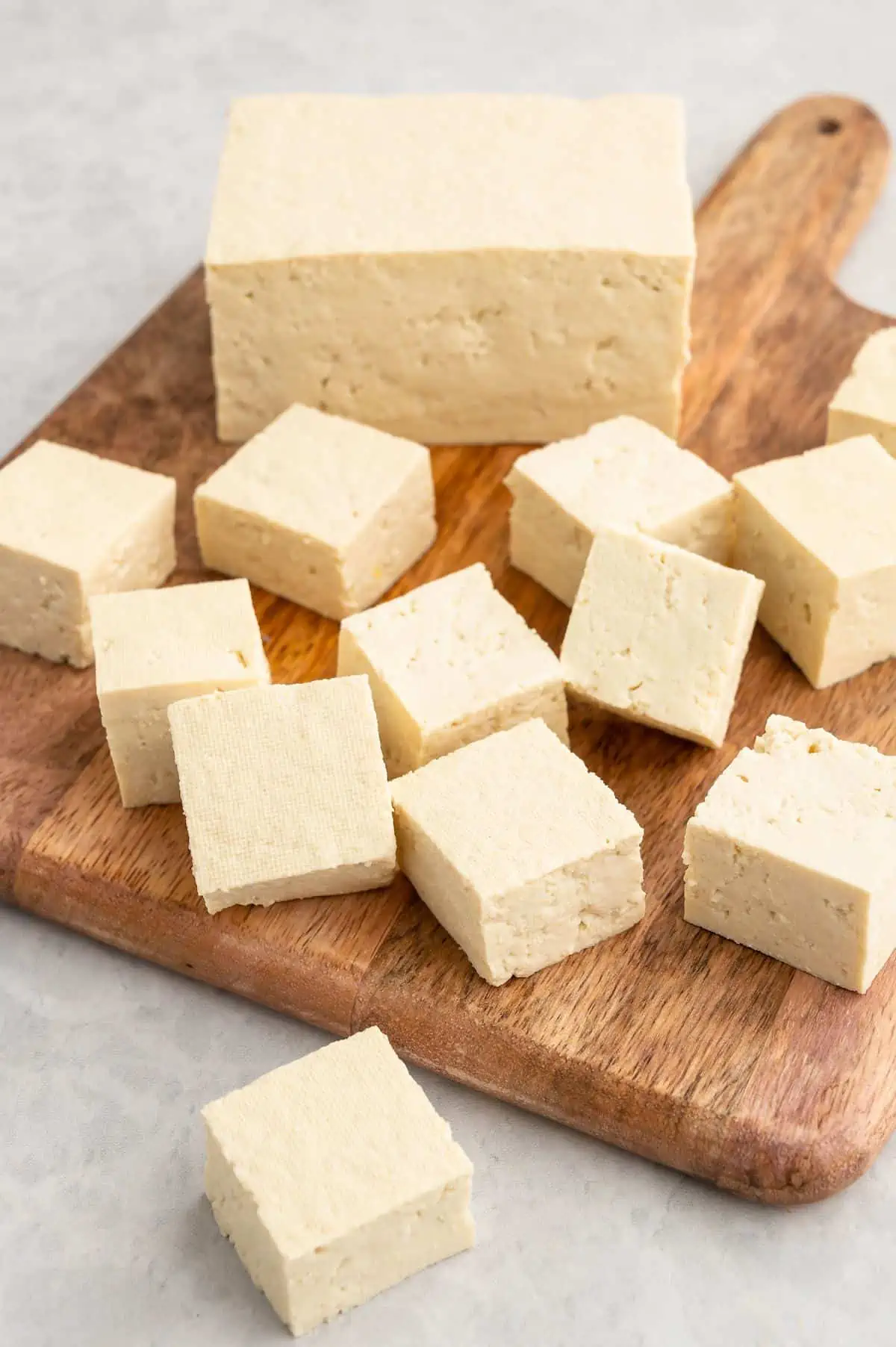 Tofu: This versatile plant protein can be used in a variety of ways, including as a filling in vegan sushi. Firm or extra-firm tofu works best, as it holds its shape well and has a similar texture to fish.
Here are some other vegan proteins that will inspire you to grab a sushi mat and get rolling!
Produce Options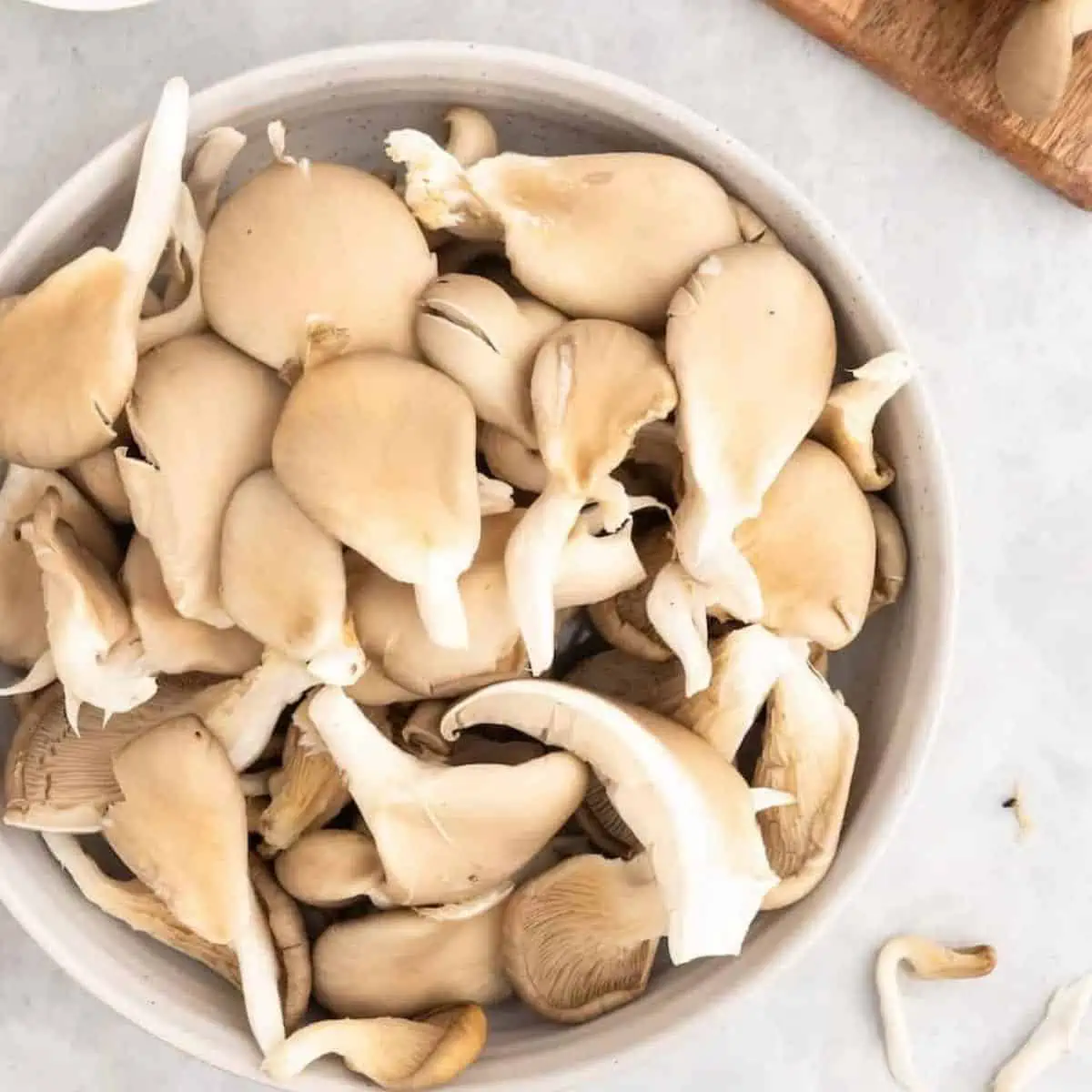 Mushrooms: These are a great choice for sushi. They have a meaty texture and can be sauteed or tempura-battered for a crispy crunch.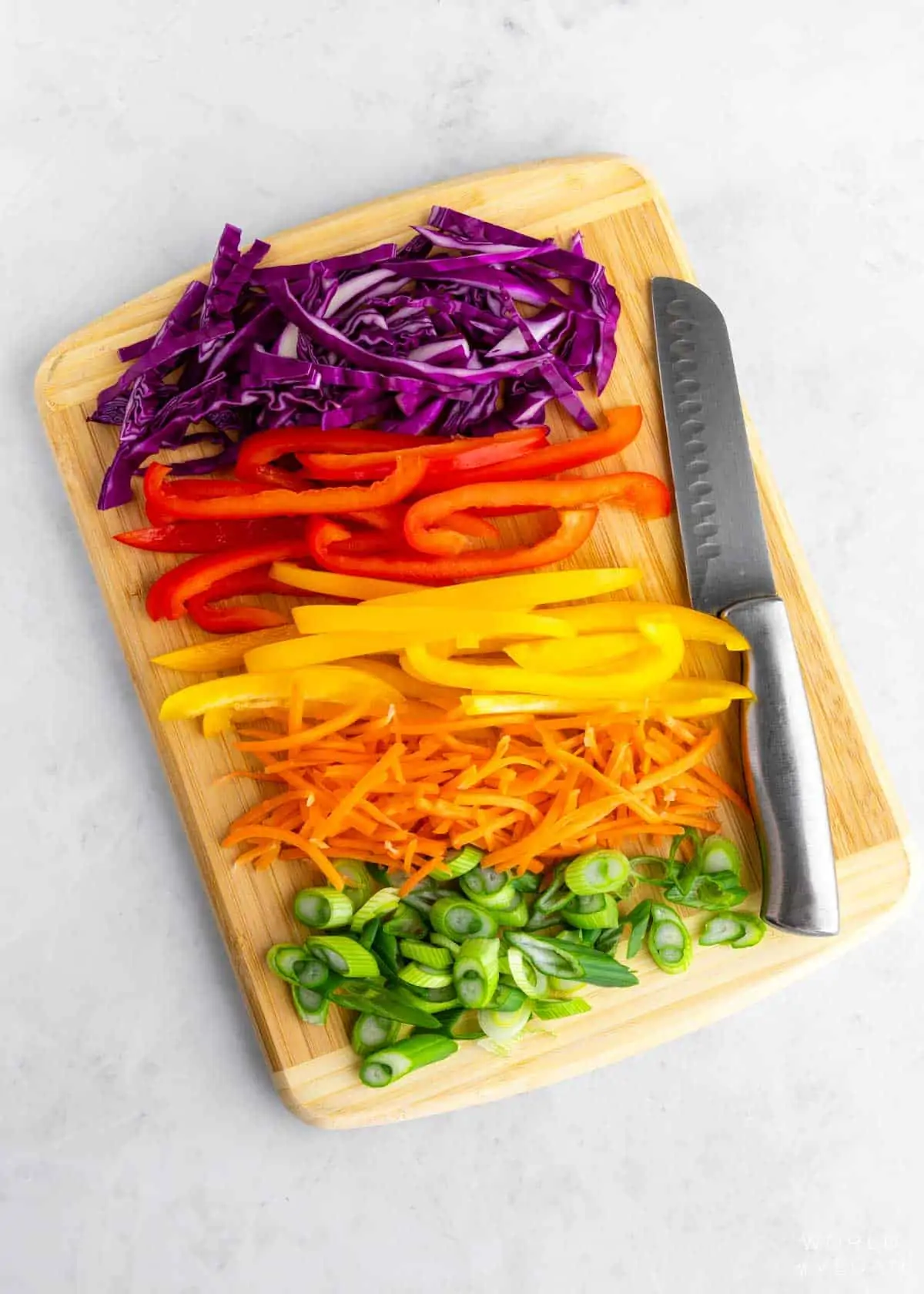 Vegetables: There are so many options for adding these items of produce to your roll. Remember to slice them thinly and don't overstuff your rolls!
Bamboo Shoots
Banana Blossom
Bean Sprouts
Carrot
Cucumber
Daikon Radish
Japanese Yam
Lotus Root
Mango
Scallions
Sweet Potato
Spinach
Watercress
Sauces and More
Put the final touches on your sushi with these suggestions!
Pickled ginger
Wasabi
Sriracha
Soy sauce or Tamari
Now that you know all of these possibilities, you may want to stay in and make your own instead of googling "vegan sushi near me" the next time you have a sushi craving!
Commercially-Prepared Vegan Fish Brands To Use In Sushi
When it comes to vegan innovation, we are living in such a great time! There are so many vegan options on the market that use sustainable, cruelty-free, and innovative approaches to vegan options. Here are some of our favorites!
This raw fish is made from plants! As of now, their vegan tuna is only available in food service only, but their vegan salmon can be purchased in select locations.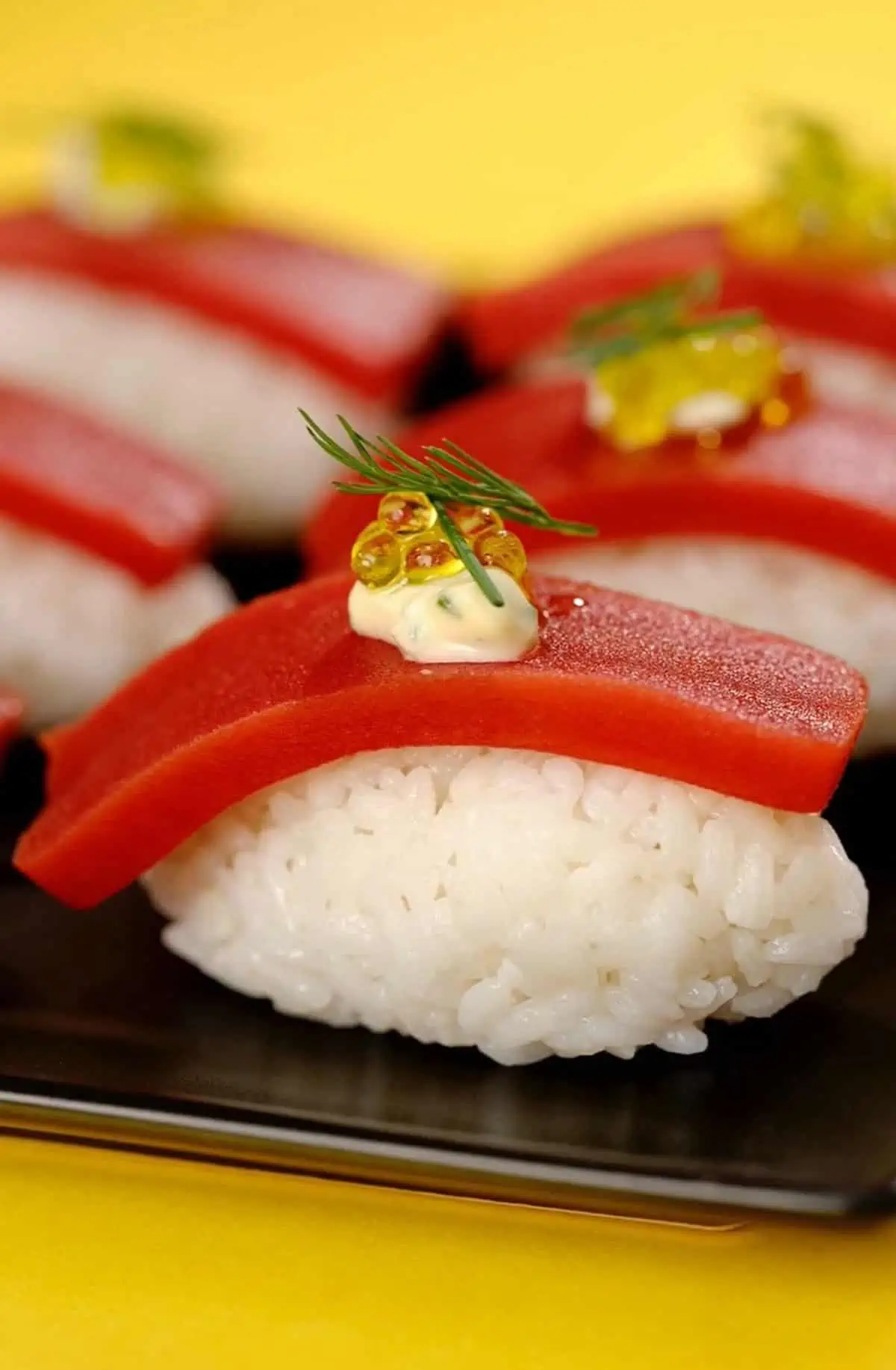 This plant-based seafood is a game changer! They offer amazing vegan seafood products like No Salmon Sashimi, No Tuna Sashimi, Crispy Chili Shrimpz, Crispy Lemon Shrimpz, Kalamariz, Tasty Cod, and No Tuna Flakes. Check out their offerings throughout Europe, the US, Canada, and Australia!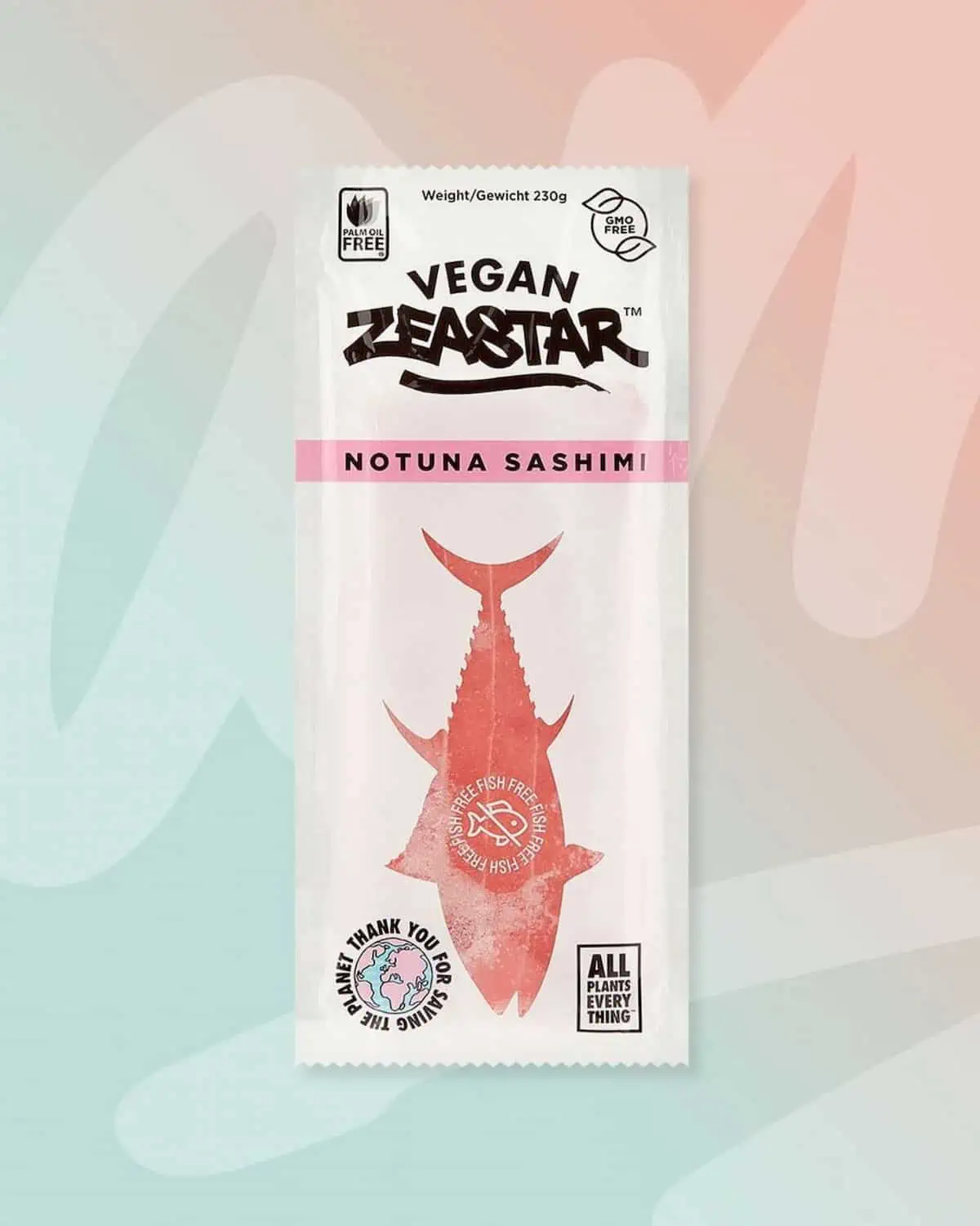 This brand uses sustainable, renewable resources like fruits and vegetables to create plant-based alternatives that are kind to our planet. They make raw vegan tuna called Ahimi from tomatoes and vegan eel call Unami from eggplant. For now, this product is only available to restaurants, but we'll keep dreaming of the day it's available online or in stores!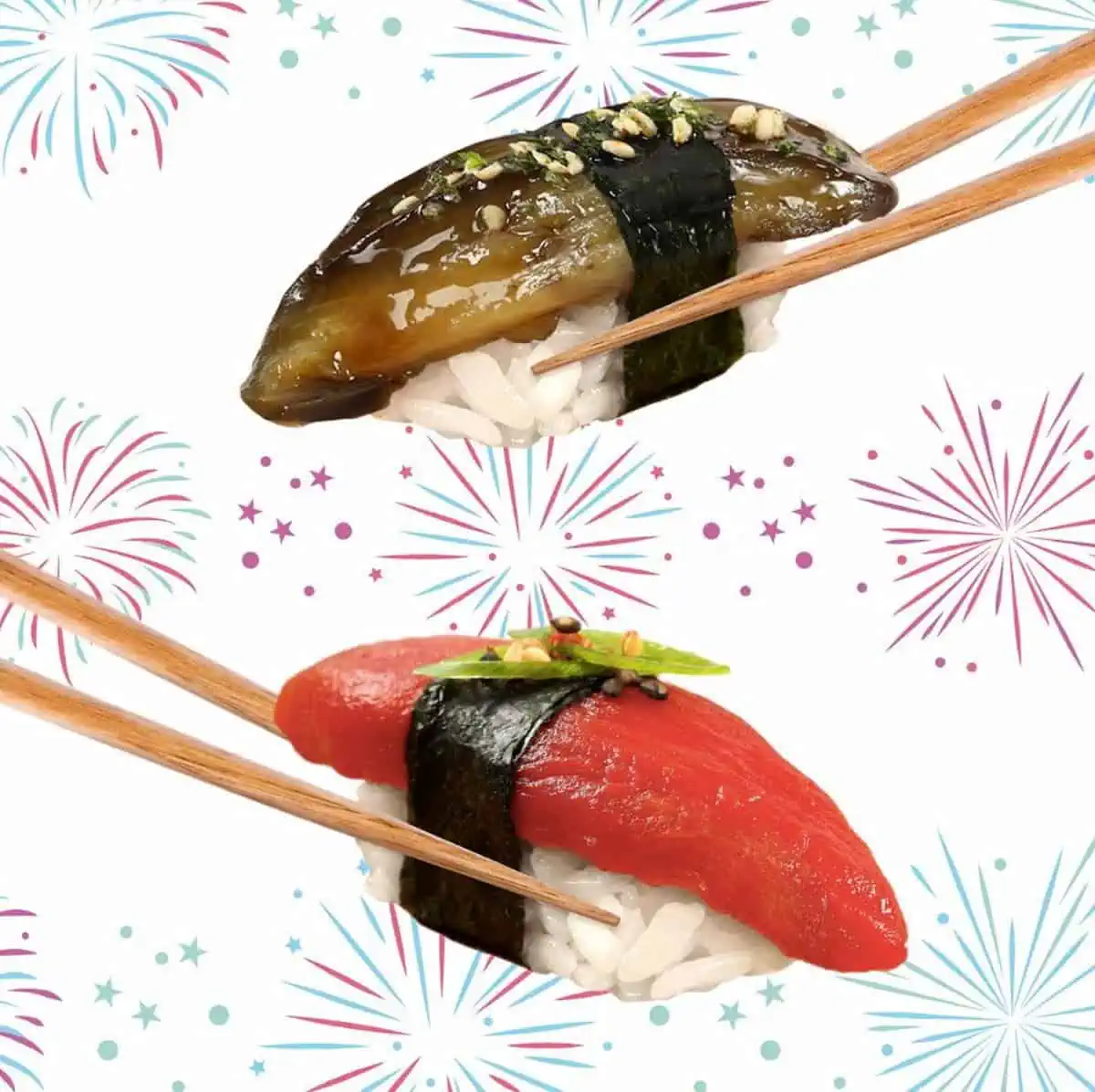 Check out even more vegan fish options in our Vegan Salmon Guide!
Umami: The Fifth Taste
Before we get into how to assemble a vegan sushi roll, we wanted to share a quick note about umami. This is also known as the fifth taste, after sweet, sour, salty, and bitter, and it is often described as a savory or meaty flavor.
While traditional sushi often relies on fish for its umami flavor, there are many vegan ingredients that can provide this taste. Some examples include mushrooms, miso paste, soy sauce, and seaweed. Adding these ingredients to your vegan sushi will give it a more complex and satisfying flavor!
Equipment Needed To Make A Vegetable Sushi Maki-Style Roll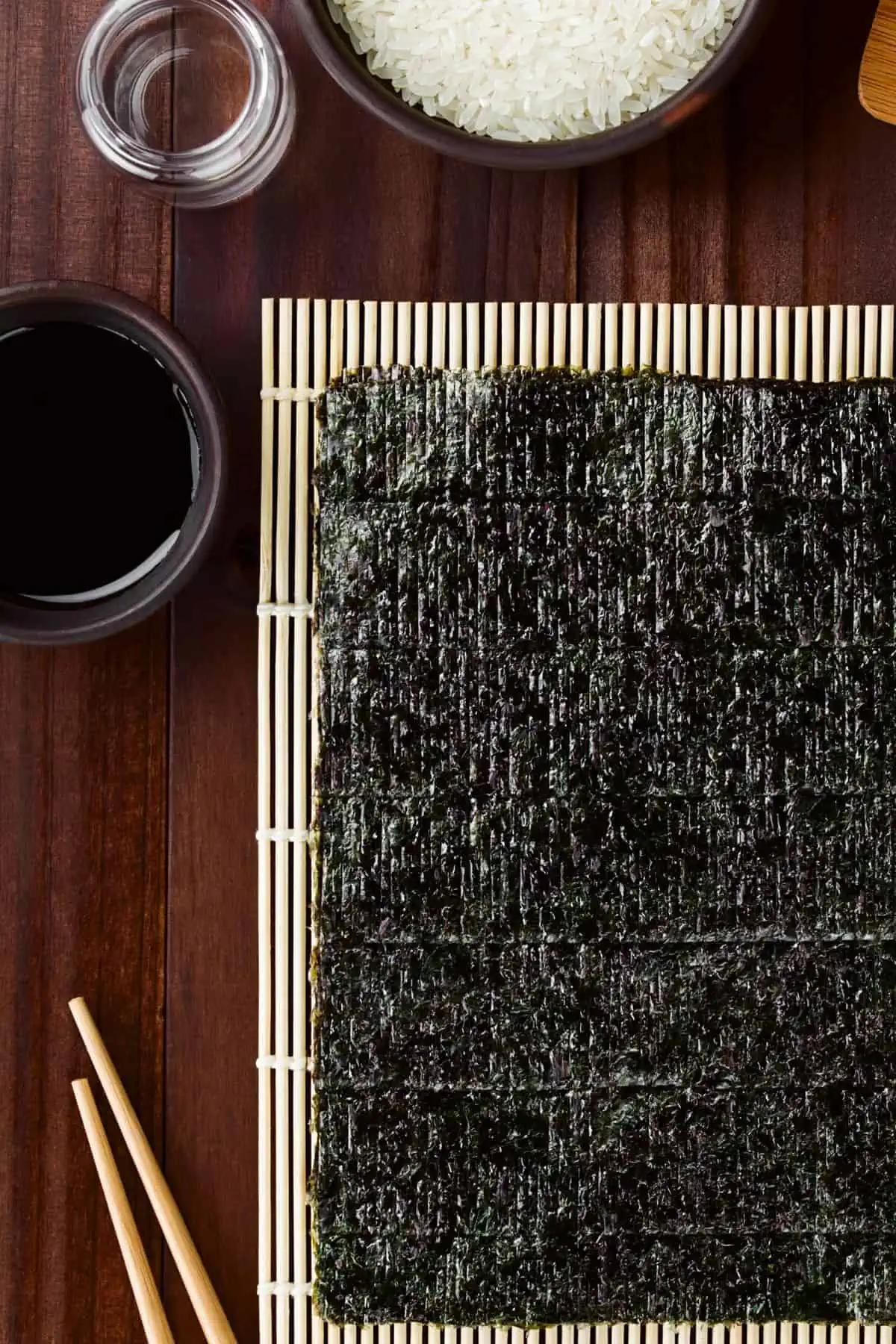 Before you get rolling, gather these items. If you are making maki-style sushi, you'll need a bamboo mat and a sharp knife. Other types of sushi can be made by hand.
Bamboo mat: A sushi mat, also known as a makisu, is an essential tool for making perfect maki-style sushi rolls. It makes it easy to roll and compress your sushi, ensuring that it holds its cylindrical shape. You can find sushi mats at most Asian grocery stores or online.
Ziploc bag: For easy clean-up, slide your bamboo mat in a Ziploc bag. This is completely optional.
Water bowl: Have a small bowl of water nearby to wet your hands, which prevents the rice from sticking. A damp cloth kept nearby for wiping hands down is also helpful!
Rice cooker: Using a rice cooker helps make perfect rice and simplifies the process. If you don't have a rice cooker, you can make the sushi rice on your stovetop following the directions on the packaging.
Sharp knife: It's essential to have a sharpened knife for making a clean cut on maki-style rolls. A dull knife will result in misshapen sushi.
Tips For Making Perfect Plant-Based Sushi
Making vegan sushi can be a fun and rewarding experience, but it does require some practice and patience. Here are some tips to help you make perfect vegan sushi every time:
Rice to the occasion: When making sushi, texture, and flavor is important. Choose a good quality sushi rice. Find this in the bulk section of your local grocer or at any Asian market.
Get creative with fillings: Experiment with different plant proteins and produce to create unique and flavorful sushi rolls. Combining cooked, raw and pickled ingredients creates great textures and pops of color. Pairing different vegan proteins like tofu, soy curls, and tempeh can add heartiness to the sushi. Sear, tempura-batter, bake, or air-fry depending on your taste preferences. The sky's the limit with what you can do!
Less is more: A common mistake with making maki-style sushi rolls is overfilling it. Resist the urge to add too many vegetables which will make it hard to roll and cause the nori to tear or burst.
Sharpen your skills: Use a sharp knife to cut the sushi into even slices. Run the knife under hot water and carefully dry it before slicing for a cleaner cut and to prevent the rice from sticking to the blade.
Check out YouTube or Instagram for ways to assemble and roll sushi: There are so many resources that show how to assemble and roll vegan sushi. Use these resources to find visuals to help you along as you start to make your own vegetarian sushi!
Give Your Dish Some Flair
Get creative with sauces: Consider using a squeeze bottle to create zig-zag patterns and swirls on your sushi. This not only adds some fun to the presentation but also helps control the amount of sauce you use. Check out our guide for vegan mayo brands or make your own!
Make an impression: Your sushi doesn't have to be perfect, but you can try different plating techniques, garnishes, or edible flowers to make your sushi sing. Check out this vegan maki roll recipe and the recipes below for some off-the-hook inspiration!
For The Sushi
2 cups uncooked short-grain sushi rice
2⅓ cups water
2½ tablespoons rice vinegar
½ tablespoon granulated sugar
½ teaspoon salt
5-6 sheets sushi nori, (toasted seaweed)
1 large avocado, pitted and sliced
1 carrot, sliced or shredded
1 small cucumber, cut into small strips
For serving
Soy sauce
Wasabi
Pickled ginger
Place the rice in a large pot and fill with tap water to rinse. Using your hand, swish the rice around, drain, add more water, swish, and rinse again. Repeat this process a few times until the water stays mostly clear when swished. Drain the rinsing water.

Add 2⅓ cups of water to the rinsed rice in the large pot and mix. Bring to a boil over high heat. Stir the rice, lower the heat to medium-low, cover, and simmer for 15 minutes without removing the lid for any reason. Turn off the heat and wait an additional 10 minutes before removing the lid.

In a large bowl, combine the rice vinegar, sugar, and salt. Add the cooked rice while gently fluffing to mix. Set aside and allow the rice to cool to room temperature before using for sushi.

To assemble the sushi rolls, place one piece of nori (rough side up) in the center of the bamboo mat, and set a little bowl of water nearby to wet your fingers. With wet hands, spread a thin, even layer of room-temperature sushi rice across the entire sheet of seaweed (except the top 1⁄2 inch of nori), pressing down gently as you spread.

Add a small strip of avocado, carrot, and cucumber in a straight line about 1 1⁄2 inches away from the bottom of the roll (nearest your hands). Using the bamboo mat, gently but tightly roll your sushi. Repeat with the remaining nori pieces until your rice is gone.

Using a sharp knife moistened with water, slice each roll into 6 to 8 pieces of sushi. Serve with soy sauce, wasabi, and pickled ginger.
Sushi rice should be used as soon as it's cool enough to work with. If you don't plan to use it right away, cover the top of your rice cooker or pot with a damp towel to prevent the rice from hardening.
Calories: 357kcal | Carbohydrates: 68g | Protein: 6g | Fat: 6g | Saturated Fat: 1g | Polyunsaturated Fat: 1g | Monounsaturated Fat: 4g | Sodium: 257mg | Potassium: 382mg | Fiber: 6g | Sugar: 3g | Vitamin A: 2275IU | Vitamin C: 8mg | Calcium: 31mg | Iron: 2mg
The Best Vegan Sushi Recipes
From simple and beginner-style to more lavish and intricate, these vegan sushi recipes will make a big splash for sushi night!
These vegan hand rolls are made with crisp and refreshing cucumber, bell pepper, and carrot. It's paired with creamy avocado, spicy wasabi, and served with a ginger-tamari sauce. These are so fun to make and eat with friends!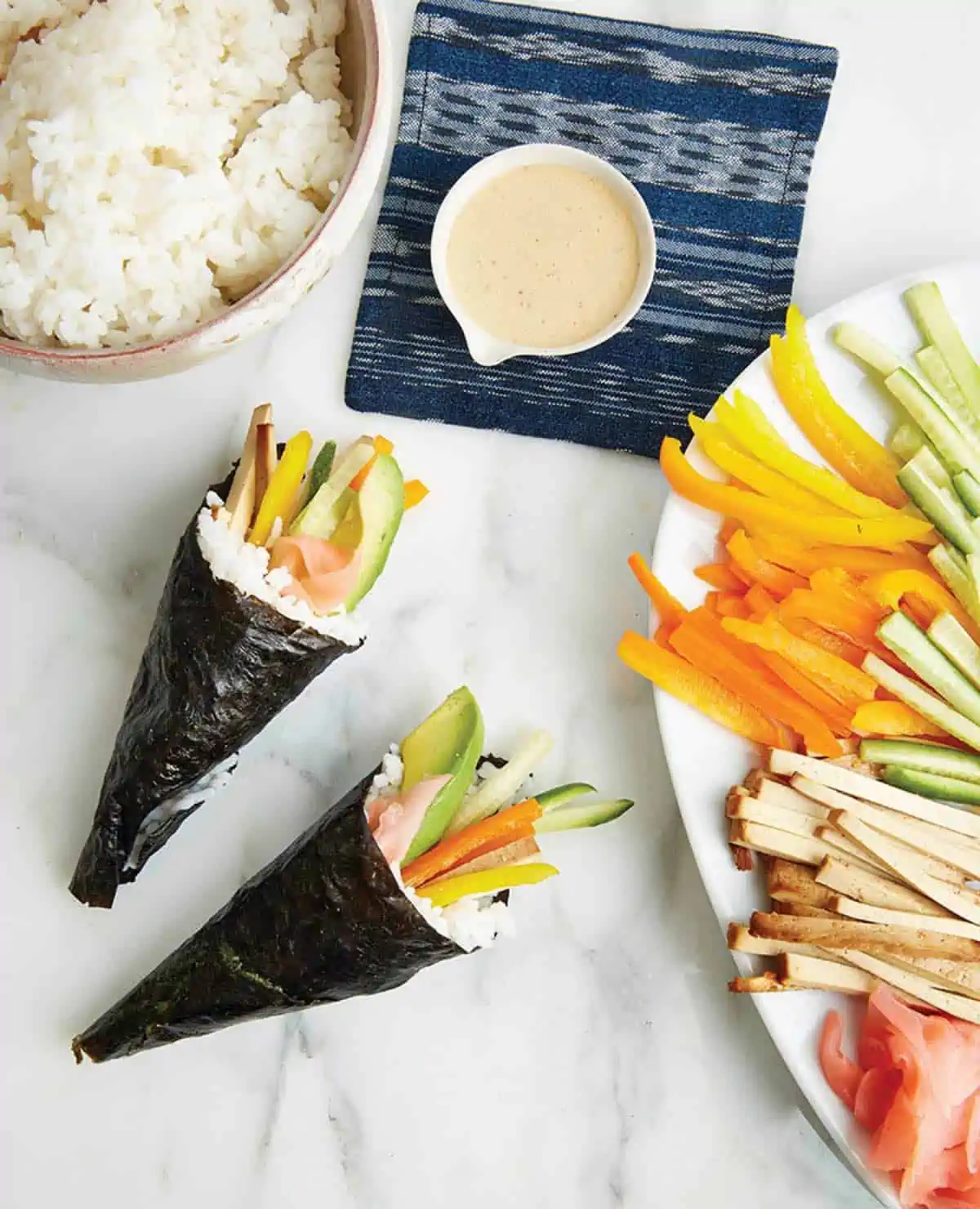 Use a muffin tin to make these sushi cupcakes! These are definitely savory, not sweet! Top with a blend of fresh and pickled ingredients to make this visually appealing and appetizing twist on sushi!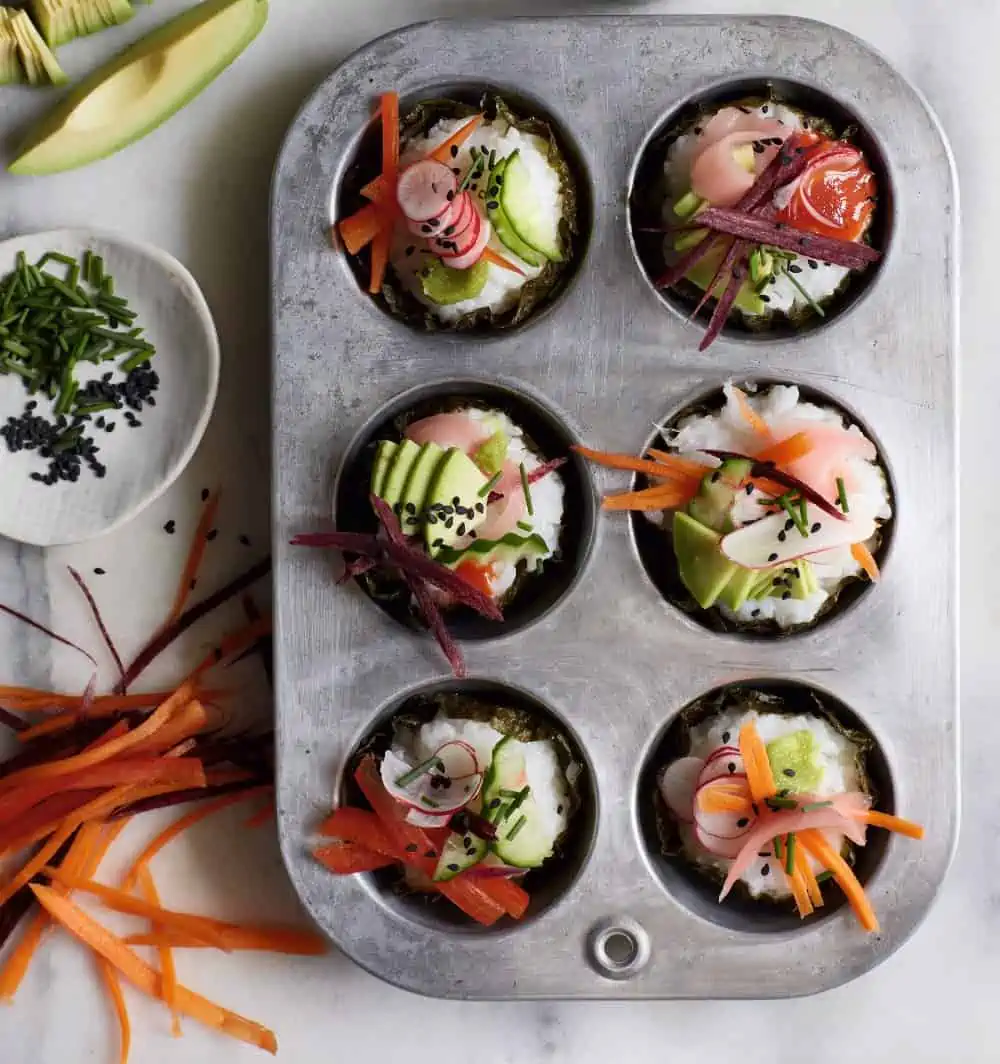 These maki rolls are made with tempura-battered crisp asparagus and thinly sliced creamy avocado. This roll with vegan sushi ingredients provides a lovely pop of green and is so fresh and satisfying!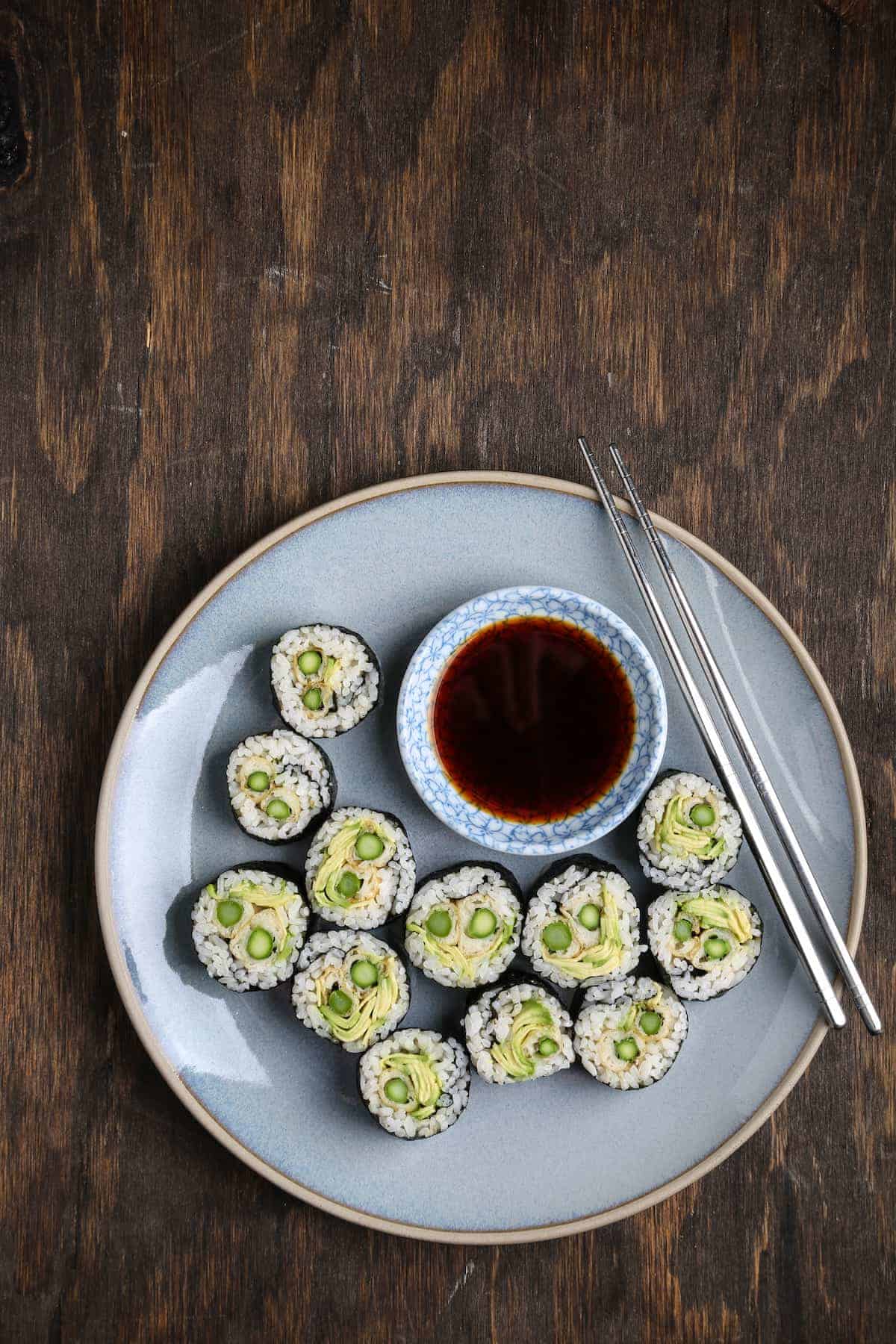 Make these delicious tofu sushi rolls in about an hour! This recipe combines smoked tofu, veggies, and sriracha mayo to create mouthwatering, restaurant-style maki rolls.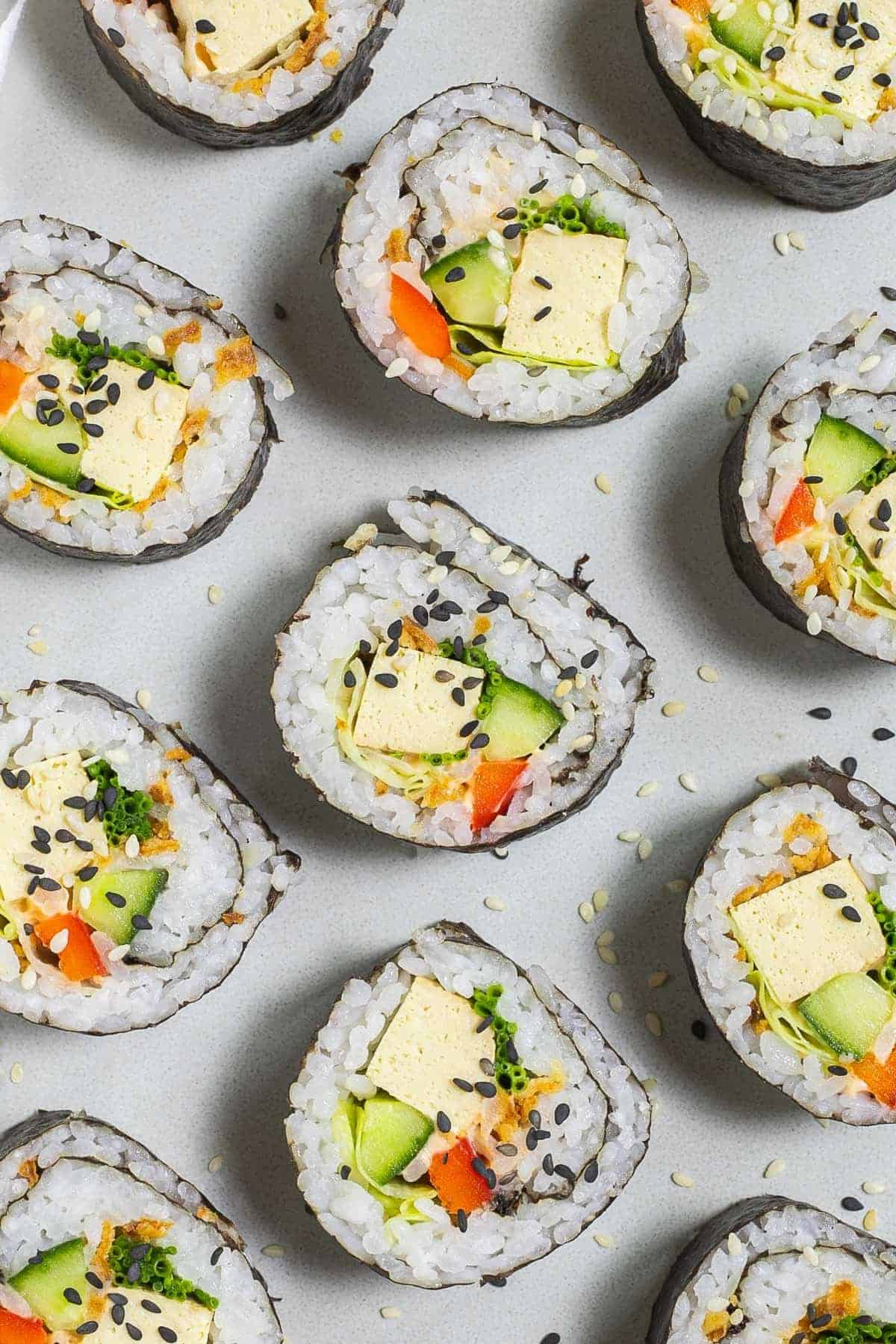 We love this spicy vegetarian sushi using tender eggplant strips, pan-fried to perfection. Add garlic and chili paste for the right amount of flavor and spice. This delicate sushi roll is perfectly balanced in flavor and texture!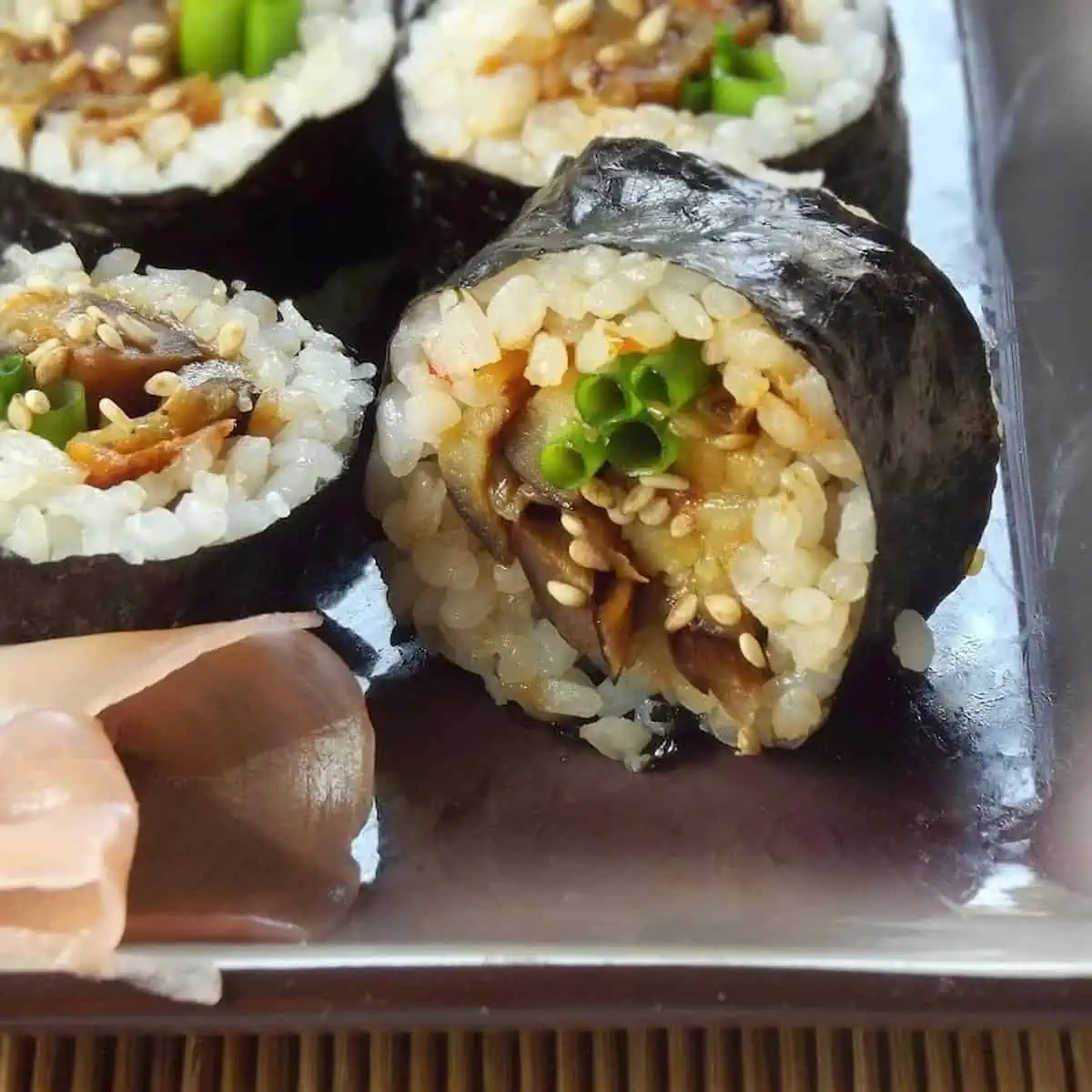 This beautiful avocado roll recipe is simple and delicious! It uses vegan sushi ingredients like creamy avocado, seasoned sushi rice, and sea-kissed nori combined to make a delicious bite. This quick and easy recipe is great for beginners!
These handrolls are made with a smoky baked tofu and paired with cauliflower rice, and sliced cucumber. The blend of umami and the unexpected pairing with cauliflower rice makes this an interesting roll to try if you're not ready to try using a sushi mat just yet!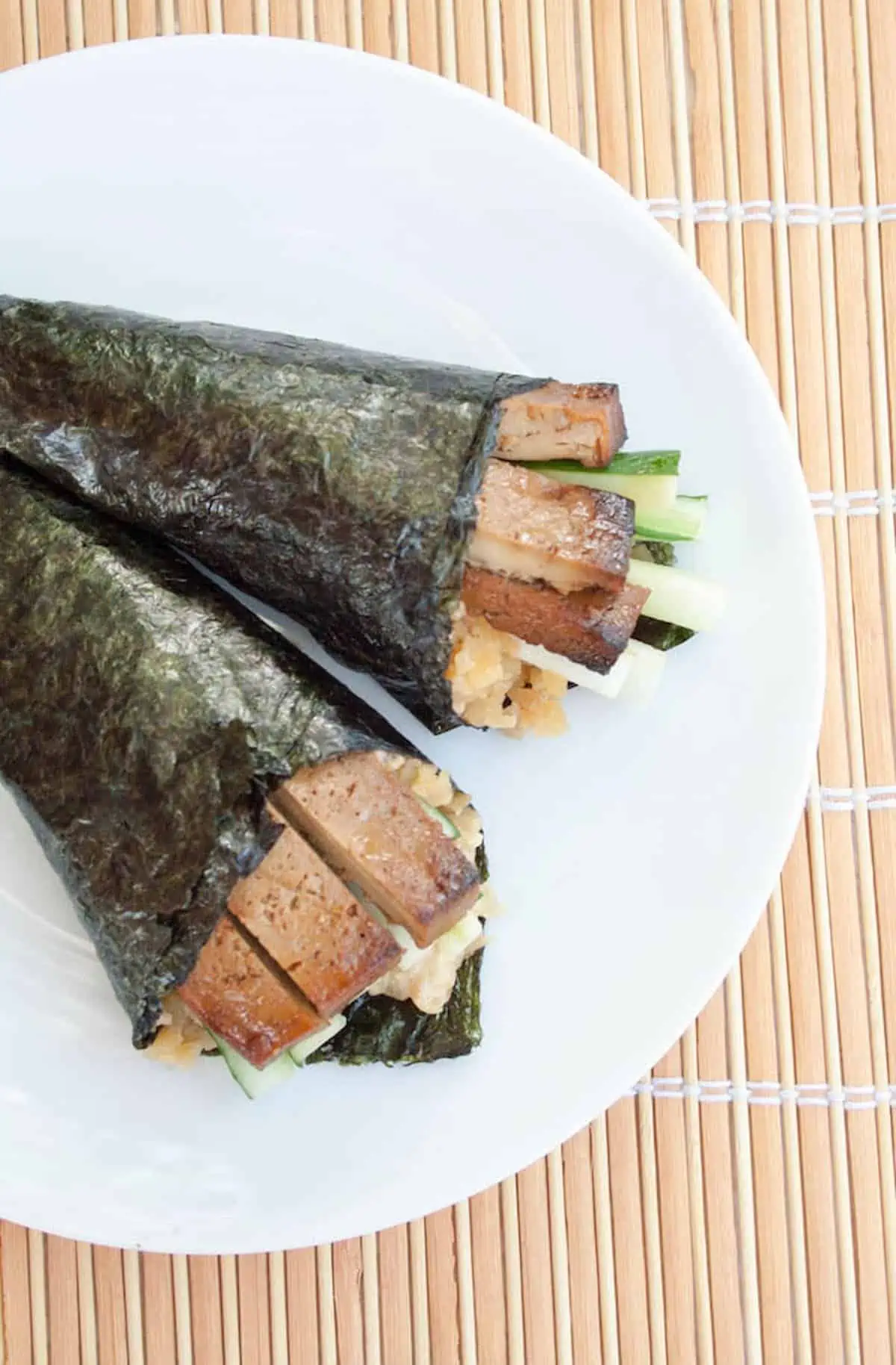 This vegetarian maki roll is filled with fresh ingredients like carrots, cucumber, avocado, and bell pepper. This is a great vegetable sushi roll to make when you'd like to practice perfecting your sushi rolling skills. The bright colors and textures are fun to experiment with!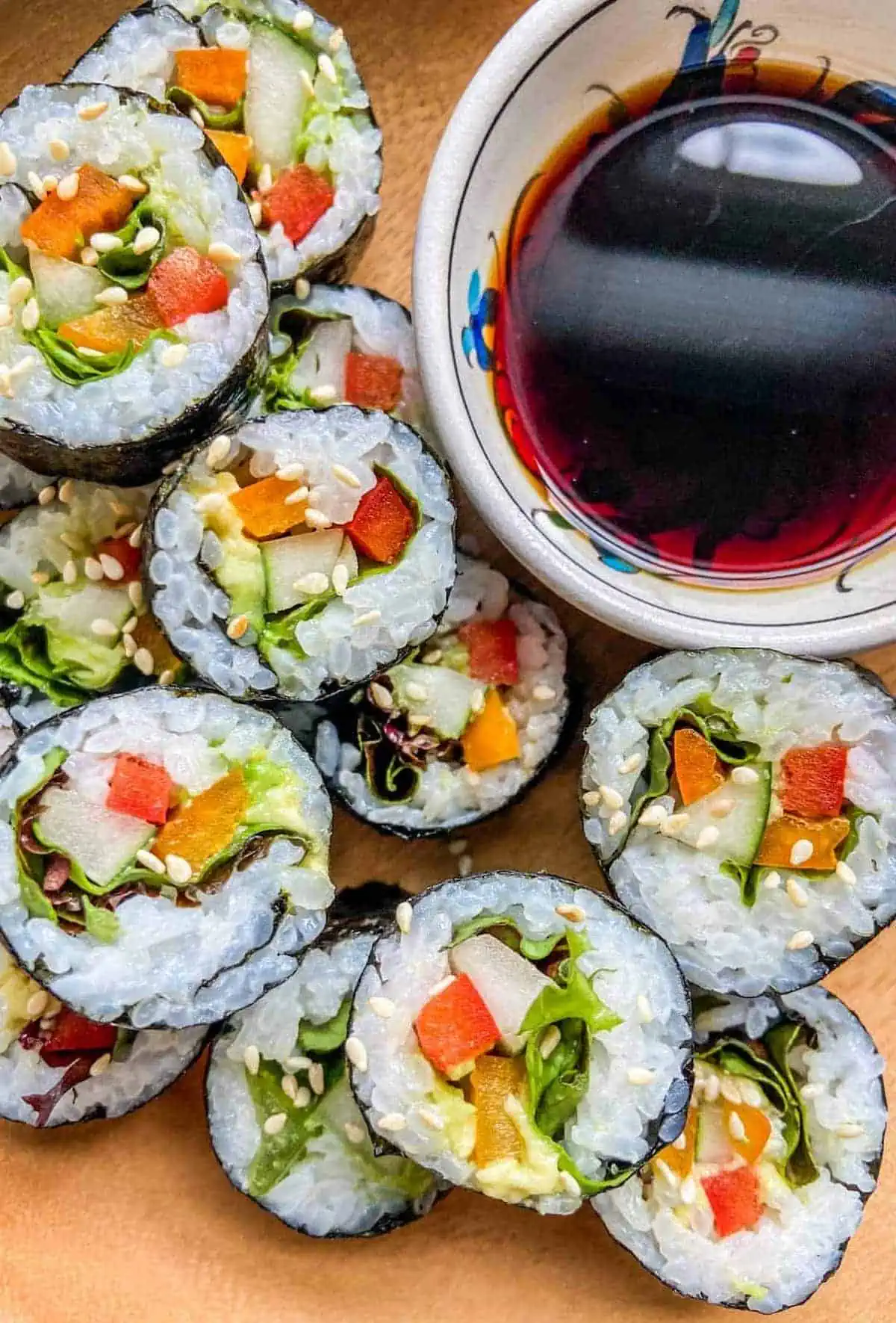 Crispy tofu is the star of this sushi roll, and is also another great option for beginners! Soft, creamy avocado and crisp bell peppers combine for a healthy, protein-packed vegetable sushi roll!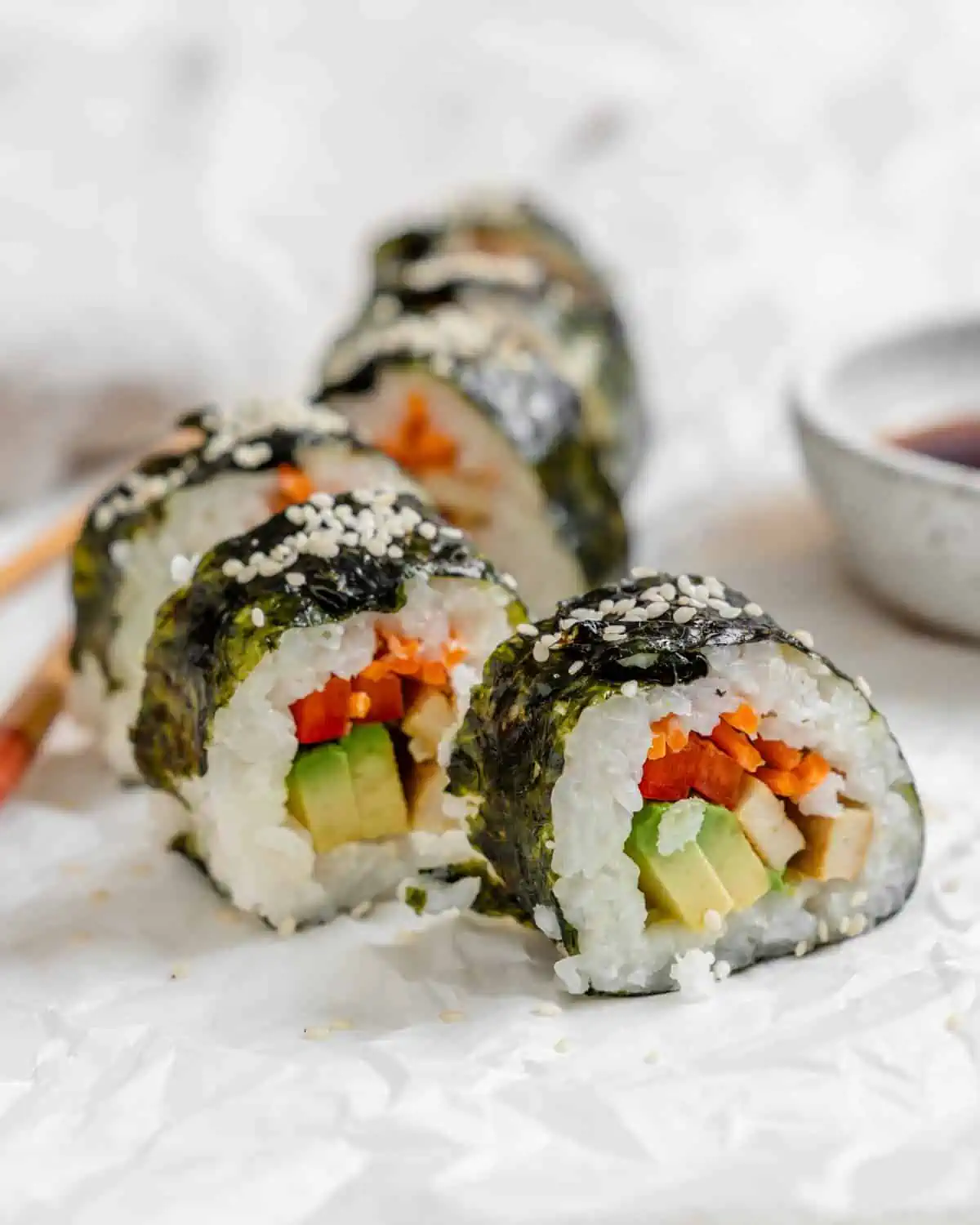 Create a tender faux eel slathered in a savory unagi sauce with braised eggplant! This creates a meaty yet tender texture. Finish it off with a quick blast of a chef's blowtorch to add an impressive char.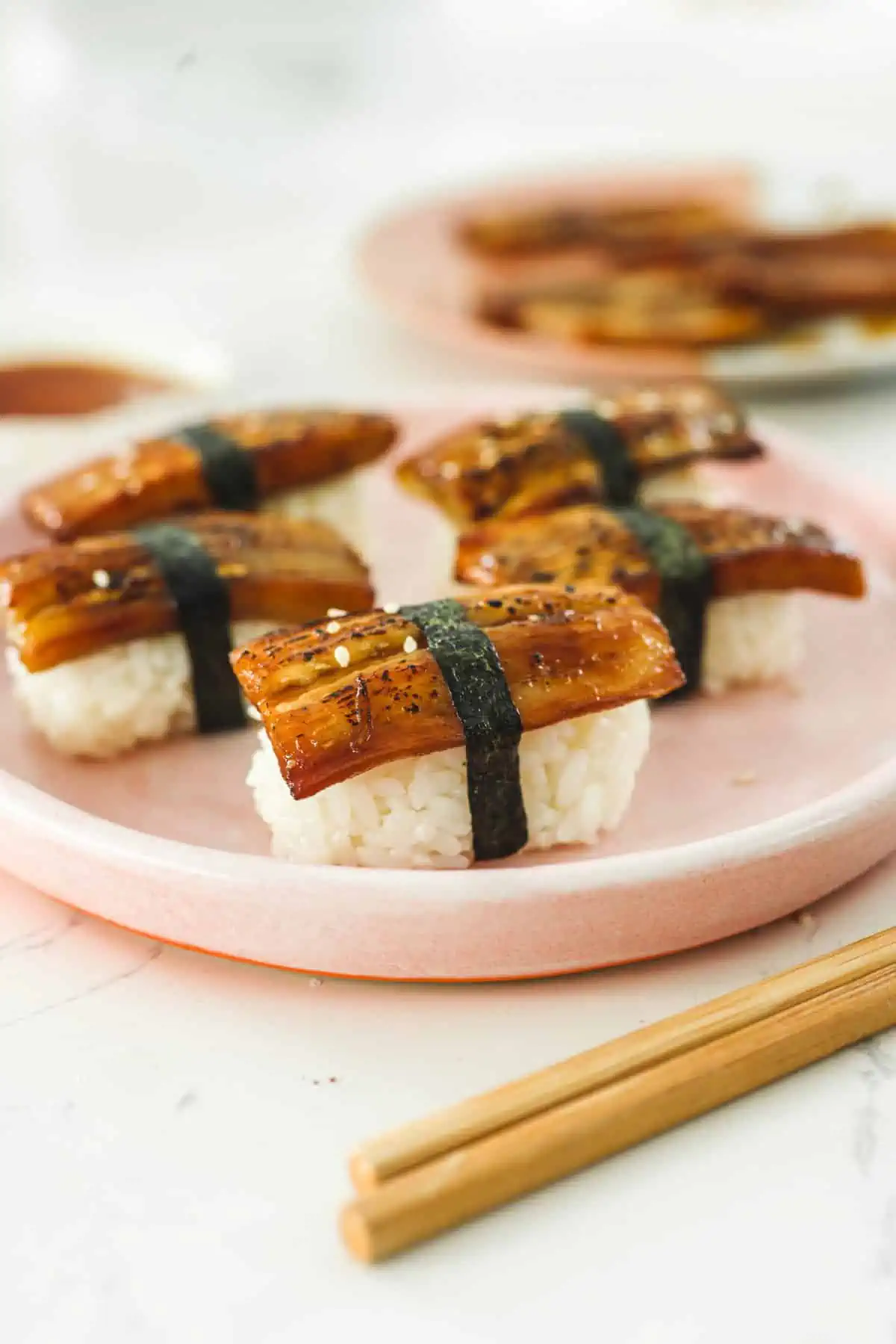 This recipe combines coconut rice and fruit to create this playful twist on sushi. Mandarin slices, fresh raspberries, and kiwi add sweetness and tang, while the coconut rice adds richness. This would make a great light dessert or a fun idea for kids!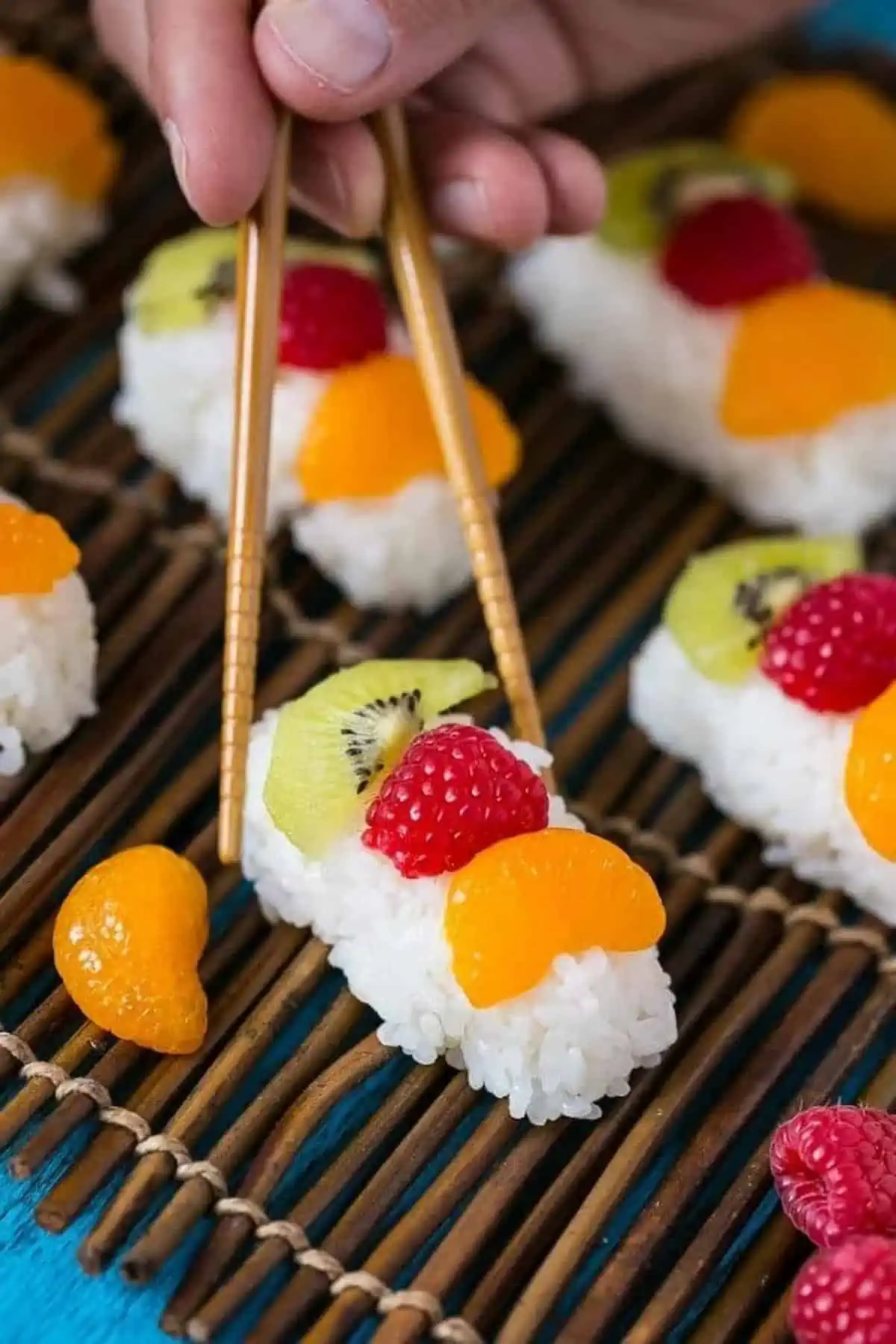 These vegetarian sushi rolls are made with crispy, tempura-battered sweet potato and creamy avocado. It's finished with a swipe of homemade teriyaki sauce. This offers up crispiness, richness, and the teriyaki sauce has umami, sweetness, and saltiness.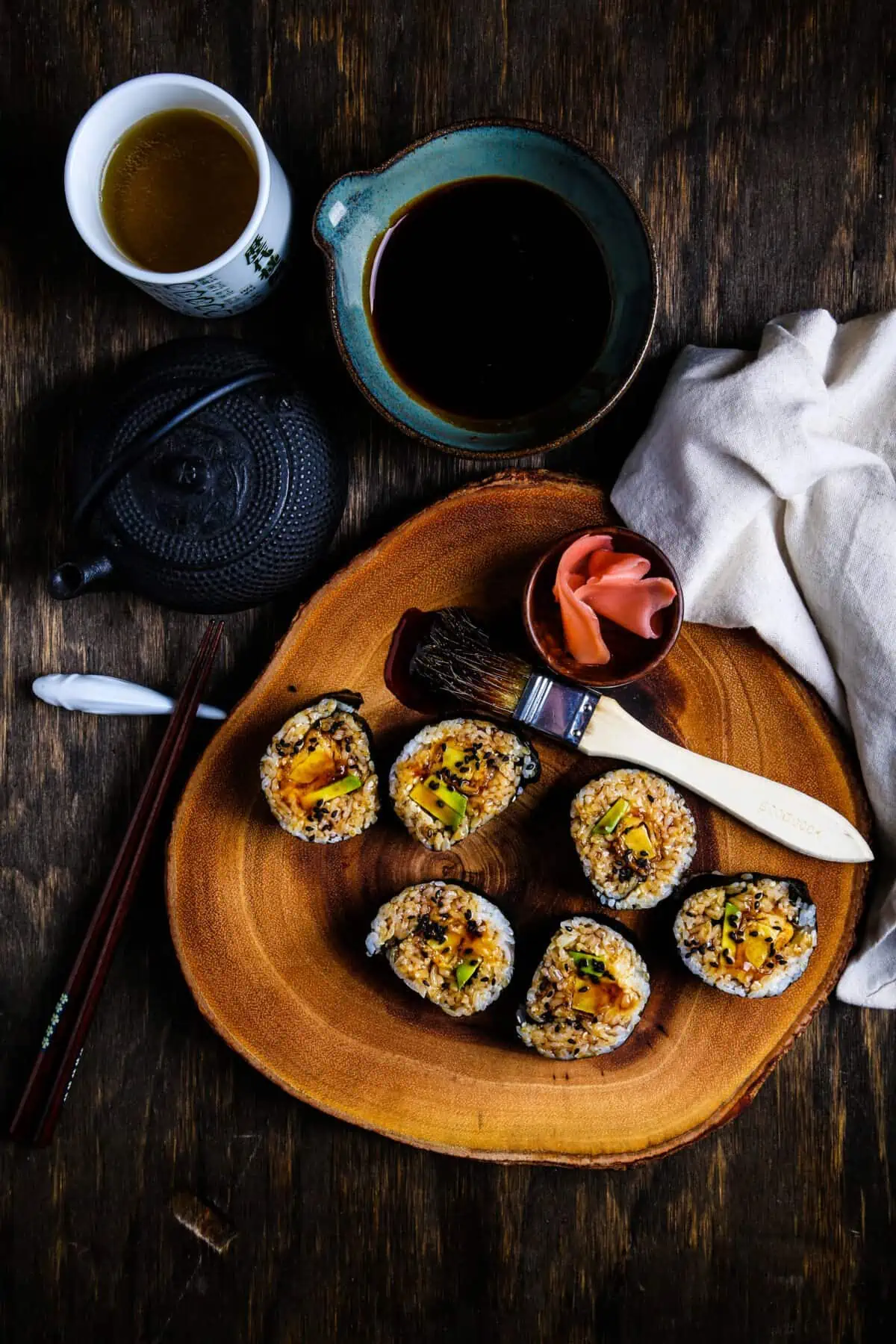 Up your vegan game and try this sushi roll featuring crispy fried Kabocha squash, creamy avocado, and tangy pickled radish. This colorful roll shows how combining something fried with something pickled and creamy creates a delicious bite!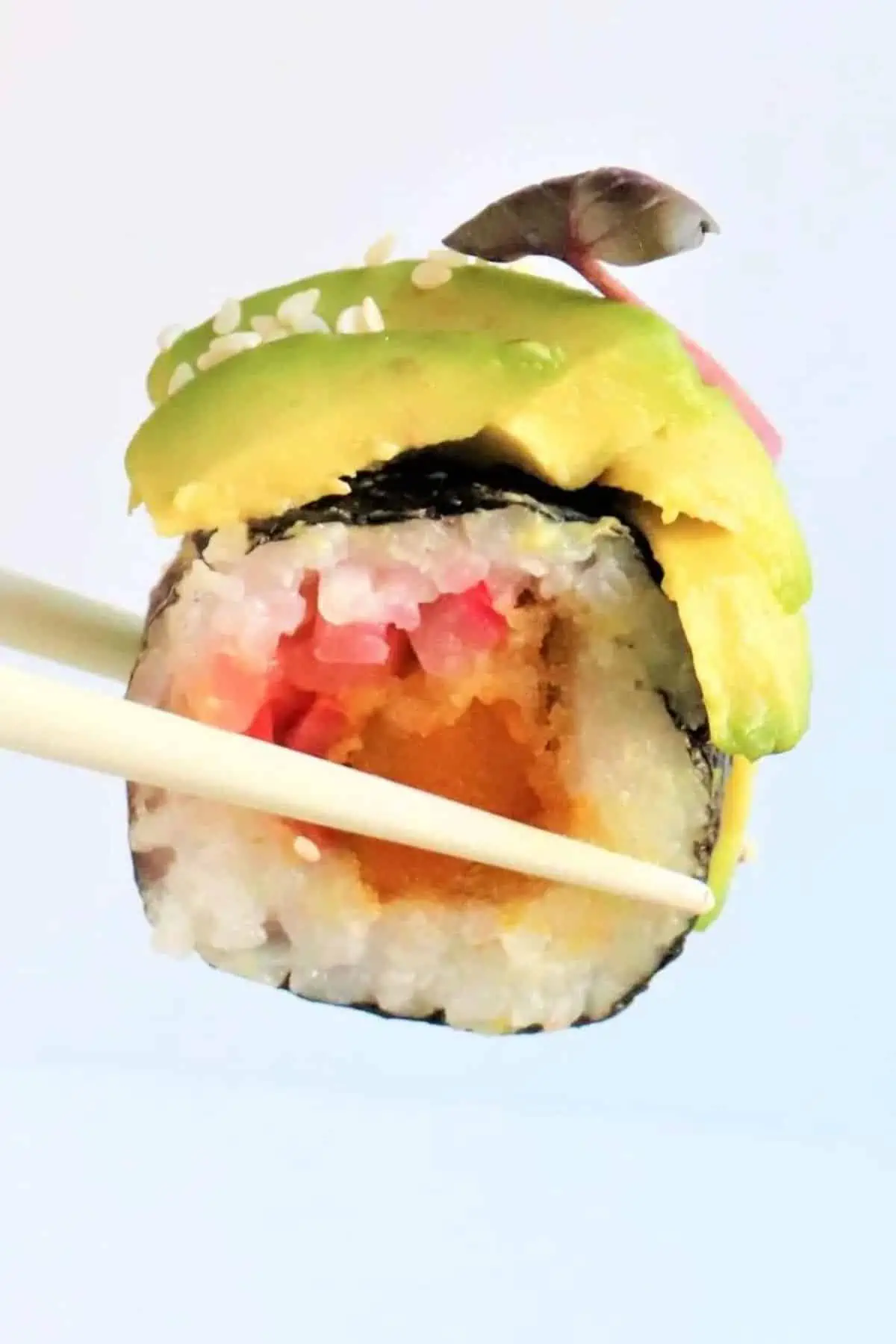 In this unique sushi creation, swap out sushi rice for chilled soba noodles! Toss these noodles in a gingery, garlicky satay sauce, roll them in nori, and pair them with creamy avocado for a delicious bite.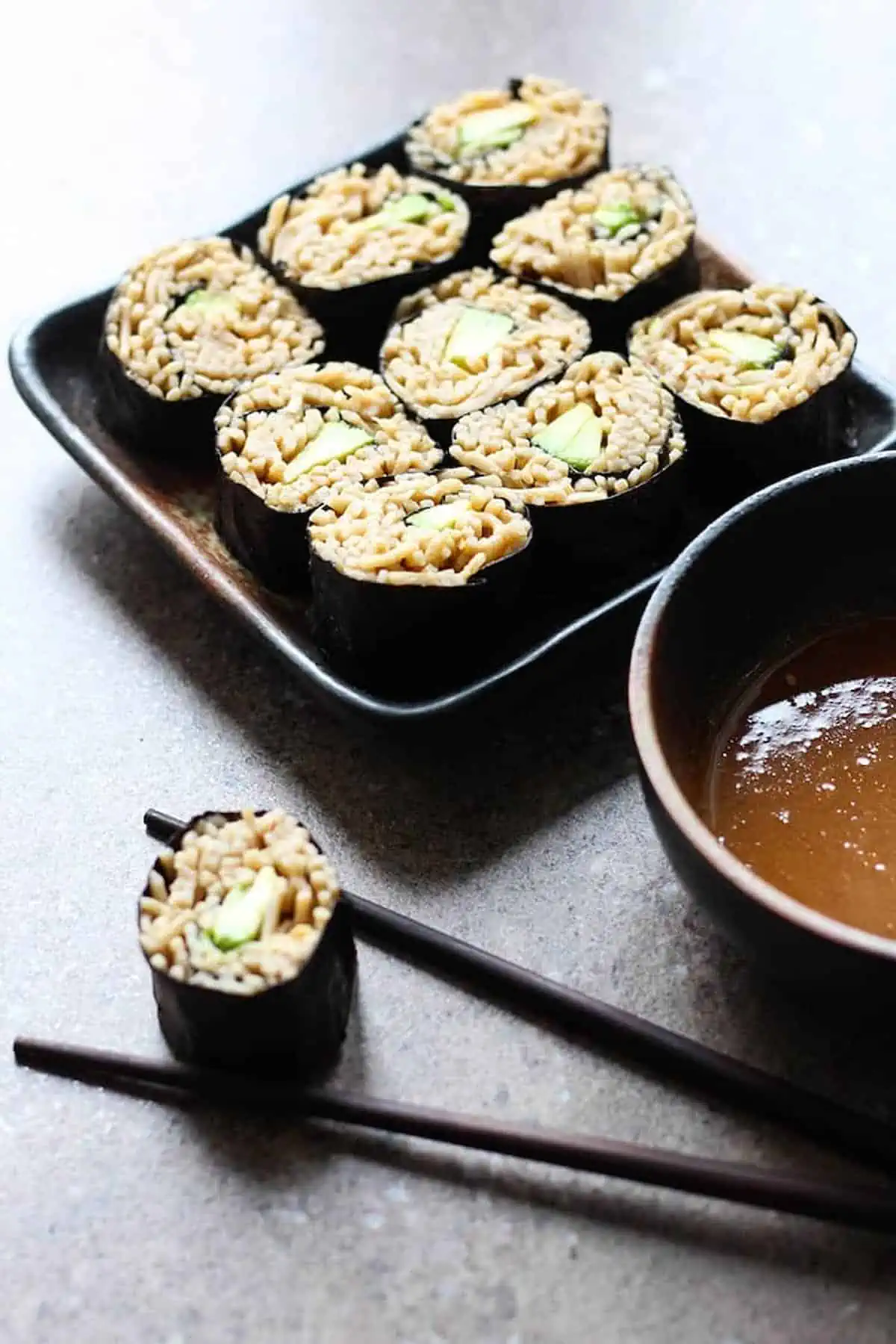 If you are craving sushi, but want something that requires no rolling, this watermelon tuna sushi bowl is a delicious option! Baked and marinated watermelon creates a tuna-like appearance that works well with seaweed, creamy avocado, spicy mayo, crisp pickles, and sushi rice.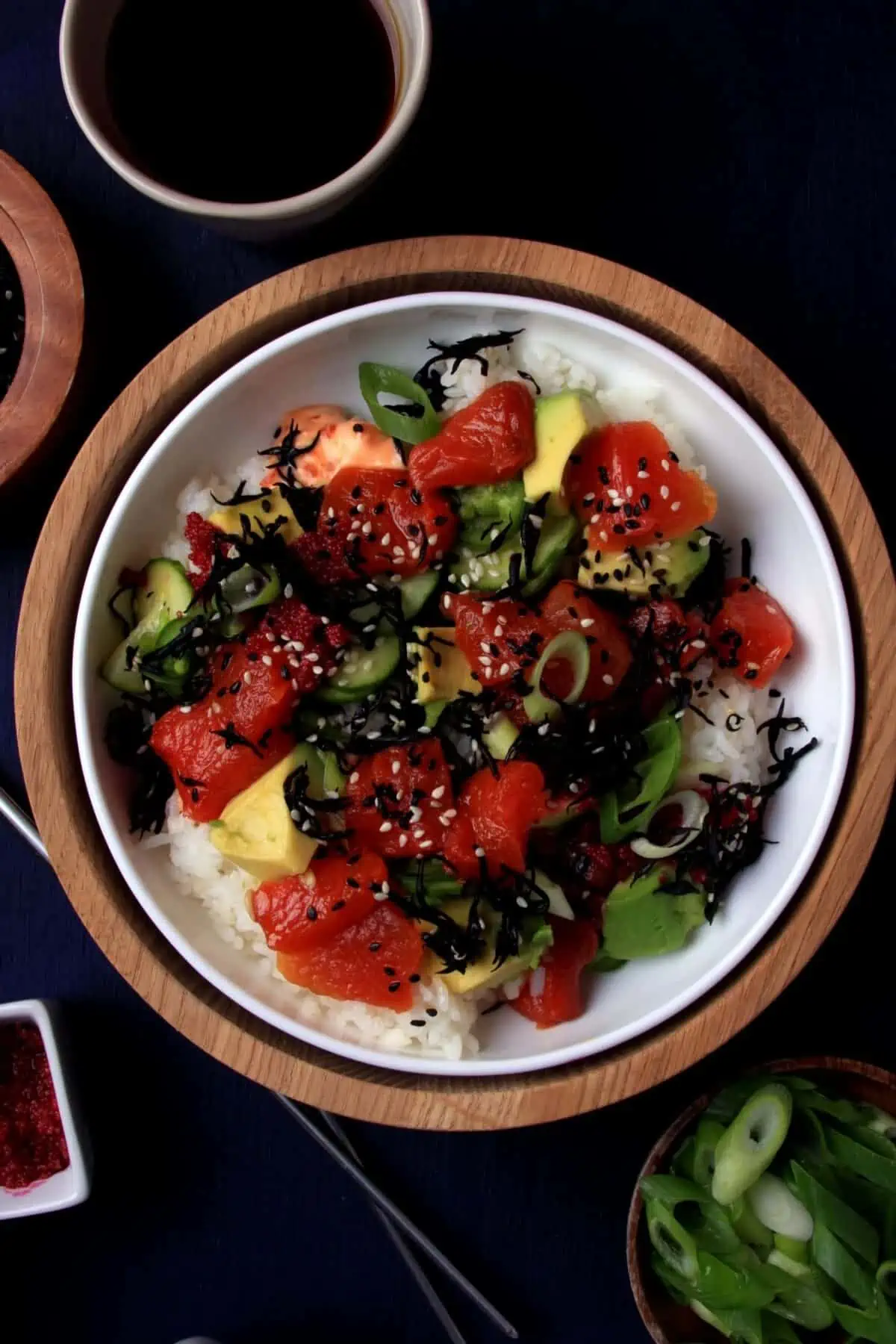 Seasoned with brown rice miso, these gorgeous eggplant sushi rolls take center stage as a delicious vegetable sushi roll. Infused with ginger, garlic, and hoisin sauce flavors, this sushi creation is a tasty and umami-kissed delight.
These vegan avocado and mango sushi rolls look so expertly assembled and rolled! Fresh avocado, ripe mango, seasoned sushi rice, and flavorful nori combine to create a sweet and creamy bite.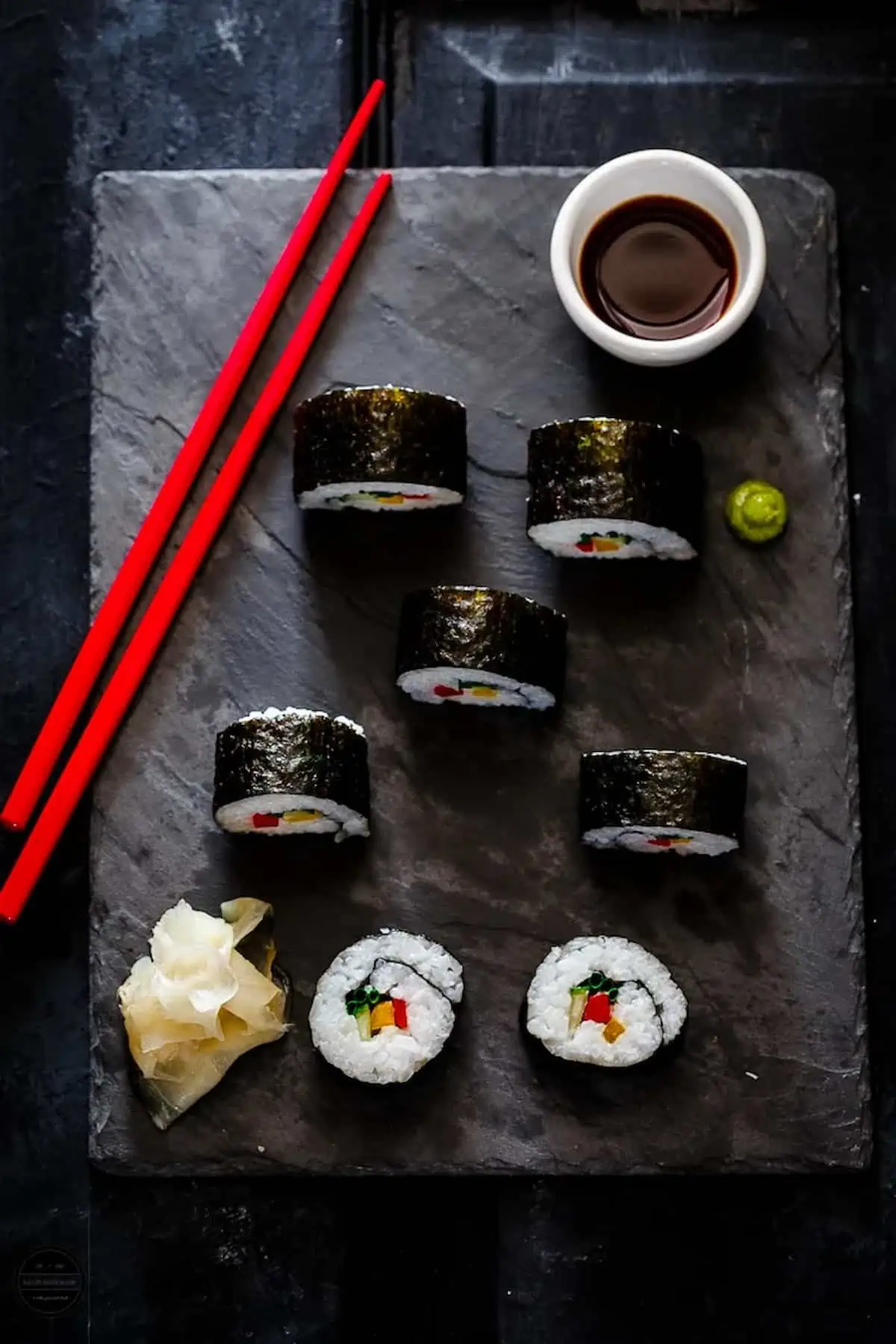 Savory garlic and sesame sautéed shiitake mushrooms serve as the filling for this umami-bomb sushi. Serve with ginger and wasabi to add a little crunch and spice.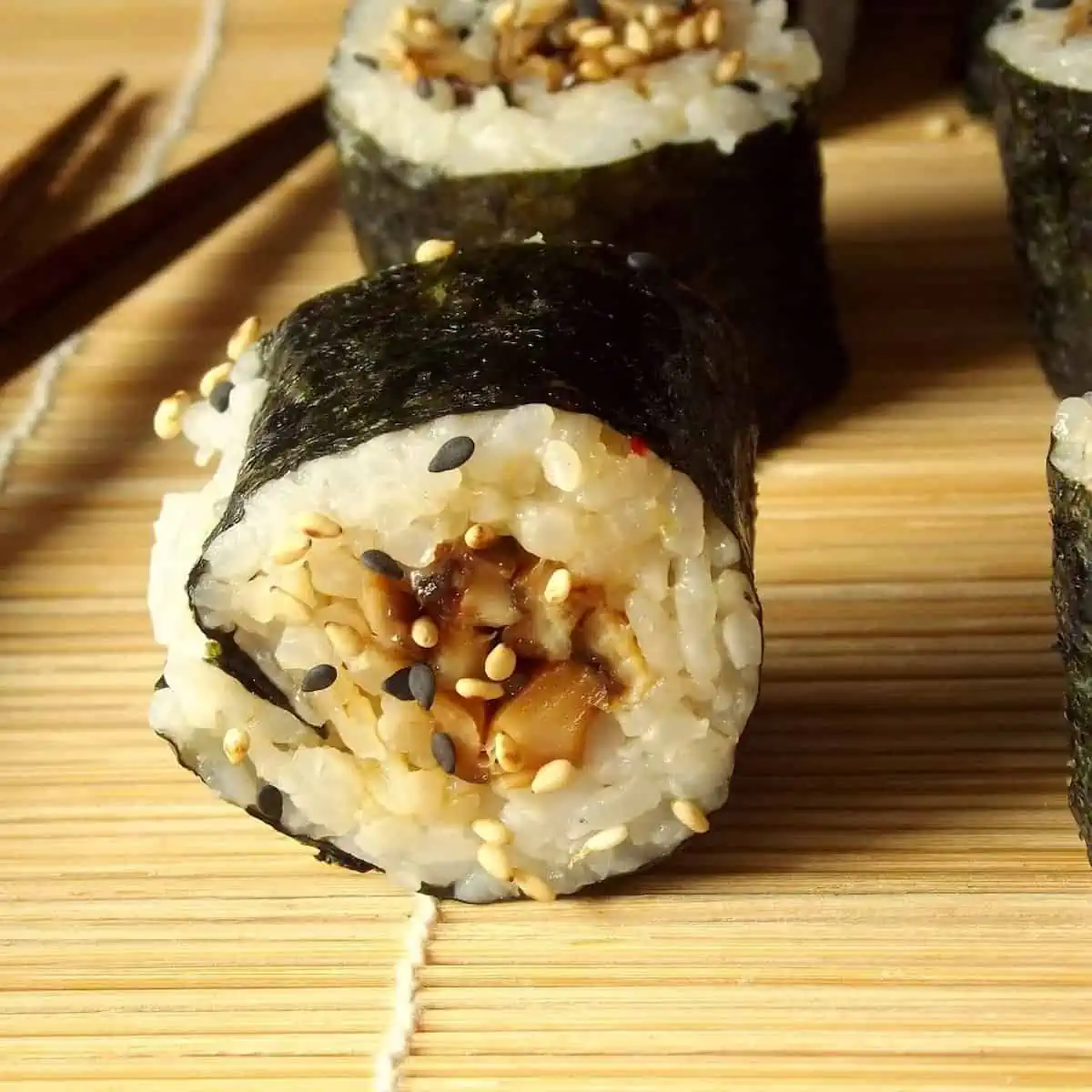 Don't miss out on sushi just because you're vegan! This carrot lox sushi with tofu cream cheese is not only healthy but also perfect for satisfying your sushi cravings. Learn how to create this innovative roll using plant-based ingredients!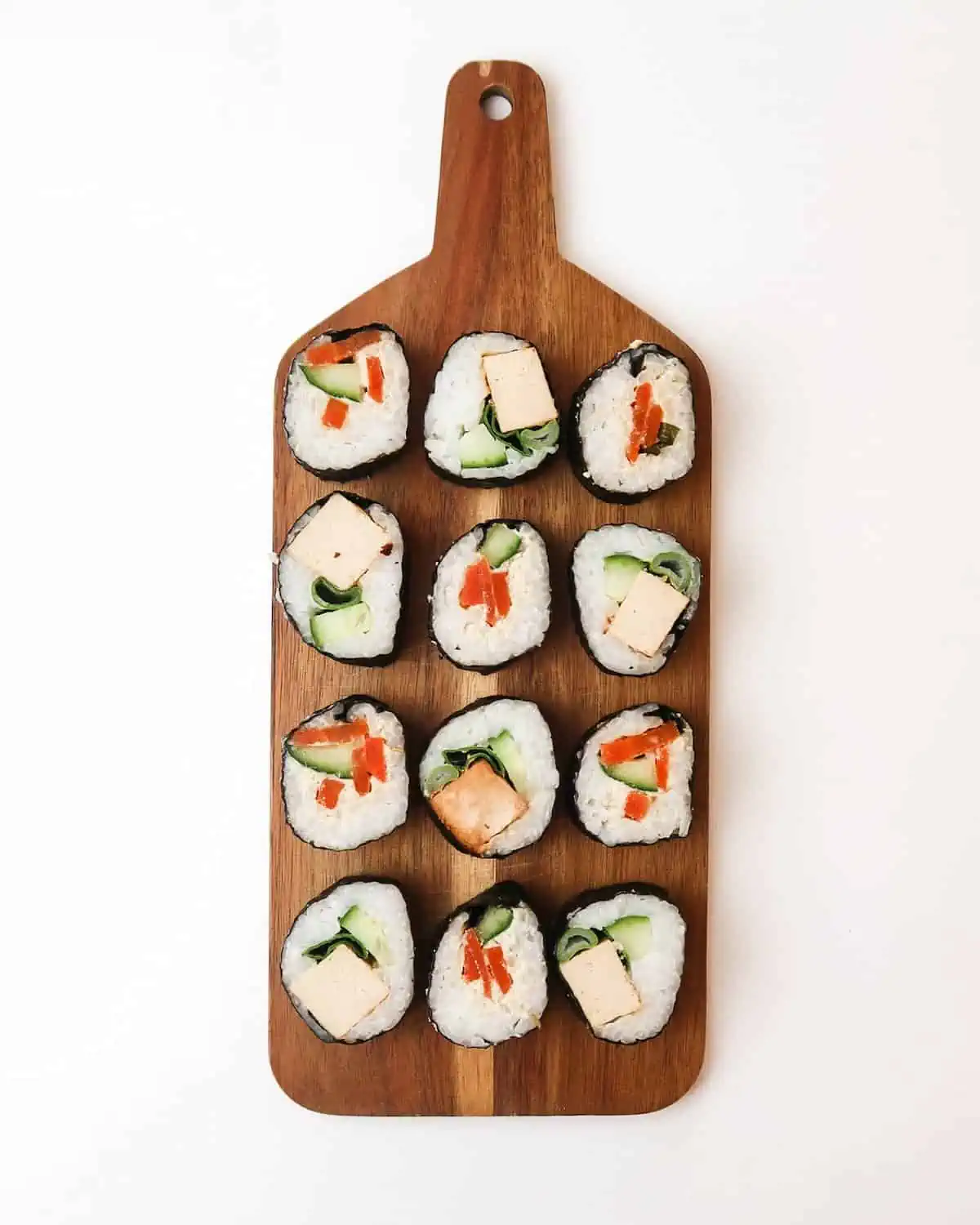 No fish is needed to make delicious sushi rolls like this! Spinach, red bell pepper, cucumber, shiitake mushrooms, avocado, beets, and romaine add gorgeous pops of color and an array of textures. This can be made in just an hour!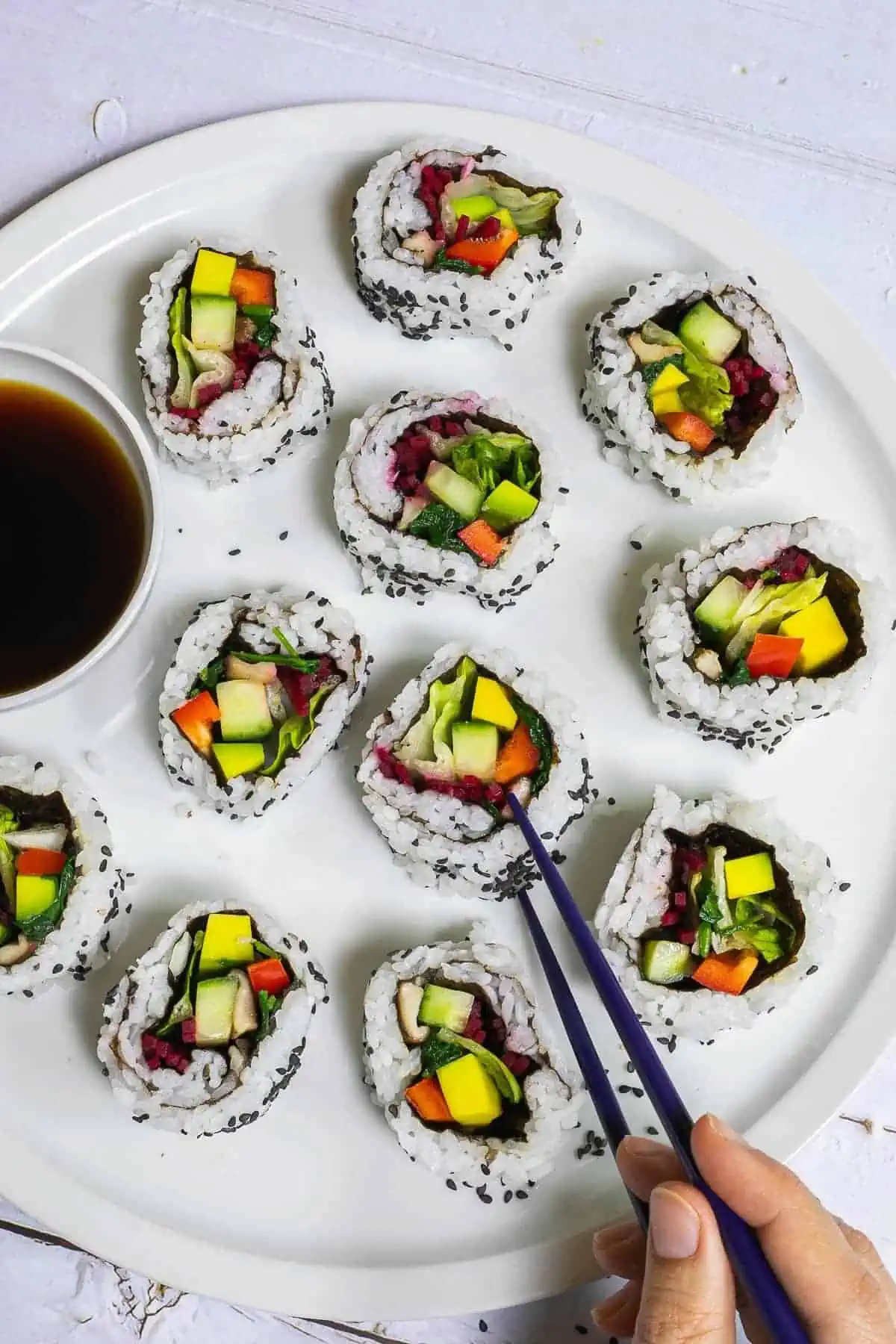 This sushi bowl combines everything that's inside of sushi into a bowl! Marinated and baked tofu cubes, spicy mayo dressing, cucumber, carrot, and cilantro all come together with sushi rice to create this fresh and filling dish.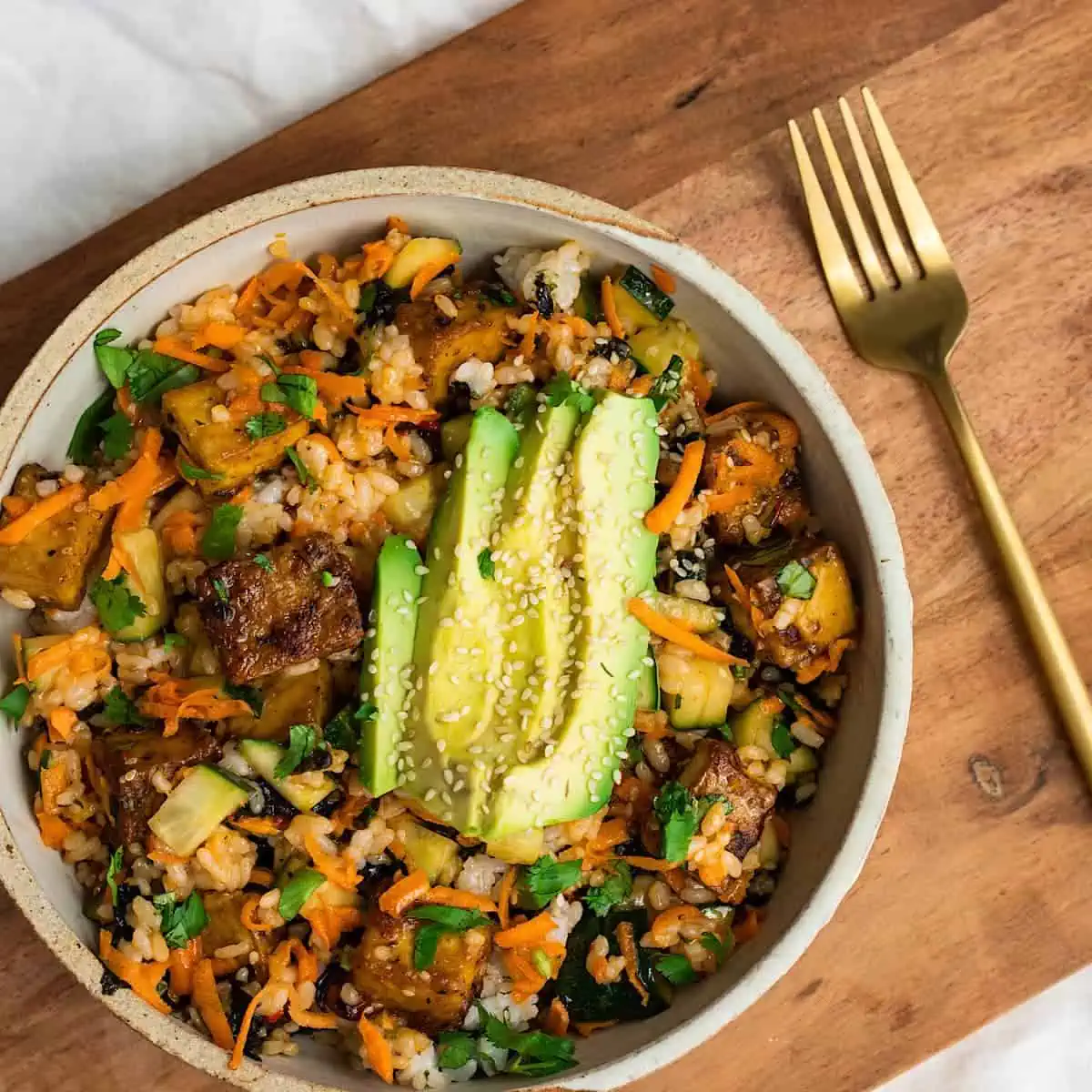 The sushi bowl features shredded jackfruit with teriyaki sauce served over seasoned sushi rice, spinach, and seaweed, creating a fish-free and delicious bowl!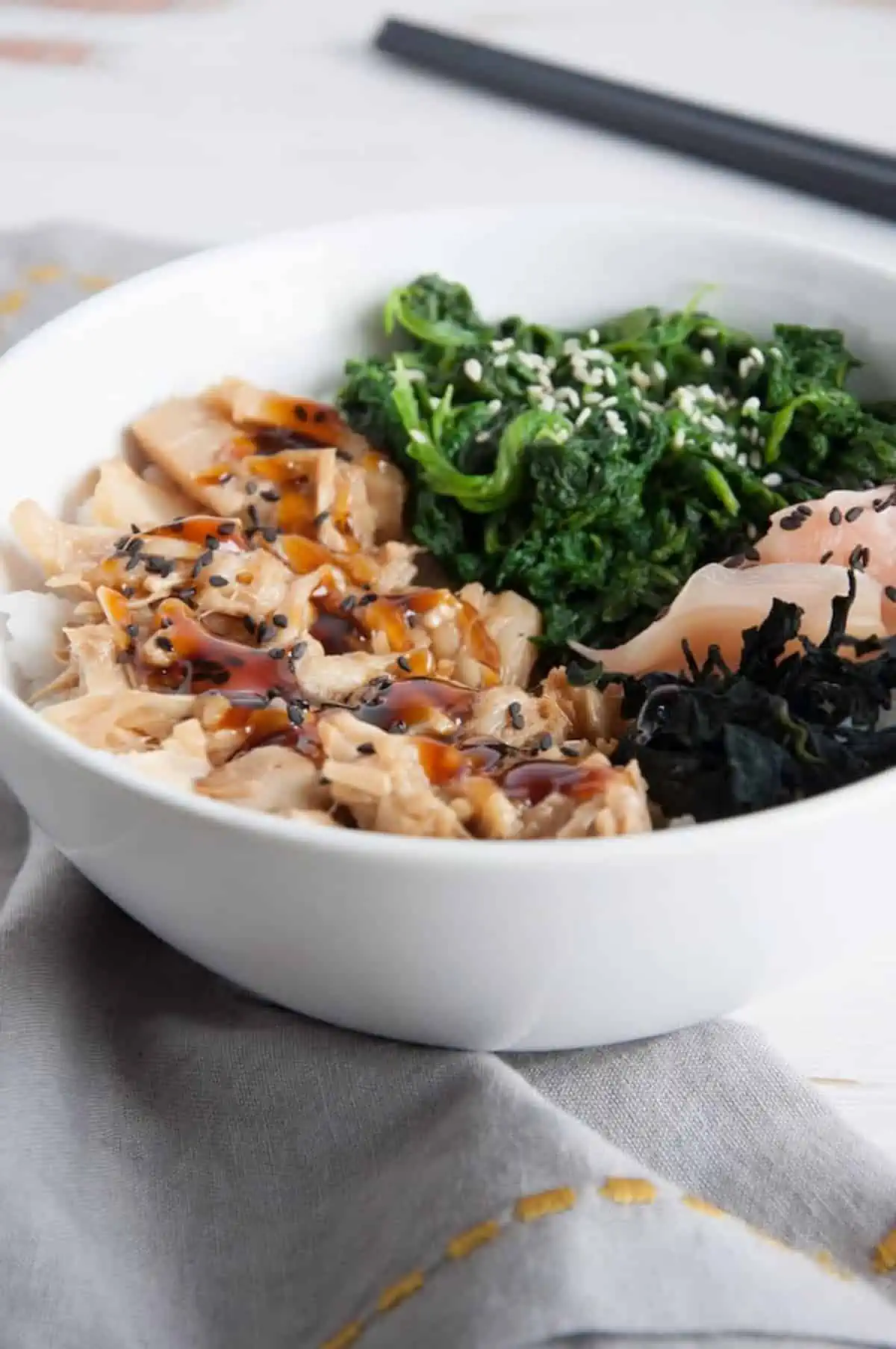 Drawing inspiration from the party popper emoji, these hand rolls brim with beautiful colored sushi rice, bell pepper, avocado, purple cabbage, and sesame seeds. To add a playful twist, soy wrappers replace the traditional nori!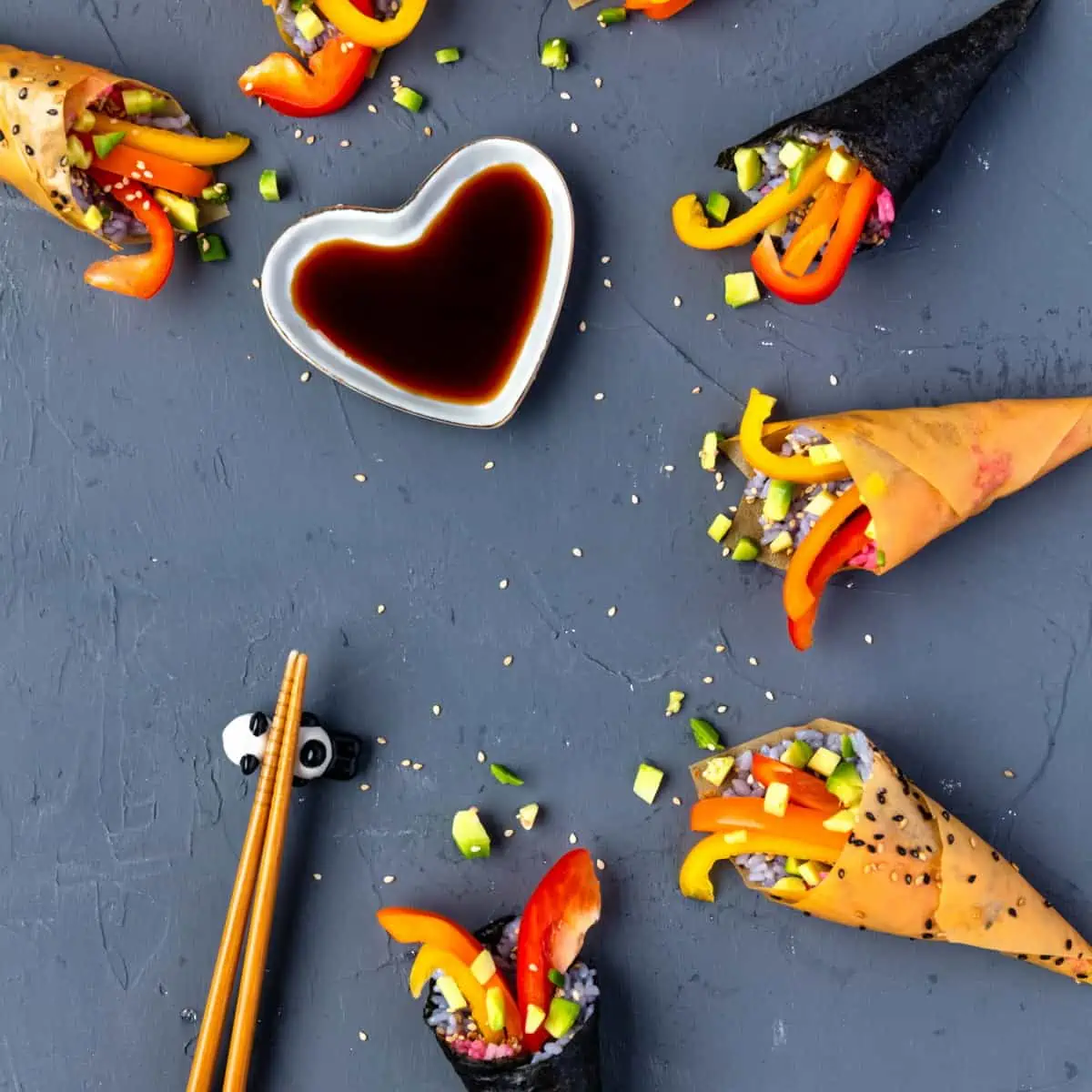 This sushi roll uses quinoa instead of sushi rice, and the results are stunning! Packed with sweet potato and red pepper, this roll comes with a delightfully unexpected sauce made with miso, ginger, and a touch of maple syrup.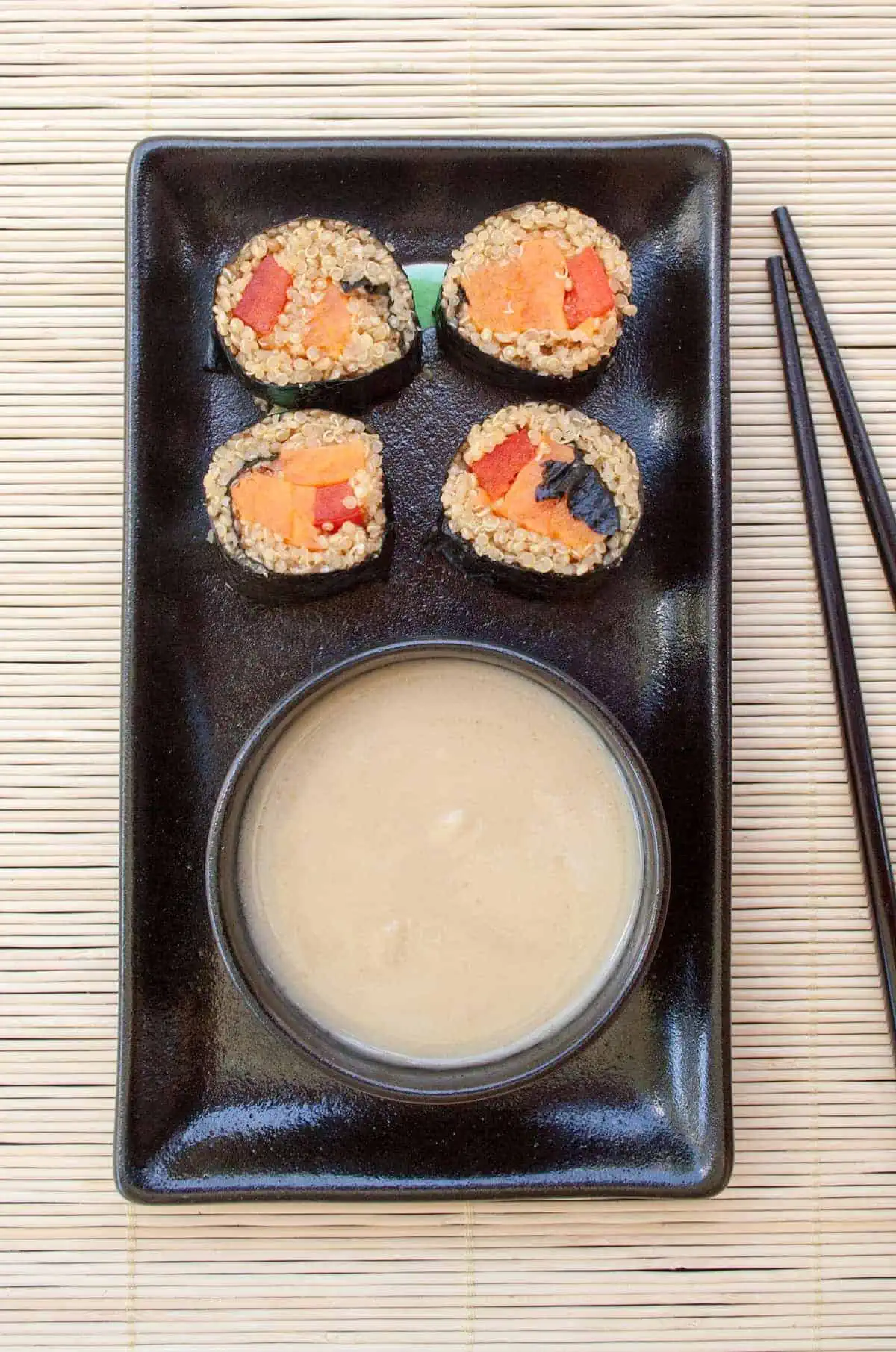 This sushi rainbow cake is so cute! The rice is colored with beetroot powder, butterfly pea flowers, and turmeric. The top has rainbow vegan cheese using some of the dye created to make the rice. This is a gorgeous creation we're obsessed with!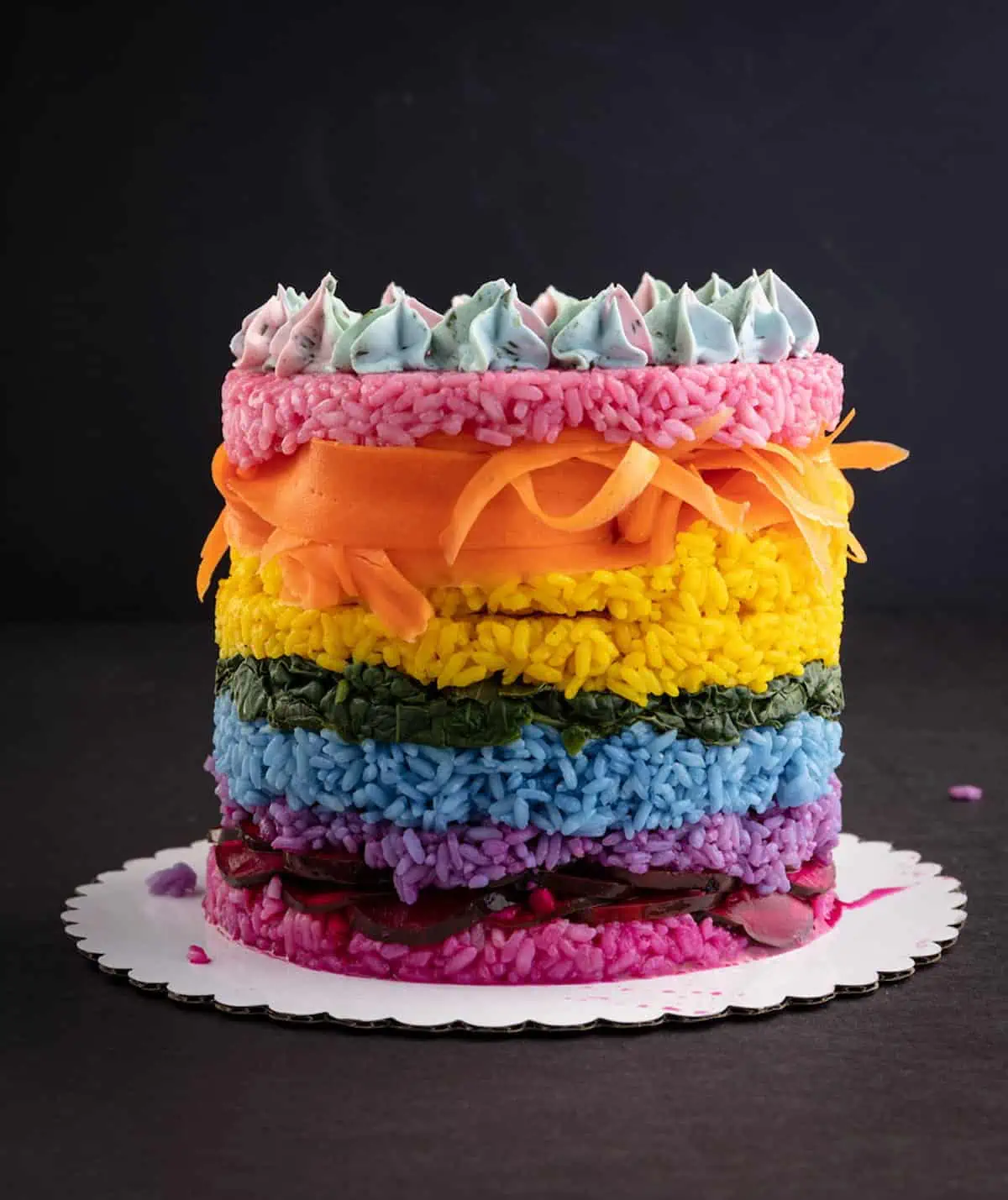 If you like sushi and burritos, then this recipe is for you! Homemade teriyaki sauce, seared mushrooms, avocado, cucumber, and bell peppers are wrapped up in nori to create this mouthwatering sushi mega roll!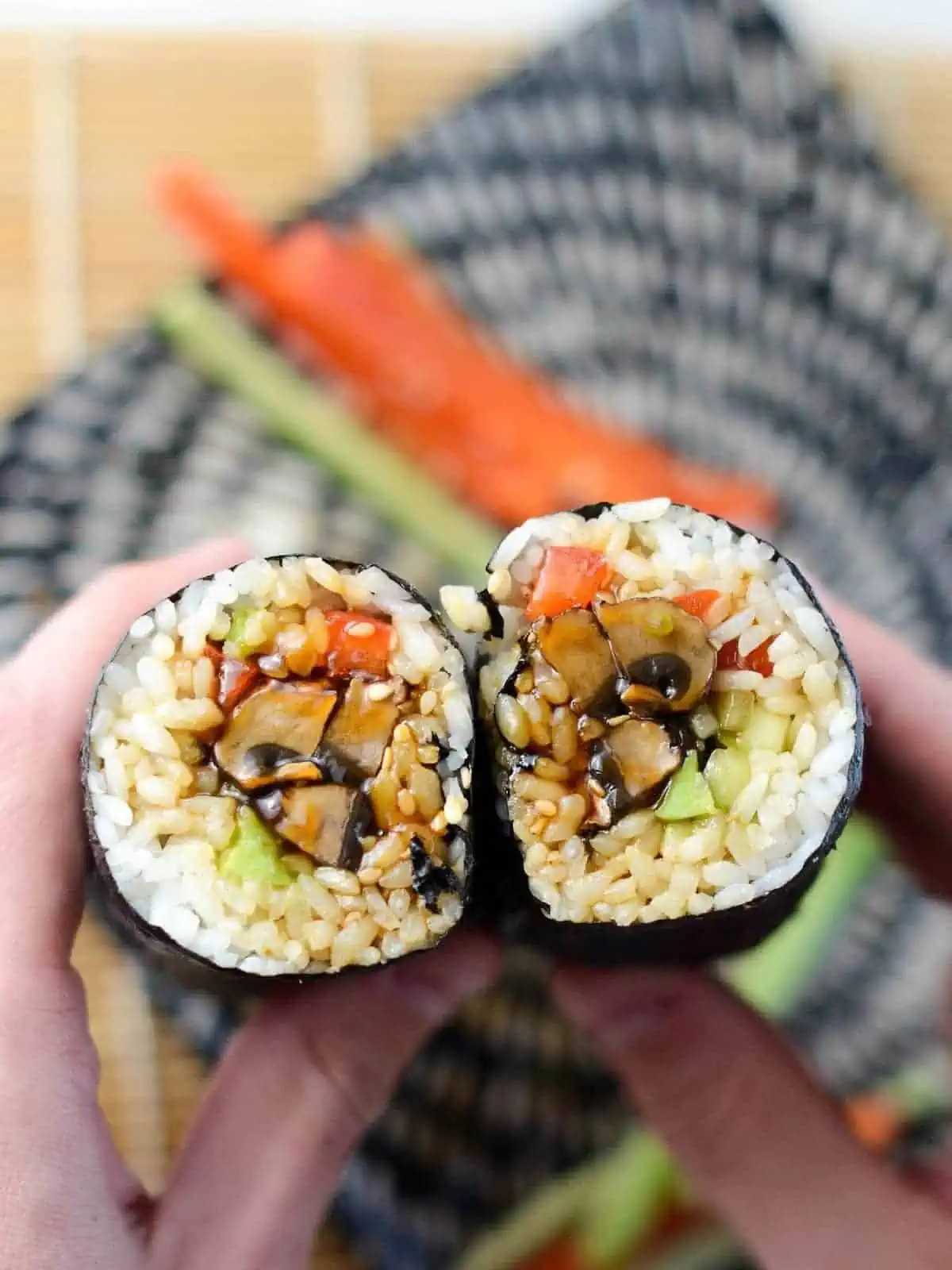 When you want vegan sushi, but store-bought won't do, these sushi rolls will hit the spot! The key to making tightly-rolled maki sushi is practice, and these are perfect for that!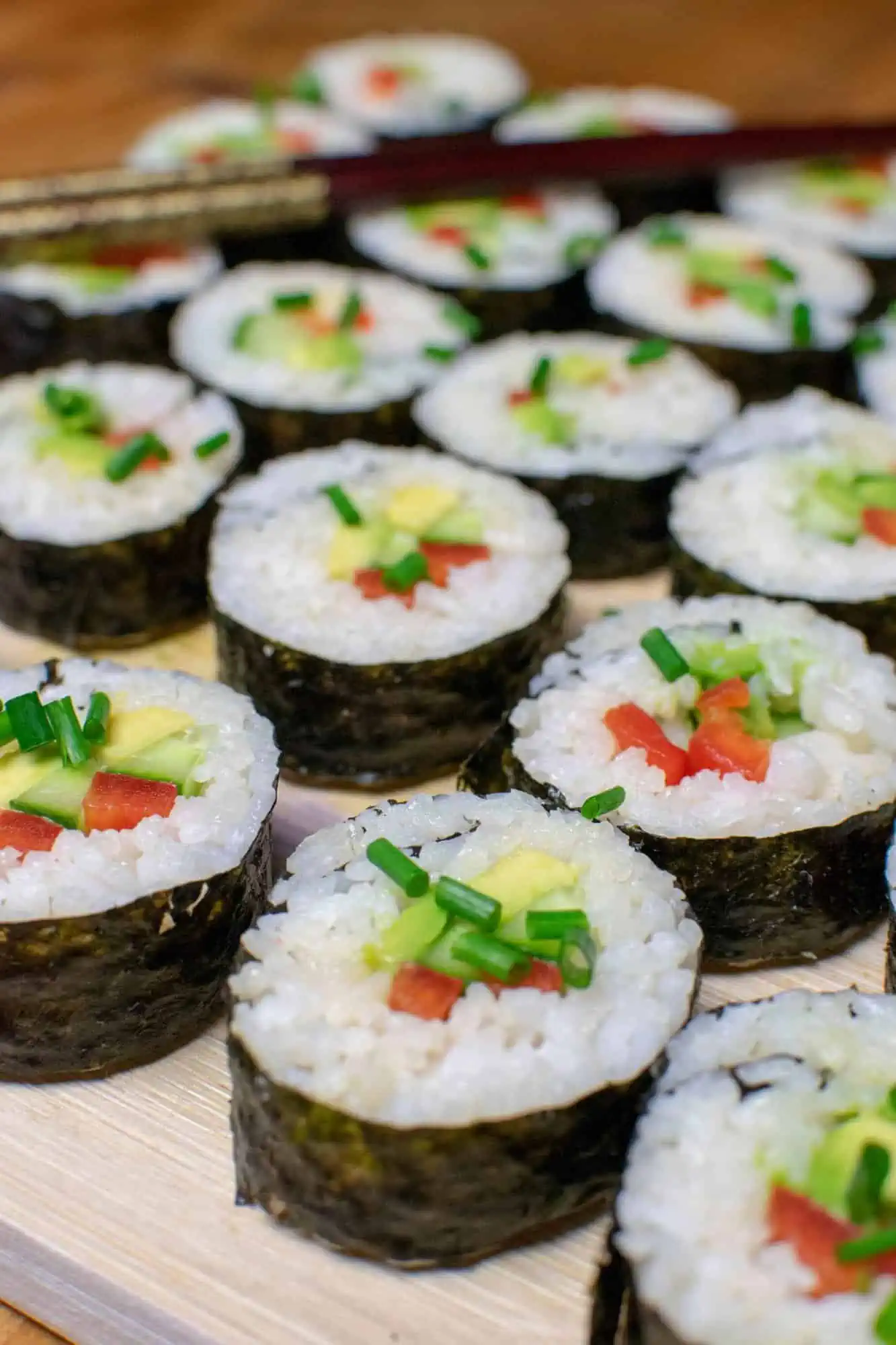 If you love sushi but want to skip the rice, try these no-rice sushi rolls! Made with mashed purple and orange sweet potato, they are colorful, delicious, and grain-free!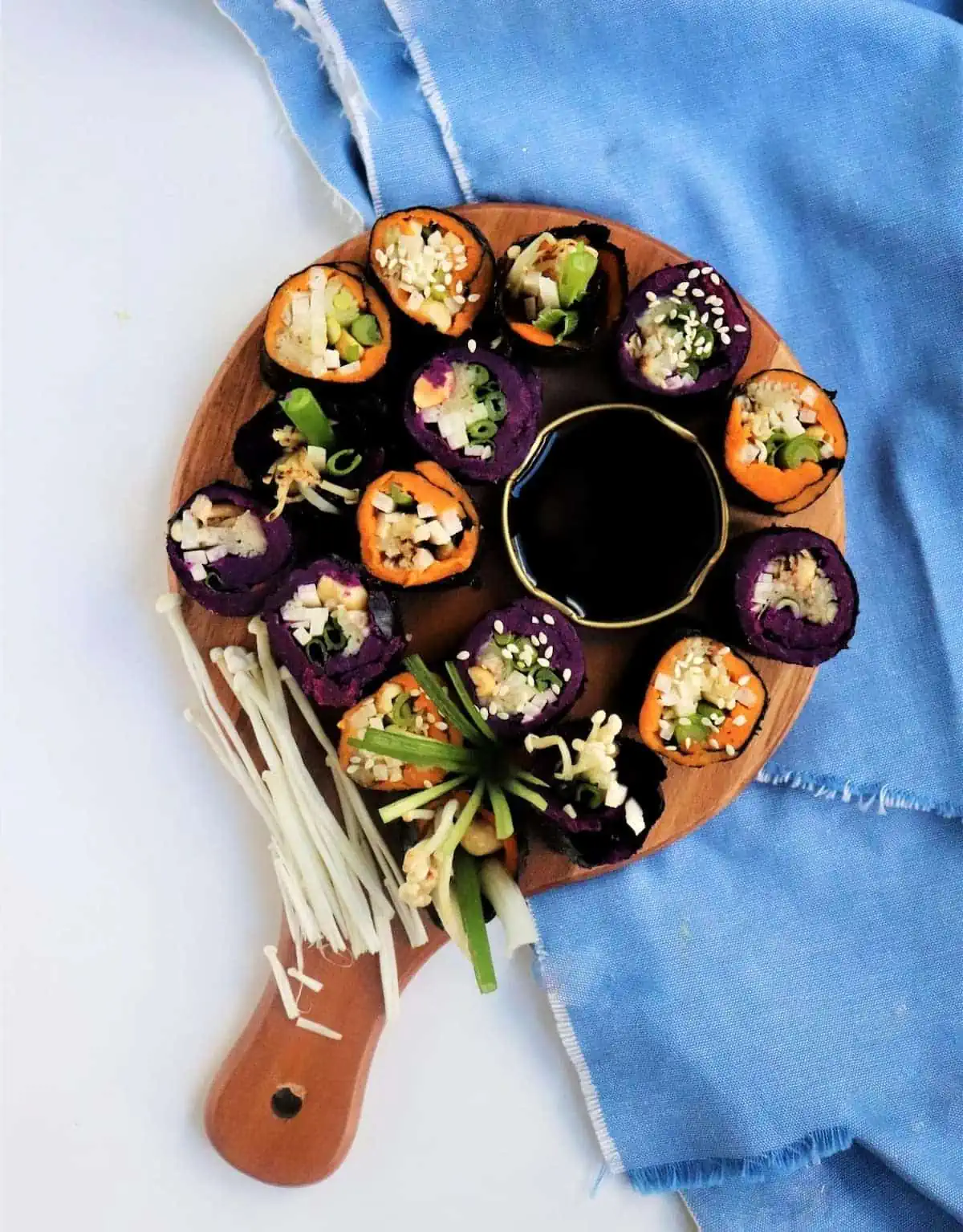 There you have it! We hope this guide will instruct and inspire you to make your own vegetarian sushi at home. Once you get the hang of it, you'll be hooked!