Would you feel blue if you knew you'd have to go through a few days without a new mouthwatering brew? We would rue the day, too! Luckily our crew came up with this vegan split pea and sweet potato stew, especially for you! Woo-hoo!
Thick and rich, warm and comforting––there's no better meal than a scrumptious bowl of soup to soothe all of your woes. The simple sweet potatoes and bright orange carrots give this recipe a depth of color and a hint of sweetness, while the pleasant little split peas and aromatic alliums provide a filling and full-flavored punch.
We're finally through describing this stew, so let's start simmering!
Why You Must Make This Savory Stew Recipe
We believe that you never need an excuse to make a bowl of warm and wonderful stew. But, if you do, here are several strong reasons for spending the time at the stove. Go on, you know you want to!
Superstar Ingredients
This recipe is chock full of everything your body (and soul!) needs for nourishment. Each of these star ingredients lends itself to boosting up your immune system and giving you the foundation for a delicious and nutritious day.
How to Serve Up Split Pea and Sweet Potato Stew
Because this meal is so self-contained, you would think that there might not be much to add to it. But, happily, the World of Vegan team have a few tasty and tempting suggestions to share. If you can think of other ways you would serve your split pea and sweet potato stew, let us know in the comments below!
Break Out the Bread – Step up the satisfaction level by serving with a slice (or two!) of crusty homemade bread. Or, better yet, spoon the succulent stew into scooped out bread bowls––so delicious.
Choose Creamy or Chunky – Some of you like your soups super smooth, while others will always choose chunky. For a thicker texture, leave the stew as it is once it's done. For a more silky consistency, use an immersion blender or regular blender to blend the stew for a minute or two before enjoying.
Broth Vs. Bouillon – If you don't have any prepared or packaged broth, there's no need to panic. You can just use regular water (and add additional spices) or use 3-4 teaspoons of bouillon paste mixed into 4 cups of warm water.
How To Make This Vegan Sweet Potato Soup
Don't feel intimidated by the number of steps in this recipe. Each one is so simple that you could be making this stew in your sleep. Prepping the vegetables take the most time before cooking, but if you throw on your a special TV show or listen to an amazing audiobook, the time will fly by!
Peel and prep all of your veggies. Place in a bowl. Do the onion last and place to the side.
Rinse and drain the split peas.
Sauté the onion in the Dutch oven and then add in the rest of the vegetables to cook for 8 minutes. Add in the spices.
Pour in the vegetable broth, add in the split peas, and then let the contents come to a boil over high heat.
Reduce heat and let simmer for an hour, stirring occasionally.
Enjoy!
Equipment You'll Need
Once all of the ingredients are collected, all you need to do is peel, cut, measure, and cook. Here are the simple kitchen items to get your savory stew started:
Sharp Knife
Mixing Spoon
Large Dutch Oven or Cooking Pot
3 medium sweet potatoes, peeled and cubed
3 medium stalks celery
4 medium carrots, peeled and sliced
1 sweet onion, peeled and diced
3 medium garlic cloves, minced
1¼ cups corn kernels
1 cup dry green split peas
1 tablespoon vegetable oil or water
4 cups vegetable broth
4 cups water
½ teaspoon black pepper
1-2 tablespoons Italian seasoning
¼ teaspoon cayenne pepper, optional
¼ teaspoon salt, optional, since the vegetable broth should have enough salt
Prepare the all of the vegetables that need to be peeled and cut, except the onion. Place in a mixing bowl. Add the corn kernels.

Skin and dice the onion. Keep to the side.

Rinse and drain the dry split peas thoroughly.

Preheat your dutch oven or pot over high heat. Add 1 tablespoon of oil or water. When sizzling, add the onion.

Sauté the onion until translucent, about 2-3 minutes.

Add in all of your prepared vegetables. Sauté in the pot for 8 minutes, adding a tablespoon or so of water to the pot if the vegetables start to stick.

Add your spices and cook for another minute.

Pour in the vegetable broth and stir well.

Add in the split peas and additional water. Mix all ingredients together.

Allow the stew to come to a rolling boil and then reduce the heat to medium.

Let the stew cook, uncovered, at a high simmer for one hour, stirring occasionally.

The stew should now be thicker from the cooked split peas and softened vegetables.

At this point, you can add more vegetable broth if you like a thinner consistency (more like a soup) or cook it down some more, if you prefer a thicker stew.
If you don't have pre-made or homemade vegetable broth, feel free to use 3-4 teaspoons of bouillon paste (like Better Than Bouillon) mixed with the 4 cups of water instead.
Vary the amount of spices to your taste.
Calories: 188kcal | Carbohydrates: 41g | Protein: 7g | Fat: 1g | Saturated Fat: 0.1g | Polyunsaturated Fat: 0.2g | Monounsaturated Fat: 0.1g | Sodium: 699mg | Potassium: 521mg | Fiber: 8g | Sugar: 10g | Vitamin A: 17486IU | Vitamin C: 7mg | Calcium: 77mg | Iron: 2mg
If you try this vegan split pea and sweet potato stew recipe, let us know what you think by leaving a comment and rating below! Be sure to follow along on Pinterest, Instagram and Facebook for even more vegan recipe inspiration.
Frequently Asked Questions
Luckily, this soup is so straightforward that there is little to cause confusion. Hopefully, any questions asked and answered here will bring you one step closer to enjoying your stew.
I don't like sweet potatoes. Can I substitute a different type of potato in this recipe?
Absolutely! The sweet potatoes in this recipe are added for a little added sweetness, which goes well with the dish, but is not mandatory. Feel free to use white, yellow, red, or purple potatoes instead.
Split peas don't really agree with my stomach. What can I use instead?
If split peas (both yellow or green) are going to cause you digestive issues, you can leave them out. Or, if you wish, use lentils (any type) or beans (chickpea, pinto, or kidney could be delicious) to replace the peas. Just make sure to cook them ahead of time and reduce your stew cooking time to 35-40 minutes instead.
What other vegetables can I add to this vegan sweet potato soup recipe?
You're in luck! There are many types of vegetables that would taste terrific in this stew. Our suggestions are chopped broccoli or cauliflower, green peas, mushrooms, or also asparagus. Mix and match to your heart's content!
How To Store Leftover Vegan Split Pea and Sweet Potato Stew
Super simple. Any remaining stew can be stored in a covered container in the fridge for up to 5 days. This makes it perfect for meal prepping at the beginning of the week or weekend. Another option is to make a double batch if you have a big enough pot and freeze half of it for another week or special occasion.
To do this, wait until the split pea and sweet potato stew is cool, then add to a freezer safe bag or container. Seal well. Freeze for up to 3 months. To thaw, either microwave for several minutes in a large bowl or reheat on the stovetop over medium heat until desired temperature is reached.
Other Autumn Cozy Soups and Stews to Try: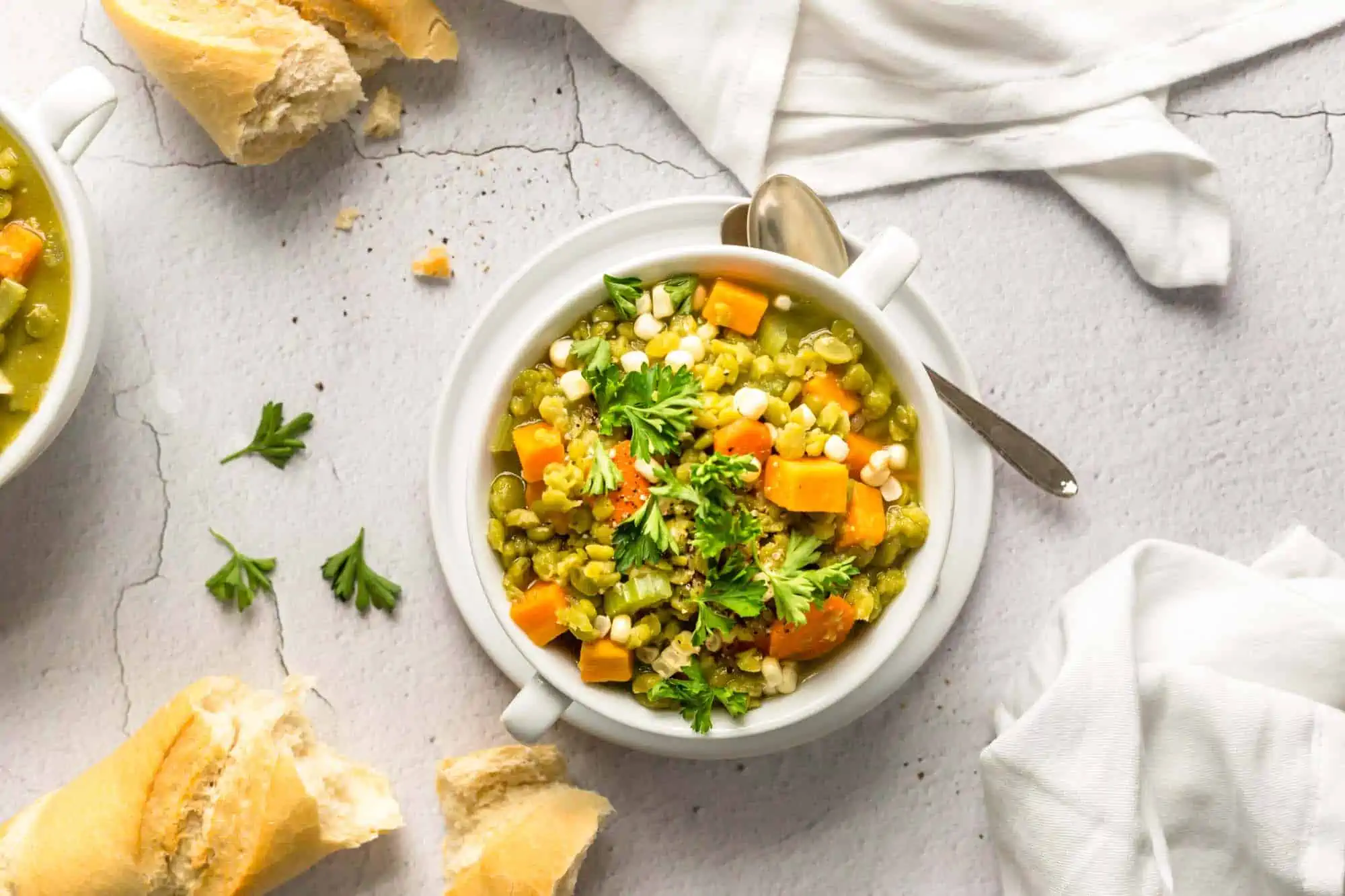 This vegan split pea and sweet potato stew recipe and article was written by Gina House. Vegan food photography by JJ Steele. Edited by Amanda Meth. Please note that this article may contain affiliate links which supports our work at World of Vegan.