Frustrated when your food is sometimes flat and flavorless? Add a little pizzaz to your plate with our spicy chipotle vegan parmesan recipe! Shake, sprinkle, or pour as much as you want and get ready to be WOW-ed!
There are some toppings that are essential like salt and pepper, while others that are meant to delight and dazzle. This flavorful vegan parmesan-inspired recipe is one of those. When you run out, you immediately make more so you won't be deprived of a single day of deliciousness.
Of course, you can buy something pre-packaged that's slightly similar, but is that really what your taste buds are telling you? Wouldn't you rather make a super fresh batch of seasonings for a fraction of the price? Sure you do!
Flavorful Flaxseeds Are Full of Omega-3s
The star ingredients for this vegan parmesan recipe are flaxseeds and nutritional yeast. When ground up and mixed together, they are easily digestible and bring a boost of nutty, cheezy goodness to any food. Other reasons to love flaxseeds in this recipe:
Fiber – Each tablespoon contains fiber and, more importantly, flaxseed has both soluble and insoluble fiber for improved gut health.
ALAs and Omega-3s – Rich in both essential fatty acids.
Lignans – Full of plant compounds that contain antioxidants and estrogen properties to help improve health and lower the risk of cancer.
Know Your Nooch
You'll be happy to know that you don't need to use a specific brand of nutritional yeast for this vegan parmesan recipe. Any vegan brand will do, just make sure you love the taste. Here are a few things you want to keep in mind:
Bring on the B12 – Fortified nutritional yeast adds not only protein, fiber, and iron, but also a hefty dose of vitamin B12. This is an essential nutrient for humans and this vegan parmesan is a great way to get a little extra into your day.
Salt Content – Sodium amounts vary widely per brand. If this is something you keep an eye on, be extra careful and pay attention to the label.
Flavors – Some brands of nutritional yeast have specific flavors, like salt and vinegar, etc. For this recipe, buy the original or plain version.
Large or Small Flake – Nutritional yeast occasionally comes in a small flake or large flake form. Since we'll be grinding this seasoning, either will work, but small may be preferable.
How to Serve Up Your Vegan Parmesan
I've added this vegan parmesan to pretty much everything on my plate recently, but here are the most mouthwatering suggestions:
Sprinkle Over Salads – You'll wonder how you ever enjoyed your salad without it! Just a half of a tablespoon will do the trick. The slightly gritty texture and nutty flavor adds a whole new dimension to your salad. So good!
Power Up Your Potato – The perfect topping to a plain potato. For a loaded baked potato, add a little bit of vegan butter and sour cream along with several sprinkles of this spicy concoction to make an absolutely awesome appetizer.
Brilliant Over Broccoli – While steamed broccoli is certainly healthy and delicious, you might want to go the extra mile and add a little seasoning. Our parmesan makes an otherwise ordinary vegetable––extraordinary! (Works well with other cooked veggies, too.)
Mac & Cheese, Please – This option is my favorite because it reminds me of the baked macaroni and cheese my mom used to make when I was young. She would fill a casserole full of creamy shell pasta and then add a breadcrumb-type topping. Boost up your own breadcrumb mix by adding a couple of tablespoons of this parmesan before baking. Heavenly!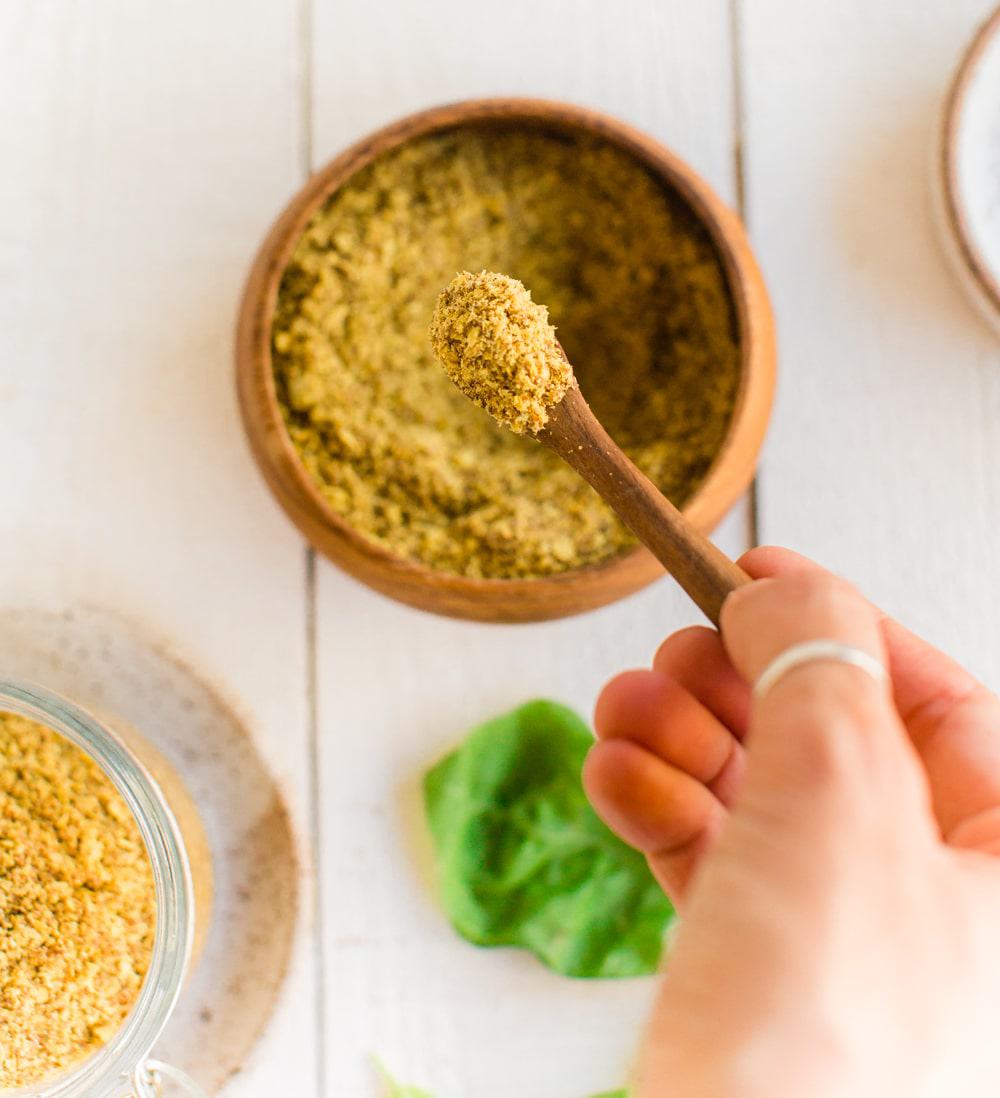 Simple Storage for Your Vegan Parmesan
Storing your vegan parmesan couldn't be any easier. This amount should last for at least 2 months in refrigerator. A great idea is to place some of the parmesan into a glass spice jar with a shaker top. You can bring it to the table more easily and refill from the main jar when needed. Nifty!
You can even freeze the cheese if you don't think you'll use it before then. Just pour into a freezer safe container before storing and it should last for at least 6 months. Any unopened bags of whole flaxseeds can be stored at room temperature for up to a year. Opened bags of whole or ground flaxseeds should be refrigerated or frozen to prevent them from becoming rancid.
Equipment You'll Need
Coffee Grinder (if not using pre-made ground flax meal)
Covered 16 oz. Mason Jar
½ cup flaxseeds, golden roasted flaxseeds are best or ground flaxseed meal
½ cup nutritional yeast
¼ teaspoon salt, or to your preference
¼ teaspoon paprika, sweet paprika is best if you have it
¼ teaspoon chipotle powder
¼ teaspoon garlic powder
¼ teaspoon cayenne pepper, optional
If using whole flaxseeds, add to a coffee grinder and process until finely ground. If using pre-packaged ground flaxmeal, skip this step!

In a medium bowl, add the ground flaxseeds, nutritional yeast, salt, paprika, chipotle powder, garlic powder, and cayenne pepper (if using). Whisk well to incorporate.

Store in a covered mason jar in the refrigerator.
You can made this recipe with whole flaxseeds—or you can use pre-ground flaxseed meal which is a vegan pantry staple commonly used as an egg replacer!
If you have an old shaker top container (like a spice jar or parmesan shaker), you can add a portion of your vegan parmesan to this and use as a dispenser at the table.
Calories: 538kcal | Carbohydrates: 35g | Protein: 27g | Fat: 37g | Saturated Fat: 3g | Polyunsaturated Fat: 24g | Monounsaturated Fat: 6g | Sodium: 616mg | Potassium: 1163mg | Fiber: 29g | Sugar: 1g | Vitamin A: 603IU | Vitamin C: 1mg | Calcium: 219mg | Iron: 6mg
More Delightful Dairy-Free Dressings to Try:
Spicy Chipotle Vegan Parmesan Recipe and article by Gina House, photos by Michelle Cehn, article editing by Amanda Meth. Copyright of World of Vegan™, all rights reserved. Please note that this article may contain affiliate links which helps support our work at World of Vegan.