Searching for the best dairy-free vegan parmesan options to use on pasta, risotto, soups, salad, potatoes, veggies, and beyond? Read on to explore brands of vegan parmesan available in stores, along with a simple and delicious recipe for creating your own homemade version. From cashew-based to crumbly or shreddable parmesan, there is a wide variety of plant-based parmesan options to choose from.
Vegan parmesan has become an essential topping ingredient for pizza, appetizers, bread, and more for very good reasons. Is there anything as quick and satisfying for dinner as a simple pasta dish with a sprinkle of savory and umami-rich vegan parmesan? Just a touch adds so much flavor and pizzaz!
Whether you decide to make it yourself or purchase it, there are many great alternatives to dairy-based parmesan for multiple culinary applications. Read on for a roundup of brands you already may know and love, plus some lesser-known brands that may become your new favorites!
Vegan Parmesan Brands
Most mainstream grocery stores carry at least one brand of dairy-free parmesan. Keep an eye out for these solid brand choices that create their own version of vegan parm:
Country Life
Follow Your Heart
Go Veggie
Gopal's
Panacheeza
Parma!
Pimp My Salad
Uprise Foods
Vegaliano
Violife
365 Whole Foods Market
Made with a blend of cashew flour, nutritional yeast, and spices, this vegan parm is great for sprinkling over any dish that loves a little cheesy kick. Plus, it's organic and non-GMO!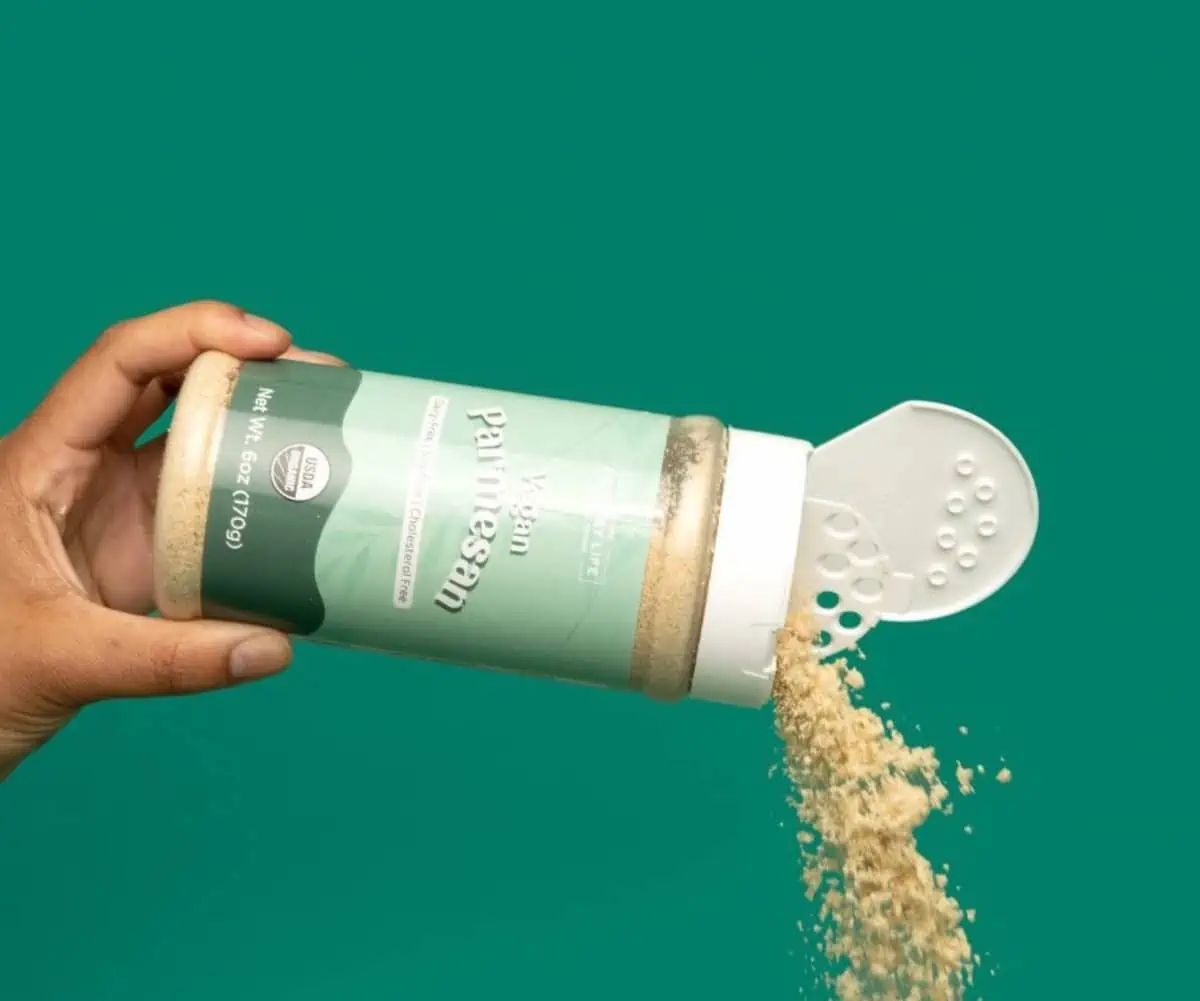 We love FYH cheeses! This shredded cheese alternative is not only dairy-free, but also soy-, gluten-, and casein-free. Try this on salads for an extra dash of saltiness and texture, or use it to top off soups or bread on a chilly day.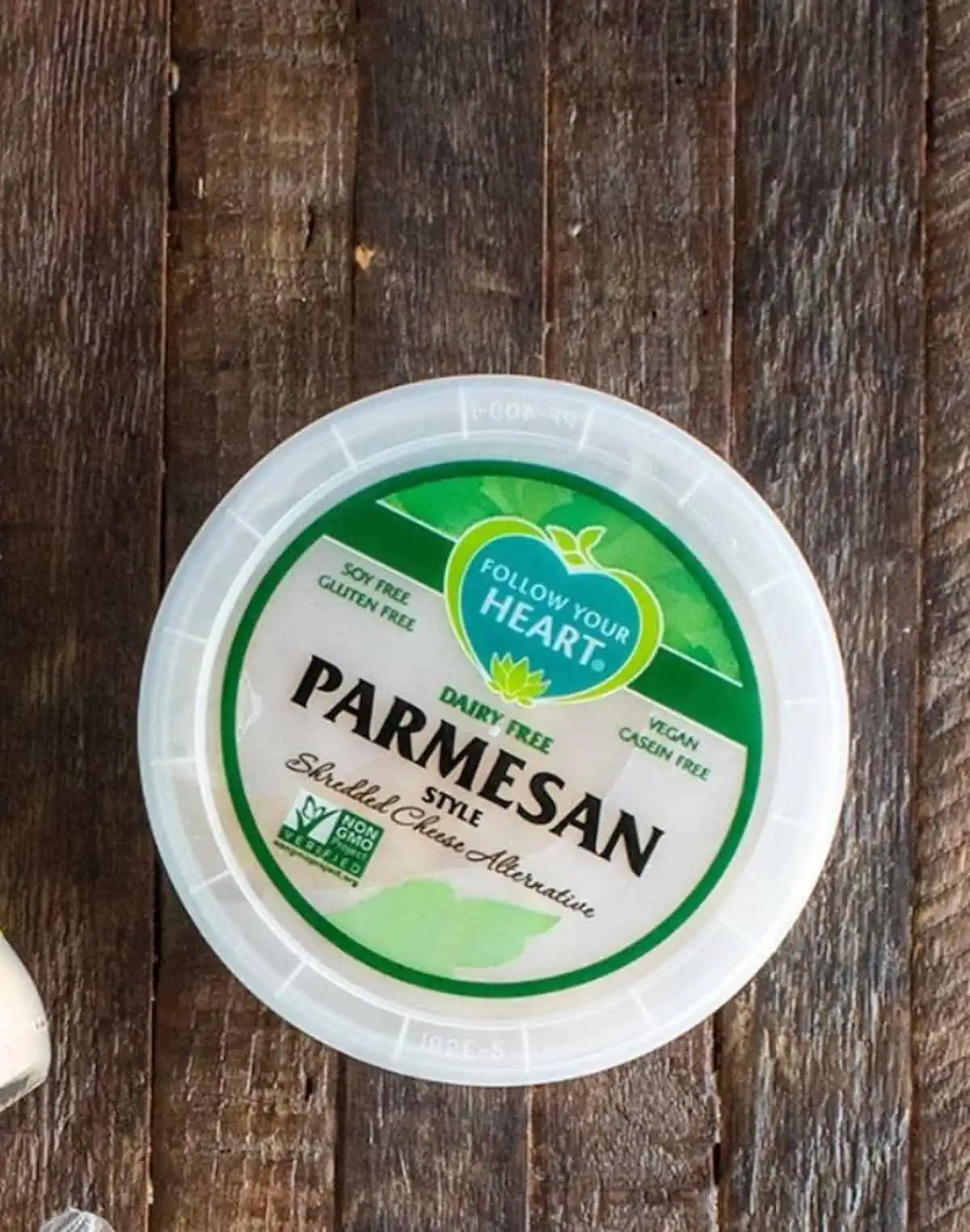 Made from non-GMO ingredients, Go Veggie brand plant-based parm is a good source of calcium and vitamin A, and is lower in fat than other brands. This powdery-textured grated topping is just like that stuff we used to sprinkle from a similarly-looking container in our pre-vegan days!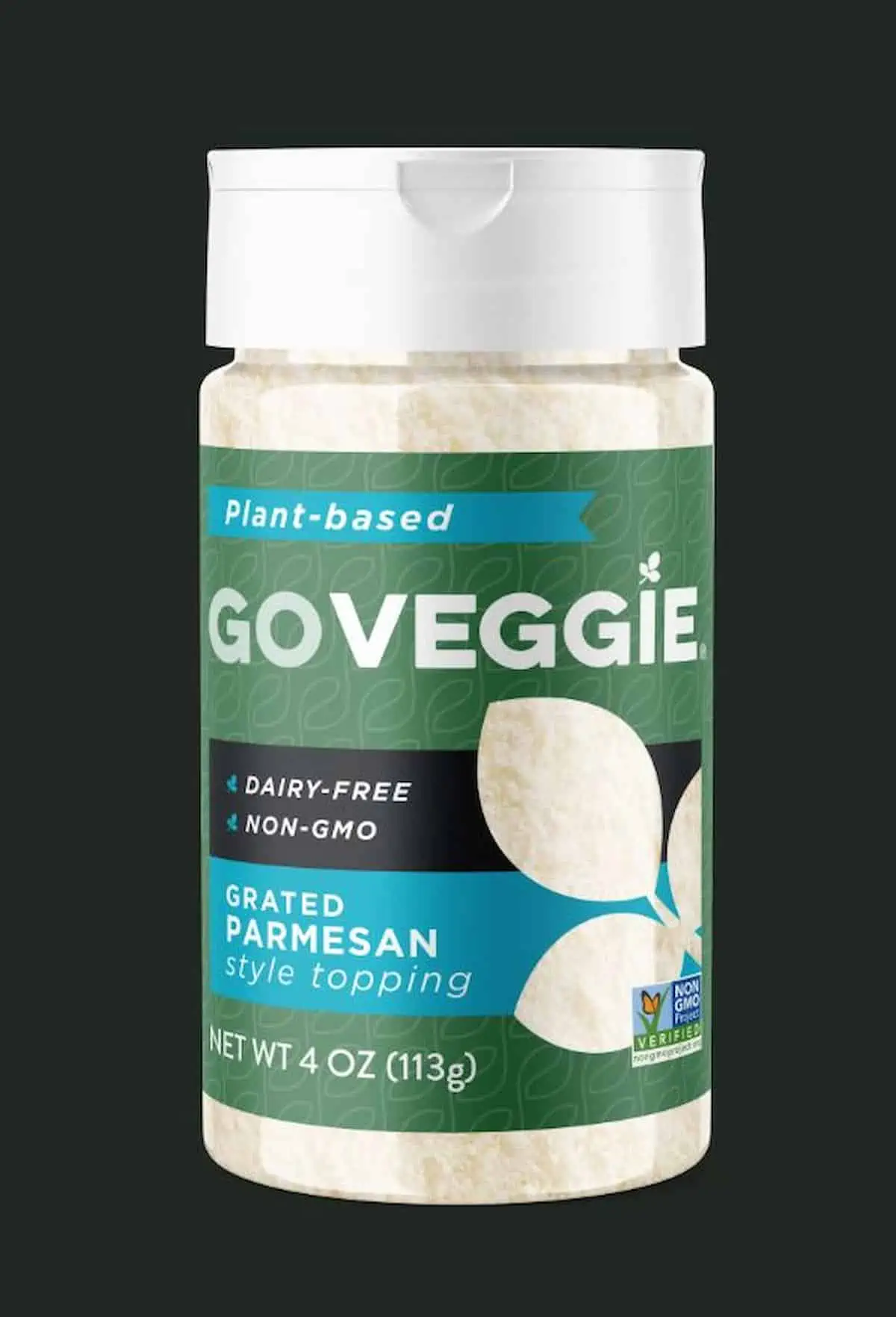 Made with organic seeds and nuts, this healthy plant-based parmesan is raw, sprouted, and gluten-free. In addition to the original flavor, there is also a herb and spice variety. Sprinkle over anything for a rich kick of flavor, like popcorn, tofu scrambles, and more.
One of the newest brands to hit the scene, Panacheeza is made from simply recognizable healthy ingredients, but somehow tastes wildly similar to dairy parmesan. This is definitely and brand worth trying!
This parmesan topping is made with wholesome ingredients like nutritional yeast, walnuts, salt, and sunflower, hemp, and pumpkin seeds. Besides being a healthy choice, Parma! also offers a variety of flavors. Choose from chipotle cayenne, better than bacon, original, basil garlic, and more.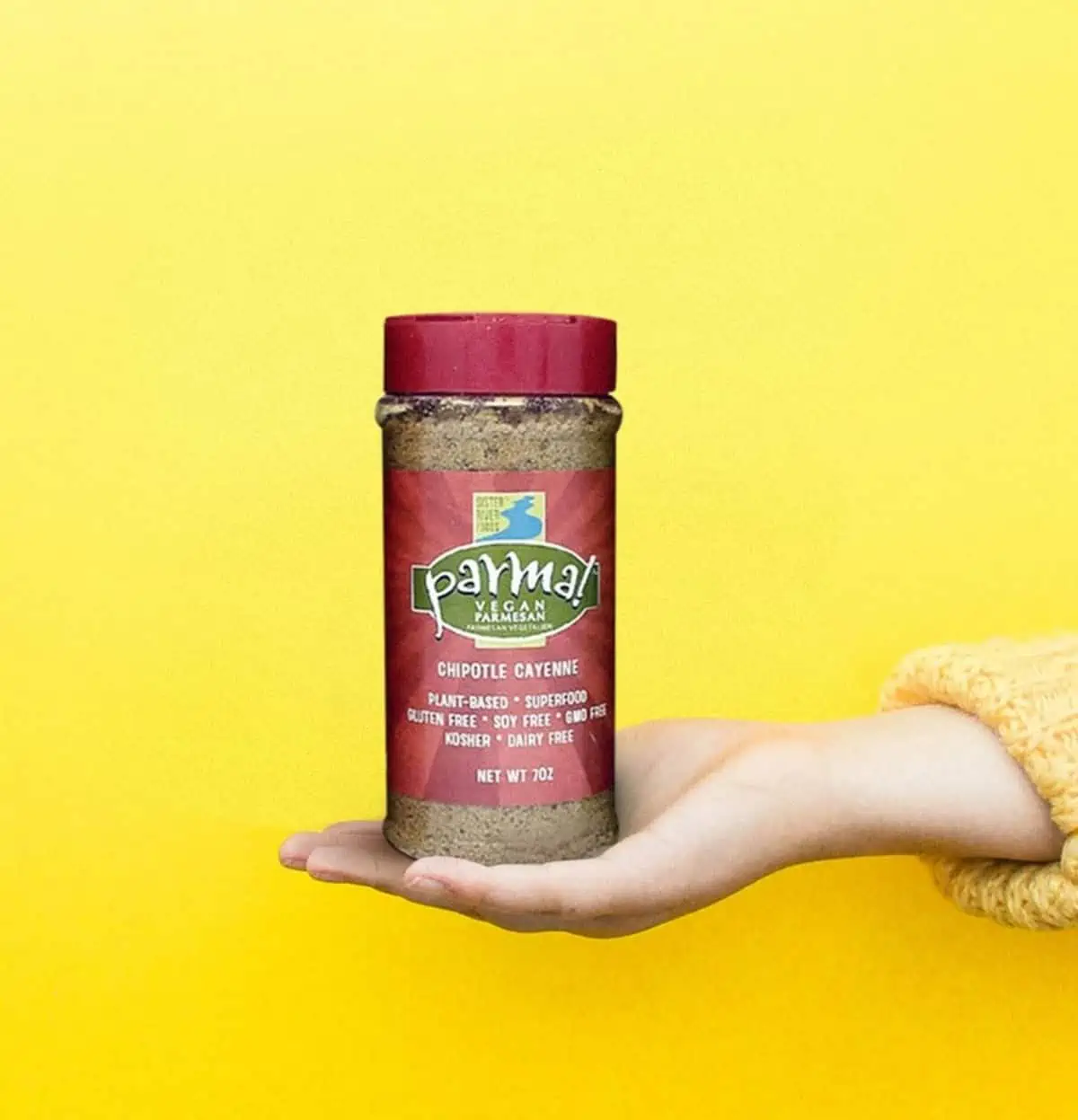 This Australian-based plant-based parmesan offers two wholesome bases: cashews and hemp. Chocked with vitamins, minerals, and omega-3s, this tasty topping is great not only as a parmesan alternative but also adds some bling to most savory dishes!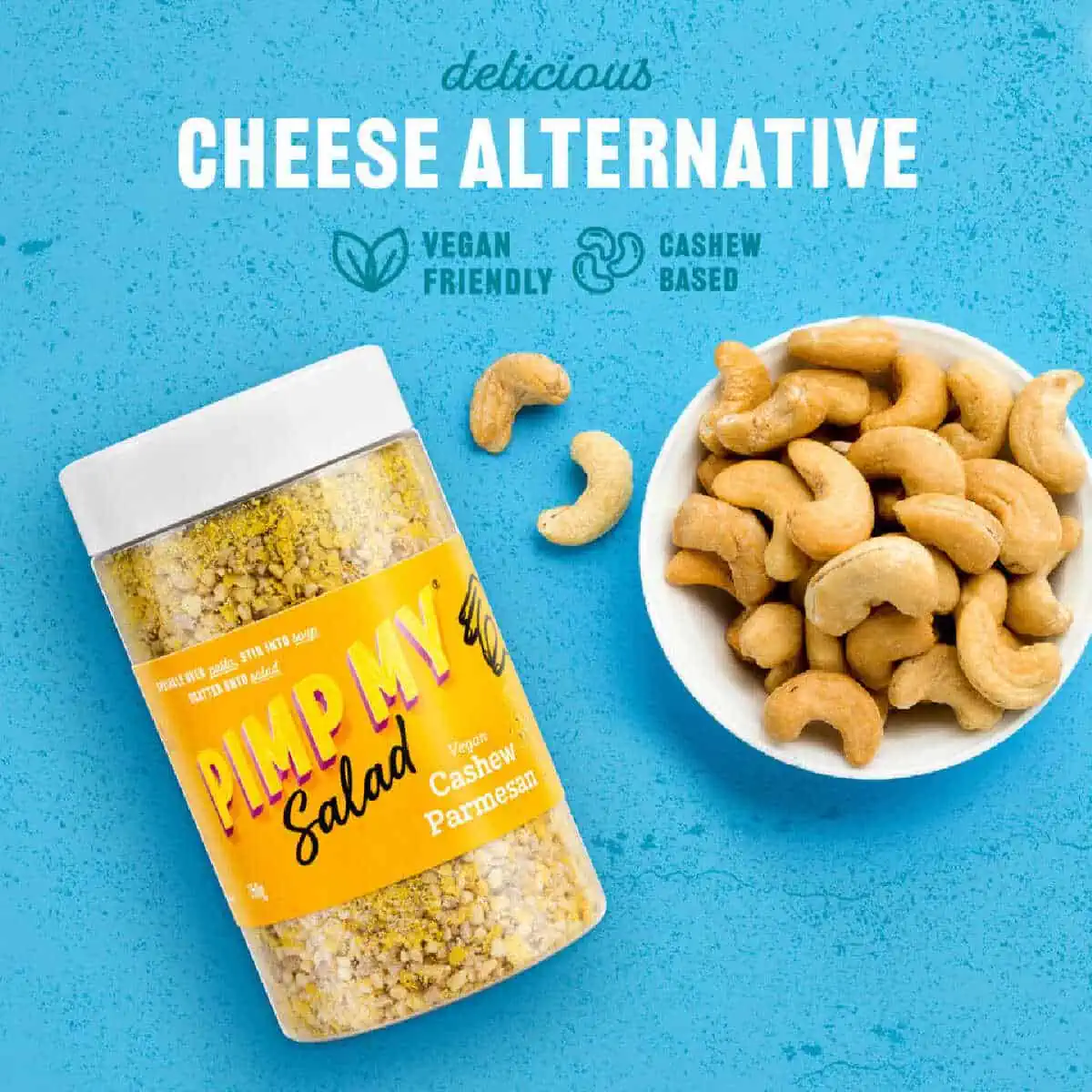 Made with fair-trade cashews, this vegan parmesan is also gluten-free and non-GMO. Nutritional yeast, garlic, powder, hemp seeds, and brown rice powder are used to make this super cheesy topping. Use in on potatoes, veggies, risotto, and warm bread for an extra boost of flavor and nutrition!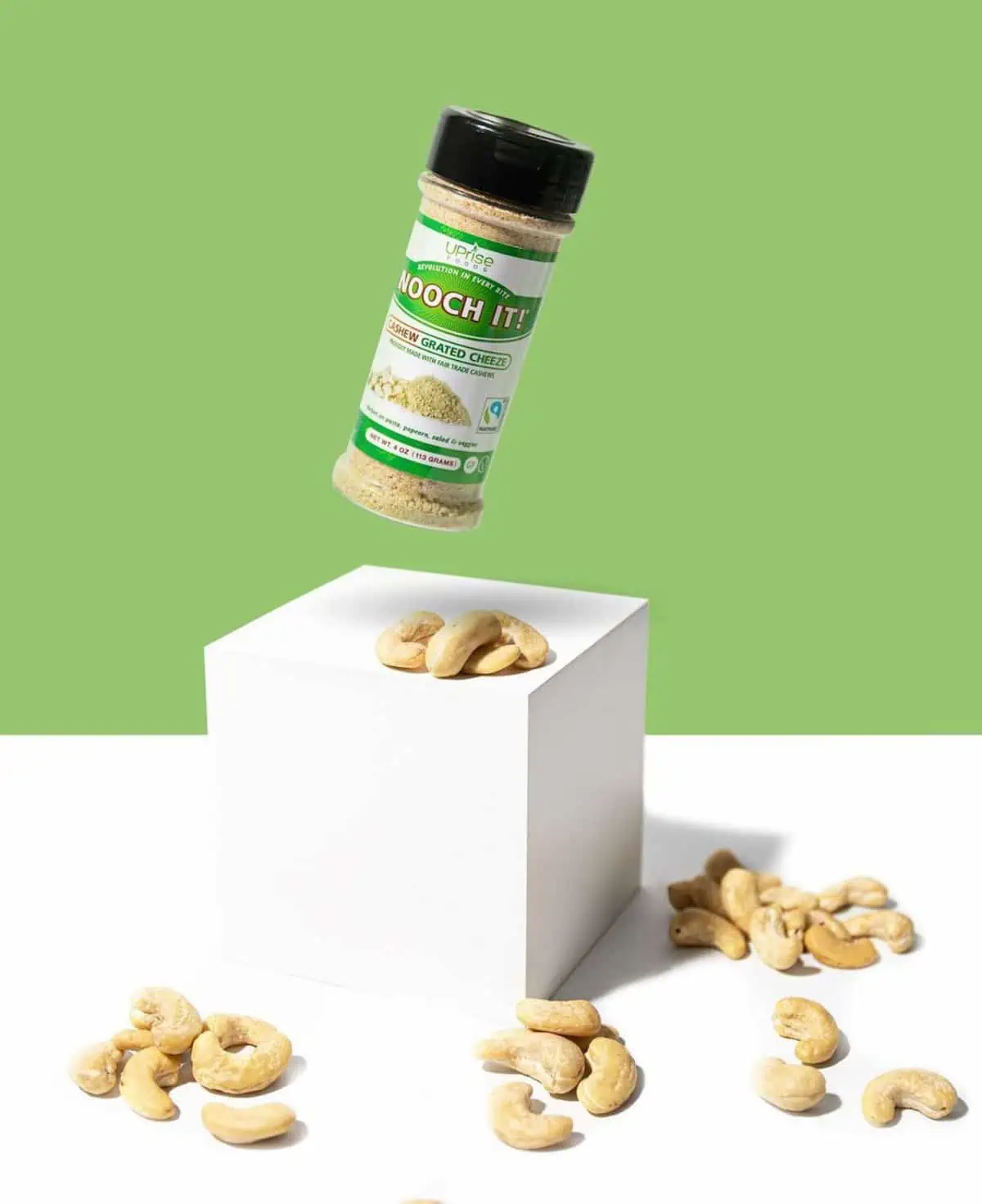 This plant-based block of cheese is touted as "the first authentic Italian vegan parmesan" and is made with a blend of chickpea flour and coconut oil. This gluten- and nut-free hard cheese wheel is perfect for grating and using in Italian dishes like pasta, pizza, risotto, and bread.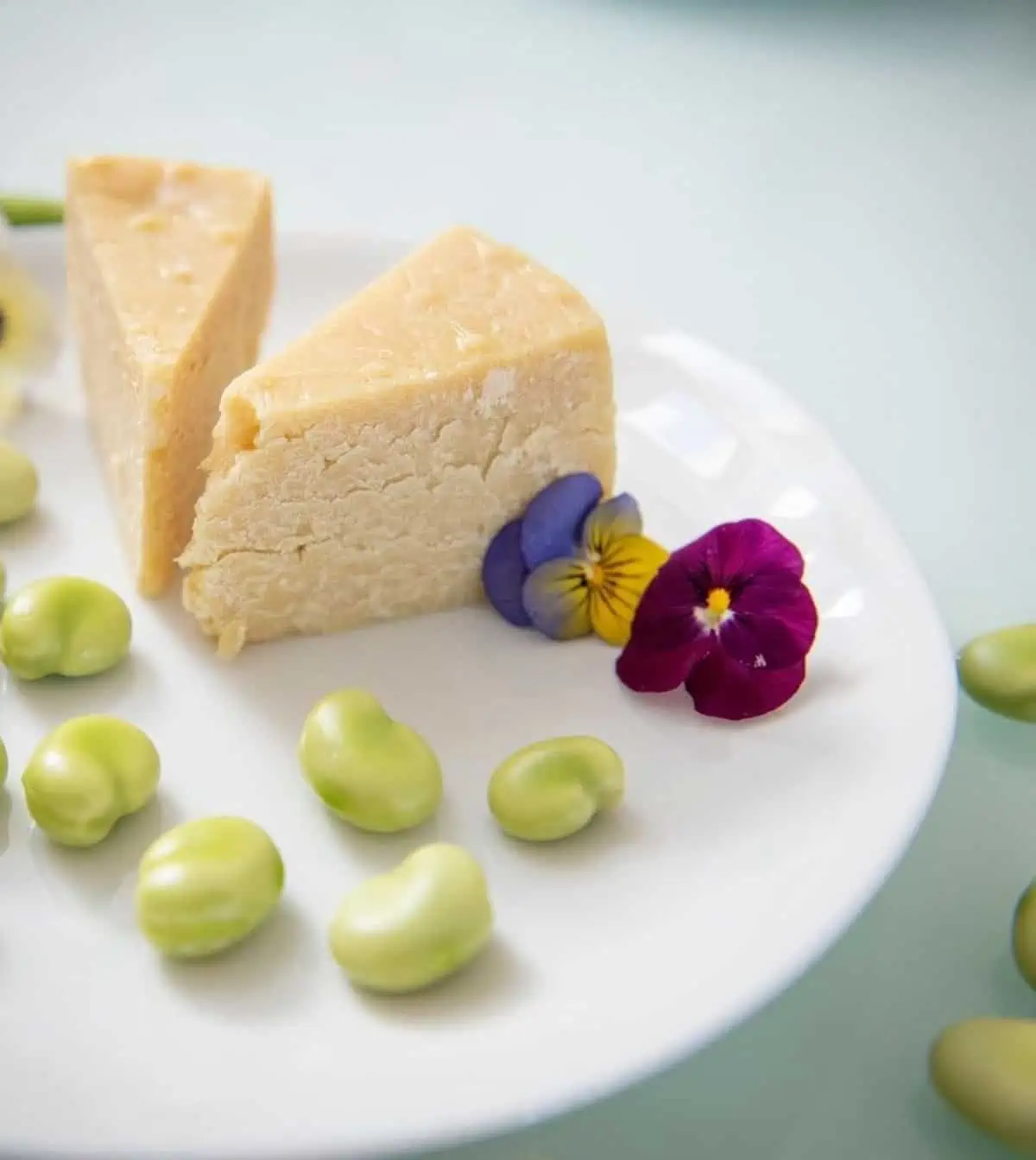 We love grabbing our cheesegraters and grating this parmesan alternative over pasta dishes and salads. We're also guilty of eating a small hunk of this dairy-based delight when prepping a meal. Made with a blend of potato and rice starches and coconut oil, this vegan cheese is also perfect enough for using on vegan cheeseboards!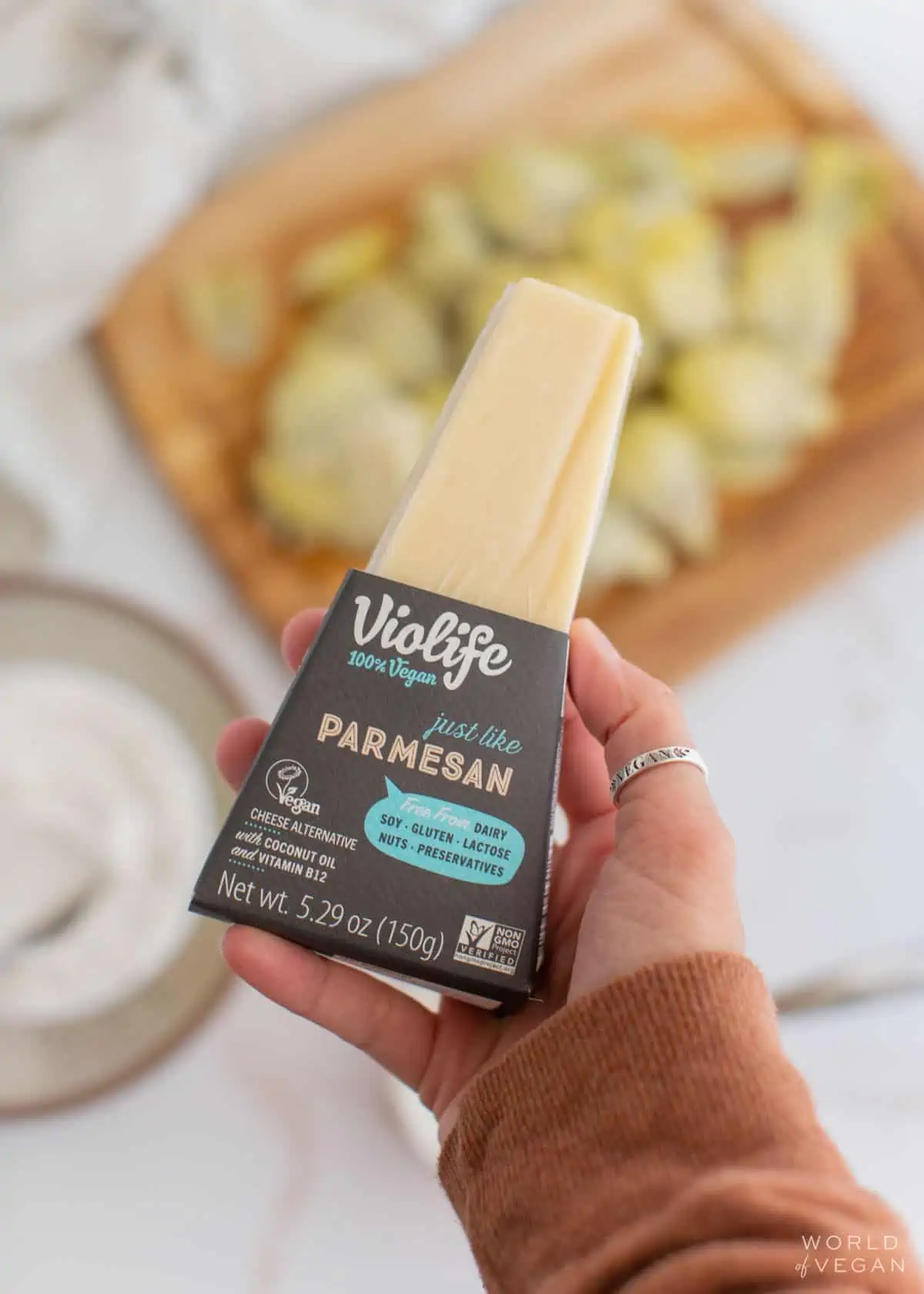 If you love the convenience of shredded vegan parmesan, this umami-rich version from Whole Foods is a great choice. These sturdy shreds add a nice texture to pasta, pizza, salads, and risotto. Made with a blend of potato starch and coconut oil, this parm alternative mimics the taste and texture of dairy-based parm very well!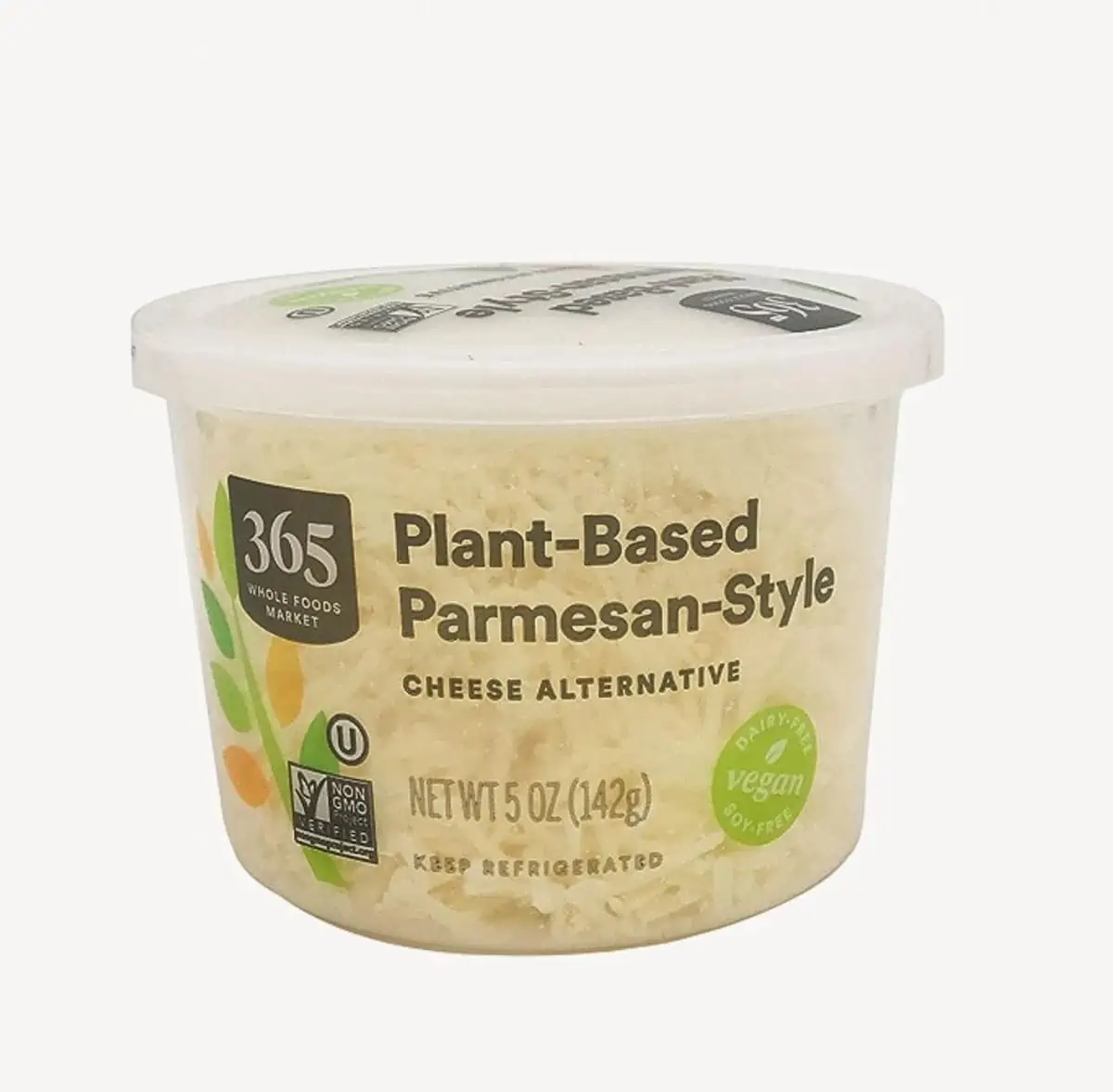 Nutritional Yeast Sprinkle as Parmesan
Ok, we know nutritional yeast (or "nooch") isn't technically parmsean, but we're putting it on the list for good reason. It's a great source of plant-based protein and vitamin B12, and a great choice for those looking for a health-conscious version of vegan parm. Sprinkle this on popcorn, tofu scrambles, roasted veggies, and more.
Vegan Foods & Recipes Using Vegan Parmesan
As you can see, plant-based parmesan can be used in many dishes and can even be used for crackers and vegan cheeseboards. For more ways to use this excellent vegan alternative, check out some of our dips and pasta dishes that use it!
Homemade Vegan Parmesan Recipe
While many plant-based parmesan brands use a blend of flours and oils to create cheese, others use a blend of seeds and nuts to create a different, but equally satisfying result.
By using a blend of cashews, flaxseeds, and spices, we can create our own vegan parmesan in about five minutes! This recipe can show you how easy it is to create your own homemade parmesan using ingredients you may already have inside your pantry.
Key Ingredients
Raw cashews: These are plump, creamy-textured nuts harvested from the base of cashew apples. With their mild buttery taste, they lend a rich creaminess to this recipe that mimics cheese.
Nutritional yeast: This flavorful, flaky seasoning is prized for its umami-rich profile. It adds a savory depth and cheesy flavor that is essential for vegan parmesan.
Salt: Adding a bit of salt helps add brightness to the buttery and rich tones of the cashews, flaxseed, and nutritional yeast.
Garlic powder: Made from finely ground dehydrated garlic cloves, this seasoning infuses this vegan parm with a complex, savory note.
Smoked paprika: This spice is derived from dried red peppers that have been smoked and ground. Its distinctive smoky and slightly sweet flavor lends a nice complexity to this vegan cheese topping.
Onion powder: This finely powdered seasoning is made from dehydrated onions. Its concentrated onion flavor and aroma adds a brightness to this recipe.
Golden flaxseed meal: This finely ground, golden-hued ingredient derived from flaxseeds is optional to include, but it's a great source of Omega-3s and and you can't even taste it when added to this parmesan recipe.
This recipe couldn't be any easier! Once you've gathered all of your ingredients, add them to a food processor.
Pulse about 10 times to create a crumbly texture.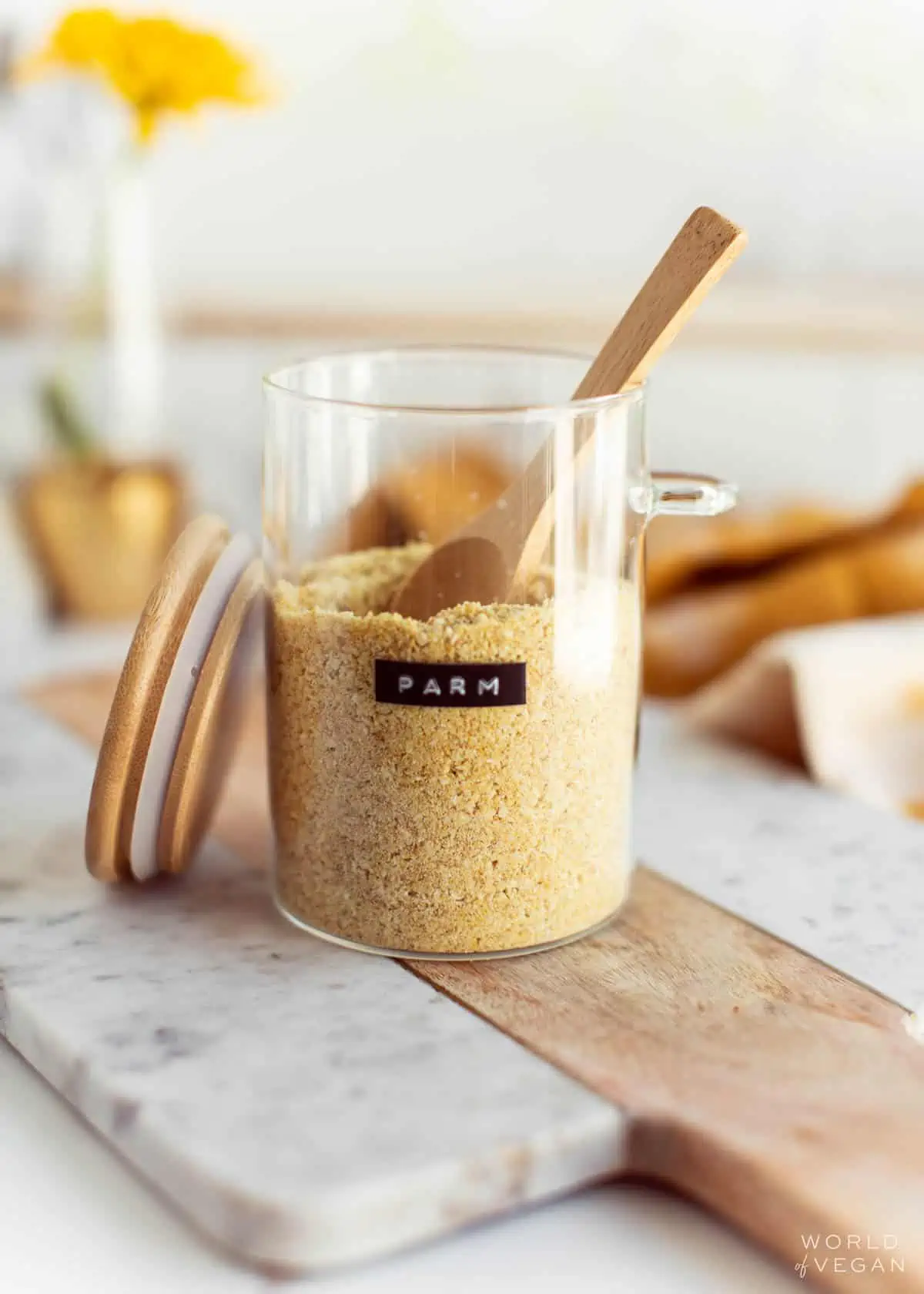 Store the vegan parmesan in an airtight container at room temperature. Keep it handy so you can sprinkle over popcorn, bread, tofu scrambles, pasta, bread, soups, and veggies! If you loved this plant-based spice recipe, you must give this Homemade Chipotle Seasoning a try.
Servings 5 -6 servings (about 1½ cups)
1 cup raw cashews
¼ cup golden flaxseed meal, or grind golden roasted flaxseeds in coffee grinder — or if you don't have ground flax, you can use more cashews instead
¼ cup nutritional yeast
1 teaspoon salt
¼ teaspoon garlic powder
⅛ teaspoon smoked paprika
⅛ teaspoon onion powder
In a food processor, add the cashews, golden flax meal, nutritional yeast, salt, garlic powder, smoked paprika, and onion powder. Process and pulse around 10 times until you have a crumbly consistency that's mostly powdery with some little chunks.

Place in a sealed container or parmesan shaker and store on the counter at room temperature.
Calories: 243kcal | Carbohydrates: 14g | Protein: 9g | Fat: 18g | Saturated Fat: 3g | Polyunsaturated Fat: 5g | Monounsaturated Fat: 8g | Sodium: 588mg | Potassium: 354mg | Fiber: 5g | Sugar: 2g | Vitamin A: 31IU | Vitamin C: 0.2mg | Calcium: 38mg | Iron: 3mg