Lover of vegan latkes? We don't blame you! These scrumptious shredded potato patties are seriously addictive. Super crisp and fried to perfection, these glorious bites are traditionally gobbled up around the holidays during Hanukkah as soon as they're out of the frying pan.
If you were ever intimidated by attempting such a recipe, fear no more! With just 5 simple ingredients and some oil, you'll have luscious vegan latkes on your plate in less than 10 minutes. We give you permission to be selfish, in case you don't want to share. 
Latkes are traditionally served with sour cream and applesauce, but the caramelized onion dip recipe we've included below is the icing on the potato pancake. This creamy concoction has just the right balance of sweet, sour, and savory. It's best made the night before so that the flavors can meld and marinate together. Totally worth your time, though!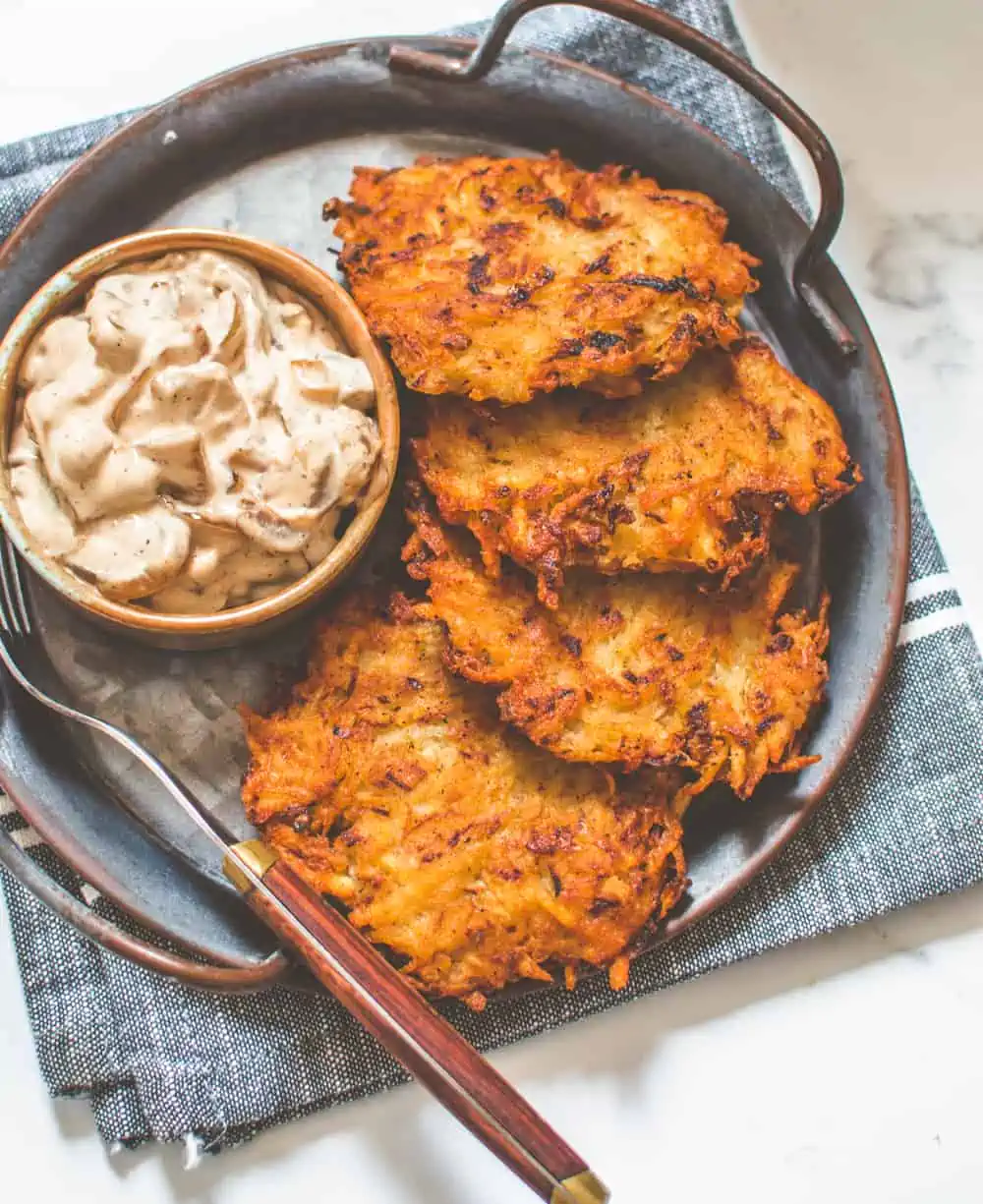 More Vegan Hanukkah Holiday Recipes & Guides
Learn about Potato Latkes
Pronounced "laat kuhz," this heavenly holiday food is traditionally served at Hanukkah to celebrate the reclaiming of the Temple of Jerusalem by the Jewish community from Syrian-Greek king, Antiochus.
The 8 day candle lighting ceremony symbolizes the number of days they received from a single day supply of oil when rededicating their temple. Because this temple was the holiest of Jewish places, the miracle of the eight days was a time of triumph with familiar and festive food for all.
This time-honored recipe usually includes eggs, but our vegan latke version omits this ingredient and is all the better for it! It's amazing how some ingredients are entirely unnecessary for keeping a fantastic flavor. A tip for keeping your potatoes piping hot is to place them on a baking sheet in the oven on a low temperature (less than 200 degrees F) between batches.
Divine desserts served with latkes at any vegan Hanukkah celebration include:
Consider creating a dairy-free meal beforehand with a mouthwatering Mushroom Stroganoff, tempting Tofu Feta Salad with Candied Walnuts, and a slice of our Super Easy Cheese Log.
Pass the Potatoes and Simple Substitutions
Though this potato recipe is perfect on its own, there are a few vegan variations that you can adopt, if you wish.
Substitute shallots for onions for a slightly garlicky flavor.
Switch out the dairy-free sour cream for some sweet applesauce as a side.
Swap sweet potatoes for russet potatoes if you want some extra sweetness.
Try our spicy Sriracha Mayo as a delightful dip!
Choose peanut oil instead of canola oil for an extra depth of flavor.
Leave the peels on the potato for additional fiber and color.
One Take on this Jewish Tradition
Stephanie Dreyer, the creator of this recipe, shares her thoughts on this traditional Hanukkah holiday favorite.

Potato pancakes or latkes are a traditional Hannukah food fried in oil and topped with sour cream or applesauce. Try this "chip and dip" vegan latke recipe for a fun twist on the traditional Jewish holiday favorite, featuring this decadent caramelized onion dip.

The holidays are a time to indulge and this dip does just that. The crispy fried tastiness of the latke makes it's a natural chip for the onion dip, creating a fun, new way to eat your latkes this year. Of course, if you want to eat them traditionally, they'll taste equally as well with a dollop of the dip on top instead!

Leftover Potato Latkes?
Latkes are always best enjoyed fresh. But any leftover vegan latkes can be stored in a covered container in the fridge for a few days. Longer than that and the potatoes may become sadly soggy and could go bad. If you think you might not be able to eat them soon enough, just pop them in a freezer-safe bag in the freezer for up to a few months.
To reheat out of the fridge, pop them back on the frying pan or place the latkes on a parchment paper lined baking sheet in the oven for 10-15 minutes at 350 degrees. Keep an eye on them, just in case your oven runs on the hot side. If you'd rather do a quick, crispy revival, place them under the broiler for a few minutes until the tops are golden again. If frozen, make sure to thaw overnight in the fridge or microwave on the defrost setting before baking.
Leftover latkes are delicious on their own, but also are delightful along with our Easy Vegan Chili, Vegan Waffles, or Squash & Cauliflower Soup. You could also try dipping them in a bit of Baba Ganoush Dip, Roasted Beetroot Hummus, or Tomatillo Salsa!
For the potato latkes
1½ pounds russet potatoes, (2 medium to large potatoes)
1 medium yellow onion
½-¾ cup flour
2 teaspoons salt
¼ teaspoon freshly ground black pepper
Canola oil, for frying
For the caramelized onion dip
2 large yellow onions
3 tablespoons vegan butter
¼ cup canola oil
¼ teaspoon cayenne pepper
1 teaspoon sea salt
½ teaspoon black pepper
4 ounces vegan cream cheese
½ cup vegan sour cream
½ cup vegan mayonnaise
To prepare the potato latkes
Slice the potatoes and yellow onion into wedges to fit into a food processor feeder tube, and process with the shredder blade. Using a kitchen towel, squeeze out excess liquid from the potatoes and onions.

Place the onion and potato mixture in a bowl and add ½ cup of the flour, salt, and pepper. Mix well. Add more of the flour if the batter is too wet and not sticking together.

In a large skillet over medium heat, heat a thin layer of oil. Take a heaping tablespoon of batter and flatten it with your hands, patting it into a pancake, before gently placing it in the hot oil. Continue doing this for as many latkes that can fit in the pan without crowding. Fry until golden brown on both sides, turning once, about 8 minutes total.

Repeat with remaining potato mixture, adding more oil as necessary. Remove cooked potato pancakes to paper towels to drain.
To prepare the caramelized onion dip
Cut the onions in half, and slice them into thin half rounds.

Heat the vegan butter and oil in a large saute pan on medium heat. Add the onions, cayenne, salt and pepper and saute for 10 minutes.

Reduce the heat and cook for another 20 minutes or so. Stir occasionally, until the onions are brown and caramelized. Remove from heat and allow to cool.

Place the cream cheese, sour cream, and mayo in a food processor. Combine until smooth.

Stir in the onions and taste for seasonings.
Calories: 516kcal | Carbohydrates: 44g | Protein: 6g | Fat: 36g | Saturated Fat: 6g | Polyunsaturated Fat: 6g | Monounsaturated Fat: 9g | Trans Fat: 1g | Sodium: 1491mg | Potassium: 589mg | Fiber: 4g | Sugar: 6g | Vitamin A: 38IU | Vitamin C: 12mg | Calcium: 46mg | Iron: 2mg
We want to thank our amazing recipe tester, Anna Sparks!
Vegan Latkes recipe by Stephanie Dreyer. Photos by Zhoro Apostolov for World of Vegan. Content and photographs copyright of World of Vegan™, all rights reserved.