When you're just starting a plant-based lifestyle, you might have days when you struggle. And that's okay! Just do your best to be prepared for those moments when the hunger strikes and you don't have anything vegan-friendly at-the-ready. That's where quick go-to recipes you can prepare in a hurry come in handy! And this sweet potato soup is one of those, so make sure you add it to your collection.
This sweet and slightly spicy soup is so comforting and filling you'll make it on repeat! Sweet potatoes, carrots, ginger, and your favorite fresh herbs. So simple and so easy!
One-Pot Wonders!
Okay…it's no secret that we love meals that can be made in one pot (like our beloved one-pot pasta). Imagine, you just cut up your veggies, throw them in your pot, and wait for it to cook.
Food ready and only one pot to clean up. Amazing!
Sweet Potato Powers!
We all know veggies are good for us, but some of them are super good for us! The ones I used in this soup are pretty special.
Sweet potato (the star of this recipe!) is full of amazing benefits. The sweet orange skin is full of vitamin A and C. They are great anti-inflammatory food and can even help to regulate blood pressure.
One of the sweet potato superpowers is their amazing antioxidant called beta-carotene. This little magic compound has the power to convert into vitamin A once it's eaten. Beta-carotene is mostly found in orange veggies like carrots and, of course, sweet potatoes. To increase its absorption, add a drizzle of olive before serving. Yummy and pretty cool, right?
Ginger To The Rescue!
Ok, I know ginger is not strictly a vegetable but the root of a plant. But I simply couldn't leave it out because ginger has so many magical features! To name a few:
It has been known to help with nausea, especially morning sickness! Try those ginger drops to help your queasy stomach.
It can also help reduce muscle soreness. What about a ginger infusion after that unusually long run? Just slice some ginger (no need to peel it!), add it your mug, and pour some hot water on top. Squeeze half a lemon and add a drizzle of maple syrup!
Consuming ginger can be amazing when you're feeling a bit under the weather. When you feel slightly strange like a cold might strike soon, ginger is your best friend! Make a nice ginger tea or add some to your morning juice.
Although ginger has a very intense flavor, you don't need to use much of it. Another excellent plus is ginger lasts a long time if you store it in your fridge (even better if you do so in a container).
If you still not a fan of this powerful root, just leave it out. Trust me, you can add any of your favorite veggies to the mix, and this sweet potato soup will still be amazing!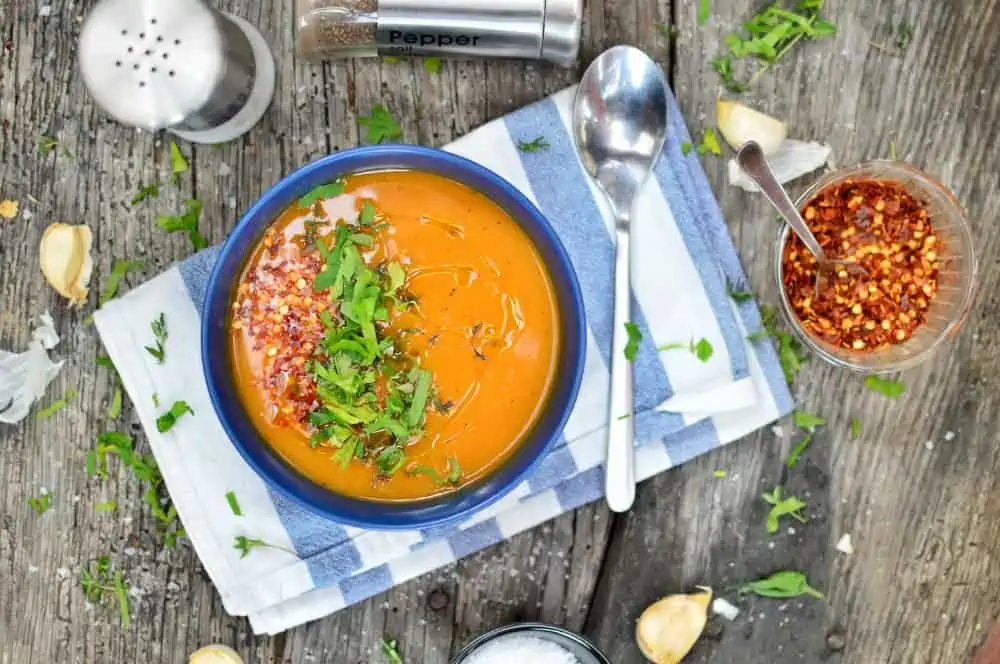 A Soups Perfect Match!
What could we be a good side for this sweet potato soup? A typical companion would be a slice of toasted bread. Can you think of others?
To make this a complete meal (if you're feeling hungrier than usual) I would add some spicy roasted chickpeas. How to make them?
Drain a can of chickpeas (save the brine for a future aquafaba recipe!) and put them on a bowl.
Add some ground chili, cumin, sea salt, nutritional yeast, a tablespoon of maple syrup and a drizzle of olive oil. You can use some tahini if you're looking for a nuttier flavor.
Mix it all up and make sure the chickpeas are coated with the spices.
Place them on your oven tray evenly in one layer and roast them for 35 minutes.
Ready to add on top of our sweet potato soup! So good!
A little tip: you can snack on these as they are, too!
Another way to complete this soup would be with some roasted cauliflower on the side. Place your cauliflower florets on an oven tray and add the same spices and ingredients from the chickpeas and roast for 45 minutes or until golden and crispy.
Are you planning your next plant-based soup meal yet? Try this one! You won't regret it!
For The Love Of Root Vegetables
As a young boy, I didn't like eating many veggies. Especially root vegetables! I only accepted carrots because they always grew in our garden, and they somehow fascinated me. As a little boy, I couldn't believe that they grew hidden on the ground and then this bright orange veggie came out tasting so good and sweet.
Recently, I started experimenting with different types of root vegetables, and I'm so happy I did! They are a world of their own—so many amazing flavors and textures.
One of my favorite ways of eating root vegetables is to roast them in the oven! Some parsnip, sweet potato, onions, and carrots with some fresh rosemary, sea salt, and chili flakes. Wow! You have to try it!
3 cups sweet potato
1 cup carrots
½ red onion
1 clove garlic
1- inch piece of ginger, peeled
6 cups water
½ teaspoon salt
½ teaspoon pepper
¼ cup roughly chopped fresh parsley
Chili flakes, optional, for garnish
Fresh thyme, optional, for garnish
Cut the sweet potatoes and carrots into 1-inch chunks. (There is no need to remove the skin of the sweet potato.)

Roughly cut the onion and garlic. Slice the ginger into thin slices.

Add them all to your pot.

Now add 6 cups of water, salt, and pepper and bring to a boil.

When the soup starts boiling, lower the heat and let it simmer for 40 minutes until all the vegetables have softened.

Using an immersion blender, blend until smooth. If you don't have an immersion blender, you can pour the soup ingredients into a blender and blend until creamy that way!

Serve hot, garnished with parsley, and if desired, red pepper flakes and thyme.
Calories: 109kcal | Carbohydrates: 25g | Protein: 2g | Fat: 0.2g | Saturated Fat: 0.04g | Polyunsaturated Fat: 0.1g | Monounsaturated Fat: 0.02g | Sodium: 388mg | Potassium: 493mg | Fiber: 4g | Sugar: 6g | Vitamin A: 19815IU | Vitamin C: 11mg | Calcium: 62mg | Iron: 1mg
Will My Kids Love This?
Would you believe me if I told you that as a child I didn't like creamy, silky smooth soups? Yep—like every child, I had my likes and dislikes when growing up. Now when I look back in time, I can't believe how many times I refused to eat something healthy only judging by its color, smell, or texture. Kids are like that; they resist when presented with new experiences and will try to avoid it at all costs. My advice: don't push it.
Always have a veggie platter on the table for dinner and let them reach out for them. You'll be surprised when they start asking for more!
Are you looking for more sweet potato recipes? Check these out!
Sweet Potato Soup photos by Zhoro Apostolov for World of Vegan. Article by Beatriz Buono-Core. Recipe and photographs copyright of World of Vegan™, all rights reserved. Please note that this article contains affiliate links that support our work here at World of Vegan.