Hoping to make the most delicious and easy vegan air fryer recipes? Check out our guide for the best plant based air fryer recipes for breakfast, lunch, dinner, appetizers, and dessert and let your imagination run wild! The time to ditch the deep fryer and start building healthy air frying habits is now, dear friend. Let's go!
So you've ended up with a fancy new air fryer and have no idea what to make with it! Well, dear reader, you are in luck because today we have an entire guide dedicated to bringing you the very best vegan air fryer recipes out there. Whether you're looking for vegan air fryer desserts, vegan snacks, healthy vegan air fryer recipes, or any variation of the former, we've got you covered.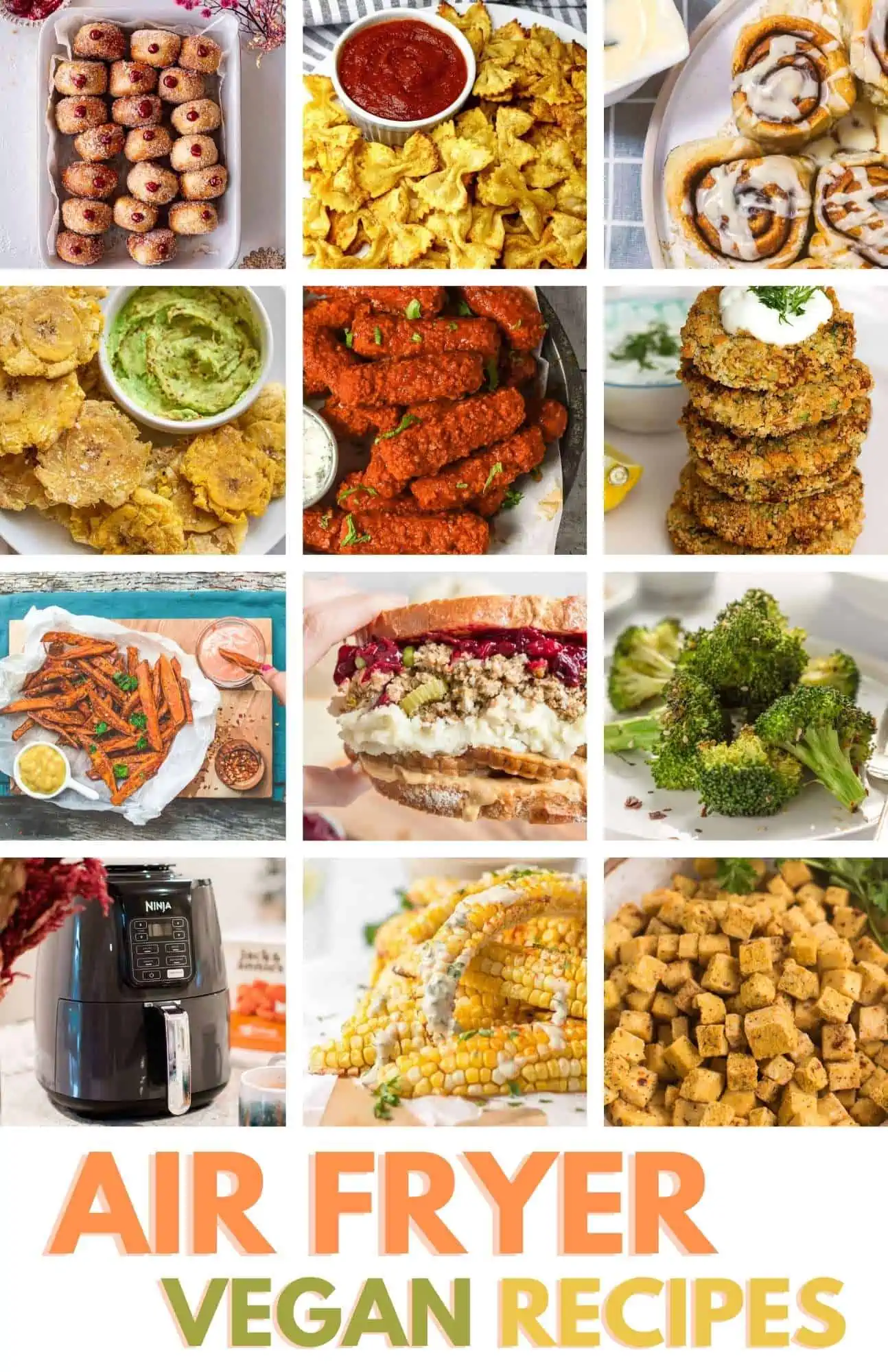 Vegan Air Frying 101 (What Is An Air Fryer & How to Use It?)
If you're new to air frying, you're in good company. Most people have just gotten their air fryers without the past several years and for many, their air fryer sat in the box for months before they pulled it out, tried it, and fell in love. Let us help you expedite that process! But first, what exactly is an air fryer, and how do they work?
How Do Air Fryers Work?
Air fryers have quickly gained popularity and have become a kitchen staple in many vegan homes—and for good reason! This handy appliance cooks food that would normally otherwise be fried with oil, baked in an oven, or heated in the microwave. Air fryers produce a crispy-on-the-outside result with zero oil required—and guess what? Air fried food:
is healthier than deep fried food
cooks about twice as fast as the same food baked in the oven
produces a way more crispy and delicious result than the microwave
It's a win-win-win for health enthusiasts, foodies, busy moms and dads, college students, bachelors, and pretty much anyone who eats food. But how do they work?
Air fryers are essentially convection ovens that work fast, heating and "frying" the food by circulating extremely hot air around whatever is inside. Modern day air fryers are very safe, easy to use, and a great way to save time and cut down oil in cooking.
What's the Best Air Fryer?
There is no one clear winner in the air fryer department, but there are obvious leaders. Here are the most popular and highly rated air fryers. I use the popular Ninja linked below and love it! It has become one of my most-used kitchen appliances.
What Can You Make In An Air Fryer?
The sky is the limit with air frying! While the obvious fries, nuggets, and veggies are the first foods that come to most people's mind, there is so mucch more you can make with an air fryer. Like…
Tofu
Tempeh
Vegetables (broccoli, cauliflower, brussels sprouts, carrots, asparagus, corn, etc.)
Squash (kabocha, delicata, acorn, etc.)
Vegan nuggets
Fries
Burgers
Pasta
Pizza
Sandwiches
Cookies, donuts, cakes
…and on and on. A better question would be: "What can't you make in an air fryer?"
All of The Vegan Air Fryer Recipes Below Are:
vegetarian
plant-based
dairy-free
cholesterol-free
egg-free
kind
delicious
Some of These Vegan Air Fryer Receipes Are Also
gluten-free
soy-free
sugar-free
nut-free
paleo, keto, etc.
and we even have some that are paleo, keto, etc. if that's your thing.
Vegan Air Fryer Snacks & Sides
Like your fries on the sweeter side? Then you've got to try these air fryer sweet potato fries! All you need are four simple ingredients and you'll be on your way to sweet potato paradise. Want more of a meal? Enjoy alongside a veggie burger or wrap!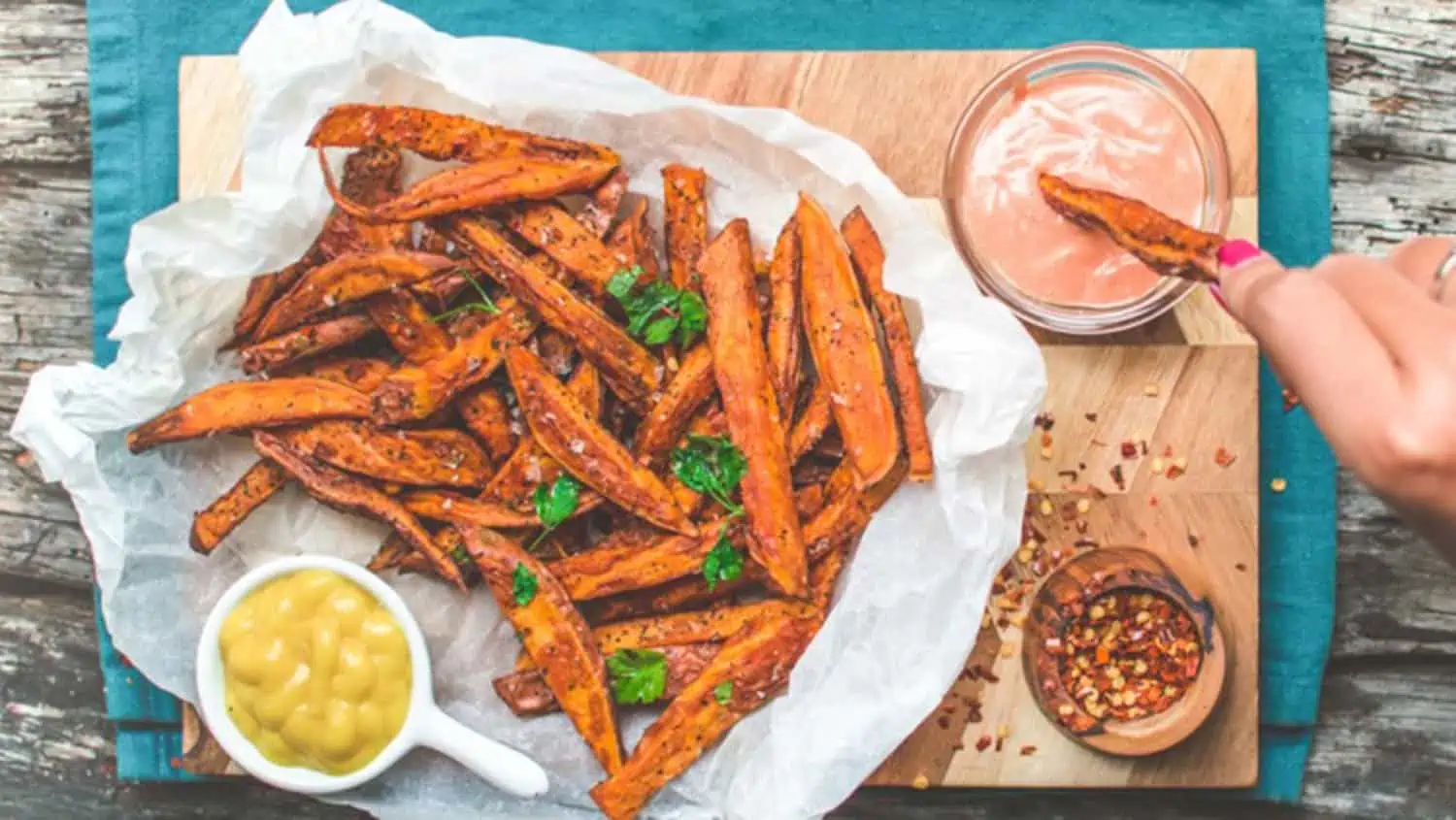 A super easy gluten-free and plant-based air fryer recipe, this air fryer broccoli is packed with flavor and plenty of nutrients. In just 15 minutes you'll have a tasty and satisfying snack that's great on its own, tossed into a soup, or enjoyed alongside a larger dish such as pasta!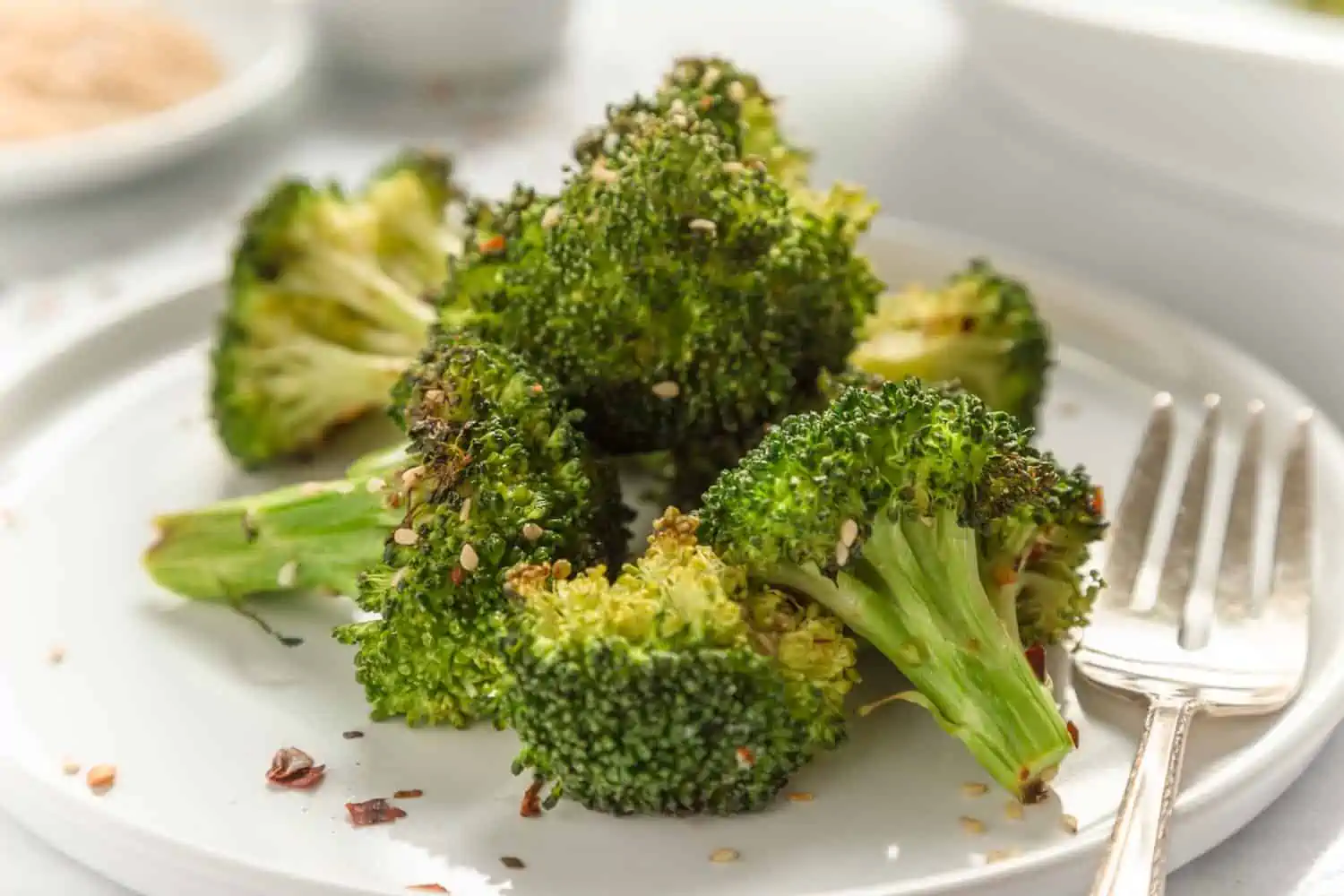 Looking for a protein-packed snack with a crunch? Then you've got to try these air fryer tofu cubes! This plant-based air fryer recipe is great because it's a super unique and new way to enjoy tofu. With seasonings such as red pepper flakes, garlic powder, and salt, you'll never get tired of tofu again!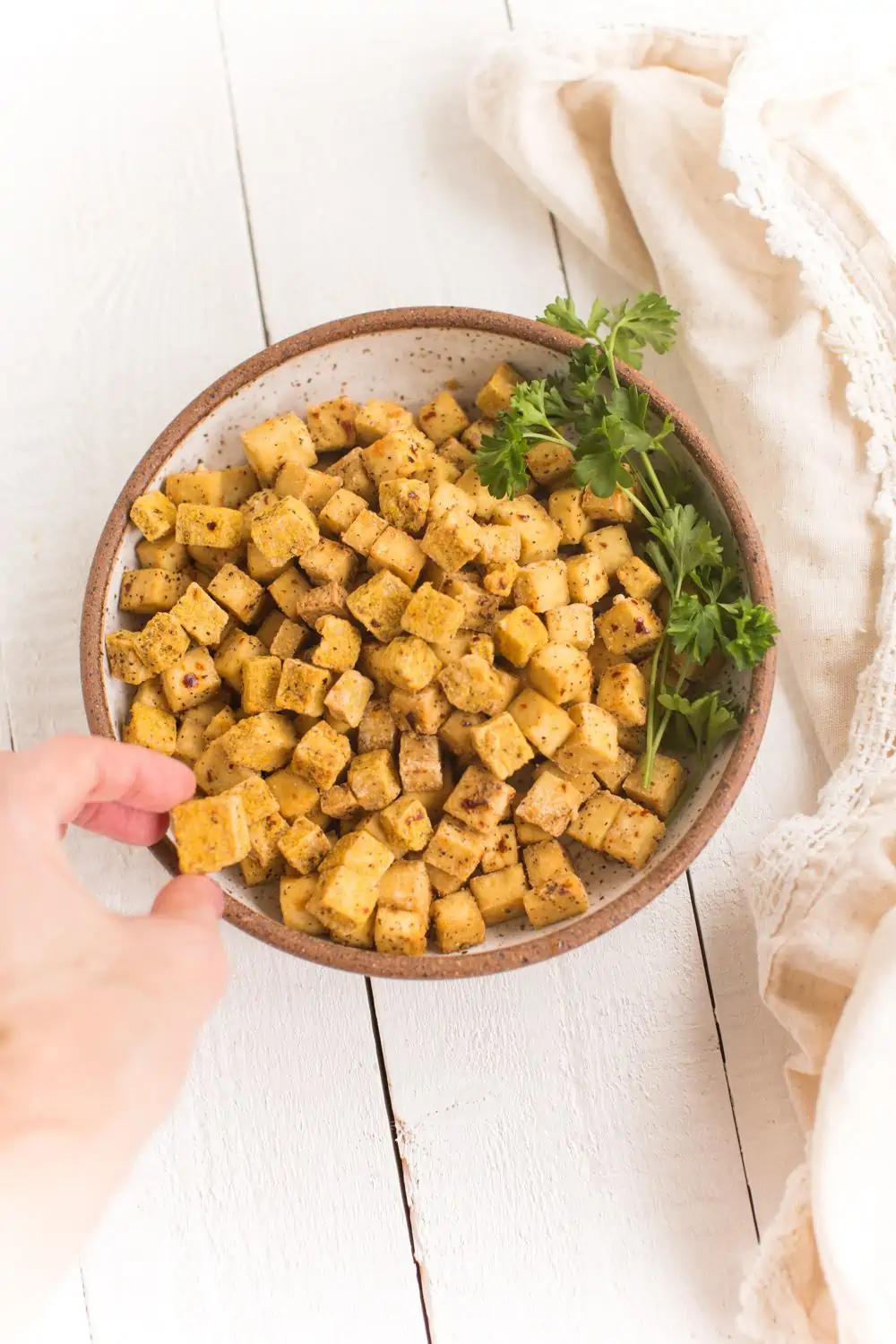 Move over, corn on the cob! This vegan air fryer recipe for chipotle corn ribs is an absolute must-try. Spicy, tangy, and 100% delicious, this is definitely on our list as one of the best vegan air fryer recipes that you could ever try.
Pining for some plantains? These tasty air fried tostones from Plant Based RD will come together in just a few minutes with some salt and oil! Serve alongside avocado and you've got a sizable snack ready to devour.
Our vegan air fryer recipes guide would not be complete without this recipe from Health My Lifestyle for air fried pasta chips! You can use whichever pasta shape you have on hand but smaller shapes such as ziti or farfalle would be ideal. Serve with a side of marinara and enjoy!
Sometimes all you need in life is a huge plate of warm, crispy potato wedges and a side of ketchup to dip into. One of our favorite vegan air fryer recipes, all you need is a russet potato, some spices, and 15 minutes until you have perfect potato wedges to dive right into.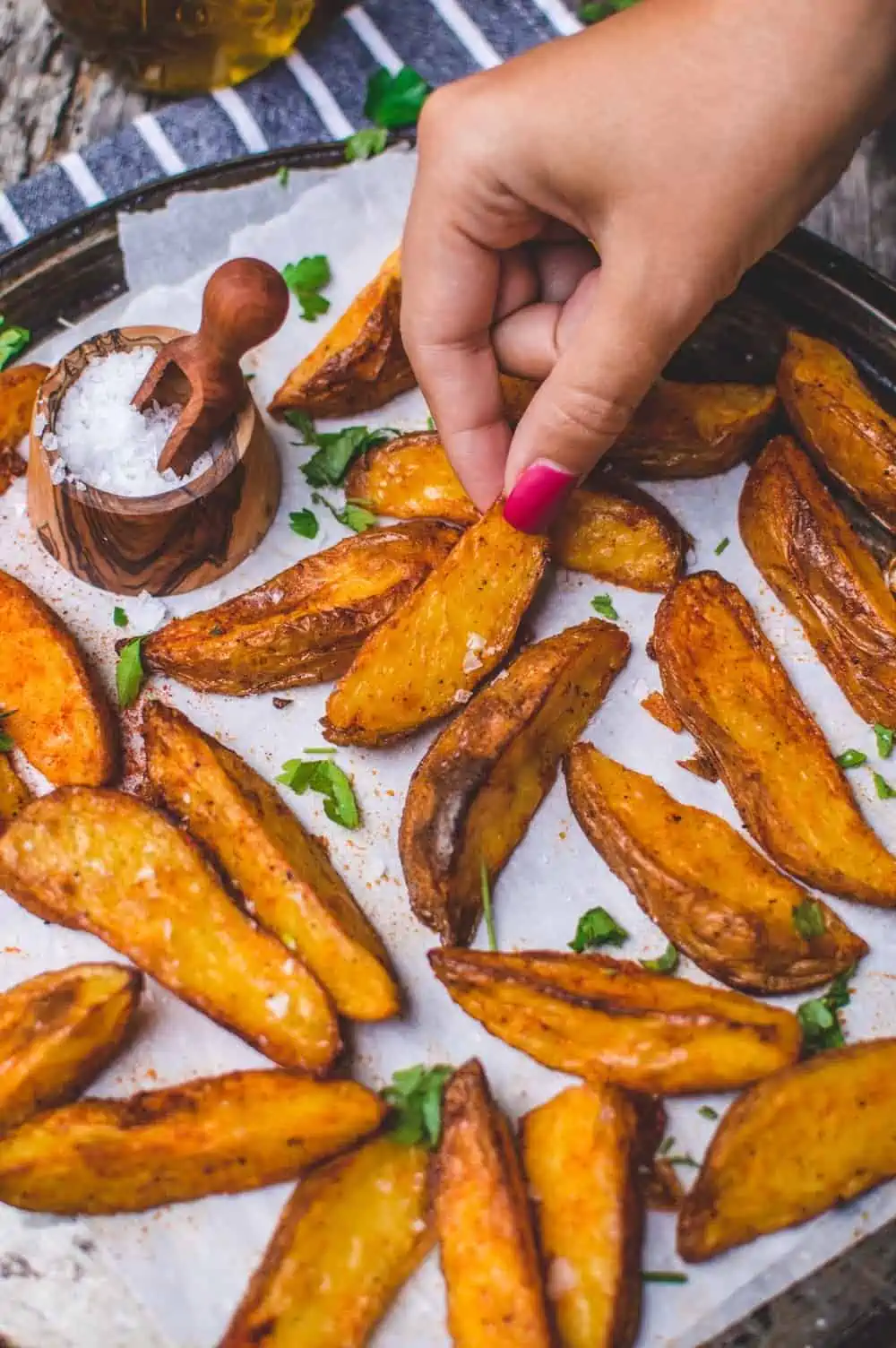 From our friends at Sweet Simple Vegan comes this delicious and brilliant recipe for air fried Brussels sprout chips! Full of fiber and full of flavor, you just need a few common ingredients such as oil, salt, and spice to make this super snack.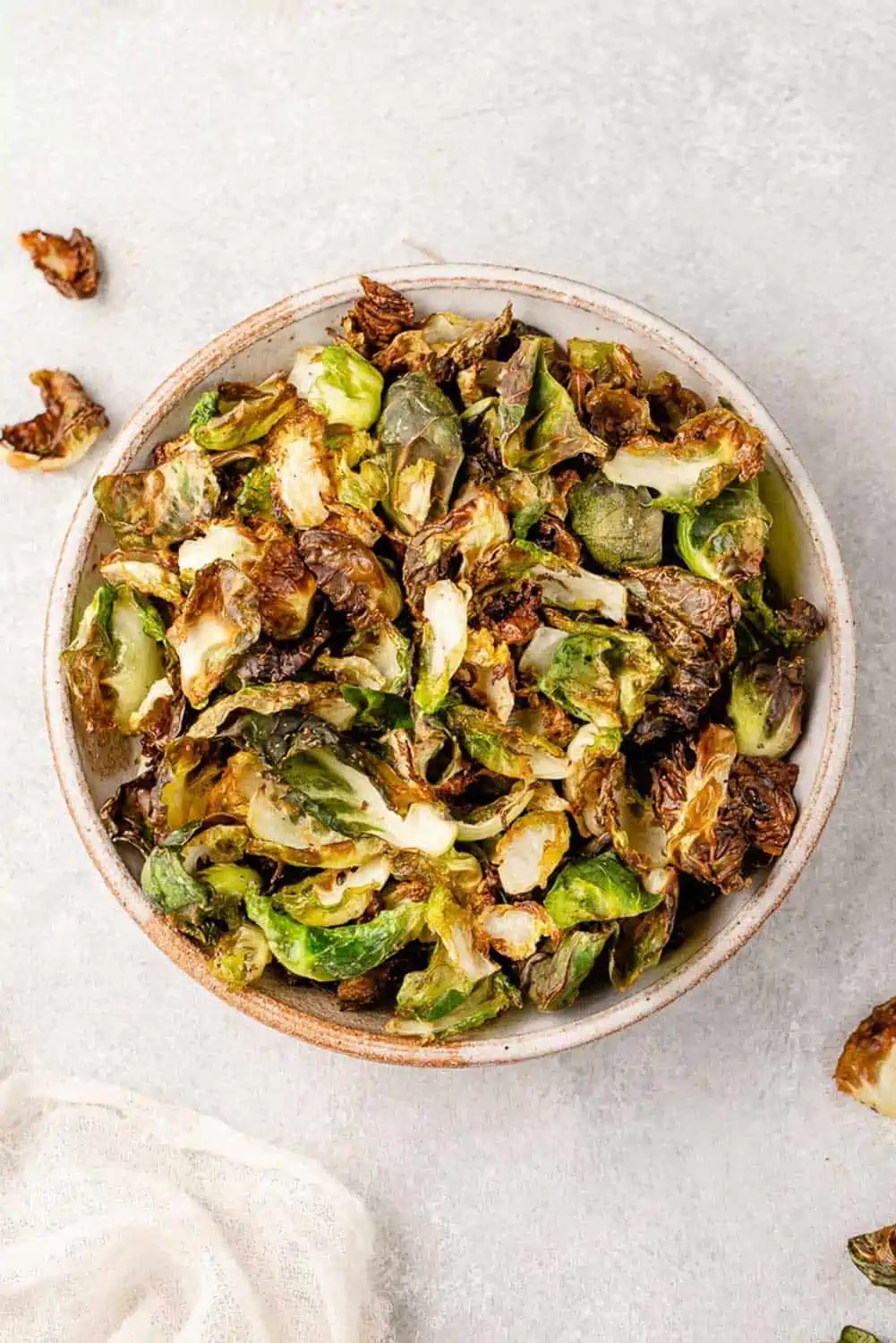 A Southern favorite, these air fryer pickles from Veganosity are perfect for those of us looking for something a bit salty, crunchy, and nostalgia-inducing. With just a few simple ingredients and about ten minutes, you'll be on your way to pickle paradise in about ten short minutes. Enjoy on their own or alongside other finger foods.
These crunchy and satisfying air fried zucchini fritters from The Daily Dish are so good that you'll be dreaming about them! Made with just a few simple ingredients such as zucchini, dill, flour, and breadcrumbs, you only need to pop these in the air fryer for about 15 minutes before popping in your mouth!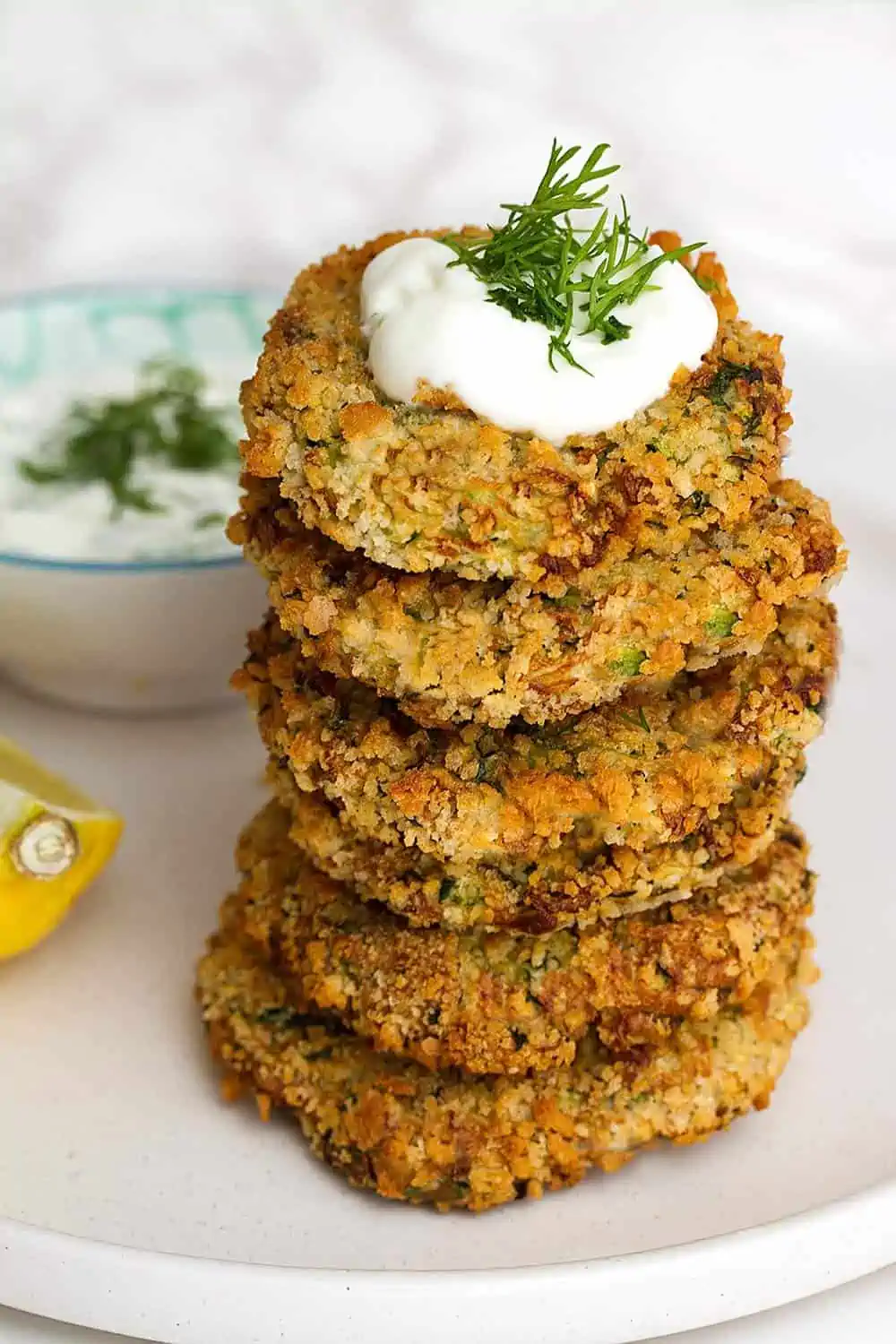 Gluten-free, soy-free, and so ridiculously easy, this vegan air fryer recipe for cauliflower comes from our friends over at Veggie Society. Serve alongside some hummus or vegan queso!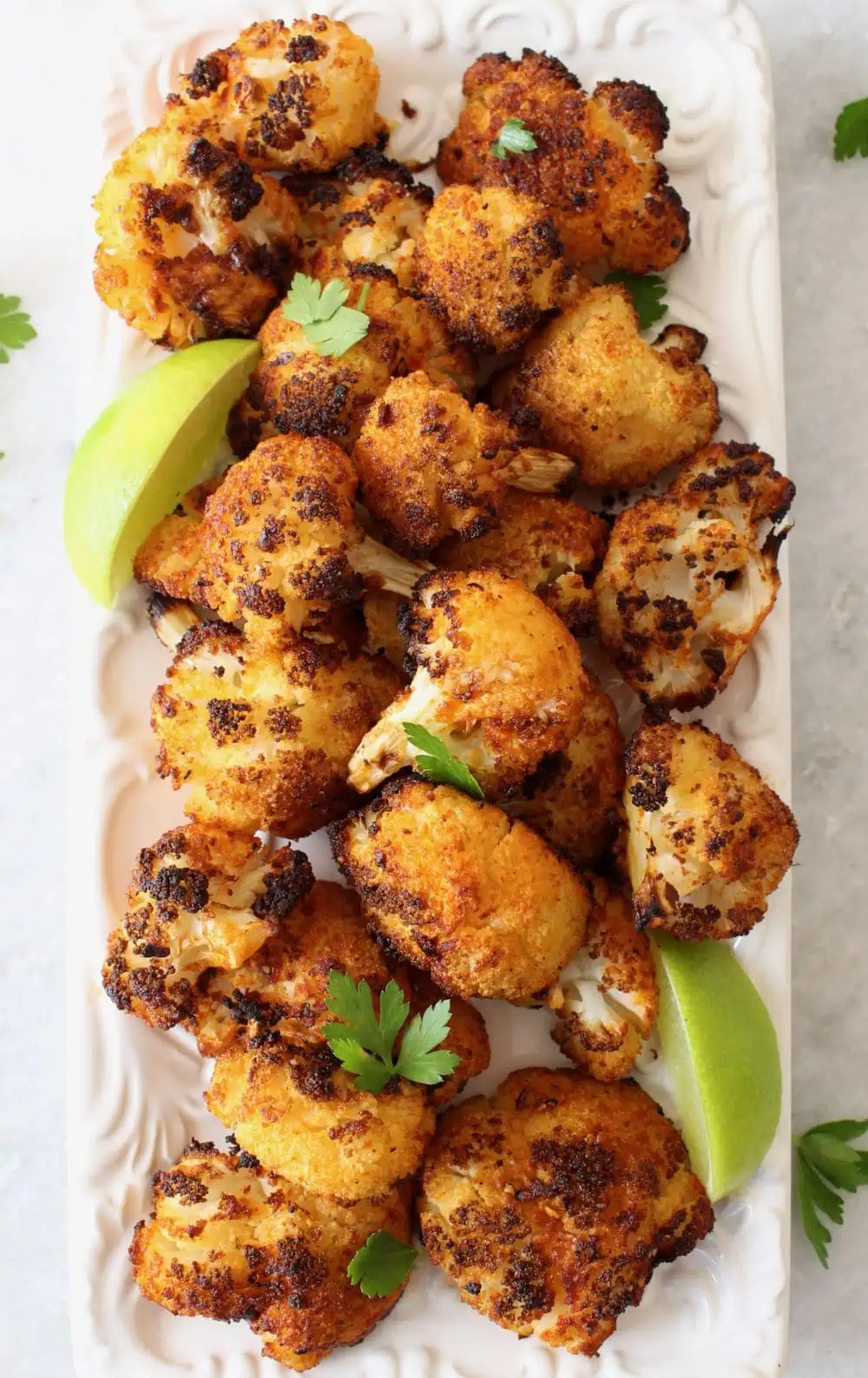 Air Fried Squash
Looking for healthy vegan air fryer recipes? Why not kabocha squash in an air fryer? This method of making squash does involve a few minutes in the microwave but it's a much quicker method than relying on the oven! Keep it simple with seasonings such as salt, pepper, and herbs or get extravagant with toppings like tahini drizzle, pomegranates, or cinnamon!
So much air fryer squash, so little time. Sweet, savory, and full of comforting fall flavor, this awesome recipe comes together in just a few minutes and makes a perfect side to a larger meal or a key ingredient in our Delicata Squash Salad.
Want to try the healthiest spaghetti you'll ever eat? Whip up a quick spaghetti squash in the air fryer. Fluff those noodle-like strands with a fork and top it with your choice of flavorful marinara and fresh basil, a creamy sauce, or even this pad thai inspired peanut dressing. Delicious!
Vegan Air Fryer Lunch & Dinner Recipes
This air fryer sandwich recipe is so good that you may just find yourself making it all year round! Just gather your leftovers between two slices of bread and pop it in the air fryer for about 5 minutes on each side!
Great for game day or truly any day, this recipe for air fried buffalo tofu comes from Shane & Simple. All you need is some tofu, breading, and buffalo sauce to make this super easy plant-based air fryer recipe! Serve with celery sticks and vegan ranch dressing for the ultimate vegan snack.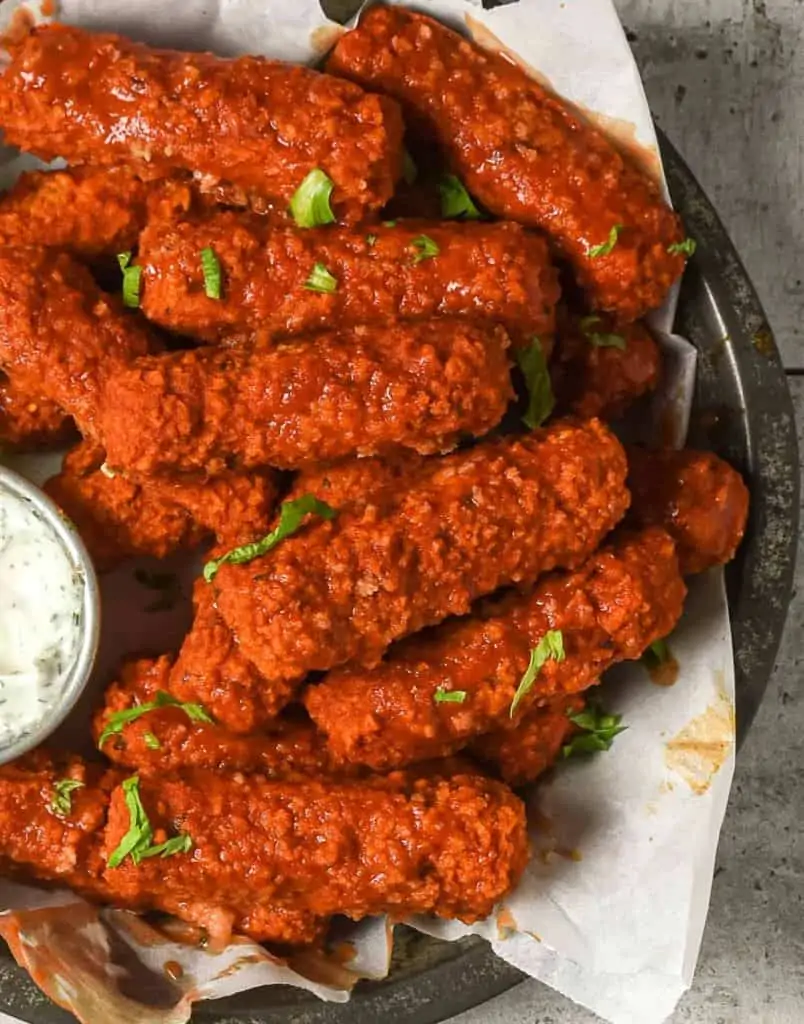 From It Doesn't Taste Like Chicken comes a delicious vegan air fryer recipe for vegan fried shrimp. Get your soy curls and coconut breading ready—it's never been easier to make a vegan shrimp recipe!
There's not much that's more satisfying than making your very own plant-based meatballs. This vegan air fryer recipe from Vegan Yack Attack does require a little bit of cooking but once your lentils are nice and tender, all you need to do is form the vegan meatballs and pop them in the air fryer for about 12 minutes.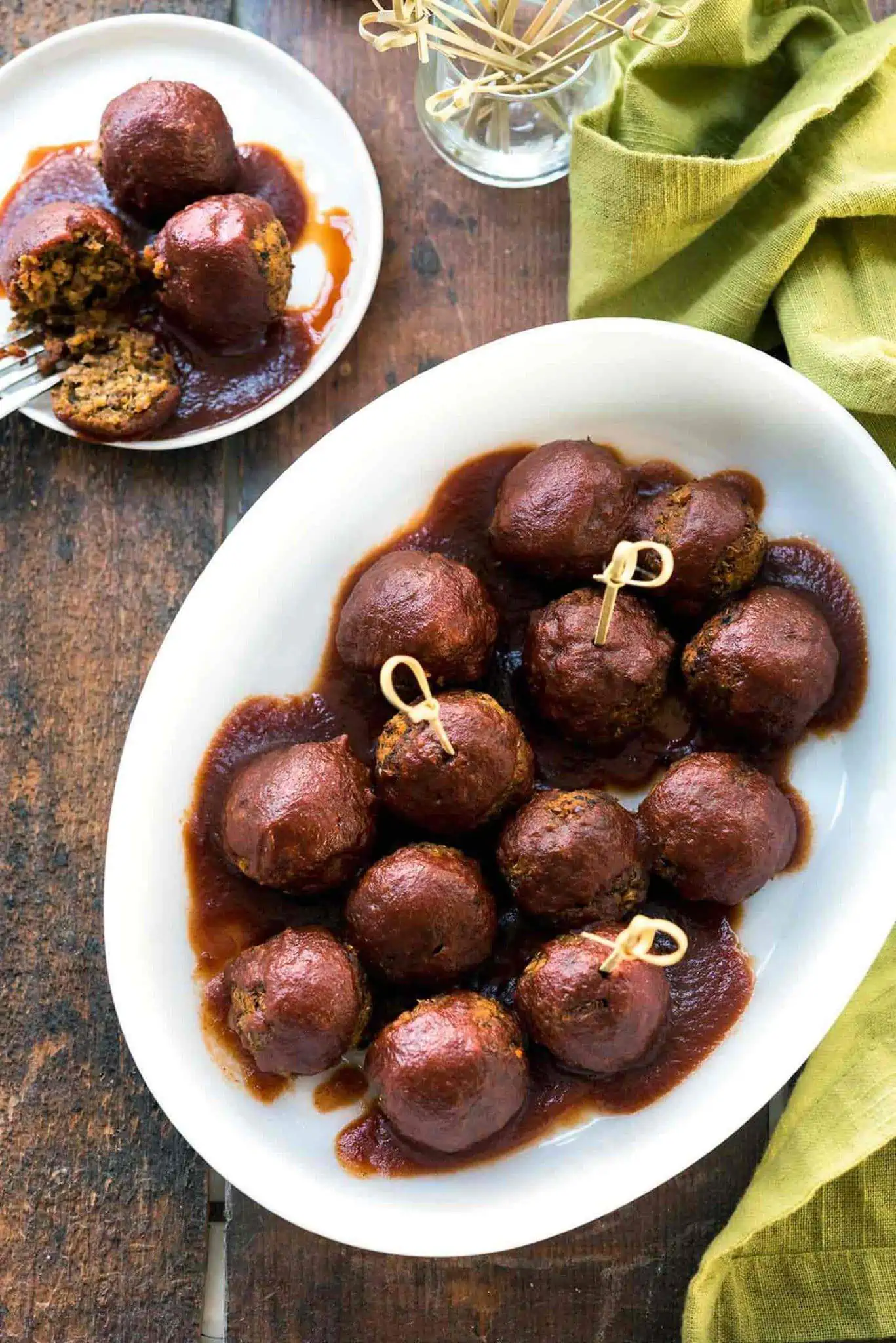 Vegan Air Fryer Breakfast Recipes
Vegan Chilaquiles
Looking for a great vegan air fryer recipe for breakfast? Then you've got to try this incredible air fried vegan chilaquiles recipe by Broke Bank Vegan! Fried corn tortillas smothered in vegan cheese, crema, and salsa will tenaciously delight your tastebuds and have you dreaming of this dish every night before you wake up.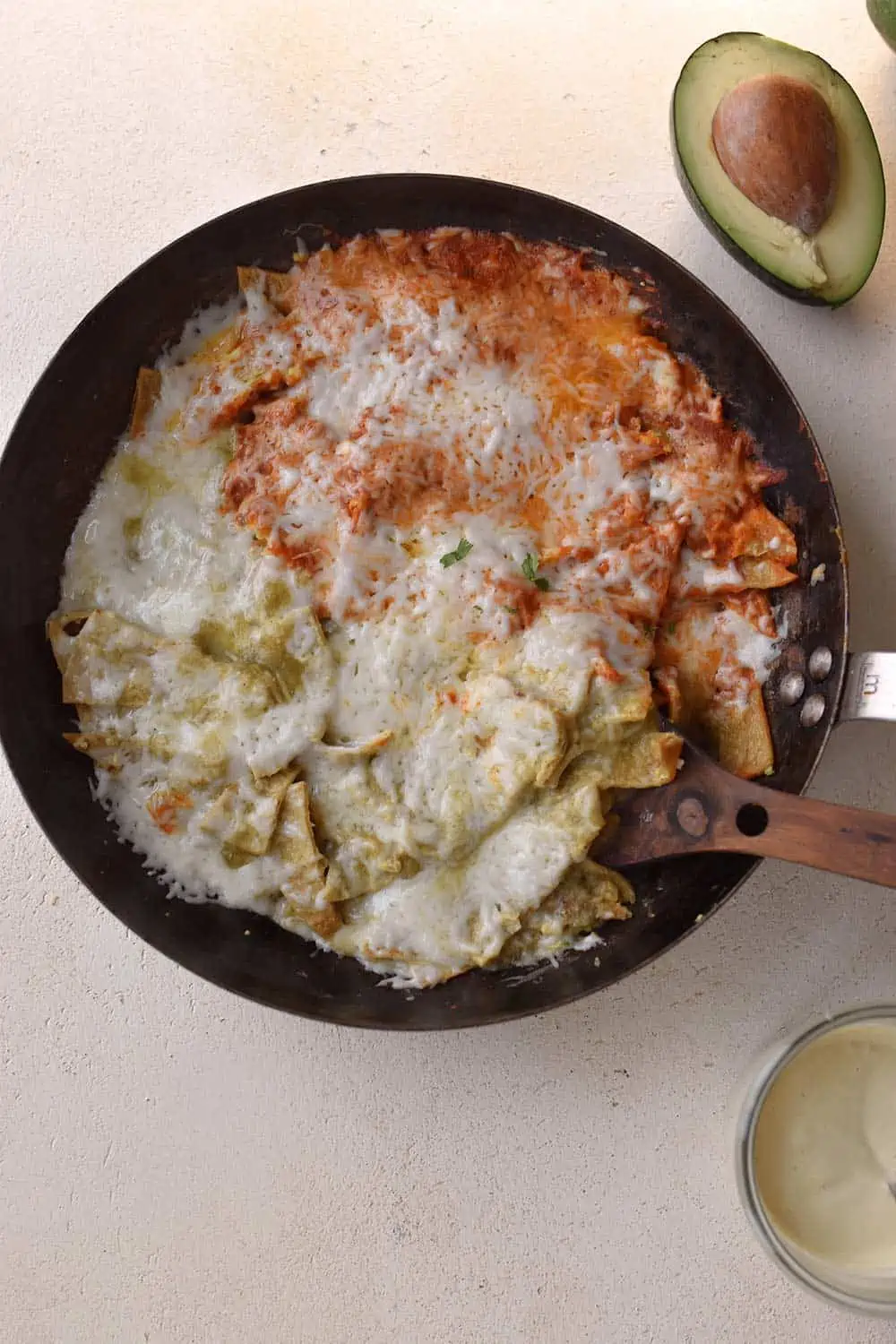 Air fried vegan cinnamon rolls? That's right! This recipe from Rescue Dog Kitchen couldn't be easier and is a great way to add some excitement to your morning routine.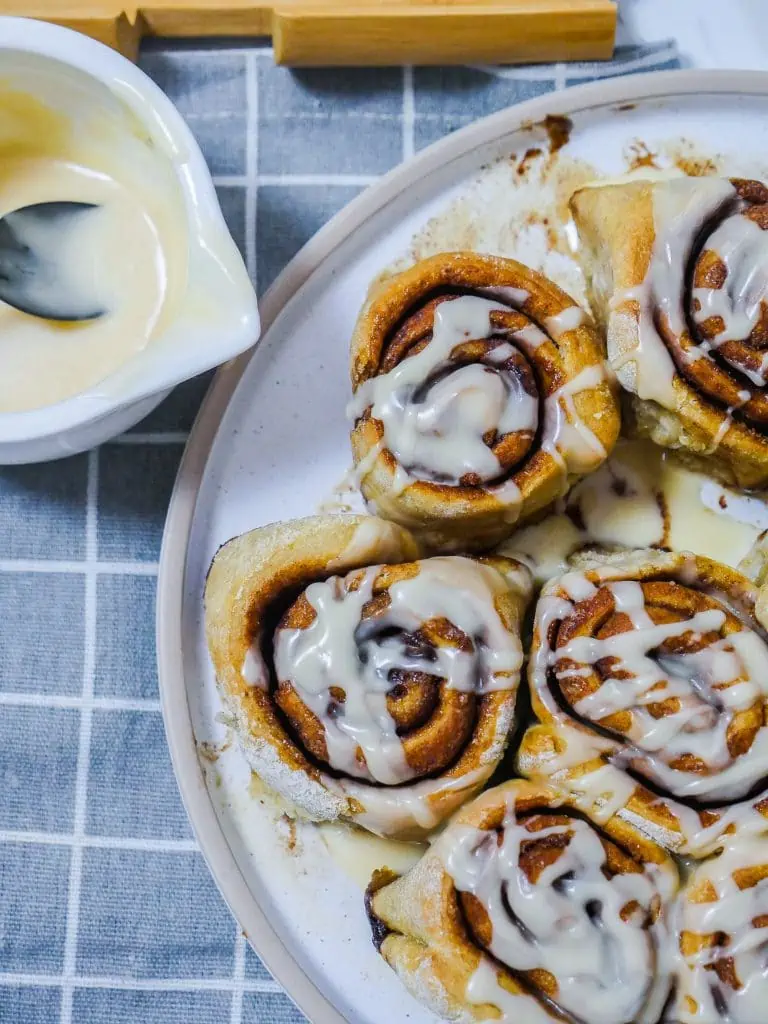 Air Fryer Desserts
Want to make a delicious and easy dessert in your air fryer? Then try these amazing vegan air fryer donuts by Rainbow Nourishments! Perfect for parties or enjoying just because.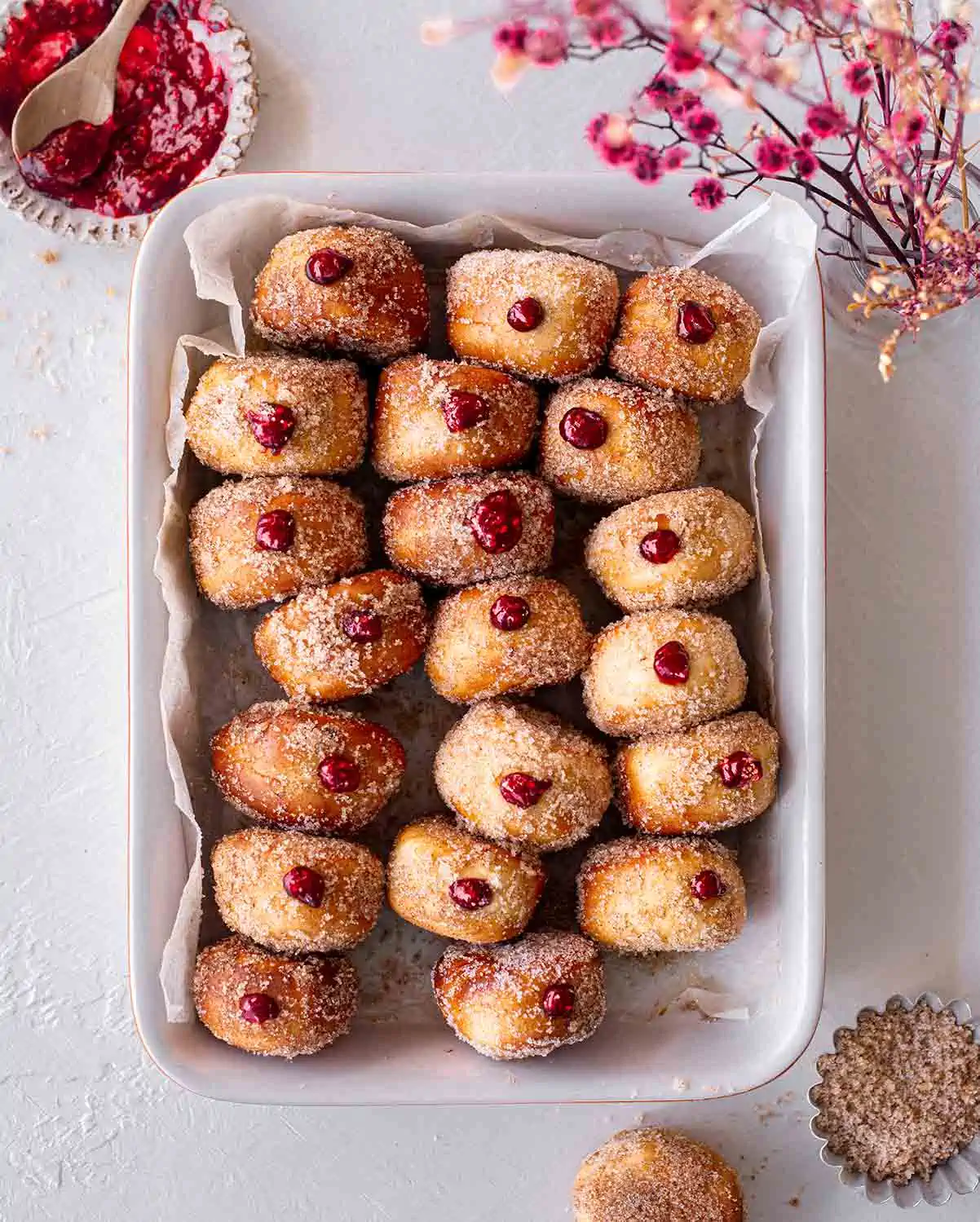 If all you've ever wanted was to make a giant cookie in your air fryer, then you can do that with this awesome recipe from The Edgy Veg! All you need is your own cookie dough, which can either be store-bought or homemade! After about ten minutes, you'll get to enjoy one of the best air fried dessert recipes ever!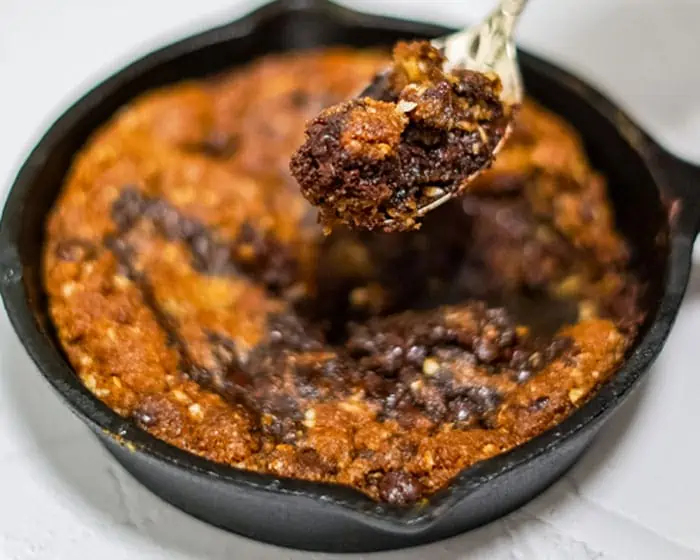 Whether you just got an air fryer or you just need more recipes to try, we hope you are endlessly inspired by our guide! Please let us know if you decide to give any of these amazing plant-based air fryer recipes a try in the comments below and bon appétit!
More Vegan Recipes to Try:
This guide was written by Amanda Meth and edited by Michelle Cehn. Photos by our vegan food blog contributors, shared with permission. Please note that this article may contain affiliate links which supports our work at World of Vegan.