Looking for the best vegan Orlando restaurants? In this article, we share the most popular vegetarian, plant-based, and dairy-free restaurant options in Orlando, Florida. Everything from vegan pizza shops to ice cream parlors, covering you from breakfast through dinner, dessert, and beyond. Ready to discover the best Orlando vegan food near you? Read on!
It really might be the happiest place on earth, and I'm not just talking about the theme parks. Beyond the Magic Kingdom, there's an enchanted land of sun-soaked gardens, over 100 lakes and springs, and a bustling nightlife that could rival the glitziest cities. Escape into nature or indulge in modern amenities here in O-Town, the single most popular travel destination in North America. You'll be in good company as you discover Orlando, Florida.
Feeding such a diverse crowd is a daunting task, but the innovative chefs who call this sunny city their home are up to the challenge. You'll find abundant vegan and gluten-free options everywhere you turn, even in some unlikely old-school eateries. Luckily, you don't have to look too hard when there are plenty of dedicated vegan and vegetarian eateries. Welcoming alternative eaters with open arms—and tables—check out some of the best vegan restaurants Orlando has to offer.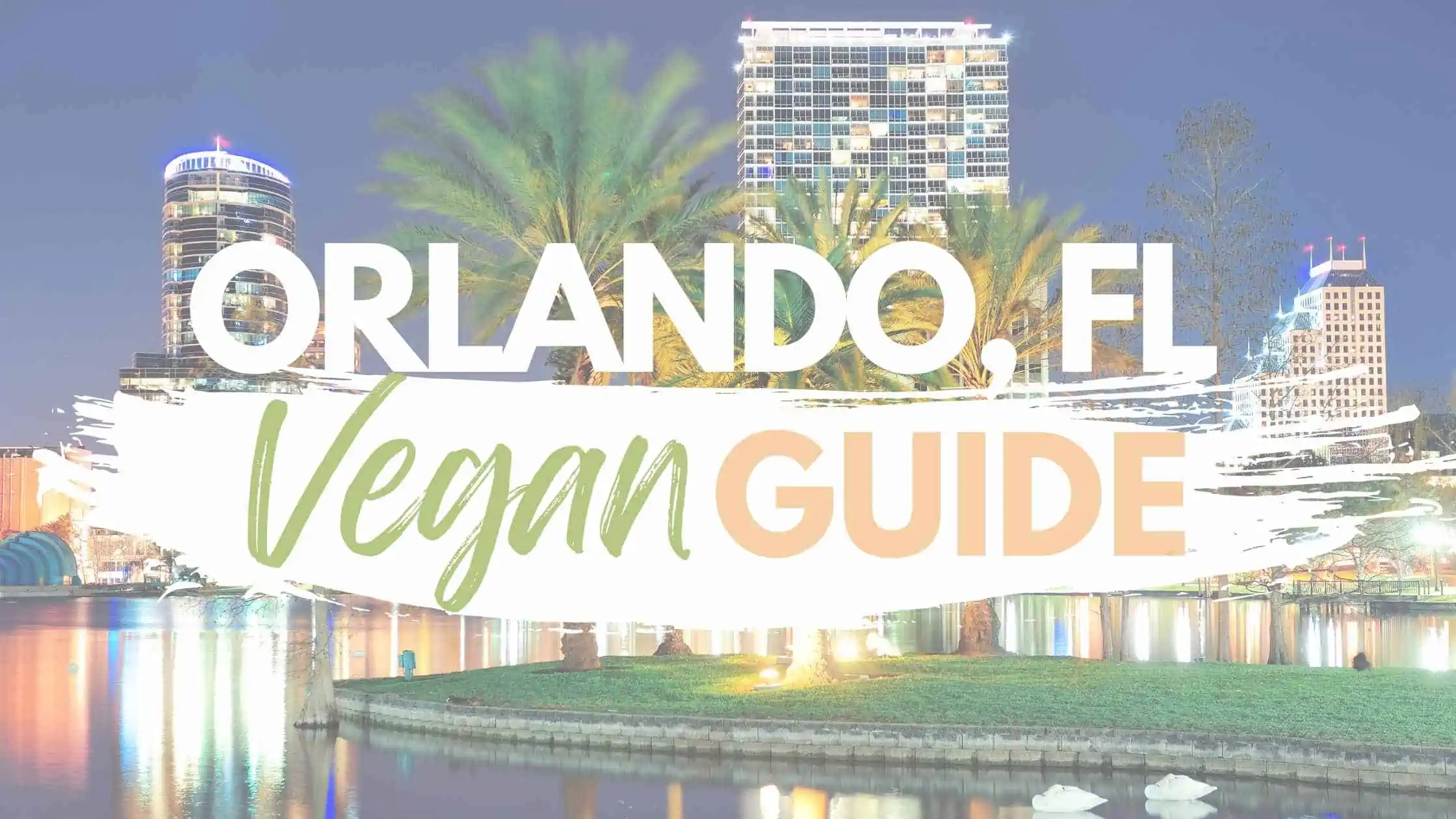 Vegan Diners and Comfort Food
Feed your mind with plant-based comfort food that tastes like nostalgia. From vegan fast food staples that will have you smiling more than a conventional happy meal to vegetarian diner favorites, these meals are always gratifying.
This 100% plant-based pop-up features Joe's Oat Patties and flavored kombucha by the glass or bottle. Aside from their namesake, you should really try the Mac and Cheeze Donutz. The gooey side dish is transformed into crispy rings for hand-held snacking delight.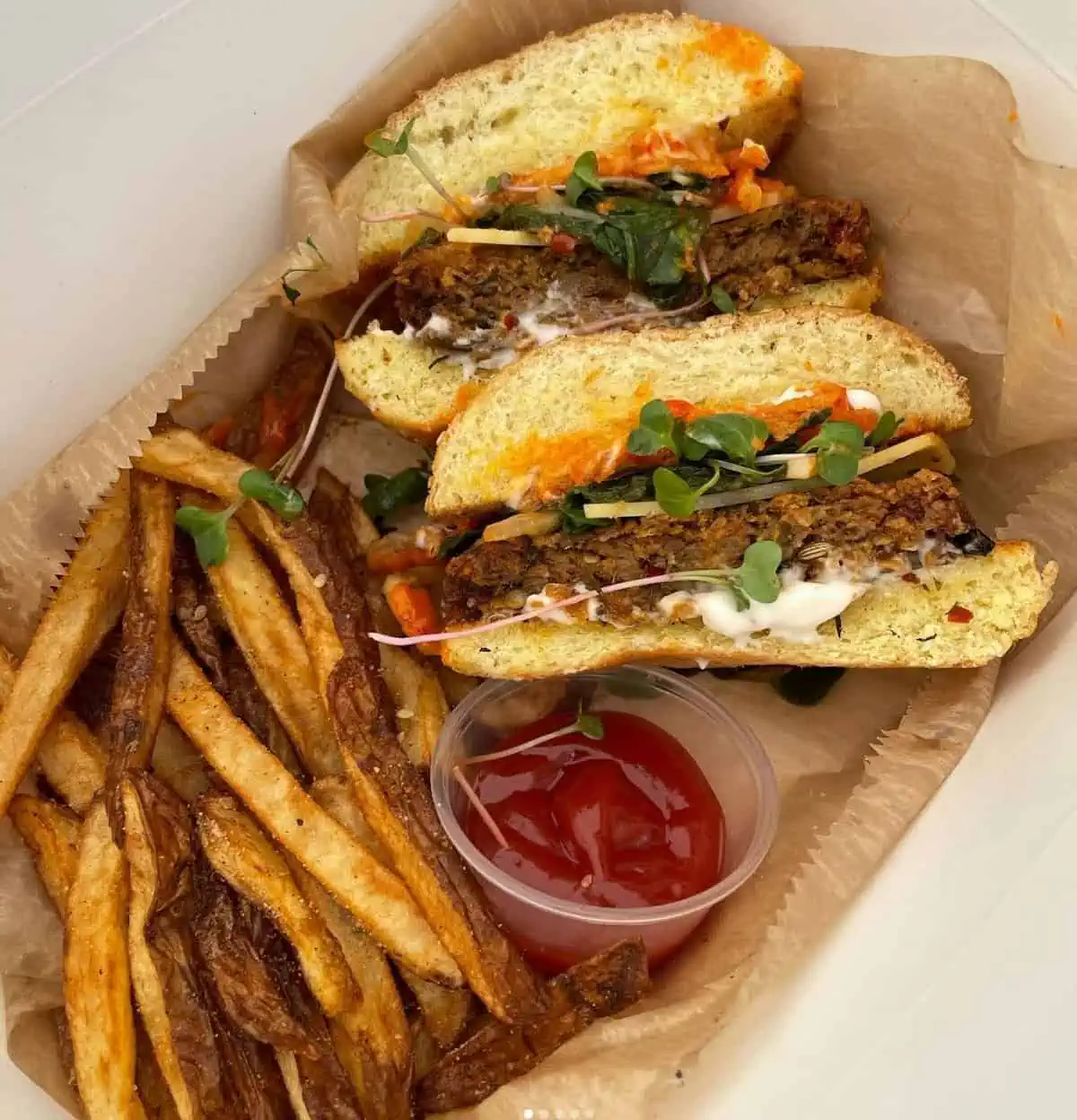 This fully vegan pizzeria offers unique Neapolitan-style pizzas using cashew mozzarella, tofu ricotta, plant-based pepperoni, and Impossible Meatballs. Start with their fire-roasted cauliflower bites with vegan ranch, or the cheezy bread with vegan parmesan.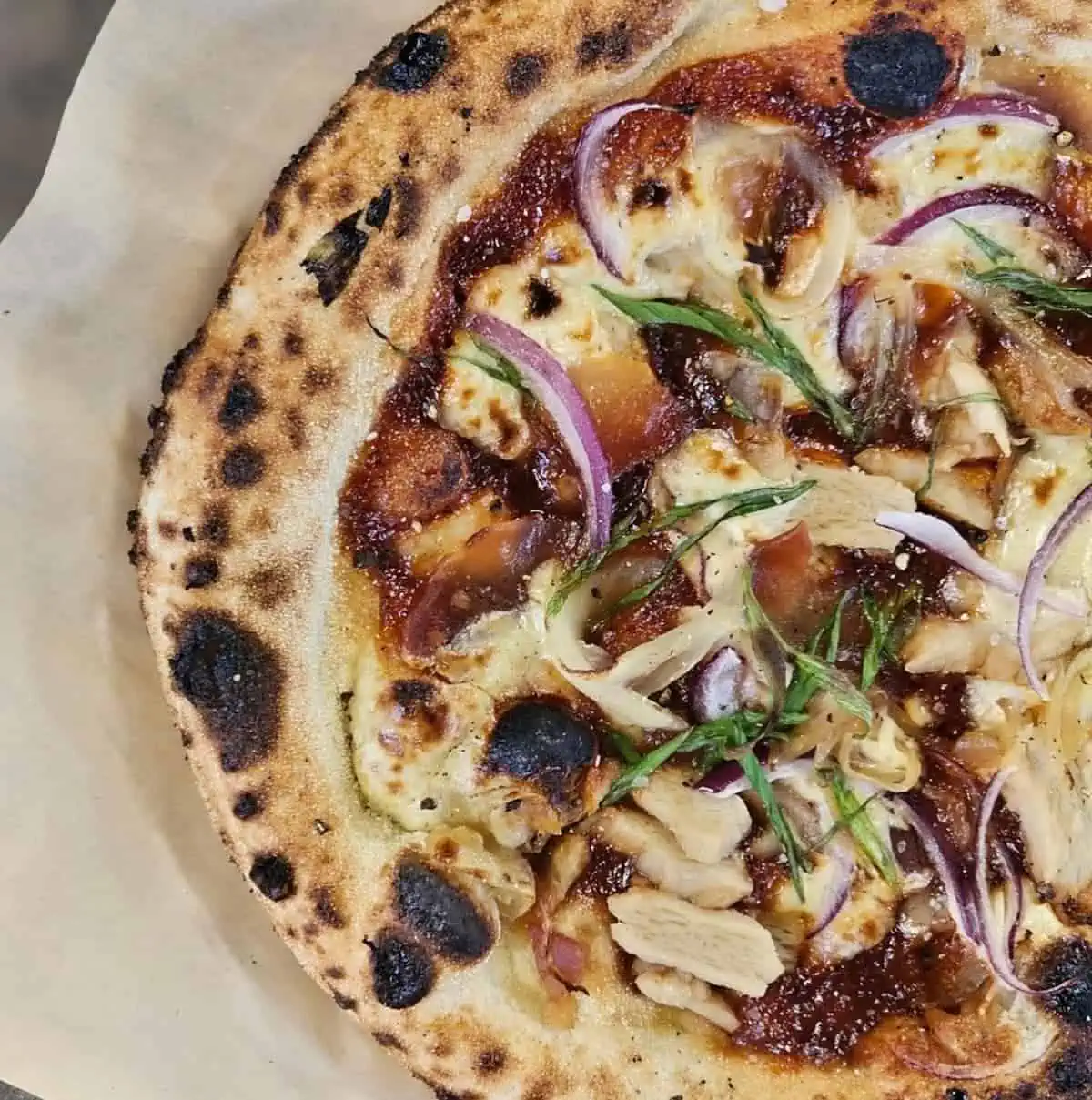 Exactly as the name implies! This modest pushcart has a short but solid menu of meatless hot dogs loaded with creative finishing touches. When it's late, you've had a few drinks, and you need a hearty bite to eat, nothing beats the "old reliable," positively dripping with chili and cheezy sauce for about $5.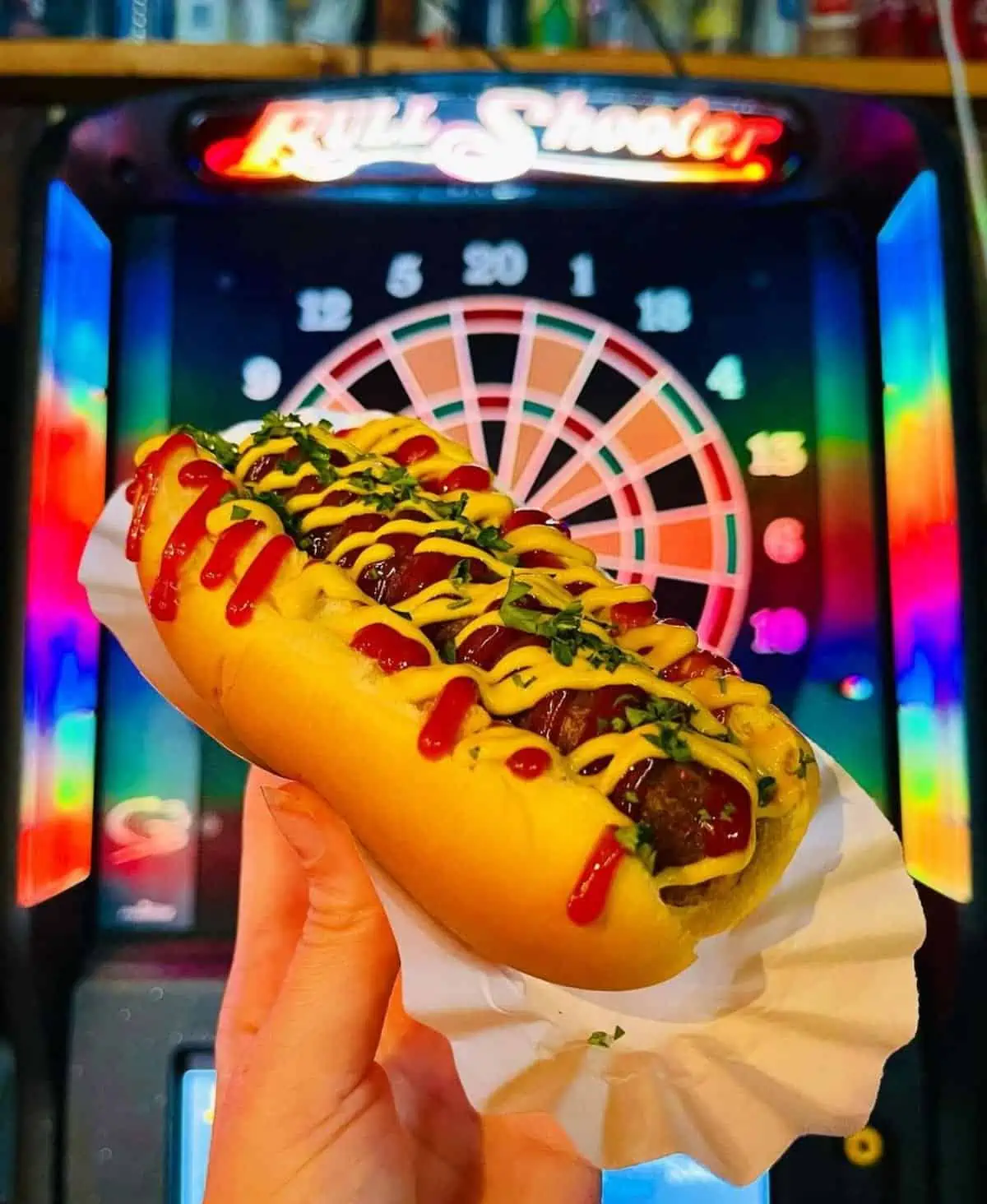 You won't find any name-brand ingredients on this menu! All the burgers, gyros, cheese steaks, and more are made entirely from scratch. The goal is to bring back familiar favorites without reinventing the wheel, creating the same satisfying experience.
There's almost always a line that can stretch down the block on weekends. But that's only a testament to the amazing eats that are in such hot demand! Your patience will be rewarded with impossibly flaky homemade biscuits dressed up with sweet or savory toppings. You can also get hearty sandwiches, burgers, and salads. Don't pass up the OG, a fried chick'n cutlet on an oat-buttermilk biscuit with your choice of sauce!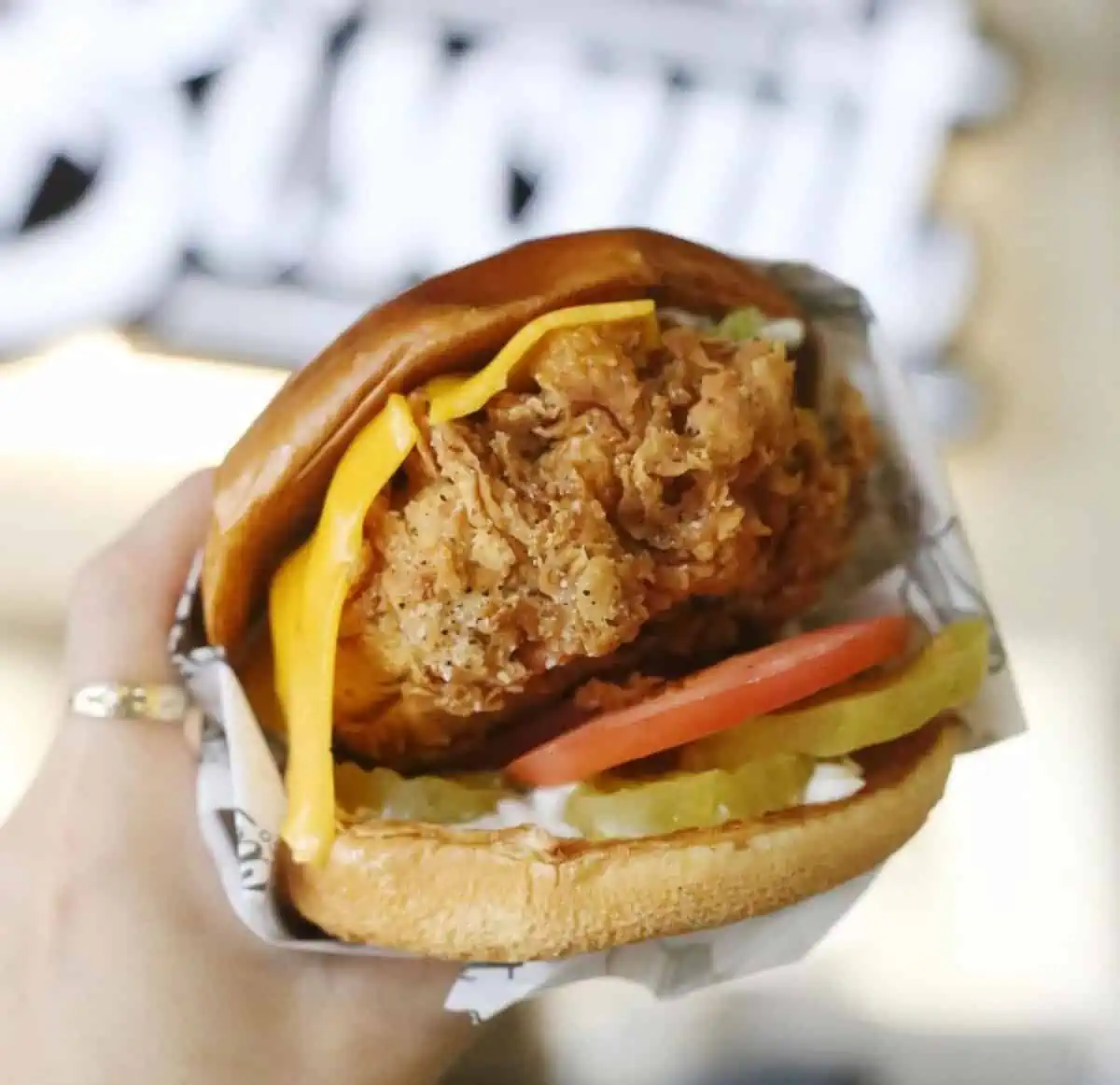 Vegan Soul Food Options in Orlando
Soothe your soul with dishes from these decadent vegan soul food restaurants in Orlando!
It can be tough to catch Chef Tanesha with her sporadic pop-ups at markets and events, but it's worth the hunt. Her unique combination of Southern soul food and Jamaican seasonings is unlike anything else! Sign up for her mailing list or follow her on instagram for all the latest updates.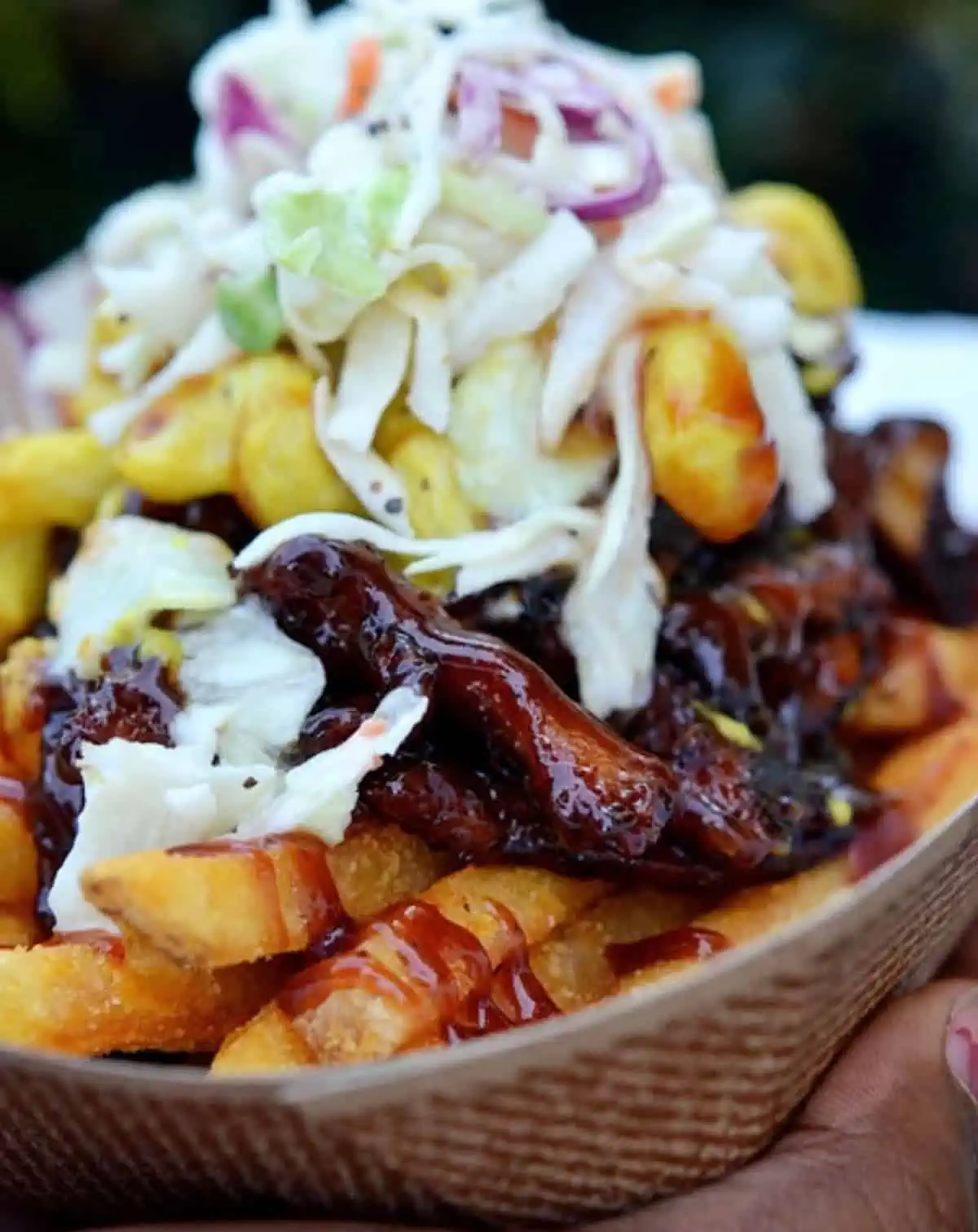 Slinging plant-based southern staples and other fine vittles, chef and owner Shaun Moon is the mastermind behind this incredibly popular bastion of comfort. There's truly no better place to sink your teeth into a fried green tomato sandwich. Complete with ingredients such as smoked eggplant remoulade, beet chow-chow, and garlicky kale on thick Texas toast. It might even be better than what Grandma makes…but don't worry, we won't tell her!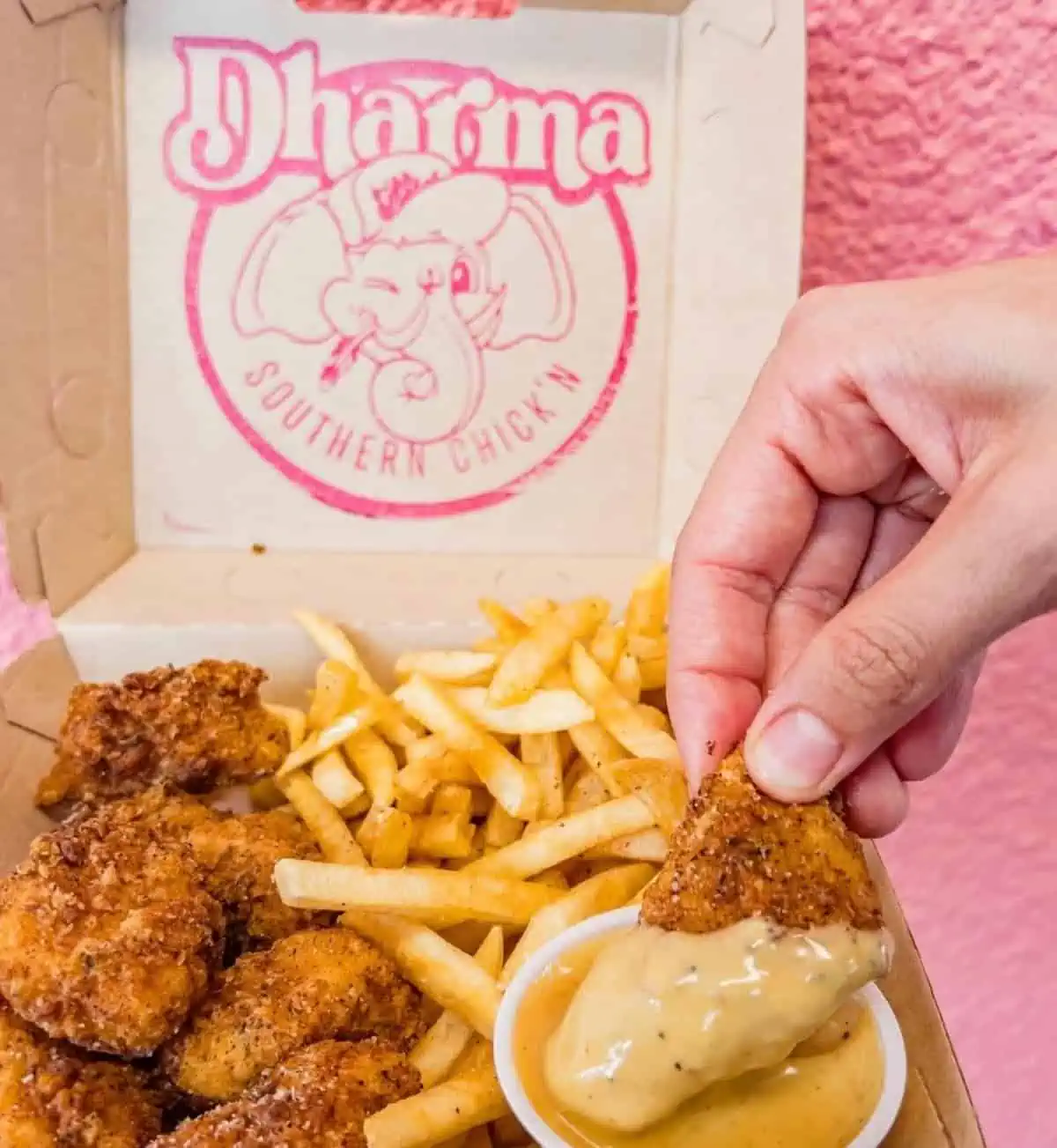 Karelyn's has been feeding the nation through meal delivery services shipped directly to hungry customers. Now those very same soulful meals are now available hot and fresh at their café in west Orlando! The chicken and waffles and BBQ sandwich are two of their most popular entrees. Don't forget to grab authentic banana pudding for dessert, too!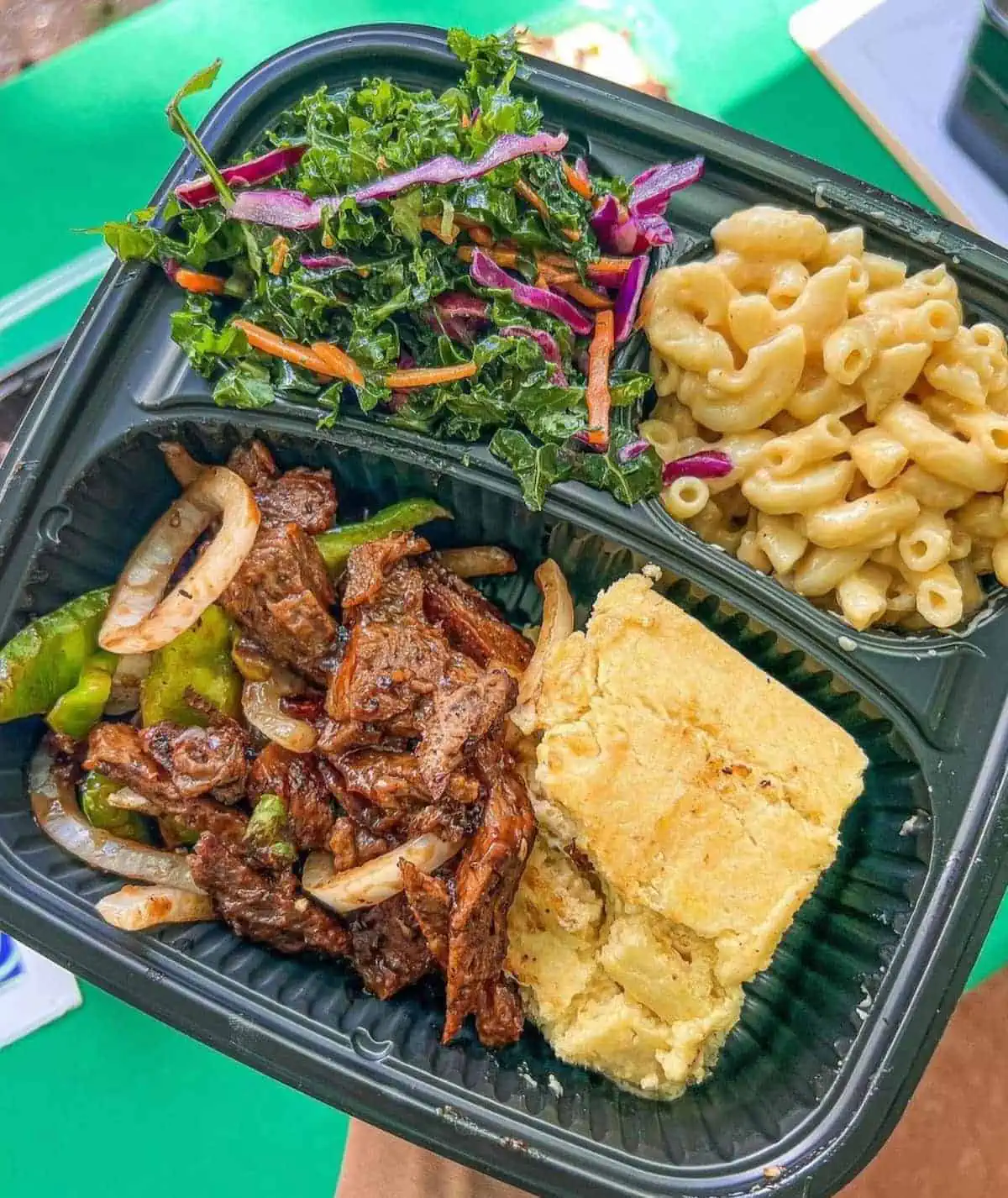 Fast Casual Vegan-Friendly Restaurants in Orlando
For a quick and easy meal with some gourmet flare, you can have it all at these unpretentious eateries.
Think New American fare with global influences to get a rough idea of what to expect, but it's almost as tough to describe such a diverse array of dishes as it is to choose an entrée! From coconut curry to jerk chicken, lasagna to meatloaf, and so much more, you should plan to make multiple visits.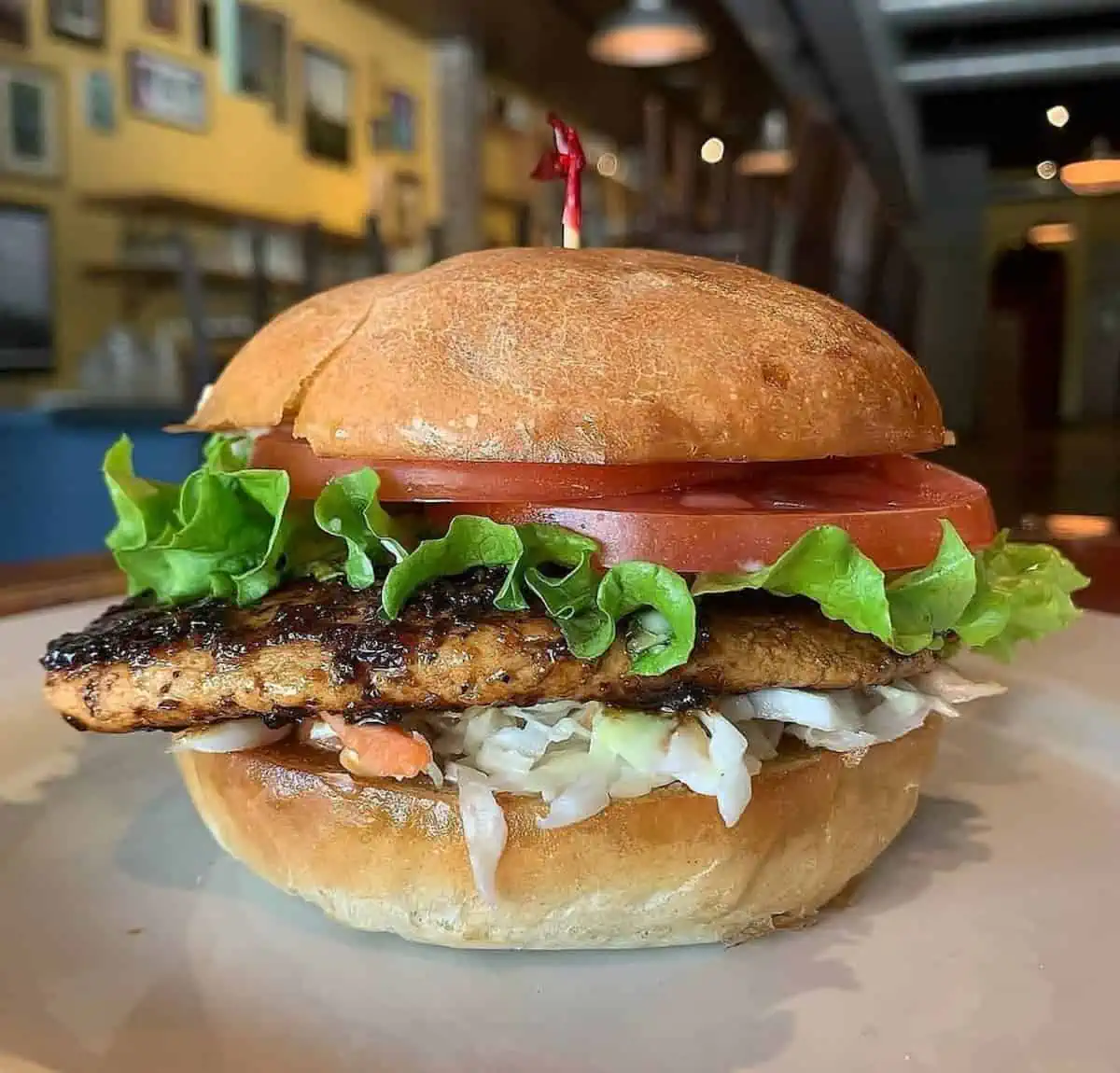 If you are hungry for burgers, Jacked Up Vegan offers three stellar choices with double patties with all the fixings, and cilantro crema. If you'd like platters, you can choose a base of rice and beans with additions like vegan protein, sweet plantains, cheesy fries, or nachos.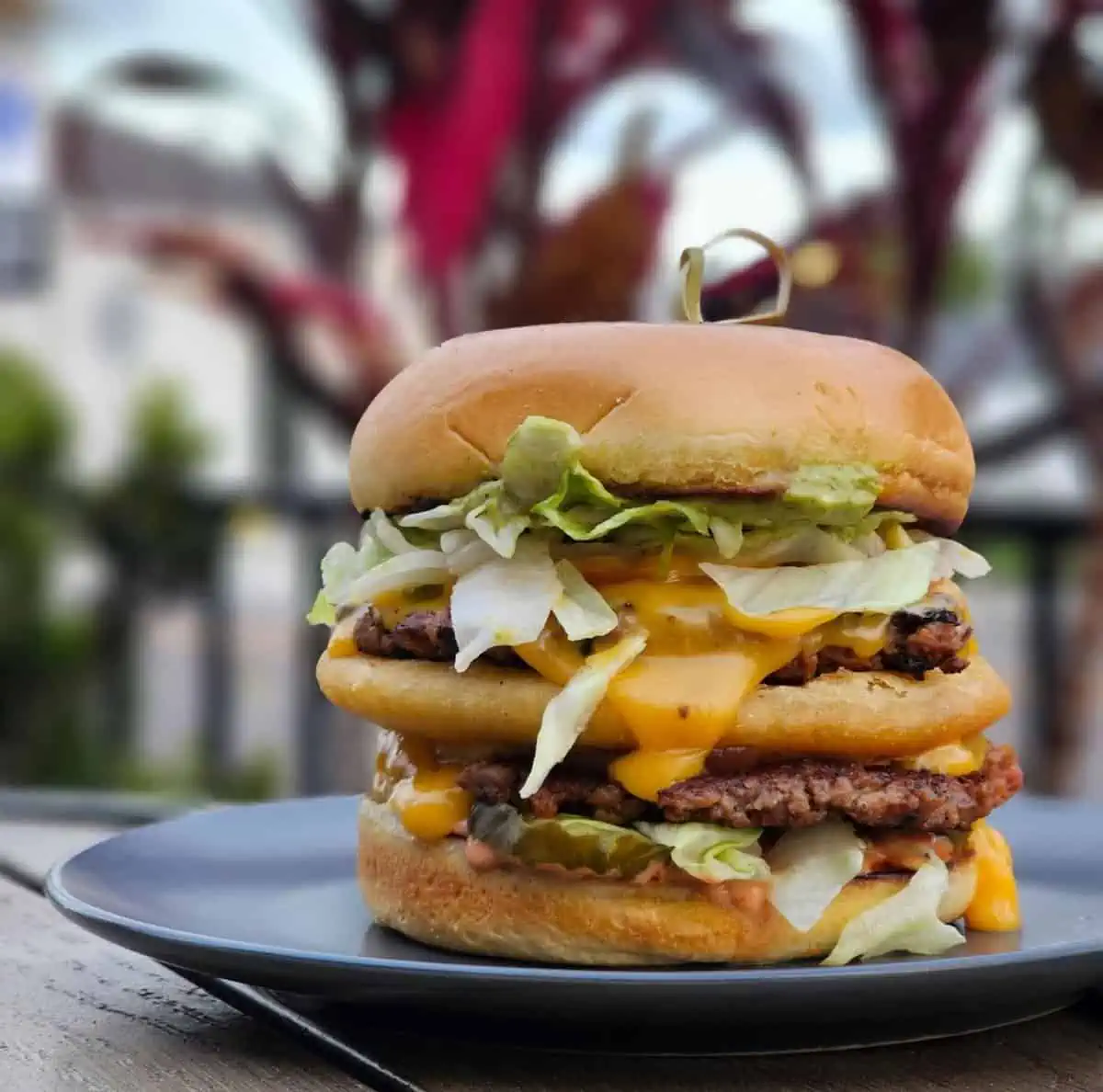 Welcome to the secret society of vegans, otherwise known as the "bean team." In these hallowed halls, you can truly "live mas" with half a dozen different takes on Taco Bell's beloved Crunch Wrap. Here, the options go way beyond refried beans and potatoes. This menu features Chick'n Bacun Ranch Crunch, Sloppy [Joe] Crunch, and even a Crunch Mac that includes gooey mac and cheese with vegan beef crumbles.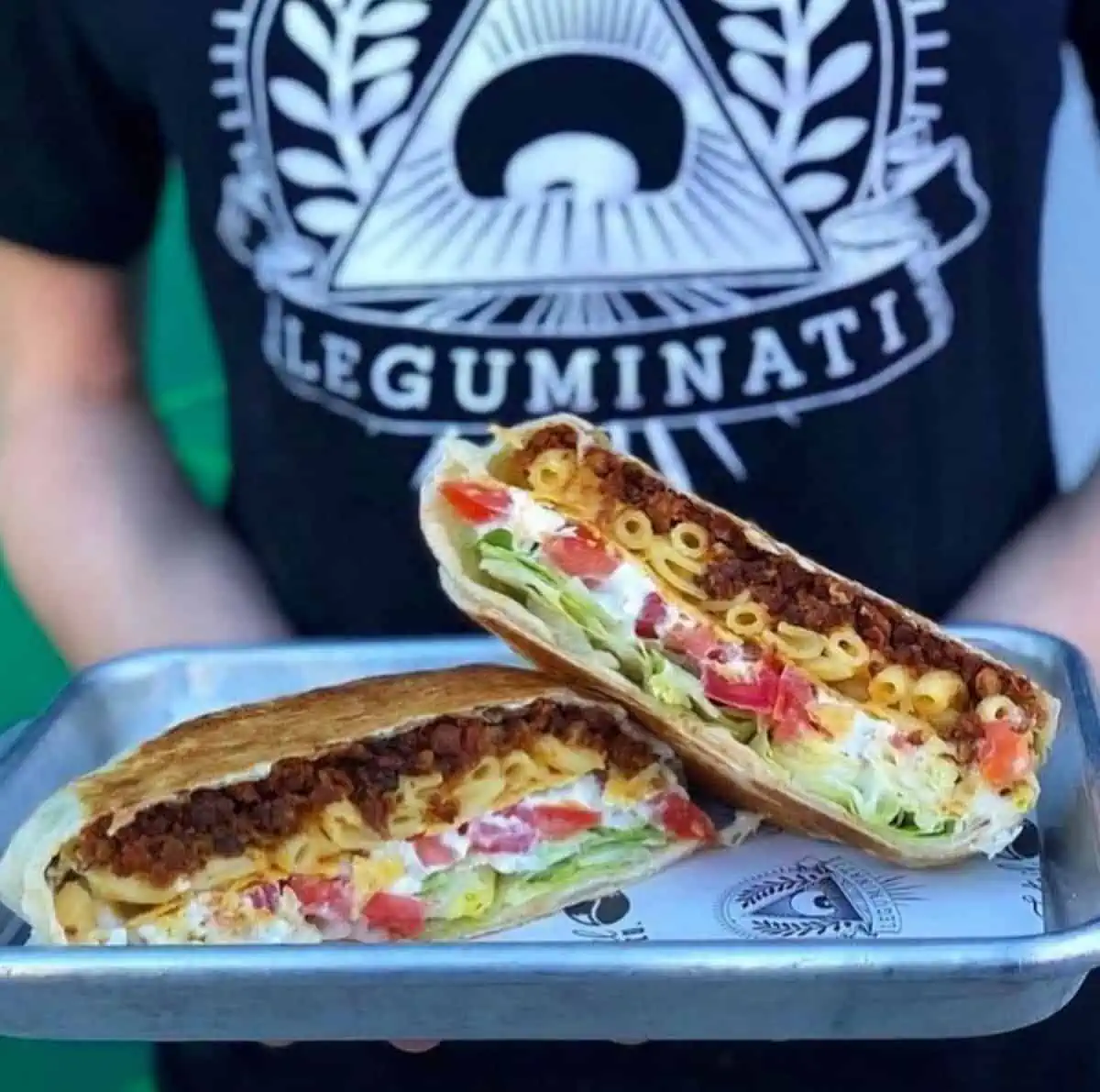 Frequently described as a hidden gem, this café is hidden inside the bookstore at the Florida Conference of Seventh-Day Adventists building. Once you uncover this treasure, you'll be rewarded with riches beyond your wildest appetite. Enjoy breakfast burritos as big as your head, chik'n alfredo pizza, vegan beef arepas and so much more.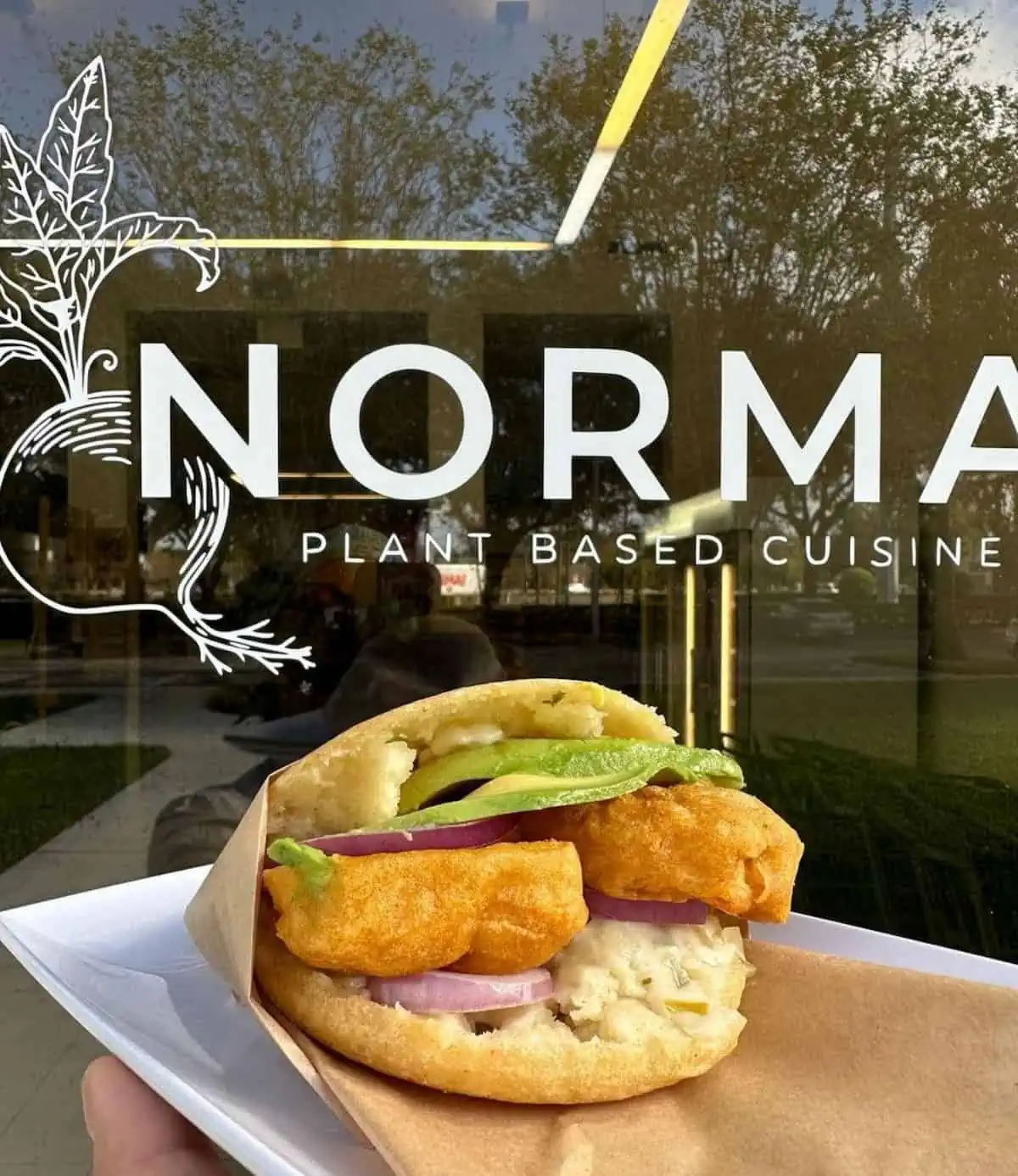 Vegan-Friendly Asian Restaurants
From noodle soups to sushi, here are the tastiest vegan-friendly Asian restaurants in the Orlando area.
It's easy to love this international chain of pan-Asian plant-based specialties. The Orlando outpost is independently owned and operated, which means you'll find some unique offerings. Ocean Sushi, made with a vegan fish fillet and Thousand Island Dressing, along with classics like Sesame Drumsticks and Lemongrass Noodles will hit the spot.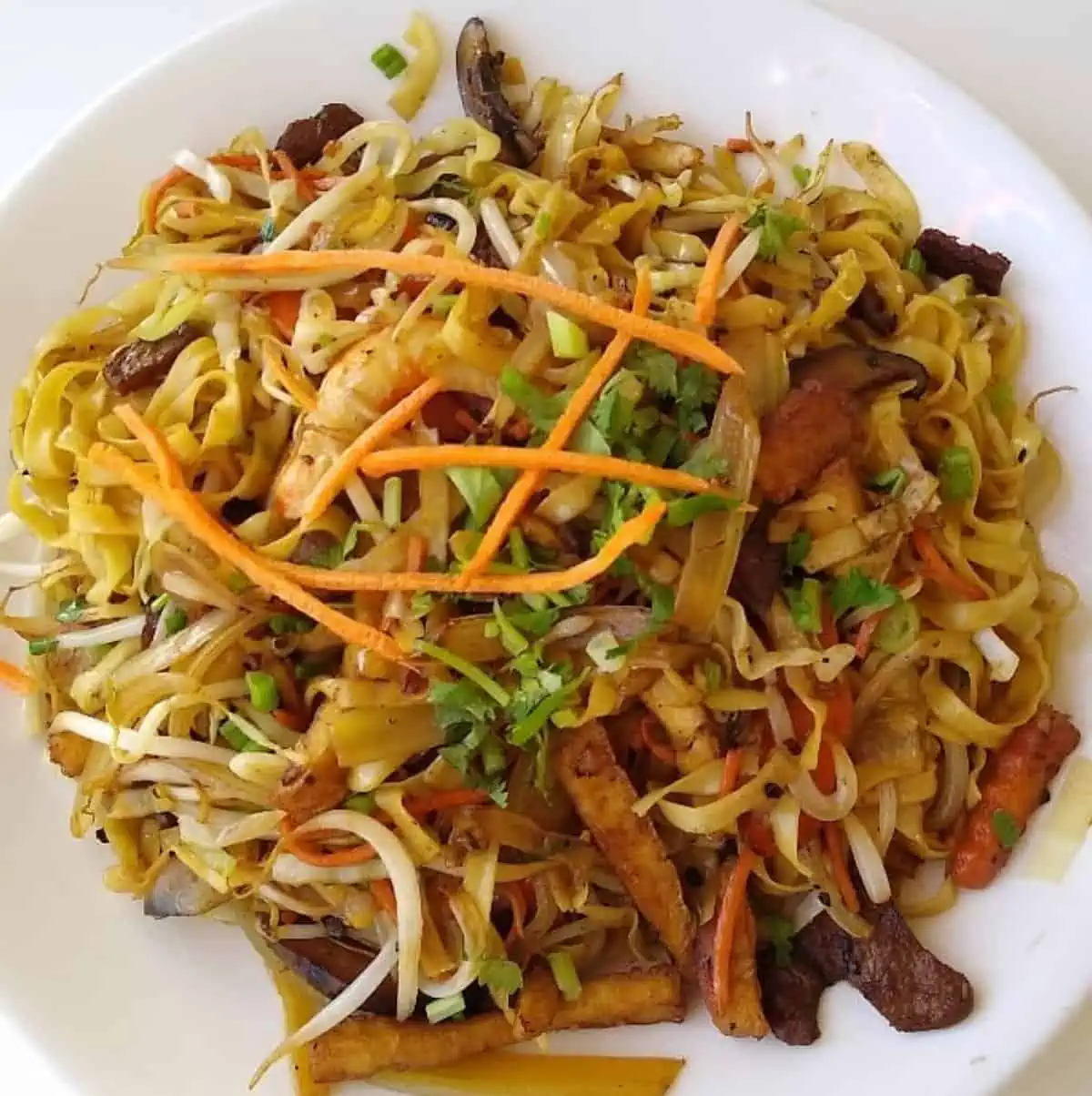 Finally, you can indulge in the richly spiced broth of genuine Vietnamese pho without worrying about beef stock, chicken fat, or pork belly! Slurp up a huge bowl of rice noodles topped with a plethora of fresh, crisp vegetables and tender tofu. Only a few dishes contain conventional eggs, which are clearly labeled and can be removed upon request.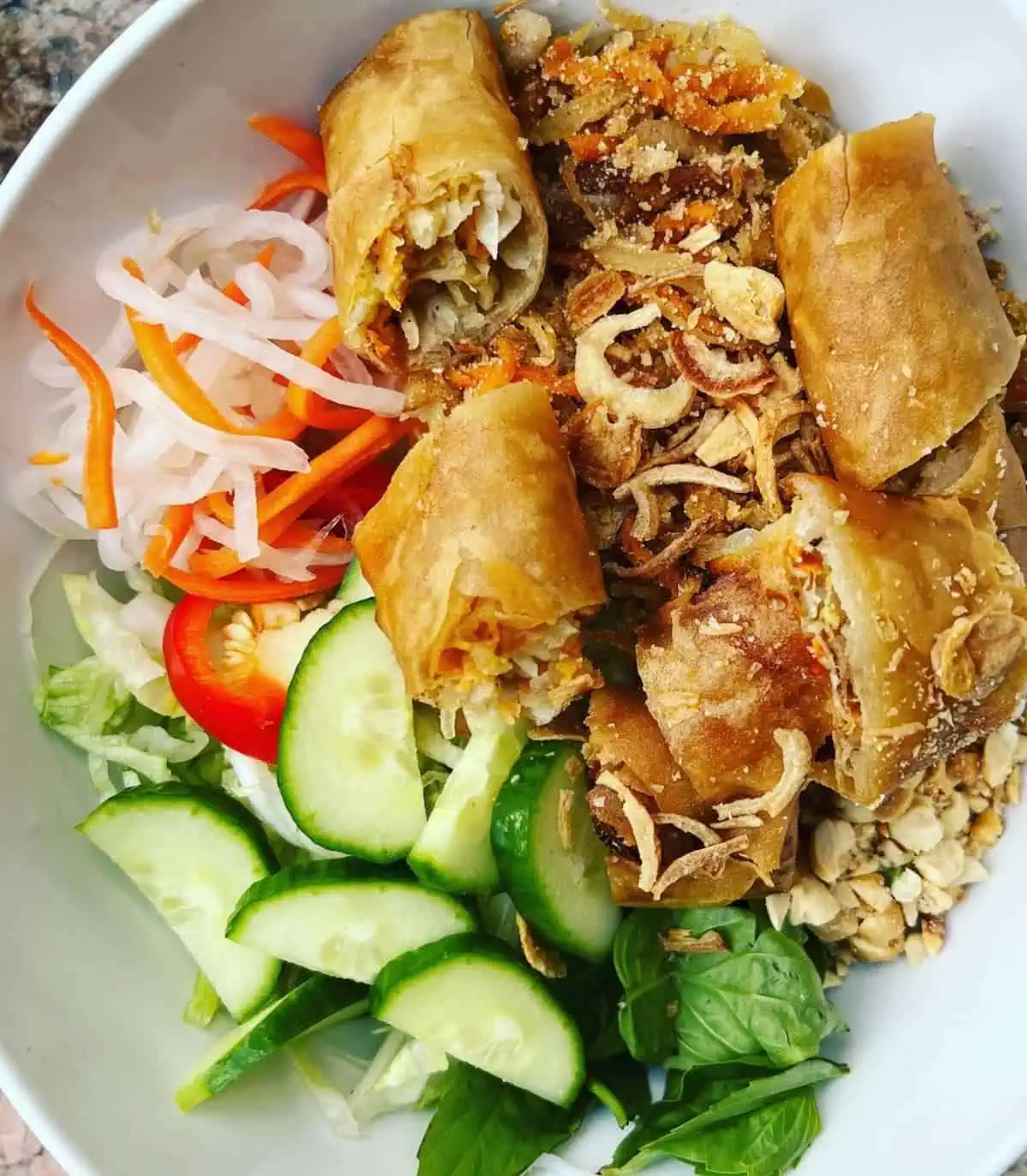 Best Juice Bars in Orlando
There's nothing like a refreshing beverage to combat those warm, humid Florida days. Check out these spots below for where to go to rehydrate and refuel!
If you think all green juice tastes like swap water, you haven't tried the You're Kale-in It. Blending those dark leafy greens with orange, green apple, and lemon transforms the mixture into a refreshing and sweet drink. Give it a shot—or have an actual shot of concentrated superfoods to grab and glow.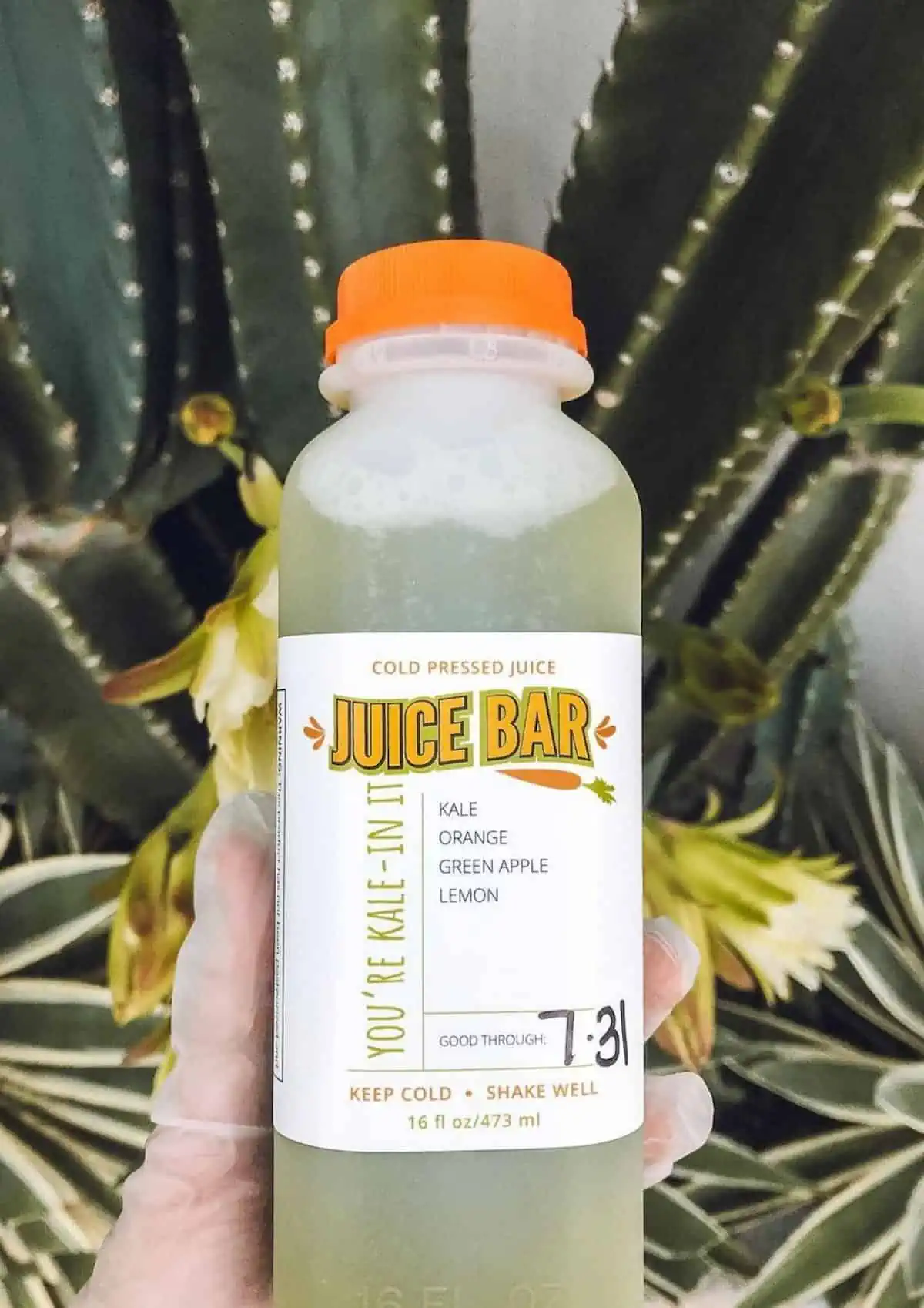 You need to stay hydrated in the hot Florida sunshine, so why not make it a delicious treat? Go for a lighter Lean, Mean and Green juice, or indulge in a Wake Up! Smoothie that has your coffee, chocolate, and morning fruit all mixed into one sippable sweet treat. You can also refuel with a selection of fresh, raw foods prepared either as a wrap or salad.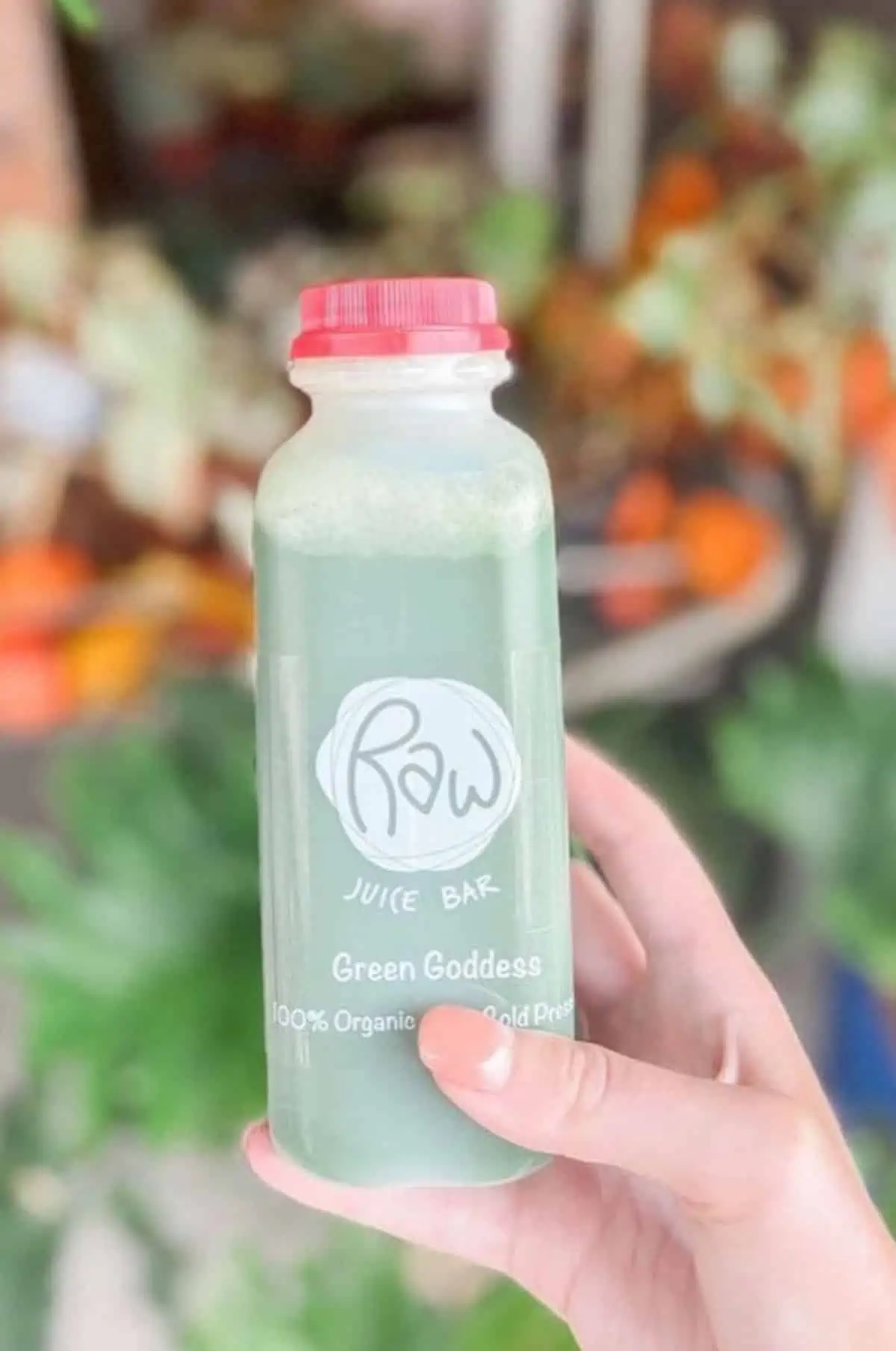 Who says smoothies are boring? You can find fun blends like Butter Face, combining peanut butter with bananas, blueberries, and granola. There's also the Chocolate Factory that's every bit as decadent as it sounds, without a sugar rush afterward.
Vegan South American and Caribbean Food
Being situated so close to the Caribbean islands and South America certainly has its perks, especially when it comes to vibrant tropical ingredients and culinary inspiration. You can enjoy an escape to our own personal paradise anytime you want to grab a bite!
Proudly Puerto Rican yet unafraid to play with broader global flavors, the bowls are built to order with components so complex and uncommonly good, they could each be their own dishes. That means you can get vegan mofongo or yuca fries with guava-smoked tofu, chicharrones, gazpacho, fysh cakes, and so much more.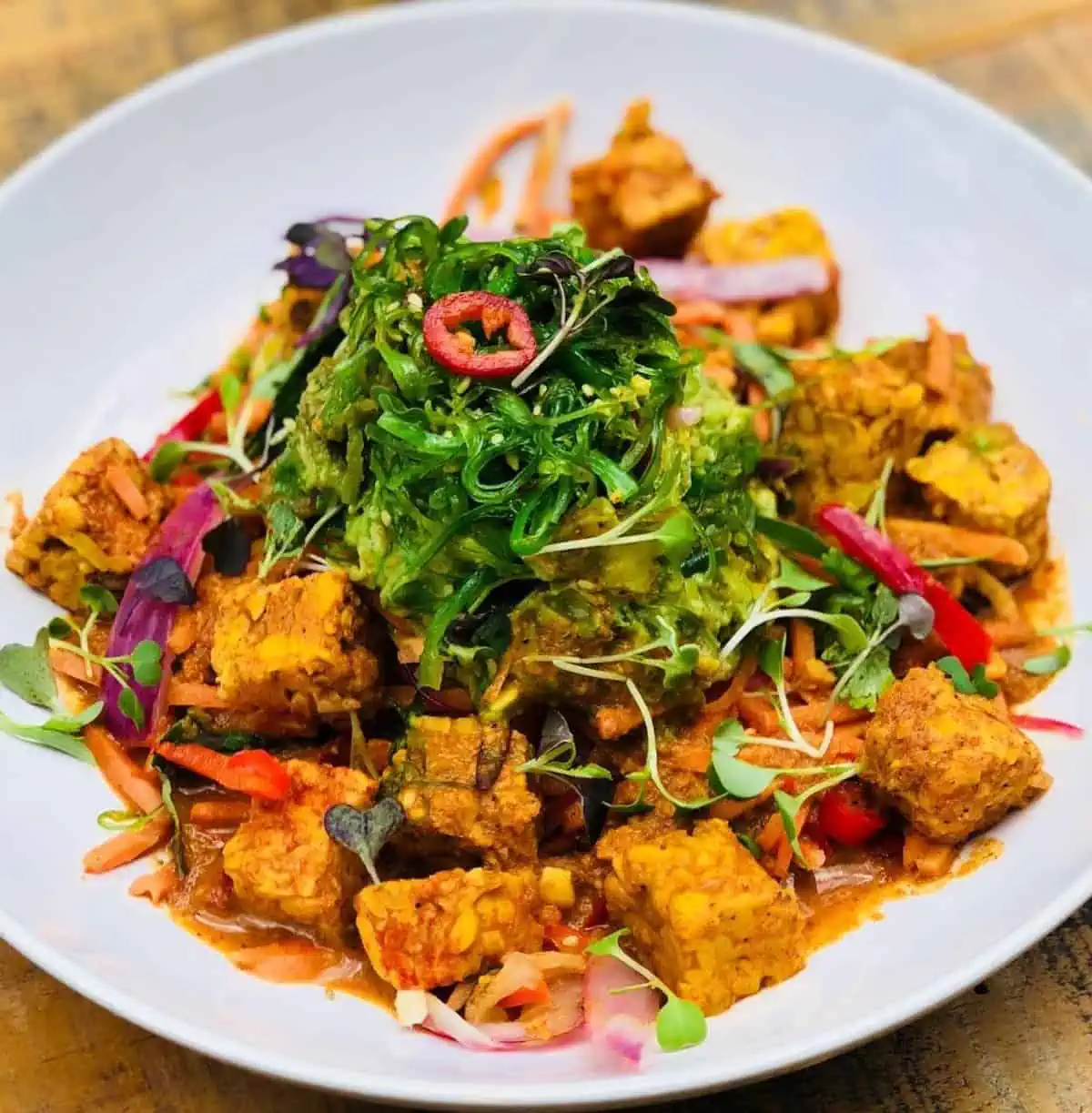 If vegan pernil sandwiches, pasteles, and mofongo sound like a wild dream, it's time to wake up and smell the sazon. These Puerto Rican classics exceed expectations, whether you grew up with these flavors or are just now discovering their charms.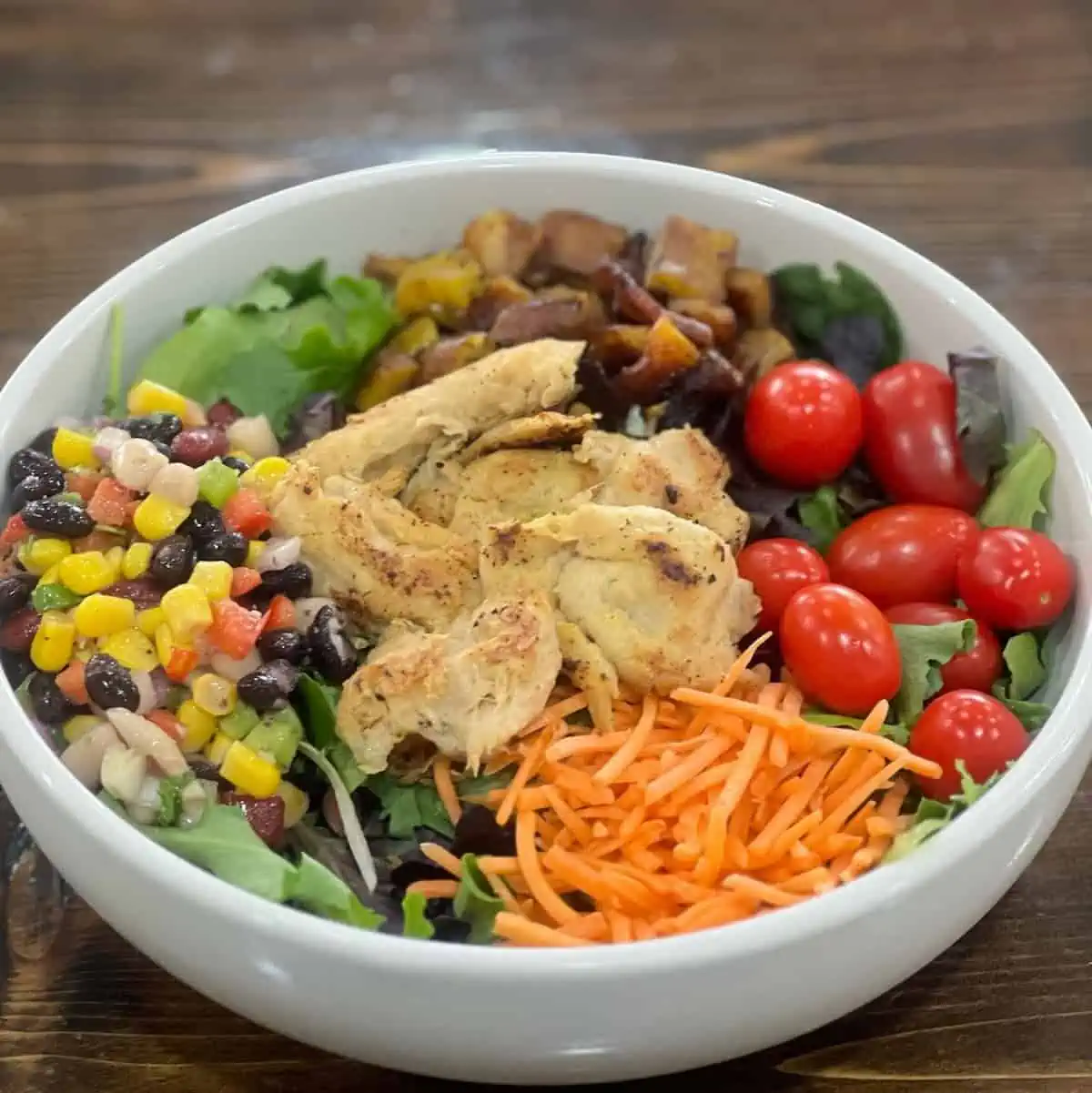 Previously located inside Dollins Food Hall near downtown Orlando, locals are waiting with bated breath while this Caribbean classic relocates to a new home. Until then, everyone can only dream of the vegan tri-tip steak, jerk chick'n, and chick'n "drummies" they're best known for.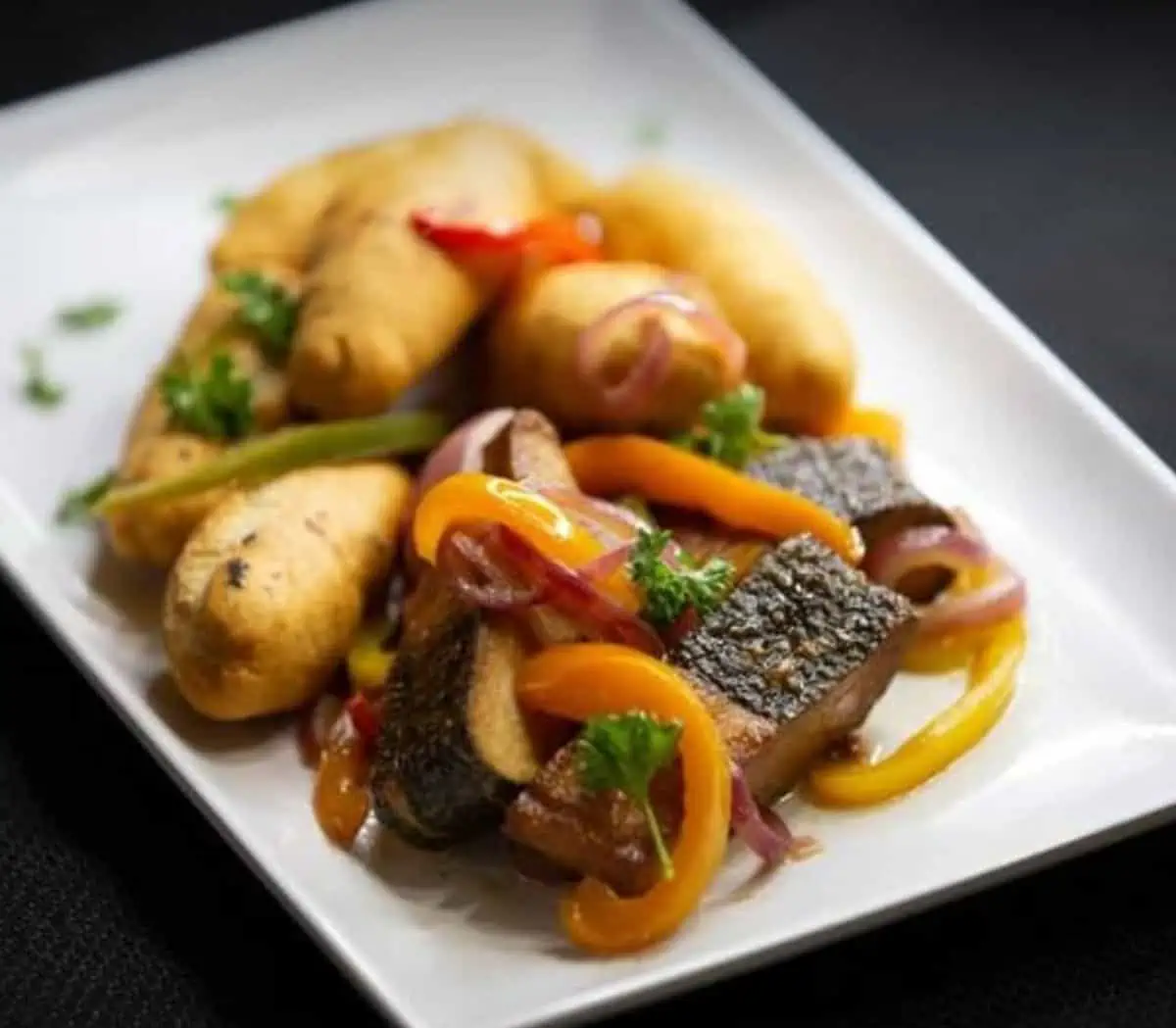 Amazing Orlando Vegan Bakeries
Looking for dairy-free ice cream, vegan donuts, vegan cupcakes, or vegan cakes in Orlando? These bake shops have you covered! And if you'd rather not leave your house, you can always shop from one of these online vegan bakeries that ship to your door.
Handcrafted in small batches, about half of the offerings at this boutique vegan ice cream shop in Orlando, Florida are fully vegan. Flavors rotate monthly so you can always get a taste of something new. What's even sweeter is that you can also treat your vegan dog! They have a number of "pup cups" made from oat milk specifically intended for our four-legged friends!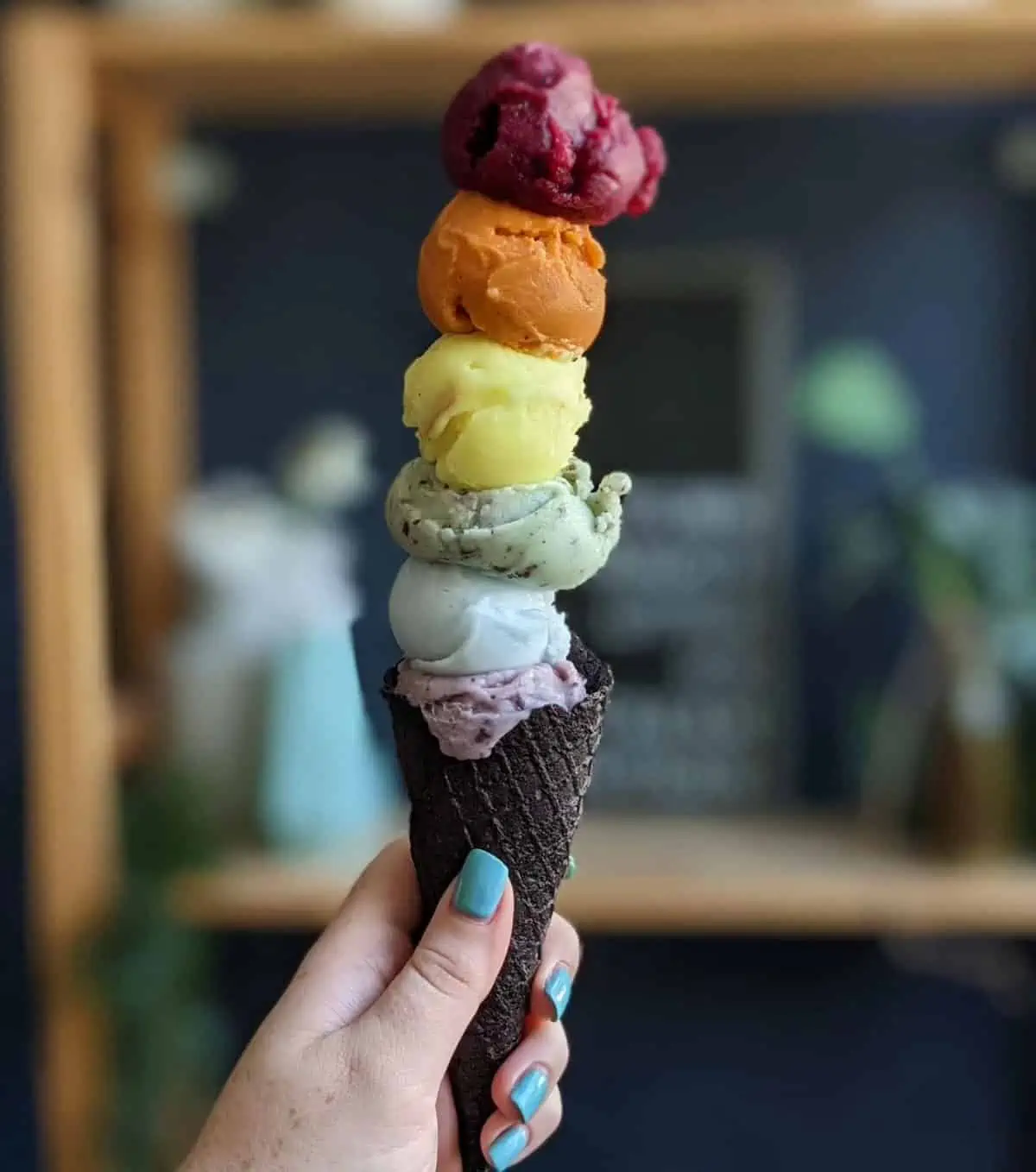 They say that Valhalla Bakery is where your taste buds go to heaven. There isn't a drop of dairy nor a single broken egg that goes into fluffy buttercream frostings, vegan fudgy brownies, and flaky pie crusts. It's impossible to walk away from those gleaming pastry cases, but you don't need to stuff yourself in one trip. They also ship straight to your door anytime those cravings strike.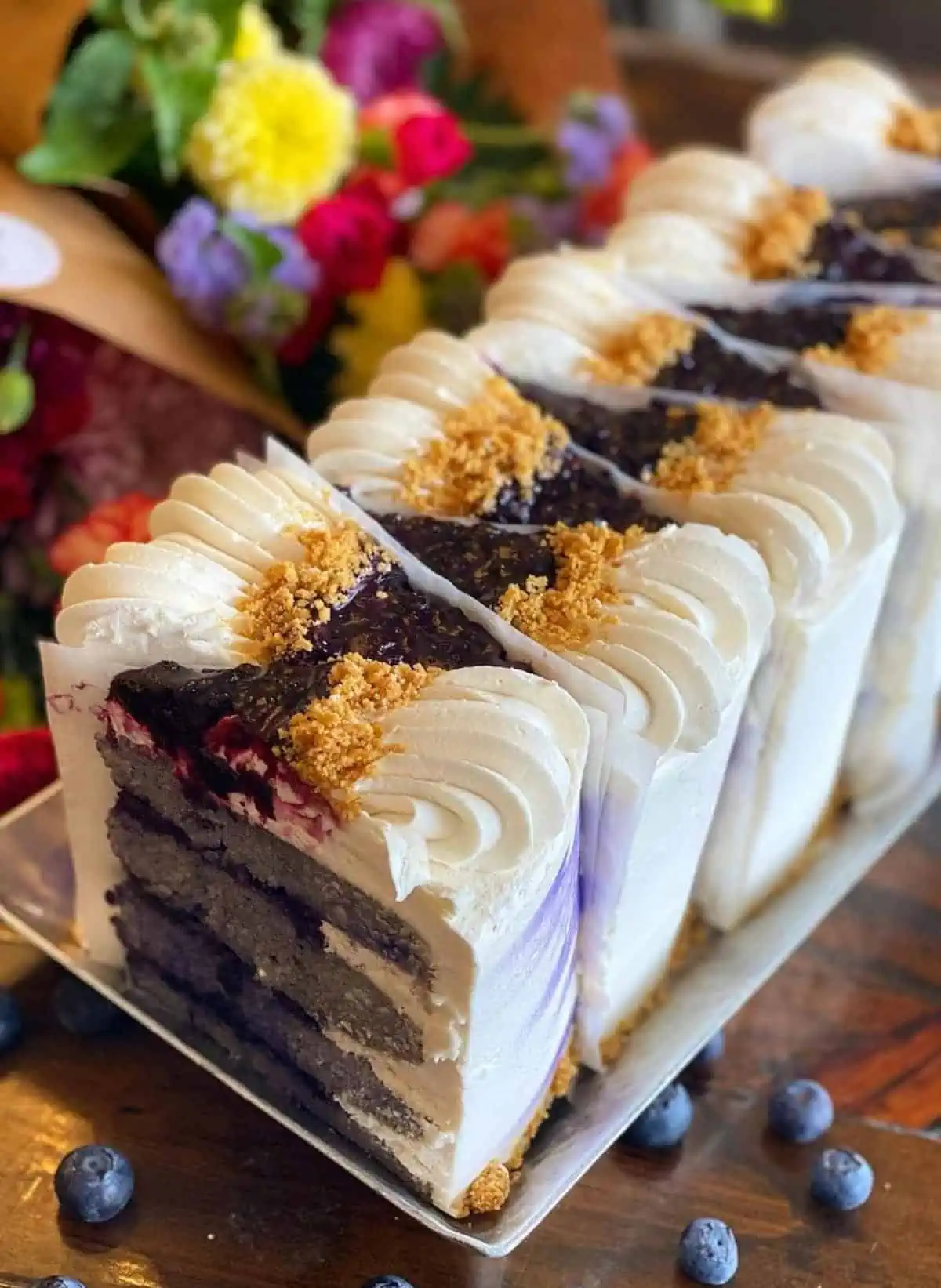 Vegan Donut Shops in Orlando
You might want to wear your stretchy pants when you stop by the store. These egg-free and dairy-free doughnuts are large, luscious, and do not hold back on flavor. You can even get the viral cronut (aka, croissant doughnut) finally in a vegan format! If you're even remotely interested in desserts, consider this a must-visit. Plus, if you come in for breakfast, you can get a vegan egg, bacon, and cheese sandwich built on a glazed doughnut instead of a bun.
Born in Portland, Oregon but beloved nationwide, this quirky, somewhat naughty chain of unconventional vegan doughnuts has great late-night hours and a selection of vegan treats. Their pink boxes are iconic, but it's hard to keep them full for very long.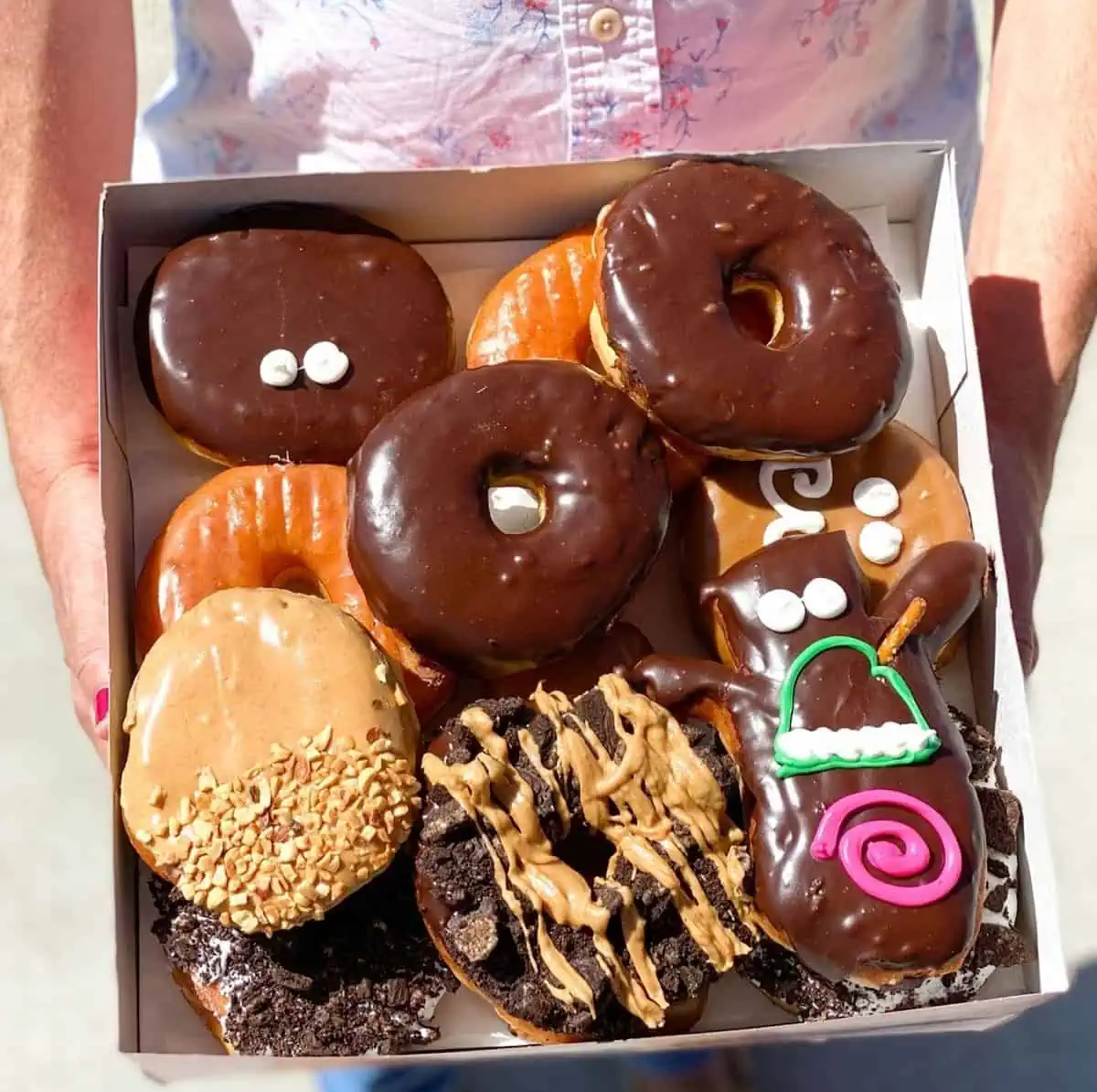 Veg-Friendly Ethiopian and Indian Restaurants
Enjoy the spices of Ethiopia and South India with these fantastic options in Orlando.
In keeping with the Indian principle of ahimsa, or "non-violence," these richly perfumed, boldly colored curries are all vegetarian. Many do contain yogurt, ghee, or paneer which are dairy-based, but at least half of the dishes are automatically vegan.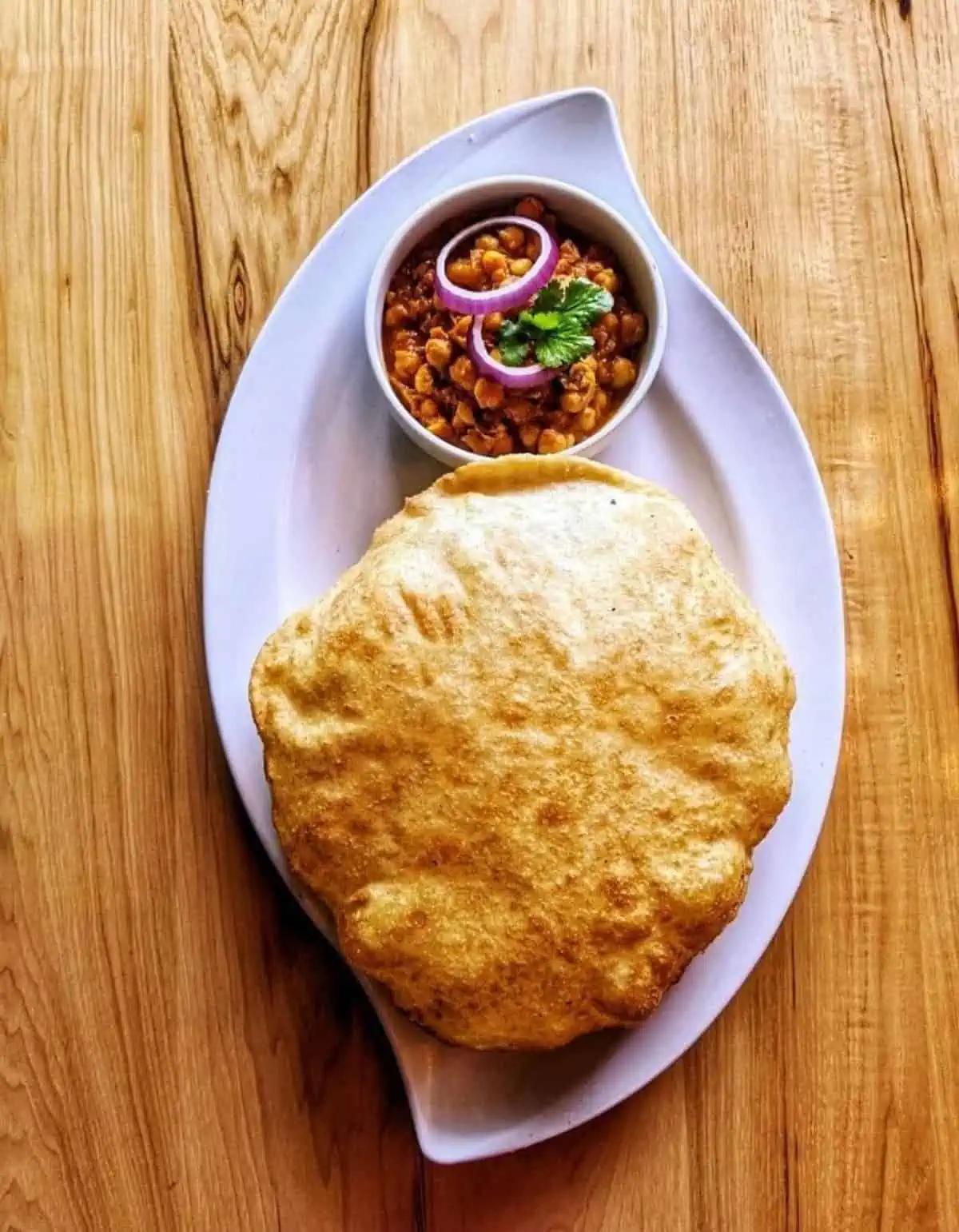 Distinctive and delicious, this authentic homage to African cooking is a perfect example of the art. Naturally vegan-friendly, there are plenty of brilliantly spiced vegetables, greens, beans, and lentil stews to scoop up with gluten-free injera. Although meat and dairy are also on the menu, it's easy to enjoy a fully plant-based feast. Servers are incredibly kind, accommodating, and willing to help.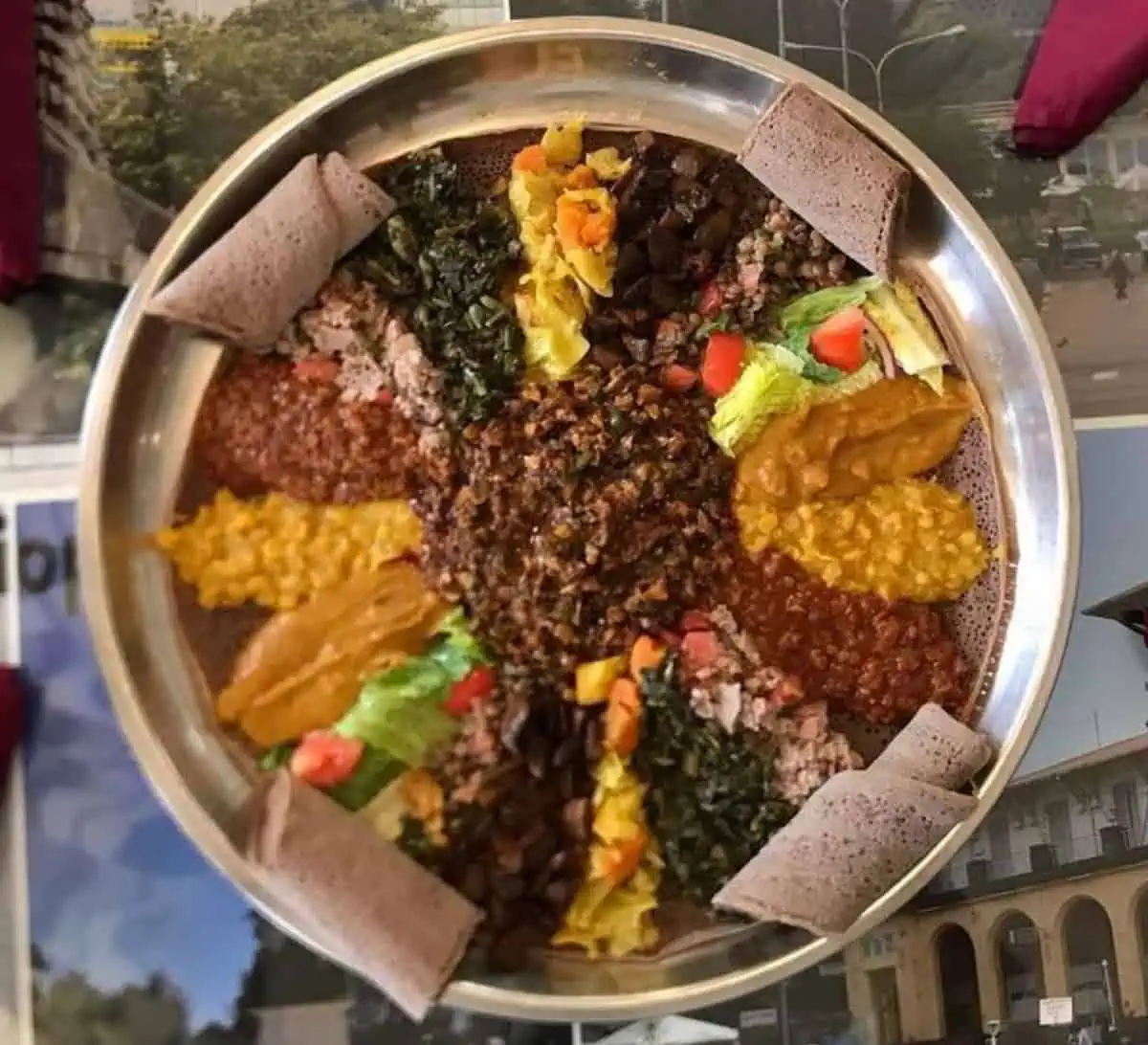 Ethiopian cuisine has a natural abundance of built-in vegan options, and this mobile food cart focuses only on those plant-based delicacies to make ordering easy. The bestseller is Misir Wat, which is red lentils stewed with spicy berbere, onion, and garlic. Everything comes with gluten-free injera so you can eat with your hands and mop up every last flavorful drop.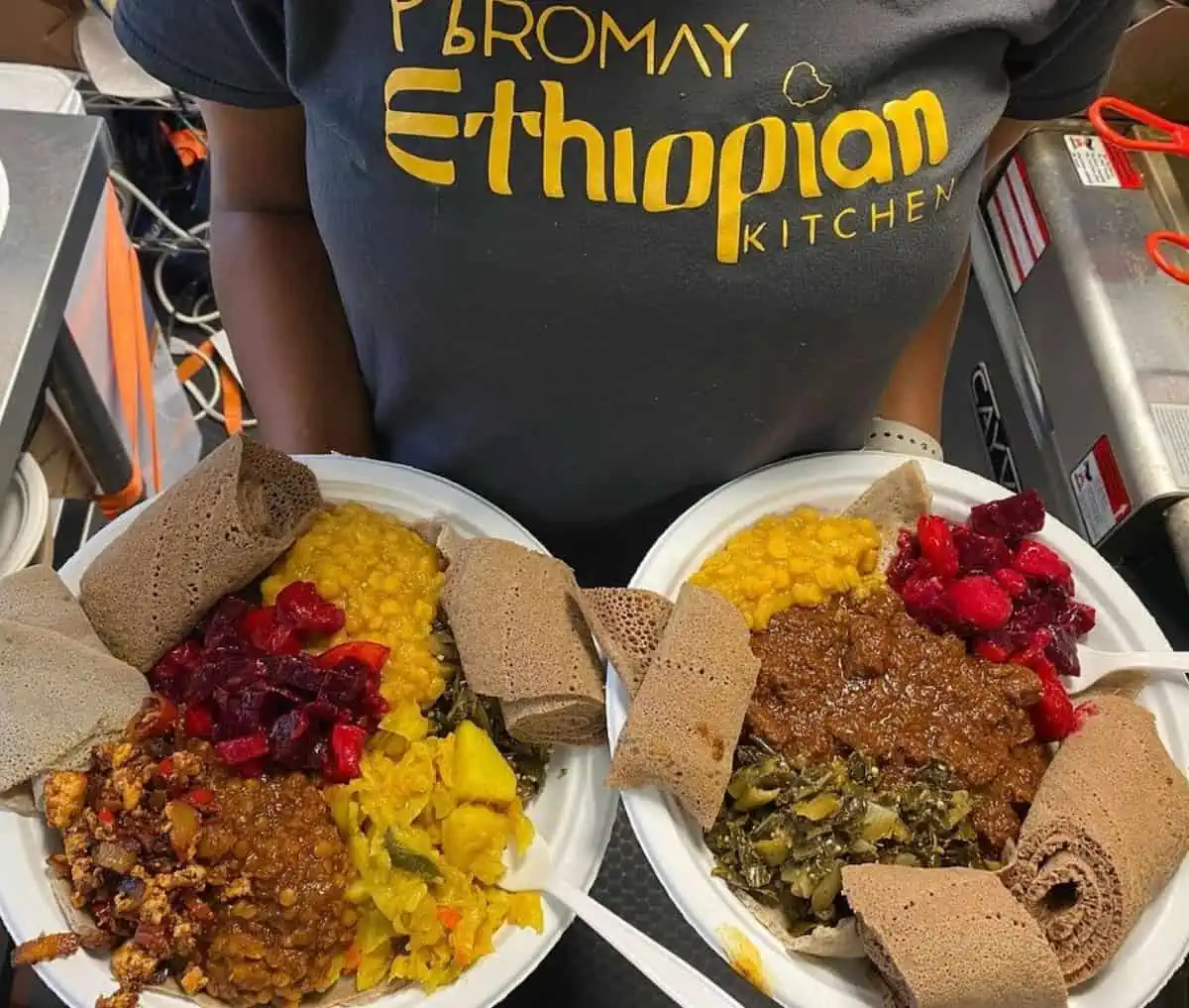 Vegetarian & Vegan-Friendly Healthy Restaurants in Orlando
Sip, snack, and munch your way to better health with these whole foods restaurants and drinks. Full of nutrition and flavor, you'll feel as great as the vegetarian dishes taste!
Founded on the belief that everyone deserves access to nutrient-rich, health-supportive food, these fresh juices, smoothies, and snacks are rooted in wellness. You can also book classes and tours to learn about the art of juicing or starting a small business.
In Florida, summer is more a state of mind than a season. Year-round balmy weather has cultivated the rich fauna and flora throughout the state in addition to attracting guests from around the world. Once you experience the dazzling arts scene, nightlife, nature, and culinary talents, you might want to take root and stay here, too.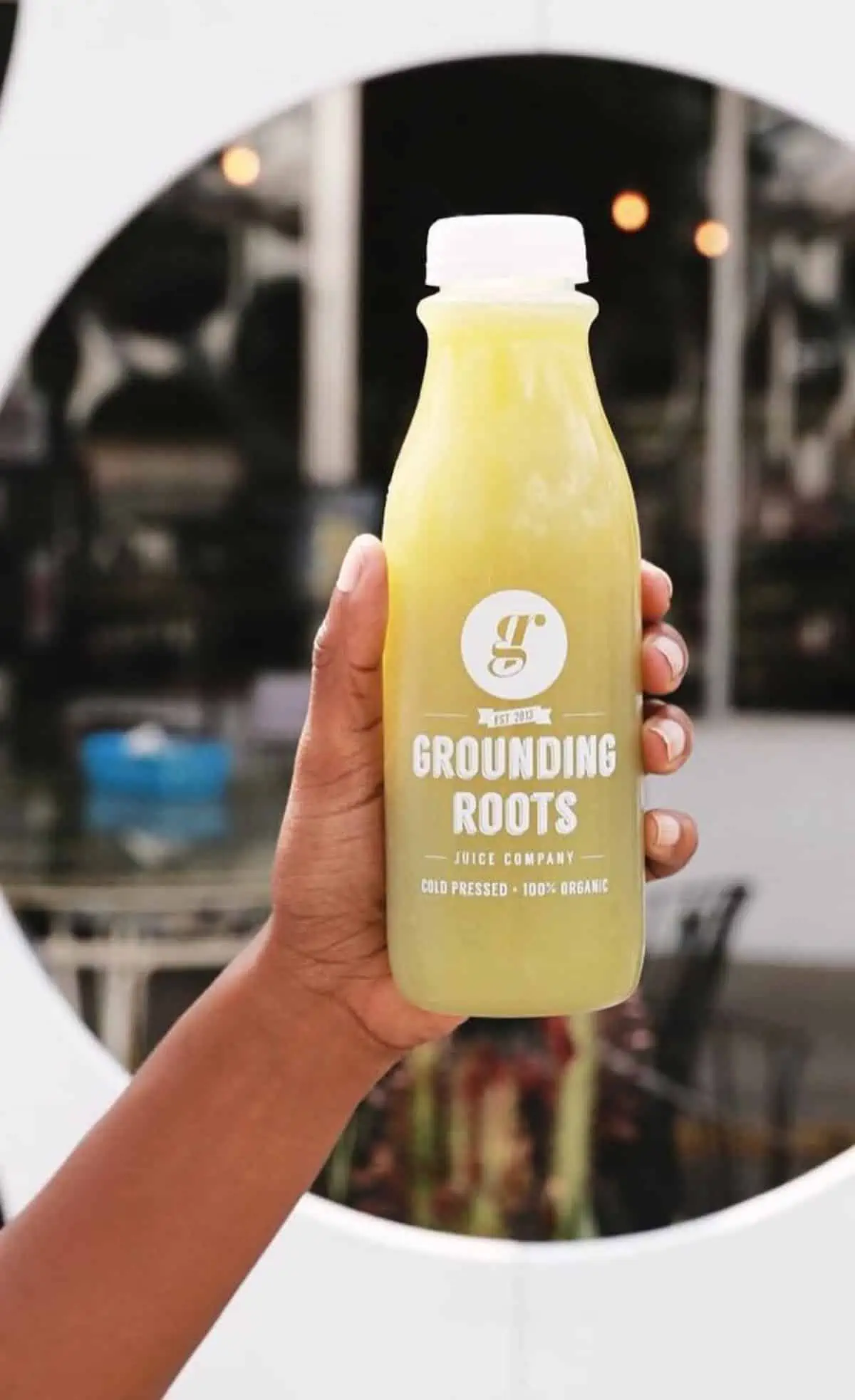 Start with crave-worthy Mediterranean street food and make it lighter, fresher, and completely vegan! That's the idea behind Korgette, a food truck parked at À La Carte, a community of mobile food vendors in Colonialtown Center. They're best known for their falafel. Get it in a fluffy pita, on a salad, or swaddled in a lavash or collard wrap.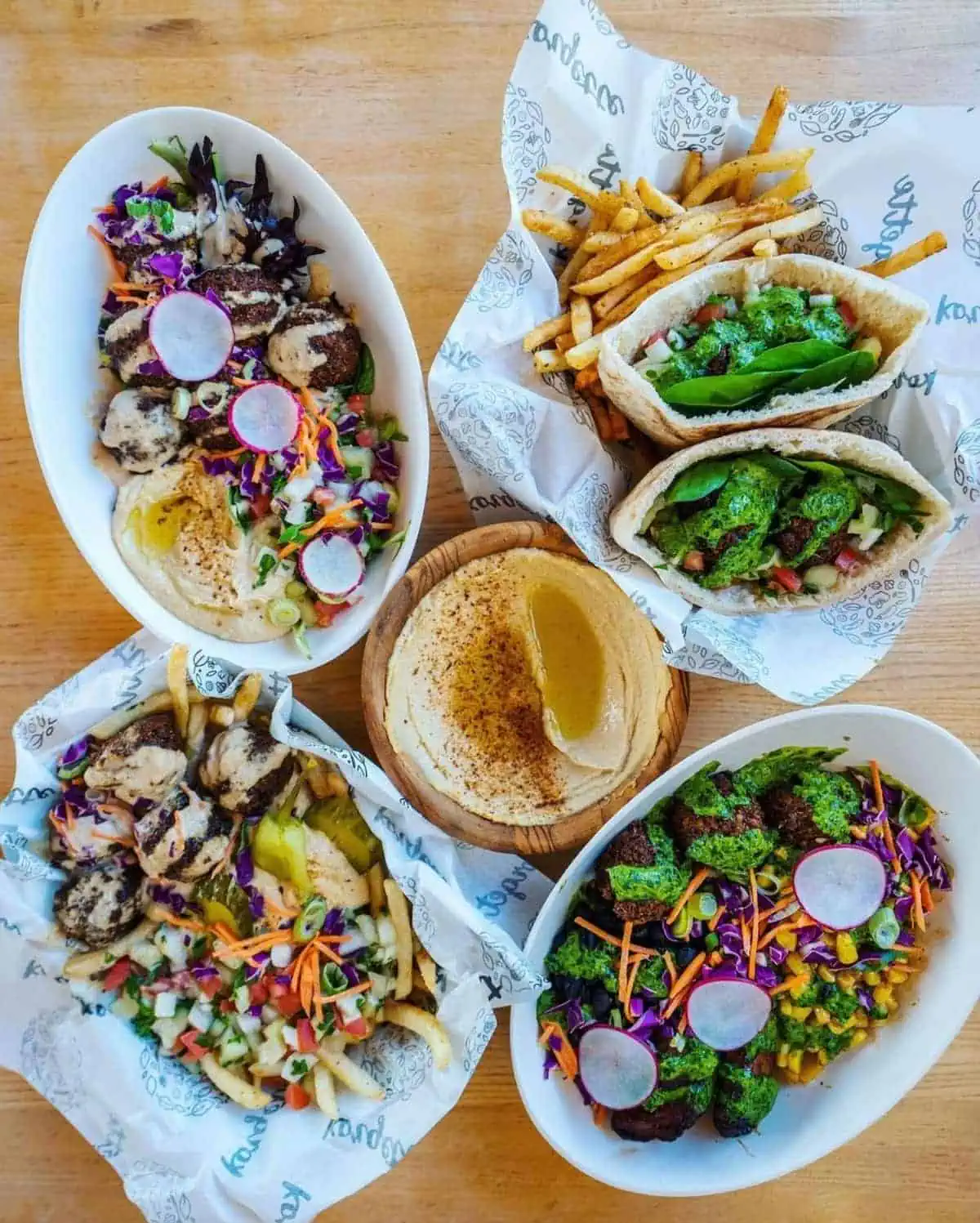 If you are looking for cold-pressed juices with a variety of organic ingredients, homemade almond milk, and an extensive smoothie menu, then blast off to New Moon Market. While you're there, enjoy smoothie bowls, healthy salads and wraps, and energy bites. They do use honey in some of their menu items, so just double-check before ordering!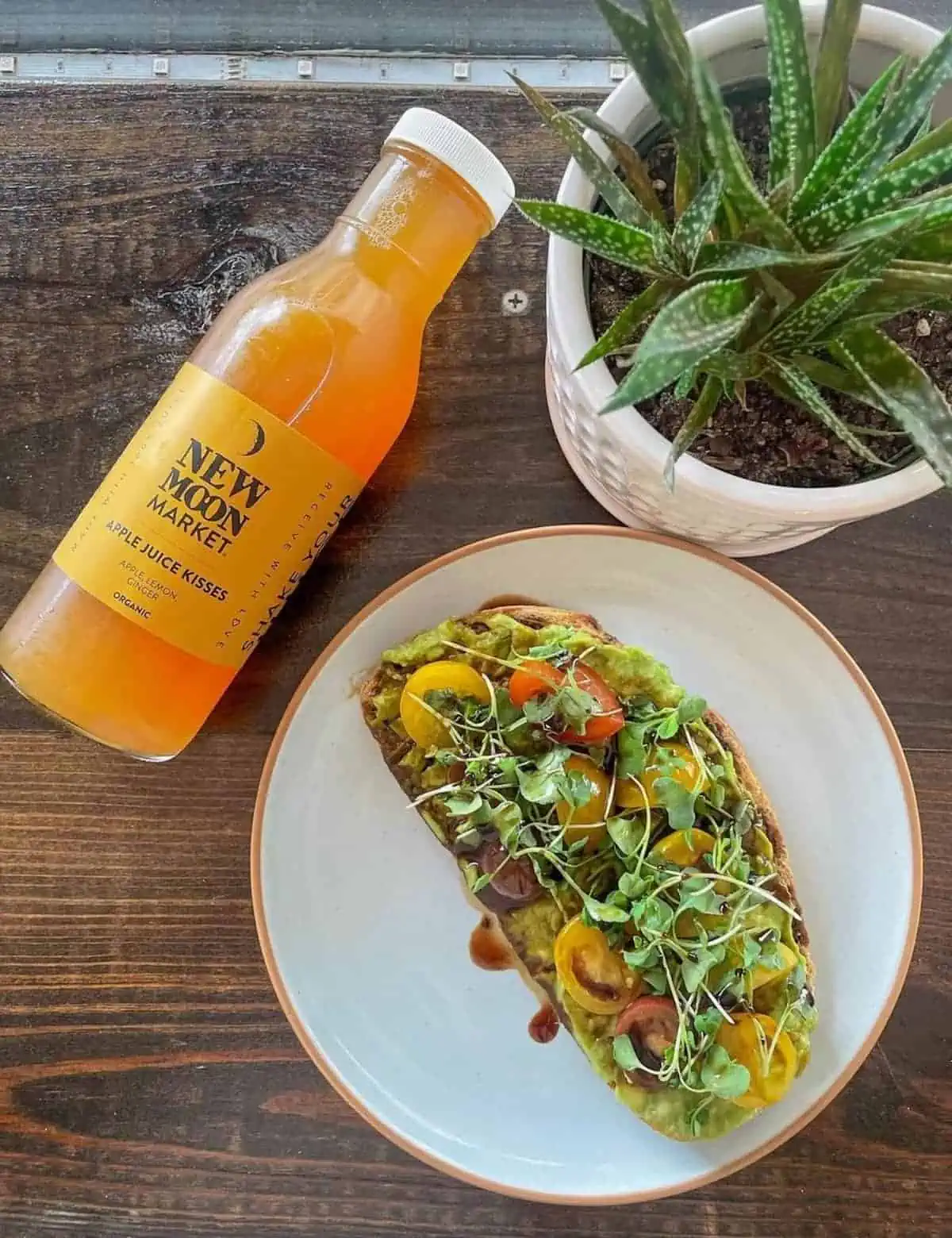 Widely considered one of the leading authorities on açai bowls, it's hard to compete with their short but sweet range of frosty fruit options. It's like ice cream, but so much healthier! Just select agave instead of honey to keep it all vegan.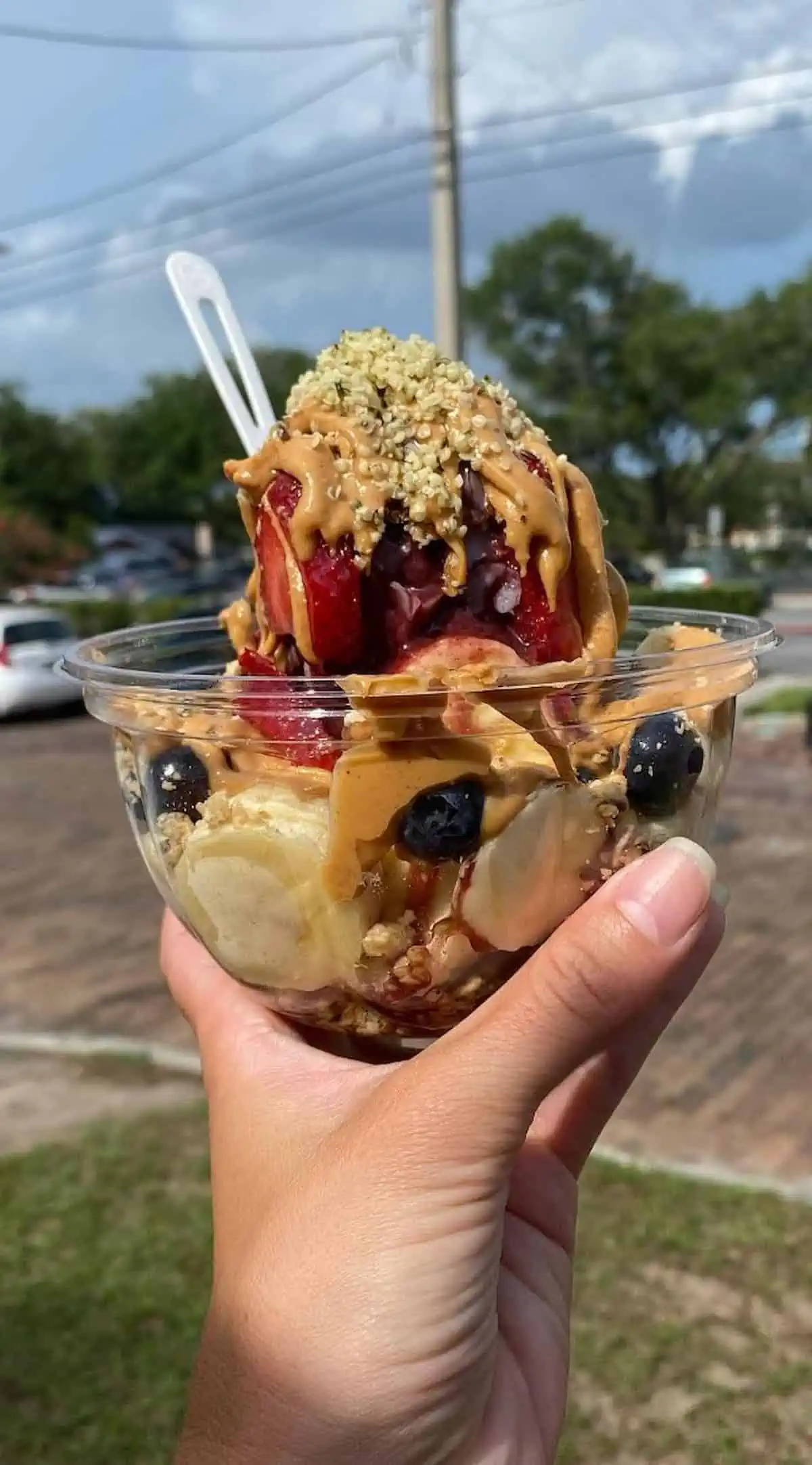 Offering an array of cold-pressed juices from Tropical Kale to Detox Greens, Skyebird is a great place to enjoy plant-based, gluten-free, and organic fare. Enjoy their acai bowls with loads of topping choices, plant-based wraps and bowls, and vegan treats.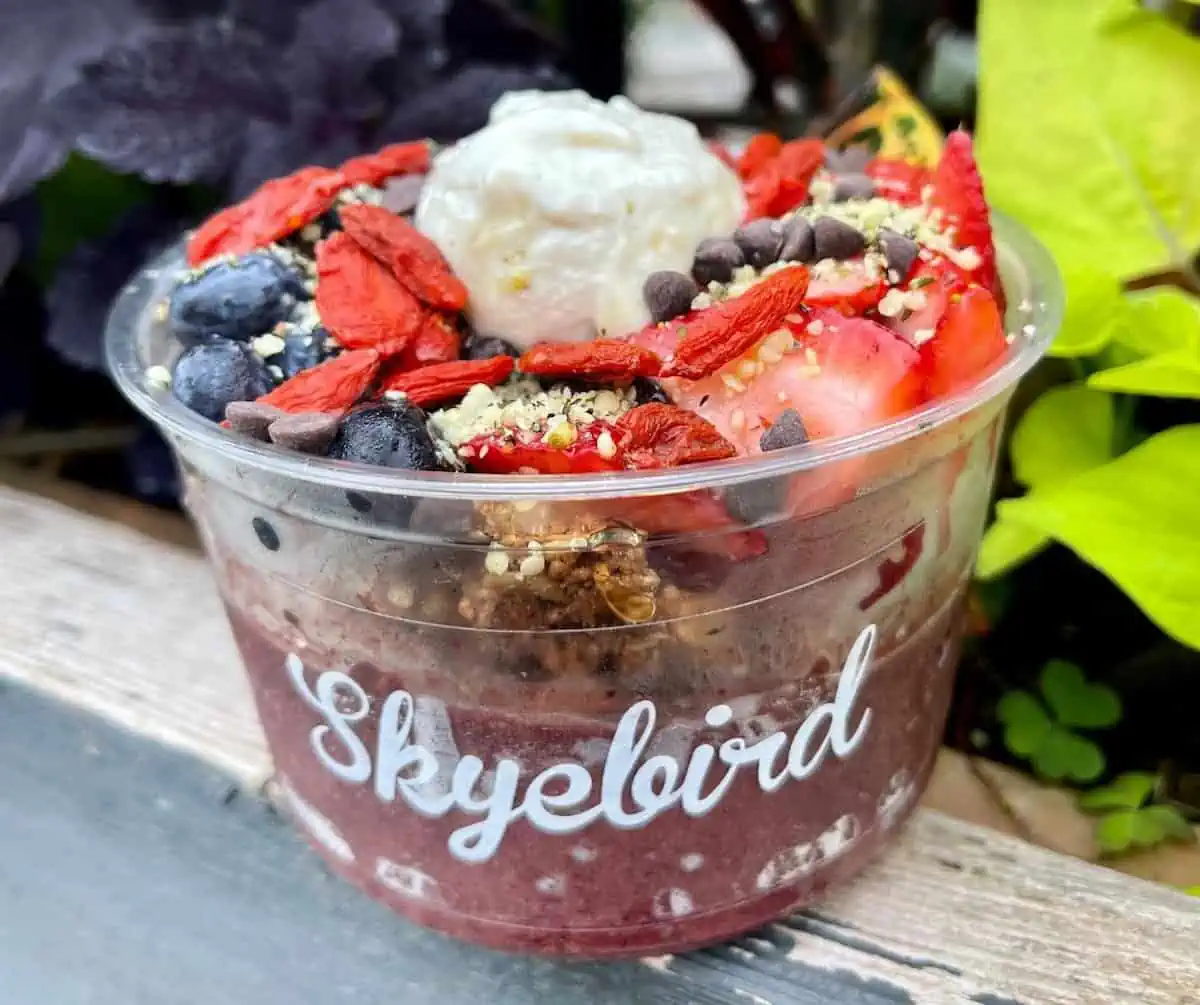 Delivering on the promise of "taste-good food for the feel-great soul", it's hard to beat the organic soups, salads, and grain bowls made from local produce. Regulars rave about the Brussels Bowl, made with maple Dijon Brussels sprouts, walnut chorizo, chickpea croutons, quinoa, black beans, crumbled tortilla, plant-based Parmesan, and lime jalapeño dressing. Now that's a mouthful!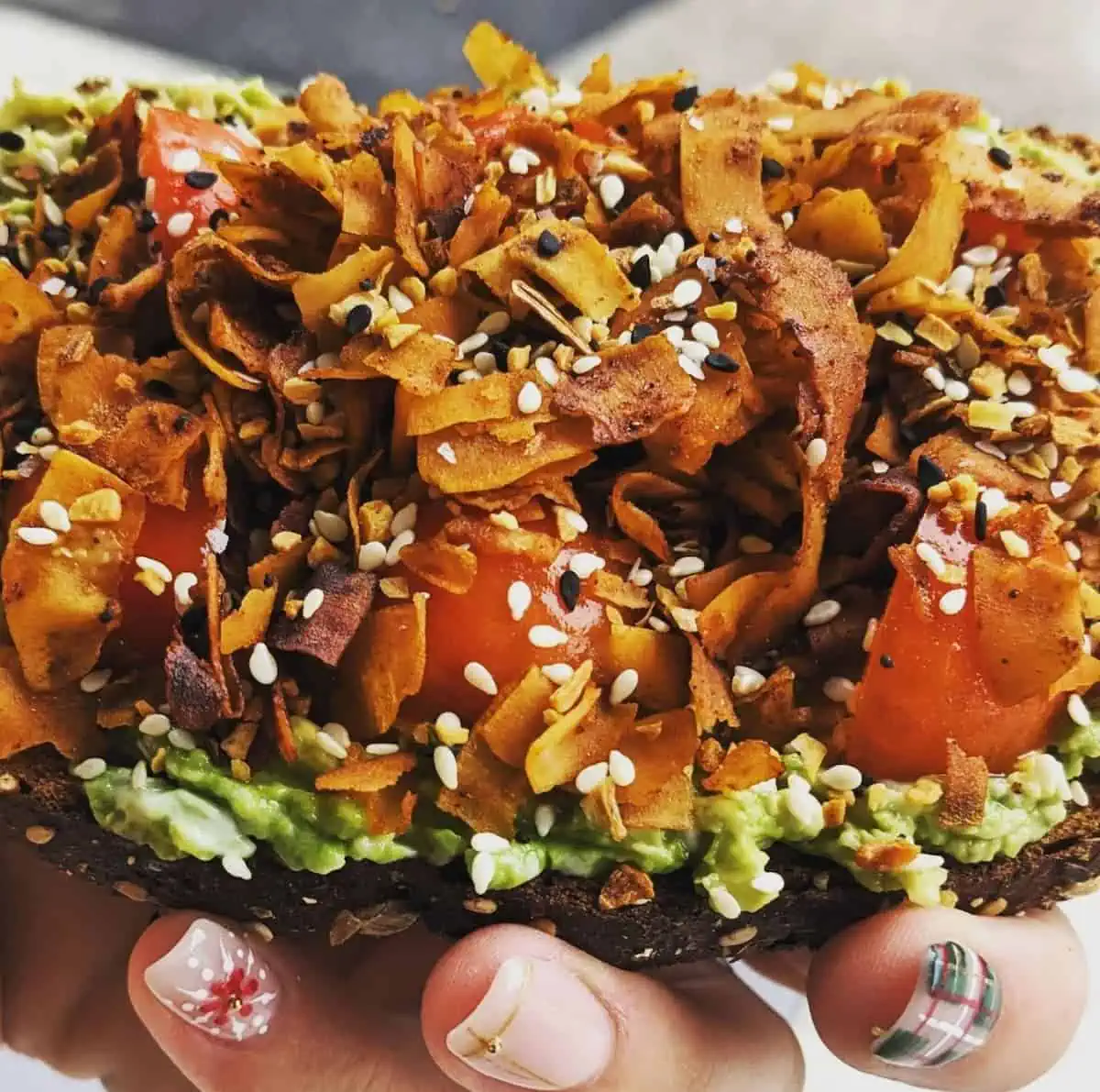 More Vegan-Friendly and Vegetarian Restaurants Orlando Has To Offer
When it comes to vegan-friendly restaurants, Orlando is smoking hot! Although this list is not completely comprehensive, it offers lots of great options to consider while in the Sunshine State. Please note that menu items and offerings may change, so please double-check details with the restaurant before visiting!
More Vegan City Guides
Discover the best vegan restaurants in some of the most popular cities in the world through World of Vegan's travel guides.
We hope you enjoyed this guide sharing the best vegan restaurants in Orlando, Florida! If we missed any of your favorite spots for Orlando vegan food, please show them some love in the comments below. Many thanks to Hannah Kaminsky for her tremendous research and help with this article. This article may contain affiliate links that support our work at World of Vegan. Cover photo credit: Winter Park Biscuit Co.