If you're on the road and considering a fling with some fast food, do you switch into autopilot and picture the Taco Bell Vegan Menu? It's been a haven for vegans for years when you're on the go with no where else to turn to. You can never go wrong with a fine flour tortilla, a bunch of beans, and a whole lot of guac.
When Taco Bell announced that they were the first-ever quick-service restaurant to offer a certified vegetarian menu, vegans rejoiced! They still maintain that they have "millions of vegetarian options" that have been certified by the American Vegetarian Association. It's really just a handful of ingredients (like rice, beans, guacamole, tomatoes, lettuce, and potatoes) done millions of ways, but that's still more progress on the fast food front than many other restaurants have made.
Taco Bell Has Been Thinking About Their Vegan and Vegetarian Customers Long Before Other Fast Food Restaurants
According to the CEO of Taco Bell, "vegetarians are not an afterthought. We sell more than 350 million vegetarian menu items each year." And from the 7-Layer Burrito to the Crunch Wrap Supreme, almost anything on the Taco Bell menu can be hacked to be made vegan.
With more than 6,500 restaurant locations, Taco Bell serves more than 2 billion people every year. They deserve big props for taking this initiative, and hopefully other fast food chains will quickly follow suit. We encourage our readers to write to other fast food chains encouraging them to introduce more vegan meals and to have them certified by the American Vegetarian Association.
Ordering vegan at Taco Bell is super simple if you remember to leave out the meat and dairy. Though, sometimes, the dairy is lurking in unknown and unfamiliar places, so we still have to be careful. Let's cross our fingers that they start offering vegan cheese at least one of their locations soon. Until then, here are some quick suggestions on how to make ordering your tempting tacos and bursting burritos a little easier:
Ask for your dish to be made "vegetarian" (meaning made with beans instead of meat)
Ask for your dish to be made "fresca style" (meaning made without cheese, sour cream, or any dairy)
Add veggie items like guacamole and potatoes (they're back!) to any entrée.
Vegan Breakfast Items
Breakfast Salsa
Hash Browns
How to Order Vegan Tacos at Taco Bell
To order vegan tacos at Taco Bell, ask for tacos with beans instead of meat, no cheese, no sour cream, and add guacamole and potatoes (if desired). Confirm that it will also come with lettuce and tomatoes, and ask for extra sauce packets to spice up your veggie meal!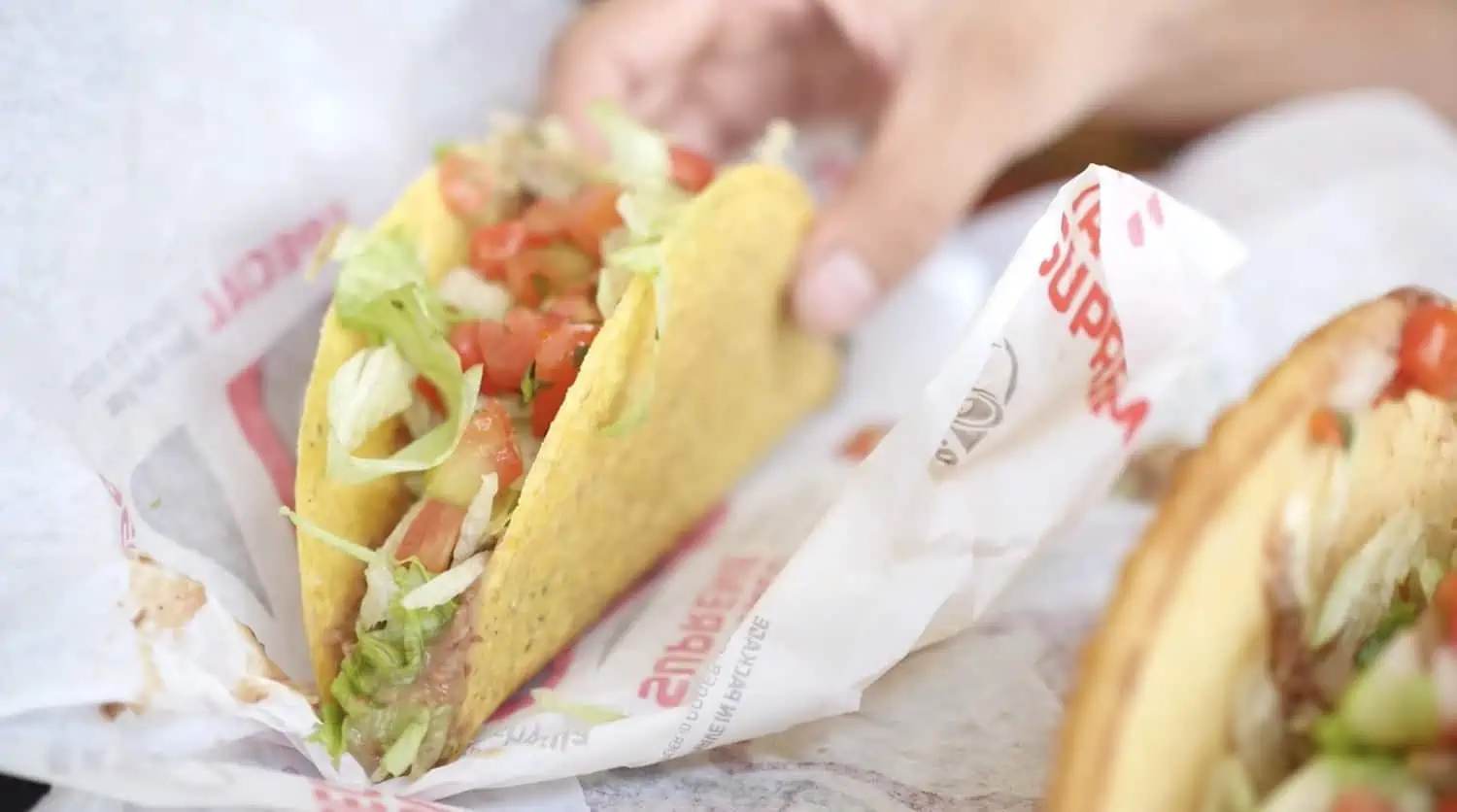 How to Order a Taco Bell Vegan Crunch Wrap Supreme
To order a vegan crunch wrap, simply say:
"May I please have a crunch wrap supreme, with beans instead of meat, no cheese, no sour cream, and add potatoes?"
Voila! You'll get the crunch wrap pictured below, and it's delicious. Load up on the hot Fire sauce, or any sauces of your choice.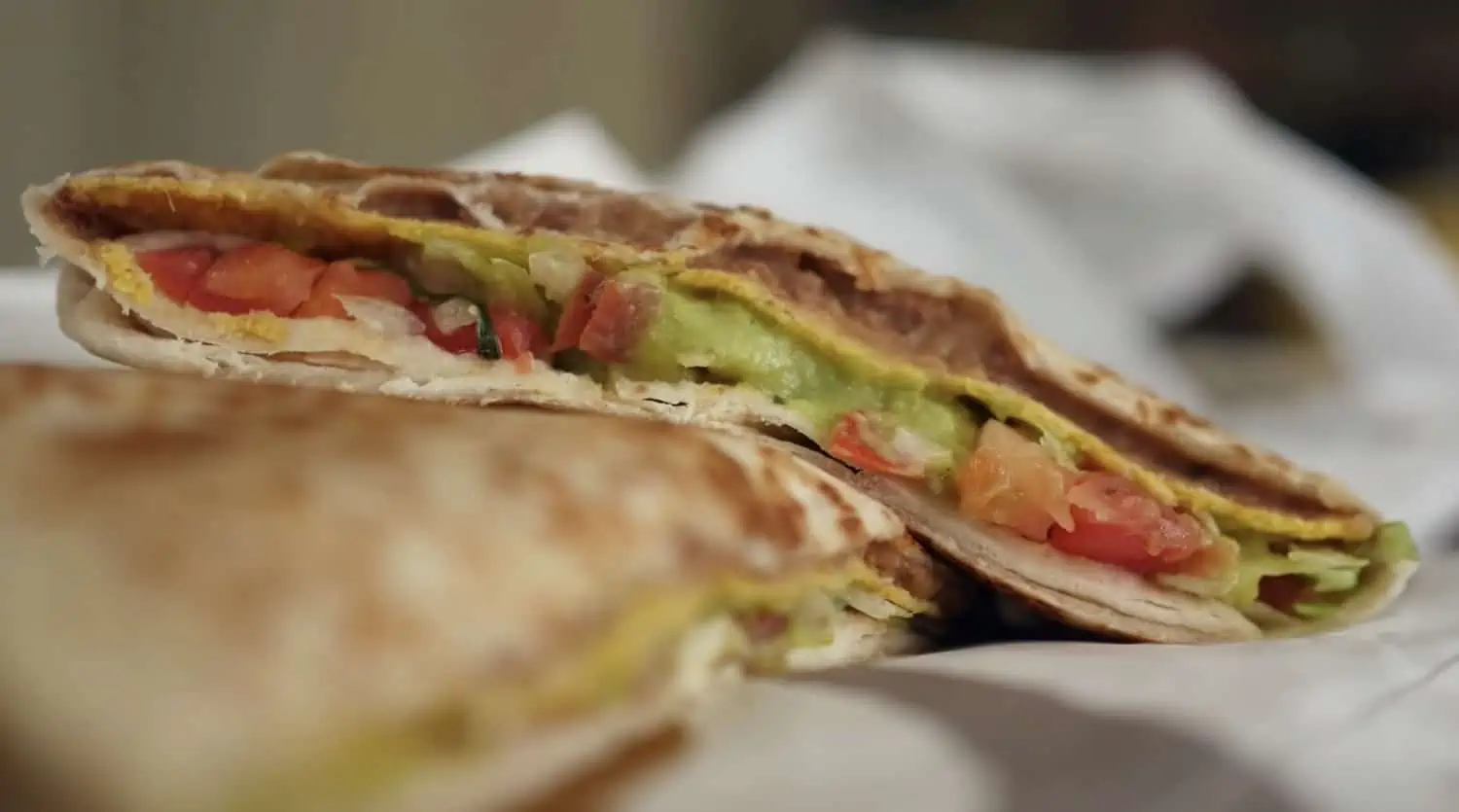 Best Vegan Menu Options at Taco Bell (and How to Order Them Vegan)
Ask for "fresca style" (meaning vegan) and reiterate no cheese, sour cream, nacho cheese sauce, or creamy jalapeño sauce or for all items below. Also feel free to sub beans instead of meat, add potatoes, and add guacamole to any item.
Bean (or Bean & Rice) Burrito
Black Bean Crunchwrap Supreme
Black Bean Chalupa
Black Bean & Rice Bowl
Black Bean Quesarito (also ask for no sauces and add guacamole, tomatoes, beans, rice, jalapeño peppers, onions, lettuce, and/or potatoes)
Spicy Potato Soft Taco
Veggie Nachos Party Pack (add lettuce, rice, black beans, onions, and/or potatoes)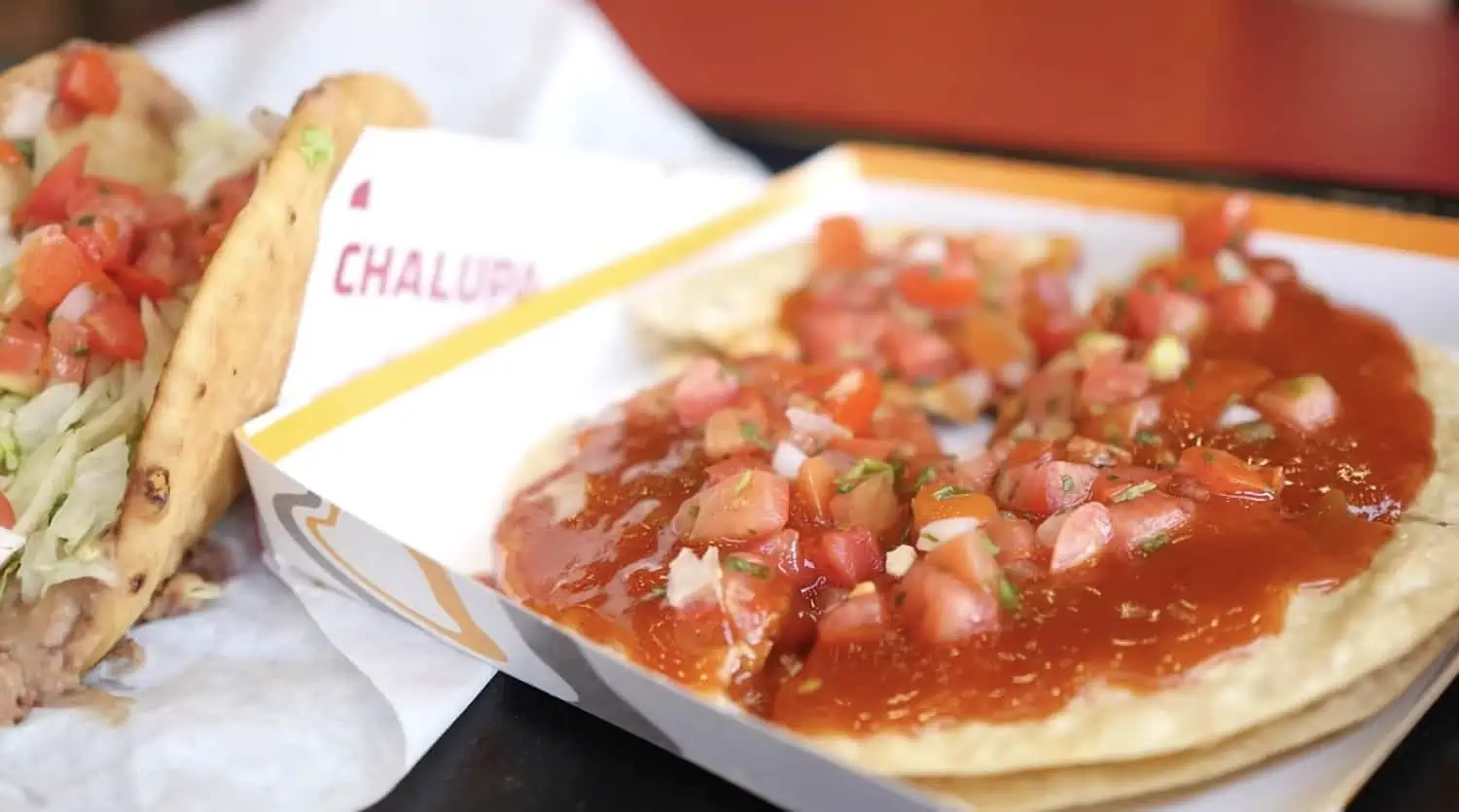 Vegan Dessert
Cinnamon Twists (crispy crunchy cinnamon and sugar coated crisps)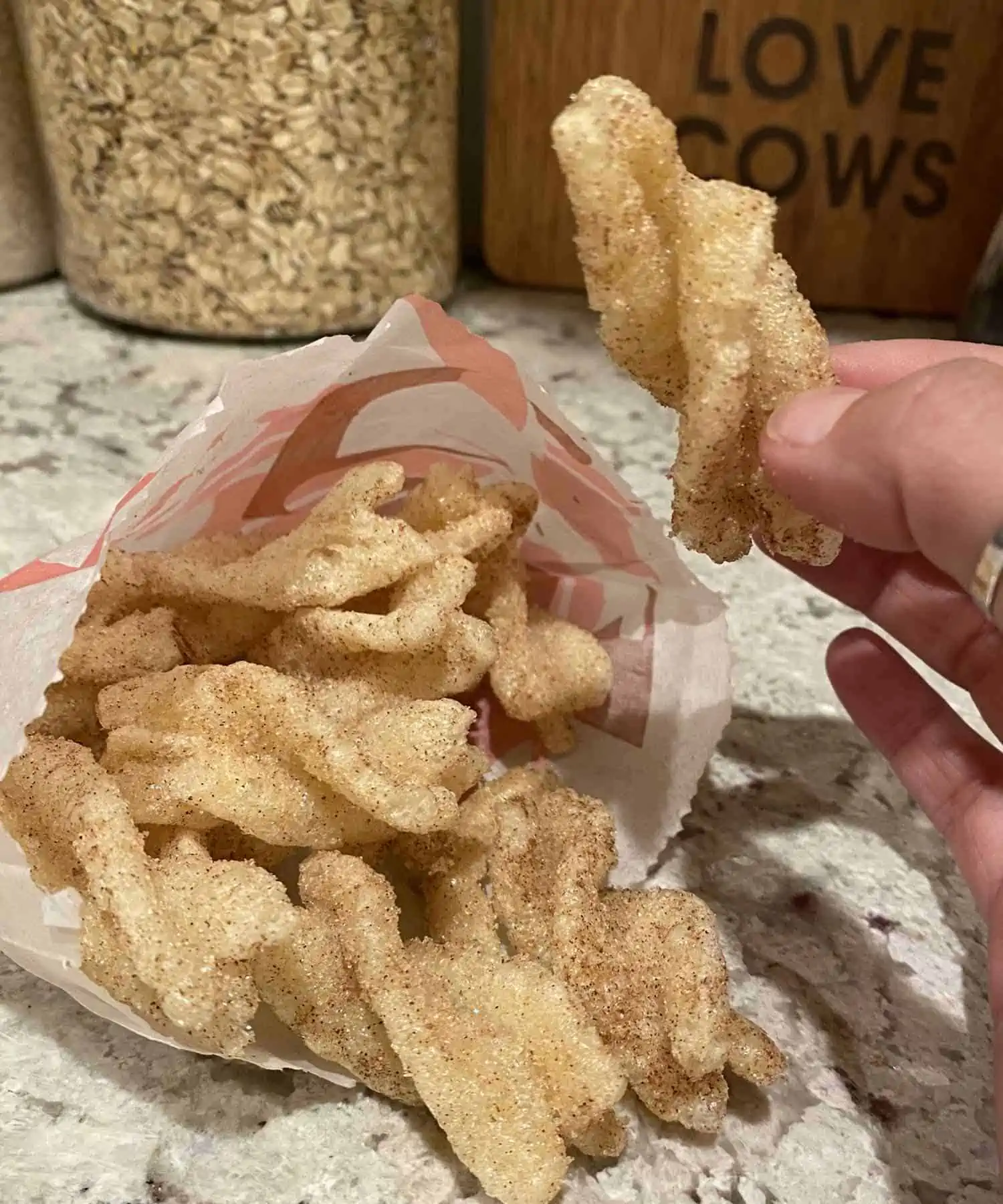 Plant-Based Sides
Seasoned Fries
Seasoned Rice
Nacho Chips
Guacamole
Refried Beans
Black Beans
Taco Bell's Vegan Taco Shells & Tortillas
Chalupa (yes, Taco Bell's Chalupa shell is vegan!)
Corn Taco Shell
Flour Tortilla
Gordita Flatbread
Red Strips
Tostada Shell
Vegan Sauces & Ingredients
Black Beans
Green Sauce
Guacamole
Hot Sauces (all 4)
Jalapeño Peppers
Lettuce
Nacho Chips
Onions
Potato Bites
Red Sauce
Refried Beans
Seasoned Fries
Seasoned Rice
Tomatoes
Vegan-Friendly Beverages
Black Coffee
Fountain Drinks
Freezes (Only the Mango Freeze and Mtn Dew Baja Blast Freeze are vegan-friendly.)
Gatorade Fruit Punch
IZZE Drinks
Orange Juice
Pink Lemonade
Unsweetened Iced Tea
NOTE: The "whip" versions of the Freeze drinks are NOT vegan and contain milk products, specifically the Mango Whip and Island Strawberry. The Wild Strawberry and Wild Cherry flavors contain confectioner's glaze, which is made from insects, so it's also not vegan.
NOT Vegan at Taco Bell
Cinnabon Delights (contains egg and milk)
Doritos Locos Tacos (contains milk and cheese)
Sauces (contain milk and some also egg, except for the green, red, and hot sauces)
Creating a Kinder and More Accessible Taco Bell
It's only a matter of time before more vegan options land on the menu. That's the direction all the big fast food chains are heading, and Taco Bell knows that the heat is on and they can add a few more items that are vegan-friendly, such as vegan cheese. But meanwhile, we can always write to, call, or contact the managers of any location to make our requests.
What are your favorite items on the new vegan menu at Taco Bell? Let us know on Facebook, Twitter, and Instagram!
Helpful Hints When Ordering Vegan at Taco Bell
Browse the Taco Bell menu before ordering.
If ordering Taco Bell through a delivery service, make sure you clearly specify any substitutions you would like. Especially concerning cheese and meats. If you're worried that your request may not be honored (or seen by the server at Taco Bell), it might be a better idea to go there directly to order.
Check out the Full Nutrition Info page and Ingredients Statement section to make sure that you are purchasing a vegan-friendly item. The menu items offered at Taco Bell do change and the informational charts seem to be updated regularly.
From past experience, it seems that most (if not all) seasonal drinks or foods are not vegan because of added dairy milk or milk derivatives. Be careful when new and exciting seasonal products are offered at Taco Bell. Double check the allergens and ingredients page to make sure the item is vegan before purchasing.
Historic Moments in Taco Bell History
October 2023 – For a limited time, Taco Bell offers an amazing vegan nacho cheese option for their famously popular Nacho Fries nationwide.
How to Order Vegan at Other Fast Chains
Be sure to check out our full Vegan Fast Food Guide where you can see the best vegan options at all the major chains in the U.S.
More Mexican-Inspired Fast Food Guides
Other Chain Restaurants
Have you found any other options to be veganizable? Did you find something amazing that we missed? Let us know by tagging #worldofvegan and sharing your favorite vegan-at-Taco-Bell creations with all of us!
This vegan at Taco Bell article is not sponsored and we are in no way affiliated with Taco Bell. At the time of this article, the foods mentioned above are vegan. Since restaurants constantly update their menus and add or take away items, please keep this in mind when ordering your food. There may be new items that are vegan at Taco Bell and not listed or items listed here as vegan, which are no longer vegan. Take care to double-check.