Searching for the tastiest vegan restaurants in Atlanta? Have we got a guide for you! From plant-based pizzerias to savory soul food to flavor-heavy food trucks, there's never been a better time to find amazing vegetarian restaurants near you in Atlanta.
More than any other capitol city, the vibrant urban landscape of Georgia reflects its history as the birth of the civil rights movement, while keeping a steady eye on the future. Atlanta originally developed out of the final stop on a statewide railroad and hasn't stop growing and thriving since. As an innovator in the arts, education, film, and music, this cultural hot spot has a lot to take in.
45 unique neighborhoods give each square mile a completely different flavor, spotted with parks, street art, museums, headquarters for global brands, theaters, shopping opportunities, and of course, restaurants. Once you get your fill of the local attractions, go sightseeing with all your senses and get a taste of what's hot on the culinary scene.
"Southern comfort" takes on new meaning when you realize there are well over thirty completely vegan restaurants to choose from, no need to worry about confusion or cross contamination. Take it easy and enjoy every bite in the Peach State, with the very best plant-based food in "The Empire State of the South."
Vegan Soul Food Restaurants in Atlanta
Just like Mama used to make, only better! Now you can get a taste of home cooking no matter where you come from, and without any animal products.
Planted Soul: Previously known as Soul Vegan, you'll still find the incredible soulful stylings they've become known for, such as vegan oxtails, lobster melt, and shrimp & grits. Stick around for dessert so you can snag some deep-fried Oreos (yup they're vegan!) while you're at it.
Roots PBC: Hidden inside the Something Too Drink Café, this place is a treasure worth hunting for. Louisiana cooking is alive and well, since all the meat is plant-based. That means classics like veggie fried chicken, boudin balls, vegan po' boys, and BBQ brisket can be compassionate choices once again.
Soul Vegetarian: One of the true OG's, Soul Vegetarian was founded in 1979, before it was cool to call yourself vegan, as they say. Those old school comfort foods are still a big hit today. If you can only try one thing, go for the Kalebone, which is a high-protein roast made in-house and served either in a sandwich, or as a starter with BBQ sauce.
Mindful Eatz: Taking the space once occupied by Viva La Vegan (RIP), these thoughtful chefs have big vegan shoes to fill, and they're doing it in style. You could easily try the full menu in one visit, short but sweet and filled with guaranteed hits. That means entrees like southern fried cauliflower, unchick'n sandwiches, and jack Philly nachos. Complete the meal with a side of Daddy Mac, their version of vegan mac & cheese, to leave with a full belly and full heart.
Healthful Essence: Caribbean cuisine can be hard to find in the US, but this restaurant and food truck duo are set to change that. At least when you stop by for a visit, you can get your fill of jerk spices, Ital curry, and Irish moss drinks. Come for the food, stay for the Reggae and chill vibes.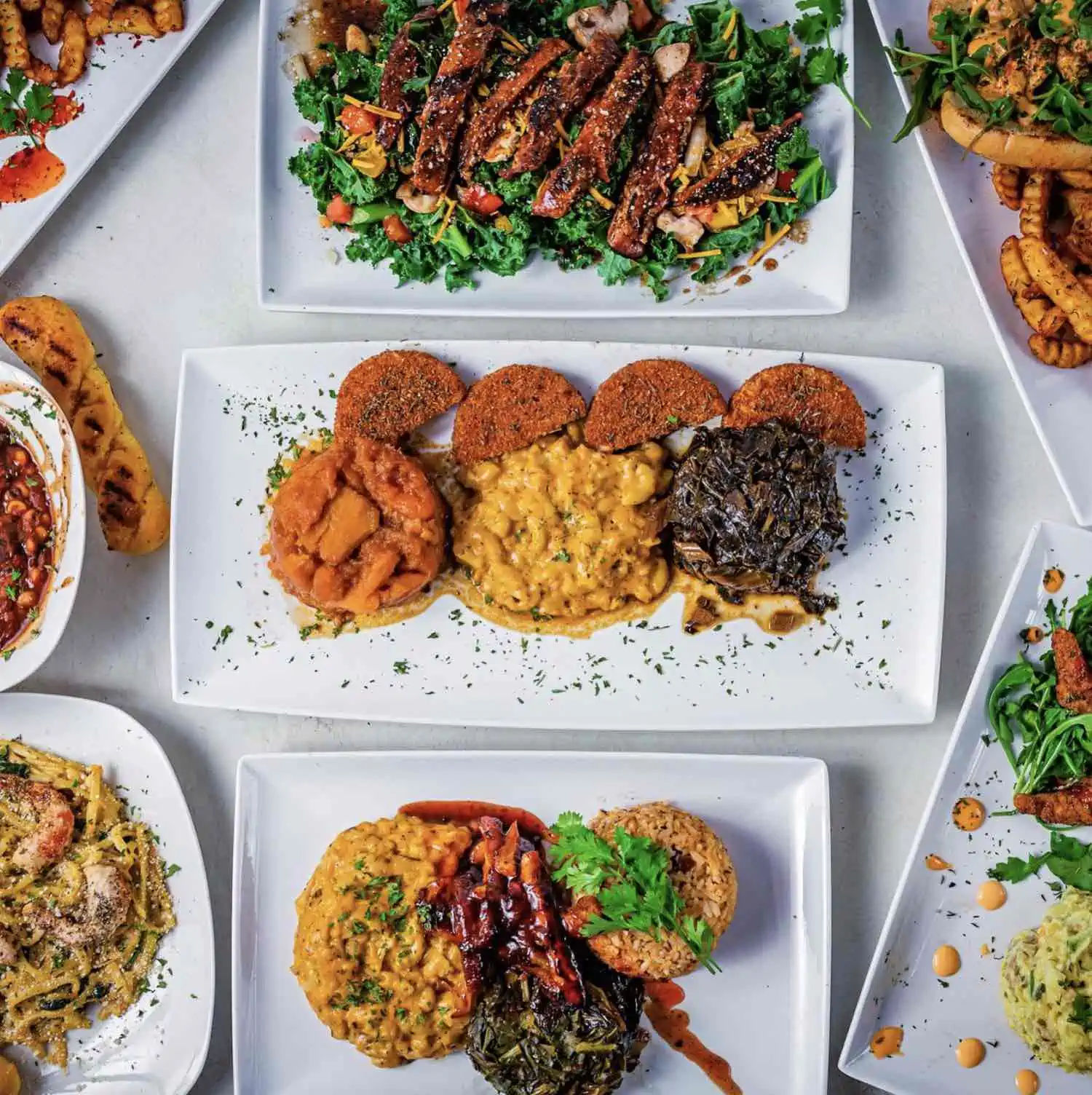 The Best Vegan Asian Restaurants in Atlanta
Taste the world without ever leaving Atlanta. From authentic hawker fare identical to what you'd find in Malaysia to nouveau fusion, these spots will satisfy your appetite for adventure.
The Best Vegan Desserts in Atlanta
Find vegan cakes, cupcakes, donuts, cookies, and more from Atlanta's finest vegan bakeries. Tasty treats galore!
Dulce Vegan Bakery and Café: Your best bet is to pre-order these popular treats before they sell out, especially on busy weekend afternoons. Sink your teeth into a chewy bagel and wash it down with a colorful unicorn latte to brunch like a boss. There are plenty of savory soups and cheesy grits, in addition to their decadent cake cups, which are essentially single-serving trifles.
Family's Favorite Foods: Scratch-made doughnuts, bagels, and bundt cakes are just the start. You can also get bulk tea and coffee, carefully blended and flavored for the best wakeup call you've ever tasted. Stay for lunch to take advantage of the smoky jackfruit tamales and tacos, too.
Vegan Dream Doughnuts: No, you're not dreaming; every single yeasted and glazed ring in the glass cases is 100% vegan. Made from scratch every morning, show up right when the shop opens to get them still hot out of the frier. Every pillowy yet chewy bite is pure bliss.
Cinnaholic: Build your own cinnamon bun using any flavored frosting and toppings your heart desires! This national chain has one bustling outpost in Atlanta, which as been incredibly popular all day, every day, from 10am to 9pm.
Mocha Pops: Pop in and check out these chilly treats! Whether you want something fruity or fudgy, there's a wide range of flavored popsicles to help you keep your cool. If you plan on sticking around for a while, you can invest in a pop subscription for regular deliveries that are even better than cold, hard cash.
eighty7sweets Vegan Ice Cream Company: Here's the inside scoop: This downtown parlor contains only dairy-free frozen treats, which means everything's fair game for an afternoon of indulgence. Go all-out and try a cookie bowl sundae or taste something new like avocado-lime ice cream garnished with a touch of tajin seasoning.
The Vegan Sweetie: Everyone's sweet on this family-own dessert shop found inside Mood Music in Little Five Points. Founded on the belief that everyone deserves something sweet, their plant-based cookies, pies, and cakes are making that possible.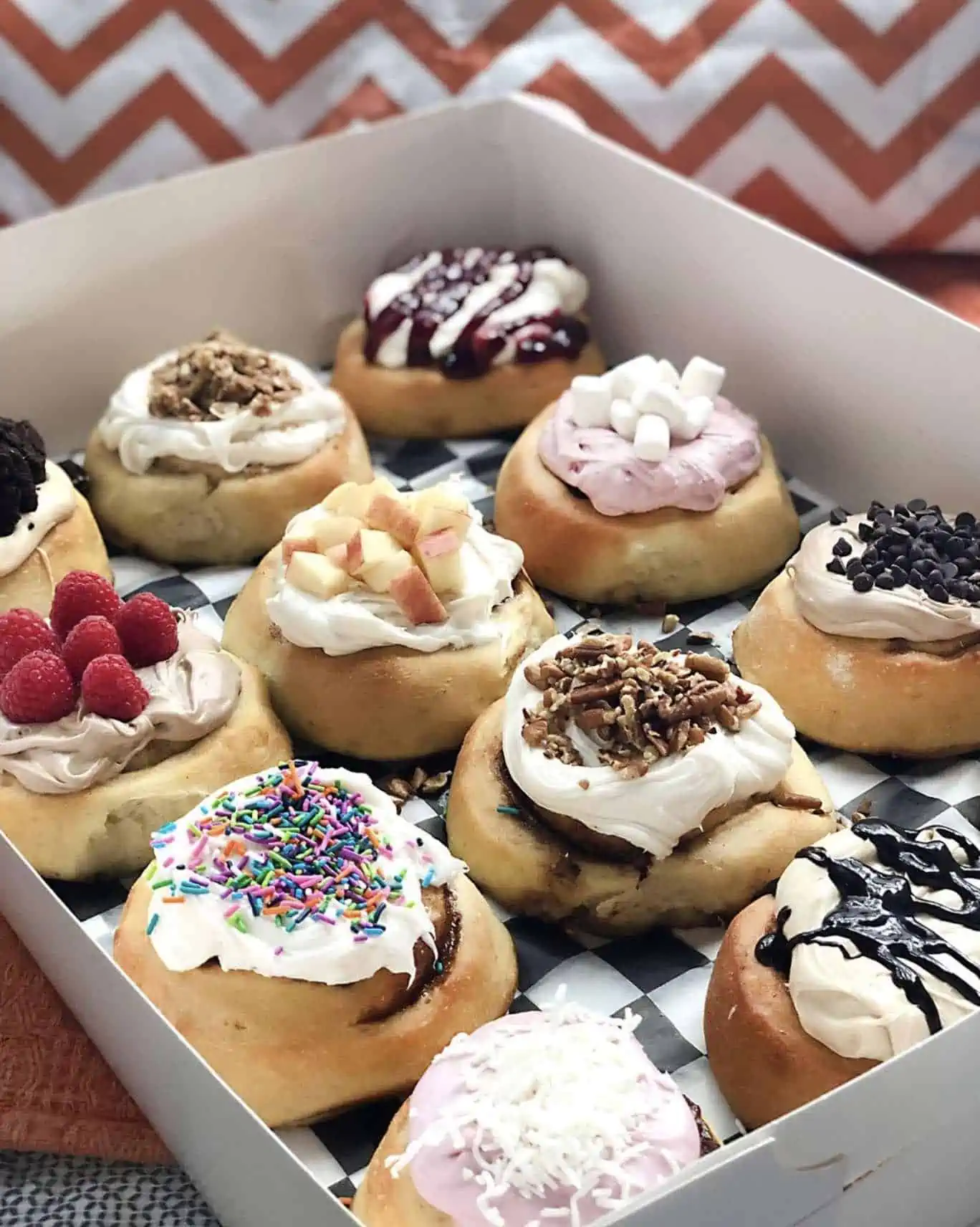 Vegan Cafes in Atlanta
These vegan cafés are serving up a one-way ticket to coziness with their fresh brews.
Café Kulture: Wake up with coffee in the morning and chill out with a glass of wine in the evening. This café has a full-service bar built in, so you can detox or re-tox as desired. Fill up on paninis, pancakes, or fresh salads to balance it all out.
Brooklyn Tea: This New York transplant is serious about all things steeped, with a genuine tea sommelier from Brooklyn. While you're drinking in the hottest new brews, don't forget to check out the breakfast menu, offering crisp, golden waffles and incredible vegan sausage and cheese sandwiches.
Squeeze the Day
It's no secret that Atlanta gets HOT in the summertime, so you need to stay hydrated. Mark these locations along your route as prime rest stops where you can drink in all of life, along with some fresh fruits and veggies.
Juiceheads ATL: Organic produce creates a rainbow of fresh flavors across the full menu of juices, smoothies, açai bowls, and light snacks. Build your own blend exactly to taste or use their carefully curated suggestions as a trustworthy guide. You can't go wrong with such great ingredients as a base.
Arden's Garden: This homegrown chain has nine locations within the city and counting. Take your pick of two dozen potent veggie and fruit juice options, rich smoothies, and light snacks to grab and go.
Paradise Smoothie Juice Bar: Get a heavenly taste of the tropics in glass. These thick, smooth blends will help you escape the everyday doldrums with bright and energizing fresh fruits, vegetables, and superfood ingredients.
Classic Vegan Fast Food
When you just want a familiar bite of comforting American classics, you have a wealth of options, well beyond the token veggie burger. These fast food staples are convincing enough to convert omnivores.
Slutty Vegan: If there's one restaurant in the entire US that needs no introduction, it's Slutty Vegan. Founder Pinky Cole made headlines—and long lines to order—since launching the provocative food truck in 2018. Now growing into a national chain, you can visit four locations in the Metro Atlanta area to indulge in risqué burgers such as the "one night stand," which is a plant-based patty loaded with vegan bacon, vegan cheese, caramelized onions, and "slut sauce" on a vegan Hawaiian bun.
Envegan: Boasting four locations in all, you're never too far from a quick and satisfying meal. Their Buffalo cauliflower and pickle fries are best-sellers, but you have salads, wraps, bowls, burgers, and sandwiches to choose from, in addition to a full range of fresh juices and smoothies. Save room for dessert, because you can also get cake by the slice.
Good As Burgers: Otherwise known as GAB's, these made-to-order burgers feature Beyond Meat patties and chicken tenders. The short menu makes decisions easy; pick one or two patties, fries or tots, and dig in while it's hot.
Carrot Dog: Restoring the old-fashioned carrot dog to a place of glory, these whole taproots are marinated in 16 herbs and spices to taste exactly like a genuine hot dog. Dress yours up chili, mustard, relish, BBQ sauce, and more. This proves once and for all that anything meat can do, plants can do better.
Bar Vegan: Whether you could use a drink or are just in it for the food, belly up to this bar for an extensive selection of plant-based wings, sandwiches, and shoestring fries. Brunch is served on the weekends, and the red velvet French toast is every bit as extravagant as it sounds.
GAS Food Truck ATL: Yes, you do want GAS in this case, because it stands for "Good Azz Sandwiches." Think massive hoagies overloaded with plant-based chopped cheese and plenty of "mucheez" to help take the edge off any snack attack.
WTF! Vegan Fast Food: It's not what you think; WTF means "Wonderful Tasting Food," no curse words necessary. You might swear that you've never had such meaty plant-based eats, though. Vegan burgers, chicken strips, hot dogs, and fries have never tasted so great.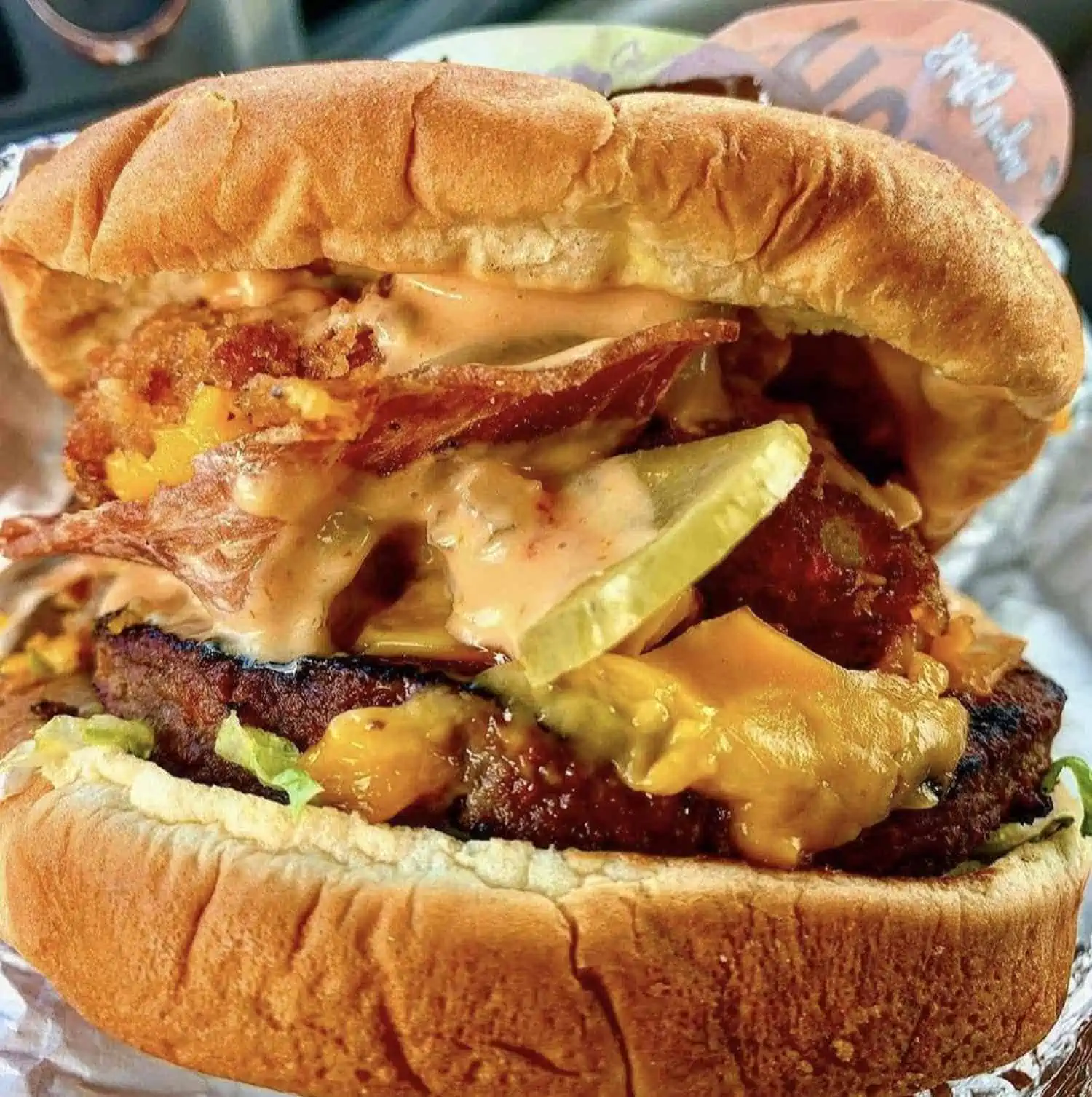 Plant-Based Pizzerias in Atlanta
In these crusts we trust, because there's more than just vegan cheese shreds as an optional alternative. These pies are fully plant-based and come with toppings that make it impossible to stop at a single slice.
Bakaris Plant-Based Pizza: Specializing in pizza and kava, the vibrant lounge atmosphere feels like a party every day. It's a great place to go with friends, make new friends, or just chill for the evening if you're flying solo.
Plant Based Pizzeria: Fast, fresh, and full of flavor, this takeout-only spot has something for everyone. There's a gluten-free cauliflower crust, smaller flatbread for solo diners, heart calzones for monster appetites, and of course, classic pizzas that can feed a crowd. If you can only try one thing, go for the Georgia peach flatbread, which is has a little heat, a little sweet, and tons of vegan meat.
Vegan Mexican Food in Atlanta
Whether you want a fiesta or a siesta, these piquant picks are sure to hit all the right notes.
Gutierra: "Keep it G" with authentic dishes using only locally, ethically, plant-based ingredients. That means burritos, tacos, tostadas, and mulitas with your choice of hibiscus barbacoa, jackfruit tinga, or hibiscus asada. Everything is gluten-free and soy-free, with many nut-free choices, so everyone can take a bite out of bold Mexican flavors.
Chi Chi Vegan Taco Shop: From classic to creative, you can get mushroom asada right next to falafel with tzatziki, all swaddled in tender tortillas. Chimichangas, nachos, and quesadillas are other tempting entrees, but trust me, you'll want to splurge on a frosty mangonada to finish the meal on a sweet note, no matter what.
LaRayia's Bodega: This is not your average corner store. While you shop for clothing, trinkets, and home goods, you can munch your way through some fresh and fun snacks, like nachos, superfood ensalada, and all the salsa you can fit on a chip. Check out the drink cooler for brightly colored fruit juices, made in-house every day.
Calaveritas Taqueria Vegana: Pledging to keep traditions and animals alive, you'll find mouthwatering meatless chorizo, carnitas, al pastor, and asada made from soy protein, mushrooms, and seitan. Whether you go for a giant burrito, plate of tacos, or super cheesy quesadilla, you'll be blown away by these vegan eats that could convince a carnivore.
Healthy Whole Foods
There's no need to stress your stomach if you'd prefer to eat mindfully with healthier choices. You're in good company at these nourishing hot spots.
Tassili's Raw Reality: Kale yeah! You can easily get your daily greens in here, whether you prefer spicy or mild, straight up salad or stuffed into a wrap. Many entrees are already prepared, so you can grab and go on your way to the next big adventure.
Life Bistro: Alkaline fine dining might be a hard ask in most places, but that's the whole point at this upscale eatery. You can have your shrimp alfredo with zucchini fries, and still have a cupcake for dessert, too. There are plenty of indulgent entrees that definitely don't taste like deprivation.
Café Sunflower: If you need to avoid gluten, soy, or nuts, you can rest easy knowing that you'll be taken care of at this allergen-aware eatery. Don't worry, this isn't hippie fare; you can still get Beyond burgers with the works, but the nourishing bowls, salads, and wholesome entrees will make sure you get your veggies in, without a struggle.
Atlanta has plenty in store for visitors seeking a classic American experience, as well as a modern take on the city as it evolves. Learn from the past while watching history unfold before you—all with a smoothie and meatless sandwich at hand.
More Vegan City Guides:
We hope you enjoyed this guide sharing the best vegan restaurants Atlanta, Georgia has to offer! If we missed any of your favorite Atlanta vegan restaurants, please do show them some love in the comments below. Many thanks to Hannah Kaminsky for her help with this article. Cover photo from Canva.com. This article may contain affiliate links that support our work at World of Vegan.