Pepperoni lovers, today is your day! We're sharing not only a scrumptious take on a popular topping, but also a new cooking technique for you to tackle. This vegan pepperoni recipe is featured in the Crafting Seitan cookbook by Chef Skye Michael Conroy and truly can't be beat.
We're so excited about this recipe because we're usually buying our plant-based meats packaged for us. Making your own at home is such a great opportunity to take a deep dive into the world of wheat gluten. Don't worry, it's far easier than you imagine and, if you like kneading, you'll be even more impressed.
Let's get started!
Why You Should Make This Recipe
You might be wondering why you should even learn to work with vital wheat gluten and we don't blame you. Mastering a new method can seem pretty daunting, but we think you'll actually find it fun. Imagine saving a ton of money making your own plant-based meats at home and not even have to peel off your pajamas. Fancy the freedom!
Having a little vital wheat gluten experience will not only give you more confidence in the kitchen, but it will bring such a new, delicious dimension to your weekly recipe round-up. Plus, vegan pepperoni is so freaking yummy and you'll totally impress the heck out of your family and friends. And isn't that the best reason?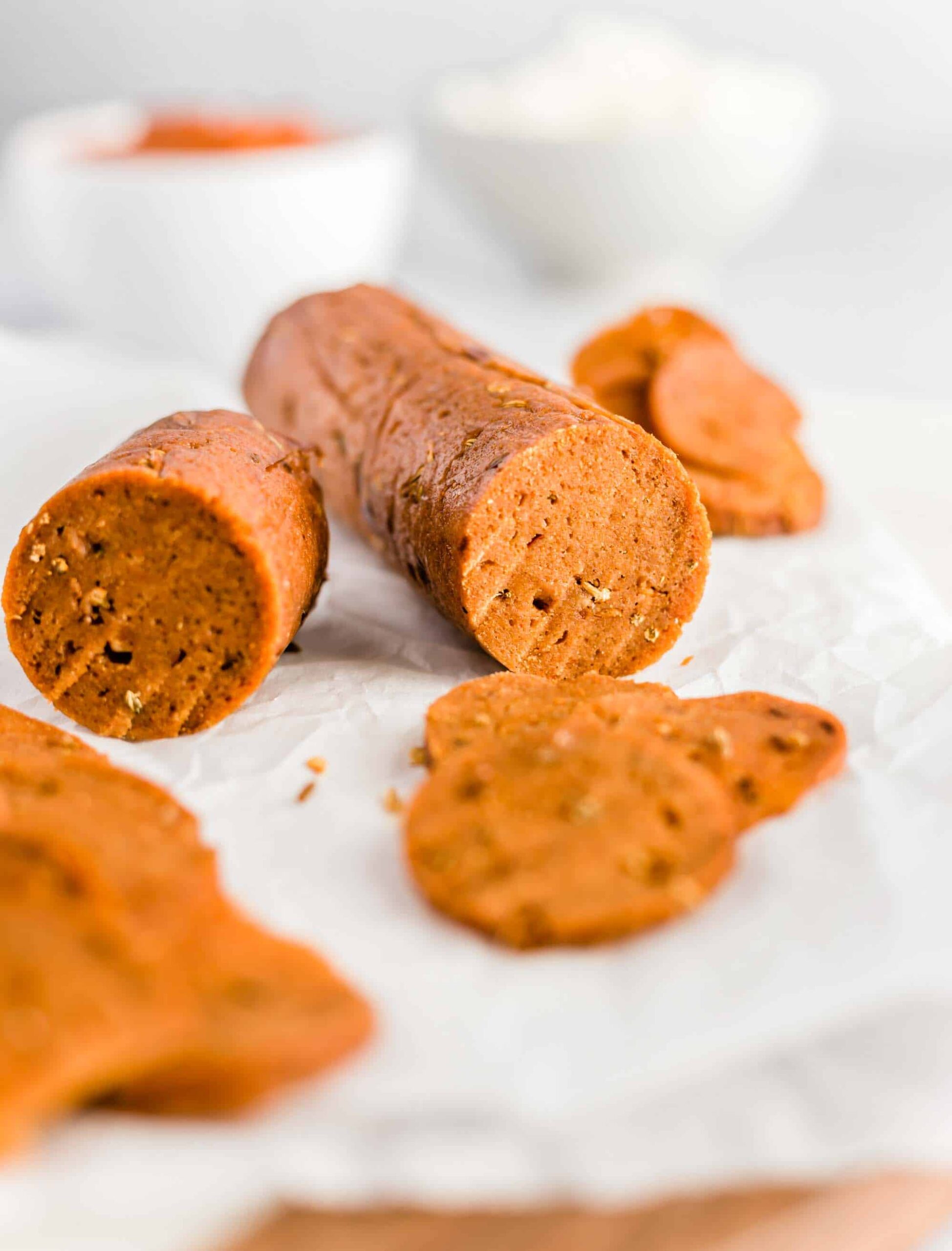 Tips for Serving Up Your Vegan Pepperoni Recipe
If you're coming up short of ideas for how to serve this recipe, we have a number of tasty tips for you. Vegan pepperoni can add that extra oomph to transform a lackluster lunch or dull dinner into a full-on fancy and super fun feast!
Star Ingredients
This recipe would be nothing without these items—the fantastic flavor, correct color, and simple savory aftertaste are all due to these incredible ingredients:
Tomato Paste – Tangy and deeply saturated with color and tomato-y taste, this paste is essential to the authentic appearance of your vegan pepperoni.
Fennel Seeds – These greenish-yellow seeds have a mild licorice-like flavor and give an almost Italian-inspired taste to plant-based meats.
Tamari/Soy Sauce/Bragg's Liquid Aminos – For that salty, umami element, this item is key. Primarily consisting of fermented soybeans, salt, and water (and in the case of Liquid Aminos, also amino acids), it's the foundation of flavor. If you prefer, feel free to use coconut aminos.
What is Vital Wheat Gluten?
What is this wacky ingredient? Vital Wheat Gluten may have a strange name, but it's a relatively simple ingredient that is used to make the popular meat substitute: seitan. Seitan is the base of and many mainstream vegan meats on the market, and you can also easily make it at home, as we'll teach you to do today!
Not a flour in itself, vital wheat gluten is mostly made of wheat flour that has been hydrated and then had pretty much everything taken out except the gluten and a tiny bit of starch. The resulting concoction is then dried and ground back into a flour-like consistency. Using vital wheat gluten in a recipe gives whatever you are creating an elasticity that results in a chewy texture that imitates meat.
How To Make Vegan Pepperoni With Vital Wheat Gluten
First, you're going to add your vital wheat gluten to a large mixing bowl. This will be the base of the seitan, but of course we need to add all the spices and flavor mix ins, plus the water!
Next you'll blend all the mix-ins together in a blender. So go ahead and add the water, olive oil, tamari or soy sauce, tomato paste, vinegar, and spices in your blender and blend until smooth. Add this mixture to the vital wheat gluten flour along with the minced garlic, and mix it together to form your seitan pepperoni dough.
Knead, Knead, Knead!
Set a one-minute timer and knead away! It's important to knead your seitan dough until it becomes elastic-y, which will take around a minute.
Cook Your Seitan Pepperoni Logs in the Oven or Pressure Cooker
Then, just follow the recipe below to form it into two 6-inch logs, wrap them in foil, and either oven-bake or pressure cook those beautiful pepperoni logs! Once they're done and fully cooled, you'll want to pop them in the fridge for several hours before you slice them up and use them on pizza and beyond.
Easy, peasy, pepperoneesy!
Equipment You'll Need
Although the equipment needed might seem a little overwhelming, it's really not. We promise. Just a blender for mixing, foil for rolling, and either a pressure cooker (like an Instant Pot) or regular oven for cooking. You'll be amazed at how simple it really is once you get the hang of it!
1 cup 150 g of vital wheat gluten
½ cup 120 ml of water
3 tablespoons of olive oil
3 tablespoons of tamari, soy sauce, or Bragg Liquid Aminos
2 tablespoons of tomato paste
2 teaspoons of red wine vinegar or apple cider vinegar
2 teaspoons of smoked paprika
2 teaspoons of organic sugar
2 teaspoons of whole fennel seeds
1 teaspoon of crushed red pepper flakes, more or less as desired
1 teaspoon of ground mustard
4 cloves garlic, minced
Place the vital wheat gluten in a large bowl.

Put the water, oil, tamari, tomato paste, vinegar, smoked paprika, sugar, fennel seeds, red pepper flakes, and ground mustard in a blender and process until the fennel seeds are coarsely ground.

Pour into the vital wheat gluten, add the garlic, and combine thoroughly with a sturdy silicone spatula to form a dough. Knead the dough in the bowl until it exhibits some elasticity, about 1 minute. Divide the dough in half.

Lay a 12-inch-long sheet of heavy-duty aluminum foil on a work surface. Shape one portion of the dough into a slender log about 6 inches long and place it near the edge of the foil. Lift the edge of the foil over the dough and begin rolling into a tight cylinder. Twist the ends tightly to seal. Bend the ends in half to lock them tight. Wrap in a second sheet of foil in the same manner. Repeat the shaping and double-wrapping technique with the second portion of dough. If you will be oven baking the dough (rather than pressure cooking it), wrap each package in a third sheet of foil for reinforcement.

To pressure cook, put 3 cups of water in the cooker and put the trivet in place. Add the packages, seal the lid, close the steam valve, and cook on high for 1 hour. Turn the unit off and let the pressure release naturally for 30 minutes.

To oven bake (instead of pressure cook), preheat the oven to 325 degrees F (170 degrees C). Put the packages directly on the middle oven rack and bake for 1 hour and 15 minutes.

Remove the packages and let cool. Then refrigerate the packages for 8 hours to optimize the texture and make thin slicing easier. The pepperoni is ready to eat or use in recipes; it does not require any additional finishing. Slice thick or thin and use as needed.
Variation: For individual snack-sized pepperoni sausages, or pepperettes, divide the dough into 6 equal portions. Wrap and steam the dough for 45 minutes.
If you try this Vegan Pepperoni recipe, let us know what you think by leaving a comment and rating below! Be sure to follow along on Pinterest, Instagram and Facebook for even more vegan recipe inspiration.
Frequently Asked Questions
Even though this recipe is pretty straight forward, we're happy to help answer some of the most frequently asked questions from our readers.
How do you store the leftovers? Very easily. Tightly wrap any remaining pepperoni in vegan wax wrap, foil, or plastic and place in the fridge for up to a week.
Can you freeze vegan pepperoni? Yes, you can! Any cooked leftovers can be wrapped in foil, placed in a plastic bag, and frozen for up to 3 months. To thaw, put the pepperoni into the fridge until the next day or let come to room temperature on the countertop. For an even quicker defrost time, slice up your vegan pepperoni before freezing.
What if I don't have a pressure cooker? No problem. There's an option for baking the vegan pepperoni recipe in the oven instead.
Can I make this recipe gluten-free? Sadly, this recipe is quite the opposite of gluten-free and is gluten-full. You may wish to search for a plant-based meat substitute that is made from soy or eggplant instead.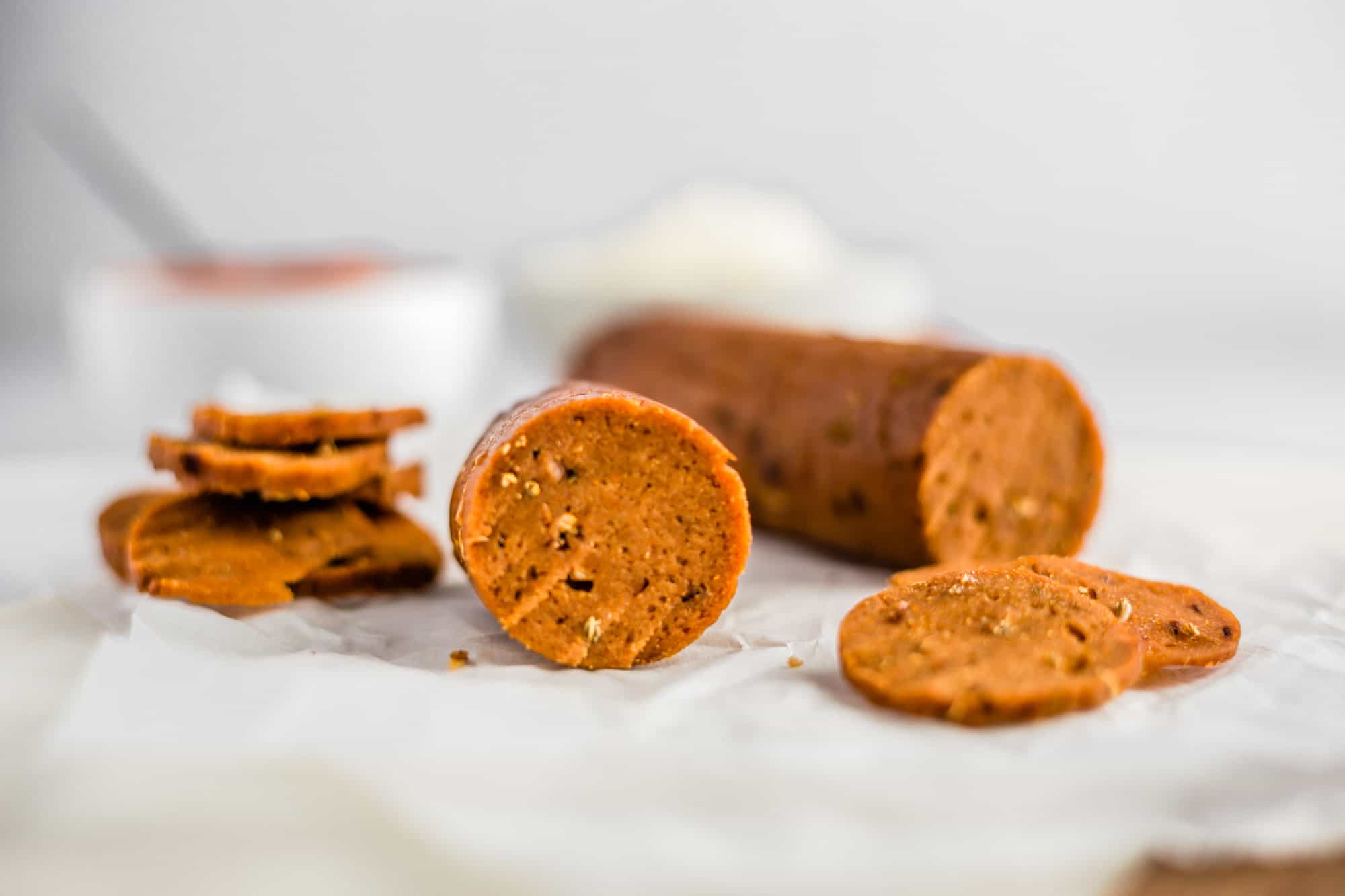 More Meaty Meatless Recipes to Try:
Many thanks to our recipes testers Taylor Gillespie, Sage Konans, Annie Sparks, and Andi Combs for helping to perfect this recipe!
This Vegan Pepperoni recipe was reprinted with permission from the Crafting Seitan by Skye Michael Conroy (Book Publishing Company, March 1, 2021). Vegan pepperoni photos by J.J. Steele for World of Vegan. Article written by Gina House and edited by Amanda Meth. Please note that this article contains affiliate links to help support our work at World of Vegan!