It's exciting to see so many vegan hot dog options available these days. They're becoming so realistic even omnivores may not detect the difference. So fire up the grill and invite the whole neighborhood! There's nothing quite as satisfying as the sizzle of seared vegan hot dogs cooking over a direct flame. However, not all types of wieners are actual winners.
Animal-based hot dogs are not for the faint of heart, literally and figuratively, for all the questionable components they contain. When you want a cruelty-free, environmentally conscious, healthy, and delicious backyard BBQ, plant-based frankfurters will always hit it out of the ballpark.
When it comes to replacing meat, we've got guides for chicken, bacon, pepperoni, salmon, shrimp, holiday roasts, and beyond. Now let's dive in to the best options for plant-based hotdogs!
What's Wrong With Conventional Hot Dogs?
As the butt of many jokes, there's good reason why traditional hot dogs get so much shade. Invented as a way of using up any scraps of meat available, the original "dachshund sausages" sold in the 1860s were a mishmash of fat, gristle, and offal otherwise left on the cutting room floor.
Though the concept is certainly thrifty, the results are downright cheap, in a bad way. This meat emulsion then has fillers, preservatives, and other artificial additives to extend shelf life, while some have sugar or corn syrup added for flavor. Making such a mixture palatable means lots of excess sodium, which is bad for anyone with high blood pressure. Most options are also high in cholesterol, saturated fats, and nitrites.
The World Health Organization's International Agency for Cancer Research (IARC) specifically mentions hot dogs and other processed meats as a possibly carcinogenic and contributor to multiple types of cancer, among preventable diseases. If the mere idea of mystery meat pulp doesn't turn you off, think of your personal health!
And of course, pork or beef hot dogs create a very unhappy endings for the pigs, cows, or other animals involved.
Best Vegan Hot Dog Brands
Meat alternatives have never been so accessible nor plentiful. Mainstream supermarkets will reliably carry at least one or two fresh plant-based proteins, while specialty and natural grocers could stock upwards of a half dozen! Check nearby the tofu for refrigerated vegan hot dog brands like the ones below.
Field Roast
Offering two unique hot dog varieties, Signature Stadium Dog Plant-Based Hot Dogs are the lighter approach with only 110 calories and a milder flavor. Classic Smoked Plant-Based Frankfurters are hearty, heftier, and more heavily smoked, as the name would imply. Both are made with wheat gluten, which makes them high in complete plant protein.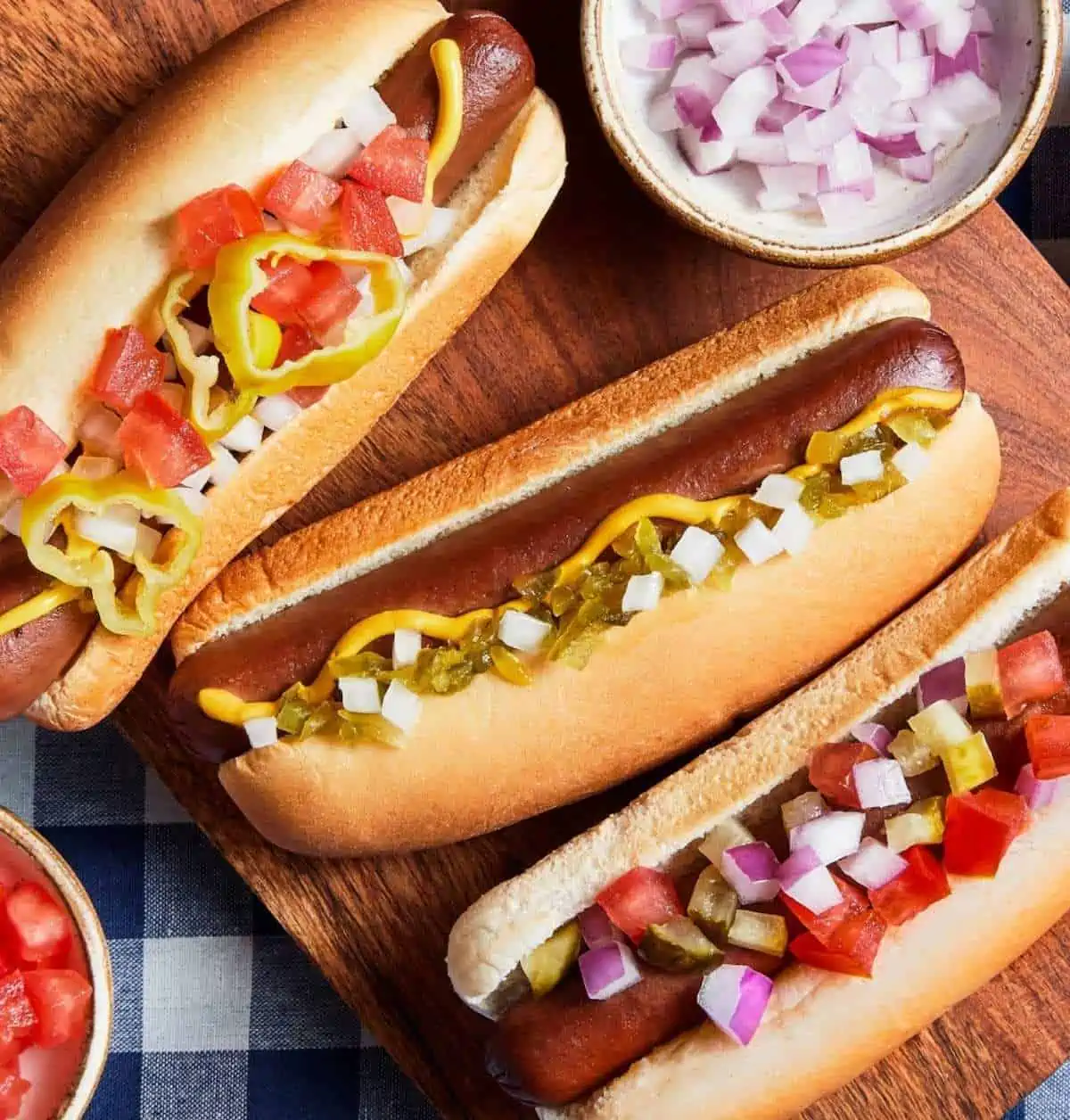 Lightlife
Smart Dogs and their Jumbo-sized variant have been around since the earliest stages of the vegan movement. Their classic soy protein base is a dieter's dream with only 60 calories and 2 carbs each. If there's only one plant-based hot dog available, it's most likely going to be this one. Fortunately, it's an affordable, agreeable option with a neutral flavor and consistent texture that even picky eaters love.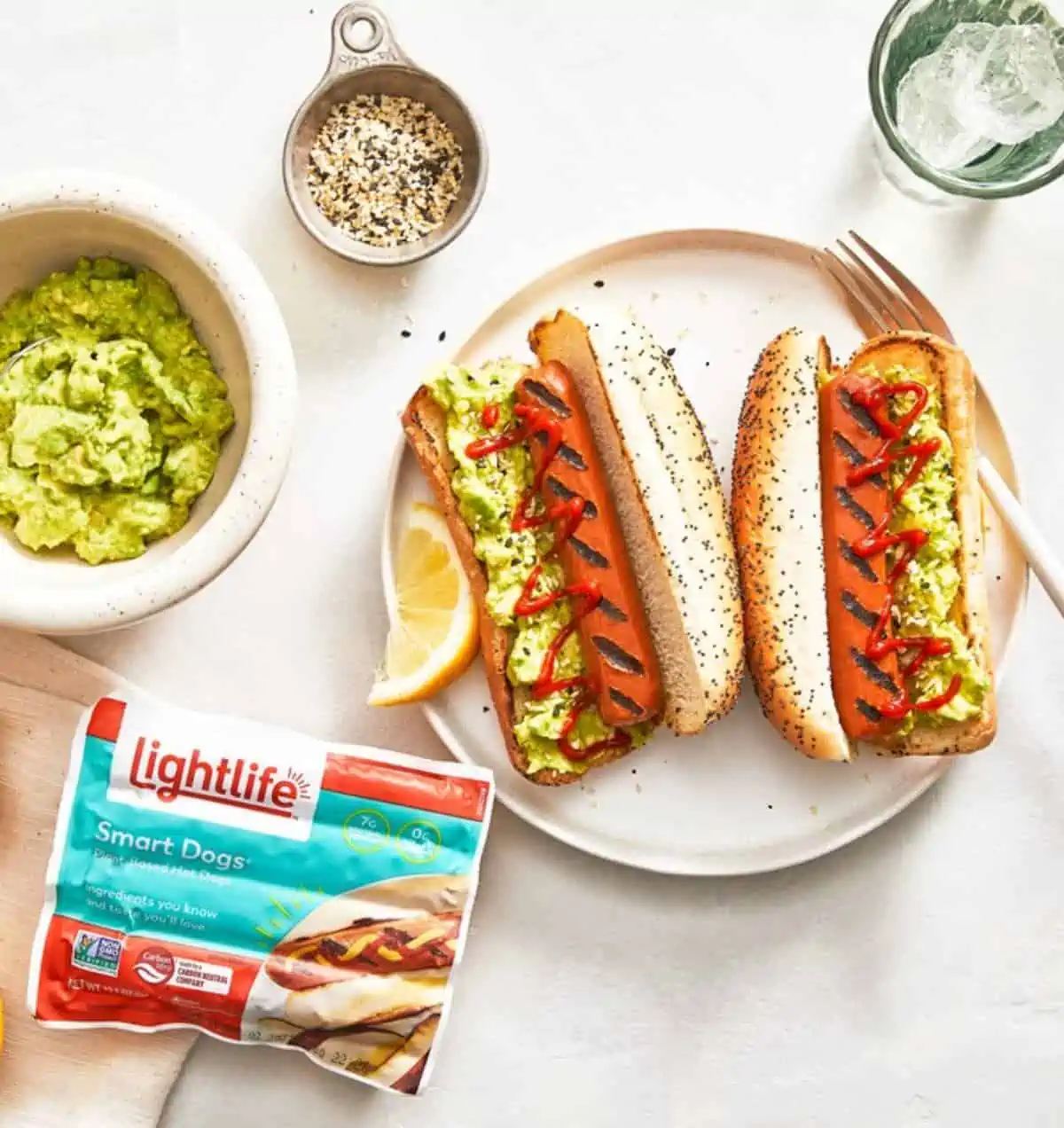 Upton's Naturals
What's up, dog? Updogs, that's what! The key distinction that sets these veggie franks apart from the dog pack is their algae-based casing that creates an authentic "snappy" texture when you bite into them. This seitan-maker is based in Chicago, so they clearly know their way around tube meats. The high-protein wheat base is also certified kosher and GMO-free.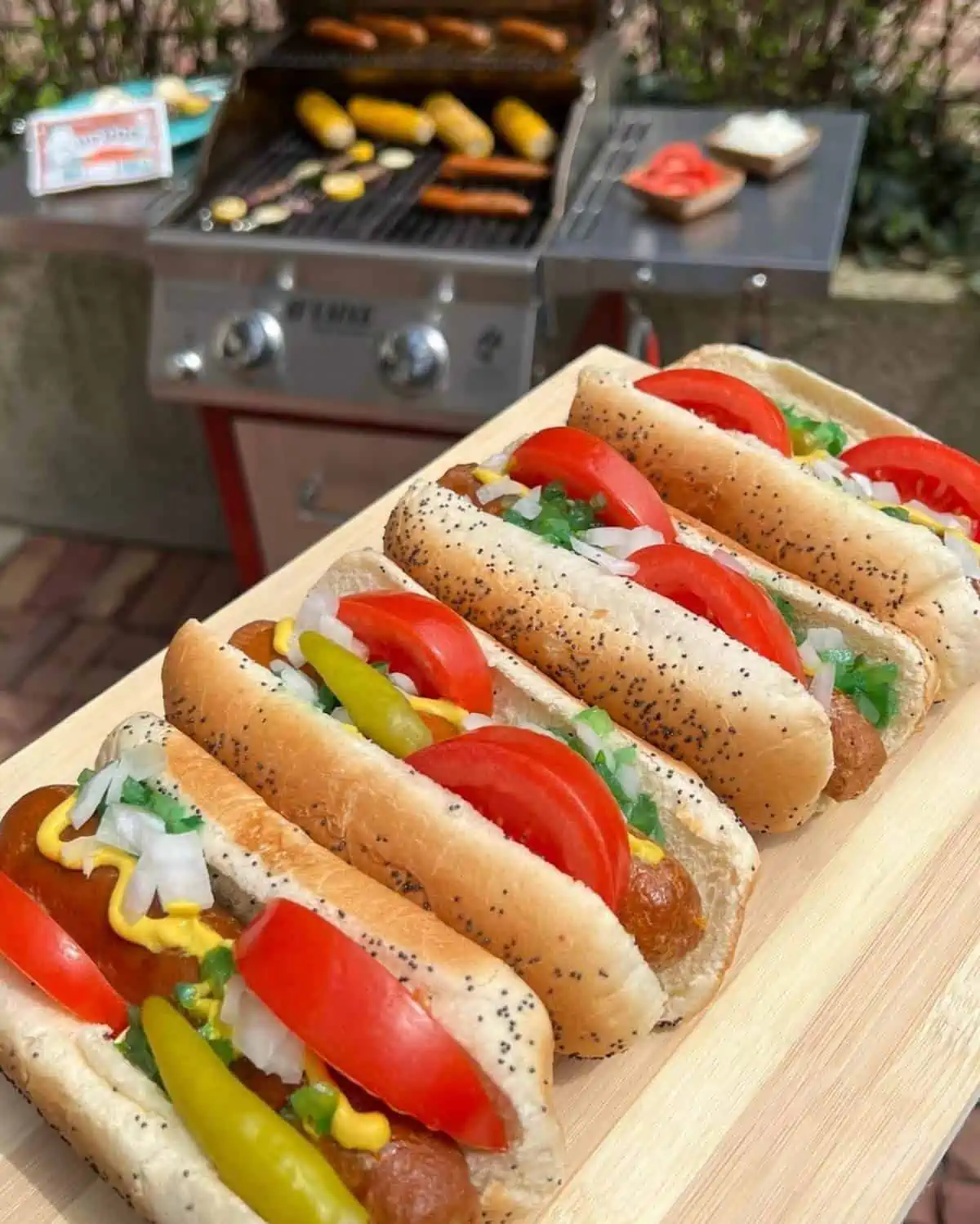 MorningStar Farms
Plump and meaty, these Veggie Dogs are found in the freezer aisle alongside the burger alternatives. Though originally formulated as merely vegetarian, the recipe has been revised to serve as a completely vegan staple! The same can be said for their comforting Veggie Corn Dogs too, coated in a sweet and tender cornbread batter. Each one is a healthy indulgence, bringing 9 or 6 grams of wheat-based plant protein to the table, respectively.
Yves Veggie Cuisine
No matter what kind of hot dog you're craving, this Canadian brand has you covered. There are four different breeds in this lineup, including Tofu Dogs, Good Dogs, Veggie Dogs, and Jumbo Veggie Dogs. Soy protein and vital wheat flour are at the heart of these low-fat pups, which are also free of artificial preservatives, colors, and flavors. Which carefully calibrated formula of spices will you like best? Might as well try one of each to find out!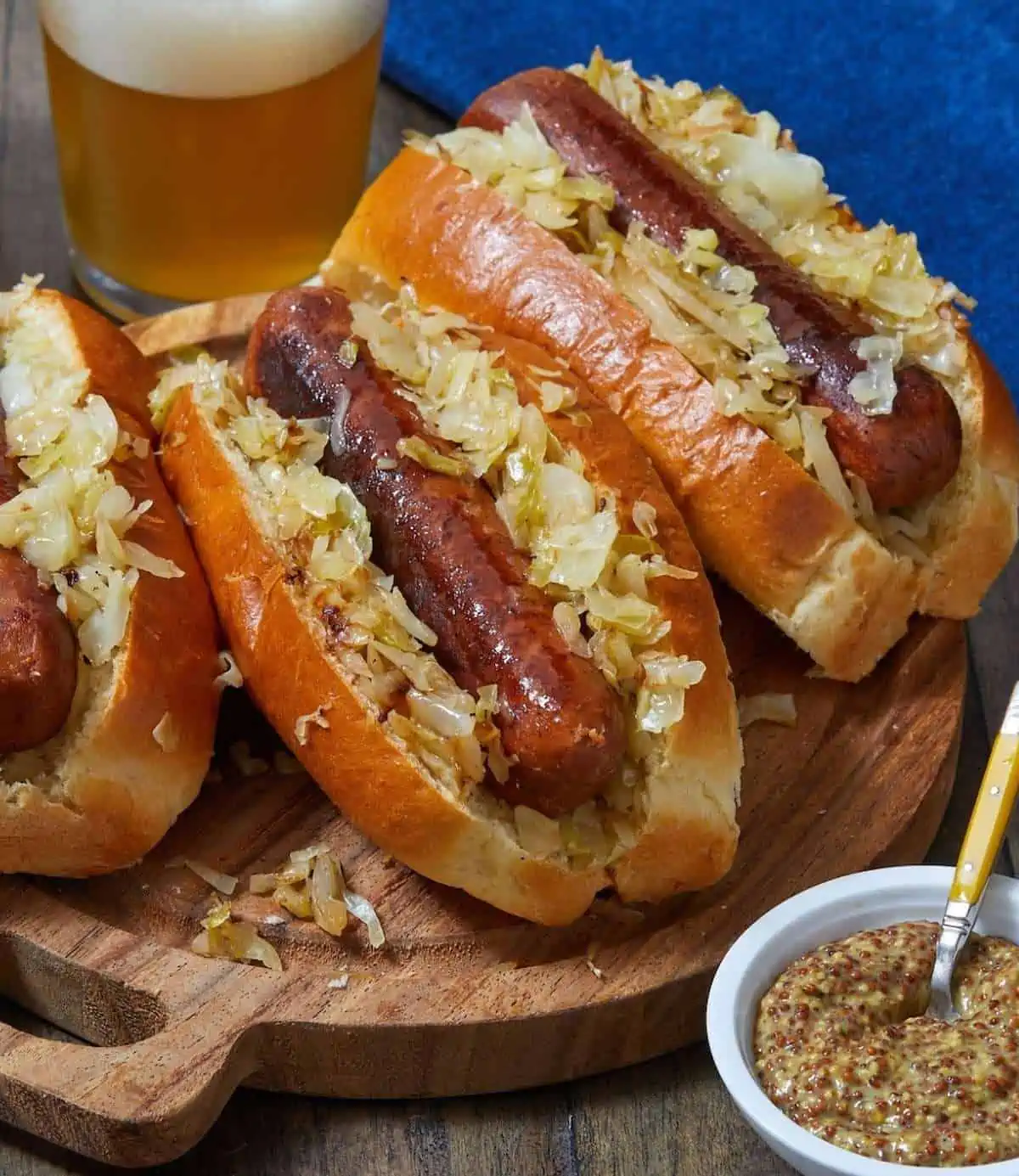 Yeah Dawg
If you're lucky enough to live on the east coast, you may come across Yeah Dawgs at certain Whole Foods Markets or vegan specialty stores. For everyone else, it's a snap to order directly online! These small-batch, soy-free, and gluten-free franks are worth going out of your way to get. Emphasizing a vegetable-forward approach, their blend of beets, sweet potatoes, potatoes, carrots, and sunflower seeds is fresher and brighter than anything else produced as a retail product.
Ideas For Cooking With Vegan Hot Dogs
The beauty of hot dogs is that they're complete meals in and of themselves. It's nice to dress them up with sauerkraut, relish, or mustard, nestled into a warm toasted bun, but you're guaranteed a satisfying bite no matter what. Conversely, the sky is the limit when you consider hot dogs as components in other recipes. Here are a few delicious ideas:
Pigs in a Blanket (using Pillsbury's accidentally vegan Crescent Rolls)
Kids snacks and lunches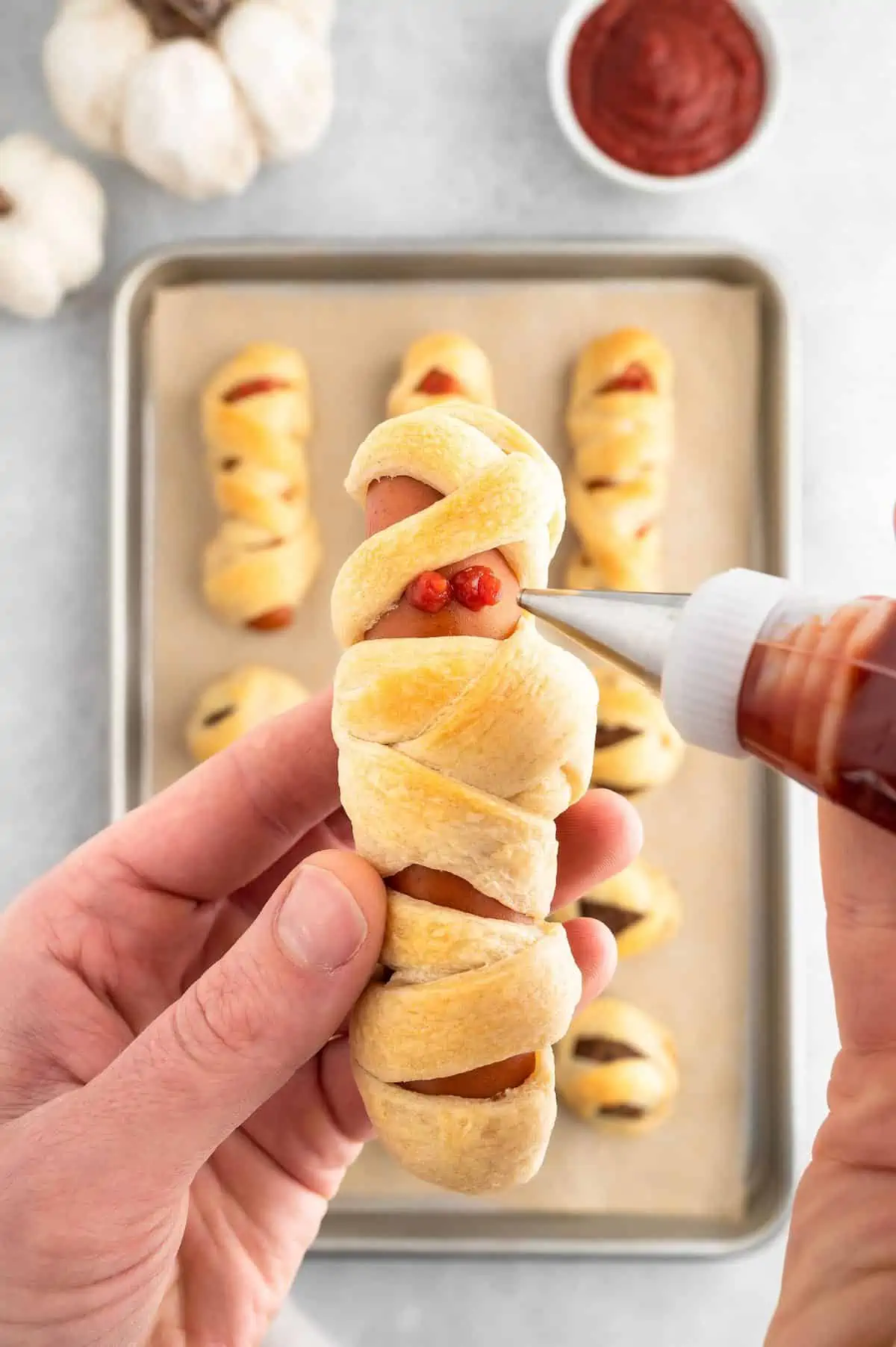 Homemade Vegan Hot Dog Recipes
Don't let prepared options box in your creativity. For a fully customized, DIY approach, it's fun (and easy) to make your own veggie dogs from scratch, too!
Homemade Vegan Hot Dogs – you can use wheat gluten to create seitan dogs with a super "meaty," hearty, and high-protein bite.
Carrot Hot Dogs are the best way to fully embrace eating vegetables! Whole carrots are marinated in a smoky brine, transforming the taproots into something undeniably umami.
More Vegan Barbecue and Game Day Recipes
This guide to vegan hot dogs was written with support from Hannah Kaminsky and edited by Rachel Lessenden. Photos sourced from brand websites or Instagram channels.