Searching for a very special All Hallow's Eve snack? Our spooky Halloween smoothie is sure to satisfy without a shadow of a doubt. This bright orange blend is sweet and wonderfully creamy, with just a whisper of autumn spice.
Creepin' it real, there's not a lot of time for mummy or daddy to make monstrous meals on Halloween night. For a quick snack, use a little bit of sorcery to whip up a batch of smoothies for the ghoulish gang. Awesome for on-the-go goblins and trick-or-treat adventures.
Grab your black cat (for company), a tall black hat (for inspiration), bubbling cauldron (high-speed blender), and your broomstick (aka wooden spoon)––and let's get blending!
Why This Jack-o-Lantern Smoothie Is So Awesome
If you're not already seriously spellbound by this beverage's sassy shade of orange, we know that you'll be completely captivated by our recipe for these reasons:
So devilishly delicious that you'll be begging for more
Super easy to make (with no eye of newt to add)
Fiendishly fun to share with the entire family (little ghost approved!)
Hydrating, nutritious, and eerily enticing to both brains and guts
Dairy-free, gluten-free, fruit & vegetable rich (also soy-free and nut-free if you use plant-based milks free of soy or nuts)
Tips for Serving Up Your Spooky Halloween Smoothie
Smoothies are seriously spooktacular all on their own, but sometimes it helps to disguise your dessert (breakfast or snack) with a special added ingredient. With a few waves of the wand, you can cast a spell over your smoothie to create an entirely new entity! Here are our favorite ideas:
Irresistible Icee Option – For a tasty frozen treat, swap out the plant milk for apple cider. If you can find a locally made apple cider, even better! Scoop into a freezer safe container and place in the freezer for an hour or more until the texture is more firm. To serve, scoop into clear glass cups or bowls and top with pumpkin seeds, vegan chocolate chips, or any fruit that you like.
Carved Pumpkin Smoothie Bowl – Make a boo-tiful Halloween breakfast bowl by reducing the plant milk in half to make a much thicker consistency. Pour into a hollowed out mini pumpkin and decorate the Jack-o-Lantern face with vegan chocolate chunks for eyes and nose, coconut flakes for hair, and a semicircle slice of apple, mango, or orange with sections cut out for a silly or creepy mouth. Add vegan-friendly candies for extra fun facial accessories.
Ghoulish Glass Mason Jar – A craft project and sweet snack all in one! Tape scary (or silly) face shapes to the outside of the mason jar and then and paint the outside of a mason jar with white, orange, black, or purple paint (make sure to place a cover tightly onto your jar before painting). When the paint is dry, take off the shapes to reveal its scary silhouette. Make sure to clean the jar well before pouring in your smoothie. Add a Halloween-themed paper straw for a fang-tastic, final touch.
How to Make Your Spooky Jack-o-Lantern Smoothie
If you're feeling like a zombie and just need a little sustenance, follow these scarily simple steps and you'll soon be on your way to imbibing your beverage:
Measure out your fresh and frozen fruit.
Carefully cut up the carrot into thin slices.
Add to the blender, along with the fruit juice, plant milk, and spices.
Blend until super smooth and spookalicious!
Star Ingredients
This spooky Halloween smoothie recipe is packed with nutrition, fiber, and also tons of fun. Your cells with be howling with health after just a few sips!
Equipment You'll Need
Once you have your not-so-eerie ingredients collected, the rest is as easy (and smooth!) as pumpkin pie. Here's what you need to get started on your spine-tingling Jack-O-Lantern smoothie:
Measuring Spoons
Measuring Cups
Sharp Knife
Cutting Board
High Speed Blender (like a VitaMix or BlendTec)
(2) 8 ounce glasses or a single 16 ounce glass (Halloween-themed if you have it!)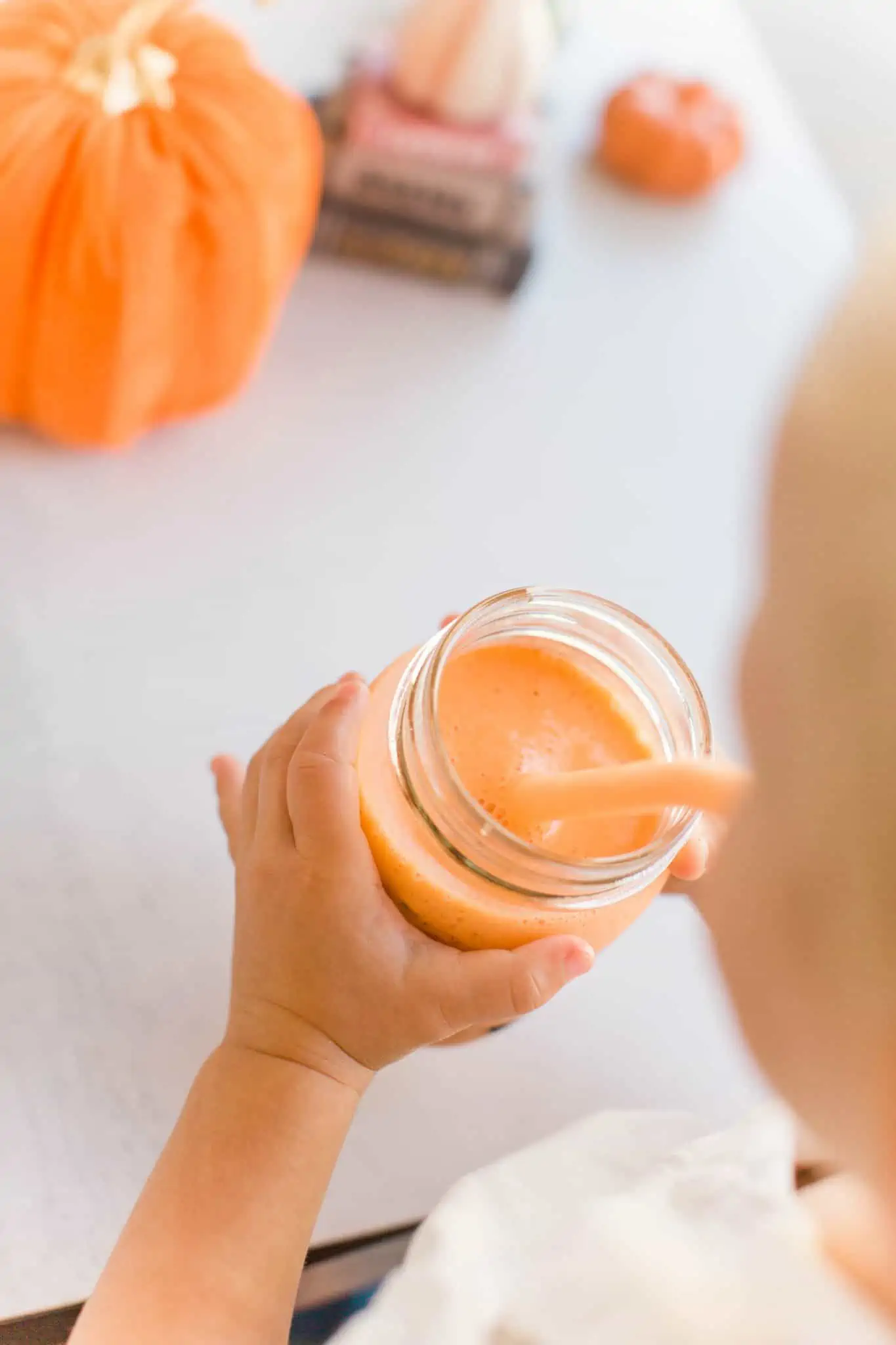 Servings 1 -2 (approx. 16 ounces)
1 large frozen banana
1 cup frozen mango
¼-½ teaspoon apple pie or pumpkin spice, adjust to your taste
1 cup orange juice, freshly squeezed, if possible
1 cup plant milk, your choice
½ cup finely sliced carrots, about 1 medium carrot
Measure out the fruits, spices, orange juice, and plant milk. Add to your blender.

Wash, peel (if you wish), and slice the carrot. The thinner the slices, the easier your smoothie will blend. Add to blender. Measure out and add the spices you'd like to use and add these as well.

Blend on high for about 1 minute, or until smooth and creamy. If the consistency is too thick, add a little more orange juice or plant milk. If the consistency is too thin, either add more carrot or mango pieces to the mixture.

Serve immediately in Halloween-themed glasses and enjoy!
Spice Substitutions – Feel free to switch up the spices if you don't like apple pie or pumpkin pie spices. You can also just use cinnamon and/or add in vanilla extract instead.
Keep the Carrot  – The addition of carrots gives this smoothie its brighter orange color. If you'd rather use fresh carrot juice instead, use ¼ – ½ cup less orange juice and add in ¼ – ½ cup of carrot juice. You might need to add a few cubes of extra frozen mango if the smoothie consistency is too thin.
Full of fruits and vegetables, gluten-free, dairy-free, nut-free and soy-free (if not using soy or nut milks)
Calories: 395kcal | Carbohydrates: 89g | Protein: 6g | Fat: 5g | Saturated Fat: 0.4g | Polyunsaturated Fat: 2g | Monounsaturated Fat: 2g | Sodium: 375mg | Potassium: 1468mg | Fiber: 9g | Sugar: 63g | Vitamin A: 13061IU | Vitamin C: 200mg | Calcium: 377mg | Iron: 1mg
If you try this spooky Halloween smoothie recipe, let us know what you think by leaving a comment and rating below! Be sure to follow along on Pinterest, Instagram and Facebook for even more vegan recipe inspiration.
Frequently Asked Questions
Is this smoothie artificially colored with orange dye? Don't be frightened! All of the color comes from fresh fruits (mango and orange) and vegetables (carrots). Nothing artificial in this smoothie to be afraid of in the least.
Can I make this smoothie soy-free? Absolutely! You can use a little hocus-pocus to swap soy milk for any plant-based milk that you find pleasing.
Would I be able to make this recipe nut-free? A spirited yes to this one. Use any dairy-free milk that is free of nuts––such as soy, oat, flax, hemp, pea, and rice.
Is it okay to swap the carrots for carrot juice? Sure! If you'd rather use fresh carrot juice instead, use ½ cup less orange juice and add in ½ cup of carrot juice. You might need to add a few cubes of extra frozen mango if the smoothie consistency is too thin.
What if I don't like apple or pumpkin pie spice? If these flavors make you feel grim and gruesome, feel free to leave them lurking behind. Substitute with a vial (about 1 teaspoon) of vanilla extract if your smoothie needs a little more magic.
More Vegan Halloween & Holiday Recipes to Try
This spooky orange pumpkin-inspired Halloween smoothie recipe and article was written by Gina House. Vegan food photography by Michelle Cehn. Edited by Amanda Meth. Please note that this article may contain affiliate links which supports our work at World of Vegan.