Wearing a vegan t-shirt is one of the easiest forms of activism out there! And today there are vegan shirts that fit every fashion preference, enabling you to help animals in style. Here are some vegan apparel brands you should know about.
What is a vegan shirt?
Believe it or not, some shirts can be made from animal materials including wool, cashmere, and silk. A vegan shirt uses non-animal products such as cotton, linen, hemp, or polyester. Just like some materials can originate with animals, some dyes are also made from animal byproducts. Vegan shirts will be made with synthetic or plant dyes.
But what really makes all of these vegan shirts vegan? Why it's their messaging, of course. These shirts are all cause-driven, allowing you to wear your ethics on your sleeve, chest, and back. From the cute to the unapologetic, these vegan shirts offer something for everyone.
Top Vegan T-Shirt Brands
While most any cotton t-shirt is vegan, these brands go the extra step, using organic and sustainable materials and bringing clever design and messaging to their vegan shirts. Try one or buy them all—they're all special in their own ways.
Herbivore Clothing Company
With cute designs and catchy slogans, this popular Portland-based company wants you to wear your ethics on your sleeve—literally. The true OG of vegan shirts, Herbivore Clothing is one of the first vegan clothing shops to open ever. They've been making vegan clothing with memorable designs for more than 20 years, since they first opened in 2002.
"[W]e wanted good looking clothes, ethically made, that would show the world we believed animals deserved respect, love, and to be free from harm. We wanted to spread the word about living cruelty-free."

Herbivore Clothing Co. founders Josh Hooten and Michelle Schwegmann
Made with sustainable materials including organic cotton and recycled polyester, you'll feel good, look good, and do good. And Herbivore has more than just shirts. They stock their vegan store with everything from belts and bags and shoes to cards, candies, and cookbooks. You can also find vegan soaps, candles, lip balms, beauty supplies, and more.
In The Soulshine
This Australian-based brand has some of the most comfortable, cool, vegan-themed t-shirts around. Their shirts are all organic, and they have donated over ten thousand dollars to nonprofit organizations working to better the world. They have tees for adults and kids, as well as trendy crop tops popular among vegan teens. Their ethically made vegan clothing, bags, and accessories are investment pieces that you won't want to take off.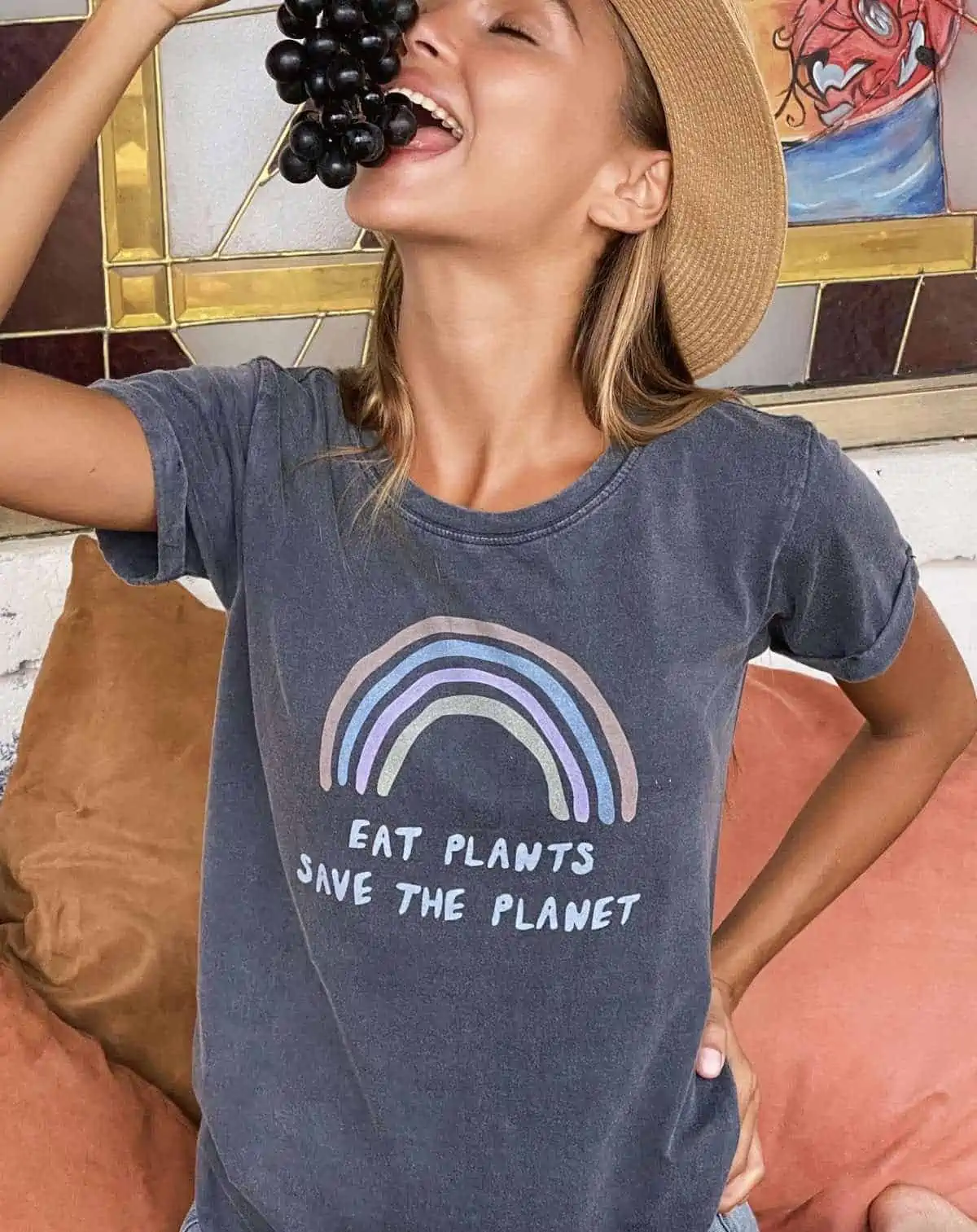 Compassion Company
You're a triple threat wearing apparel from the Compassion Company: the clothes are made from sustainable materials, the company pays workers a living wage, and the shirts are always vegan for the animals. Layer up the tanks over long sleeves, and get one of the cute vegan shirt designs like the original plant eater gorilla face.
Vegetaryn
This woman-owned vegan shirt company takes its name from its founder, Taryn Rasgon, who went vegan in college after suffering from some health issues. Self-taught in all aspects of the business, Vegetaryn offers a range of styles and designs, all with people, the planet, and animals in mind. Using recycled and sustainable materials and sweatshop-free Fair Trade labor, the designs are always changing and on-trend. Great for your own closet and for anyone on your gift lists.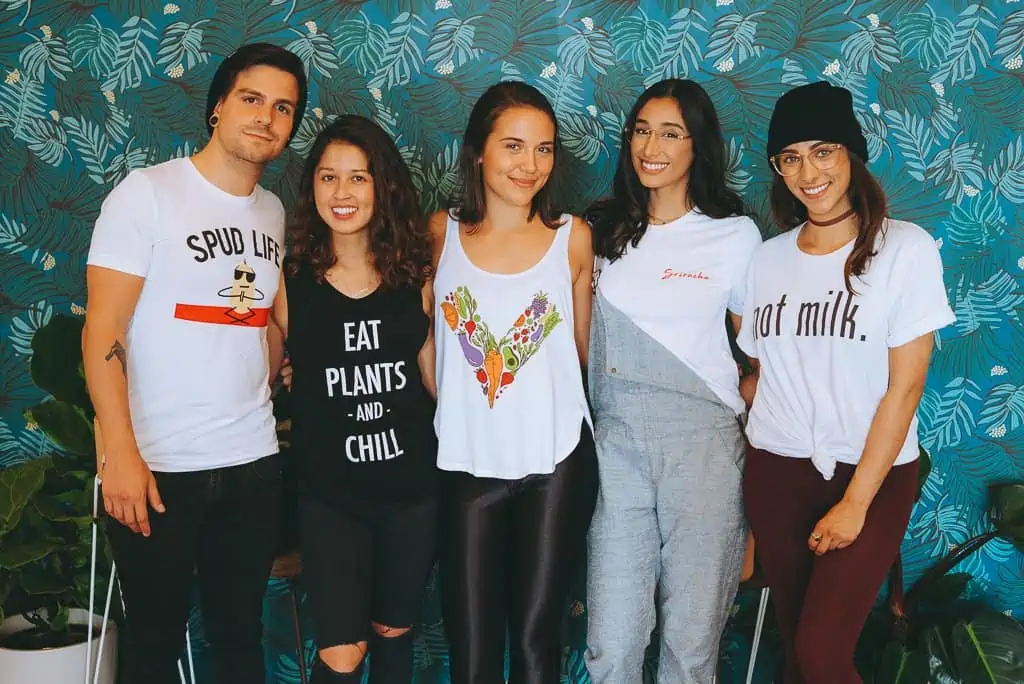 Rule of Nines
Turn any piece of clothing into a vegan one with Kerstin Brueller's stunning, creative, original, and high-quality patches and pins. Not into the DIY-life? The Rule of Nines shop offers an array of plant-based shirts to choose from too. Founded by an Austrian vegan animal rights activist, graphic designer, and illustrator, Rule of Nines also has powerful messaging integrated into every piece. The brand also sells vegan stickers that are the perfect fusion of sweet and sophisticated. Looking for stocking stuffers for your favorite vegans? Stop here to shop!
The Ultimate Vegan Shirt
Your options are limited to one shirt from Nonviolence United, and that's entirely the point. It's a manifesto of sorts—the Dr. Bronner's soap bottle of vegan tees, explaining why ethical vegans go vegan in the first place. Nonviolence United says it helps consumers become aware of the power of their choices. "And we work to make ethical consumer choices more available and affordable. The right choice can also be an easy choice."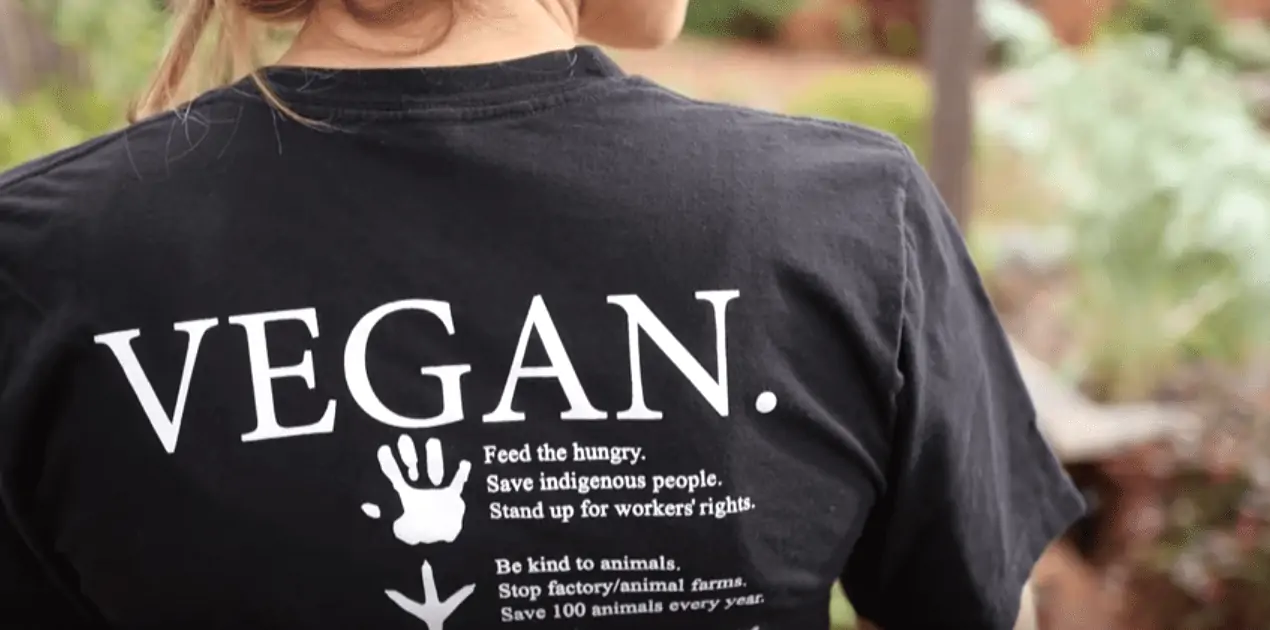 Plant Faced Clothing
Cruelty-free street ware with ethical statements? Plant Faced Clothing doesn't shy away from bold messages or bold styles. This UK-based brand is ethical from make to model, while also paying close attention to sustainability.
"Our mailer boxes are made from 100% recycled paper and printed with water-based inks. We're in the process of phasing all our woven labels to be 100% recycled too. We do our best not to use any plastic in our packaging to produce less waste."
Two of their most popular designs include the "Kale 'Em With Kindness" shirt and solid black "Plant Life" shirt. But you can also peruse their hoodies, pins, vegan socks, and beanies.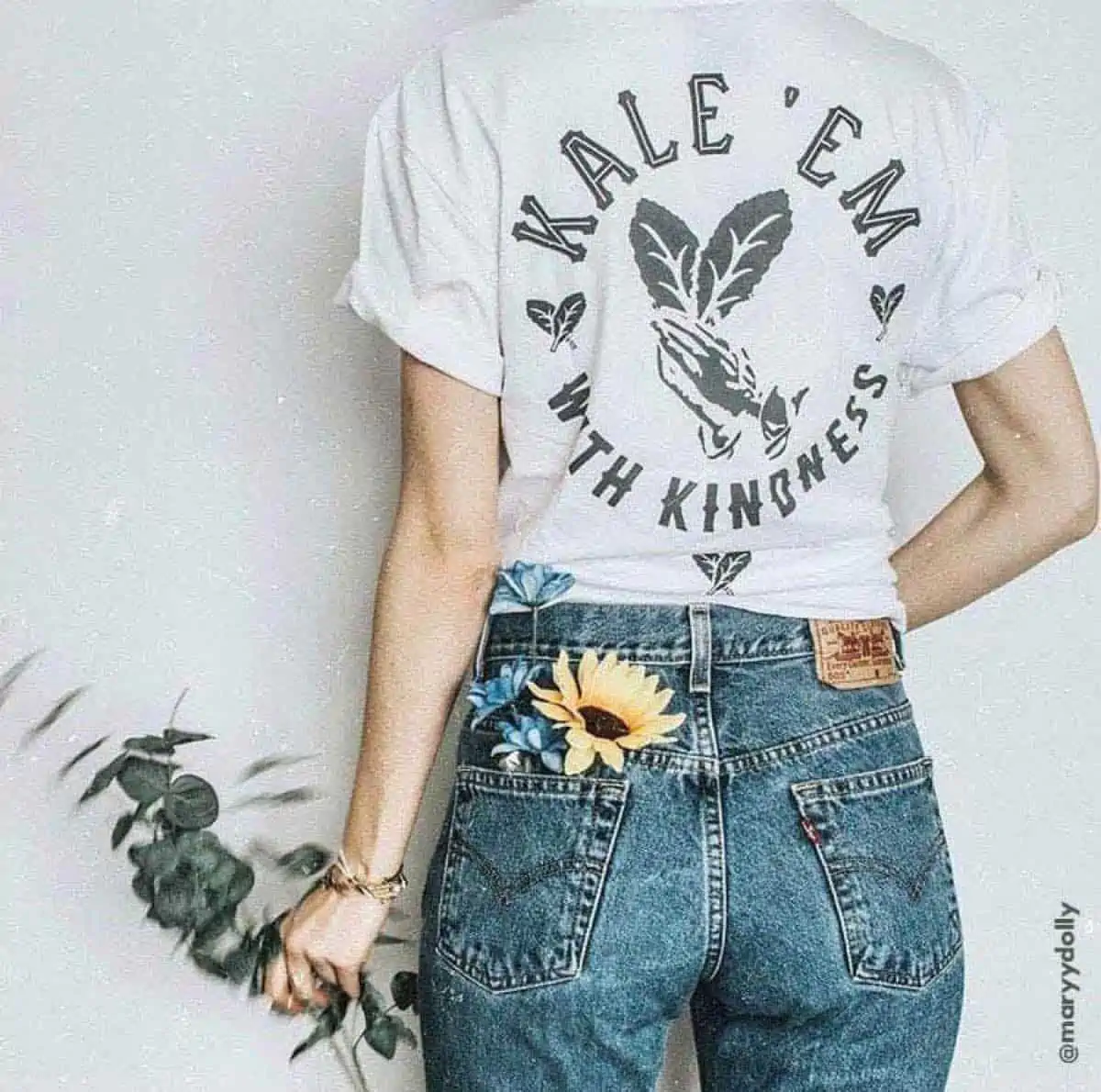 Alba Paris
Passionate vegan artist Alba Paris launched what has to be the sweetest clothing line ever made for vegans. If you love adorable animal art, you'll love this shop. It's got everything from shirts, tank tops, leggings, and masks, to bags, art prints, and pins.
The Vegan Vibe
The first thing visitors see when they visit The Vegan Vibe shop that is a real-life photo of the shirts in action with rescued cows at an animal sanctuary. This is a vegan clothing brand founded by Krishan & Aswinv who are on a mission to give back and "help save farm animals one shirt at a time." Their shirts are made with PETA-approved fabrics from 100% ring spun cotton and water-based inks.
Vegan Outfitters
You may have seen this adorable "Save the Chubby Unicorns" shirt floating around the internet. It's one of the many creative designs you'll find from Vegan Outfitters. They also have wool-free gloves, beanies, and socks that say "Livin' on the Veg." And if you're shopping for vegan kids, you're in luck! Vegan Outfitters has everything from baby onesies to toddler tees to kids hoodies.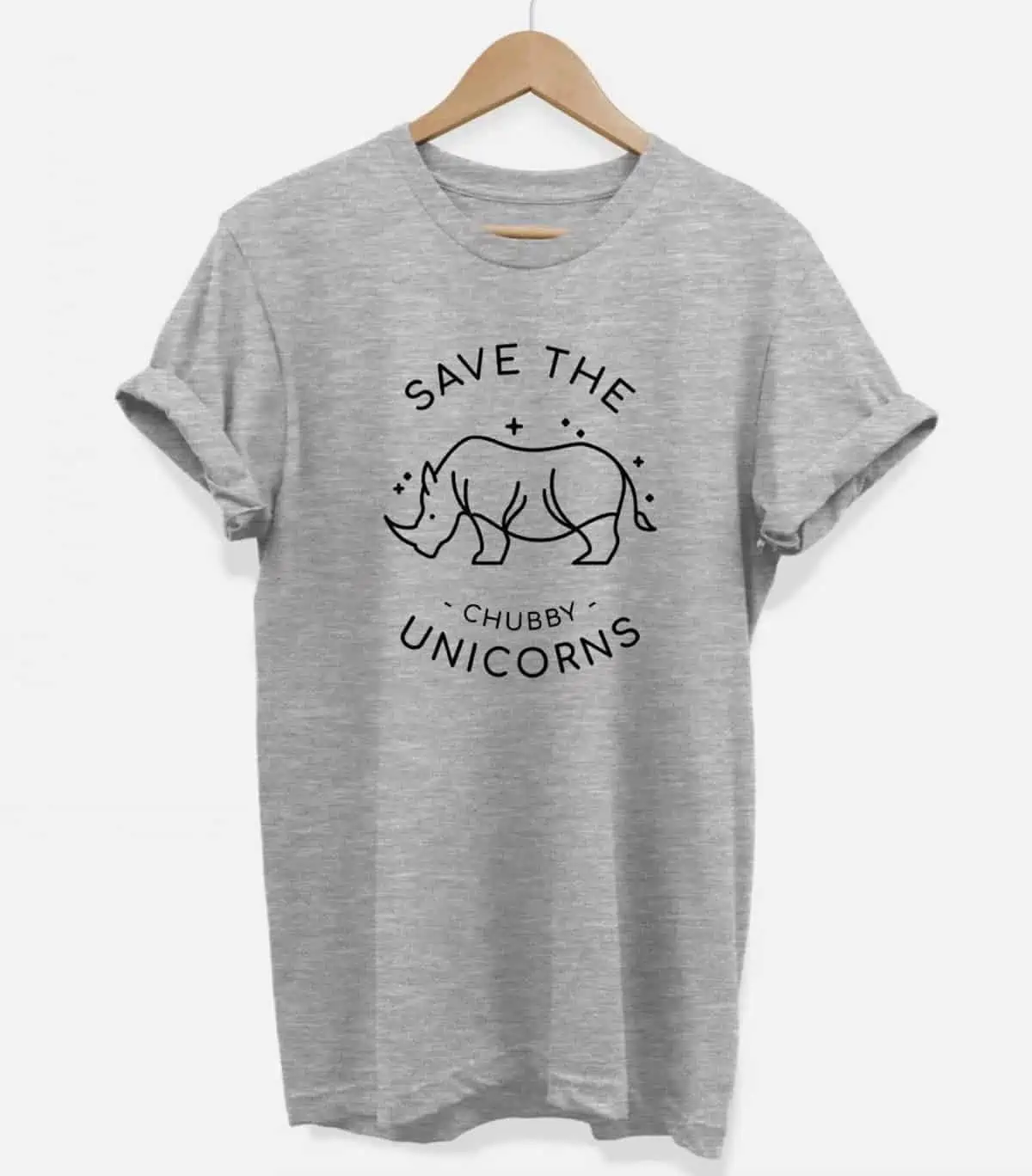 Everything Vegan
This California-based T-shirt shop founded by Aaron Seminoff is known for it's puns, offering dozens of funny vegan shirts with slogans like:
I Think Therefore I'm Vegan
Plants Don't Start Pandemics
The Best Things In Life Are Cruelty-Free
Nothing Tastes As Good As Vegan Feels
No Animals Were Harmed in the Feeding of this Body
I'll Be There for You (Friends-inspired design)
While these concepts are by no means original, they've been transformed into fun, thought-provoking, and wearable art.
Roots of Compassion
Since 2002, the German-based Roots of Compassion has been a driving force in vegan style across Europe, bringing its shirts and apparel across the region. All products are vegan and go to support local animal rights efforts. You'll find a range of items from pet food to shoes on the site, but vegan shirts are still a core component of the business.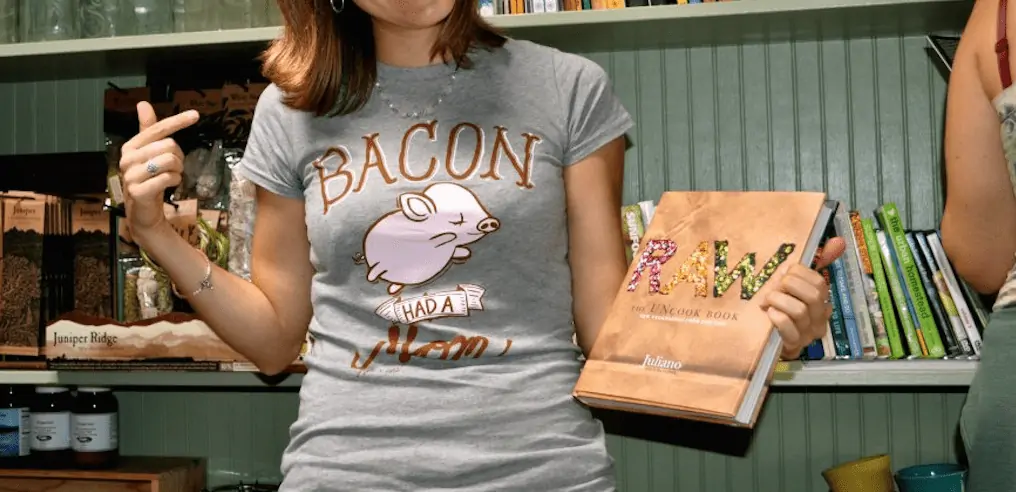 Blood Tight Apparel
Blood Tight's apparel is symbolic of the connection the founders feel with animals. "It is so important for us to tell other people that you can live a cruelty-free life and not 'miss out' as people so often assume," the founders say on the website. From earrings to bags to classic tees, there's no skirting around the messages on Blood Tight's apparel, from "Meat Is Murder" to "I Speak for Those Who Have no Voice," these tees and accessories are for the dedicated.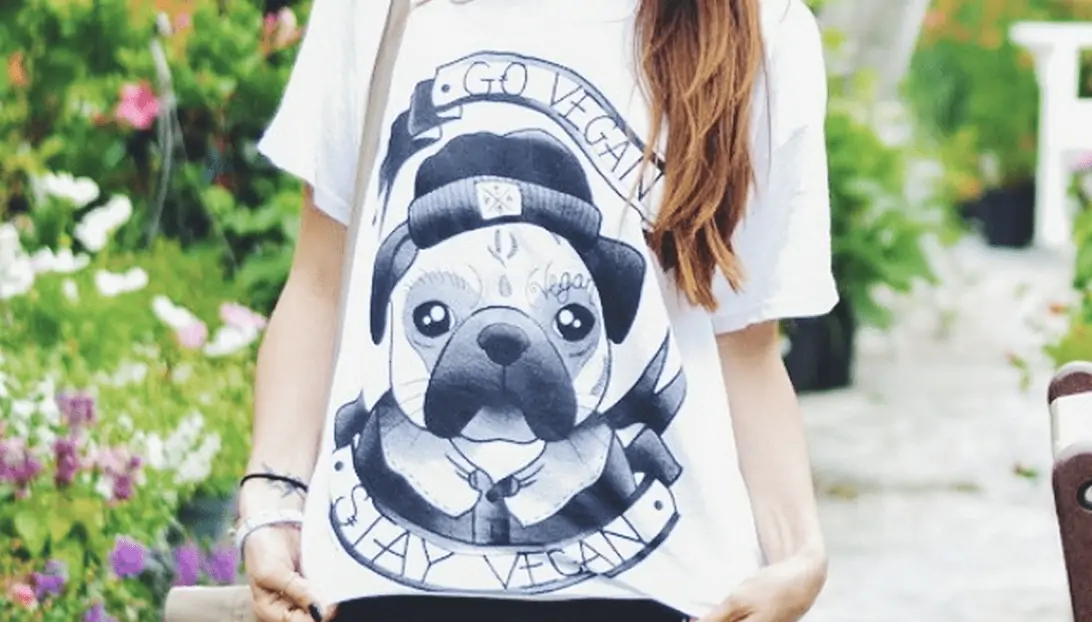 Viva La Vegan
Jay Charlton went vegan at just 7 years old, but it would take her years before she founded Viva La Vegan after realizing the options were few and far between. "I believe that we need to bring about positive change by owning our own actions and walking the talk. So I decided to start my own brand that was in line with my own eco-ethical ethos," Charlton writes on the website. She puts her graphic design skills to good use here, with all kinds of clever designs like "Vegan Jedi" on organic cotton shirts.
This is just a taste of all the amazing vegan apparel brands out there. In recent years, there has been an explosion of plant-powered entrepreneurs putting their creativity into action and opening vegan clothing companies, so there is no shortage of options out there for you. Enjoy exploring them!
Hungry for more vegan fashion resources? Visit our Vegan Clothing & Accessories Guide.