Who says pizza can't be healthy? This rainbow pizza is loaded with colorful veggies that are not only tasty but also nutrient-filled. Kids will love the rainbow of colors on their plate, from the bright red tomatoes to the deep green broccoli.
With all the fun veggie toppings, this pizza is a feast for the eyes and the taste buds. And since it's vegan, it's a great option for families with dietary restrictions. This pizza can be made with or without cheese! We suggest a vegan cheese alternative, which is a great option for plant-based families and those simply to reduce their dairy intake.
Plus, you won't believe how easy and quick this rainbow pizza is to make! Healthy and yummy pizza in 30 minutes? Oh yes. You can use refrigerated pizza dough from any grocery store, a ready-to-bake pizza dough crust, or make your own pizza dough from scratch if you're feeling more adventurous. Either way, with just a few ingredients and a little pizzaz, the smell of fresh baked pizza can be wafting through your home in no time.
So gather your ingredients (and any eager little helpers) and get ready to taste the rainbow!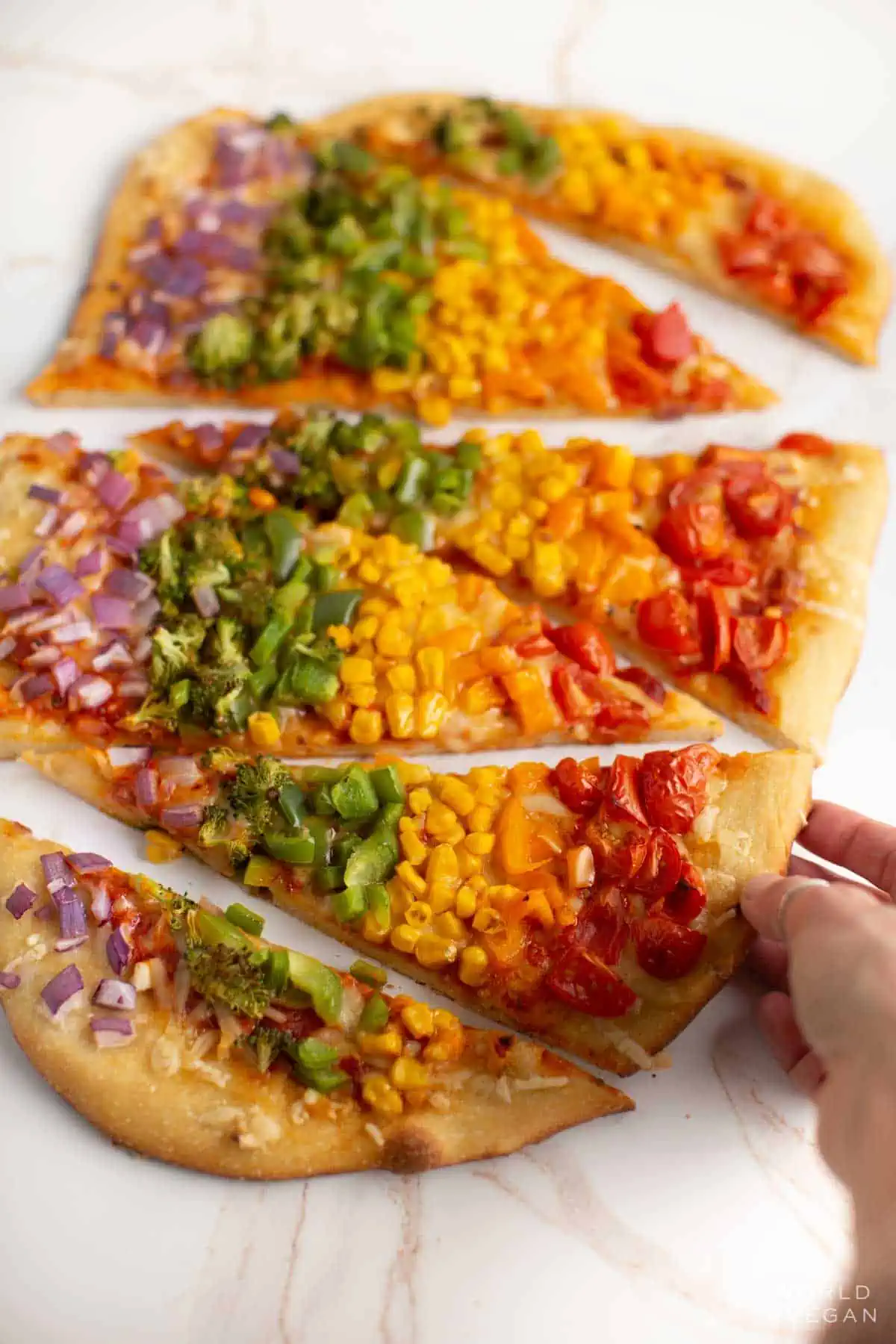 Pizza Dough: Store Bought or Homemade?
Store-Bought Pizza Dough
Store-bought dough is a convenient option that saves time while still giving your family the pizza-making experience of rolling and shaping your dough. You can also get creative and shape it into mini personal pizzas, heart shaped pizzas, pizza rolls, and beyond.
Ready-to-Bake Store-Bought Crust
Ready-to-bake crust is the most convenient option, saving time and effort for those new to making pizza. However, it may contain preservatives and additives and the texture and flavor may not be as good as homemade or store-bought dough.
Puff Pastry
You can even use puff pastry! You can get it at most grocery stores and puff pastry is usually vegan. It's freezer-friendly and so convenient for making an array of different dishes—from quiches to calzones (or pizza roll-ups!) with your favorite filling. Having puff pastry in your freezer is a must!
Homemade Pizza Dough
Making homemade pizza dough allows you to customize the dough to your preferences, choose high-quality ingredients, and can be a fun activity. However, it can be time-consuming and requires planning ahead.
You can find countless vegan pizza dough recipes online depending on what style of dough you like the best. Most recipes will call for simple ingredients like:
1 ½ cups of warm water
2 tsp of dried yeast
4 cups of plain flour
1 tsp of salt
¼ cup of olive oil
A little sugar to help activate the yeast
We also have a fantastic homemade pizza dough recipe in The Friendly Vegan Cookbook!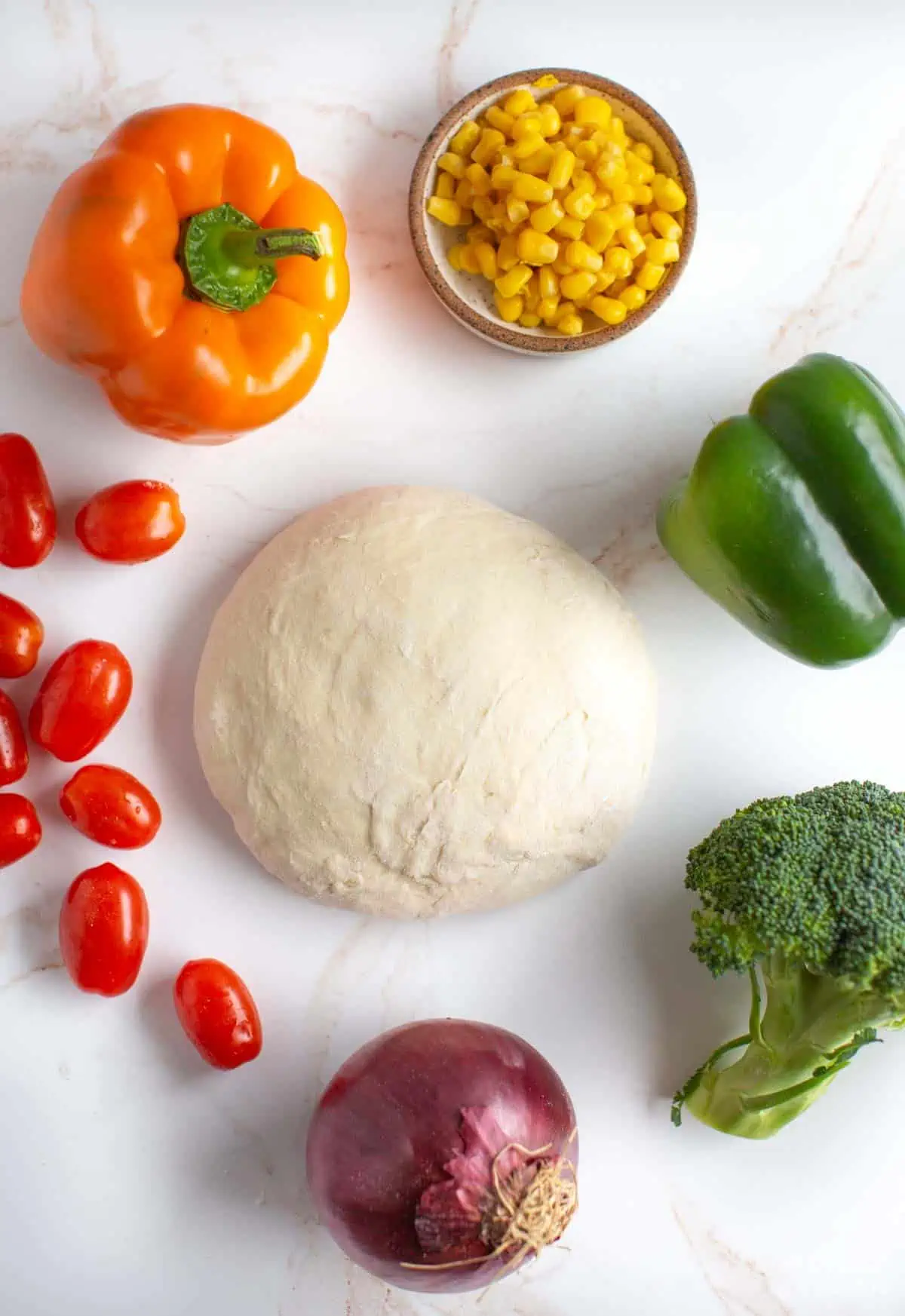 Rainbow Pizza Toppings Galore!
The combination of the different veggies in this rainbow pizza recipe brings an enticing mix of color and flavor. But it's certainly not set in stone! You can choose any veggies you'd like and add any other toppings you love. Here is what we used.
Red (Tomatoes)
Did you know that cherry tomatoes are not just a delicious topping for pizza, but also a nutritional powerhouse? They're high in lycopene, a powerful antioxidant that has been linked to a reduced risk of heart disease and certain types of cancer. Plus, they're a good source of potassium, vitamin C, and fiber. And if you're on a budget, cherry tomatoes are a great option—they're often cheaper than larger tomatoes!
Orange (Bell Pepper)
Orange bell peppers are not just a colorful addition to pizza, but also a great source of nutrition. Did you know that they're higher in vitamin C than their green counterparts? That's because bell peppers are green before they ripen, and then become yellow, orange, and red as they ripen, unlocking more nutrients all the while! They're also a good source of vitamin A, fiber, and antioxidants.
Yellow (Corn)
Corn is a fantastic source of fiber, vitamins B and C, and antioxidants. Plus, it's one of the few vegetables that contains both zeaxanthin and lutein, two important nutrients for eye health! You can use your choice of canned corn (drained), or frozen corn kernels. Both will cook up perfectly on this rainbow pizza!
Green (Broccoli)
Did you know that broccoli is a member of the cabbage family? When I was a kid, I called broccoli florets "baby trees." They do look like trees, don't they? It's packed with nutrition, including vitamins C and K, fiber, and antioxidants, which is a definite win considering how delicious it is. Chop the broccoli florets up very small before sprinkling them on your pizza for the best result.
Purple (Onion)
Red onions not only bring the gorgeous purple color and a pop of flavor to your pizza, but they also have many nutritional benefits! Did you know that they're high in quercetin, a powerful antioxidant that has been linked to reduced inflammation and improved heart health? They're also a good source of fiber and vitamin C.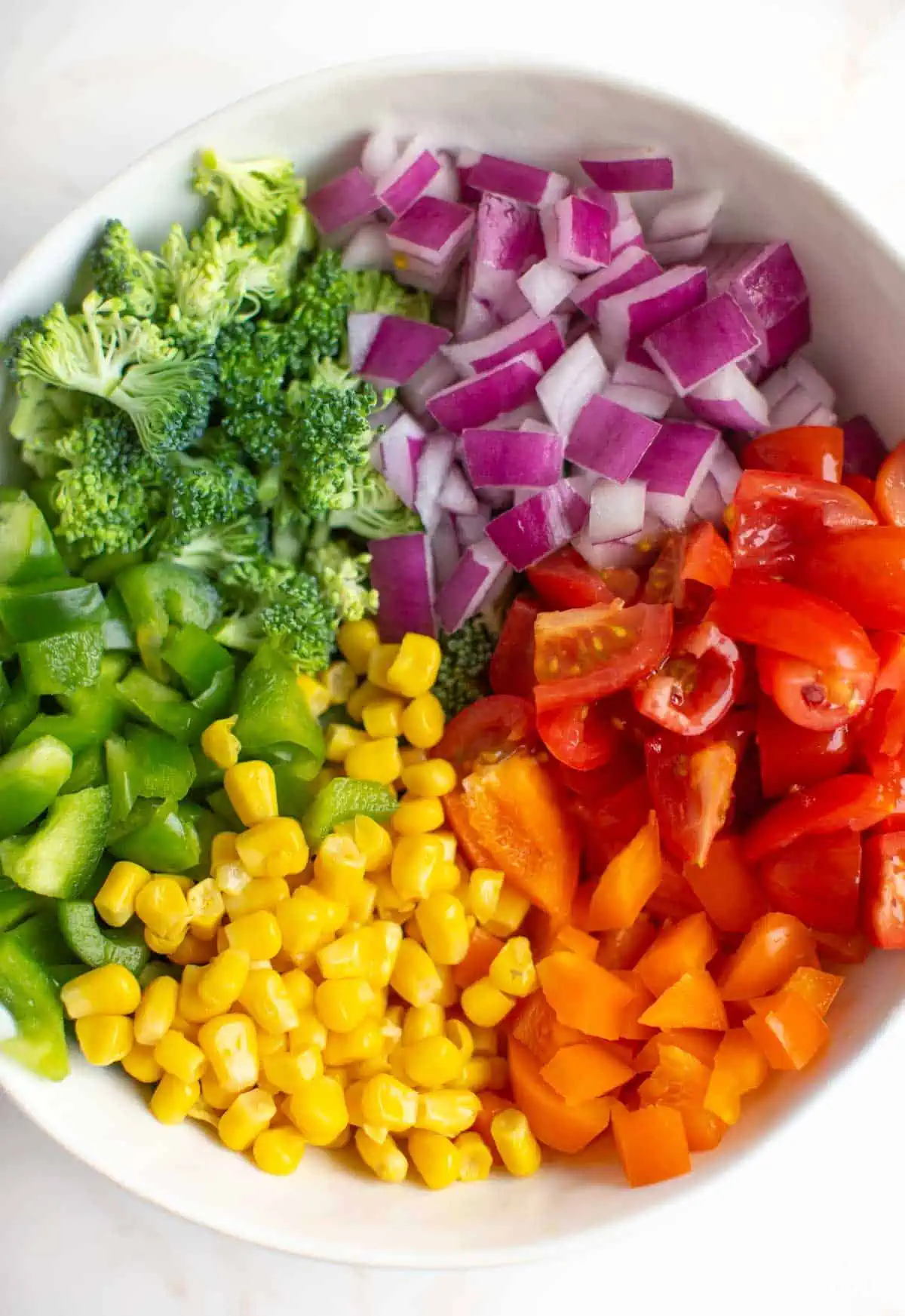 Best Vegan Cheese for Pizza
Whether you're a cheese lover or not, you can customize this pizza to your personal palate preference. Simply leave off the cheese altogether and focus on the sauce and veggies, or make it richer with some vegan mozzarella!
Here are some of the most popular brands that carry plant-based mozzarella:
Violife – Violife is an international brand that makes some of the best vegan cheese for every occasion (from cheddar to mozz to vegan parmesan). Their mozzarella-style shreds are a great option for pizza, with a mild flavor and stretchy melt. Plus, Violife's cheeses are free from dairy, soy, and gluten.
Daiya – Daiya is a well-known brand in the vegan cheese world, and their mozzarella-style shreds are specifically crafted for pizza. They melt easily in the oven and have a creamy texture that's similar to dairy cheese. Plus, they're soy-free and gluten-free, making them a great option for those with dietary restrictions.
Miyoko's Creamery – If you're looking for a more artisanal option, Miyoko's Creamery has you covered. Their Fresh VeganMozz is made from cashews and has a tangy, slightly nutty flavor that's perfect for pizza. It also has a stretchy texture that's similar to dairy mozzarella. Miyoko's also more recently came out with a pourable vegan mozzarella cheese that is wildly popular on pizzas.
Follow Your Heart – Follow Your Heart is another well-known brand in the vegan cheese world, and their mozzarella-style shreds are a great option for pizza. They have a mild, creamy flavor and they're soy-free and gluten-free.
Good Planet – Good Planet is a newer brand on the market that specializes in plant-based cheese. Their vegan mozz shreds are soy-free, gluten-free, and made with non-GMO ingredients.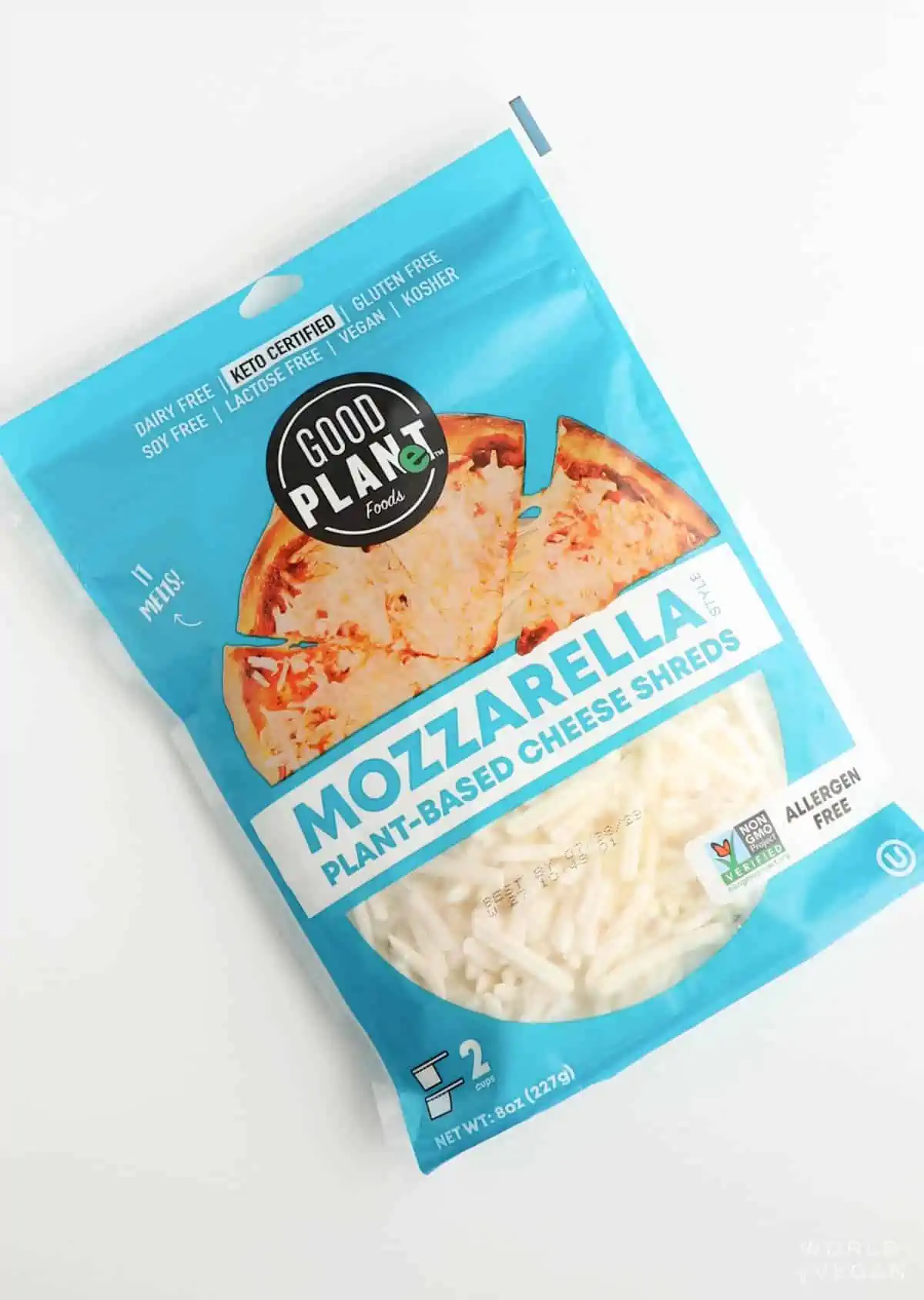 Go ahead—load up your pizza with all your favorite toppings and enjoy the cheesy goodness of plant-based mozzarella!
Simple Ingredient Swaps
If you can't get your paws on vegan cheese, no problem. Here's a little tip. Add some thinly sliced avocado on top of your pizza after it comes out of the oven. It's so good and gives it a more decadent taste.
Want to make it a bit fancier? Why not add some dollops of pesto on each slice or just spread it as the base instead of tomato sauce? So many variations of one simple recipe!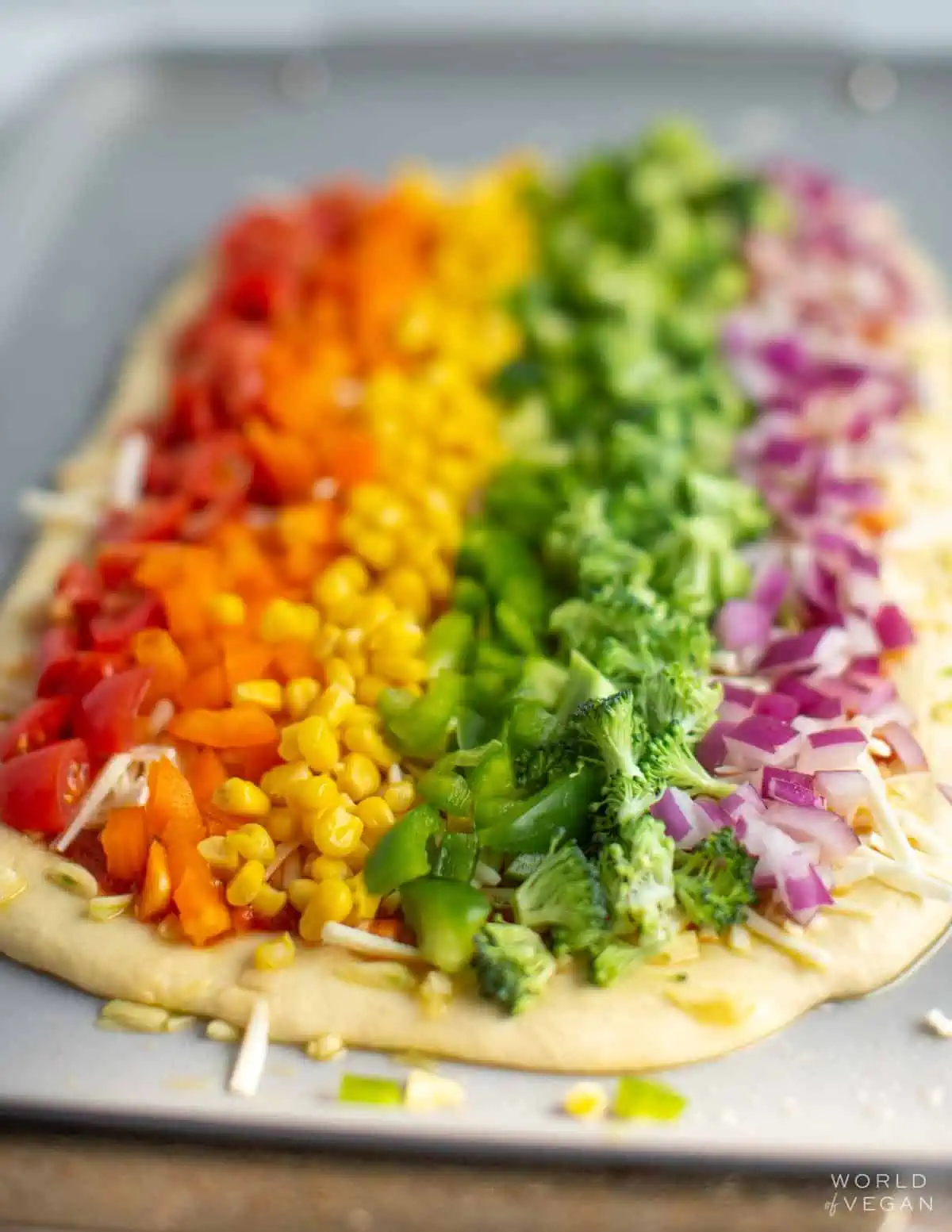 Next Morning Rainbow Pizza?
I'm sure you are aware that sometimes we just can't finish all the pizza we made for dinner. Do you know the saying "your eyes eat bigger than your stomach?" Well, it happens to all of us. We prepare or serve much more food than we can actually eat.
No biggy, save it for later!
Leftover next day pizza can sometimes taste even better than the fresh pie. What is it about cold pizza that makes it so special? Maybe it's the sweetness of the tomato sauce that gets even sweeter and the saltiness of the vegan cheese (or olives) that gets saltier. It's a matter of taste I guess. How about you? Do you prefer a hot fresh steaming pizza or cold next day one?
So, will you try this vegan rainbow pizza recipe at home?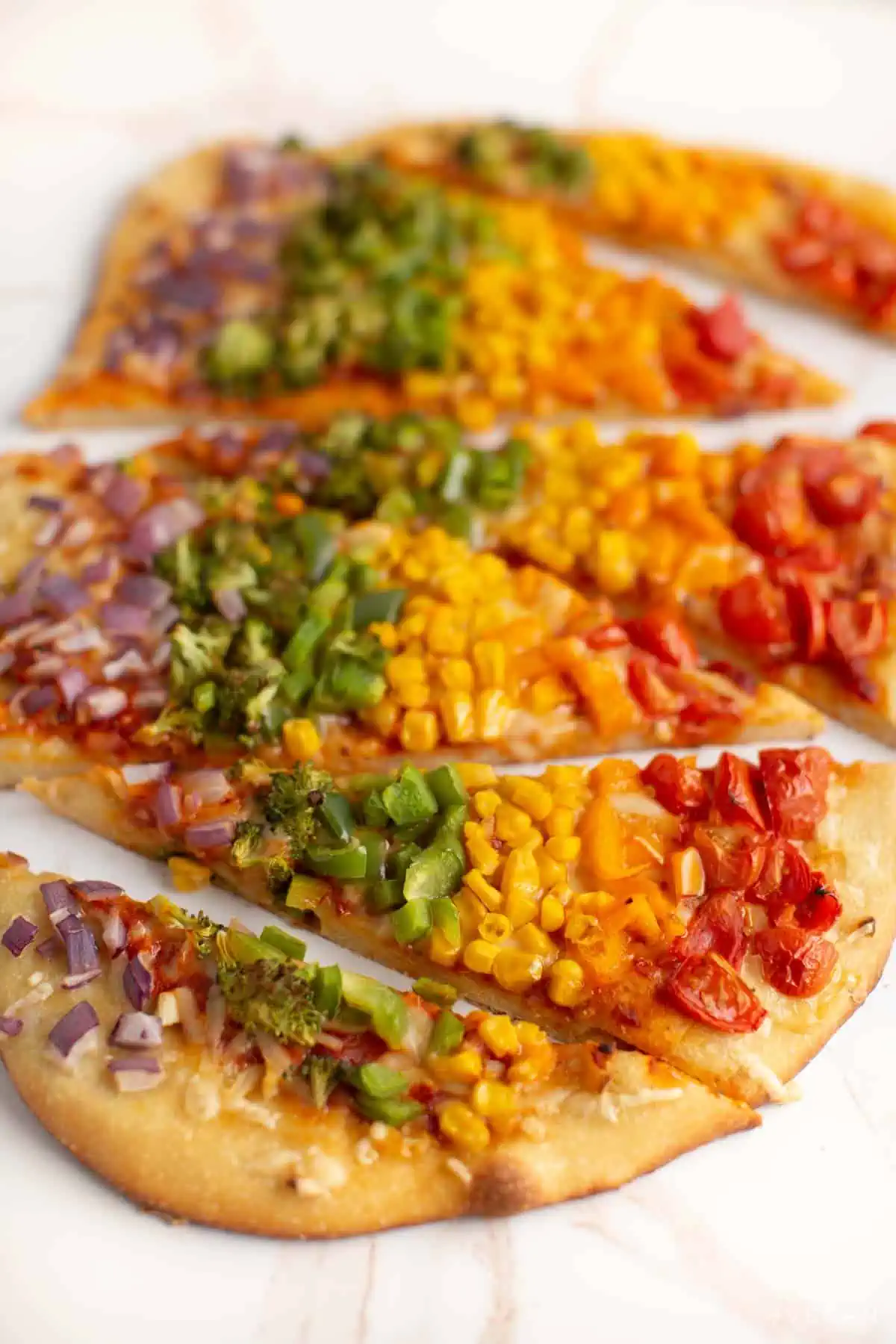 More Vegan Italian Recipes
If you're keen on making more Italian inspired recipes, check these out!
1 sprinkle flour, for dusting
1 package pizza dough, (or ready-to-bake pizza crust)
2 tablespoons olive oil
6 cloves garlic, minced
½ cup pizza sauce
¾ cup vegan cheese
⅓ cup cherry tomatoes, sliced
½ orange bell pepper, diced
½ cup corn, (canned or frozen)
½ green bell pepper or jalapeno, diced
¼ red onion, diced
1 teaspoon red pepper flakes, (optional)
Preheat oven to 450° F.

Lightly flour a flat surface and roll out your pizza dough according to package instructions. Shape as a long rectangle (so you'll be able to cut the finished pizza so piece includes all the veggies). Note: The width of your rectangle will be the length of each pizza slice.

In a small ramekin, mix together minced garlic and olive oil. Using a basting brush, brush over pizza dough, focusing especially on the outer crust.

Spread the pizza sauce over on your pizza dough.

Top with topping ingredients in rainbow order: red tomatoes, orange bell pepper, yellow corn, green bell pepper or jalapeno, green broccoli, and purple onion. Line each up lengthwise. If you'd like the most impactful rainbow effect, carefully flip the onion pieces so they lie colored side up.

Cook in a preheated oven, set to 450° F for about 15 minutes, or until the bottom is sufficiently browned (follow your specific pizza dough instructions). Sprinkle with red pepper flakes (if desired) and enjoy!
Calories: 555kcal | Carbohydrates: 83g | Protein: 14g | Fat: 20g | Saturated Fat: 4g | Polyunsaturated Fat: 2g | Monounsaturated Fat: 7g | Sodium: 1432mg | Potassium: 341mg | Fiber: 6g | Sugar: 13g | Vitamin A: 1218IU | Vitamin C: 52mg | Calcium: 47mg | Iron: 5mg