Is there a more beloved dish than pizza? It is a world favorite! After going vegan you can kiss your pizza guilt goodbye because you won't be suffering from all the after effects caused by dairy. The vegan version is much healthier in general but this rainbow pizza recipe is even healthier! It's full of beautiful colors and amazing flavors.
Plus, you won't believe how easy and quick it is to make! Healthy and yummy pizza in 20 minutes? Oh yes! Just a few ingredients, incredible flavor, and very little work make this rainbow pizza recipe perfect.
1 package of puff pastry, or your favorite pizza dough, depending on the packaging, you should have enough pastry to do a 12" pizza
3 tablespoons of tomato sauce, or any pizza sauce you like
½ of a red bell pepper, diced
½ of a carrot, thinly sliced
4 tablespoons of sweet corn, the easiest is canned corn but you can use any kind you like
15-20 leaves of baby spinach
2 tablespoons of grated beetroot
Roll out the puff pastry or pizza dough according to package instructions.

Spread the tomato sauce on your pizza base.

Top with topping ingredients in rainbow order: red, orange, yellow, green, blue, purple

Cook in a preheated oven, set to 350° F, for about 20 minutes (or follow pizza dough instructions) and enjoy!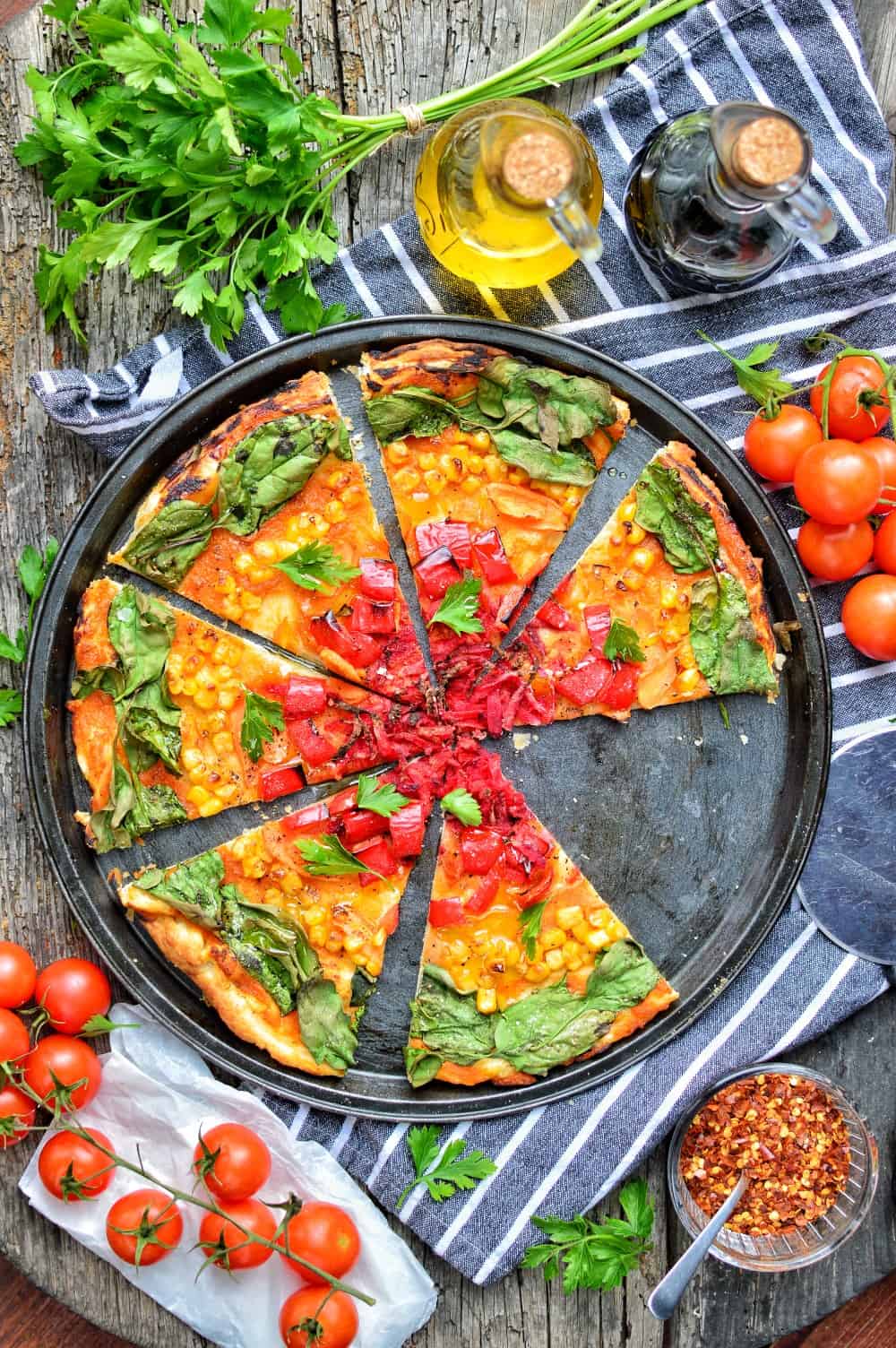 To Make or Not to Make Your Rainbow Pizza Dough?
Puff pastry is the savior of this recipe! You can get it at almost every grocery store and they are usually vegan. Yay! They are so convenient and you can make so many different meals with it. You could make a quiche in no time, or make small calzones (or pizza roll-ups!) with your favorite filling. Having puff pastry in your freezer is a must!
Of course, you can also use a standard pizza dough that you can buy at the grocery store or make yourself.
Making your own vegan pizza dough is surprisingly simple. You can find zillions of recipes online depending on what style of dough you like the best. Most recipes will call for simple ingredients like:
1 ½ cups of warm water
2 tsp of dried yeast
4 cups of plain flour
1 tsp of salt
¼ cup of olive oil
A little sugar to help activate the yeast
Super simple, right? You can try both and see which one you like better. A little pizza challenge!
Toppings Galore!
The combination of the different veggies in this rainbow pizza recipe is so good. But it's certainly not set in stone! You can choose any veggies you'd like and add any other toppings you love.
What about adding some chopped olives and very thinly sliced sweet potato? Yum! Or make it richer with some vegan mozzarella if you happen to find one on your grocery run? If you can't get your paws on vegan cheese, no problem. Here's a little tip. Add some thinly sliced avocado on top of your pizza after it comes out of the oven. It's so good and gives it a more decadent taste.
Want to make it a bit fancier? Why not add some dollops of pesto on each slice or just spread it as the base instead of tomato sauce? So many variations of one simple recipe!
For the Love of Beetroot!
Beetroot is one of those veggies that you either love or absolutely hate. I'm sure many of us have memories of boiled beetroot and its very earthy smell. If you are really not a fan, that's fine. Skip it for this recipe but consider the fact that there are so many different ways you can eat it and could possibly love it.
Forget boiled beetroot. You can use beets to make delicious vegan burger patties or roast them in the oven with some olive oil, salt, and a little balsamic vinegar. What about making some delicious beetroot hummus? It's sweet and so pretty! You simply roast the beets and add them to your basic hummus recipe. A perfect no-fuss dip.
This singular root vegetable also has great nutritional value. Beets are full of fiber, folate, and vitamin C. But the most interesting nutrient is the nitrates it contains and how it makes them so beneficial for those suffering from circulatory problems. Check out this article on NutrionFacts.org if you want to know more on the topic!
Next Morning Rainbow Pizza?
I'm sure you are aware that sometimes we just can't finish all the pizza we made for dinner. Do you know the saying "your eyes eat bigger than your stomach?" Well, it happens to all of us. We prepare or serve much more food than we can actually eat.
No biggy, save it for later!
Leftover next day pizza can sometimes taste even better than the fresh pie. What is it about cold pizza that makes it so special? Maybe it's the sweetness of the tomato sauce that gets even sweeter and the saltiness of the vegan cheese (or olives) that gets saltier. It's a matter of taste I guess. How about you? Do you prefer a hot fresh steaming pizza or cold next day one?
So, will you try this vegan rainbow pizza recipe at home?
More Vegan Italian Recipes:
If you're keen on making more Italian inspired recipes, check these out!
Vegan Rainbow Pizza photos and recipe by Zhoro Apostolov for World of Vegan. Recipe and photographs copyright of World of Vegan™, all rights reserved. Please note that this article may contain affiliate links that help support our work at World of Vegan.