Why harm our animal companions when we can have a spooktacular Halloween with cruelty-free treats? While many accidentally vegan Halloween candies exist (like Air Heads, Smarties, and Dots), we're here to provide you with a comprehensive list of candies that are unequivocally vegan.
The quest for vegan-friendly sweets may feel intimidating at first, especially during Halloween, when we're in a rushed pursuit of delectable, accessible, and affordable options that truly satisfy our cravings. But it's easier than ever to find plant-based candy options to dish out for Halloween.
Read on to explore the best vegan halloween candy brands, a comprehensive list of common candies that happen to be vegan, and creative alternatives to candy for a healthier approach to the holiday. Happy haunting!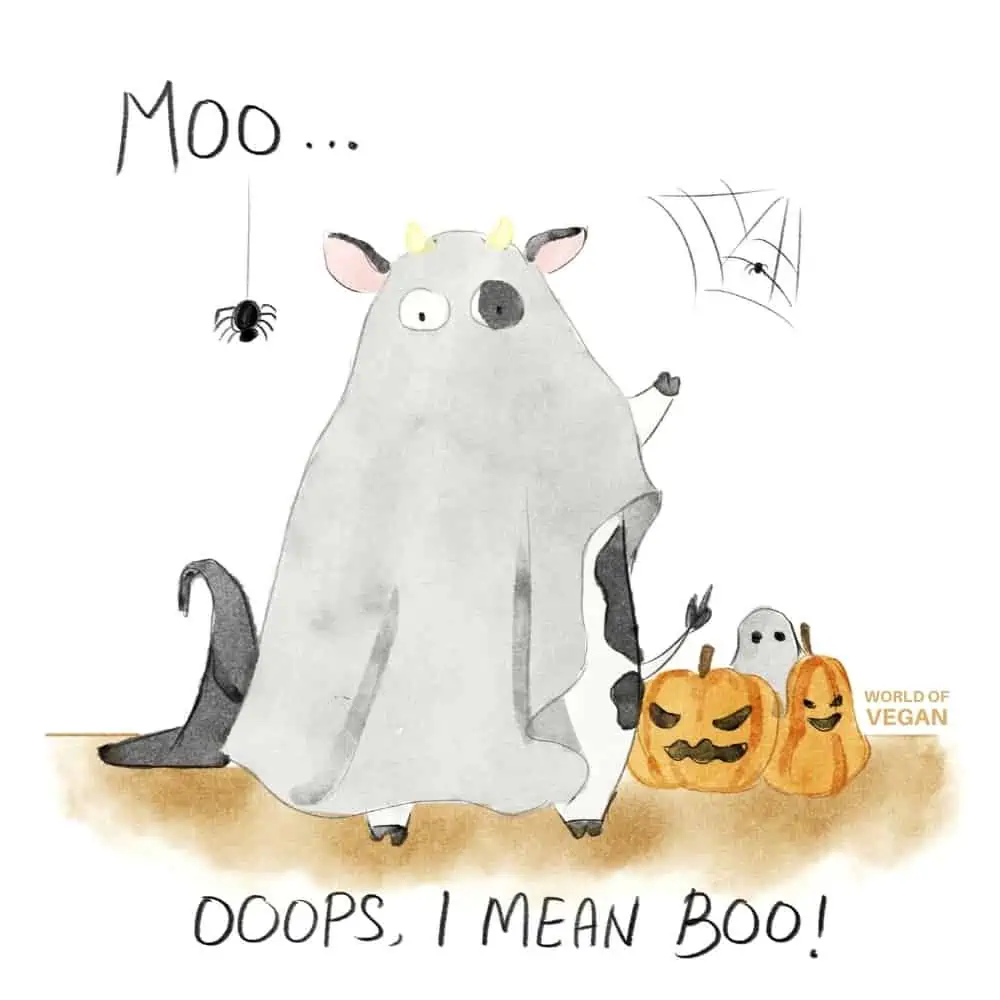 100% Vegan Halloween Candy Brands
If you want to step up your game this year, you can find many trick-or-treat friendly Halloween treats that are specifically made to be vegan (and often more natural, too)! Make sure to let us know if you find more brands that are completely vegan, and we'd be happy to add them to our ongoing list.
Black Forest Organic – Black Forest Organic offers a delectable range of vegan gummy candies and fruit snacks, ensuring that sweet cravings can be satisfied without compromising on ethical or organic standards.
Free2b – Free2b is known for its allergen-free chocolate and sunflower butter cups, providing a scrumptious and inclusive option for those with dietary restrictions or allergies.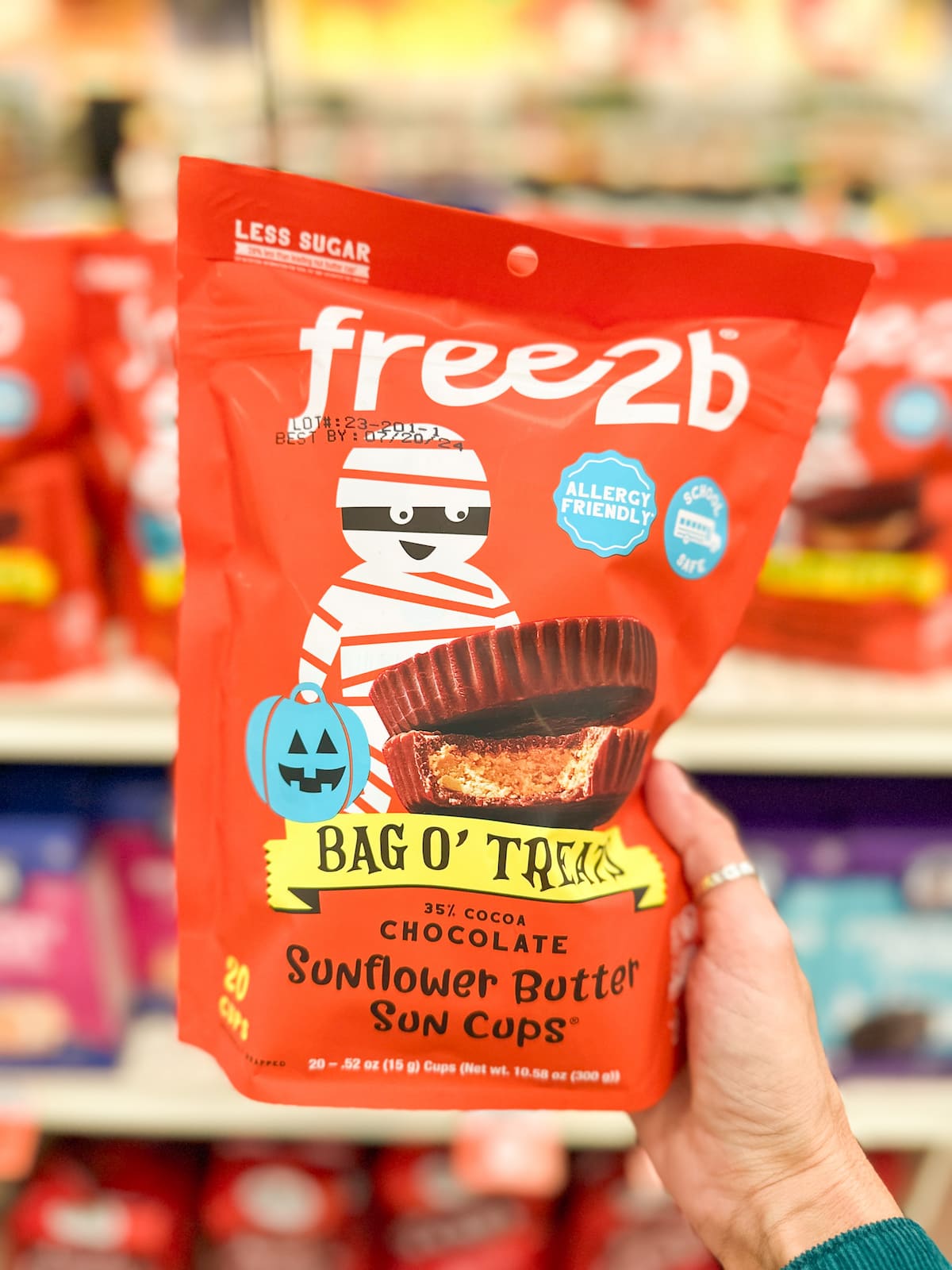 Seitenbacher – Seitenbacher offers an array of vegan fruit gummies and candies, appealing to health-conscious consumers seeking organic and gluten-free options.
Smarties – Surprise—these colorful, classic candies that offer a nostalgic taste of childhood are fully vegan! The fact that Smarties are a proudly vegan brand makes them a popular choice for vegans at Halloween.
Torie & Howard – Torie & Howard's organic hard candies and chewy fruit chews cater to discerning palates with their unique and vibrant flavors, all while adhering to vegan and gluten-free standards. The chews are similar to Starburts and a perfect addition to Halloween baskets.
Go Max Go Foods – For households that take pride in handing out full-sized candy bars on Halloween, Go Max Go candy bars are the perfect choice. By offering Go Max Go candy bars, you can ensure that their Halloween offerings are not only generous in size but also inclusive of everyone's preferences and dietary needs.
Sjaak's – Sjaak's Organic Chocolates boasts a delightful assortment of vegan chocolates, truffles, and treats, showcasing the rich flavors of ethically sourced, organic cocoa.
Trupo Treats – These are a fantastic alternative for those who relish the familiar crunch and taste of Kit Kats. They make chocolate dipped wafer bars that are absolutely delicious and animal friendly. They're even rainforest alliance approved!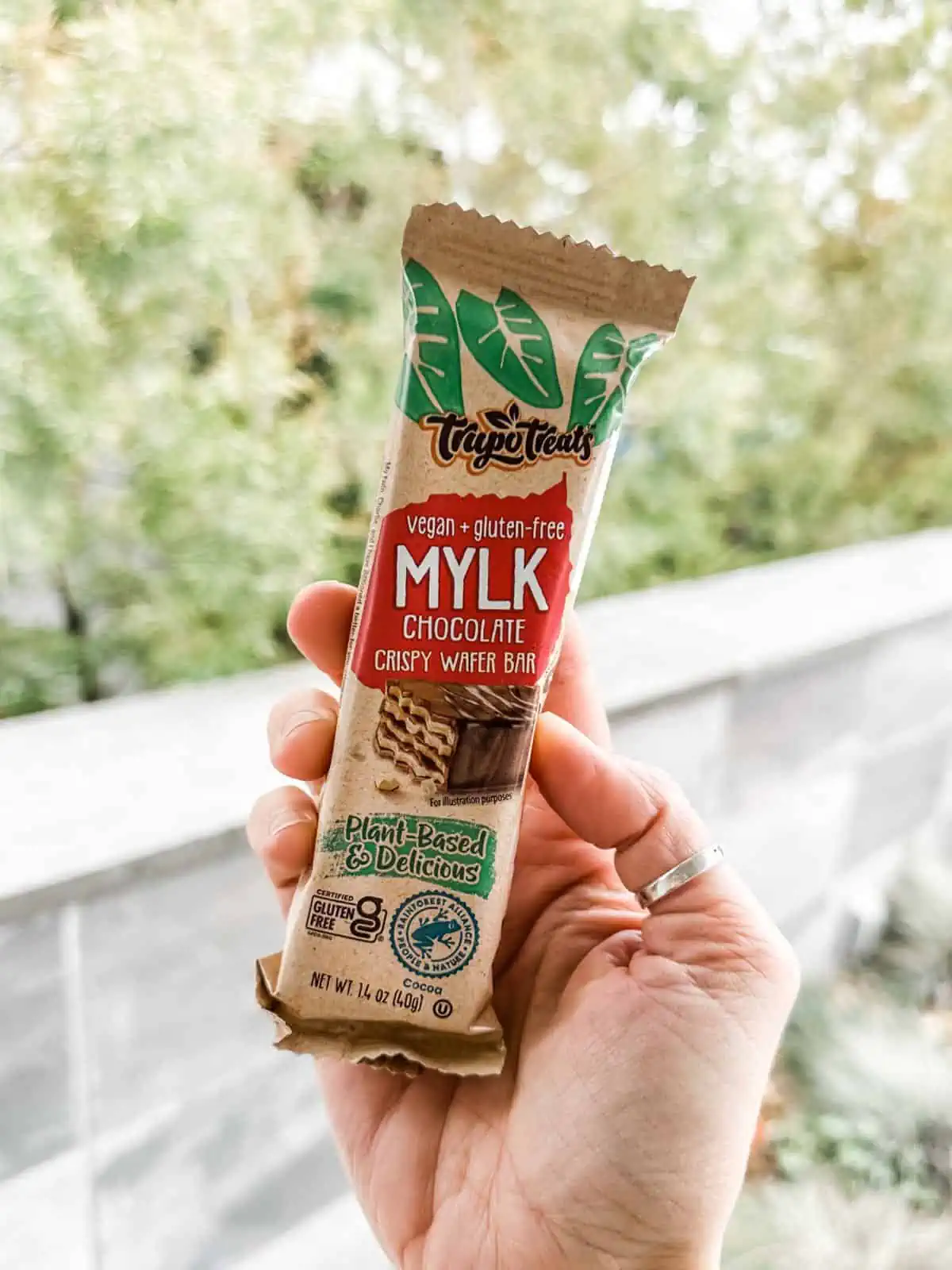 Vegan-Friendly and "Accidentally Vegan" Halloween Candy
The following brands have at least some vegan candy options, but the brands themselves are not vegan (they also carry products that are not vegan). For instance, Surf Sweets has gelatin-free gummies that are clearly labeled vegan, but they also sell gelatin gummies that aren't vegan. Read these labels closely before buying. Check out our new vegan candy guide for all vegan candy options!
Non-Vegan Brands With Vegan Halloween Candy Options:
KitKat (Nestle now has vegan KitKat bars available in the UK)
Surf Sweets (gummy worms, bears, and spiders are not vegan)
SweeTARTS (original)
Yum Earth (gummy worms, bears, and candy corn are not vegan)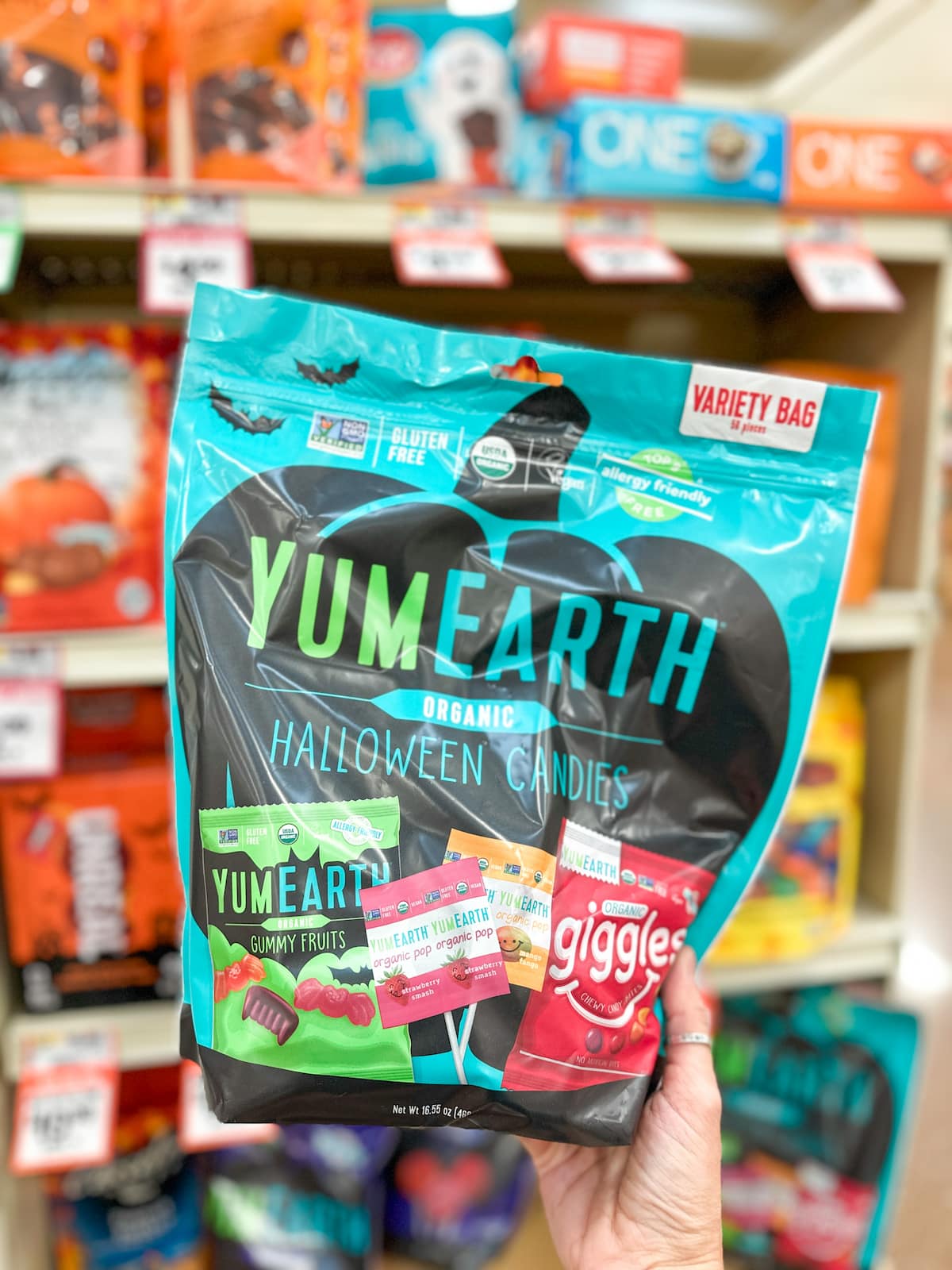 How Can You Tell If Candy is Vegan?
When it comes to finding 'accidentally' vegan candy, watch out for these specific animal ingredients that commonly make their way into candy:
Carmine (called cochineal for the insect from which it is extracted and is included in many red dyes and colors)
Casein (a protein present in dairy milk)
Confectioner's Glaze (a shellac made with bug excretions)
Gelatin (derived from the collagen of animal bones and other parts)
Milk (liquid nourishment made by mother's cows for their young)
Whey (the protein in cow's milk)
100% Vegan Halloween Chocolate Brands
All of the brands listed below are from companies that sell only vegan chocolate candies. You can be sure that whatever you buy on their website will be free of animal products and any alarming additives. Most of the products would be a perfect choice for vegan Halloween candy.
Beware that not all chocolate is created equal. In fact, some chocolate—even vegan chocolate—is produced using child slavery and environmentally harmful palm oil.
Healthy Halloween Trick-or-Treat Candy Alternatives
Want to give kids something better than candy? Start a healthier Halloween tradition! Here are some non-candy trick-or-treat items you can give away instead.
Stickers: Stickers are a simple yet delightful Halloween treat that allows kids to personalize their belongings and get creative with decorating.
Coins: Offering a mix of coins, including pennies, provides a unique and nostalgic experience, allowing children to learn about currency while receiving a tangible reward for their Halloween adventure.
Small Toys: Small toys can spark excitement and imaginative play, making Halloween even more enjoyable and leaving kids with a lasting token of the holiday.
Colorful Pencils and Erasers: Colorful pencils and erasers add a touch of fun to school supplies, encouraging creativity and providing practical tools for young learners.
Fruit Leather or Fruit-Based Gummy Snacks: These wholesome treats made from dried fruits without added sugar offer a sweet and nutritious option, catering to health-conscious families while still indulging children's taste buds.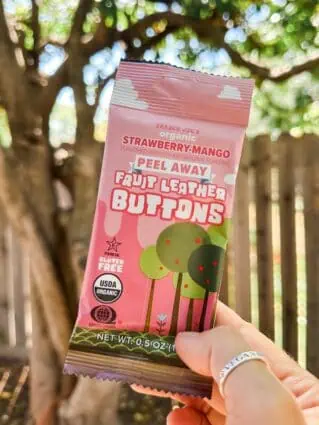 Energy Bars: Providing kid-friendly energy bars like GoMacro, Clif, Lara, or MadeGood bars offers a healthier alternative to traditional candy, keeping kids fueled for their Halloween adventures.
Bookmarks: Bookmarks make for practical and educational treats, inspiring kids to explore the world of reading and enhancing their literary adventures.
Packets of Plantable Seeds: Encouraging gardening with packets of plantable seeds not only promotes a green thumb but also nurtures a connection with nature, offering a gift that keeps on growing.
Enjoy New and Improved Halloween Traditions
Embracing plant-based, vegan, and cruelty-free Halloween candy options (or healthier alternatives) is just one way to lead by positive example and help to create a kinder world.
With an ever-expanding array of vegan candies available, there's no reason not to enjoy Halloween while making choices that align with your values. So, this Halloween, let's treat ourselves, our trick-or-treaters, and the world around us to a sweeter, kinder celebration. Happy Halloween!