Looking for an eerie but enticing recipe perfect for a vegan Halloween party? These mildly macabre mummy dogs and mummy meatballs are sure to be a hit. Plus, they are paranormally quick and painless to make!
All you need are your favorite vegan haunted hot dogs (we used Lightlife here) and vegan magical meatballs (we love the Gardein brand) and a creepy package of the Original Pillsbury Crescent Rolls. Yup, the Original Crescent Rolls are accidentally vegan! Watch the video below to see how they're made.
Why These Mummy Dogs Are Awesome
How to Serve Up These Spine-Tingling Snacks
While you can certainly plop these right onto a plate, we love going the extra mile to create something magical. With just a few simple ingredients or household items, you can make these snacks into the most enchanted edibles ever!
Key Ingredients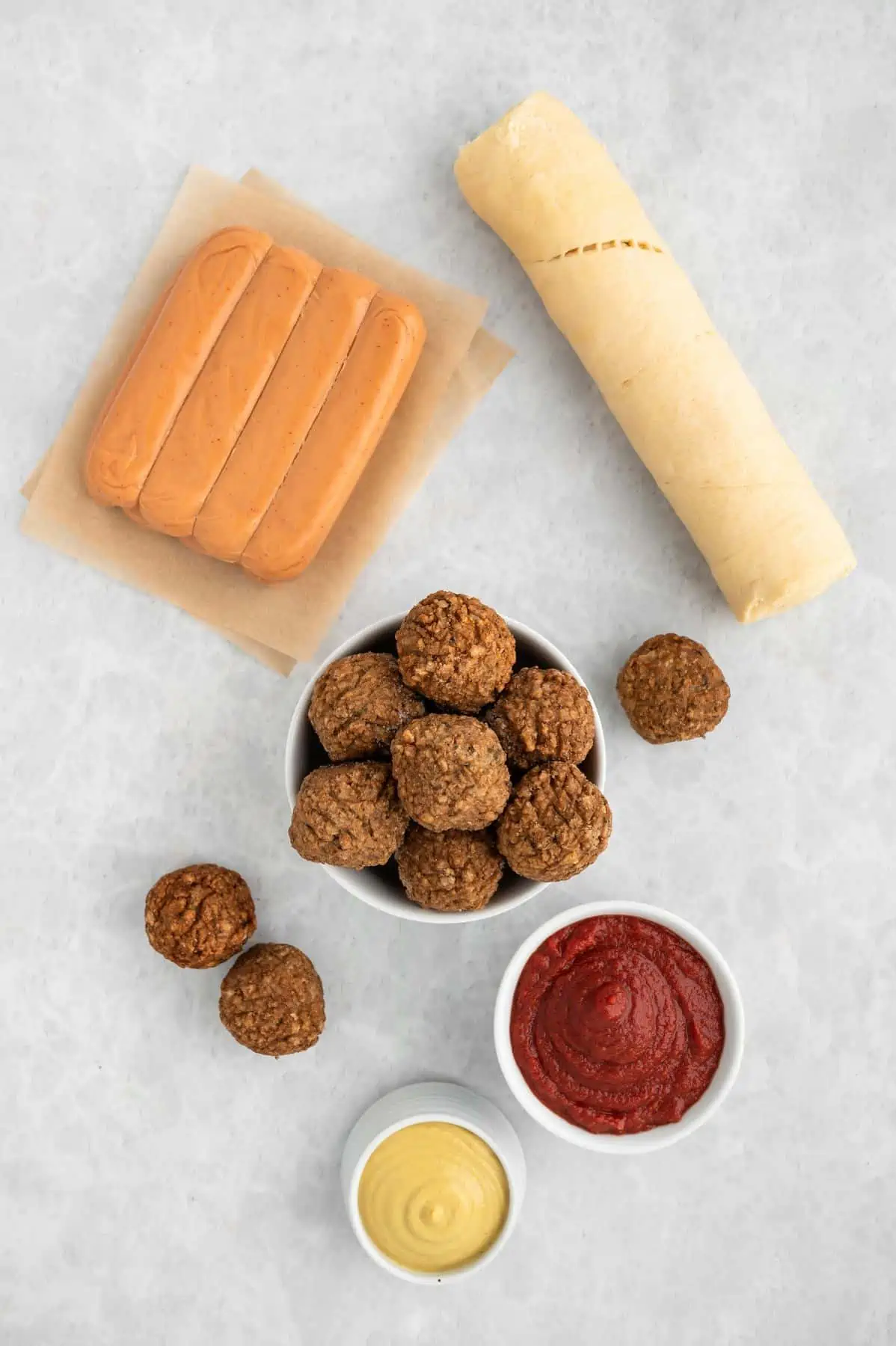 Vegan hotdogs or meatballs—any brand will work! (This veggie meatball recipe is a perfect choice and can be batch cooked ahead of time!)
Pillsbury Original Crescent Rolls—this crescent roll dough is naturally vegan and easy to find!
Mustard or Ketchup—whichever you prefer. These are used for the eyes and pair perfectly with these mummy dogs for dipping too!
How to Make Your Vegan Mummy Meatballs & Dogs
We've been making these mummy dogs and meatballs for nearly a decade now for Halloween parties because they're such a simple and fun treat. They're always a huge hit and one of the first things to be gobbled up. You can find crescent rolls at many mainstream grocery stores and you can use any vegan meatballs and veggie dogs you'd like!
1. Use the tip of your finger to press and pop open the crescent roll container. Lay out the dough onto a cutting board.
2. Using a sharp knife, cut the dough into long, thin strips about ½-inch wide.
3. Wrap the strips in a mummy-like fashion (being as wiggly as you wish) around each of the vegan meatballs and hot dogs. Don't forget to leave a little space on each to add the glowing red, ketchup eyes!
4. Place each onto a baking sheet and bake in a preheated 375 degree oven for 11-13 minutes, or until the mummies are all a ghostly golden brown.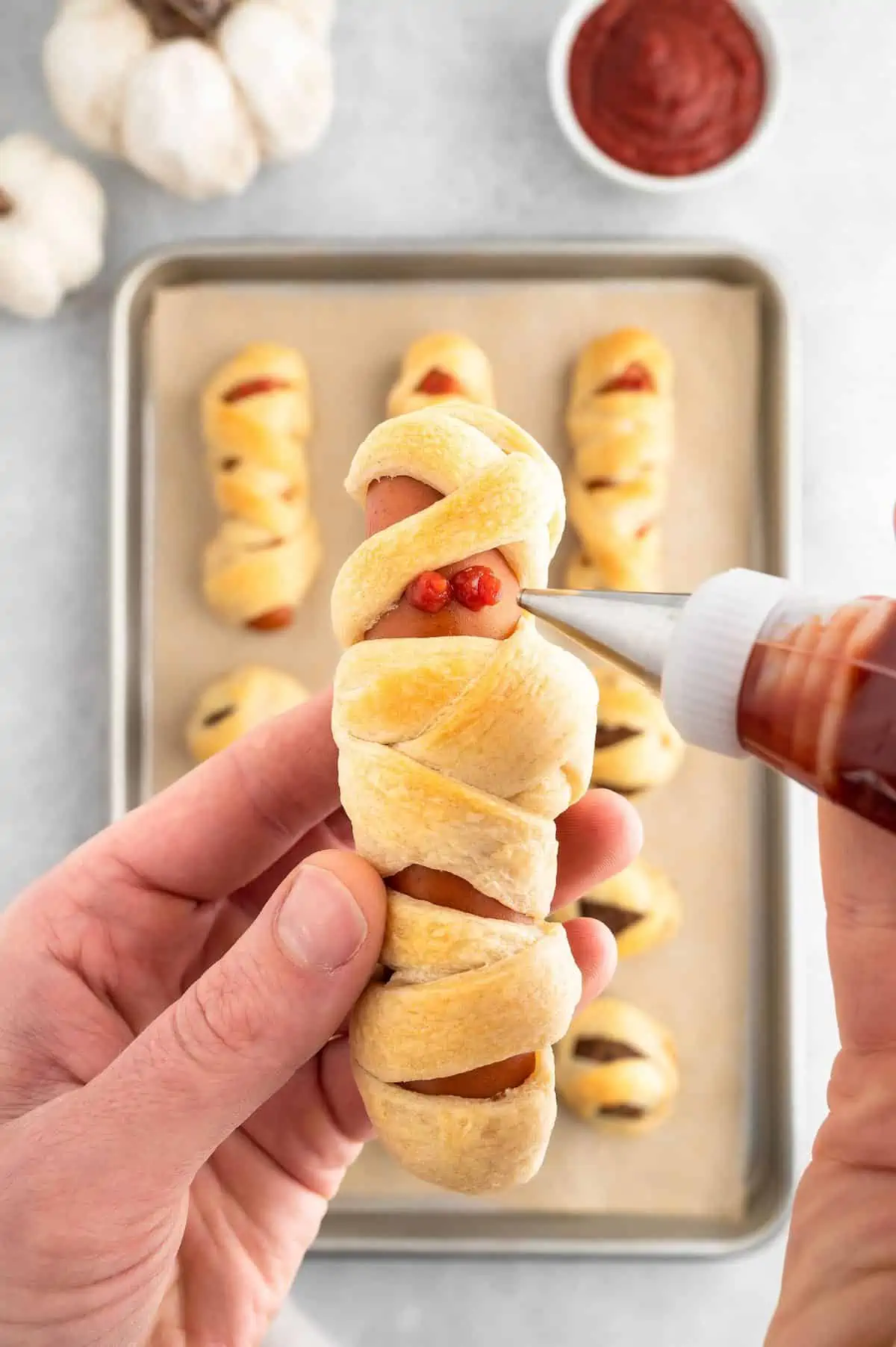 5. When cooled a little, attach the decorating tip to the icing bag, pour in some ketchup, and make some eerie dots for eyes on each vegan meatball and hot dog.
Place on a spooky serving plate and use toothpicks to serve.
Equipment You'll Need
These mummy munchies are not only super easy to make, but require very little equipment. All you need is:
Frequently Asked Questions
Can I make this recipe gluten-free?
Sadly, this crescent dough has wheat as an ingredient and is not gluten-free. But, if you have your own gluten-free pasty dough recipe that you like to use, feel free to use that in this recipe. Keep in mind that the cooking time and temperature will be different.
How can I reduce the fat?
There are a couple of ways in which you can reduce the fat in this recipe. If you're worried about the saturated fat in the crescent roll dough, don't hesitate to use whichever dough you prefer. You may wish to take a look at a few different brands of plant-based meatballs and hot dogs to find the one that has the lowest amount of fat. See below for more substitution ideas.
What if I (or my kids) don't like vegan packaged meatballs or hot dogs?
No problem! You can use anything you like in this recipe. Feel free to substitute your own recipe for plant-based meatballs (we have a recipe for quinoa meatballs) or use vegetables instead. Long vegetables that would work well would be asparagus, carrots, or potato spears. Round foods that could be swapped instead of meatballs would be brussels sprouts, broccoli, cauliflowers, or even tater tots!
Fun Fact About Mummies
The Egyptian process took about 70 days to complete, including all surgical activity and rituals.
Although the mummifying process usually removed most organs, the heart was always left inside. The heart was believed to be the "center of a person's being and intelligence".
When unwrapped, mummies usually weighed about only 5 pounds total.
One of the most famous mummies was the Pharoah Tutankhamun in Egypt's Valley of the Kings. He was discovered by British archaeologist Howard Carter in 1922. The tomb was full of precious jewelry, golden shrines, and a solid gold funeral mask.
The best mummy movie, according to IMDb, is the 1932 classic The Mummy.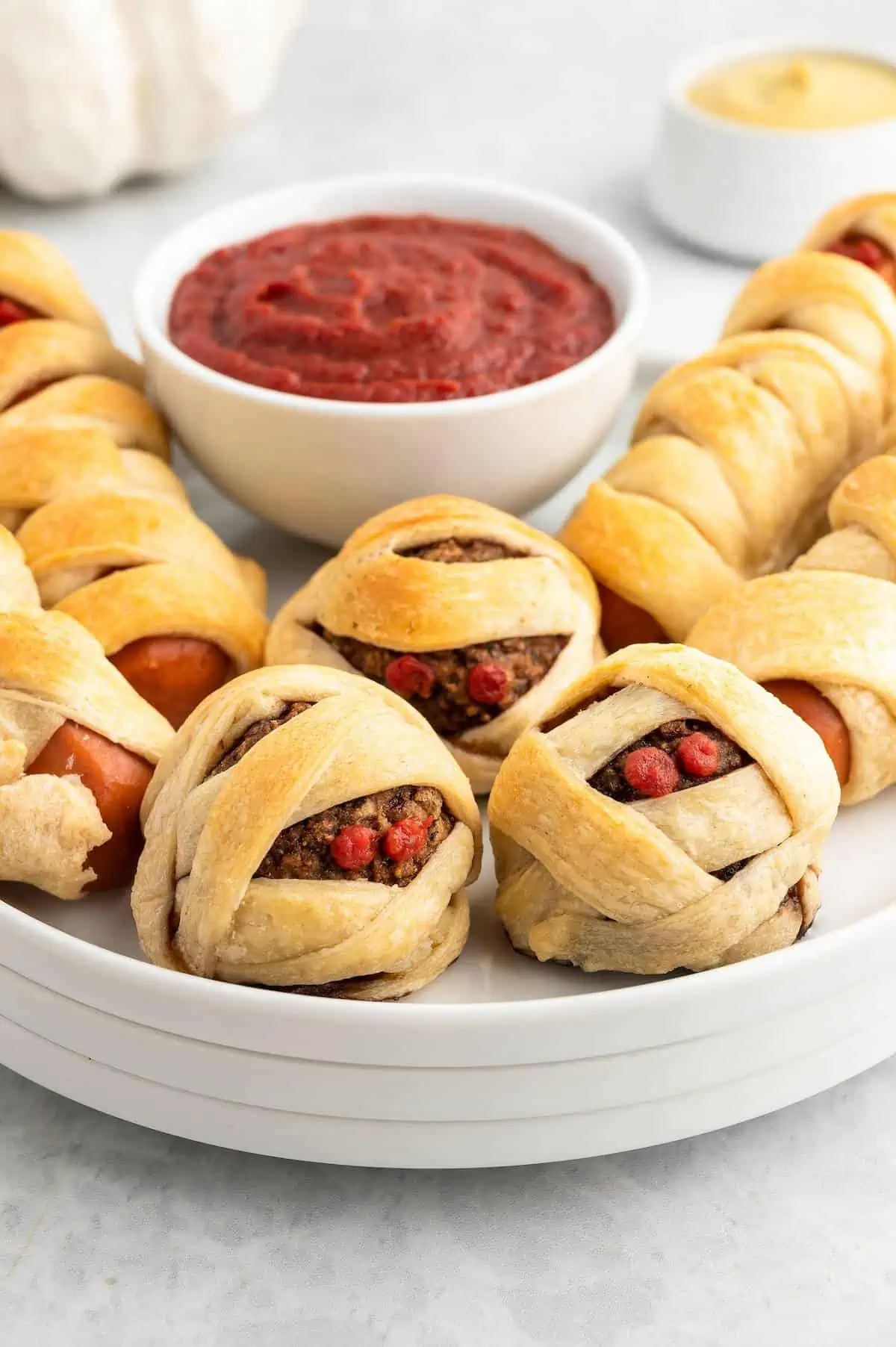 We hope you enjoy this vegan Halloween recipe by Michelle Cehn and Toni Okamoto! You can watch more of our videos here—and don't miss our vegan Halloween candy guide!
More Hauntingly Delicious Halloween Recipes to Try
1 package Pillsbury Original Crescent Rolls, Original
1 bag vegan meatballs and/or 1 bag of your favorite vegan hot dogs
Ketchup and Mustard, for the eyes and for dipping
Toothpicks, for serving
Icing bag and small round cake decorating tip for the eyes
Preheat oven to 375°F and line a baking tray with parchment paper.

Pop open the container of crescent rolls and unroll the dough on a cutting board.

Using a sharp knife, slice the dough into long, thin strips, about ½ inch in diameter.

One by one, wrap your veggie hot dogs and meatballs in the dough using a haphazard zigzag pattern reminiscent of mummies. Be sure to leave a space where the eyes will go!

Bake for 11-13 minutes or until golden brown.

Dot the eyes with ketchup or mustard using a toothpick or a small round cake decorating tip with an icing bag. Serve with toothpicks and enjoy!
This recipe makes 4-6 servings of either mummy dogs or mummy meatballs. Double it up to make both! Store leftovers in an airtight container in the refrigerator for up to 3 days. Reheat in an oven or air fryer to avoid soggy mummies. 
Calories: 248kcal | Carbohydrates: 25g | Protein: 9g | Fat: 14g | Saturated Fat: 5g | Polyunsaturated Fat: 5g | Monounsaturated Fat: 2g | Sodium: 774mg | Potassium: 160mg | Fiber: 1g | Sugar: 6g | Calcium: 0.1mg | Iron: 1mg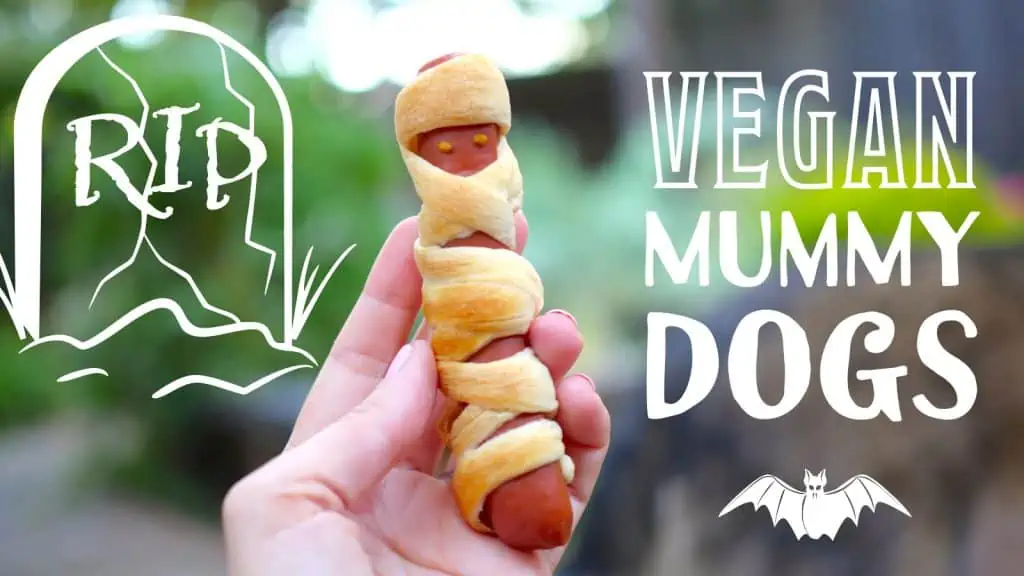 Mummy Balls and Mummy Dogs recipe by Michelle Cehn & Toni Okamoto and food photography by Michelle Cehn for World of Vegan. Article written by Gina House and edited by Amanda Meth. This article is not sponsored, but please note that this article may contain affiliate links which supports our work at World of Vegan.