Welcome to a delightful twist on your morning recipe routine – a mouthwatering vegan breakfast sandwich! A perfectly toasted bagel with a satisfyingly chewy center, a medley of fluffy tofu scramble, crispy plant-based bacon, and ooey-gooey melted vegan cheese. How can anything be more heavenly?
This recipe combines classic breakfast elements into a hunger-inducing, handheld delight! Each bite is guaranteed to bring your belly plant-based pleasure. Whether you're a seasoned breakfast connoisseur or just seeking a delightfully delicious way to start your day, this bagel breakfast sandwich is sure to become your favorite, go-to morning companion!
Why This Vegan Breakfast Sandwich is So Awesome
Sometimes making breakfast can seem like a chore. Or, worst yet, you get tired of the same old overnight oats, avocado toast, or fruit smoothie. Shocking, but true. If this is the case, our vegan bagel sandwich recipe will totally take you out of your breakfast rut.
Super Versatile. Picky eaters can rejoice! Any or all of the ingredients can be either removed or substituted for a favorite alternative food. You can even make a double-decker if one sandwich is not enough!
Easy to Meal Prep. Except for the bagel, you can cook or assemble each of the key ingredients ahead of time. Just before serving, toast the bagels, and…boom!…you've got a super satisfying sandwich. Especially good for on-the-go meals.
Great for Leftovers. When you've got a fridge full of leftover food, this is the perfect recipe to reach for. Any remaining tofu or plant-based meat can be thrown in, along with those last few salad leaves and that slice of bread on the brink of being stale. You'll have your refrigerator clean in no time and your belly happily full.
Delicious and Satisfying. One bite will take you back to the days of McDonald's and Burger King breakfasts—even more appetizing and without any animal cruelty.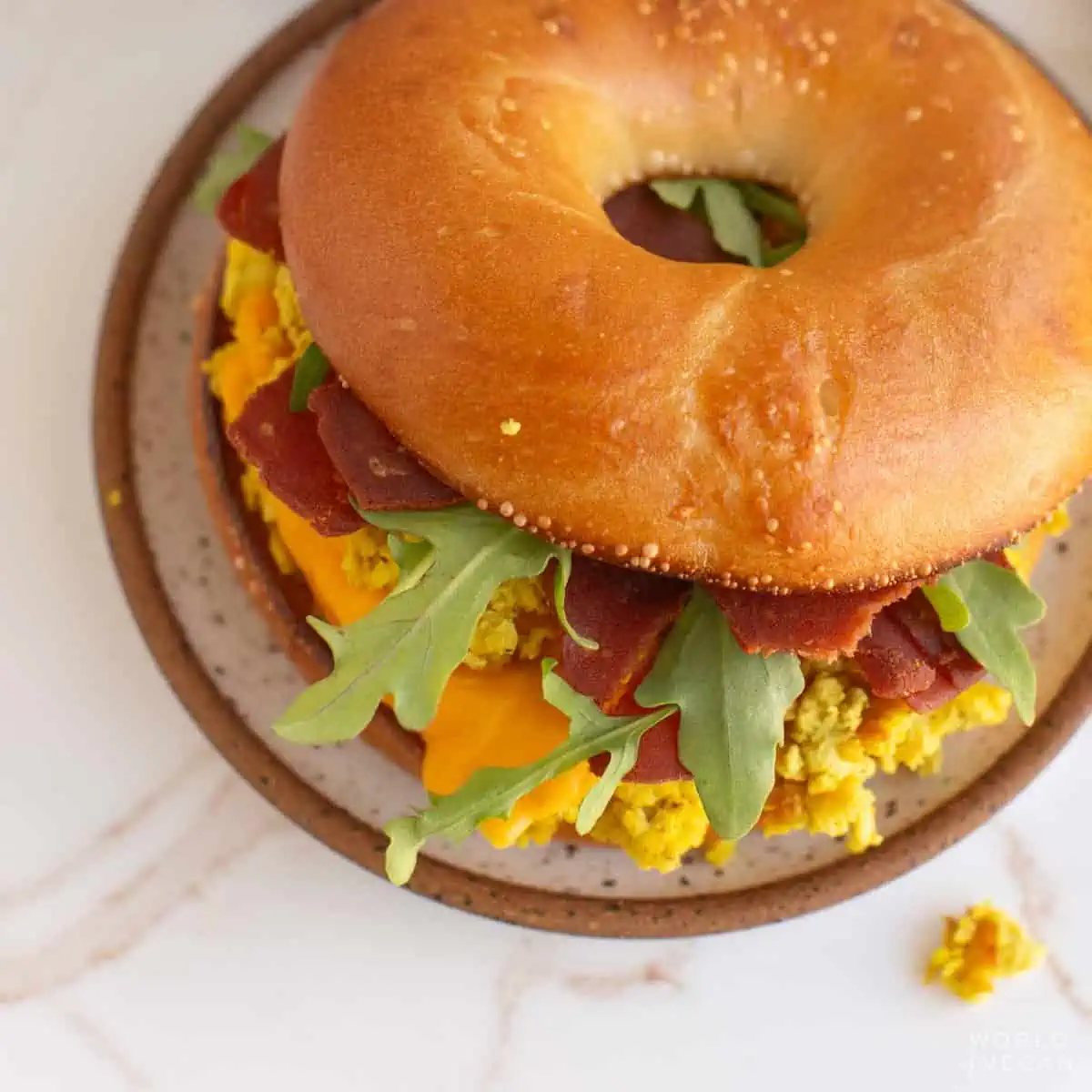 Key Ingredients
The best bagel breakfast sandwiches include at least three things: bread, protein, and cheese. We highly recommend making this recipe your own by filling it with your favorite foods. Feel free to use as little or as much of these ingredients as you like. Once you take your first bite, you'll be hooked!
Here are the simple ingredients with some of our favorite substitutions:
Bagel: Remember, you don't have to stick with a simple plain bagel. Branch out and choose a more creative flavor, such as sesame, everything, poppyseed, or even cinnamon raisin! As long as it's a vegan-friendly bagel, any flavor will be fantastic. If you don't like bagels (or you don't have any at the time), use English muffins, pita bread, or just plain toast.
Vegan Bacon: Not only do you have the option of tasty pre-packaged vegan bacon, but you can also make your own homemade. It may be hard to decide between cool carrot bacon, elegant eggplant bacon, or tempting tofu bacon. They're all delicious!
Tofu Scramble or Plant-Based Egg: With so many appetizing options on the market today, you have your pick of the perfect egg substitute. Whether it be a tofu scramble, egg-alternative patty, or rounds of seasoned tofu, they'll all boost your bagel sandwich with extra protein and flavor.
Vegan Cheese: Choosing the right cheese is essential. Lucky for us, vegan cheese is readily available and there's no lack of luscious cheese choices. We recommend cheddar for a tasty traditional sandwich or mozzarella for a more mild flavor, while bleu cheese is best for the bold.
Tons of Veggies: Although arugula is our favorite, you can pretty much use any veggie you like in this vegan breakfast sandwich. Other antioxidant-rich alternatives include romaine, baby spinach, asparagus, thin slices of onion, tomato, cucumbers, or sprouts.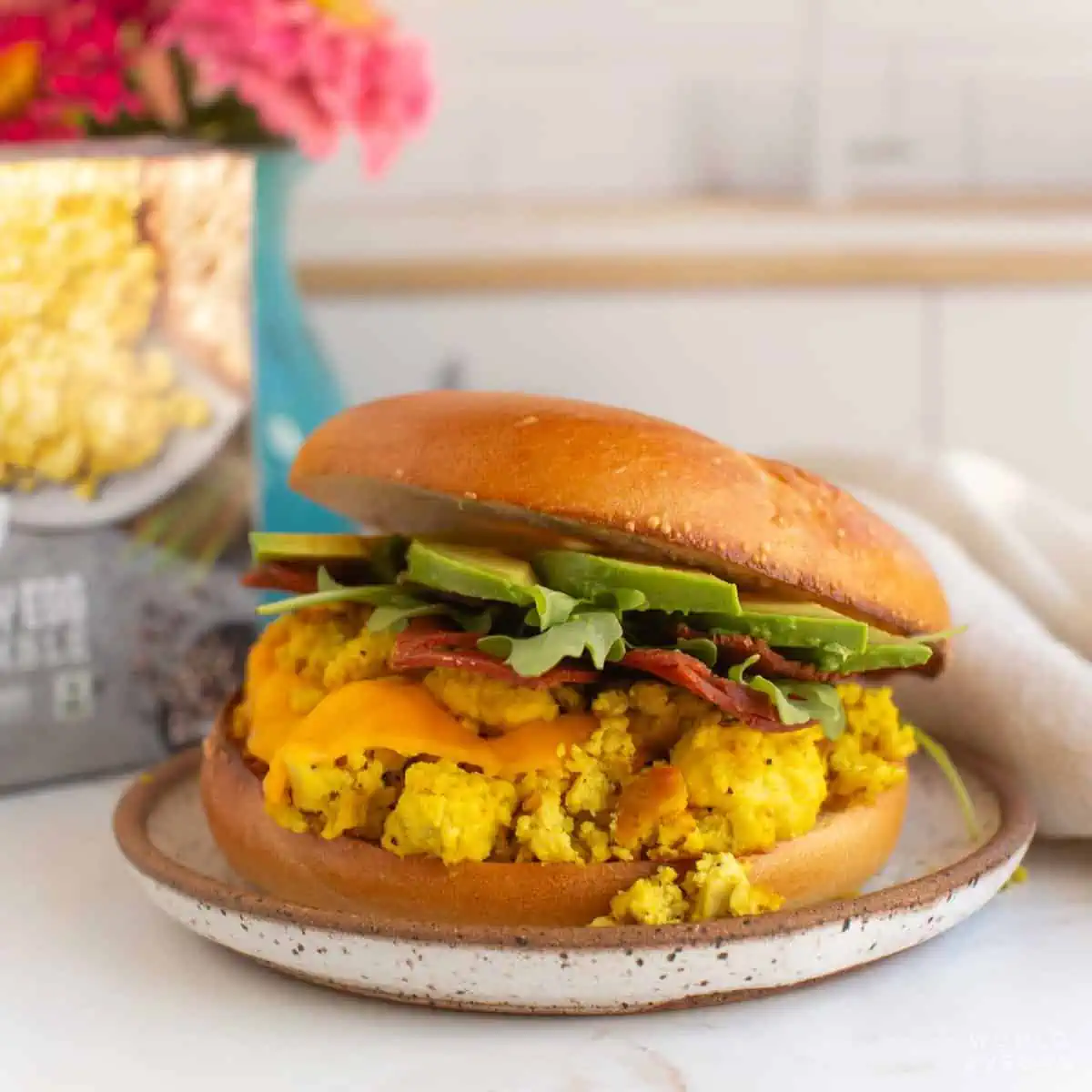 How To Make a Tofu Breakfast Sandwich
Making a sandwich is simple, right? Of course! But, sometimes, the simplest recipes can benefit from time-saving tips so you can be munching as soon as possible. This is a quick-and-handy guide to a fast and fantastically flavorful bagel breakfast sandwich!
Advanced Prep: Cook up a batch of tofu scramble (fresh or packaged) or vegan eggs the night before. Find the green or veggies and plant-based protein you'd like to use, cook, and then let them cool to room temperature. Store all prepped foods in covered containers in the fridge until ready to serve.
Prepare: When ready to assemble your bagel sandwich, bring out all the ingredients and reheat, if necessary. Don't forget slices of your favorite vegan cheese! Toast the bagel to a golden brown or desired toastiness.
Assemble: Place the bagel bottom on the plate first, add optional sauce or hummus, warm tofu scramble (or vegan egg), cheese slice(s), plant-based bacon (or sausage), and greens. Top with remaining toasted bagel top. Squish lightly and enjoy!
Tips for Vegan Egg Sandwich Success
There are so many ways you can replicate eggs for this tofu egg sandwich! It's all up to your imagination and creativity. To get the best eggy consistency, try these egg-cellent options:
Use tofu scramble (fresh or leftover) or buy a pre-made vegan egg scramble. (We love this one by Hodo!)
Cut tofu into round bagel-shaped patties and fry them up with some turmeric and spices with black salt. If you have a waffle maker, you can even make the tofu waffles first and use those.
Pour liquid Just Egg into a cup or glass and microwave to cook, and you'll have an egg-like round patty when you remove it from the cup. Quick and easy!
Use store-bought vegan "egg" patties, such as Just Egg Folded or Simply Eggless Patties.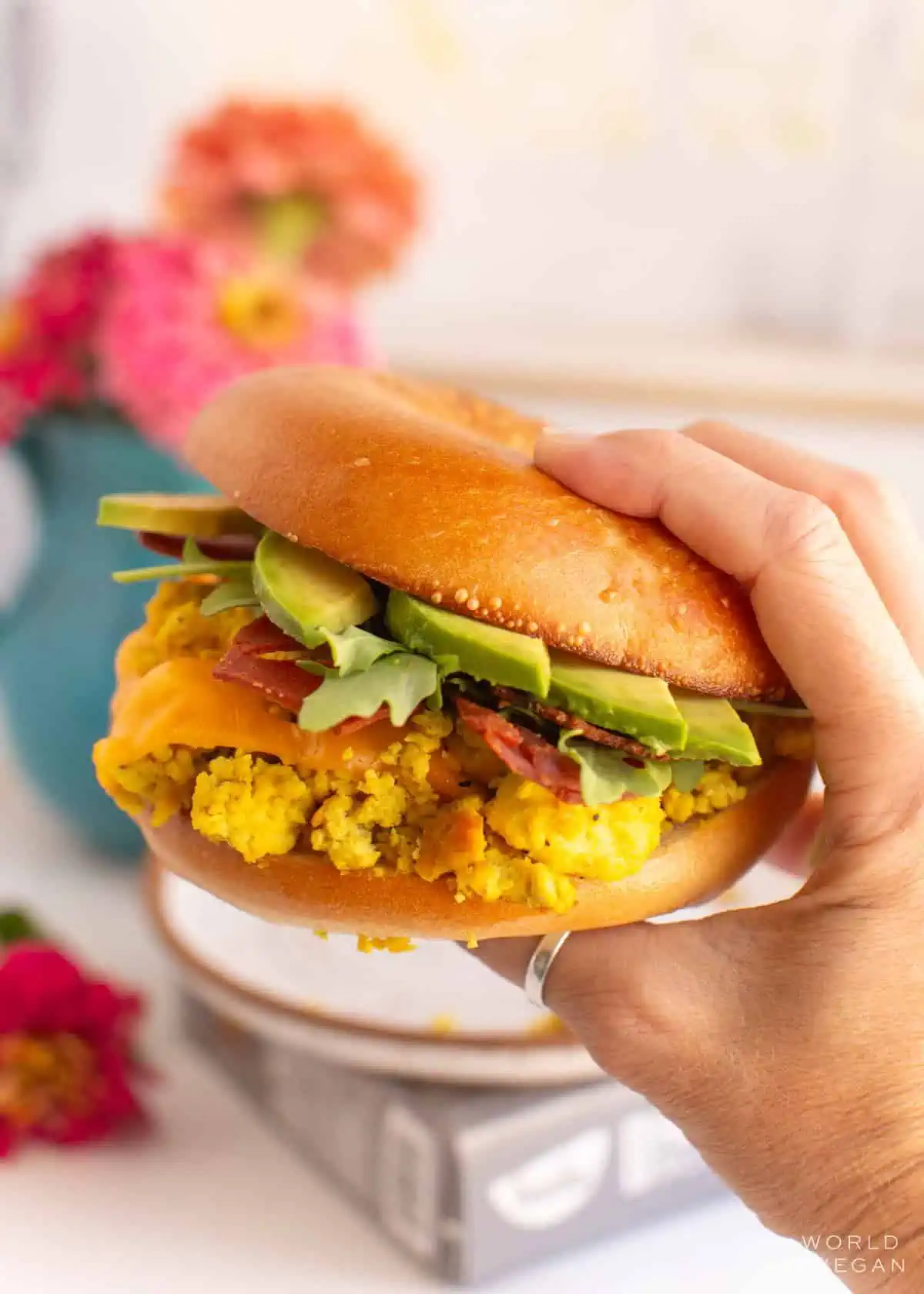 How to Serve Up Your Veggie Breakfast Sandwich
There's something really fun and exciting about serving breakfast in the morning. Whether it be an elaborate spread or just a simple plate holding a vegetarian breakfast sandwich, it'll be delicious no matter what. Here are a few ways of bringing out the best at breakfast time:
Don't Hold Out on the Hummus – If avocado is not your favorite healthy fat, choose hummus as an additional spread. With ravishing recipes like bright beetroot hummus, zesty jalapeno olive hummus, or super creamy white bean hummus, you can't go wrong!
Supplement with Simple Sides – When a single bagel sandwich is not enough to satisfy, consider adding a sweet side to complement your savory breakfast. How about a vegan yogurt, fruit salad, or parfait for starters?
Host a DIY Bagel Brunch Breakfast Bar – Break out the toaster, along with plates full of salad greens, plant-based bacon or sausage patties, vegan eggs, slices of vegan cheese, and lots of seasonings (don't forget the nooch!) and hot sauce. Offer an assortment of bagel flavors and let everyone make their own sandwich. So much fun and a great way to socialize at the end of a long week.
More Easy Vegan Breakfast Recipes to Try
2 cups tofu scramble, vegan "egg" patty, or tofu patty
2 bagels
2 slices vegan cheese
Vegan bacon, any type
Cook the tofu scramble or egg patty and bacon according to package instructions.

Slice bagels in half, add a slice of cheese on the two bottom pieces, and toast in a toaster oven.

Top the cheesy side of each bagel with tofu scramble (or other vegan egg patty), bacon, and any other toppings (like avocado, arugula, and hot sauce). Place the top of the bagel over it and enjoy!
Calories: 561kcal | Carbohydrates: 67g | Protein: 34g | Fat: 17g | Saturated Fat: 3g | Polyunsaturated Fat: 7g | Monounsaturated Fat: 3g | Sodium: 771mg | Potassium: 106mg | Fiber: 5g | Sugar: 1g | Calcium: 343mg | Iron: 5mg