Cheese enthusiasts, it's time to cheer! It's always amazing when plant-based options continue to rise in popularity and vegan blue cheese is definitely a brilliant breakthrough. There are so many wonderful new flavors and aromas emanating out of the dairy-free cheese world that it's hard to keep up. (Not that we're complaining…)
From sharp and tangy profiles to creamy and melt-in-your-mouth textures, these culinary creations have captured the essence of blue cheese while paving the way for a more inclusive and sustainable vegan cheeses. While this specific flavor is more of a love-or-hate-it type, it's still pretty incredible that dairy-free cheese lovers even get a choice!
If you're new to the land of the blue, let's cheese the day and discover why it's so grate!
What Is Blue Cheese?
Blue cheese is a type of cheese known for its distinct blue or green veins of mold. It is traditionally made from cow's, sheep's, or goat's milk and has a sharp and tangy flavor profile. The characteristic blue mold is created by introducing specific types of bacteria (usually Penicillium) during the cheese-making process.
Is Blue Cheese The Same As Gorgonzola?
Gorgonzola is actually a type of blue cheese. Blue (or in French, bleu) cheese is the general class of cheeses with a scraggy appearance and thick, crumbly texture. It has a creamier texture and a milder flavor and aroma.
Other types of blue cheese besides the Italian Gorgonzola include Danablu (Danish), Maytag (American), Roquefort (French), and Stilton (English).
Best Vegan Blue Cheese Brands
From creamy and tangy to rich and pungent, these culinary creations will leave you wondering how it's even possible to enjoy the pleasures of this funky cheese without a single animal product in sight. Get ready to totally change up your plant-based cheese game with these bold blue cheese brands!
This savory wonder is gluten-free, grain-free, and dairy-free cheese crafted by hand in Pennsylvania. The main ingredients of this luscious product are cashews and coconut oil. Bandit's vegan blue cheese pairs nicely with bread, nuts, crackers, and anything with an earthy undertone such as mushrooms and beets.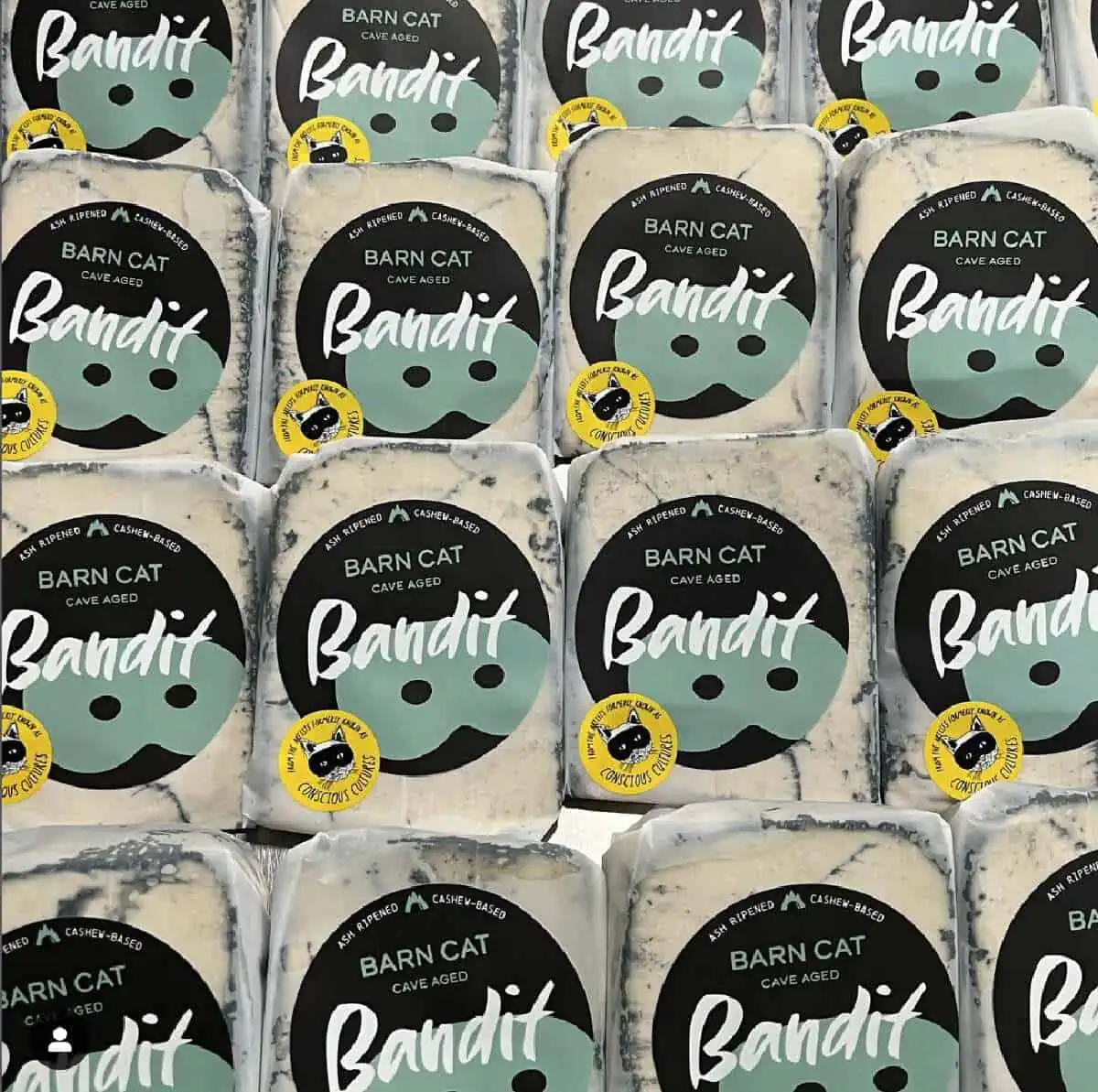 Dairy-free, high in protein, and fantastically flavorful are the factors that make Climax Foods' Blue Cheese famous. Their molecular-level research and earth-friendly ingredients combine to create an entirely unique and delicious alternative to dairy cheeses. Climax won the Veg News Best of Show Award for 2023.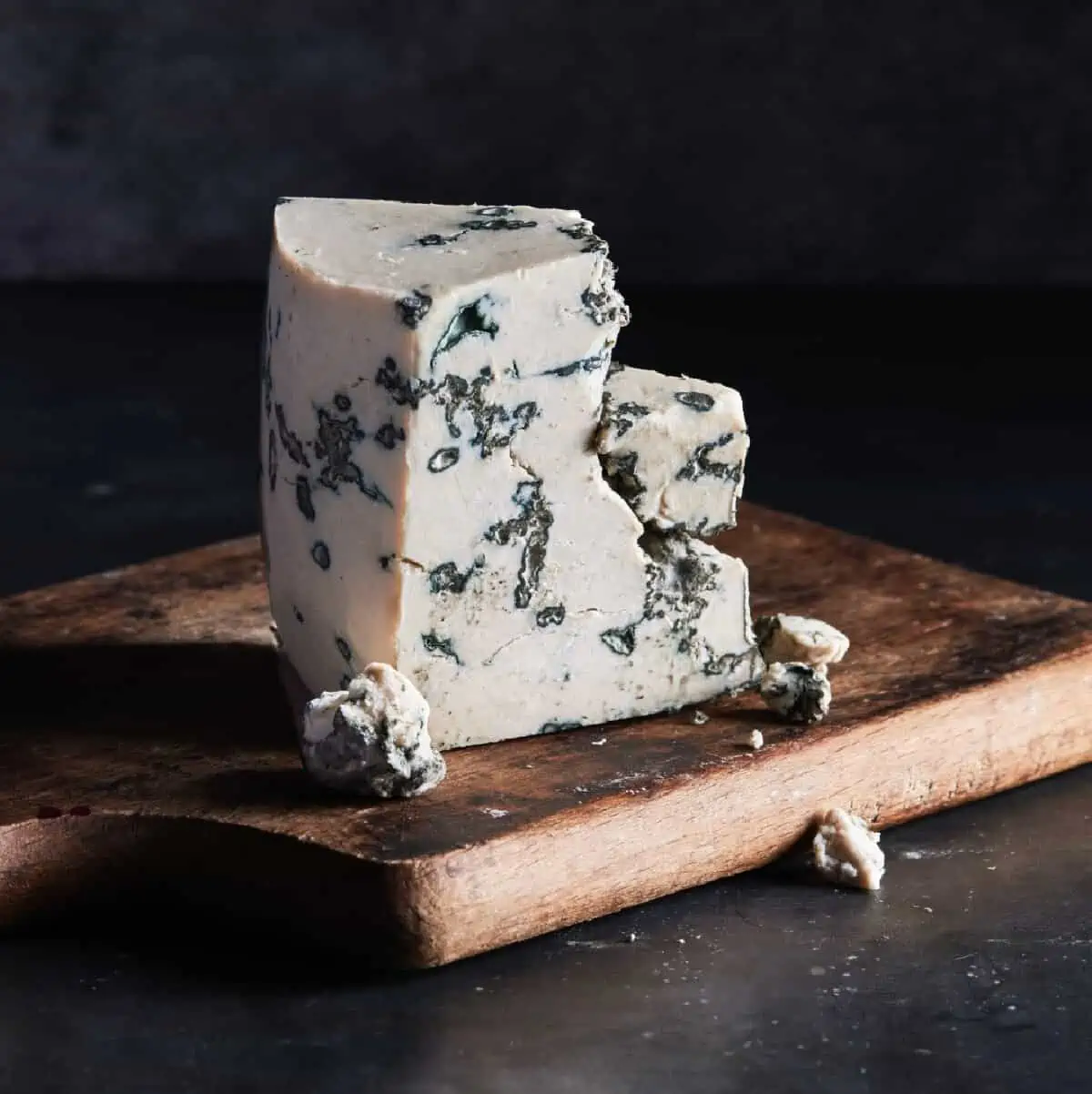 One of our favorite, easy-to-find vegan cheese brands! This dairy-free Follow Your Heart bleu cheese is wonderfully tasty on salads, burgers, and more. It's a unique blend of coconut oil, potato starch, potato protein, and spirulina. Besides being gluten-free and soy-free, these vegan blue cheese crumbles are tangy and oh-so-creamy.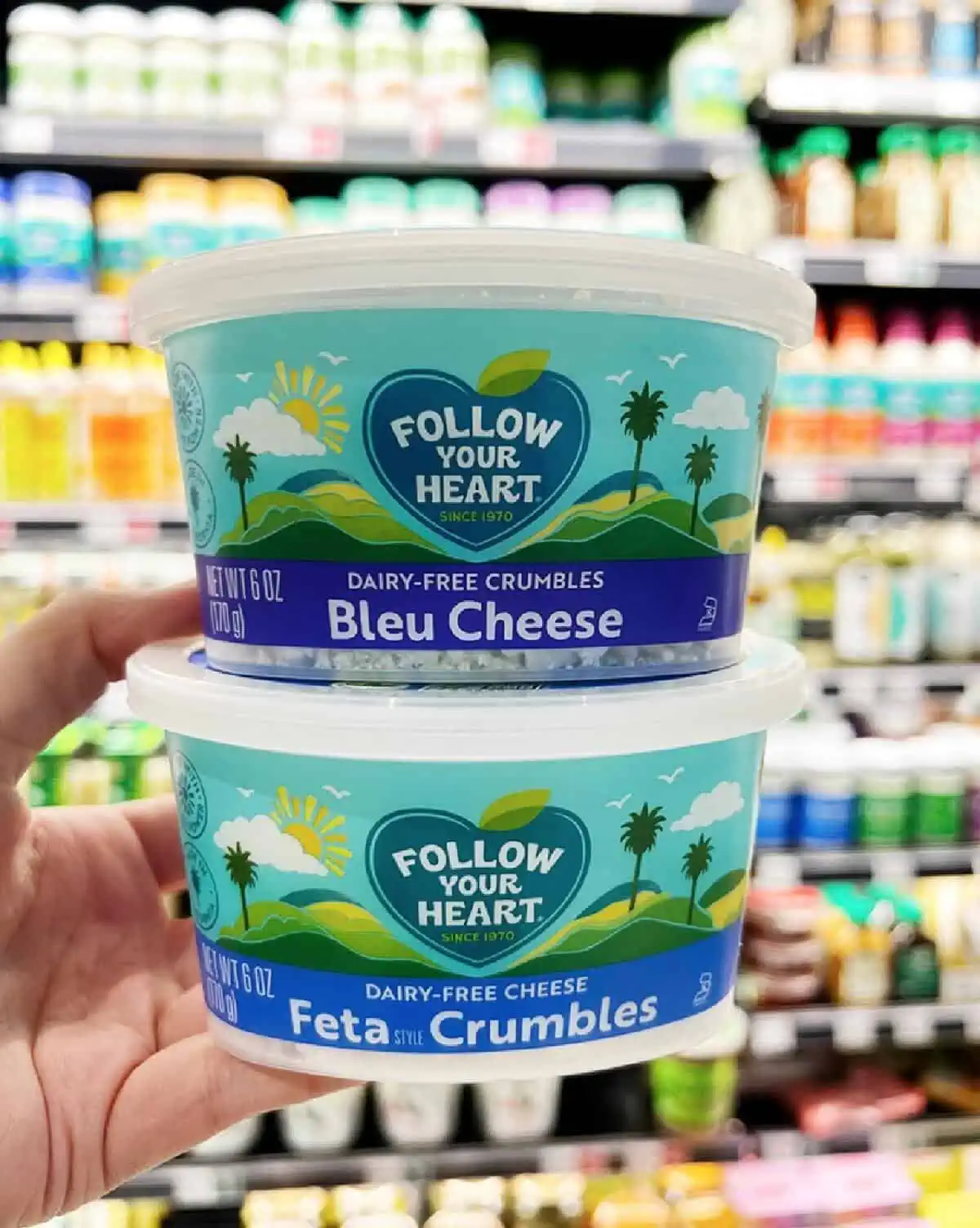 Katon's CocoBlue is plant-based, small business brand that uses a coconut/cashew base for their alluring vegan cheese. The flavor is traditionally umami (as well as satisfying stinky) and is enhanced by its rich creaminess. Its blue-veined appearance is surprisingly beautiful, as well. Check out their Instagram page for interesting photos of the curing process!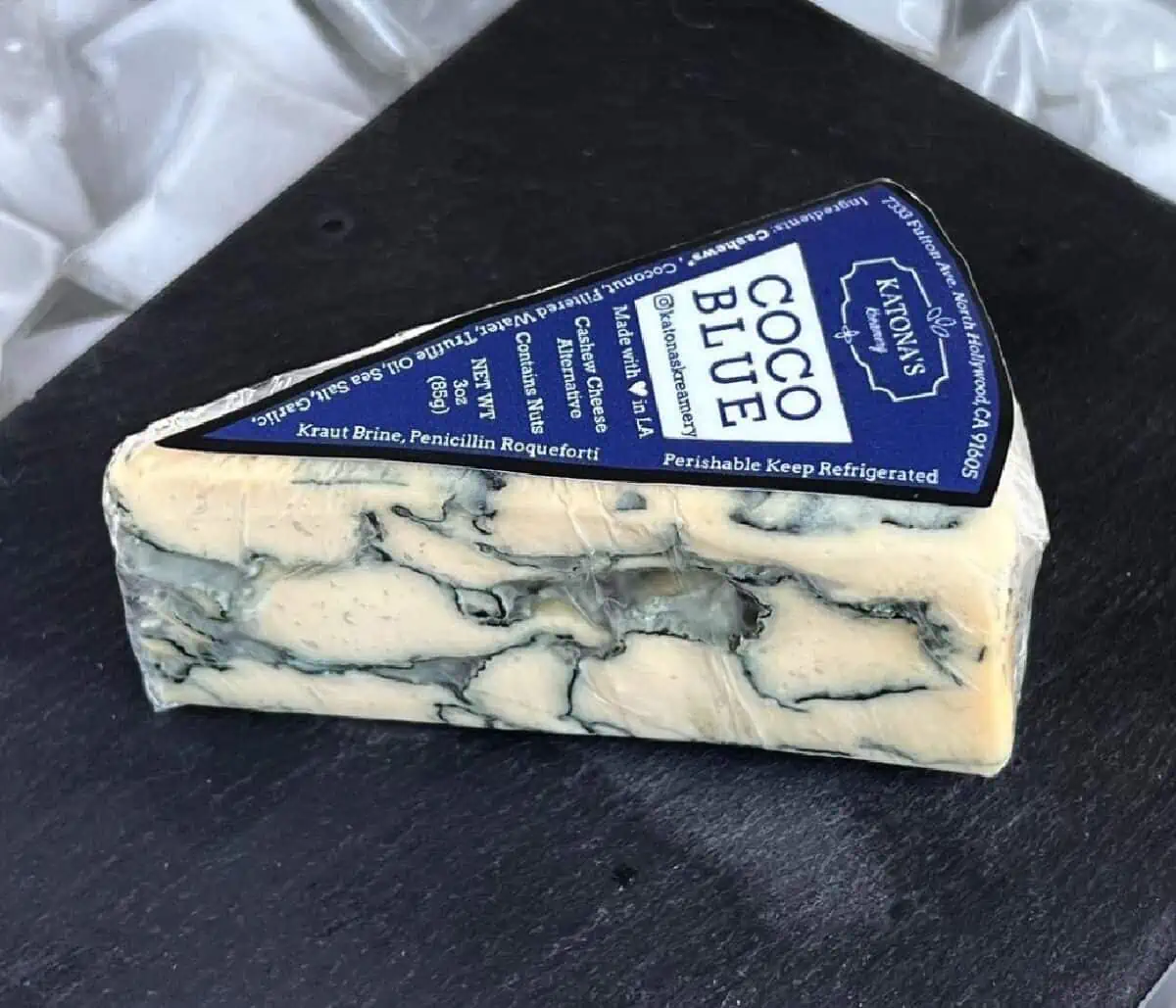 A woman-owned brand that offers an organic, fermented, and dairy-free creation called Super Blue. This brilliant blue cheese is primarily made with cashews, coconut oil, quinoa rejuvelac, and chickpea miso. A unique and outstanding combination that also features the superfood, spirulina, for added color and health benefits.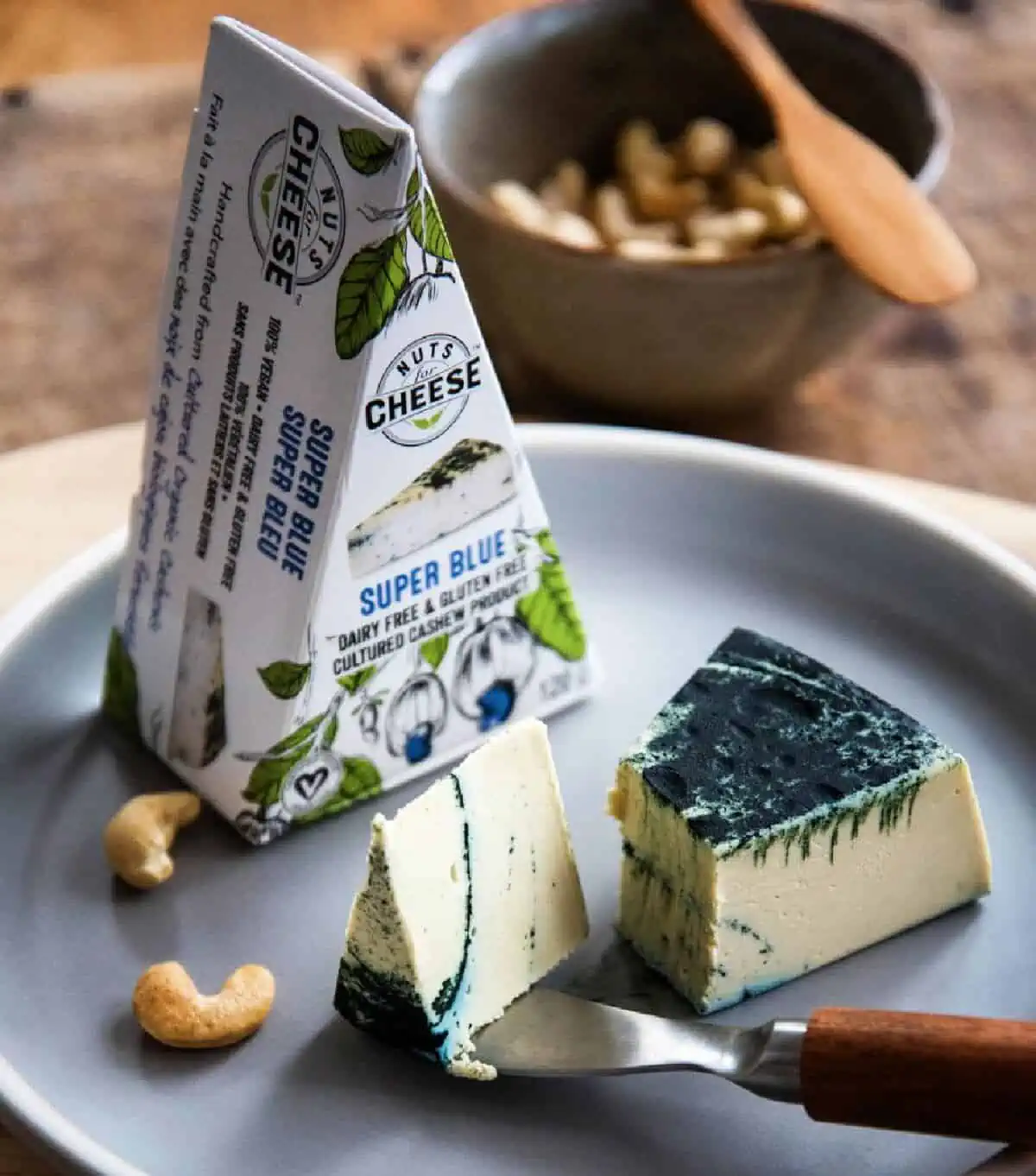 Voted Best Blue Vegan Cheese of 2022 in Vegancheese.co Awards. This tempting Roquefort-type is made in Spain and is gluten-free, non-GMO, palm oil-free, lactose-free, dairy-free, and soy-free. An incredibly tasty, cashew-based cheese that melts marvelously and is perfect on crackers.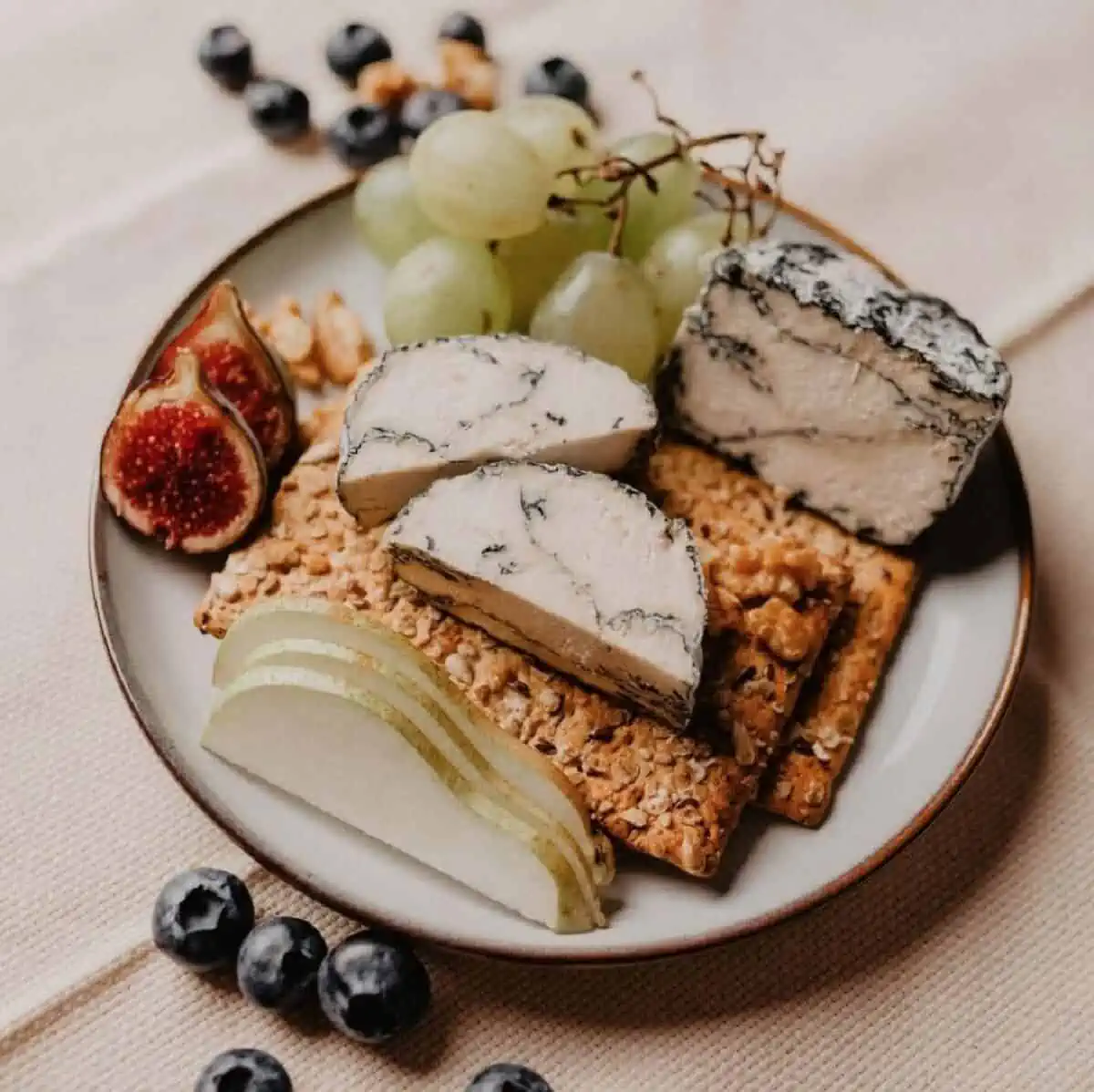 Colorado Blue is mushroom-infused dairy-free blue cheese with a creamy, crumbly texture and sharp flavor. The ingredients in this particular plant-based cheese are tofu, coconut oil, and sesame seeds plus other vegan flavors. It's gluten-free, non-GMO, and glorious as a snack or on top of salads or sandwiches.
Artisan Spirulina, a fabulous faux-gonzola cheese from the Reine brand, is "cultured, aged, and marbled" with this incredible superfood. It gets its richness from cashews and coconut milk and its tart taste from spirulina. Reine's vegan blue cheese goes well with fresh or dried pears and the packaging is beautifully elegant.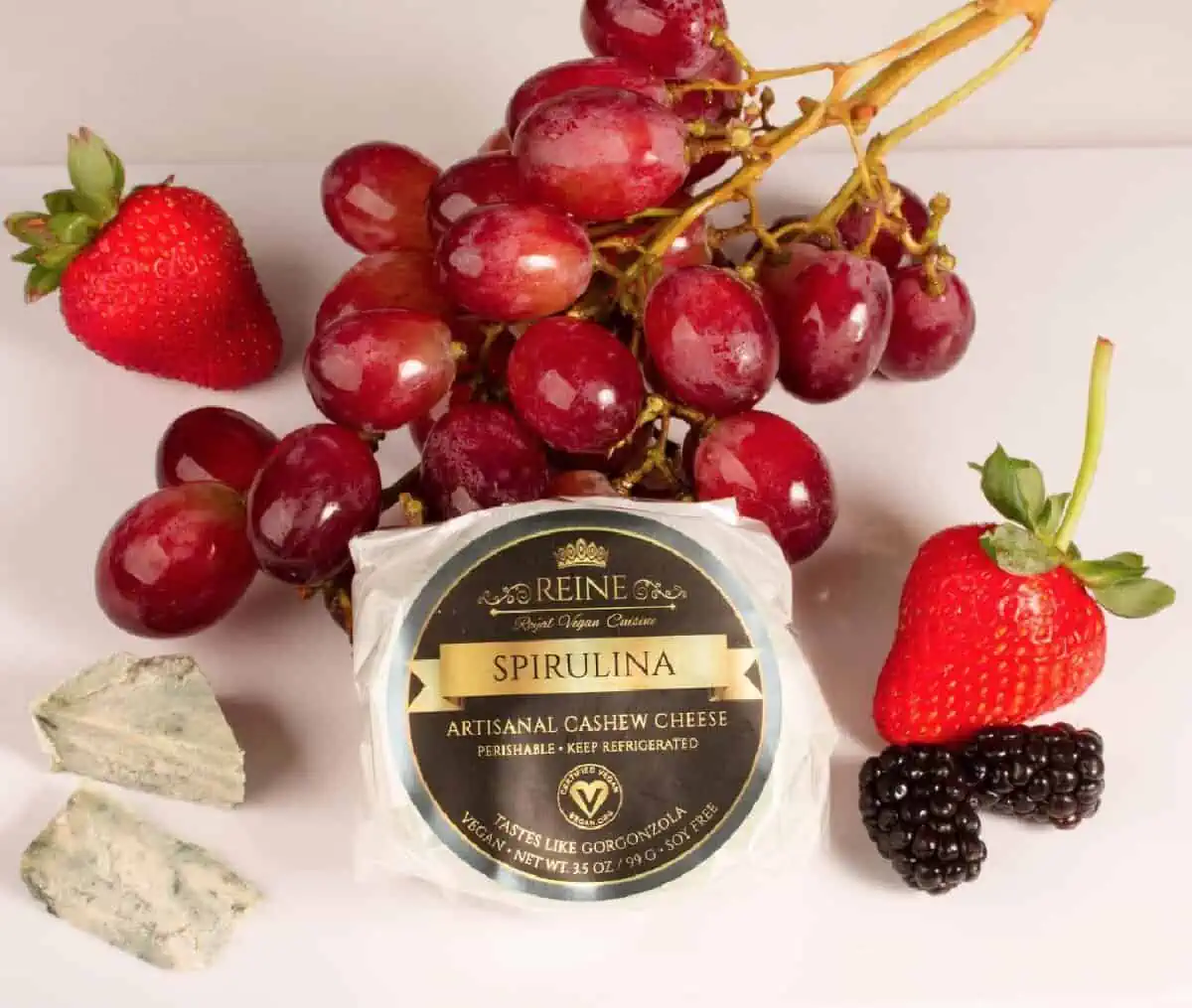 Rind NYC is vegan-owned and operated since 2017. Their self-proclaimed "funky & bold" vegan bleu cheese is sold in a mini wheel format and is 100% gluten-free. The base of the cheese is created using cashew nuts, tofu, and coconut oil. This award-winning brand is also expanding their line of heavenly plant-based products.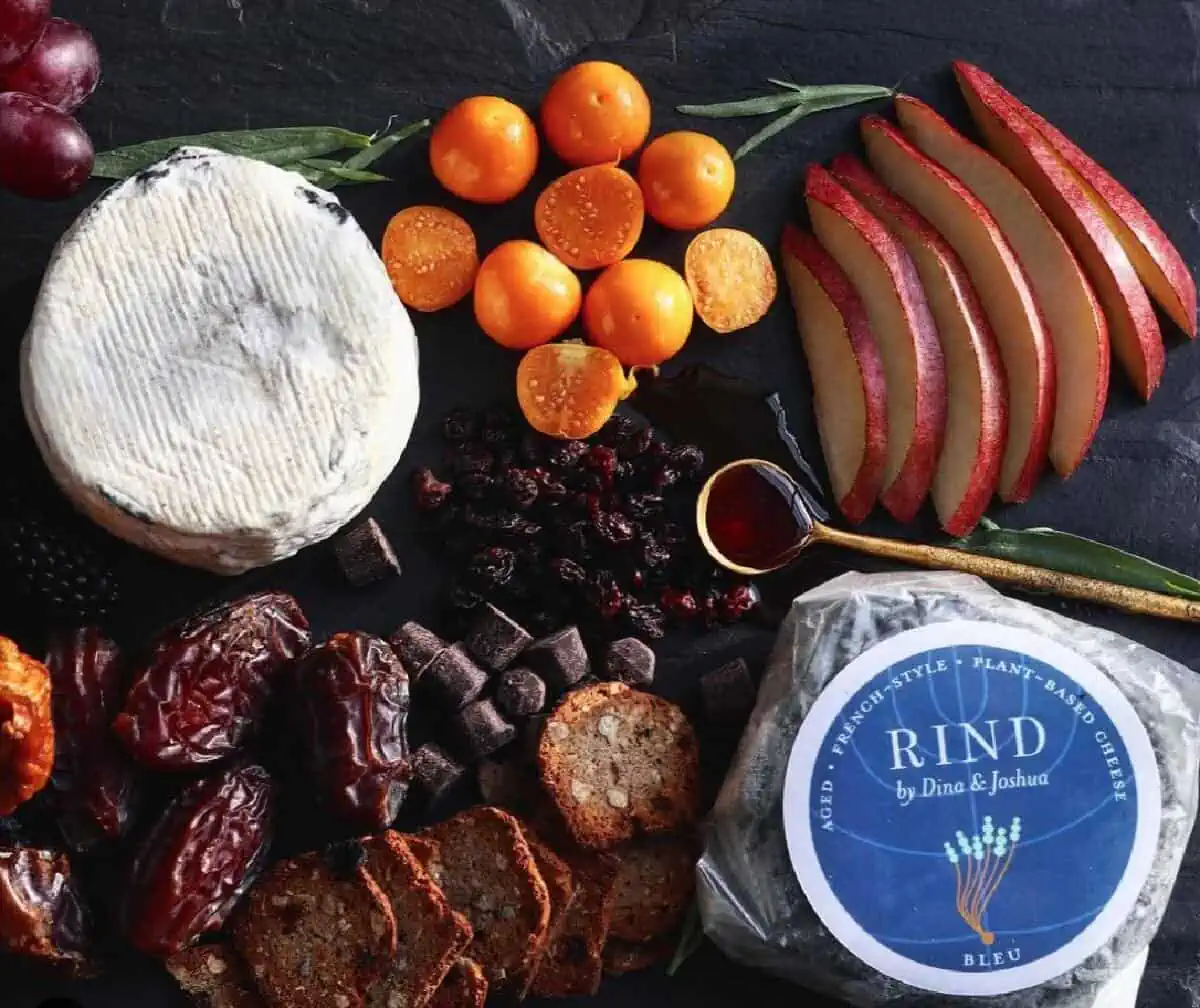 This artisan bleu, organic cheese is lovingly blended and formed from a mixture of cashew nut milk, coconut oil, and chickpea miso. It is free of soy, lactose, GMOs, gluten, and dairy. The founders, Jodi and Anthony, declare this divine vegan blue cheese to be salty, savory, and pungent. Virgin Cheese was nominated for Best Vegan Artisan Cheese in the Country by VegNews Magazine in 2020.
Keeping our fingers crossed that we see a Violife Blue Cheese on the market someday!
Vegan Bleu Cheese Dressing
Chances are, if you adore vegan blue cheese, you also love diving into the dressing. Though there aren't as many plant-based products available as there for cheese blocks, we're confident that there are more on the way. This scrumptious sauce is delightful on salads, but you don't want to forget the crackers, sandwiches, potatoes, and fresh veggies that would be deliciously doused with a bit of zesty blue!
FAQs
Is there a vegan version of blue cheese?
Yes! The vegan community is very lucky that a number of brands have started offering this dairy-free option. Although there aren't many yet, there's sure to be more soon!
Is blue cheese just old cheese?
Surprisingly, no. Blue cheese is a type of semi-soft cheese that is high in salt and has a sharp bite. The blue sections derive from an edible mold called penicillium that spreads throughout the cheese, not from being old or spoiled. It gets that unmistakable smell from the bacteria, Brevibacterium linens.
Is blue cheese healthy to eat?
Like all processed foods, it's high in sodium and fat. So, it may not be the healthiest of foods, even if it's plant-based. But, a small amount added occasionally to quality whole plant foods such as salads, whole grain bowls, or veggie-packed sandwiches can be delicious!
A Eurythmics-Inspired Blue Cheese Poem
"Sweet dreams are made of cheese.
Who am I to dis a brie?
I cheddar the world and the feta cheese.
Everybody's looking for stilton."
(Thanks to BoredPanda.com for sharing this hilarious take on the Eurythmics song, "Sweet Dreams"!)
More Creamy Vegan Cheese Recipes to Try
Vegan blue cheese takes plant-based innovation to new heights, offering a tangy and bold flavor experience that's impossible to resist. So, grab a cracker, spread on some vegan blue cheese, and savor the guilt-free indulgence. It's time to take a leap into this vegan cheezy wonderland and never look back. Cheers to a world where compassion and flavor come together in such a delicious way.