For 50 years, Burger King has been in the business of burgers. After many decades of listening to mainly meat media, they've decided to take part in the plant-based territory. Burger King made history when they launched the Impossible Whopper in 2019—a massive step when you consider that Burger King has more than 17,000 locations and serves over 15 million customers per day. That's billions of burgers every year.
At least we now have one option for burgers on-the-go across the country—and hopefully, we'll see even more vegan options in the near future. In fact, check out our vegan fast food guide to see what other options are currently available to you at chain restaurants!
And now, if you're wondering what you can eat that's vegan at Burger King, read on.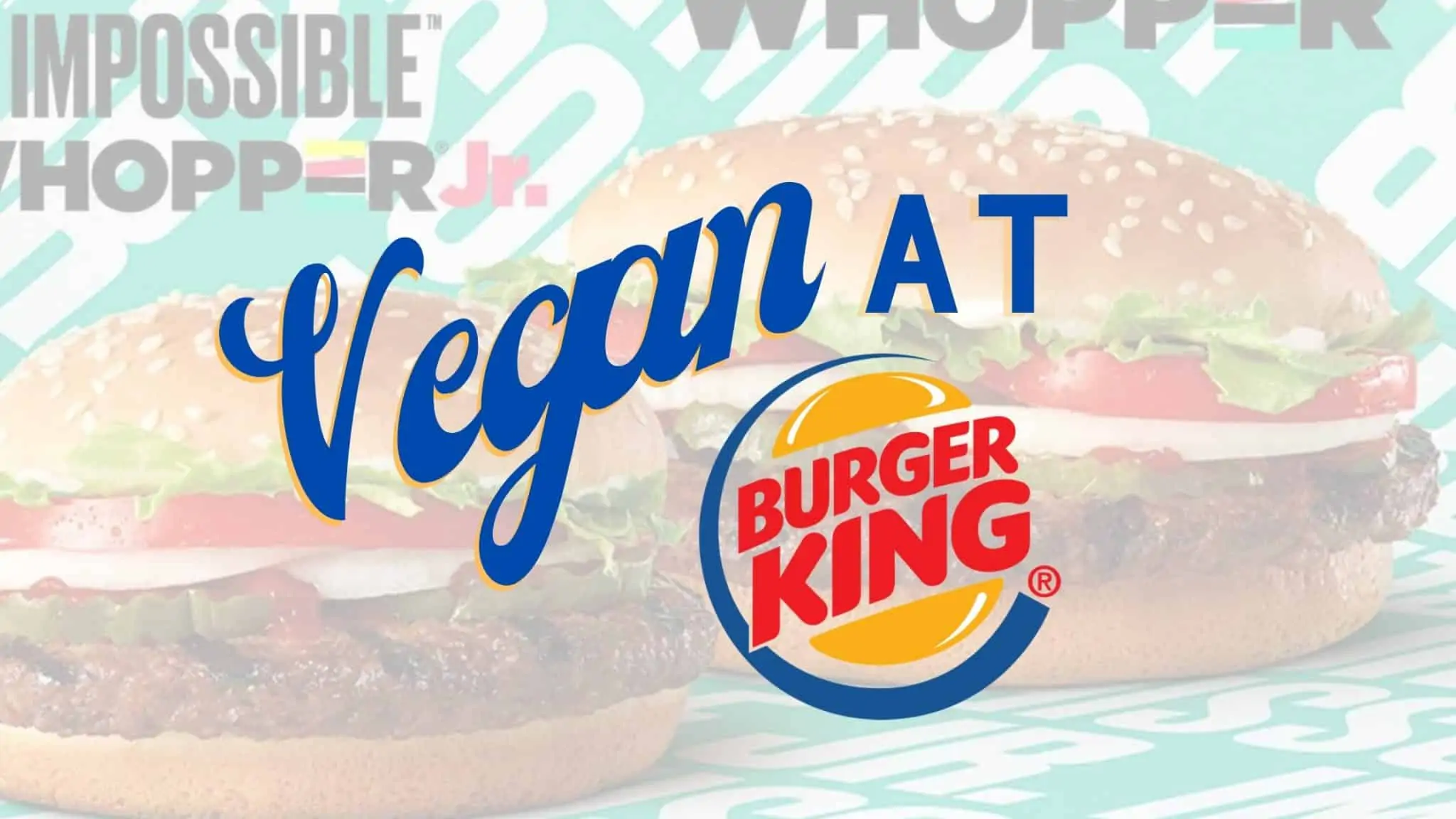 Burger King Veggie Burger & How to Order The Impossible Whopper Vegan
It's easy to order the Impossible Whopper vegan—just ask for no mayonnaise! The patty used in the Impossible Whopper is the "Impossible Burger 2.0" made by Impossible Foods—and it's completely vegan. The buns at Burger King are also vegan! The other Whopper toppings include tomatoes, lettuce, ketchup, pickles, and onion, which are all vegan.
Just note, the vegan whopper is made on the same grill as other meat products, so if this bothers you, it may not be suitable for you. Remember that it has zero impact on animals if it's cooked on a separate grill, or a shared grill, so this is a personal preference, not an ethical consideration.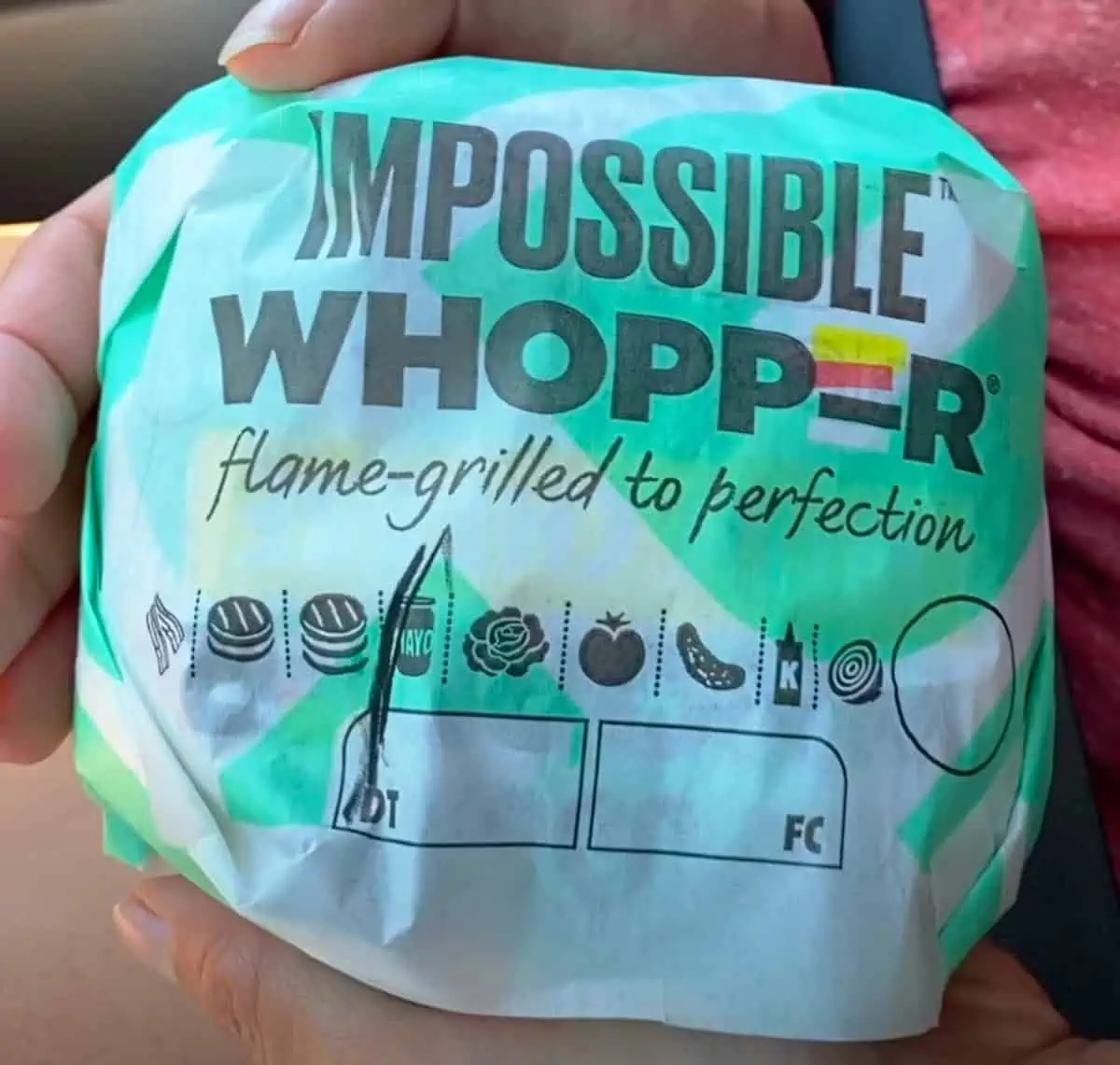 Are Burger King Fries Vegan?
Yes! Burger King uses vegetable oil for frying their french fries, so the Burger King fries are vegan! However, they do share a fryer with other non-vegan foods, so if you're worried about cross-contamination, then skip the fries. Ethically speaking, sharing a fryer with other non-vegan products doesn't actually impact animals or cause any addition suffering, so ethically speaking, you should be in the clear.
Helpful Hints When Ordering Vegan at Burger King
Browse the restaurant's website before ordering. Some locations offer different food options.
When ordering the Impossible Whopper, request that your plant-based patty be cooked on a meat-free surface. It's possible that they won't be able to fulfill your request, but it never hurts to ask nicely! Note: it doesn't make a difference to animals whether your burger is cooked on a grill with other meat or on a meat-free surface.
Add a garden side salad full of fresh greens (but no cheese!) to any vegan "burger" for a more satisfying supper. Serve with Ken's Golden Italian or Balsamic dressing and you're good to go!
Burger King Vegan Options
There's no straightforward Burger King vegan menu but we've simplified it for you by breaking down the vegan options available for each section of the menu!
Vegan Breakfast Options (available until 10:30 am)
Breakfast is pretty much the best time to buy at Burger King. You can stuff your belly full of French Toast Sticks (accidentally vegan—woo!), heaps of hash browns and throw in an additional order of oatmeal (made with water). Combine with an ice-cold OJ and you've got yourself a very vegan breakfast buffet!
Here are all of the Burger King vegan breakfast options:
French Toast Sticks (accidentally vegan)
Hash browns
Oatmeal (made with water)
Maple Syrup (be warned: it's not real maple syrup but rather flavored corn syrup)
Impossible Whopper Burger for Breakfast (no mayo)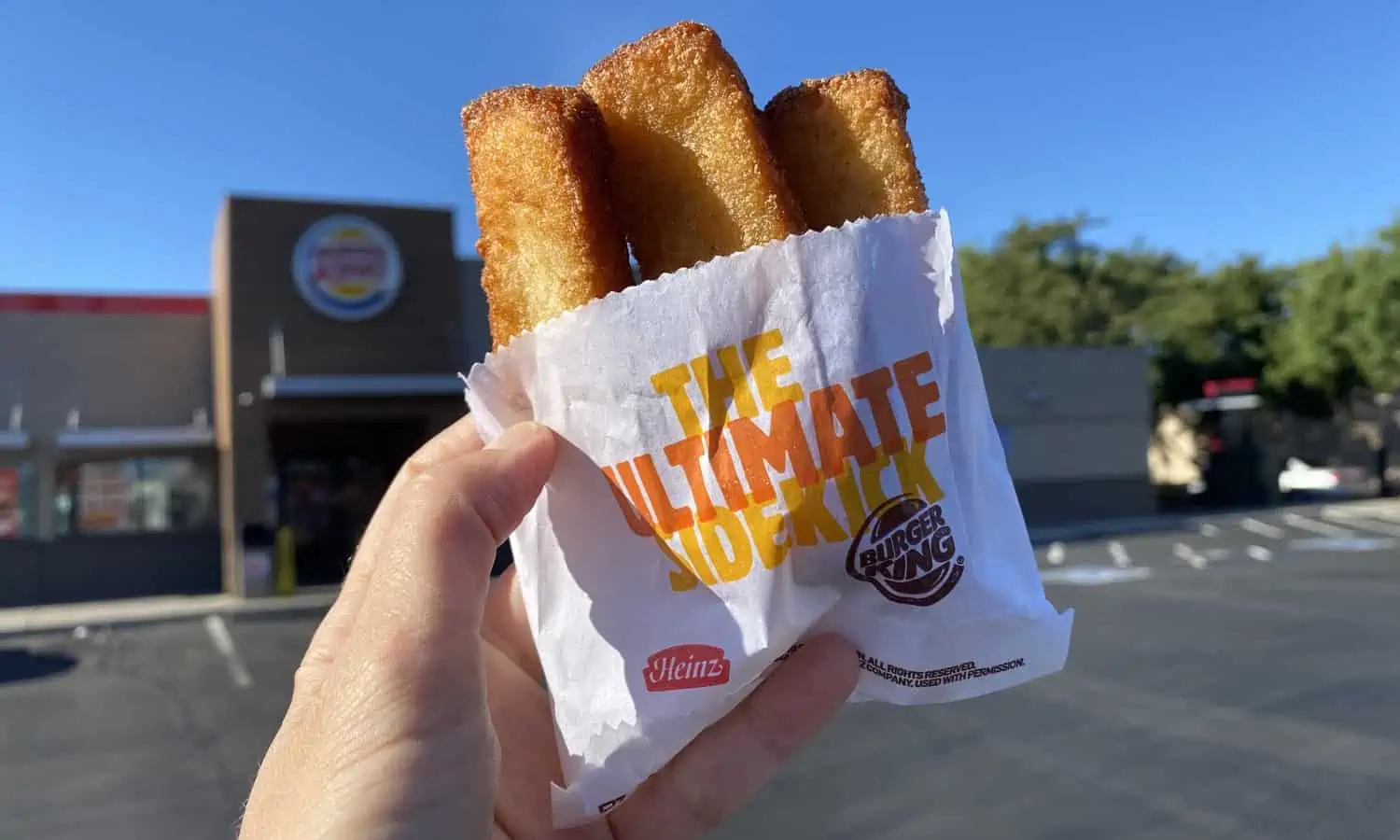 Pictured above: the Burger King vegan French Toast Sticks
Vegan Lunch & Dinner Options at Burger King (available after 10:30 am)
For lunch and dinner you can turn to the Impossible Whopper, made vegan by holding the mayo. The Impossible Whopper is surprisingly meat-like and has gotten rave reviews. It can be brilliantly bulked up with a substantial side of fries (they use vegetable oil for frying) or an admittedly sad garden side salad (with no cheese or dressing). Invest in the vegan Whopper on your visit and you can discover what all the hype is all about. Encourage the person with you to try a bite too (bonus points if you record their reaction).
Impossible Whopper (no mayo)
Single Impossible King (no cheese)
Fries (they use vegetable oil for frying)
Garden side salad (with no cheese)
Note: they used to offer a vegan PB&J Jamwich for kids, but those seem to have been removed from the menu.
Vegan Dessert Options at Burger King
Sadly, Burger King discontinued their only accidentally vegan dessert—the apple pie. It's no longer sold nationwide, and long-time fans of this sweet hand-held treat are crushed. They have shakes, and soft serve, and cookies, and a Hershey's Sundae Pie—but sadly none of those are vegan.
Vegan Beverages
Beverages are a quick and simple ordering option, keeping in mind that all of the shakes, soft serve, and sundaes are mostly made with milk. The ICEEs are surprisingly vegan (with only ice and sugar syrup as the main ingredients) if you are searching for a cold, sweet treat. The beverages below are all vegan-friendly.
Capri Sun Apple Juice
Coffee
Dr. Pepper
Frozen Coke ICEE
Frozen Fanta Wild Cherry ICEE
Hot Tea
Iced Tea (sweetened or unsweetened)
Minute Maid Orange Juice
How to Order Vegan at Burger King Video (Featuring the Impossible Whopper)
Frequently Asked Questions
Are the croissants vegan at Burger King?
No, the croissants sadly aren't vegan. They're loaded with butter and dairy.
Are the buns vegan at Burger King?
Yes! The buns are vegan, plant-based, dairy-free, and egg-free. So load those buns up with an Impossible veggie burger and the plant-based fixin's (minus the mayo) and enjoy!
What's the Plant-Based Whopper Made From (Ingredients)?
The main ingredients are soy protein, sunflower and coconut oils, heme for flavor, and binders to hold everything together.

Here's the full list from Impossible Foods: Water, Soy Protein Concentrate, Sunflower Oil, Coconut Oil, Natural Flavors, 2% Or Less Of: Methylcellulose, Cultured Dextrose, Food Starch Modified, Yeast Extract, Soy Leghemoglobin, Salt, Mixed Tocopherols (Antioxidant), L-tryptophan, Soy Protein Isolate
Vitamins and Minerals: Zinc Gluconate, Niacin, Thiamine Hydrochloride (Vitamin B1), Pyridoxine Hydrochloride (Vitamin B6), Riboflavin (Vitamin B2), Vitamin B12
How Long is Breakfast Served at Burger King?
Burger King breakfast is only served until 10:30 a.m.—so don't expect to add hash browns or french toast sticks to your order when you're visiting in the afternoon or for dinner. Most locations open at 6 a.m., but some operate 24-hours a day.
What's NOT Vegan at Burger King?
The onion rings at Burger King are sadly not vegan — they are made with whey (a milk derivative). Also, if you were hoping for a warm breakfast biscuit, puffy pancake, or a fine, flaky croissant, you will be decidedly disappointed. All are made with milk and/or butter with no savory substitute.
Plea for the Onion Ring
Oh, please, Bold Burger King
Give us our crispy onion ring
Without all that dreaded whey
You don't need it anyway
We would buy them day or night
To a vegan, it's our right
To have a crunchy, savory treat
Without the dairy or the meat!
Healthier Order Suggestions
If you're concerned about the high-fat content (coconut and sunflower oil) or soy base of the Impossible Whopper, consider ordering a Whopper Junior with no meat or mayo. Yes, it's just a bun with lettuce and tomato, but you could also heap some heavenly hash browns in the center accented with a hint of hot sauce.
Although there isn't a large variety on the main menu of this huge hamburger chain, there seems to be a promise of more plant-based options in the future. As always, the more often we ask, the more these ruling restaurants will become aware of the increasing need for non-meat options.
We hope that Burger King's "Be Your Way" slogan will spread its branches beyond just the individual Impossible Burger.
Historic Moments in Vegan History
2019 – Burger King released the iconic Impossible Whopper featuring a fully vegan Impossible Foods patty.
2021 – On October 11th Burger King tested vegan chicken nuggets made by Impossible Foods in three locations: Des Moines, Iowa, Boston, Massachusetts, and Miami, Florida.
2022 – Burger King launched the Impossible King, a plant-based version of the BK King, and the Impossible Southwest Bacon Whopper. They also trialed the Original Chik'n Sandwich, a plant-based chicken sandwich, at select Cincinnati, OH locations.
2023 – No changes yet.
How to Order Vegan at Other Chains
Have you found any other options to be veganizable? Did you find something amazing that we missed? Send us a message and let us know and tag #worldofvegan and @vegan on Instagram to share your favorite vegan at Burger King creations with all of us!
Disclaimer: At the time of this vegan and vegetarian Burger King article (last updated in 2023), all of the foods mentioned above are vegan. Since restaurants constantly update their menus, add or take away items, and reformulate menu items, please keep this in mind when ordering your food. There may be new items that are vegan and not listed above or items listed here as vegan, which are no longer vegan. Take care to double-check. Good luck!