Dessert for breakfast? Yes, please! Who wouldn't love a little peanut butter and jelly in their belly every morning? Our PB&J Chia Pudding Parfait is sweet, satisfying, and packed with plant-based nutrition.
The vegan chia pudding is super easy to put together––you'll love the vanilla flavor and fantastic, fluffy texture. The strawberry compote is simple and straightforward, taking only 10 minutes to make. It's so yummy, you'll have to stop yourself from eating it right out of the pan. Trust me on this.
Top with a few tablespoons of tantalizing, melted peanut butter (my all-time favorite) and you're guaranteed to fall in love. Transform this parfait into a decadent dessert by sprinkling on some sweet treat toppings or keep it clean and light with additional fresh fruit.
Chia Pudding:
½ cup chia seeds
1 cup vanilla soymilk, or your favorite plant-based milk
2 teaspoons pure maple syrup
½ teaspoon vanilla extract
4 tablespoons peanut butter, for garnish
Strawberry Compote:
2 cups frozen strawberries 
3 tablespoons sugar 
Chia Pudding:
In a bowl add the chia seeds, soymilk, maple syrup, and vanilla extract and mix well. Cover and place in the refrigerator to chill for at least four hours or overnight.
Strawberry Compote:
Place strawberries and sugar in a small saucepan and bring to medium heat. Cook for approximately 10 minutes, stirring and mashing the fruit occasionally to combine.

Serve the chilled chia pudding garnished with peanut butter, strawberry compote, and fresh strawberries.
Pop your peanut butter in the microwave to thin out the consistency. Drizzle over the top of the parfait.
Calories: 588kcal | Carbohydrates: 63g | Protein: 19g | Fat: 32g | Saturated Fat: 5g | Polyunsaturated Fat: 16g | Monounsaturated Fat: 10g | Trans Fat: 0.1g | Sodium: 205mg | Potassium: 758mg | Fiber: 20g | Sugar: 36g | Vitamin A: 504IU | Vitamin C: 94mg | Calcium: 480mg | Iron: 5mg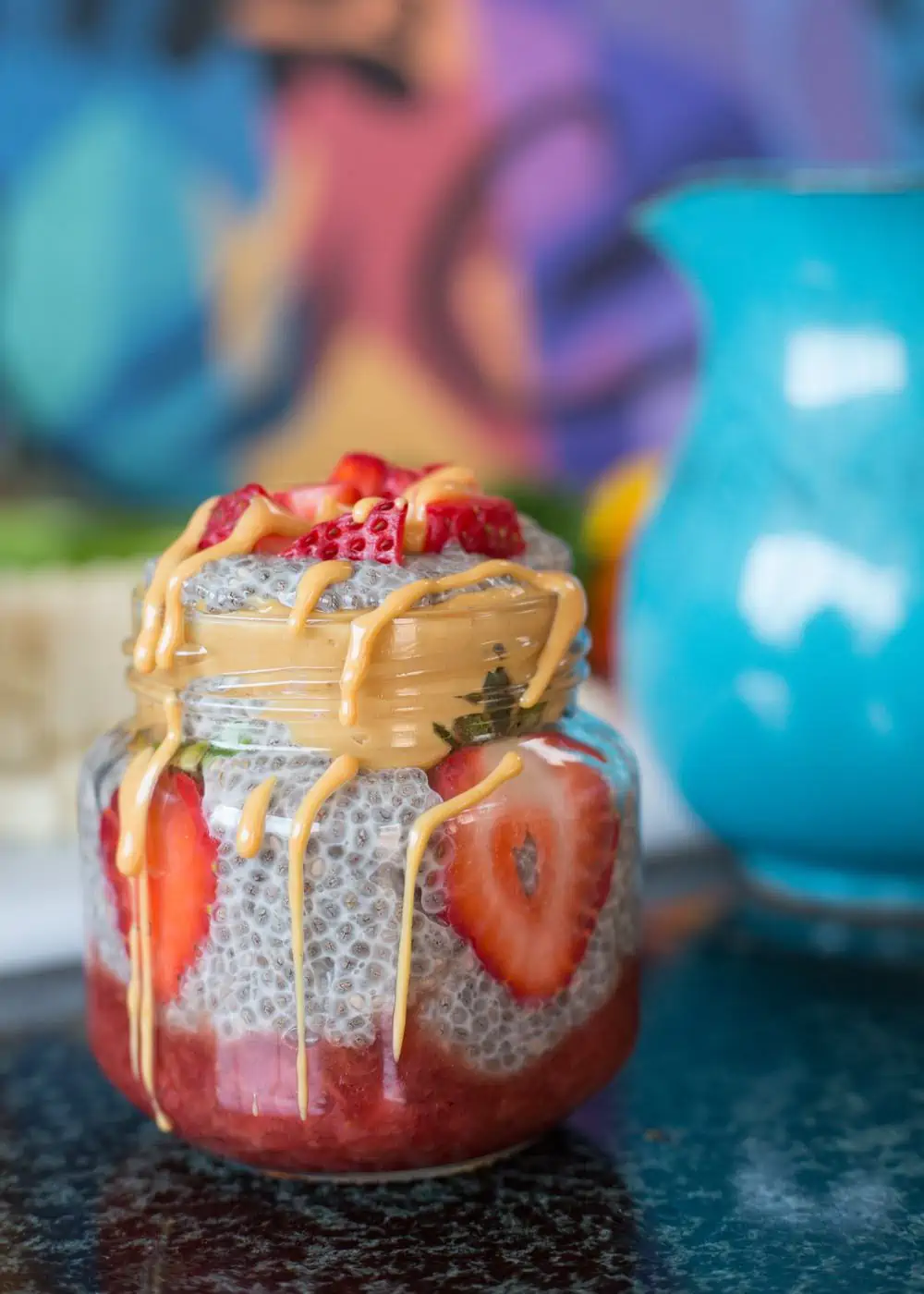 Special Superfood Ingredients
Can you believe that something so yummy can also be super healthy, too? Not only does our PB&J Chia Pudding Parfait taste like the most tempting morning treat, it's full of antioxidants, vitamins, minerals, and much more!
Strawberries – Rich in vitamin C, potassium, folic acid, and fiber, as well as having a huge range of antioxidants. Their sweet and slightly tangy taste is delightful. All berries give a boost of healthy nutrition to your day. You might want to try making the compote with raspberries or blueberries, too!
Chia Seeds – High in healthy omega-3 fatty acids, fiber, protein, manganese, and magnesium. These also provide 18% of your RDI for calcium per day. Chia seeds act as a natural thickener and create a lovely pudding consistency when mixed with water, or in this recipe, plant milk.
Peanut Butter – Great source of protein, B-complex vitamins, antioxidants, and fiber. Although we listed peanut butter in the recipe, feel free to use any nut butter of your choosing––cashew, almond, sunflower, or even walnut butter.
How to Serve Up Your Chia Pudding Parfait
This perfect little vegan chia pudding can be dressed up or down as you desire. No matter how it's served, it'll still be scrumptious!
Glorious Glassware – Make your breakfast extra special with a beautiful presentation. This is a great time to take advantage of any opulent or elegant glasses hiding in the kitchen cupboard. Find your favorite and fill it up to the brim with all of the ingredients.
Vary Your Berry – Instead of using sweet strawberries for the compote, consider substituting blackberries, blueberries, raspberries, strawberry rhubarb, or even dark cherries. You could do the same with the nut butter, too. Almond butter would work well with blueberries and cashew butter pairs perfectly with cherries. So many delicious options!
Pour Into a Pie Crust – Another idea is to use a pre-made, vegan-friendly graham cracker crust and pour your chia pudding inside as a filling. Refrigerate overnight. Then, top with your compote and add a decorative drizzle of peanut butter on top. You could even add extra berries or shaved chocolate, to fancy it up a bit more. Almost like our heavenly No-Bake Chocolate Pie.
Lucky Layers – Vary the way you layer the elements in this parfait. Use a tall, slim glass to make small, but frequent layers of pudding, jam, and peanut butter. Or, use a short, wide dessert container and make only one large layer of each. This parfait is even excellent, just plopped into a bowl without any elegance at all!
Terrific Toppings – You can always add a crunch factor with candied walnuts, coconut strips, chocolate chips, hemp seeds, or homemade vegan nutella.
Simple Storing
You can store any leftover vegan chia pudding covered in the fridge for a day or two. After that, it's better to make a fresh batch. If you keep each of the parfait ingredients separate, they will stay fresher longer. This recipe does not freeze well.
When you're ready to make another portion, you can easily throw all of the elements together in a new glass. You might wish to use more or less of each to make a more personalized parfait. Some days, you may want more of the sweet compote and, on others, you may want more creamy chia pudding. It's all up to you!
More Berry Breakfasts to Try:
We want to thank our amazing recipe tester J.J.Steele for helping us perfect this vegan chia pudding parfait recipe! Recipe by Michelle Cehn and Toni Okamoto from the original version of The Friendly Vegan Cookbook. Photos by Michelle Cehn, article by Gina House, editing by Amanda Meth. Please note that this contains affiliate links that support our work at World of Vegan.