Craving a fun, fruity, and incredibly flavorful vegan smoothie? Our 4-ingredient vegan dragon fruit smoothie recipe is made with frozen dragonfruit, frozen cherries, frozen bananas, plant milk, and a dash of agave. It's plant-based, dairy-free, gluten-free, and super fast to make! Once you have your first scrumptious sip of this colorful pink drink, you'll be hooked! It's the best dragon fruit smoothie we've ever tried, and whether you make it for Valentine's Day or any day, it's going to be a hit.
It's as easy as filling the blender with fruit, mixing in some plant-based milk, and blending until smooth. How easy is that? A healthy and heavenly choice when your hunger levels are high. Ditch the sugar-laden candy bar and greasy potato chips so you can dive right into this incredibly delicious dragonfruit drink.
Show someone how much you care (and that includes you!) by creating a very special Valentine's Day smoothie bowl with this sweet, vibrant pink, mouthwatering mixture. If you'll be savoring this smoothie with a loved one (other than yourself), make sure to set aside two spoons for sharing. So good!
Why This Dragon Fruit Smoothie Recipe Is So Awesome
Super quick and easy to make
Incredibly delicious
Dairy-free
Gluten-free
Soy-free or nut-free, depending on the plant-based milk you use
Vibrant and colorful hot pink smoothie!
High in fiber (10 grams for the whole smoothie!)
Full of antioxidants, vitamins, and minerals
Perfect for breakfast, snack, dessert, or anytime at all
Star Ingredients
We absolutely love to feature fabulous, fruity, fiber-filled ingredients. In this bright and delicious dragonfruit smoothie recipe, these trio of fruits not only taste spectacular together, but are also super healthy to boot! Who can resist such a candy-sweet combination?
Dragonfruit (aka pitaya) – Fair amount of fiber and antioxidants (such as vitamin C), also high in potassium and folate. Feel free to use fresh dragonfruit or frozen, just make sure you get the pink variety! Note: dragonfruit has very little flavor, so the other ingredients help create a super delicious, flavorful smoothie.
Frozen Cherries – Rich in vitamin C, good source of B6, potassium, and magnesium. Also high in fiber.
Frozen Banana – Fat-free, high in fiber and antioxidants (including vitamin C), and helps to boost iron levels. Use a very ripe banana (brown and spotty is great!) because the riper they are, the sweeter they are. Slice your banana before freezing, especially if you have a lower-power blender. Frozen bananas will give yuor smoothie that thick, creamy, sweet, delicious feel.
Plant Milk – Use your favorite plant-based milk! We usually use soy milk, but any vegan milk will work. Cashew, almond, coconut, oat, hemp, rice, etc.
Agave Nectar – While you don't need to add agave to your smoothie if you're trying to cut back on sugar, it does give this smoothie the perfect balance of flavor for the mainstream palate. Pitaya doesn't have much flavor at all, so this helps balance that.
What is Dragonfruit & Where Can I Find It?
Dragonfruit is a gorgeous tropical fruit notable for it's hot pink dragon-looking exterior and either white or hot pink fleshy interior speckled with black seeds. Dragonfruit is natively grown in Southeast Asia and Latin America, but due to its popularity around the world, fresh dragonfruit can now be found in many mainstream grocery stores in the United States, the UK, Canada, Australia, and beyond. If you're not lucky enough to have it at your local grocery store, you should be able to find dragonfruit at most asian markets.
You can also find frozen dragonfruit sold in plastic bags in the freezer aisle of any grocery stores. I've seen it at Whole Foods, Sprouts, and even more generic grocery chains. This will last a long time in the freezer and is a great way to have dragonfruit on hand for recipes like this! Dragonfruit also serves as a beautiful natural pink food coloring. I've used it to color frostings, oatmeal, pancakes, and beyond. You can even find pink powdered dragonfruit that works perfectly as a coloring agent in recipes.
There is no easy way from the outside to know if the interior will be white or pink, so take note of signs carefully, and hope that they are correctly labeled!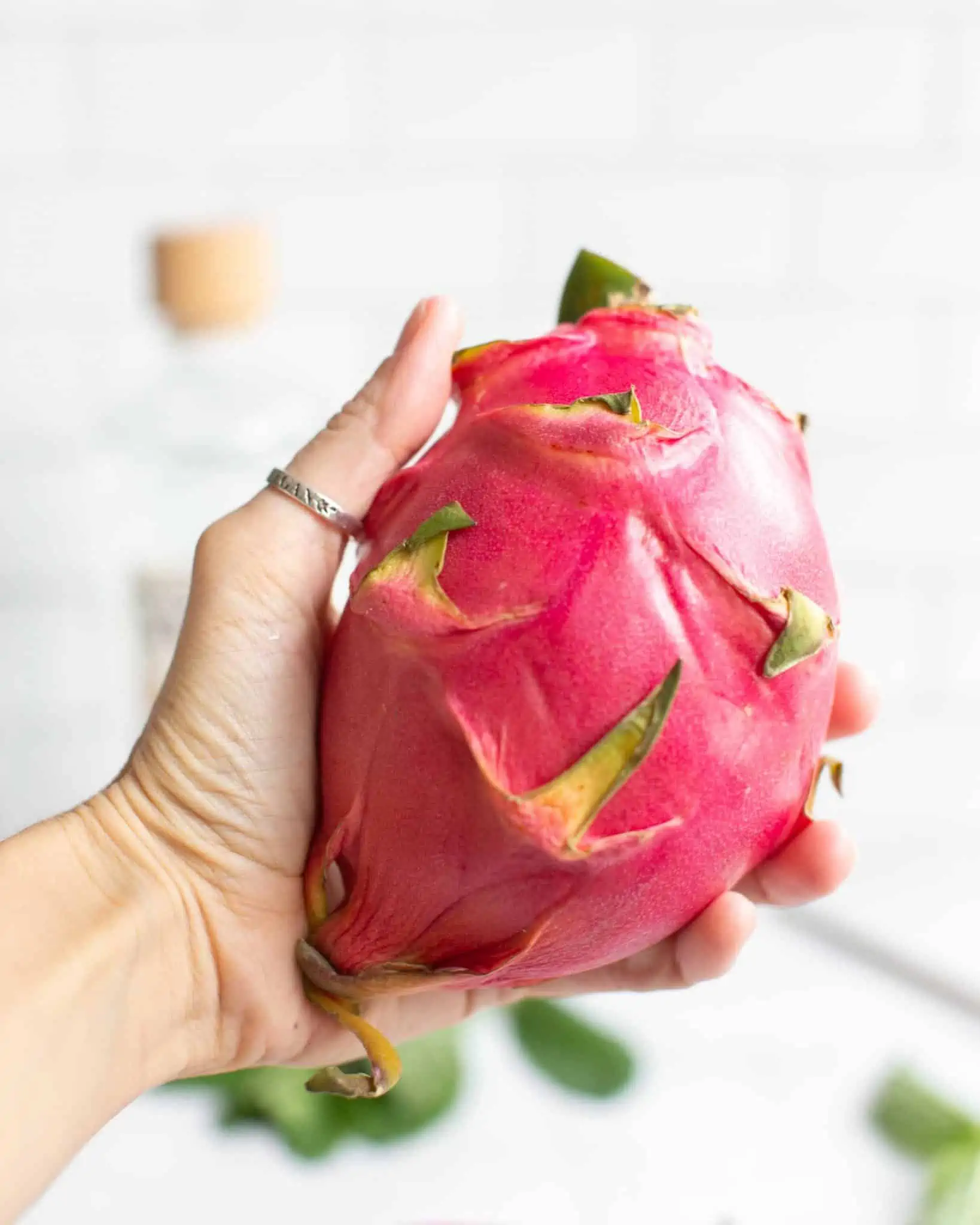 Equipment You'll Need
Blending up this sweet and tasty smoothie takes only a few minutes and few items from the kitchen. Just measure, add to the blender, and whiz until smooth and creamy. You'll be sipping and savoring in what seems like seconds. Yay!
High-Speed Blender
One large glass or two small glasses
A straw (we recommend reusable glass straws or metal straws)
Very small heart-shaped cookie cutter (optional)
Dragon Fruit Smoothie Variations
Creating new smoothie recipes is fantastically fun and also inspires us with even more delightful ideas. It's hard not to share a slew of suggestions on how to slightly change up a smoothie into something even more special. We've managed to narrow it down to three of our favorites:
Valentine's Day Smoothie Bowl – Use only ½ cup of vegan milk for the recipe and spoon the resulting smoothie into a heart-shaped bowl. Top with heart-shaped pieces of fresh dragonfruit and banana and sprinkle in a few fresh, dark, sweet cherries. Add a couple of decadent, vegan Valentine's Day chocolates on the side for a very special touch for a loved one (including yourself!)
Renegade Red Velvet Variation – Follow the directions as above, but also add in 1-2 tablespoons (or to desired chocolate-y level) of cacao or cocoa powder to the smoothie recipe. Before serving your smoothie, drizzle the inside surface of the glasses with rich, melted vegan chocolate. Garnish with cherries and chunks of dairy-free chocolate chips. A truly decadent dessert!
Much Ado About Mango – Create a more tropical, breezy blend that is banana-free by swapping the same amount of mango for banana in this recipe. Adorn your glass with additional mango slices and consider substituting mango juice instead of plant milk for the liquid. Yum!
How Do I Store My Leftover Smoothie?
Good question! Pour any leftover smoothie into a covered glass mason jar or insulated water bottle and refrigerate until later. If your smoothie has gotten too liquified, you can add some ice or more frozen fruit and give it a quick blend. Another fun tip for saving a smoothie for a longer period of time is to freeze it in an ice cube tray (or a couple of trays). If you pour the mixture directly into the trays and freeze it overnight (or for a few hours), all you need to do it throw the cubes into the blender and blend away! It helps to leave the cubes out at room temperature for about 5-10 minutes before blending. Adding a splash of plant milk or water will assist the process, too.
Simple Swaps & Smoothie Q&A
I don't like bananas. Can I use a different fruit instead?
If you're not a huge banana fan, you can make this smoothie without bananas! Just use frozen mango instead. You'll still get the creamy sweetness from the mango, but without the slightly stronger banana taste. The color will be also be a bit more vibrant, too.
Is this smoothie healthy?
It is! Our Dragon Fruit Smoothie not only gives you three large servings of fruit, but also ten grams of fiber per recipe. Plus, added antioxidants, vitamins, minerals and nutrition. You'll be giving your taste buds and overall health a lovely treat.
Can I leave out the agave syrup? I don't like to use added sugars.
Of course you can. So glad you asked. The fruit is lovely and sweet on its own. You can simply omit the sweetener. No agave nectar needed!
What if I can't find fresh or frozen dragonfruit (aka pitaya) at my local store?
Don't worry! If you can't find frozen or fresh dragon fruit, feel free to use another pinky red fruit (such as strawberry or raspberry) instead of dragon fruit in the mixture. Just keep in mind that using a different fruit will add a different (but also yummy) flavor to your smoothie. Another option is to use beet powder or freeze-dried dragon fruit, which you can find online. Start with ¼ teaspoon and see how you like the color. Add more if you like a brighter pink color.
More Scrumptious Vegan Smoothie Recipes to Try
Passionate about pink? Then, you'll fall in love with our Candy Cane Smoothie, Vegan Strawberry Banana Oat Smoothie and Red Raspberry Smoothie recipes!
Smoothies during the holiday season are a great way to get in extra nutrition with not a lot of time. Enjoy the delicious, autumn and wintry spices in this Gingerbread Smoothie and Spooky Jack O'Lantern Smoothie.
For fans of citrus flavors, this Pineapple Banana Smoothie, Mango Pineapple Smoothie, or Orange Juice Smoothie are sure to satisfy! Check out our Lilikoi (Passionfruit) Guide & Recipes to learn more about this exotic fruit.
Servings 1 -2 (16 ounces)
1 3½-ounce package frozen dragon fruit, or 1 cup fresh red dragonfruit
1 cup frozen sweet cherries
1 cup frozen banana, or one medium banana
1 cup sweetened vanilla almond or soy milk, or plant-based milk of your choice
1 tablespoon agave nectar or sweetener of your choice, optional
Add the dragonfruit, cherries, and banana to the blender.

Pour in the plant milk and optional sweetener, then blend for one minute or until smooth.

Pour the finished smoothie into one large or two small glasses.

Enjoy!
Banana Substitute – If you're not a huge banana fan, you can use frozen mango instead. You'll still get the creamy sweetness from the mango, but without the slightly stronger banana taste. The color will be also be a bit more vibrant, if that's what you're looking for.
Too Sweet? – Feel free to omit the added sweetener.
Dairy-free, soy-free (or nut-free), gluten-free, high in fiber (about 10 grams for the full recipe!)
Calories: 392kcal | Carbohydrates: 81g | Protein: 10g | Fat: 6g | Saturated Fat: 1g | Polyunsaturated Fat: 3g | Monounsaturated Fat: 1g | Sodium: 121mg | Potassium: 1177mg | Fiber: 8g | Sugar: 56g | Vitamin A: 1112IU | Vitamin C: 43mg | Calcium: 356mg | Iron: 2mg
If you try this holly jolly vegan banana, cherry, and dragonfruit smoothie recipe, let us know what you think by leaving a comment and rating below! Be sure to follow along on Pinterest, Instagram and Facebook for even more vegan recipe inspiration.
This Vegan Dragon Fruit Smoothie recipe and article was written by Gina House. Pink smoothie photography by JJ Steele. Edited by Amanda Meth and Michelle Cehn. Please note that this article may contain affiliate links which supports our work at World of Vegan.