What could be better than vegan chicken and waffles? Um…not much! If you've never heard of this kooky combination before, you're in for a treat!
Piles of soft, pillowy waffle wedges topped with crispy, golden chicken-less nuggets, and each bite bursting with creamy, plant-based butter. We guarantee you'll be falling in love after the first forkful. Are you ready to whip out your waffle iron and tackle this tasty recipe?
The Best Vegan Chicken & Waffles—and So Easy to Make!
We can think of a million reasons why you should give this recipe a try, but we don't want to keep you here all day. Your stomach will soon start growling and you're bound to become bored after the first 100 reasons, right? Here are just a few to get you started:
Delicious and decadent
Salty, soft, and savory
Super filling and satisfying
Nut-free, big boost of omega-3s, and full of plant-based protein
Fun to experiment with new food combinations
Brilliant for weekend brunch, fancy breakfasts, and super special occasions
Where Do Chicken and Waffles Come From?
Although many people classify this as a classic Southern dish, it actually originates in the eastern part of the United States, specifically Pennsylvania. Chicken and waffles is also sometimes associated with soul food in the south, even though the authentic recipe comes from the northeast.
The very first time this flavorful fare was served was at the Wells Supper Club in Harlem, New York City. It was the 1930s and jazz music was at its peak. The amazing, upbeat music gave the dazzling dancers and skillful sax players an enormous appetite for meals that came between dinner and breakfast. Check out the North/South debate in this NPR article for more details.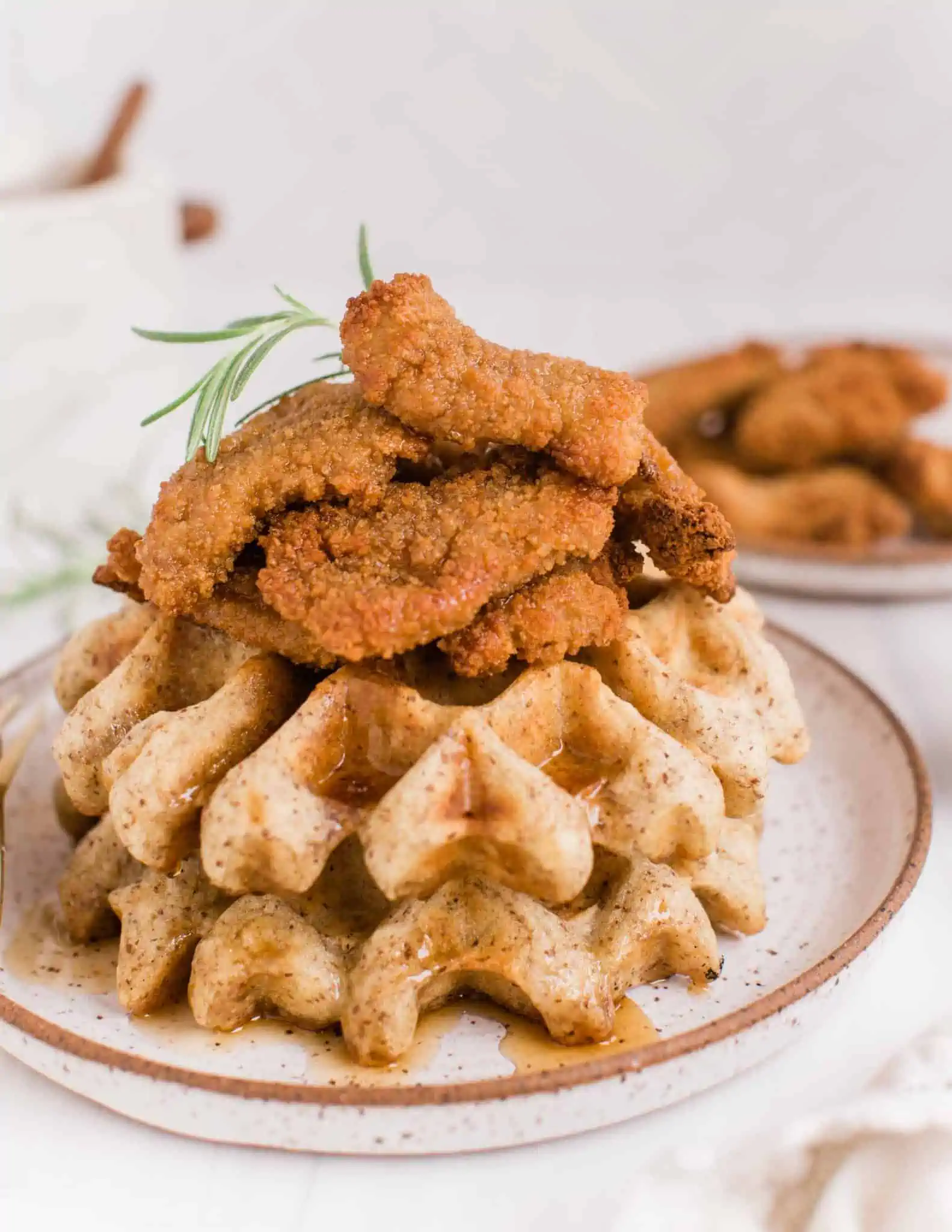 Ingredients & Substitutions
Our vegan chicken and waffles recipe really relies on only two things: a waffle batter and whichever pre-packaged chicken-less product you prefer. What you add after that is up to you to decide––yum!
Find Your Favorite Waffle Batter – Although we absolutely adore this light and fluffy waffle batter, and that's what we used to get the perfect waffles you see in these photos, you can totally switch it up. We have a great vegan waffle recipe in The Friendly Vegan Cookbook! If you're gluten-free, trying to reduce fat, or for whatever reason, feel free to use whichever waffle recipe you wish.
Choose Your Favorite Vegan Chicken Nuggets – We used these vegan nuggets from Nowadays, which are pretty neat because they're made with just a few recognizable ingredients. But the choice of plant-based protein product is in your court. Use whatever brand you like the best or have on hand!
Pick Your Go-To Plant-Based Butter – We used Flora Plant Butter (which we love because it's packaged in paper rather than plastic). But you can use any vegan butter you'd like! You can reference our vegan butter guide for more options.
Vegan Chicken Nugget Options
There are so many amazing and appetizing alternatives out on the market that it's almost impossible to keep up with them all. At the moment, some most popular chicken-less brands include:
How to Serve Up Your Vegan Chicken and Waffles
The best part of this recipe is all the fun you can have putting your pretty plate together. Because the plant-based nuggets and waffles are similar in shade, you can dress up this dish with a contrasting color––like adding accessories to your favorite party outfit!
Sweeten the Deal – Use sauces, syrups, or spreads to add a little extra sweetness to your mouthwatering meal. A little goes a long way!
Recruit That Fruit – Any colorful fruit would give an added layer of sweetness and freshness to this rich recipe. Berries (especially strawberries), stone fruit (like peaches), or melon would work well with this recipe.
Pile On the Potatoes – A savory serving of breakfast isn't quite complete without a side of starchy potatoes. Either silky and sliced hasselback-style, crispy golden fries, or heavenly hash brown waffles bring a bit of bulk and added satisfaction to your brunch.
How to Make Your Chicken & Waffles
That's it! Grab a plate, a fork, and a knife, and dig in!
Equipment You'll Need
This recipe might give the impression that it takes a lot of time or a great lot of gadgets are necessary, but it's pretty straightforward. You only need to mix up your batter, make your waffles and heat up your vegan nuggets. All the rest is just assembly.
3 tablespoons ground flaxseed
½ cup water
6 tablespoons vegan butter, melted
1½ cups soymilk
1¾ cups all-purpose flour
1 tablespoon baking powder
1 tablespoon granulated sugar
Pinch salt
1 package of vegan chicken nuggets, you can also use jackfruit nuggets, tofu nuggets, seitan nuggets, or anything else
Pure maple syrup, to drizzle on top
Preheat your waffle iron

Prepare waffle batter – I used this vegan waffle recipe from The Joy of Vegan Baking by Colleen Patrick-Goudreau! In a small bowl, mix the ground flaxseed and water and allow it to sit for a few minutes to thicken. Add the melted butter and soymilk and whisk together until well incorporated. Then, in a large bowl, combine the flour, baking powder, sugar, and salt. Pour the wet mixture into the dry mixture and whisk until combined. Little clumps are okay, they'll dissolve.

Make the waffles – lightly butter or oil your waffle iron (to prevent sticking) and spoon a generous dollop of waffle batter in the center, pushing the batter outward with the back of your spoon to create the waffle shape your desire. Close waffle iron and cook according to your waffle iron's specifications, until the waffle is golden brown and releases easily from the iron. Stack waffles on a plate as you make them and keep them in the oven if you'd like them to stay warm.

Cook your vegan nuggets – While your waffles are cooking, cook your plant-based nuggets according to package instructions. I prefer to air fry my nuggets, but you're welcome to bake them or even deep fry them for an extra epic effect.

Assemble your vegan chicken & waffles – On a plate, stack two waffles and top with a generous heap of vegan chicken nuggets. Serve with maple syrup. If desired, add a wedge or scoop of vegan butter and garnish with some fresh fruit (strawberries pair beautifully with this dish).
Calories: 308kcal | Carbohydrates: 35g | Protein: 8g | Fat: 15g | Saturated Fat: 3g | Polyunsaturated Fat: 5g | Monounsaturated Fat: 6g | Trans Fat: 2g | Sodium: 402mg | Potassium: 192mg | Fiber: 3g | Sugar: 4g | Vitamin A: 234IU | Vitamin C: 5mg | Calcium: 231mg | Iron: 3mg
If you try this vegan Chicken and Waffles recipe, let us know what you think by leaving a comment and rating below! Be sure to follow along on Pinterest, Instagram and Facebook for even more vegan recipe inspiration.
Frequently Asked Questions
Can you freeze this vegan chicken and waffles recipe?
You sure can! Any vegan chicken or waffles that are not saturated with maple syrup can be stored separately in freezer safe bags or sealed containers in the fridge for up to 3 months.
How long does this recipe keep?
In the refrigerator, this recipe will keep fresh for a day or two. After that, you should make a new batch.
Can you make this recipe gluten-free?
I have not tried this recipe with gluten-free flour, but you're welcome to give it a try (let us know how it comes out!). You can also use frozen, pre-packaged gluten-free waffles instead. Just toast them before assembling the dish.
Can I make this without a waffle iron?
Yup! As mentioned above, you can use pre-packaged waffles and toast them right before serving. Or, if you have a grill pan, you can try that, too. This video tutorial is very helpful.
What if I don't like vegan chicken nuggets?
This recipe is very versatile. If you love waffles, but not vegan nuggets, you can pair it with plant-based meat (like vegan bacon or sausage) or even your favorite vegetables. Add a little bit of vegan butter and maple syrup and it'll still be epic!
How do I reheat these waffles and vegan nuggets?
It's a cinch to heat up your leftover vegan chicken and waffles. Either pop the waffles in the toaster oven or in a dry skillet for a minute or two until crispy. For the vegan nuggets, you can reheat them in an air fryer, or by microwaving for a minute, or place in the oven at 400 degrees for about 3-5 minutes.
More Savory Breakfast and Brunch Ideas to Try
Chicken and Waffles recipe and food photography by Michelle Cehn for World of Vegan. Article written by Gina House and edited by Amanda Meth. This article is not sponsored, but please note that this article may contain affiliate links which supports our work at World of Vegan.