Waffles—made from tofu? That's right! Skip the batter, forget the flour, and hop straight to the good stuff with tofu waffles for breakfast, lunch, or dinner. Transform slabs of tofu, packed with protein, vitamins, and minerals, with a quick trip to the waffle iron.
Crispy around the edges and juicy inside, each bite yields a symphony of textures, creating an ideal base for any sweet or savory toppings your heart desires. For a sit-down brunch to wow the relatives or grab-and-go fuel for a busy day ahead, this recipe should be at the top of your to-do list.
Unleash your creativity to try out different fun shapes the kids will love or marinate your way to a boldly flavored base. There's nothing you can't do with a block of tofu and a hot waffle iron on your side.
Why You'll Love Tofu Waffles
Tofu waffles are winning over hearts and stomachs the world over. They're not just a passing TikTok trend, though, but a real life hack with staying power.
Gluten-free. While traditional traditional waffles are made with wheat flour, there's no whisking, mixing, or messing with any sort of flour here! That makes them automatically gluten-free by default.
Excellent source of protein. Did you know that extra-firm tofu has roughly 14 grams of protein in every 3-ounce serving? That's more than two large eggs!
Sweet or savory. Since plain tofu has a very neutral flavor, these waffles are incredibly versatile. Depending on how you season them or what you pair with them, you could have a sweet or savory meal, and easily switch it up every day of the week.
Just two ingredients. Technically, if you have a nonstick waffle iron, you could get away with omitting the oil and consider this a one-ingredient wonder, too! All you really need is tofu to create something delicious, especially if it's already marinated or otherwise seasoned.
Great for new cooks. Encourage youngsters to get into the kitchen and make a meal all by themselves; all they need to do is operate a waffle iron.
Travel on a full stomach. Don't just grab and go, make these on the go. Travel with a mini waffle maker and you can prep a healthy meal right in your hotel room, RV, or tent!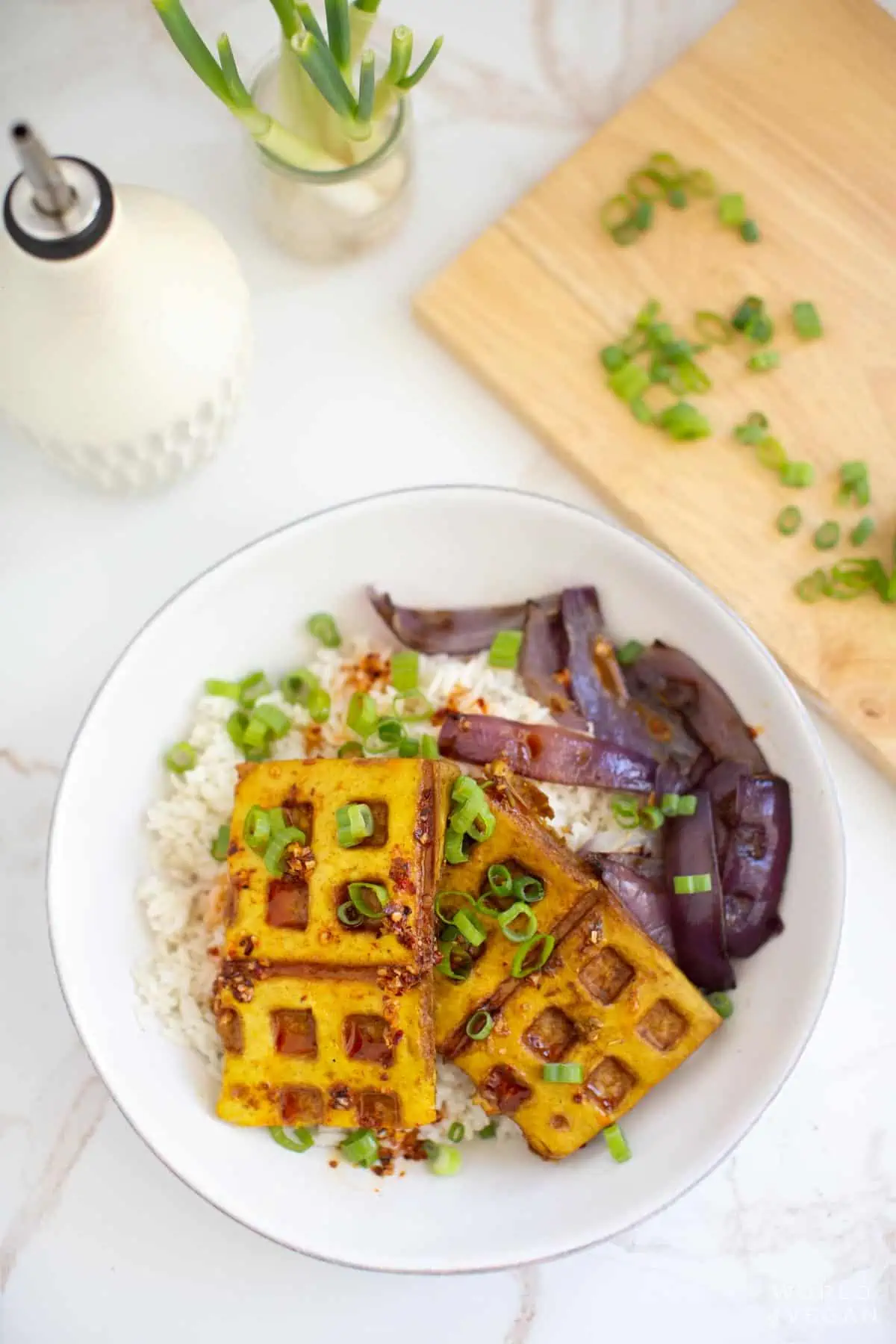 Key Ingredients
The real magic of this recipe is that it's more of an idea than a set formula. That means you can probably get started without even making a trip to the grocery store!
Super Firm Tofu
For these waffles, you'll want super-firm style tofu (the most firm type typically packaged in vacuum sealed plastic). Softer forms of tofu can fall apart and stick to the waffle iron.
Hodo's extra-firm tofu works perfectly for these tofu waffles because you don't need to drain or press it before cooking. It's already the ideal texture right out of the package, which holds its shape without crumbling under pressure.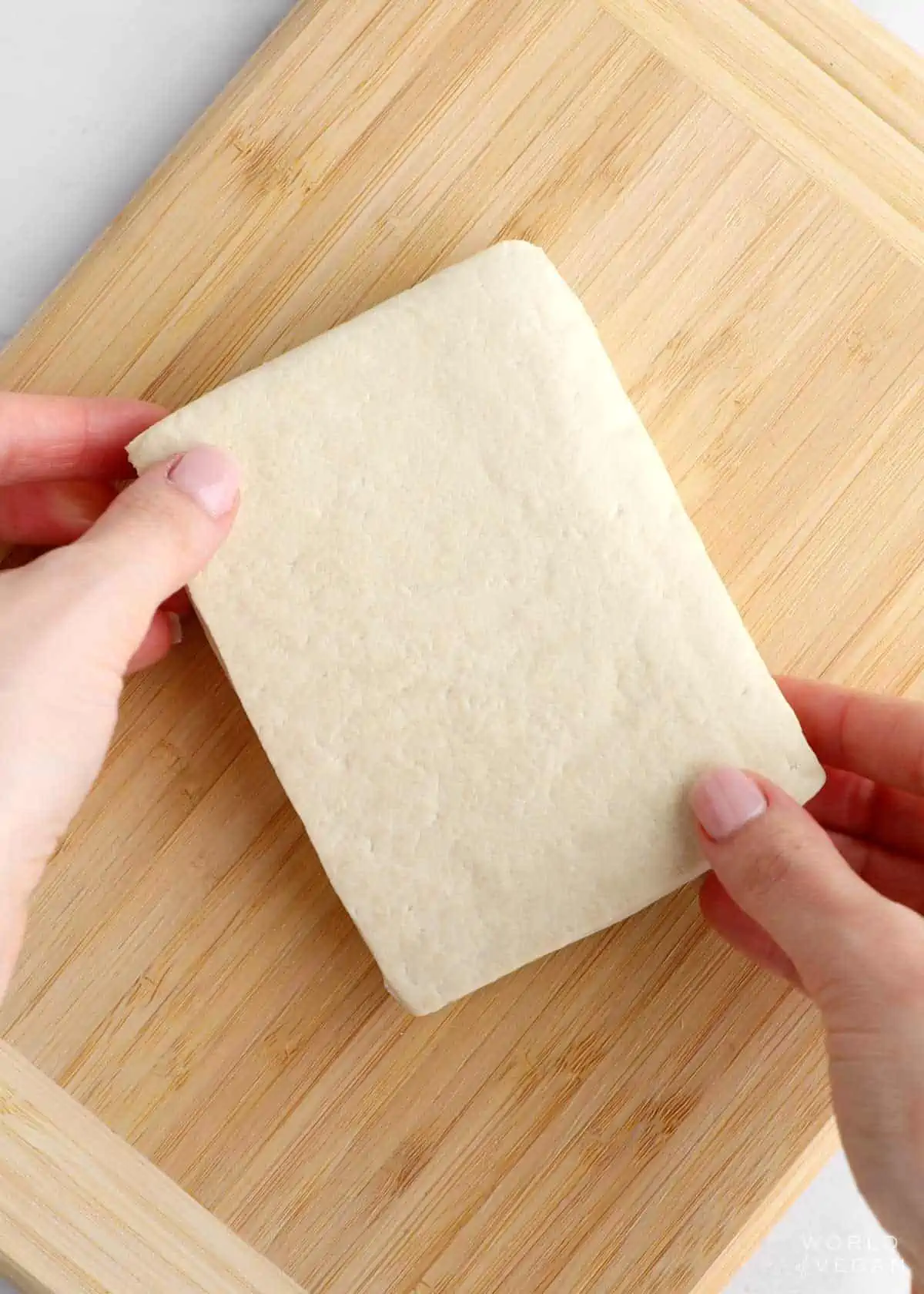 Cooking oil spray: Just a light spritz will do to prevent your tofu from sticking to the iron. Choose something that works well over high heat, like avocado oil or olive oil.
How To Make Tofu In A Waffle Iron
You'll be a pro at waffling tofu after your first batch emerges from the iron, beautifully golden brown all over and resoundingly crunchy. The process will become second nature once you see just how easy it is.
Start pre-heating your waffle iron and lightly spray with oil, to lightly coat the surface of both plates.
Cut the block of tofu into ½-inch thick slices (either in half or in thirds, depending on its original size) and place them on the fully heated waffle iron. Slowly but firmly push down to close the waffle iron all the way, using a kitchen towel or potholder as a buffer, because the exterior will be hot.
Cook for a few minutes, until the tofu waffle is lightly browned and crispy all over. Exact timing will vary depending on your specific waffle iron, but plan to wait at least three minutes before checking.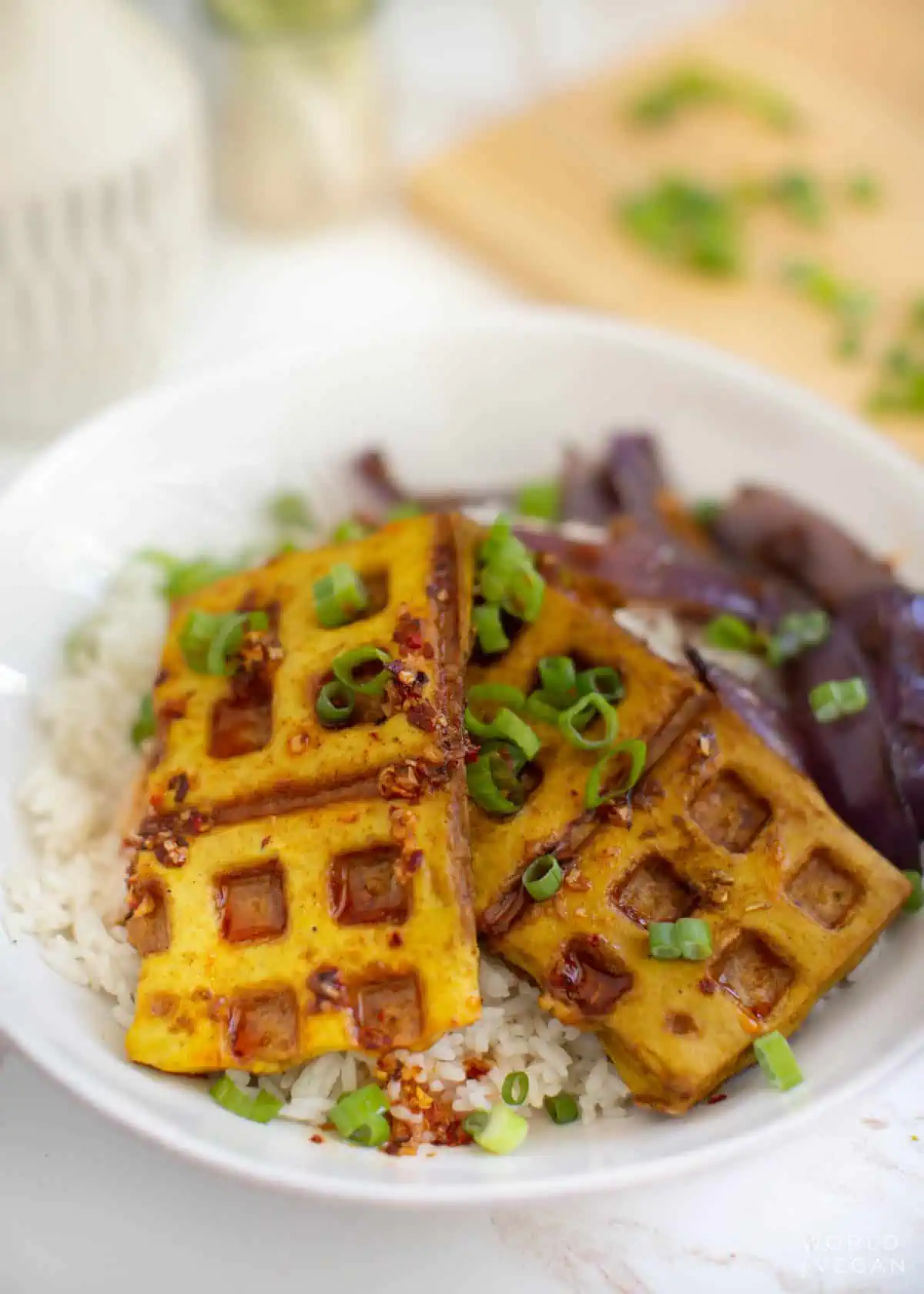 Fun Flavor Ideas and Variations
When you're craving a new culinary adventure, consider tofu waffles your ticket to flavor town. There's no limit to what you can create with this recipe as the base. Here are just a few ideas to get you started.
Savory Tofu Waffles
Smoky BBQ: Slather your tofu with your favorite BBQ sauce and sprinkle a pinch of smoked paprika on top before cooking.
Everything bagel: After cooking, smear softened cream cheese and top with everything bagel seasoning. Add sliced tomatoes, cucumbers, and plant-based lox if desired.
Pizza: Spread tomato sauce all over the tofu before cooking, then sprinkle with vegan cheese. Add any of your favorite pizza toppings, like sliced olives, onions, peppers, or mushrooms.
Sweet Tofu Waffles
Cinnamon sugar: Sprinkle both sides of the tofu liberally with a mixture of 4 parts granulated sugar to 1 part ground cinnamon. Cook and let the sugar caramelize around the edges.
Lemon-blueberry: Sprinkle both sides of the tofu with granulated sugar mixed with the zest of one lemon. Cook and then top with fresh blueberries or blueberry compote.
Strawberry cheesecake: After cooking, smear softened cream cheese and top with a drizzle of maple syrup and a handful of fresh strawberries or strawberry compote.
Serving Suggestions
Round out your plate with more healthy veggies and satisfying complex carbs when you have time for a full meal. You can never go wrong with the following accompaniments:
Cooked rice or quinoa
Grits or polenta
Green salad or sliced tomatoes
Salsa and/or hot sauce
More Quick And Easy Tofu Recipes To Try
New to the world of tofu? We've got all the resources and inspiration you need! Here are a few more of our favorite tofu recipes.
Crispy tofu fries are made in the air fryer for a low fat, lightning-fast snack that you won't be able to get enough of!
Szechuan tofu will put the average Chinese takeout to shame. Sweet, spicy, and totally satisfying, you'll never want to get greasy fast food again.
Tofu satay pairs a savory marinade with outrageously rich peanut sauce that you should probably double right off the bat since it goes brilliantly with everything.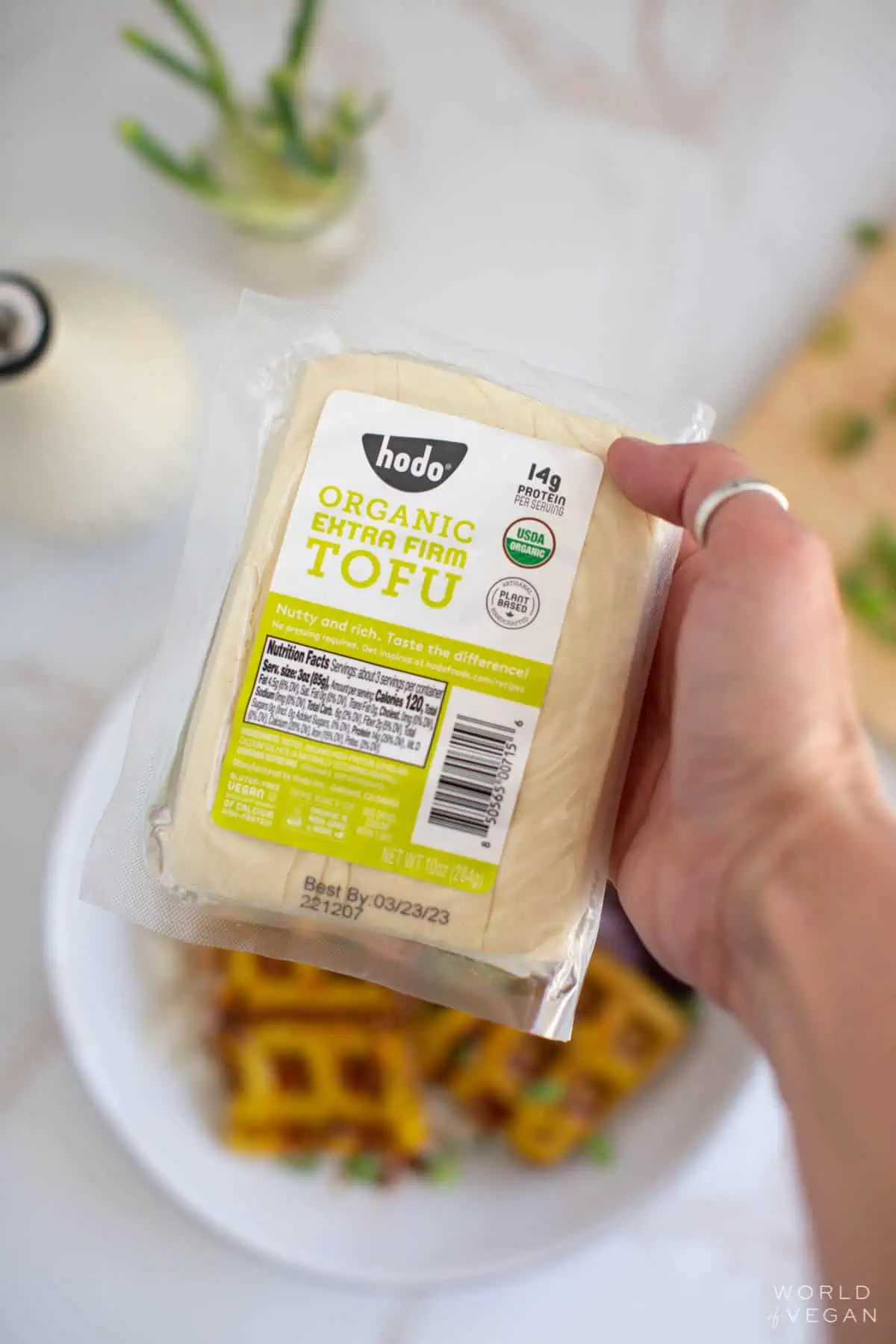 oil spray, for greasing waffle iron
1 block tofu, super firm, marinated as desired
Turn on waffle iron and spray with oil to prevent tofu from sticking.

Slice the block of tofu into 1/2 inch slices and place on the fully heated waffle iron. Using a kitchen towel, slowly push the waffle iron all the way closed to force the waffle indents into the tofu.

Allow to cook for a few minutes, until the tofu waffle is cooked to your liking. Wait a full three minutes before checking.
Serving: 2g | Calories: 166kcal | Carbohydrates: 5g | Protein: 18g | Fat: 9g | Saturated Fat: 1g | Polyunsaturated Fat: 5g | Monounsaturated Fat: 2g | Sodium: 8mg | Fiber: 2g | Sugar: 1g | Calcium: 248mg | Iron: 2mg