Looking for the best vegan restaurants in San Francisco? This round-up of plant-based eateries in from the mission to the pier will have you covered for breakfast, brunch, lunch, dinner, dessert, and drinks to end the night. Thanks for supporting vegan restaurants and helping them thrive!
Certain attractions turn up in every San Francisco guidebook: The sea lions at pier 39, the cable cars, the Golden Gate Bridge, and so on, and so forth. Someone who's never even set foot on the left coast could probably list the very same roundup of must-see sights, and for good reason. They're unarguably iconic pieces of the city that add to its unique allure, but if you only browse the list of the city's greatest hits, you'll miss out on richer adventures that would exceed even the most accommodating itinerary.
If you travel like me, mealtimes and restaurants are the most important part of the itinerary. Your options are nearly endless in this vegan-friendly mecca, where you can stop just about anywhere and grab a bite to eat. For a truly unforgettable culinary experience, though, the 100% plant-based establishments here are worth working into your schedule.
Five-Star Fine Dining
Put on your nice shoes and live like a true gourmet! Exceptionally talents chefs are at the forefront of innovative cuisine, crafting meals beyond your wildest dreams. If you only have time for a quick visit, make sure you hit at least one of these bastions of fine dining.
Founded by celebrity chef Matthew Kenney, you'll find elevated Italian classics like lasagna, pasta, and pizza, plated with the finesse you'd expect of this James Beard Awards Rising Star nominee. Don't worry about leaving hungry; hearty plant-based meatballs served over soft polenta and buttery garlic knots make that an utter impossibility.
Emphasizing seasonal ingredients with a vegetable-forward menu, this is California cuisine at its best. This is my personal favorite "special occasion" restaurant for celebrations, with plenty of botanically blended cocktails to raise a toast with. Even if you don't have a budget to feast, make sure you go for happy hour to take advantage of discounted bites and drinks.
Gracias Madre (Upscale Vegan Mexican Restaurant)
The first completely plant-based establishment to put down roots in the storied Mission District, Gracias Madre is still going strong after all these years. The cozy dining room buzzes with energy, just like the pitch-perfect spices in every dish. Handmade tortillas support caramelized onion and sweet potato flautas, soy chorizo tacos, and so much more. Go for brunch to enjoy an horchata latte and keep the good energy flowing.
Shizen (Vegan Sushi Restaurant)
This is how we roll! It's hands-down the best vegan sushi in SF. Combining classic Japanese Buddhist culinary techniques with local, seasonal ingredients to create healthy and flavorful, this combination sushi bar and izakaya makes maki that you must see to believe. Seaweed pearls, spicy tofu, and actual FIRE? Yes! Order the "Candlestick" roll for a real showstopper that comes to your table spouting actual flames. Shizen SF is a must visit.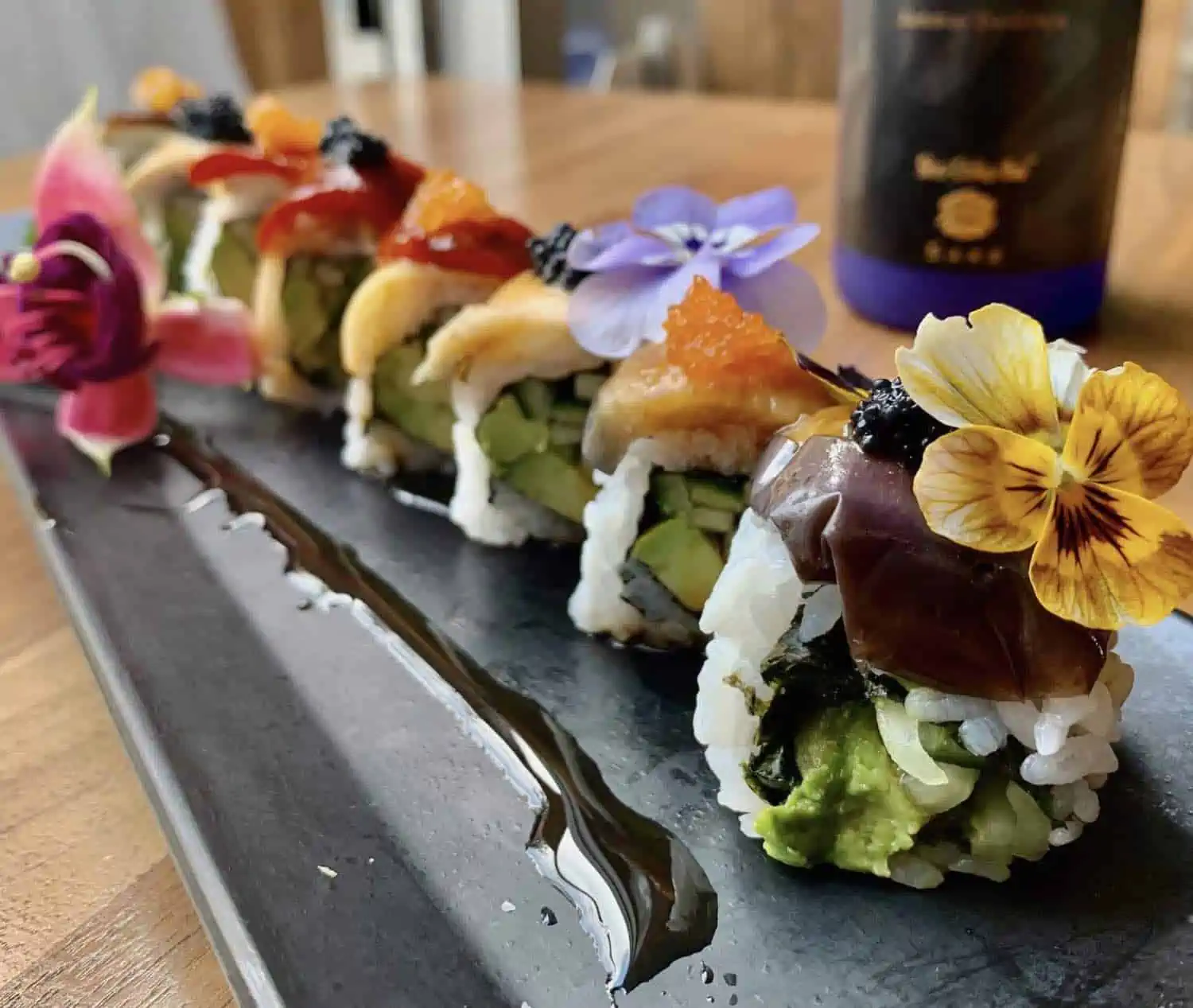 Peña Pachamama (Vegan Bolivian Raw and Cooked Food)
For dinner and a show, this North Beach institution is you go-to hot spot. Offering a menu of half raw, half cooked food, you can savor Bolivian delicacies while enjoying a night of music, dancing, and special performances. Pass the yucca fries and don't miss a beat!
Healthy Habits
Eat well, be well, and enjoy every bite! You can get great meals that won't weigh you down while still treating your taste buds.
Home to healthy salads, hearty grain bowls, and baked goods made without refined flours or sugars in two outposts across the city, it may sound spartan at first, but makes no concessions when it comes to flavor. The grilled cheese sandwiches made with fresh pesto and tomatoes are downright decadent. The almond cake, drenched in chocolate ganache, is ultra-moist and utterly crave-worthy right down to the last crumb.
Best known for their decadent cakes, soft cookies, and buttery scones, you'd never know that these treats are all gluten-free and have no refined sugars. If you forget to leave room for dessert, don't worry; they also ship their treats nationwide.
Deeply nourishing smoothies and superfood bowls are the main draw to this serene oasis in the bustling Mission District. Even if all you do is sit at the hand-carved wooden bar and take in a pot of herb tea, you'll feel fully recharged from the zen atmosphere.
A throwback to the hippie era of the 70s, you'll find green juices, hot soup, raw desserts, and sprouts galore. Grab an acai bowl and take a hike; you're just steps away from Land's End for a hike, or Ocean Beach for surfing on a nice day. This spot is a vegan raw food lover's dream!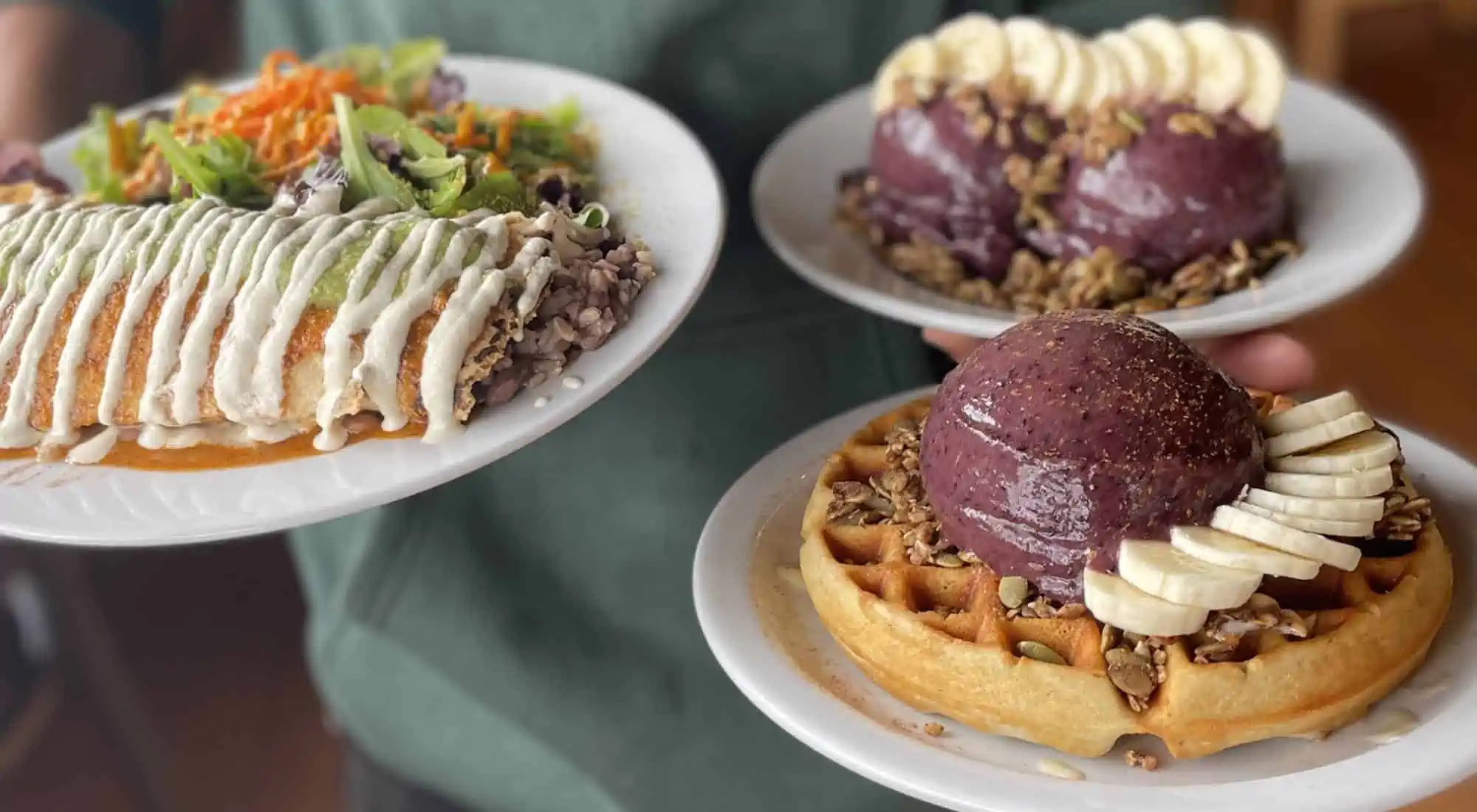 No gluten? No soy? No GMOs? No problem! Though it's pickup and delivery only, you don't need to sit down before devouring these loaded bagel sandwiches and toasts. Order ahead for truly fast food that you won't regret later.
Cha-Ya SF (Vegan Japanese Restaurant)
From curry udon to stuffed miso-glazed eggplant, the flavors here are rich, not heavy. This family-operated vegan Japanese restaurant crafts contemporary Buddhist cuisine that everyone can appreciate. The Creamy Yasai noodle soup is one of my favorite soups of all time. Cha-ya also has a second location in Berkeley, California on Shattuck Avenue.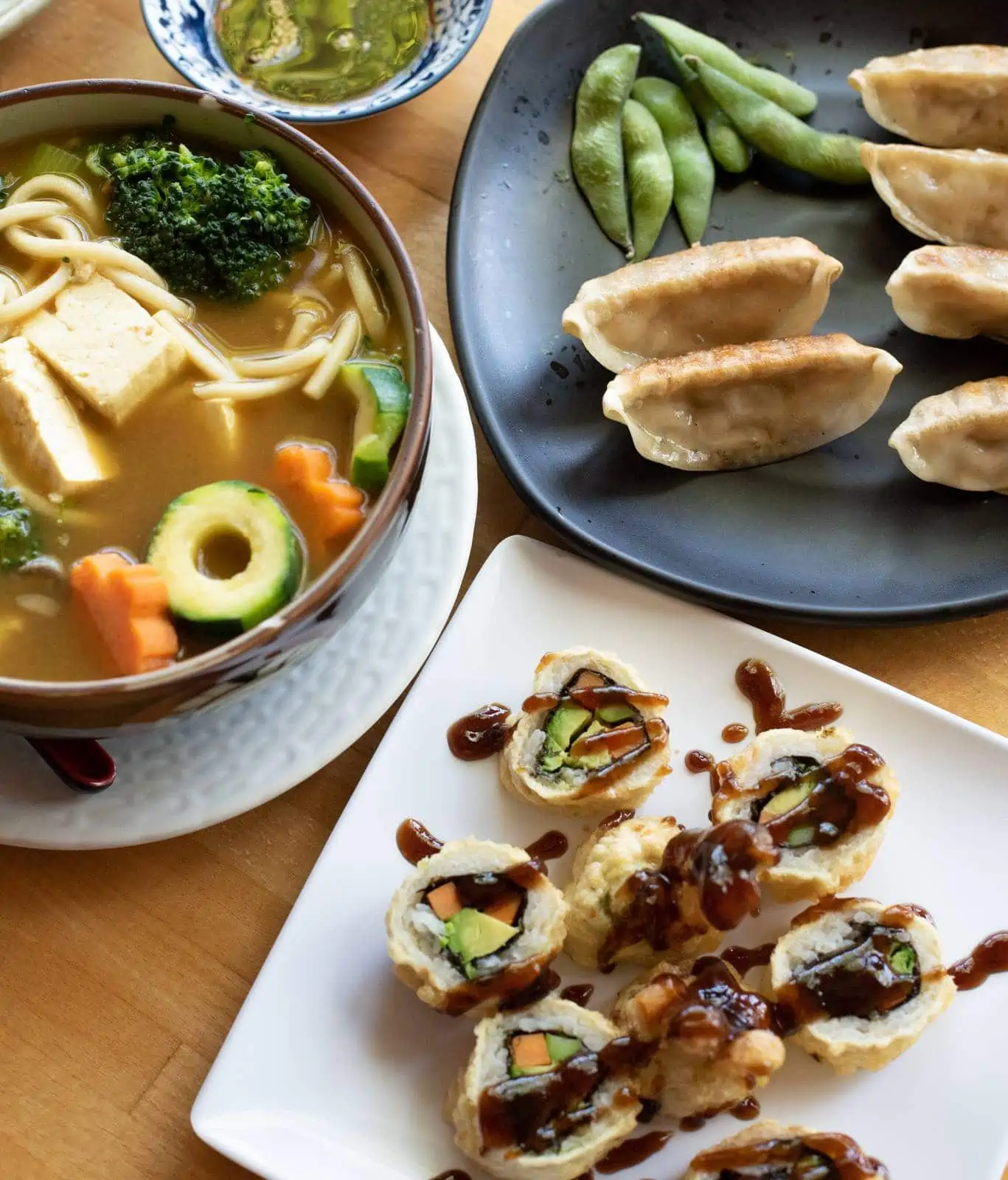 Casual and Comforting
From nostalgic, homestyle dishes to simple sandwiches, you can fulfill all your comfort food cravings, no matter how mainstream or obscure. Head to the San Francisco hills to find these treasures.
This worldwide vegan restaurant chain with over 200 locations has one independent outpost that calls San Francisco home. The extensive menu run the gamut from Vietnamese to Chinese, with a dose of classic American fare in the mix. Spoon into steaming bowls of vegan pho while your dining companions dig into pesto noodles. Even for the indecisive diner, you really can have it all!
Grab a meatless salami sub and macaroni salad and take it to Golden Gate Park for your best picnic ever! Offering classic deli fare alongside select grocery staples, this tiny outpost on Polk Street is slinging classic American fare with plant-based twist. My personal favorite is the unbelievably vegan ham and cheese croissant, because where else can you find such a buttery, indulgent combination?
Taking the Bay Area by storm, you can now find a food truck with the same smoky, slow-cooked BBQ proteins roving the Mission District for a quick fix. Get a combo plate to try a bite of as many sides as possible, because they're all delicious. Their original location is right across the bay in Oakland, California.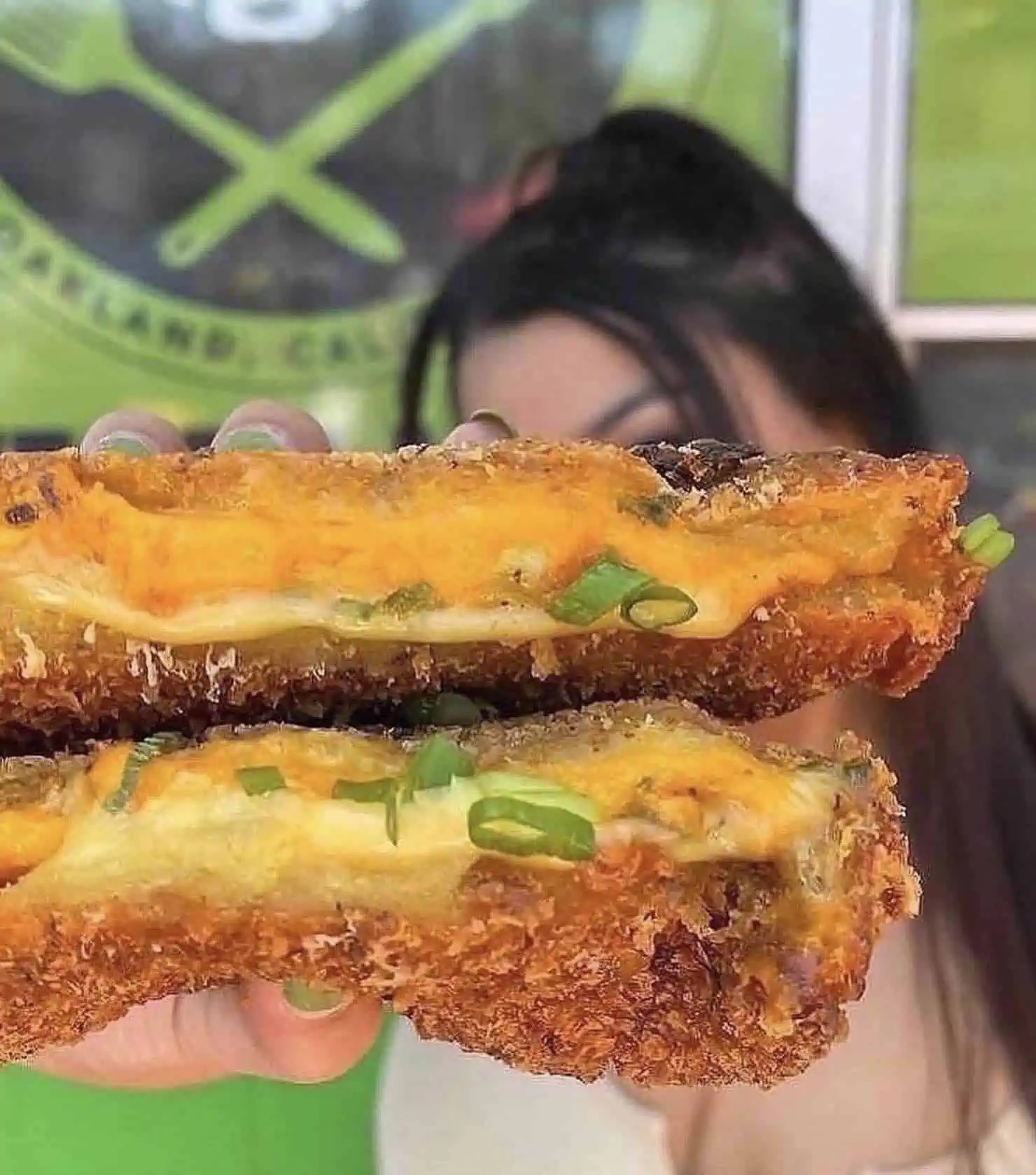 Born across the bay in Oakland, southern soul food is now available for everyone with this new curbside pickup and delivery location. Bringing authentic Louisiana Creole flavor to SOMA and the Lower Mission, there's nothing standing between you and that steaming bowl of gumbo or a massive po' boy sandwich.
Starting a revolution with burgers and shakes, this national chain now features a twin concept that focuses on plant-based chicken as well. They're both housed in the same Whole Foods Market so it's one-stop shopping for your kale, fries, and nuggets.
VeganBurg (Vegan Fast Food Burger Restaurant)
Hailing from Singapore, this is the first US location for the burgeoning vegan burger chain. They're on a mission to make fast food sustainable, and they're doing it with a variety of plant-based patties, rich sauces and toppers, and loaded fries on the side. They have vegan kids meals, a bright, modern, and clean ambiance, and are located right at Haight and Ashbury in San Francisco. The founder of VeganBurg, Alex Tan, is one of the sweetest human beings on the planet. Don't forget to grab a cone of plant-based soft serve for dessert!
Worldly Flavors
When you've got a craving for adventure but don't want to leave The Golden City, you can get a taste of the whole world right within this 7 x 7-mile peninsula.
It's the golden age of plant-based foods, and it's always been that way in this gleaming Civic Center Asian-fusion eatery.
Thai Idea (Vegan Thai Restaurant)
Thai it, you'll like it! Indulge your cravings without the fear of fish sauce or shrimp paste holding you back; there are only plant-based proteins in this kitchen. You can't go wrong with any of the standard curries or noodle stir fries, but you must try the Wing Bomb appetizer, which are crispy vegan drumsticks glazed in a sticky, sweet, and spicy sauce.
When you want sizzling teriyaki vegan chicken and sushi rolls with kale salad and the side and a tall glass of Thai iced tea, this is your new go-to. The expansive menu can be overwhelming for solo diners, so take a group to order more dishes for the best experience.
Get your dim sum and then sum when you visit San Francisco's Chinatown. There's perhaps no place else on earth where you can get Taro Fish, which is a fried taro root shaped to look like whole sea bass, served family-style. Everyone should be so lucky as to eat here at least once. Any of the entrées are enough for two meals but save room for dessert! The cheesecakes are legendary.
Even if you do leave your heart in San Francisco, don't leave your appetite at home! The dynamic culinary scene ensures a new and exciting dining experience every time.
Sadly Closed Doors
Above Ground
Sadly this spot closed in 2021, but we wanted to share it as a historical reference of a beautiful vegan eatery. Brought to you by the masterminds behind Millennium Restaurant, this was their more casual spin off in the style of a speakeasy, complete with unassuming, graffiti-covered entryway and low, romantic lighting. The pizzas were their claim to fame, made with thin, darkly blistered crusts and bubbling cashew cheese. RIP, Above Ground.
More Vegan City Guides:
We hope you enjoyed this guide sharing the best vegan restaurants San Francisco, California has to offer! If we missed any of your favorite San Francisco vegan restaurants, please do show them some love in the comments below. Many thanks to Hannah Kaminsky for her help with this article. Cover photo from Canva.com. Video by Michelle Cehn and Toni Okamoto. This article may contain affiliate links that support our work at World of Vegan.