An Austin vegan guide? Forget what you may have heart about the Lone Star State. It may have been founded by lawless cowboys subsisting on meat and potatoes, but that's certainly not the case anymore, especially in the capital city. Austin is a thriving metropolis of progressive free spirits, artists, and innovators, on the cutting edge of culture and technology. Naturally, that means that veganism is a big factor in the local food scene. No matter what restaurant you stumble in to, you're bound to find at least one promising meatless option, if not a full assortment of vegan eats.
That said, why slum around for basic beans and rice when there's a wealth of 100% vegan establishments to discover? Austin boasts well over 75 fully plant-based establishments, and counting, making it one of the most vegan-friendly cities in the entire world. Leave your skepticism at home but be sure to pack an appetite when you come to visit!
Comfort Food Classics
What kind of Austin vegan guide would this be if we didn't mention comfort food? All the classics you've been craving since childhood are readily available from a wide variety of genres, at any time of day.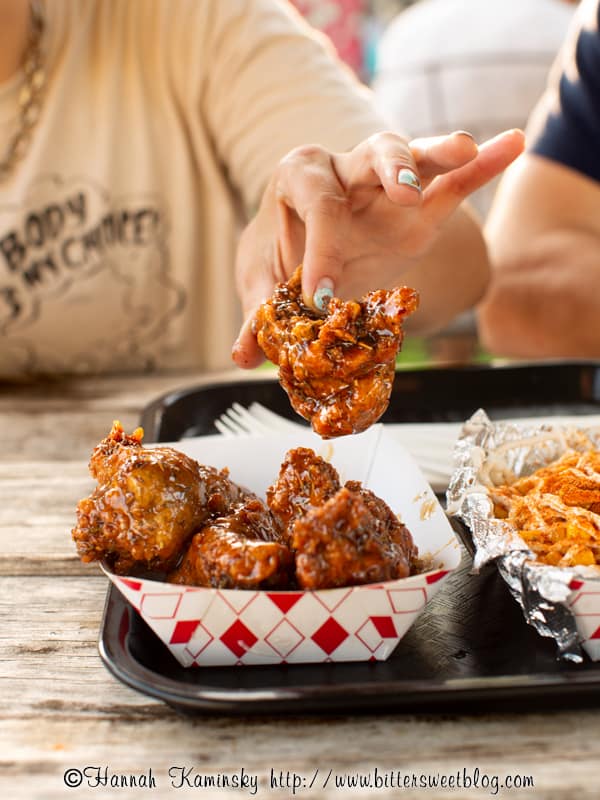 Pictured above: Sassy's Vegetarian Soul Food Jerk Fried Chickon
Fast Food for Instant Gratification
When you just want a good burger and fries without a big fuss, there's more than just Beyond Meat or Impossible patties to choose from. Quick, convenient, and affordable, you can get your grub on in no time at theses spots.
Pictured above: Vegan Jalapeno Corn Dog from The Corndog Guy
Whole Foods and Full Bellies
Salt-free, sugar-free, no-oil, or otherwise? Don't worry, we've got plenty of healthy options for anyone with more restrictive diets.
Contemporary Upscale
There's a limit to how fancy we get in this town; you'd be right at home wearing jeans and a t-shirt to the nicest establishments around. As you might expect, there's no "fine dining" to be found as a purely plant-based experience, but there are certainly some nicer places worthy of celebrations and notable occasions.
Coffee, Tea, or These?
Oat milk is everywhere these days, so you'll find no lack of dairy-free lattes to help you wake up in a good mood. If you want to pair your cup of Joe with some plant-based eats, however, you'll want to hit these hotspots featuring delectable vegan breakfast, brunch, lunch, and snack options, too.
Marvelous Tex-Mex
Spice up your life with the culinary creations of the Tejano people. For a true taste of Texas, these are absolute must-visits.
Of the Asian Persuasion
Asians in Austin are the fastest growing demographic group, doubling roughly every 12 years. It's no wonder there are some great plant-based eateries with Eastern roots.
We All Scream for Dairy-Free Ice Cream
It's hot in central Texas pretty much all year round, so there's never a bad time to cool down with some frozen treats. The difficulty comes when choosing where to stop, since you can find dairy-free cups and cones all across the map.
Pizza Party
Pretty much every pizza parlor within city limits has an option to substitute vegan cheese, or at least omit the dairy-based topping, but we're so spoiled for choices that there's no need to bargain and beg with the waiter. We have numerous plant-based establishments that go well beyond the basics.
Sweet Dreams Are Made of These
Thought we'd write an Austin vegan guide without dessert recs? A visit to any of these establishments will bake your day.
More In-Depth Reviews of Vegan Food in Austin:
Can't make up your mind with such a wealth of choices? Here are a few more detailed comparisons of my favorite places and other vegan guides:
More Vegan Travel Guides:
This guide to vegan restaurants in Austin, Texas was written by Hannah Kaminsky, a vegan blogger, cookbook author, and resident of Austin. Edited by Amanda Meth and Michelle Cehn. Photos by Hannah Kaminsky. Videos by Gina House. Cover photo from Canva.com. Please note that this article may contain affiliate links that support our work at World of Vegan.