Welcome to the World of Vegan city guide featuring the best vegan restaurants in Seattle, Washington!
Seattle, also known as the "Emerald City," is truly a gem in the Pacific Northwest. Home to lush evergreen forests, sweeping waterfront views across Elliott Bay to the Olympic Mountains, and a thriving urban landscape in between, there's no shortage of natural beauty to behold. Beyond that obvious aesthetic appeal, it's a city of incredible depth as well.
Pop art adds splashes of color well beyond the walls of museums, though it would be a shame to miss the masterful works on display at the Chihuly Garden and Glass while you're there, too. Coffee connoisseurs will be in heaven, drinking in the strong bean-to-brew culture, rooted in the original Starbucks location still operating in Pike Place.
Once you're fully caffeinated, go rock out to some head-banging beats, since it is the birthplace of the grunge movement, after all.
What really sets Seattle on the map as a destination for foodies, however, is the incredible scope of vegan eateries and compassionate chefs that are serving up unforgettable plant-based meals every day.
If you want to avoid eggs and dairy without giving up flavor, you've come to the right place. There are over three dozen completely vegan restaurants, bakeries, cafes, bars, and specialty shops waiting for you in "The City of Flowers" and surrounding area.
Whether you're looking for healthy vegan restaurants, decadent bakeries, or a casual cafe, you'll find the perfect spot below. If you're dairy-free, gluten-free, soy-free, whole foods plant based, raw, or have any other type of specialty diet, you will find good company in Seattle.
Vegan Video Tour of Seattle, Washington
Explore the best of vegan in Seattle virtually with Eunice Reyes from Rated V on YouTube! This video takes you on an intimate tour of the city to show off some of the most drool-worthy meals from breakfast through dessert.
With her visit to multiple vegan donut shops, a vegan ice creamery, a vegan Vietnamese restaurant, and more, Eunice will leave you itching to book a trip. This video was made in collaboration with The Humane League, a fantastic farmed animal advocacy organization.
Seattle's Healthy & Nourishing Plant-Based Restaurants
For healthy, nourishing foods that will keep you full and focused, these establishments serve up wholesome that positively radiate fresh flavors.
Smoothies and juices get top billing at this Everett, WA, but it would be a shame to leave without tasting the pesto zucchini noodles, Korean BBQ tacos, or raw cheesecakes while you're in town.
For some extra leafy love, chef-driven salads are main event at this grab-and-go outpost. Build your own with unique vegan specialties like nut cheese, coriander-rubbed strami tofu, fried chickpeas, and all the vegetables you can fit on a fork.
Emphasizing an all-organic, farm-to-fork approach to easy vegan eats, this broad menu of American staples will win over health nuts and junk food lovers alike. Two locations are churning out mushroom melts, veggie bowls, and hearty burritos from Tuesday to Sunday, lunch to dinner.
Serving mostly raw foods, juices, smoothies, and sweet treats, this quick-service establishment is determined to make vegetables crave-able and accessible to all. Grab a Buddha bowl and crack open a fresh coconut to instantly feel revived.
Pure and simple, you'd be hard-pressed to find fresher fare anywhere in Vashon Island. Warm rice bowls topped with curried kabocha sqash, slow-cooked black beans, and plenty of leafy greens are the headliners at this no-frills café.
Long live this vibrant vegan eatery, dedicated to uplifting the community through better nutrition. You'll find healthier twists on loaded nachos, towering sandwiches, and a diverse array of globally inspired cuisine that will leave you feeling happier, not heavier.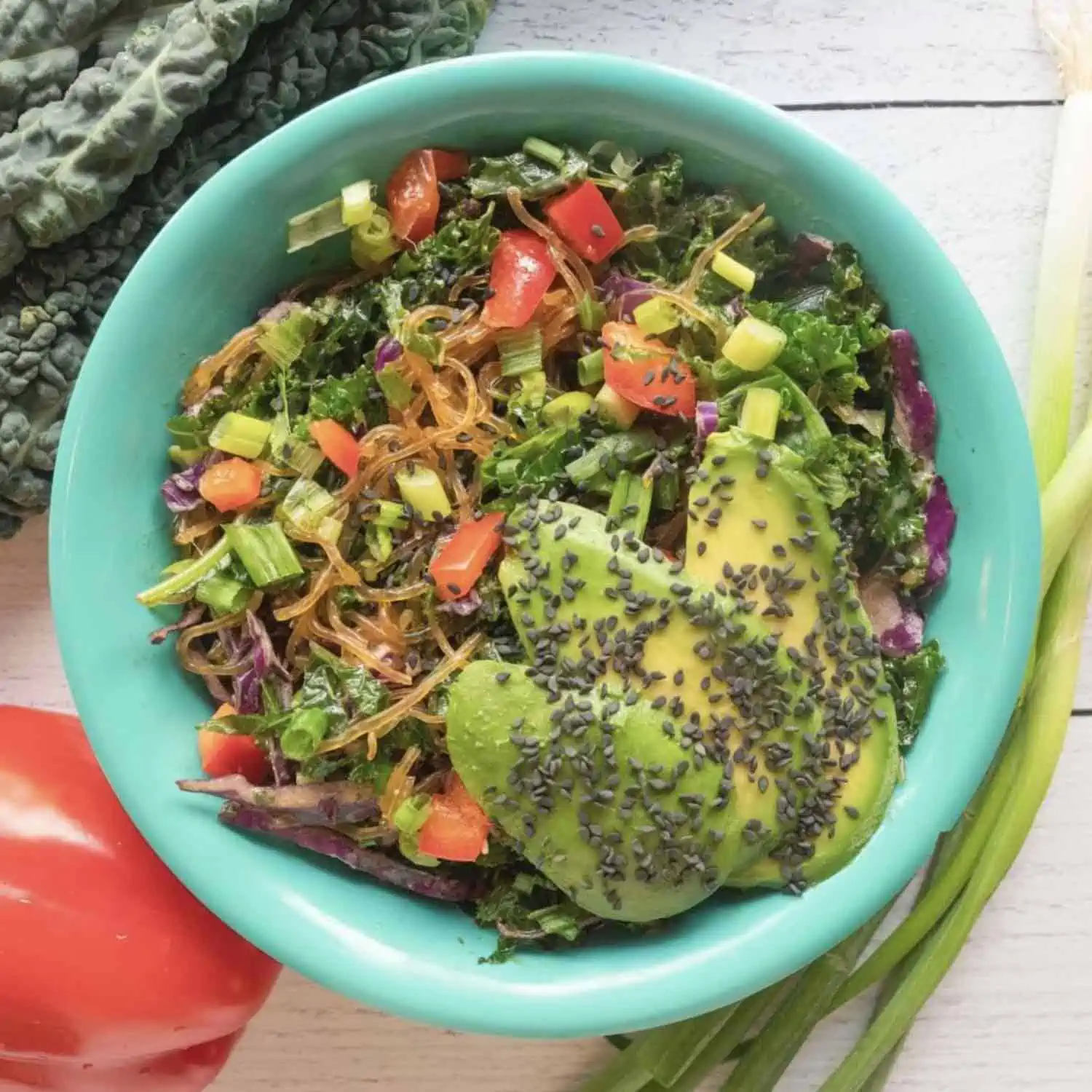 Fine Dining and Fancy Vegan Restaurants
To celebrate a special occasion, impress a hot date, or simply treat yourself, here are some upscale eateries that are sure to impress.
Upscale but unpretentious, you could just as happily come here for a romantic meal with your significant other or a relaxing drink with the gang. The flatbread pizzas, complete with a gluten-free cauliflower crust option, are a must-try.
Leave the kids with a sitter for this one, since it's a 21+ only affair, best known for their creative cocktail menu. They often host events such a whisky tasting and more, so check their website for tickets to these curated experiences.
One of the original plant-based hot spots that gained critical acclaim over a decade ago, Chef Makini Howell pioneered the upscale vegan movement with this sophisticated dining destination. Expect truffled gnocchi, oyster mushroom calamari, tofu pastrami Reuben sandwiches, and so much more.
Five-course dinner menus with all the bells and whistles are available to enjoy in-house and to-go for one flat rate. If you'd rather order a la carte, come in for lunch to pick your favorite from their short selection of guaranteed top hits.
Feast or Fiesta at These Vegan Mexican Restaurants
The spice is right if you're craving piquant Mexican meals! Get a taste of these regional specialties without going south of the border.
Dig into mucho meatless munchies and so much more at three locations. Since the name does mean "drunkard" in Spanish, it should come as no surprise that there's a robust bar menu to indulge in, complete with a wide variety of frosty margaritas.
Created by the masterminds behind Veggie Grill, this delivery-only concept brings tacos, burritos, bowls, and nachos straight to your door. Choose from five plant-based seasoned proteins and make it your own!
Casual Vegan Comfort Food in Seattle
Classic vegan comfort food always hits the spot. When you want some nostalgic, soulful dishes that everyone will love, you can't go wrong with any of these options.
Definitively settling the age-old debate, there is lots of life in this hopping vinyl bar! Every night feels like a party thanks to the fun atmosphere, strong drinks, and compelling eats. Take a bite out of cauliflower wings or plant-based crab cakes and enjoy the music!
Get in and out with this quick take on satisfying soul food. Order up hush puppies, grilled cheese sandwiches, and tofu jerk for instant vegan gratification.
Though best known for their gourmet burgers and brats with house made fixings, the Sunday breakfast menu is worth a special trip. Where else can you get a plant-based Monte Cristo sandwich, complete with dairy-free cheese, plant-based bacon, and berry jam, all between two French toast buns?
With a constantly rotating seasonal menu, expect the unexpected from these heavy-hitting hot dog and hamburger aficionados. Follow their Instagram account to keep up with the latest weekly specials.
Claiming the title of "America's oldest vegan pizzeria," these veterans of the trade have perfected the art of the dough. Thin crust, stuffed crust, or gluten-free crust alike, each slice emerges crisp, piled high with your favorite toppings and Teese mozzarella cheese.
Belly-busting burgers are the main event in this galaxy of meatless delights. Piled high with vegan bacon, dairy-free cheese, and bee-free vegan honey mustard, they really do taste out of this world.
100% vegan bar and restaurant situated in the historic Georgetown neighborhood, you should come for the cocktails, but stay for stay for a meal. French dip sandwiches and buffalo chicken salads make sure you won't leave hungry.
This national chain is determined to conquer the world of fast food with plant-based burgers, fried chicken, and milkshakes is now well established in the Seattle area. They're both housed in the same Whole Foods Market so can grab pantry staples and crispy nuggets all in the same trip.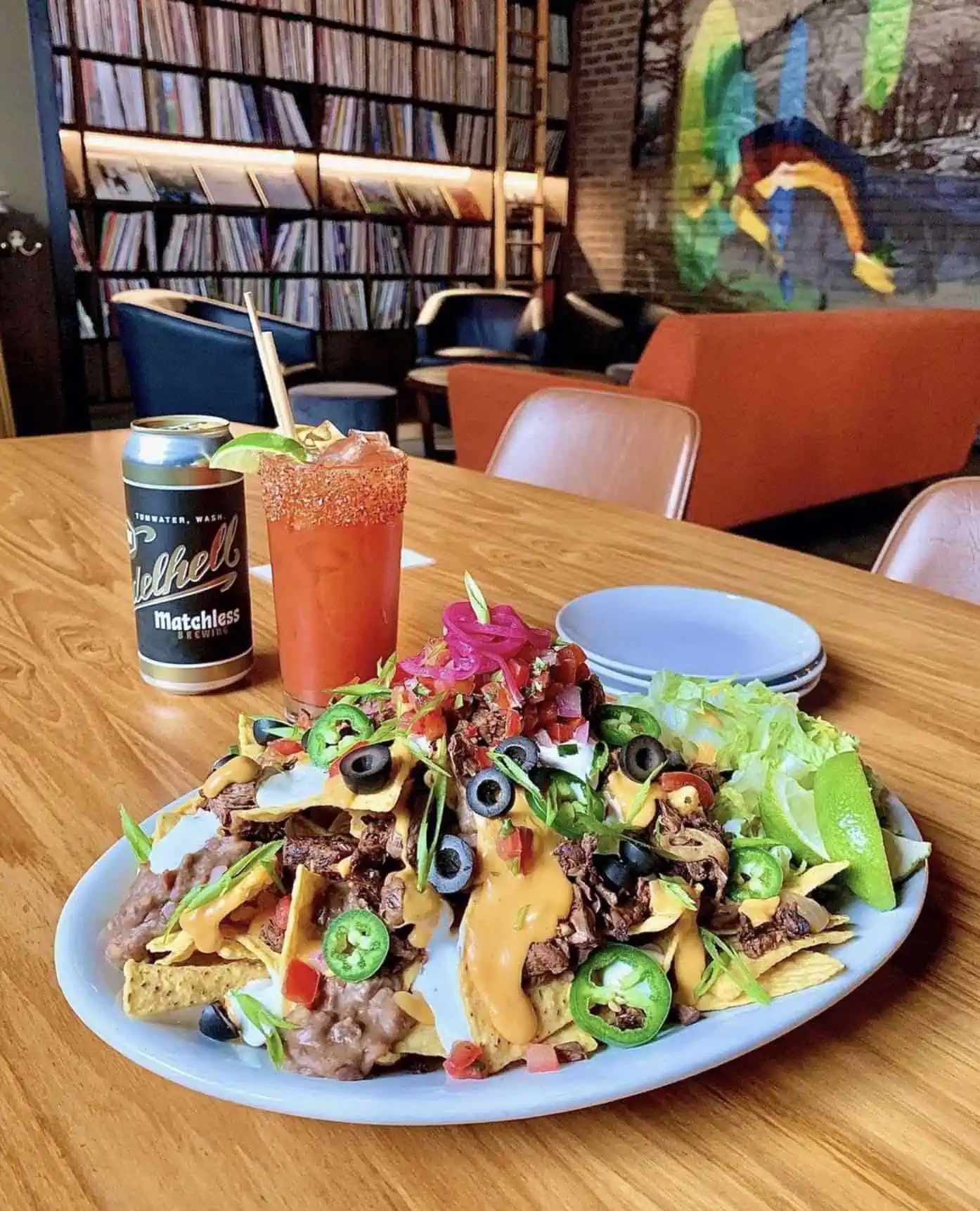 Seattle's Vegan Food Trucks & Food Carts
Slinging hot sandwiches even on the coldest days, this low-key cart has a short selection of guaranteed hits for grab-and-go satisfaction.
Declaring themselves as "Bellingham's tastiest guilt-free guilty pleasures," expect a meal rich in mozzarella sticks, burgers, and tater tots. Their location changes throughout the week, but it's worth hunting down this roving truck for a bite of comfort food.
Vegan Asian & Eastern Inspirations
Whether you're looking for authentic Asian dishes or creative new fusion innovations, you can find everything just beyond the shores of Washington state, right in the heart of its largest city.
Family-owned and operated since 2008, this homespun café serves pan-Asian fare with a touch of western influences thrown in. Portions are generous, unfussy, and there's always plenty of hot tea to go around.
Easily the best Thai food this side of Chiang Mai, modern twists on traditional dishes breathe new life into classic staples. There's plenty of pad kee mao and tom yum to go around, but don't overlook the innovative artichoke cream sticks and "devil wings" appetizers, too.
If you want to try a little bit of everything, hustle down to one of three Araya's Place locations for the lunchtime buffet. Pile your plate with all sorts of Thai specialties, from papaya salad to green curry, and don't forget a tall glass of Thai tea to wash it all down.
Raise a glass to kabocha & sweet potato laksa, Lao crispy rice & quinoa salad, and dan dan noodles exploding with hot chili oil. For great deals and drinks, don't miss happy hour every day from 2 – 5pm.
Soy protein seamlessly soaks in bold pan-Asian seasonings instead of conventional animal meat, and no one would ever tell the difference. Running the gamut from Chinese, Thai, Vietnamese, and beyond, there's something the whole family will enjoy.
This Vietnamese deli offers up a rare taste of authentic dishes that's completely plant-based. Load up on banh mi, pho, rice plates, and more without worries about anything getting lost in translation. Every Sunday, they give back to the community by serving free meals to anyone who needs it!
International sensation and arbiter of plant-based Asian tastes, Loving Hut lays claim to hundreds of outposts worldwide. Each one is individually owned and operated, so you're likely to find new and exciting options at the sole Seattle satellite.
Sweet Tooth Satisfaction: Vegan Bakeries & Dessert Shops
Eat dessert first! As long as it's vegan 😉 You won't want to miss these incredible pastries, vegan donuts, and tempting treats.
Serving up breakfast and lunch with plenty of sweet treats in between, check out their rotating selection of scones, muffins, cookies, cakes, pies, and cupcakes while you're in town. You never know what you might find!
For an after-dinner drink or dessert, this Spokane speakeasy has everything you need. It's a vegan and gluten-free bakery and espresso and cocktail lounge. The treats make this a worthy stop for late night cravings.
Mighty-O Donuts
Four locations bear these golden fried rings covered in sugary glazes of all flavors and colors. Yeasted, cake, and mini donuts provide plenty of variety for frequent visitors.
When you want a specialty cake, this is the place to go. Creating fanciful towers and tiers upon request, it's hard to believe that these works of art are edible… Until you taste them!
You'll be flying high at Flying Apron because all the sweet and savory treats are both vegan AND gluten-free! Offering a safe space for those with food allergies to let loose and indulge, these bakers care most about community, tolerance, and accessibility to healthy, delicious foods. It's even better that you can get those good vibes with a side of freshly fried beignets dipped in chocolate or berry sauce.
Bringing joy to the Fremont neighborhood through plant-based sweets, everyone raves about their flaky croissants, tangy lemon meringue tarts, and of course, incredible works of sculptural cake art.
Bringing create-your-own cinnamon buns to plant-based audiences nationwide, this outpost of the US sensation offers the same set of over 20 frostings, toppings, and other sweet finishes to make your own pastry masterpiece. In case that wasn't enough, you can grab gooey brownies, giant cookies, and bracing lattes, too.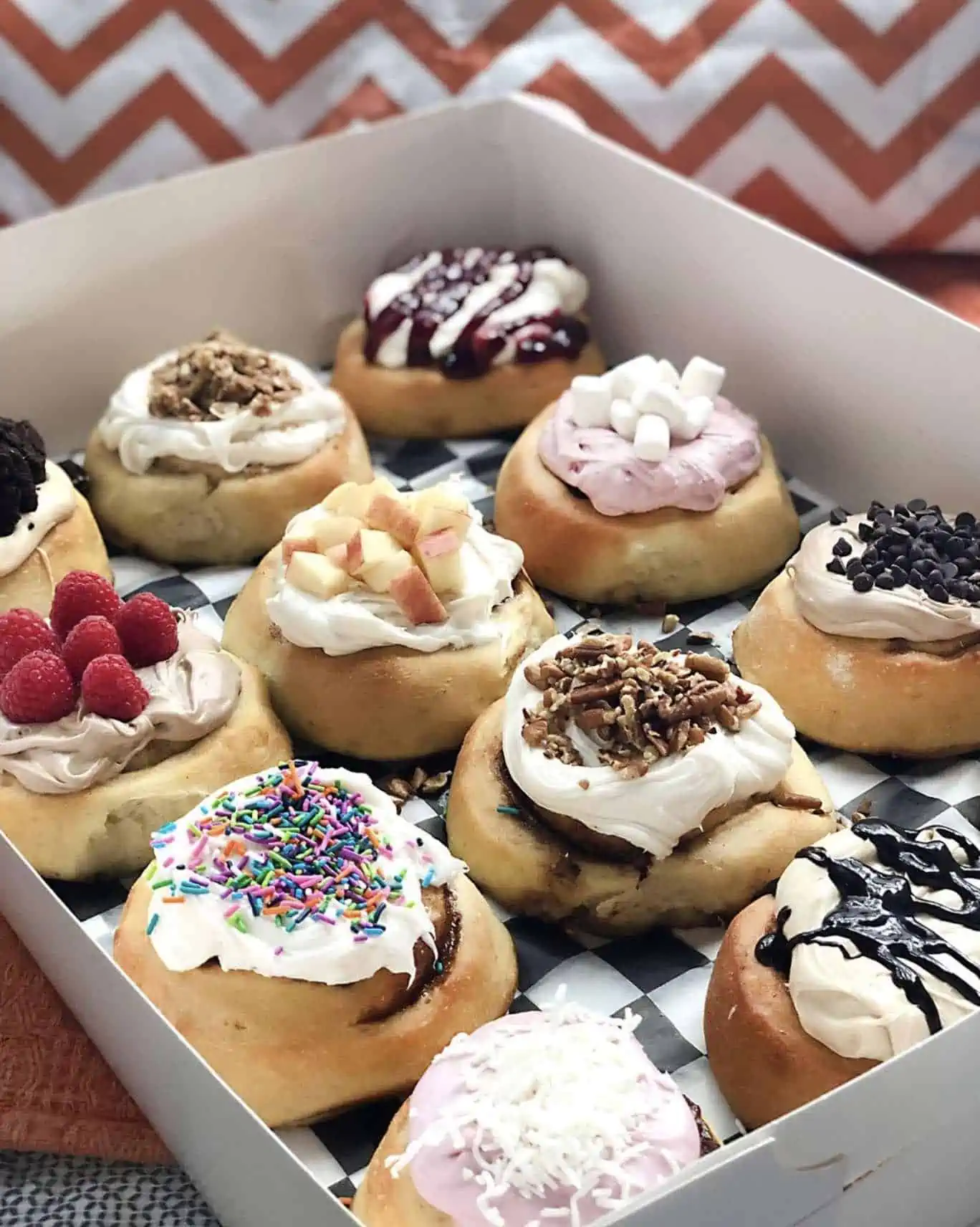 Between the sights, sounds, and flavors on full display in Seattle, it's easy to see why any visitor trying to squeeze everything in would wind up sleepless.
If you need a bite while you're traveling in a city that isn't particularly vegan-friendly, check out our guide to finding "vegan food near me" and our Vegan Fast Food Restaurants Guide.
We hope you enjoyed this guide sharing the best vegan restaurants in Seattle, Washington! If we missed any of your favorite Seattle vegan restaurants, we invite you to highlight them in the comments below. Many thanks to Hannah Kaminsky for her help with this article. Thanks for stopping by, and we hope to see you again!