Do you know what makes this dairy-free sauce so special? Besides its luscious texture and garlicky taste, it's incredibly versatile. It's perfect for enhancing a wide range of dishes and it's really easy to make. From drizzling it over crispy fries and sandwiches to dipping veggies and even using it as a salad dressing, vegan aioli adds a creamy and flavorful twist to your favorite recipes.
Let us introduce you to the ins and outs of vegan aioli, its ingredients, and how to use this "fancy mayonnaise" in your meals. It might even replace the sriracha or barbecue in your cupboard! Are you ready to learn more about this thick and savory sauce?
Is Aioli Vegan?
Aioli is a tasty and versatile condiment and is wonderful as a dip for vegetables, a spread for sandwiches and veggie burgers, or a sauce for roasted vegetables. Variations of aioli may include other flavorful ingredients like Dijon mustard, herbs, or spices to add extra flavor and depth to the sauce.
This sauce originated in the Provence region of France but is also popular in various other Mediterranean cuisines. It has a creamy texture and strong garlic flavor. Aioli is typically a combination of garlic, olive oil, egg yolks, lemon juice or vinegar, and seasonings. Vegan aioli, of course, is made without the eggs.
Best Vegan Aioli Brands
This selection of top-notch vegan aioli brands craft the creamiest, dairy-free aioli sauces that rival their classic counterparts in both taste and versatility. Whether you're a passionate home cook or simply seeking a fun way to add a burst of flavor to your dishes, these brands have got all of your aioli needs covered.
A vegan-friendly, delectable dip that is amazingly flavorful! Mother Raw garlic aioli dressing is crafted with natural ingredients like garlic, sunflower oil, and lemon juice. With its creamy texture and zesty garlic taste, it's a versatile condiment that enhances the flavor of sandwiches, wraps, burgers, and serves as an excellent dip for veggies or fries.
This unique dressing is a dairy-free and egg-free mayonnaise alternative that boasts a creamy texture and a bold garlic flavor. Made from plant-based ingredients like sunflower oil and garlic puree, it's a delectable choice for those looking to enjoy a flavorful garlic mayo without animal products.
This roasted vegan garlic aioli is a delightful fusion of creamy avocado and zesty garlic flavors, creating a unique and delicious aioli sauce. Perfect for dipping, spreading, or drizzling, this condiment adds a gourmet touch to sandwiches, tacos, burgers, and more, making it a versatile and flavorful addition to your culinary repertoire.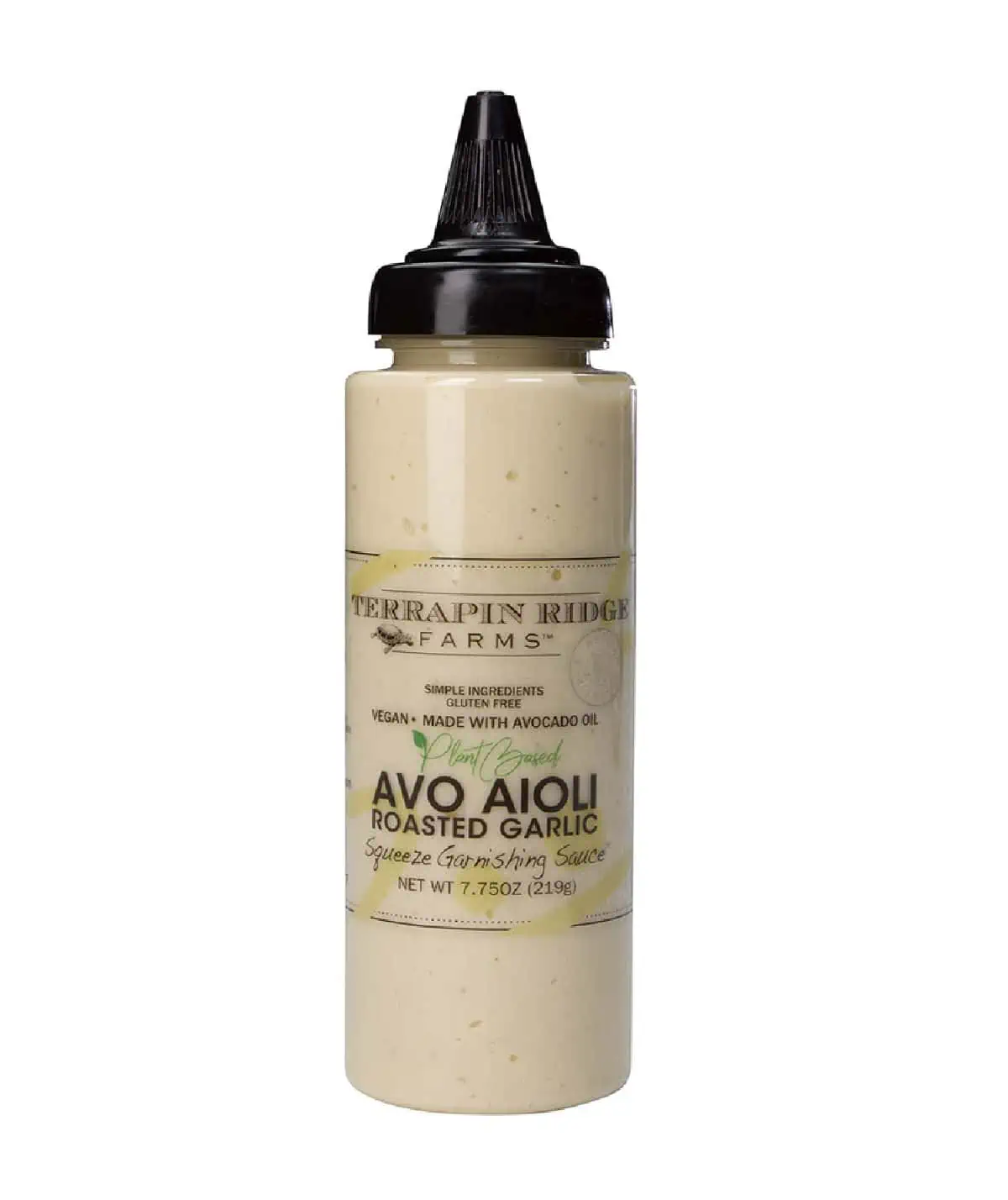 This limited-time Truffle Aioli is a luxurious condiment that combines the earthy aroma of truffles with the creamy richness of aioli. With its decadent flavor profile, it's an excellent accompaniment for sandwiches, fries, roasted vegetables, or as a dipping sauce, elevating your dishes with a touch of gourmet indulgence.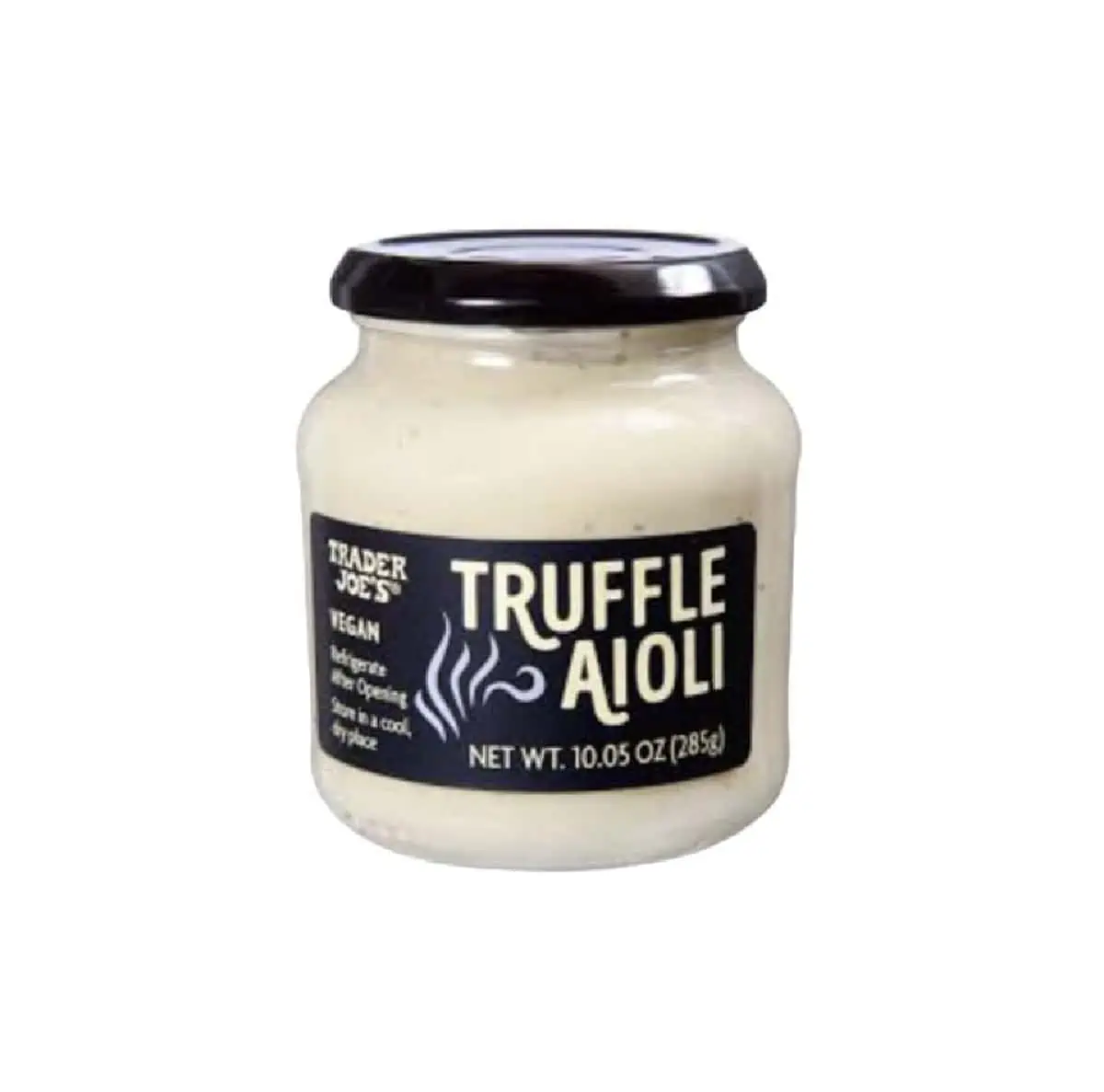 This delicious vegan mayo is a creamy, plant-based aioli alternative infused with the bold flavor of garlic. Whether you're spreading it on sandwiches, using it as a dip, or as a condiment for your favorite dishes, this sassy sauce adds a savory kick to all of your favorite main meals.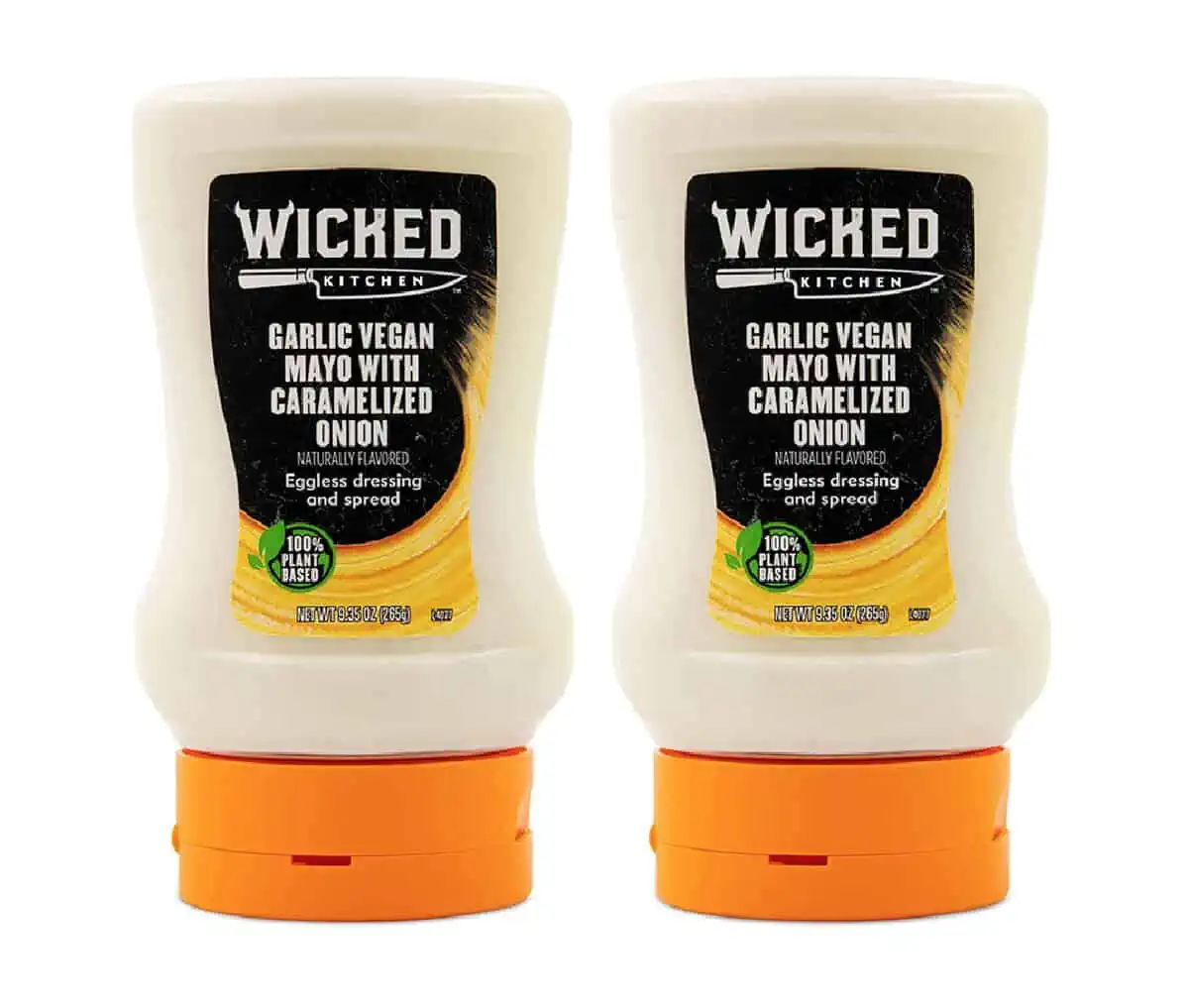 Although not technically aioli, Bitchin' Sauce is pretty close. This popular vegan and gluten-free condiment has a creamy and savory profile and is primarily made from a blend of almonds, lemon juice, and spices. Its rich and tangy flavor makes it a versatile dip, spread, or dressing, perfect for enhancing various dishes with a hint of deliciousness.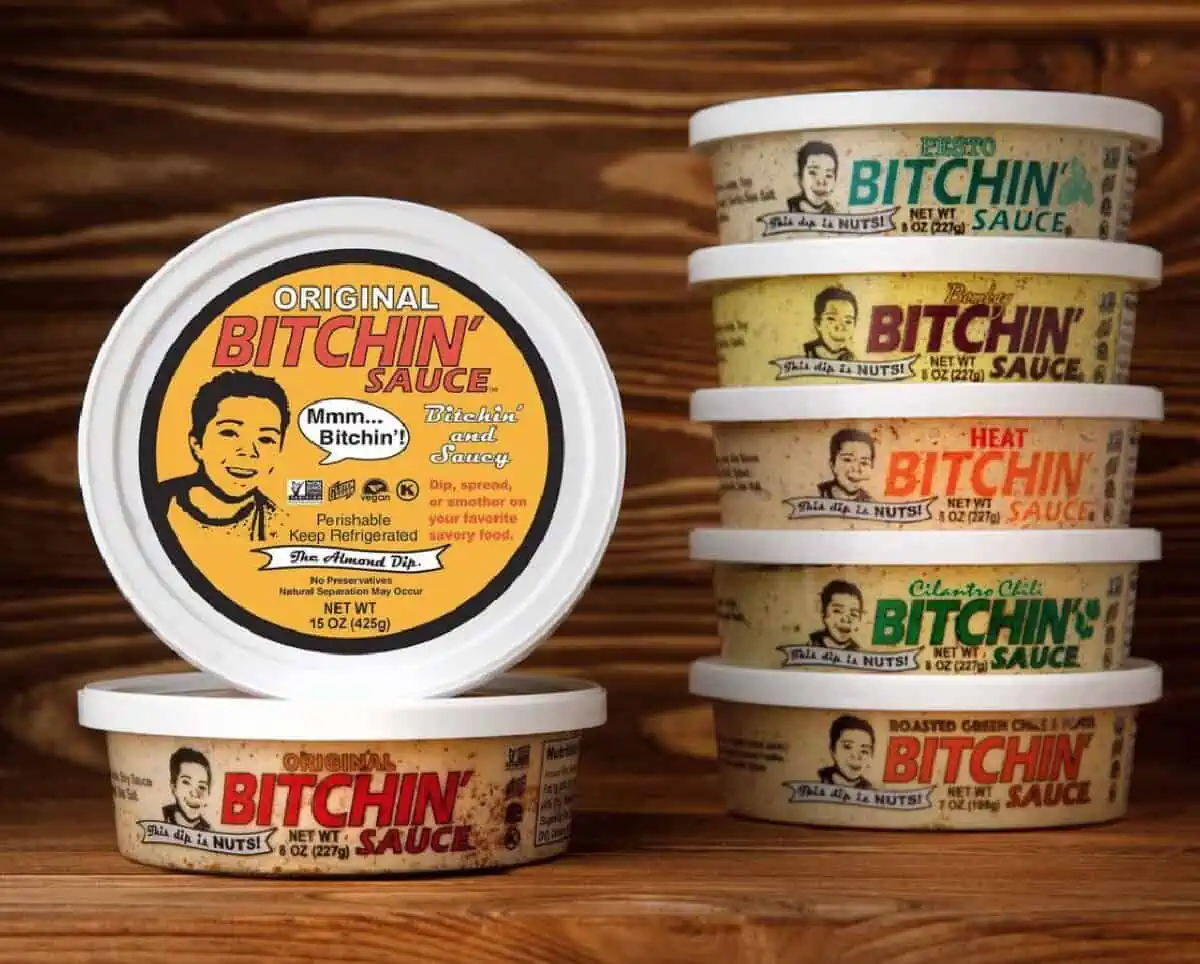 NOTE: If you live in Germany or Australia, you can also choose from Heinz Vegan Aioli or Praise Vegan Aioli. Lucky!
Does Aioli Have Dairy?
Traditionally, aioli does not include any dairy products. But, the non-vegan recipes all include egg yolks. What can you use instead of egg yolks in aioli? Keep reading!
Easy Substitutes For Eggs for Aioli
When whipping up a batch of aioli at home, you'll need an egg substitute for the egg yolks used in the traditional recipe. Try using one of the options below in place of the eggs. Bananas, applesauce, or peanut butter would leave you with a very strange tasting aioli, so these ingredients are your best bets:
Aquafaba: This soaked chickpea water is a wonderful, viscous substitute for eggs. Use three tablespoons of aquafaba and one cup of oil for one cup of mayo.
Cashews: Blend one cup of soaked cashews with ¾ cup of water when swapping out the eggs and mayo.
Flaxseed: Mix two tablespoons of ground flaxseed with 5-6 tablespoons of warm water. Let sit until thickened into a gel-like consistency.
Tofu: You can also use tofu mixed with oil and aquafaba. Silken tofu will probably produce the smoothest and creamiest texture. Use ⅔ cup of tofu mixed with three tablespoons of aquafaba and ¼ cup of oil.
More Delectable, Dairy-Free Spreads to Try
There are many new and exciting options of vegan aioli on the market by innovative brands. Using a variety of plant-based ingredients, this dairy and egg-free sauce can be your passport to more savory sandwiches and yummy-nummy noodles. So, go ahead and add a dollop of deliciousness to all your dishes with this gorgeous garlic spread!
1 cup vegan mayonnaise
2-3 cloves garlic, minced or finely diced
1-2 tablespoons lemon juice, or white wine vinegar
½ teaspoon dijon mustard, optional
salt and pepper, to taste
Mix the vegan mayonnaise, garlic, lemon juice, and dijon mustard together. Add salt and black pepper to taste.

Place in a covered glass jar or plastic squeeze bottle.

Store for up to 2-3 weeks in the fridge.
Looking for a spicier and smokier version? Feel free to add ¼ teaspoon of chipotle powder to the mix for a chipotle aioli vegan style!
Calories: 91kcal | Carbohydrates: 1g | Protein: 0.03g | Fat: 9g | Saturated Fat: 1g | Polyunsaturated Fat: 0.002g | Monounsaturated Fat: 0.004g | Sodium: 82mg | Potassium: 3mg | Fiber: 0.02g | Sugar: 0.03g | Vitamin A: 0.2IU | Vitamin C: 0.5mg | Calcium: 1mg | Iron: 0.01mg