Wondering where to get vegan Girl Scout cookies? Well, thankfully you don't need to venture into the wilderness to get your hands on a box of these decadent desserts! There are six vegan Girl Scouts cookies currently available—but whether your local Girl Scouts carry them will depend on whether they get their cookies from Little Brownie Bakers or ABC Bakers. We've got the 411 for you right here.
Girl Scouts have been selling cookies for more than a hundred years—since 1917 to be exact. Today, they sell upwards of 200 million boxes of cookies per year. Yowzer, that's a lot of cookie dough, am I right? From late January through mid-March, Americans flock to the scouts to place their orders for cookies, and you better believe animal lovers are eager to get in on this annual cookie frenzy too.
Well, you're in luck. Several of the varieties of Girl Scout cookies are in fact vegan! Whether you're more of a chocolate lover or prefer a hint of lemon in your cookies, there's quite a few to choose from! Here's what to look for when the next Girl Scouts season rolls around.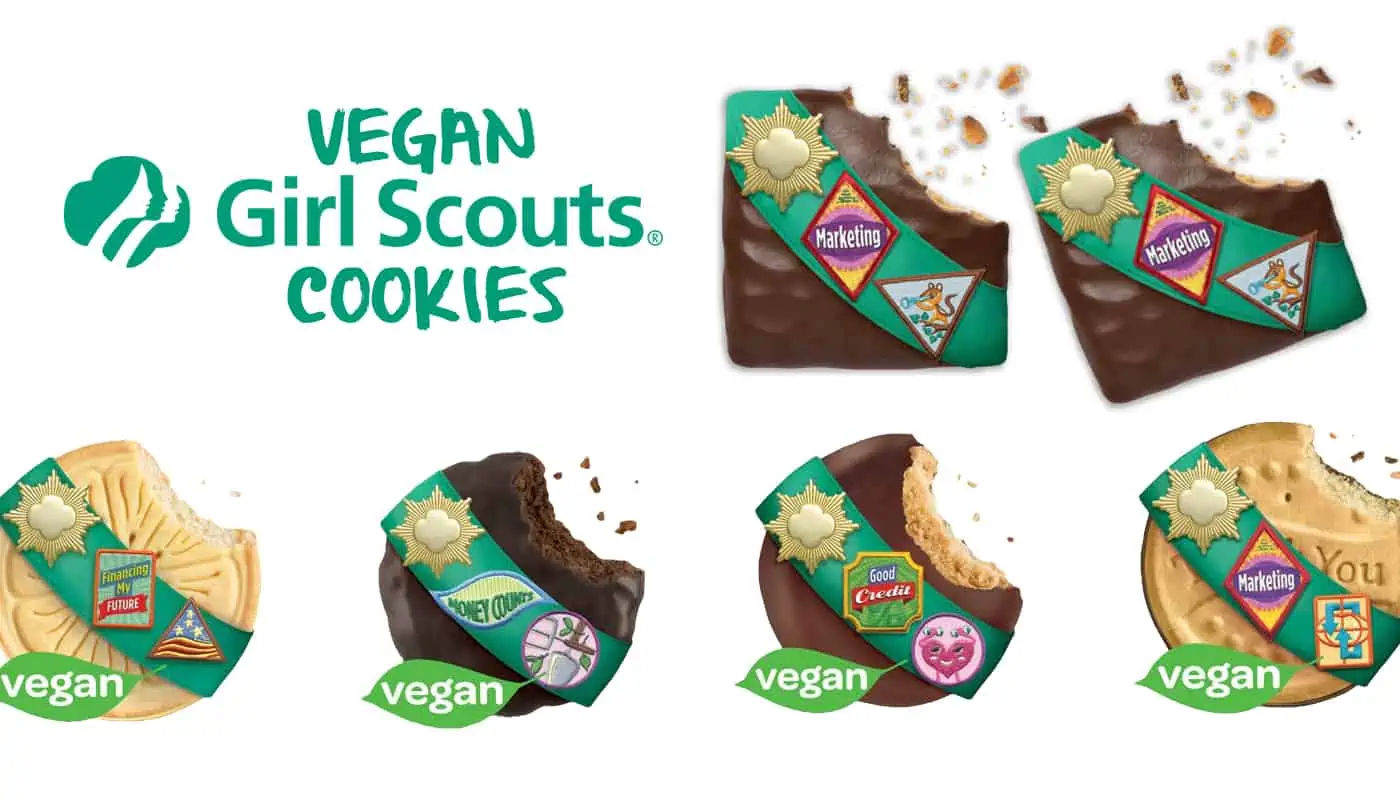 ABC Bakers vs Little Brownie Bakers
Before we dive in, it's important to note that there are two different companies that make Girl Scout cookies, and they each offer different vegan options. Note that there is only one option from Little Brownie Bakers, but four options from ABC Bakers. That's why in some regions you'll only be able to find vegan Thin Mints, whereas in others you'll be able to find all four vegan options.
Vegan Girl Scout Cookies
The following Girl Scout cookies are vegan:
Thin Mints (ABC Bakers & Little Brownie Bakers)
Peanut Butter Patties (ABC Bakers)
Toas-Yay! (ABC Bakers)
Lemonades (ABC Bakers)
Raspberry Rallies (ABC Bakers and Little Brownie Bakers)
Caramel Chocolate Chip (ABC Bakers)
Thin Mints (always vegan—hurray!)
The beloved Thin Mint cookie is thankfully vegan and has been since its inception. This crisp chocolate cookie with a cool hint of mint is a crowd favorite and we're so, so glad it's vegan. When you bite into a Thin Mint, your enjoy a multi-sensory experience of enjoying a crunchy cookie covered in mint chocolate that takes you back to days yore. Made from enriched wheat flour, cocoa, and peppermint oil, Thin Mints are definitely dairy-free but still do contain gluten.
Peanut Butter Patties (ABC Bakers)
It's important to note that these cookies are only vegan when baked by ABC Bakers—their twins called Tagalongs are not vegan!
These cookies are a must-have for anyone who believes there's no better combination than chocolate and peanut butter. These craveable cookies are made with sugar, peanuts, wheat flour, cocoa and more which gives them a perfectly crunchy, sweet, and salty texture and flavor. Finish off with a glass of cold almond milk and you'll be in peanut butter cookie paradise.
Toast-Yay! (ABC Bakers)
Ever wondered what it was like to eat French toast in cookie form? Well thanks to the Girl Scouts, you no longer have to wonder because the Toast-Yay! cookie is here! This sweet little cookie is shaped like French toast, making it all the more enticing to eat. Made with wheat flour, maple syrup, cinnamon, and other tasty ingredients, this little cookie will definitely have you shouting "yay!" upon first bite.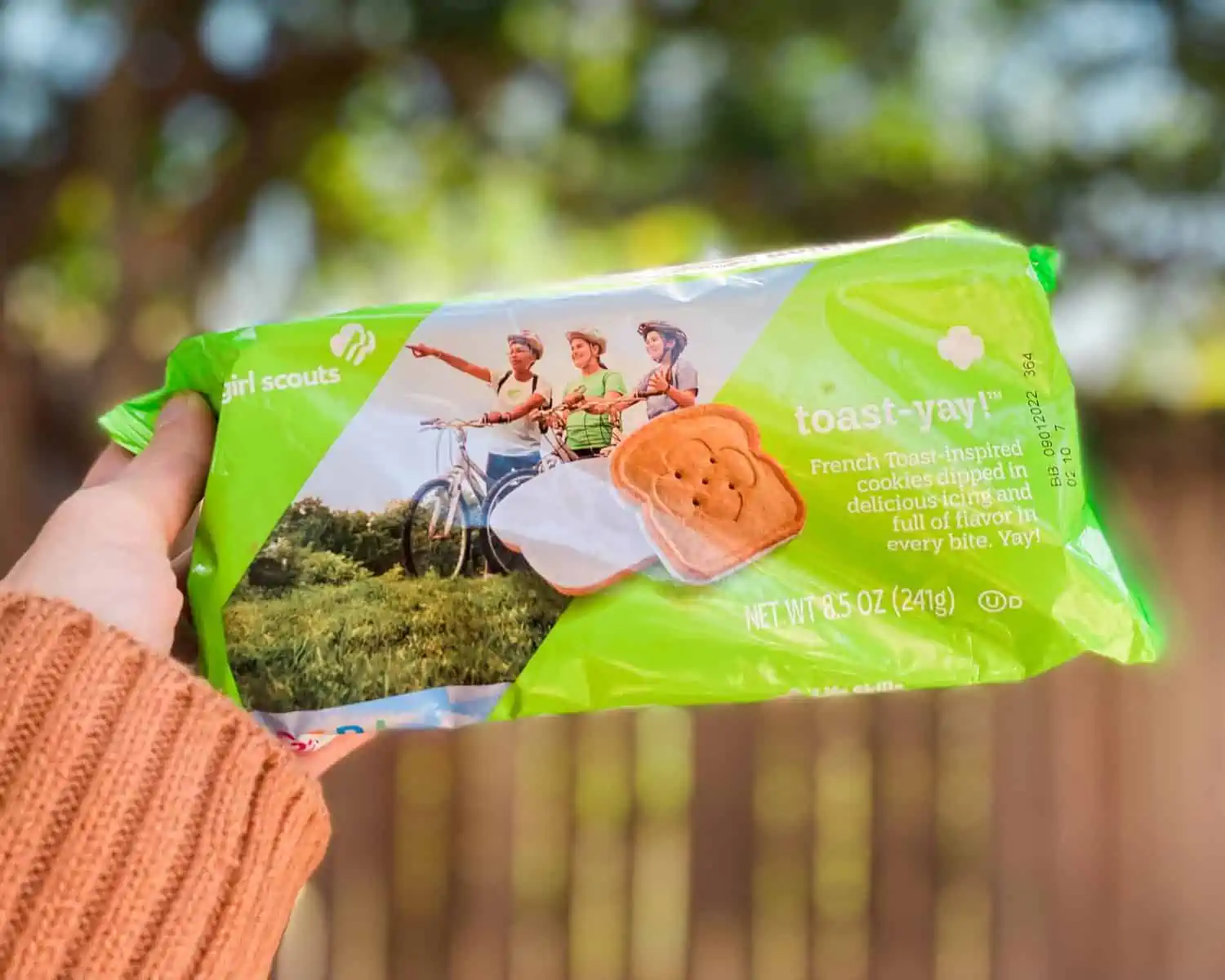 Lemonades (ABC Bakers)
Lemonades (not to be confused with Lemon-Ups, which sadly are not vegan) are perfect for those who like a little lemon in their cookies. These sweet and slightly sour cookies are made with wheat flour and both artificial and natural flavors to give them their lemony essence. They're also designed to look like the cross-section of a lemon which is quite cute.
It's important to note that there are two different baking companies that produce Girl Scout cookies for different regions—ABC Bakers and Little Brownie Bakers. Each uses different ingredient formulas, so be sure to double check the ingredient labels for any cookies you purchase.
Caramel Chocolate Chip (ABC Bakers)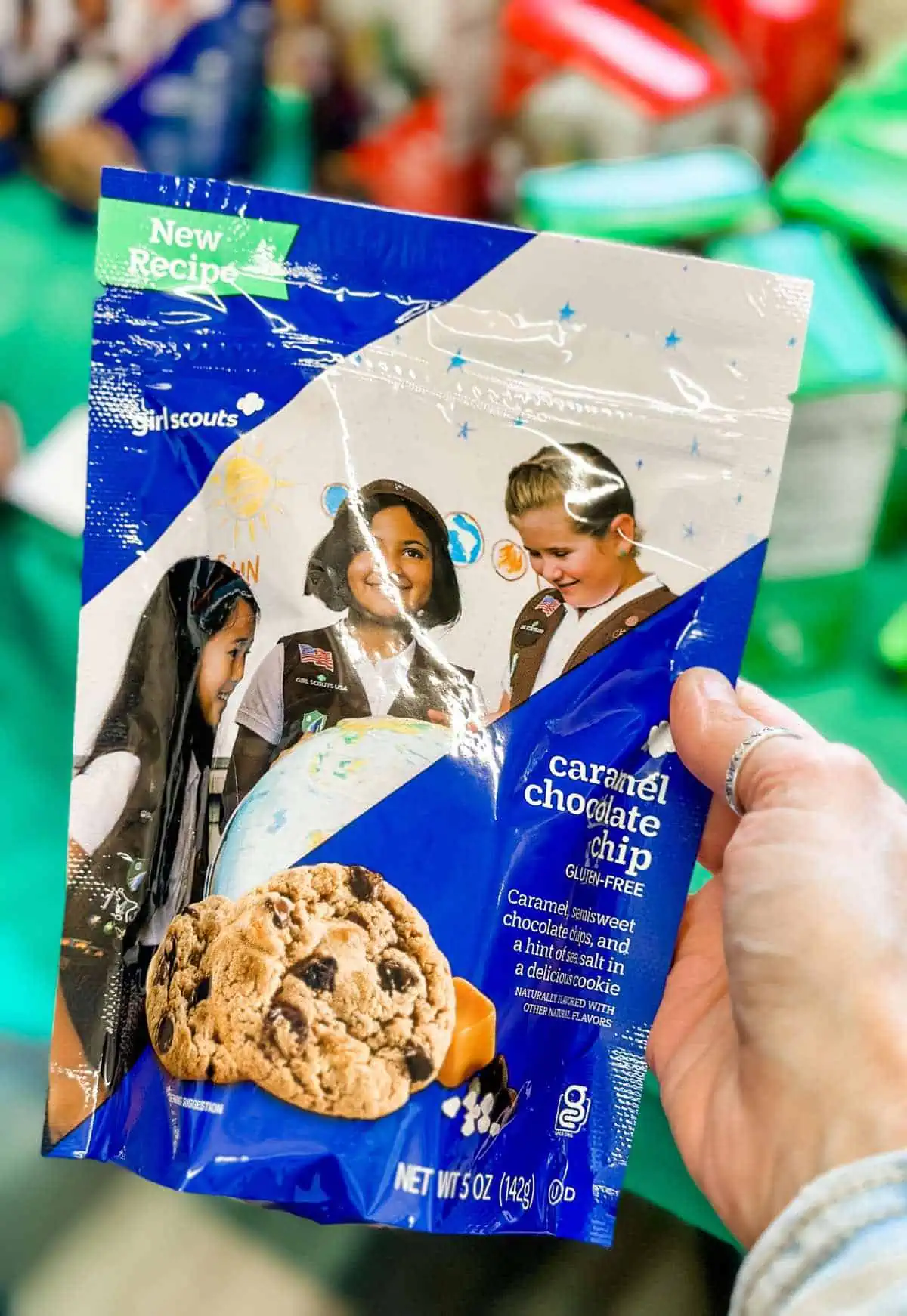 Raspberry Rallies (ABC Bakers and Little Brownie Bakers)
A Quick History on Girl Scouts
The Girl Scouts were founded in 1912 by Juliette Gordon Low and the largest organization in the world dedicated to the empowerment of girls.
Girl Scouts has many different programs for girls to help them develop a variety of important life skills from confidence-building to entrepreneurship through activities such as camping and community service. Girls earn badges as they complete milestones in their respective areas of service.
Currently, there are about 2.5 million girl and adult members worldwide.
In order to finance troop activities, the Girl Scouts began baking and selling cookies in 1917!
FAQs About Vegan Girl Scout Cookies
What happened to the vegan S'mores Girl Scout cookies?
Sadly, the vegan version of the Girl Scouts S'mores cookie was discontinued in 2021! We hope it will one day come back.
What happened to the vegan Thanks a Lot cookies?
These are no longer sold by Girl Scouts, sadly.
Where can I order Girl Scout cookies?
You can find your local scout using this handy tool—and be sure to thank them for offering vegan options! 
Are there any Girl Scout cookies that are both vegan and gluten-free?
No, sadly. There are gluten-free cookies, and there are vegan cookies, but there aren't vegan and gluten-free Girl Scout cookies (as of yet). The Toffee-tastic and Caramel Chocolate Chip cookies are gluten-free, but they are not vegan. Please contact them to request that they come out with a vegan and gluten-free cookie!
What is the minimum purchase amount for Girl Scout Cookies?
There is a 4 box minimum purchase for online orders, but you can buy single boxes if you see Girl Scouts selling in person!
Can Girl Scout Cookies be shipped?
Yes, Girl Scout cookies can be shipped to your home if they are purchased via a girl's or troop's Digital Cookie link. Girl Scouts ships their cookies within the United States, including Alaska, Hawaii, Puerto Rico, the U.S. Virgin Islands, and military or diplomatic locations with an APO/FPO/DPO address.
Which Girl Scout Cookies are Kosher?
All of them! All varieties of Girl Scout cookies are kosher and Halal certified.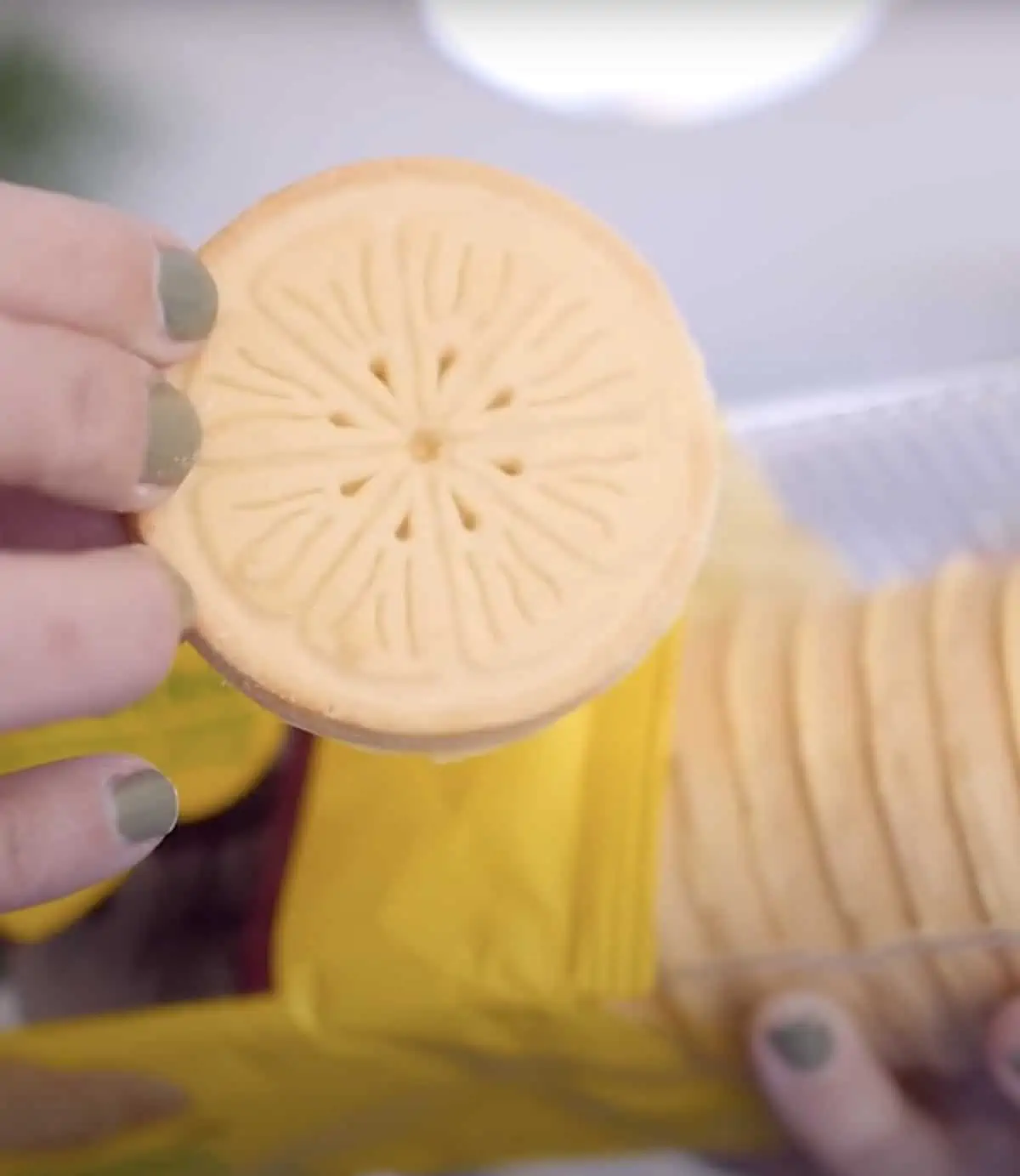 More Vegan Girl Scout Cookies, Please!
Now we just need to campaign for all Girl Scout Cookies to be vegan. Take action right now by sending a message politely asking that Girl Scouts of America use compassionate, healthy, and sustainable vegan ingredients in all their cookies, as well as chocolate that is slavery-free. Who knows, maybe this time next year we'll be publishing an article about vegan Samoas. A girl can dream, right?
Note: The video below is outdated as some of the flavors mentioned have unfortunately been discontinued.
Vegan Cookie Recipes To Try at Home
If you can't get your paws on Girl Scouts cookies, you can always whip up a batch of vegan cookies at home! Here are a few must-try recipes.
This article on vegan Girl Scout cookies was written by Michelle Cehn and edited by Amanda Meth. Please be sure to check the Girl Scouts website to stay up-to-date on the latest vegan cookie offerings!