Looking for the best vegan food in Portland? Your biggest challenge will be picking which place to visit! There are countless Portland vegan cafes, bakeries, bars, and more to keep your belly full for breakfast, brunch, lunch, dinner, and dessert.
Portland has been referred to as a nature-lovers paradise and an oasis of innovators and startups. It's also a foodie wonderland! Such simple labels don't do proper justice to paint the full picture of what life is like in Portland, Oregon. This bustling metropolis sits in the shadow of snow-capped Mount Hood. It's just a short drive away from breathtaking waterfalls, wildflowers, and in the summer, an abundance of wild berries.
It's also home to countless microbreweries and bean-to-cup coffee houses. They are perfect for perking up or winding down after a day of exploration. For lower-impact entertainment, you can always find a wide variety of art shows, theatrical productions, concerts, museums, and so much more.
Portland is a place where individuals and small businesses are celebrated, which has given rise to a thriving food cart scene. Couple that with concerns about sustainable and low-impact living, awareness of animal rights, and a deep connection with local agriculture, it should come as no surprise that there's a wealth of vegan eateries strongly rooted across the urban landscape. Portland truly has some of the best vegan restaurants and food!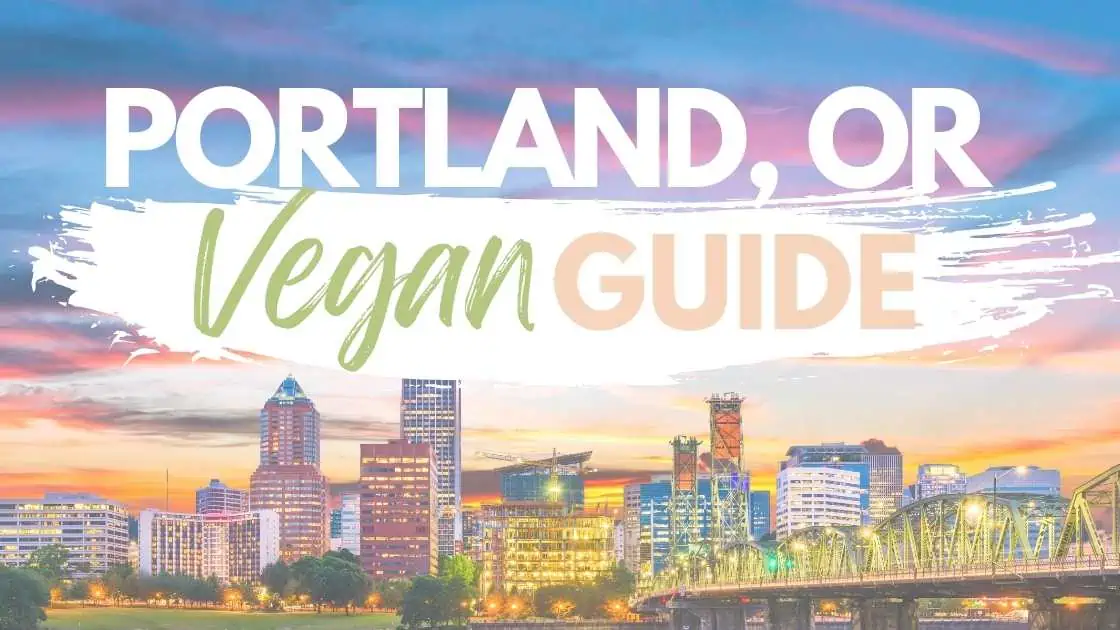 Portland: Offering Some Of The Best Vegan Food And Vegetarian Restaurants
Many would say it's the most vegan-friendly mid-sized city in the United States, ranging from high-end fine dining to cheap street eats. For every plant-based craving, you won't just have one option, but an expansive range of choices to indulge in. Let's dig in!
Best Vegan Portland Junk Food, Fast Food, & Diners
Freshly prepared, classic American fare with speedy service is an easy choice where everyone will find something they want. Whether you want a place with a comfortable ambiance or simply a grab-and-go solution, these places will make sure you're fed and content in no time.
Jewish delis are a dying breed, but this dynamic duo is keeping the time-honored art alive with a more compassionate approach. They offer classic chewy vegan bagels with a thick schmear of dairy-free cream cheese. Also available is a meatless Reuben on rye, but that's just the start. There's also vegan whitefish, egg salad, noodle kugel, and even black and white cookies for dessert! As a bonus, since there's no meat or dairy in the first place, everything is kosher by default.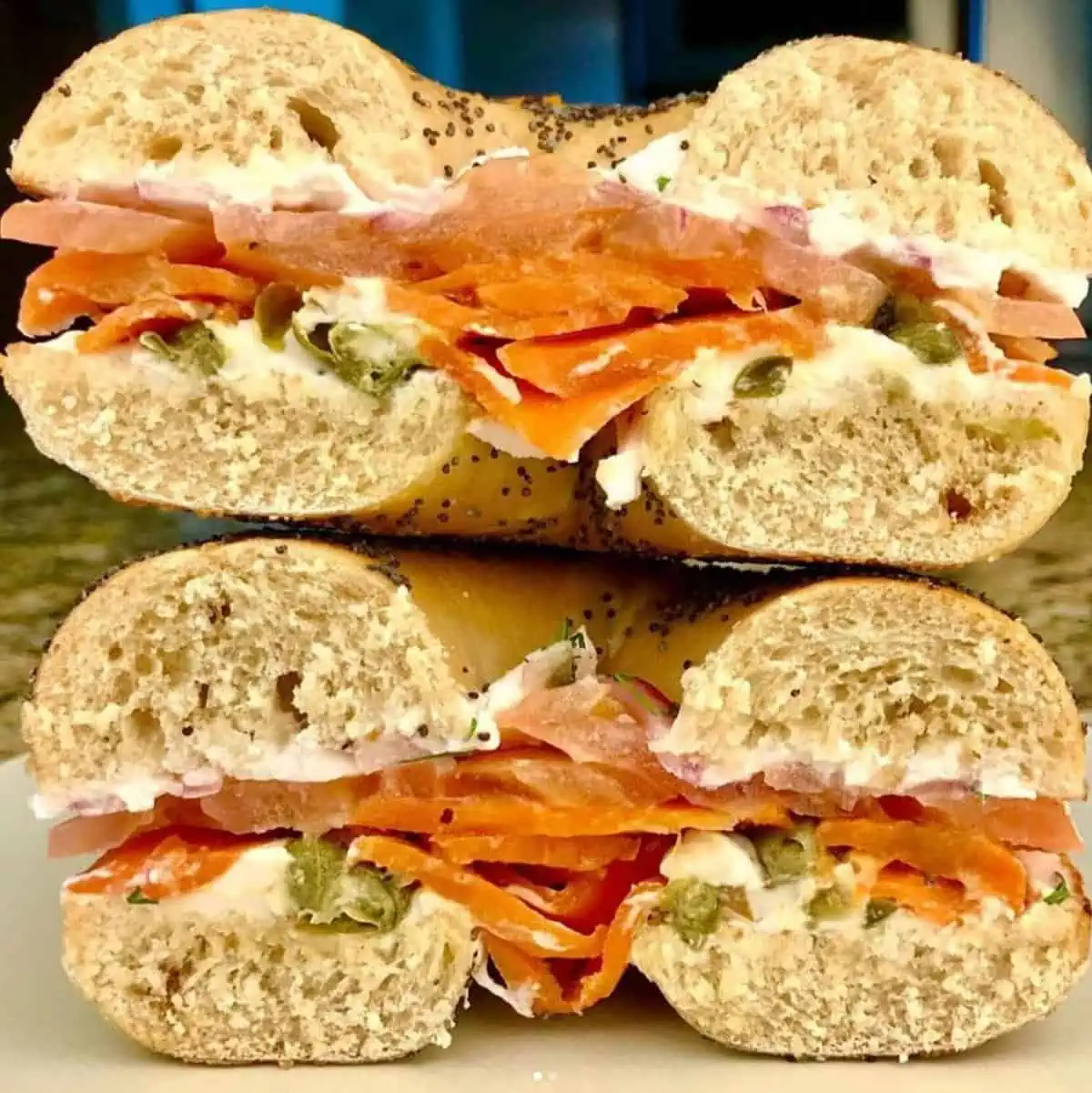 The fine print on most menus usually serves as a warning to sensitive diners about potential allergens or animal products. Here, if you look closely, you see an asterisk with the words "100% secretly vegan" instead. Otherwise, there'd be no indication that those flaky croissant sandwiches filled with sausage, egg, bacon, and cheese were indeed completely plant-based.
Offering delicious vegan burgers, crispy wedge fries, and creamy milkshakes, Gnarlys is a must-visit destination in Portland! This food cart offers all of the vegan comfort food you could ask for, with lots of outdoor seating.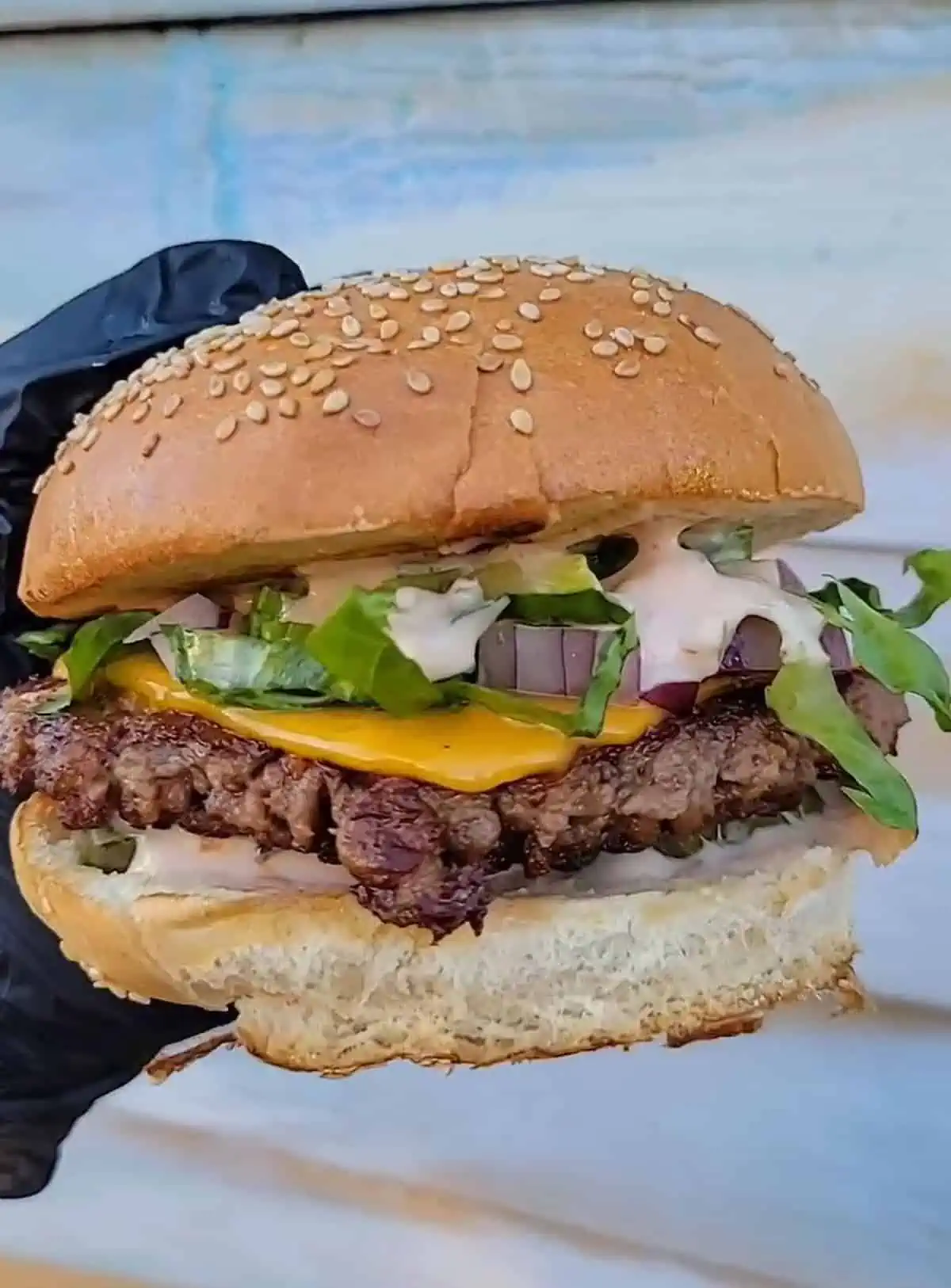 While conventional eggs and dairy are served upon request, the entire menu of diner staples and breakfast favorites is completely vegan by default. That means vegan waffles, hash browns, biscuits and gravy, tofu scrambles, and so much more. Come early though because they close up shop at 3pm sharp every day.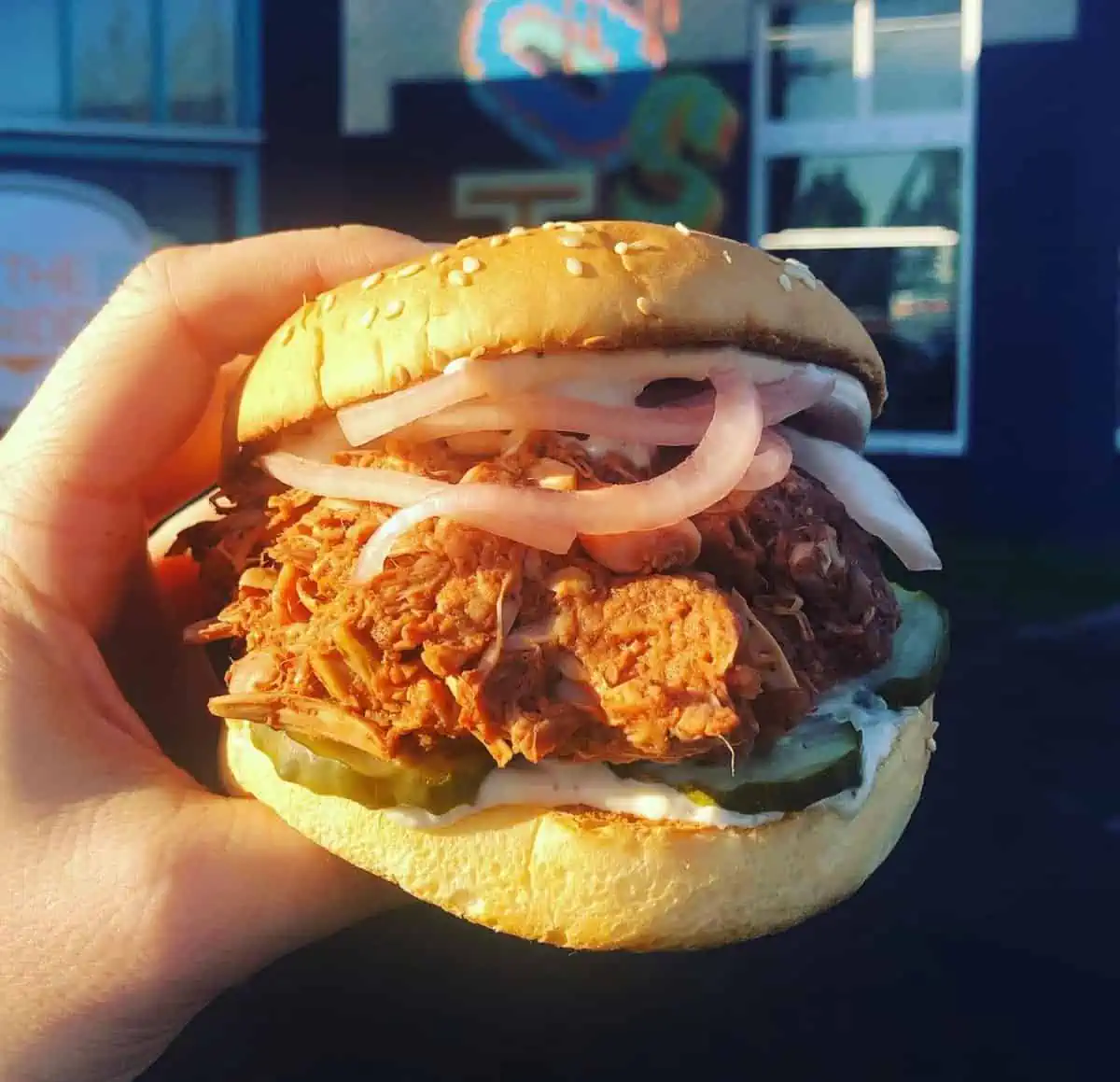 "Junk" is all in the mouth of the beholder. In this case, it's all about embracing classic comfort foods tailor-made for fast food cravings and drunken munchies. Want nuggets, chili cheese fries, and a milkshake at 10pm? You've got it! The Hawaiian lunch plate is a stand-out option that you won't find anywhere else. Vegan Moko Loko, Salmon Poke, or Tofu Katsu is a wild dream on the mainland unless you wake up to that savory reality right here!
With a name that evokes unlimited upward potential, the goals for this modern greasy spoon are no less lofty. They bring classic diner fare that includes breakfast all day and towering sandwiches. There's a mid-century ambiance which makes it feel like a step back in time but with contemporary ingredients. Sit at the bar to really take in the scene, lingering over a bottomless cup of coffee, served with a smile.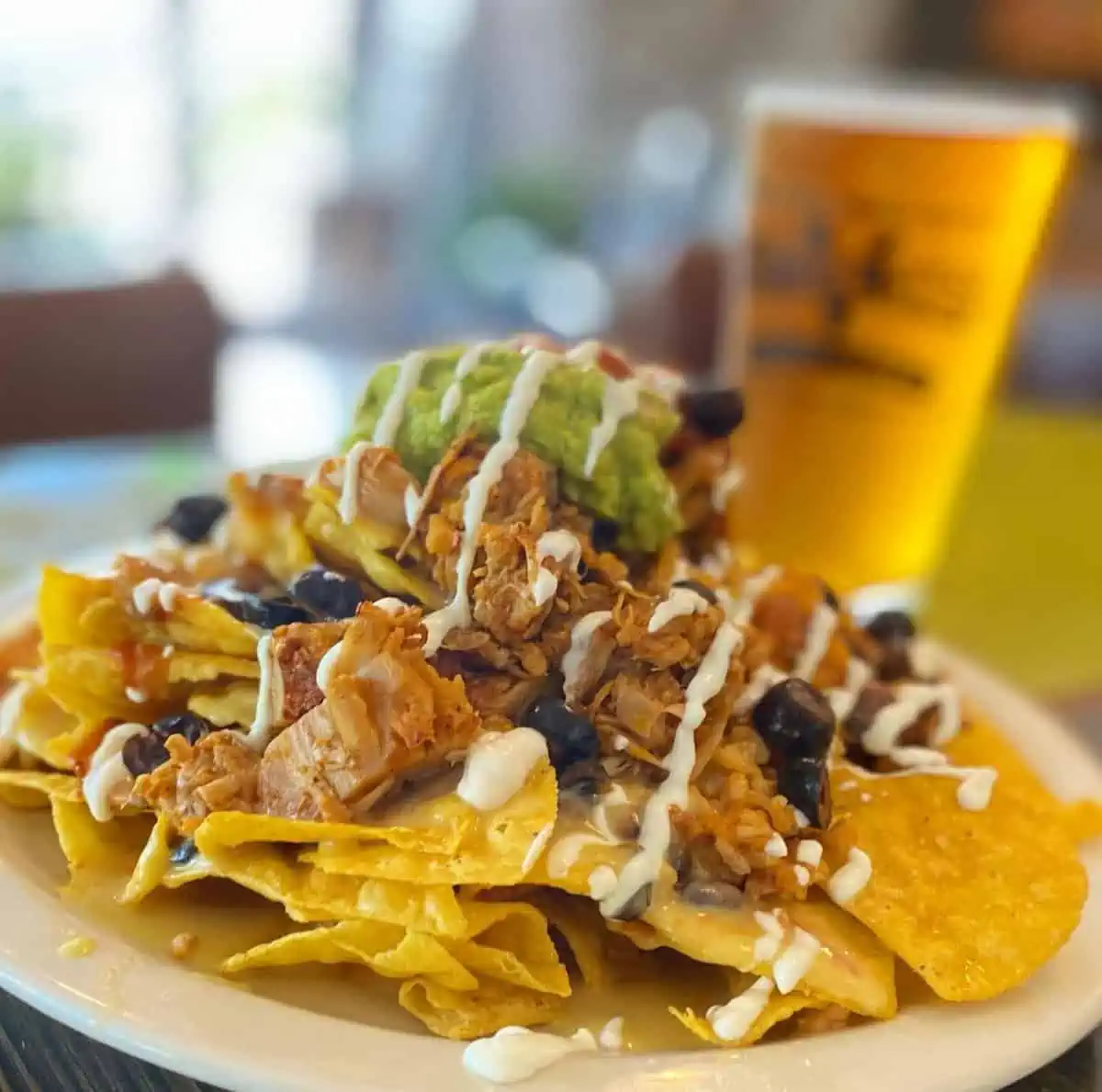 Portland's Best Vegan Burgers
Despite the name, everything here is vegan, although you'd never guess it was even meatless to begin with. These monster sandwiches are stuffed and bursting with handmade proteins. Get your deli fix with the Italian Sub or get your fast-food cravings squared away with a fully loaded Bacon CheeseBurger. Many say these are the best sandwiches in all of Portland, vegan or not.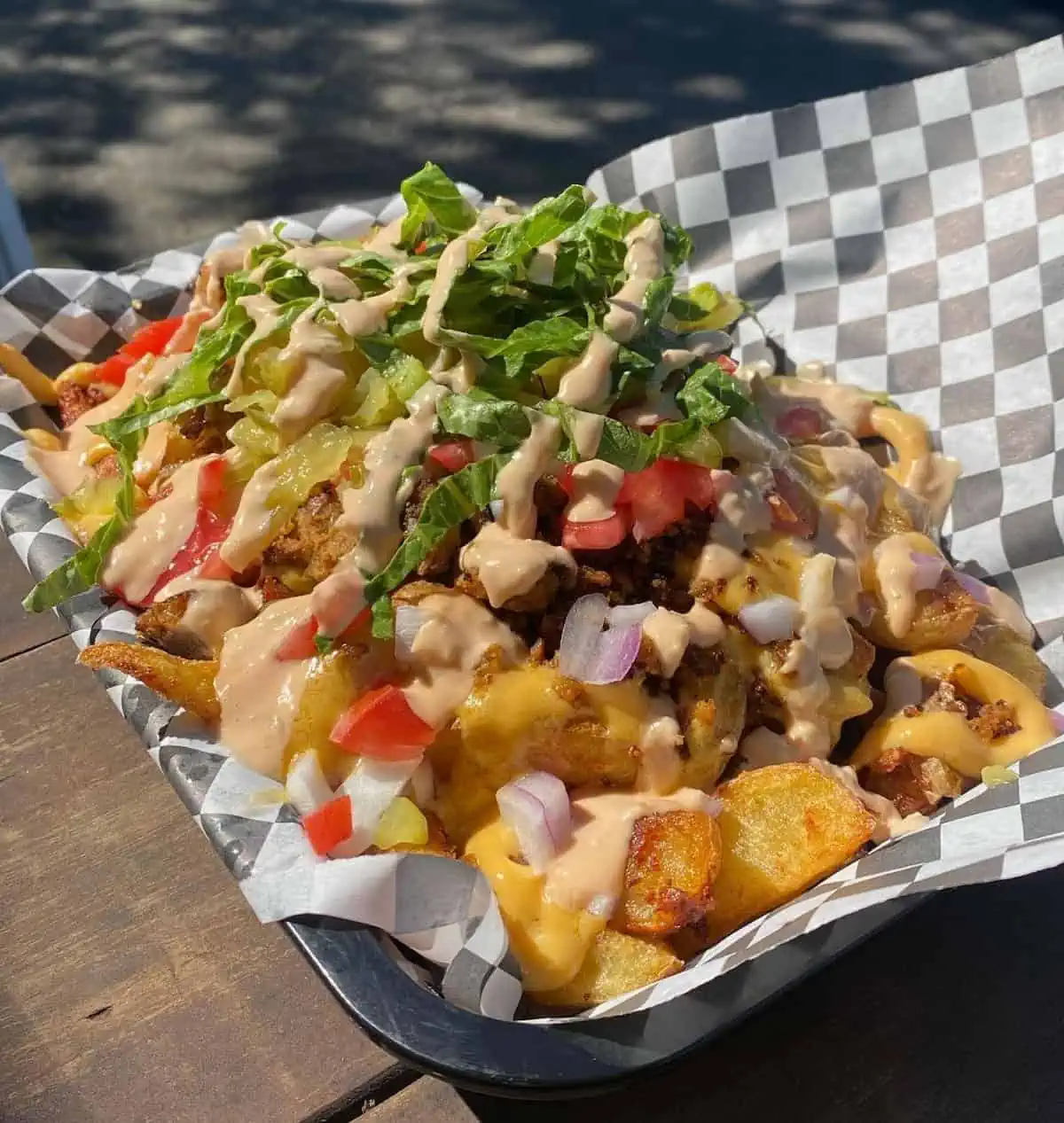 This vegan fast-food franchise is taking the US by storm. There are two locations in Portland to ensure that you're never too far from instant burger gratification. When no single patty will do, go big and get the Beyond Animal, all dress up in In-And-Out style "special sauce," two thick meatless patties, tempeh bacon, and crinkle-cut fries, all between two buns. You might need to unhinge your jaw for this one.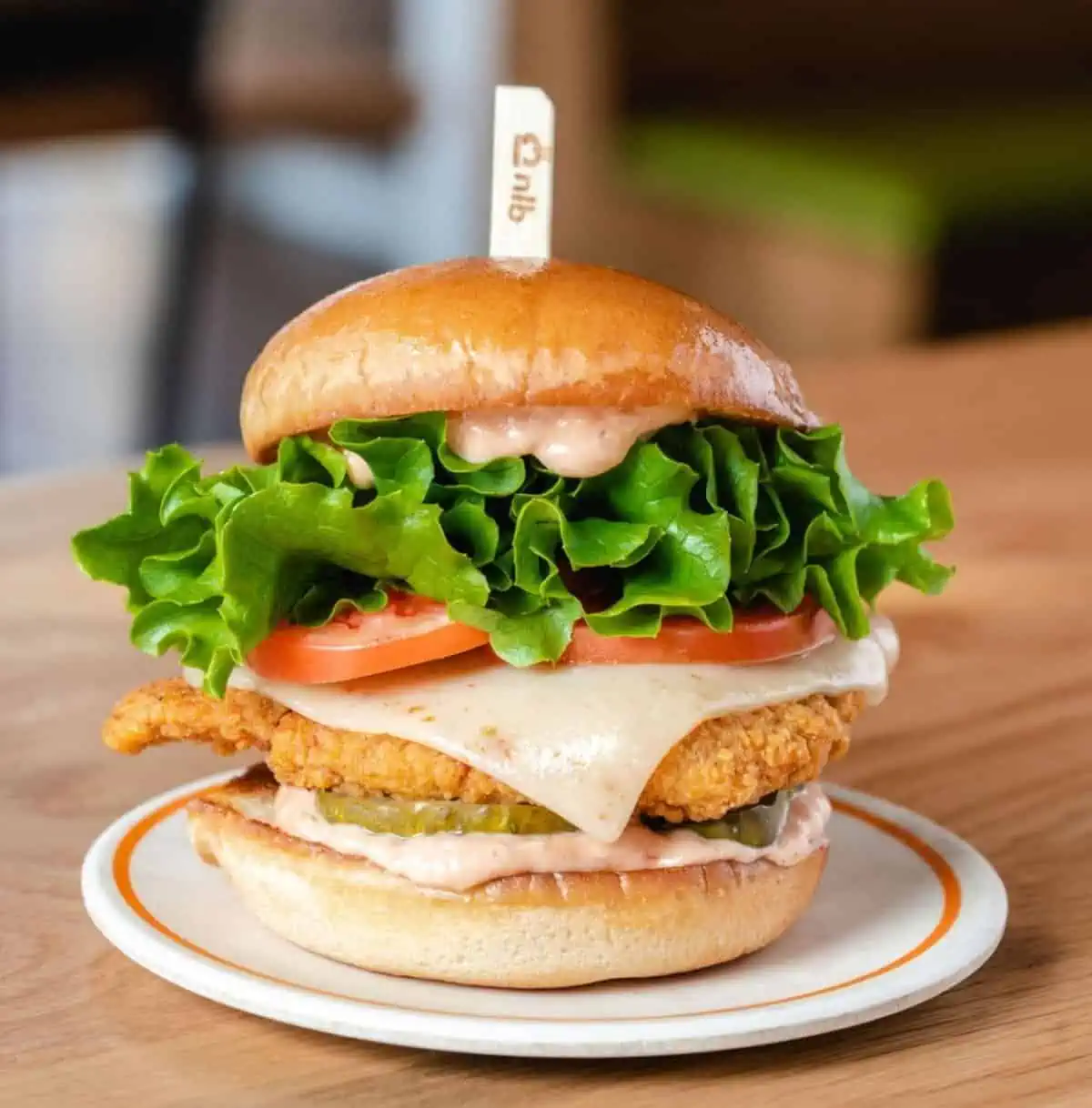 This wildly popular fully vegan fast-casual chain is determined to bring plant-based food to the masses. They truly have something for everyone, with their spicy vegan Buffalo wings and vegan chicken sandwiches being top sellers. There's also a kid's menu for those with smaller appetites.
Vegan Southern Food in Portland
Get down and dirty with a cleaner take on Southern comfort foods. This is the best fried chicken you'll find north of the Mason-Dixon Line, and it just happens to be vegan! Generous plates of the Crispy Seitan come with two sides like mac and cheeze, cornbread, jambalaya, mashed potatoes, and pretty much all the decadent carbs you could ever want. For KFC cravings, don't miss The Infamous Bowl, which could easily win a blind taste test.
If you can only visit ONE place for a soulful meal, most locals would agree that Homegrown Smoker should be your top pick. This beloved food cart has been a trailblazer in the world of barbecue. They smoke soy curls and tempeh low and slow to create succulent meatless proteins that would make any pitmaster proud. Get a plate, a sandwich, or a burrito with all the fixings.
Portland Vegan Cheese Shops
Specializing in small-batch, organic cashew cheeses, these dairy-free delights have been drawing lines since day one. Conveniently located in Portland, you can try various cheesy dips, snacks, and sandwiches, all while loading up on wheels to go. Don't miss their cheesecakes, which have become an overnight sensation in a wide variety of seasonal flavors.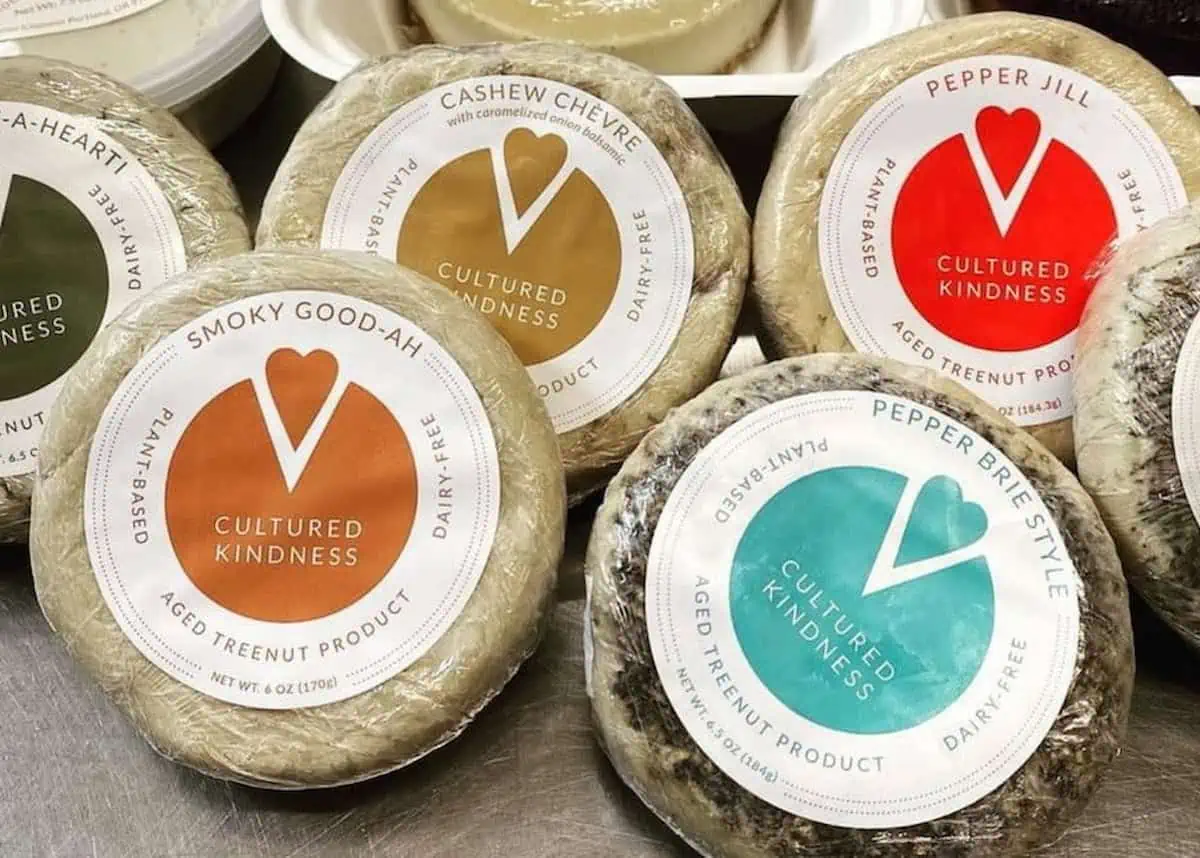 Vegan Pizza Places
While it's no problem to get vegan cheese at almost any decent pizzeria now, you can go above and beyond the basics at these innovative slice shops.
These Detroit-style pies prove that it's hip to be square. Each thick, 8×10-inch pizza is heavy with layers of scratch-made plant-based cheeses and meats. They offer both traditional and unconventional flavor combinations. The Buffalo Chicken pizza is a top seller, loaded with breaded and fried tenders, spicy Buffalo sauce, and gobs of vegan blue cheese. Order ahead because they regularly sell out before closing time.
Judging by the endless ticker tape of incoming orders, it looks like the secret is out. The thin, crispy crust is compulsively munchable even without any toppings. However, the vegan pepperoni, bacon, BBQ chicken, and other meatless marvels explain why it's Portland's worst-kept secret.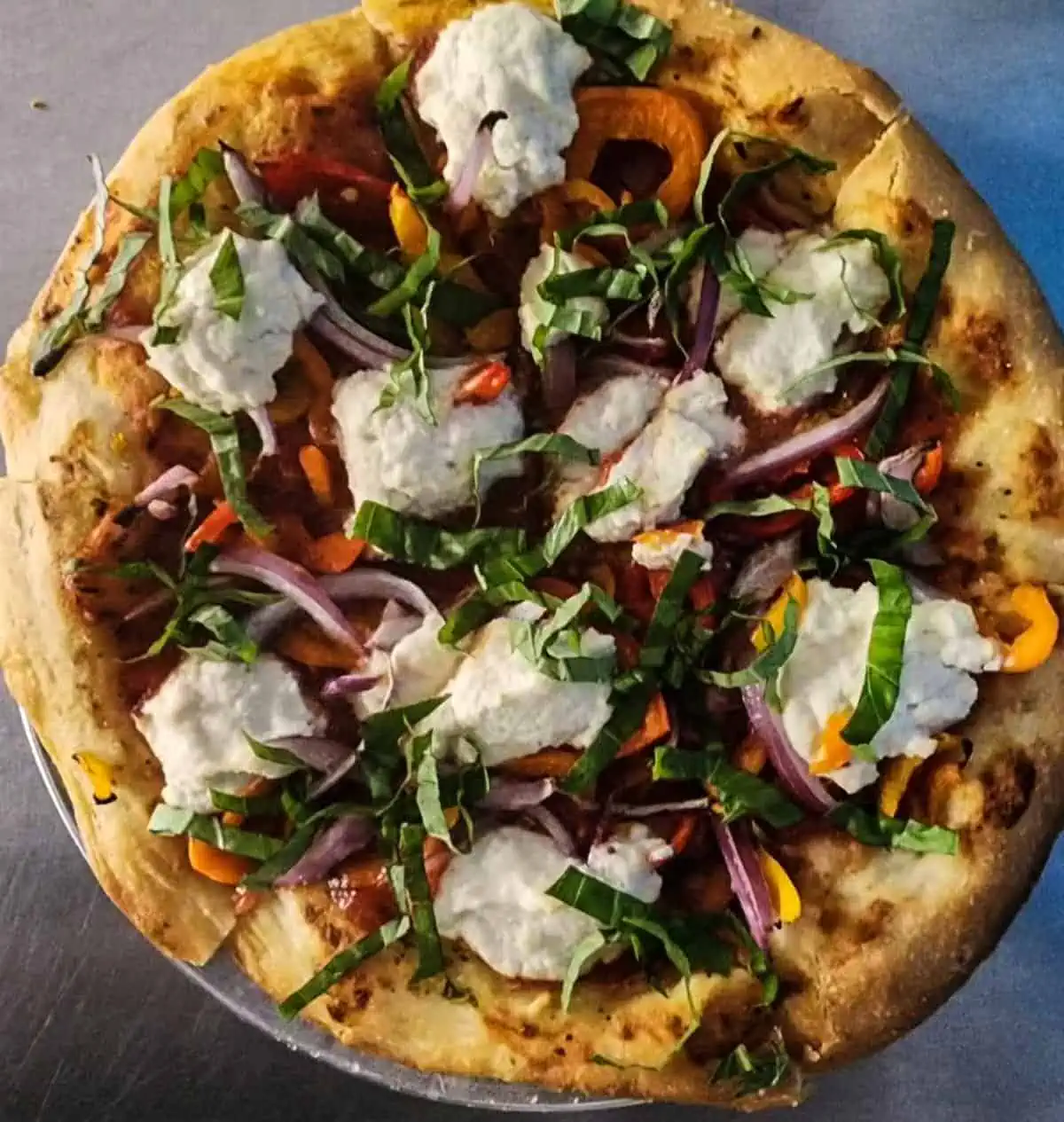 Positive change is all about making better choices that taste great, which is exactly what you get at this 100% vegan eatery. Even the "hot honey" is made from apples! Want a plant-based pizza party? Start with buttery garlic knots, kale Caesar salad, personal pizzas with both gluten-free and soy-free options, and finish with their renowned small batch vegan ice cream. It's a foodie wonderland for both kids and kids at heart.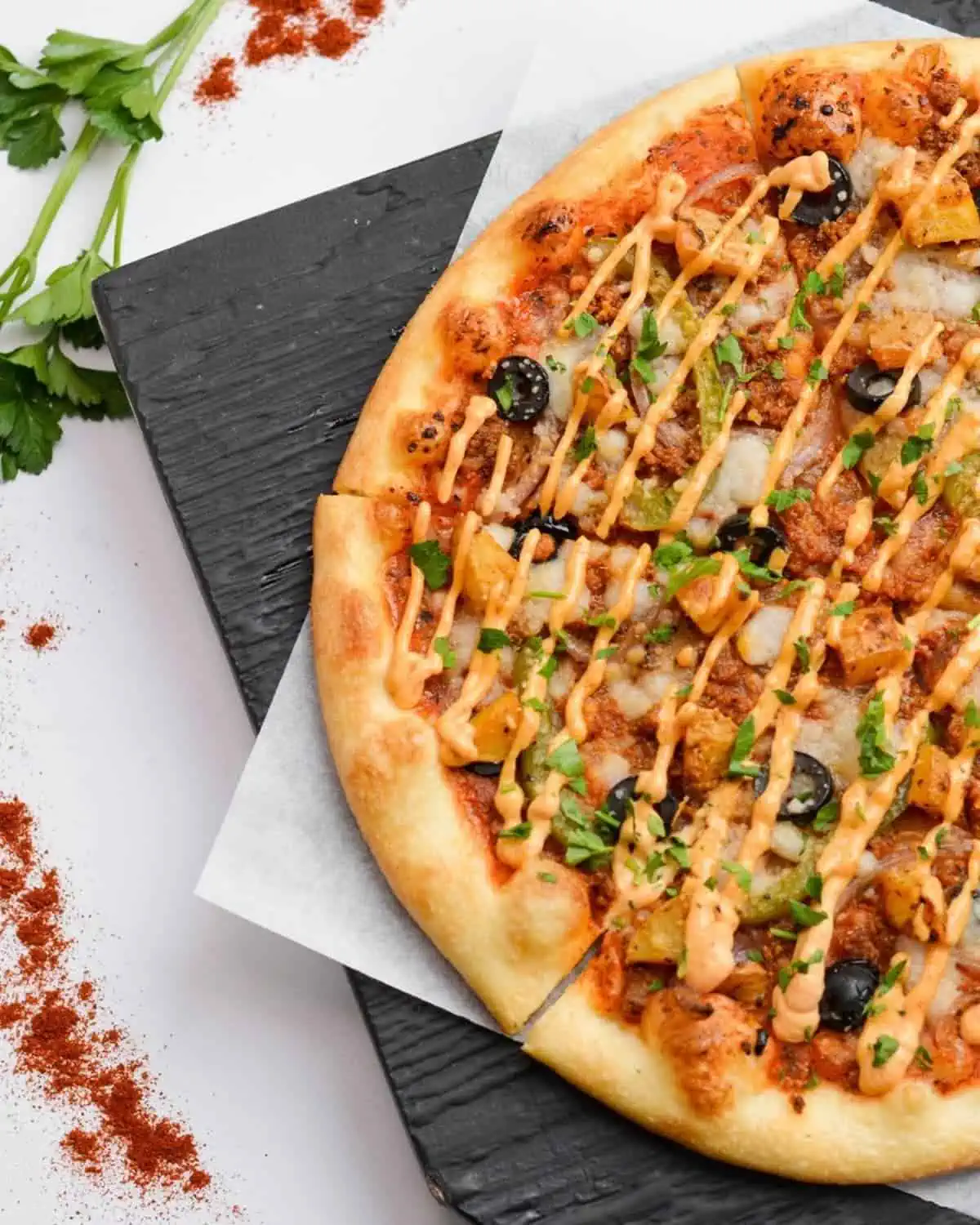 Healthy & Fresh Vegan Restaurants in Portland
Seeking a dish as green as a Portland pine tree? These vegetable-centric restaurants are worth a visit!
Meaning "beautiful apple" in French, this European-style café takes a sophisticated approach to healthy eating, while incorporating Portland's friendly, easygoing attitude. Bring your friends, bring your family, and bring your dogs; everyone loves these juices, smoothies, açai bowls, salads, and paninis, made fresh to order and customized to taste. You can even kick back with a glass of wine or craft beer if it's been that kind of day.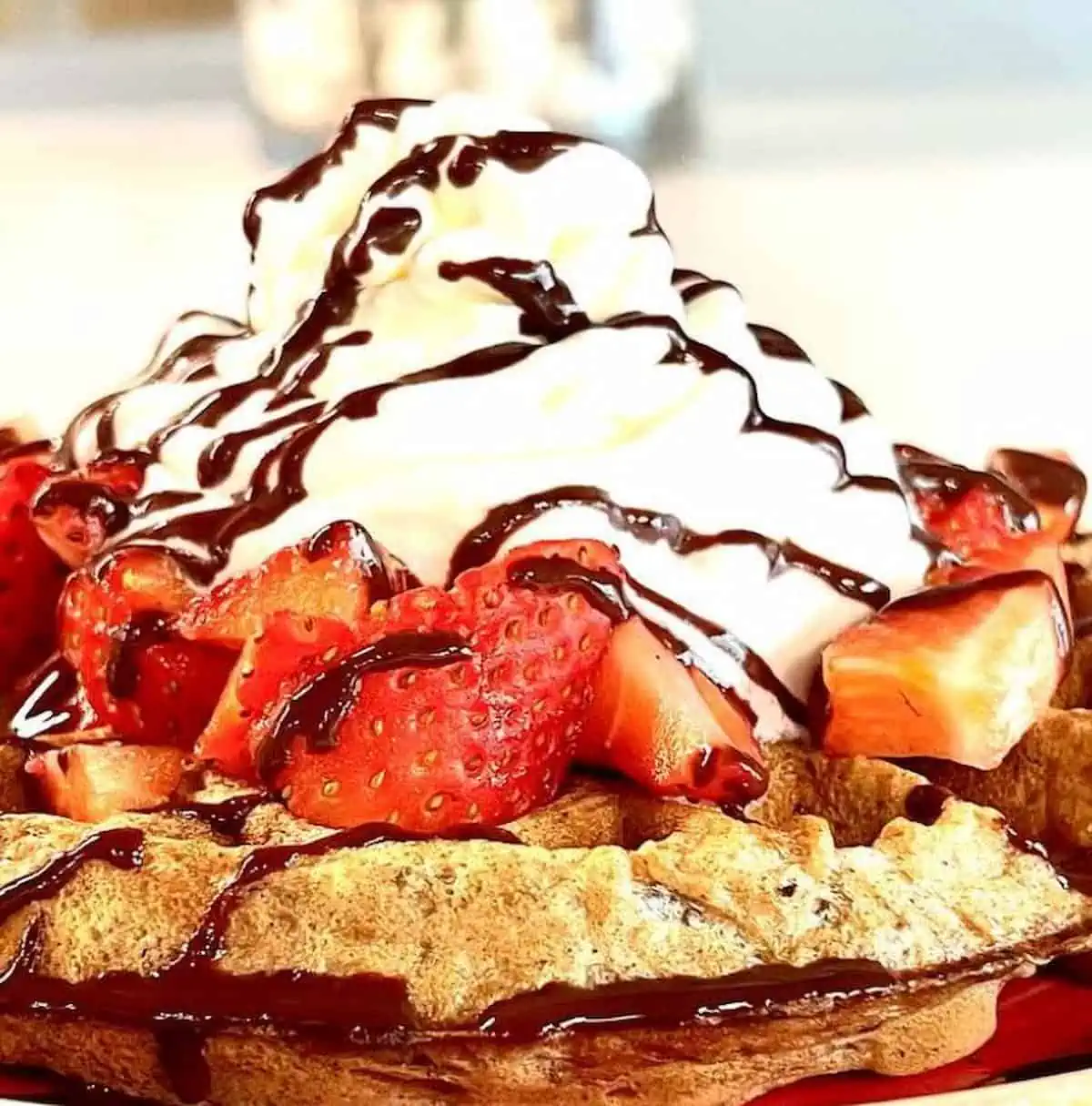 An indispensable fixture of the Portland dining scene for over 20 years, Blossoming Lotus uses seasonal whole foods to create deeply nourishing meals that only taste decadent. Raw foods feature prominently, from the Live Nachos to the crowd-pleasing array of desserts. Bowls are abundant, taking inspiration from world cuisine to bring yakisoba, bibimbap, and pesto pasta together on one shared table. No matter where your tastes take you, be sure to swing by the bar where a perfectly paired cocktail (or mocktail) is waiting for you.
Treat your gut to a feast of natural probiotics in all things fermented. Get the inside scoop on handmade tempeh, koji, kombucha, and nut cheeses that are ready to eat, or take a workshop to make your own. Even if you're skeptical of this funky food trend, one meal of cheesy rigatoni or a mung bean tempeh melt will instantly win you over.
For the quintessential Portland hipster experience, this is the best example of fresh, locally sourced, 100% gluten-free, and vegetarian cuisine served with a modern, highly Instagrammable aesthetic. Everything can be made vegan, though some conventional eggs are included, particularly in breakfast offerings. Everyone raves about the impossibly creamy mac and cheese that's stunningly dairy-free, walnut chorizo quesadilla that has nothing to do with meat, and other healthy indulgences that could win over the most skeptical omnivore.
Build your own bowl or get a signature combination of vegetables, greens, and grains that are guaranteed to drive you wild. It won't even feel like healthy eating when you smother lemony Brussels sprouts with hazelnut red pepper romesco sauce, but your body will surely thank you later. When you want tons of texture and bold flavor, these meals are just what the doctor ordered.
Portland Vegan Bowl Restaurants
Get a taste of Rio de Janeiro with the iconic açai bowls it's best known for. Straddling the line between breakfast and dessert, they're a refreshing treat that tastes like soft serve, but it is made with only frozen fruit. Get yours topped with a rainbow of assorted fresh and dried fruits, nuts, seeds, granola, and nut butters in any combination your heart desires. If you're craving something savory, try the vegan Brazilian cheese bread made from chewy tapioca starch and is naturally gluten-free.
Fresh, fast, affordable, and full of flavor, these vegan rice bowls transcend all dietary restrictions and always hit the spot. The hardest thing about coming to Native Bowl is deciding on which bowl to get. Portions are generous and could easily feed two with small appetites, or one ferociously hungry eater.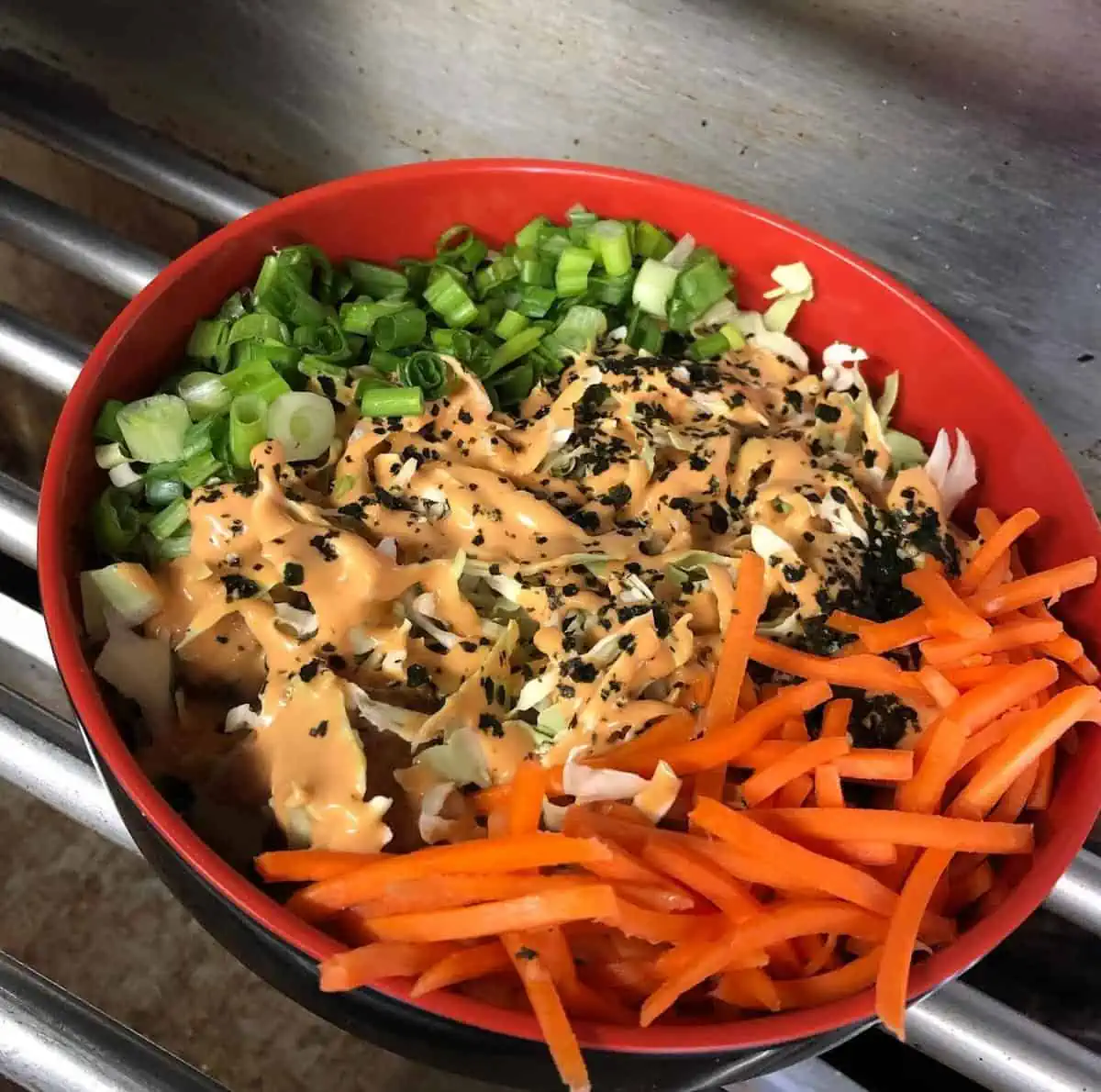 Hate making decisions when you're hungry? The Whole Bowl will make it easy for you. All they serve is two sizes of their classic combination that consists of brown rice, black and red beans, avocado, cilantro, black olives, salsa, and Tali Sauce. Ask for the vegan version to omit the sour cream and cheese. It's a simple, dependable combination that always delivers on nutritious, delicious satisfaction.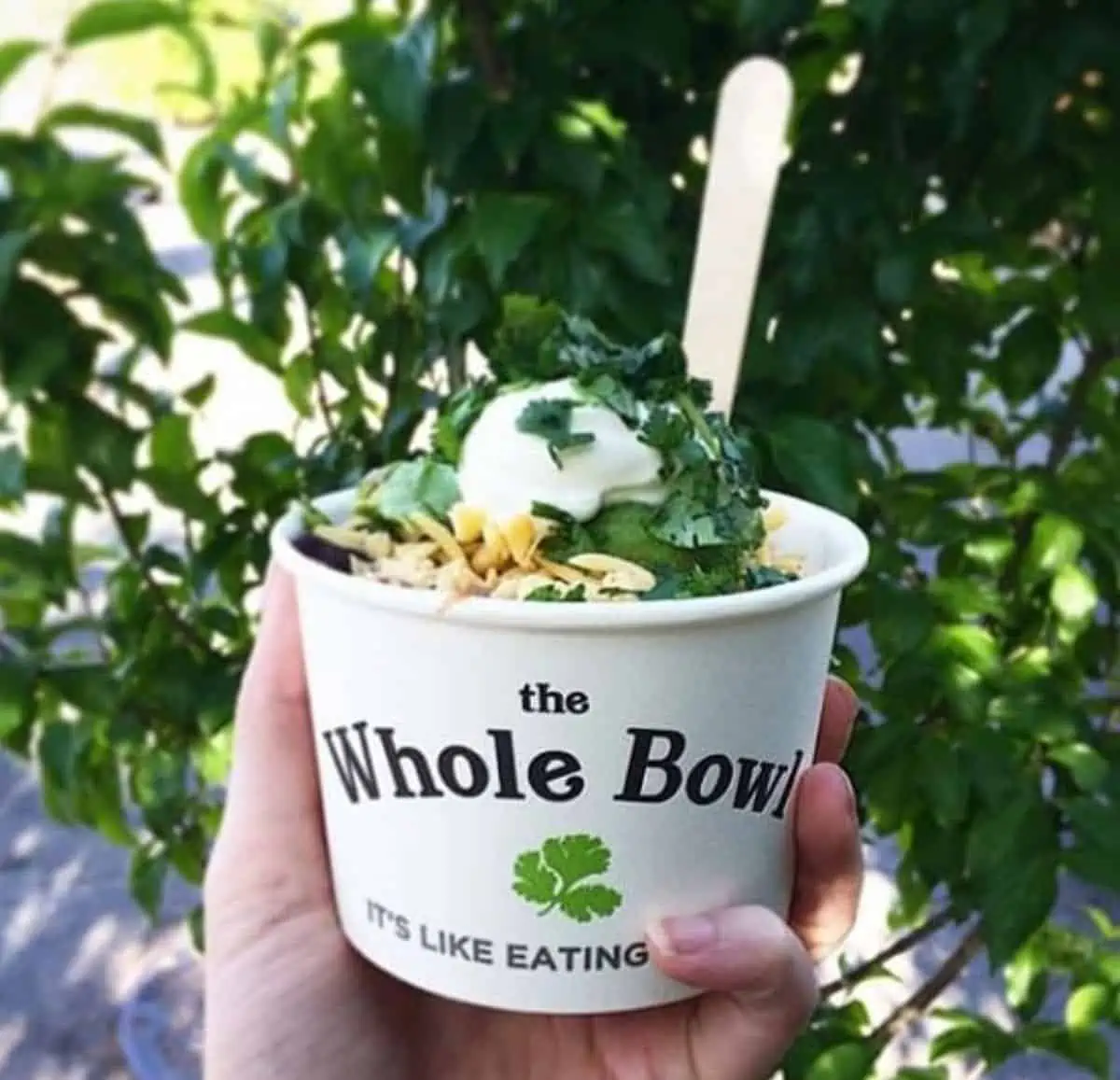 Best Juice Bars in Portland
Dedicated to keeping it real with raw, plant-based foods, you'll find nutritionally focused juices, shots, smoothies, açai bowls, oatmeal bowls, soups, grain bowls, and coffee for all your refueling needs. You can find four locations across the city for loading up on these super fresh superfoods.
Put a smile on your face when you drink in cold-pressed juice, smoothies, and bowls made with the very best local produce Portland has to offer. There are plenty of more hearty meals as well. Choose from crisp waffles to avocado toast, cozy oatmeal to a spicy chipotle grain bowl. Stop in to instantly boost your mood, no matter what you're craving.
Cure whatever ails you with this 100% plant-based, gluten-free menu focused on green juice, like the popular Liquid Sunshine, rich smoothies, protein-packed meal shakes, and leafy lunch bowls. There are four locations to indulge in, guilt-free, seven days a week.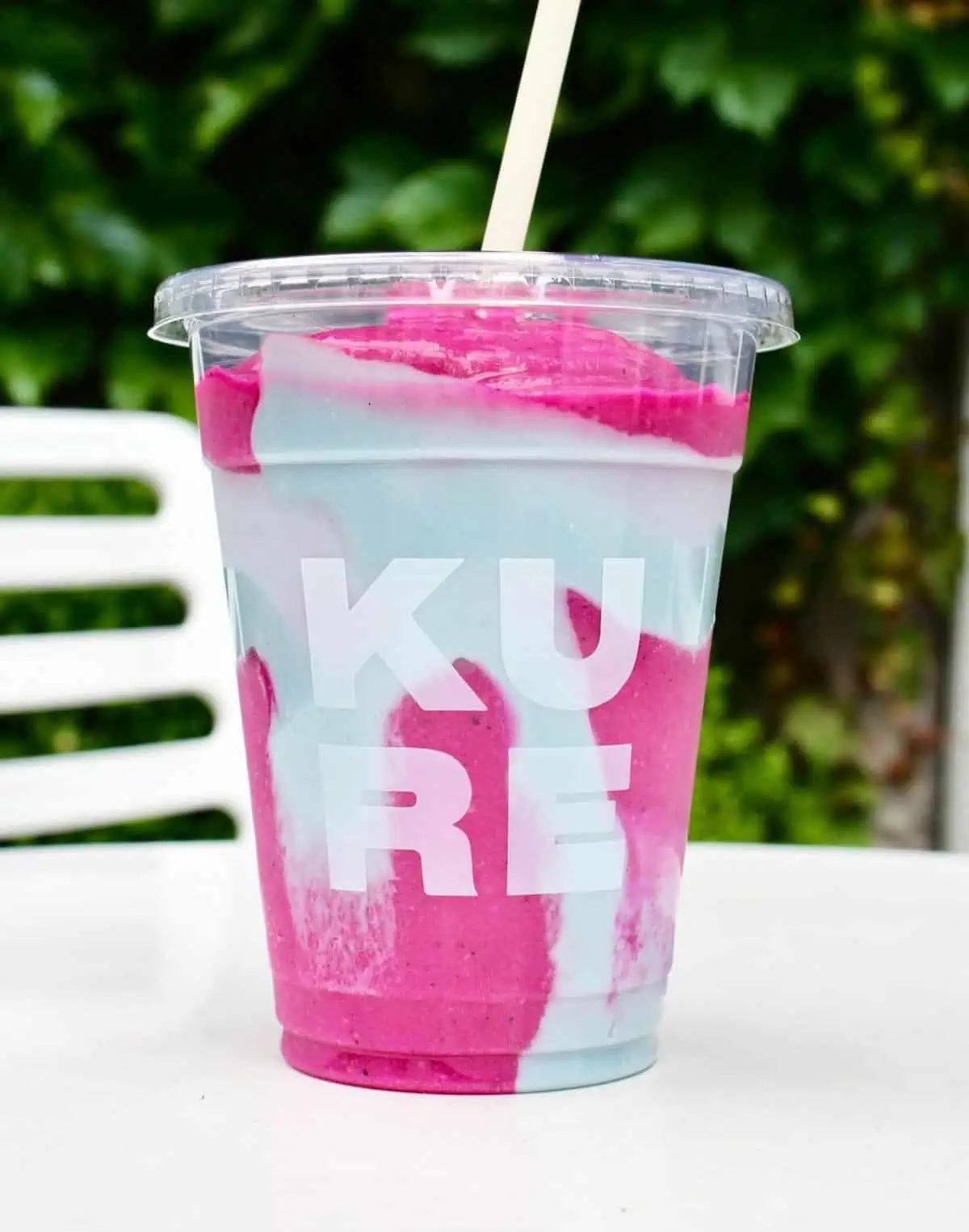 What began on the sidewalk with a single bike-powered blender and cooler full of produce has grown to three brick-and-mortar locations, buoyed by critical success on Shark Tank in 2014. Now, these fully customizable plant-based smoothies and bowls are pedaling forward with restorative blends of acai, chia pudding, steel-cut oats, and a rainbow of premium toppings. Whether you want yours with a spoon or a straw, the results are refreshingly sweet!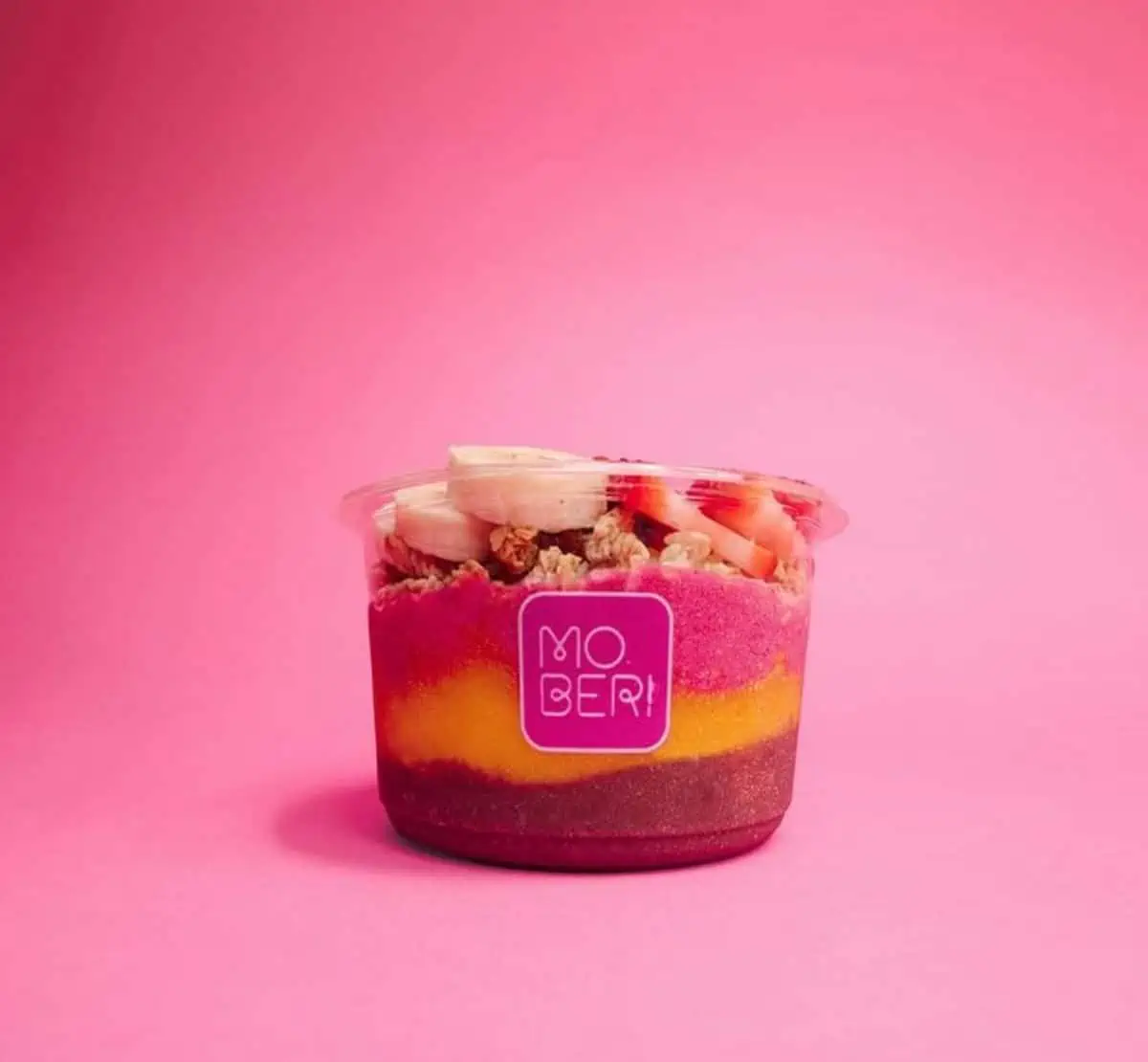 Asian and Fusion Vegan Food in Portland
Offering authentic Asian cuisine or more creative combinations, you can find representation from almost all cultures, and sometimes with surprising twists.
The jade rabbit is deeply embedded in Chinese mythology, but in Portland, Oregon, it's a very real purveyor of incredible dim sum made by hand every day. Chili oil wontons are a must-order, bundling a tender morsel of meatless pork and beef into a delicate wrapper and lavishing it with mouth-numbing hot chili oil, garlic, and cilantro. That single bite is worth a trip from anywhere, but you should really take the opportunity to try as many dim sum delights as possible, since it's almost impossible to find such a wide variety of authentic offerings without fear of hidden meat or fish.
When the sauces alone are good enough to drink, you know you're in for a good meal. You can smell the rich, aromatic Thai spices before you take a seat, perfuming the air with lemongrass, makrut lime, ginger, garlic, and chilies. It's an intoxicating experience, even without taking advantage of the considerable cocktail menu. For those on a budget, take advantage of the lower-cost lunch menu that offers an abbreviated list of top hits, complete with curries, stir-fries, noodles, and soups.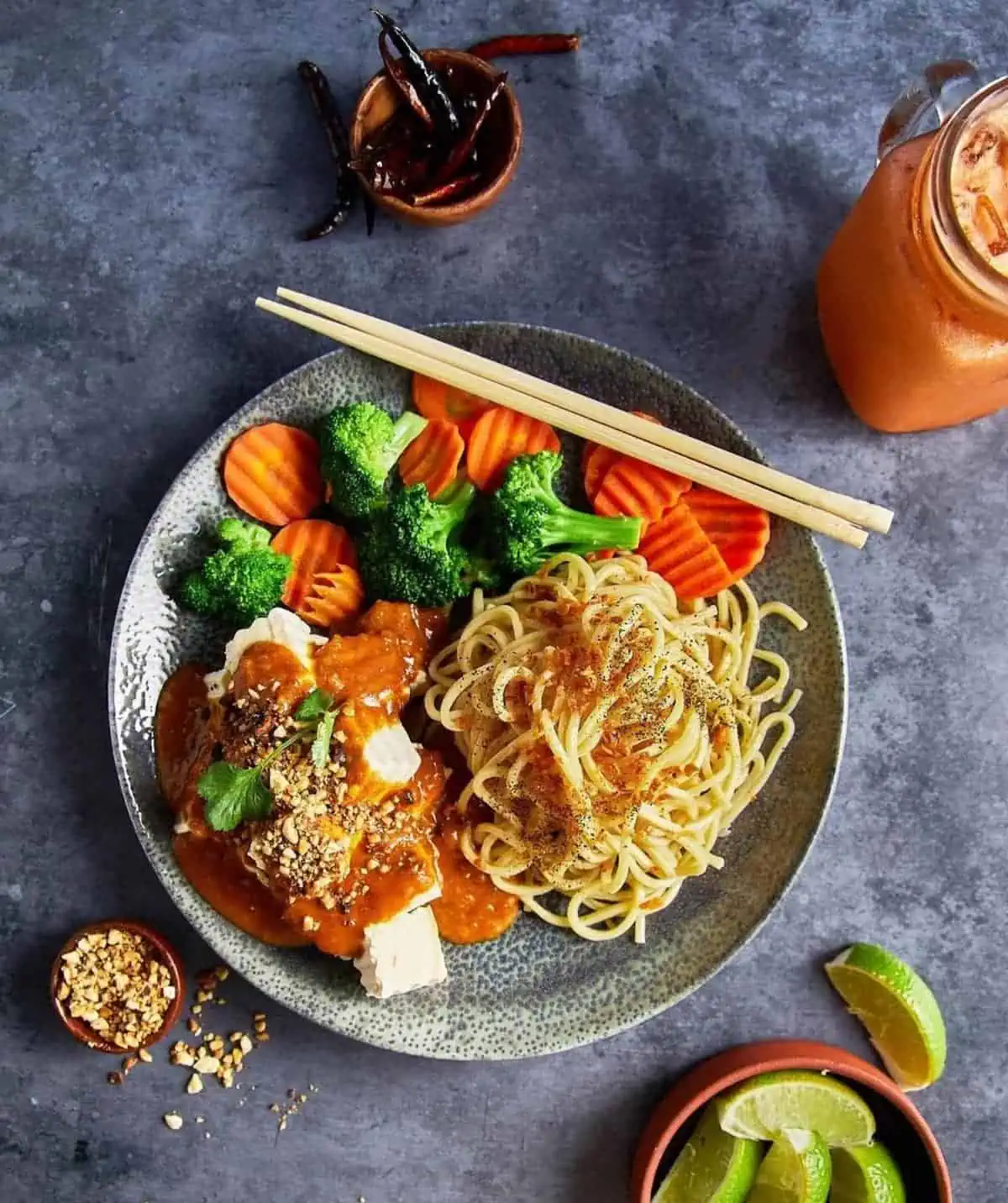 Take Vietnamese, vegan street food, add whimsy and imagination, and you might get something along the lines of Mama Dut. Bahn mi are constant staples of the menu, but the fillings are ever-changing with the seasons and the chef's whims. Sometimes you'll find crisp baguettes stuffed with fried mushrooms, other times meatless spam, but the results are always deeply satisfying. Hungry fans will wait in line for hours, even in the rain, for good reason.
Portland's only Sri Lankan restaurant just happens to be 100% plant-based and mostly gluten-free. For the adventurous eater, this is your opportunity to try something new! Stand-out dishes include Kottu Roti, which is stir-fried with JUST Egg and your choice of curry, string hoppers, consisting of round noodle patties with dal and potato curry, and Parippu Vade, otherwise known as Pigeon Pea Fritters.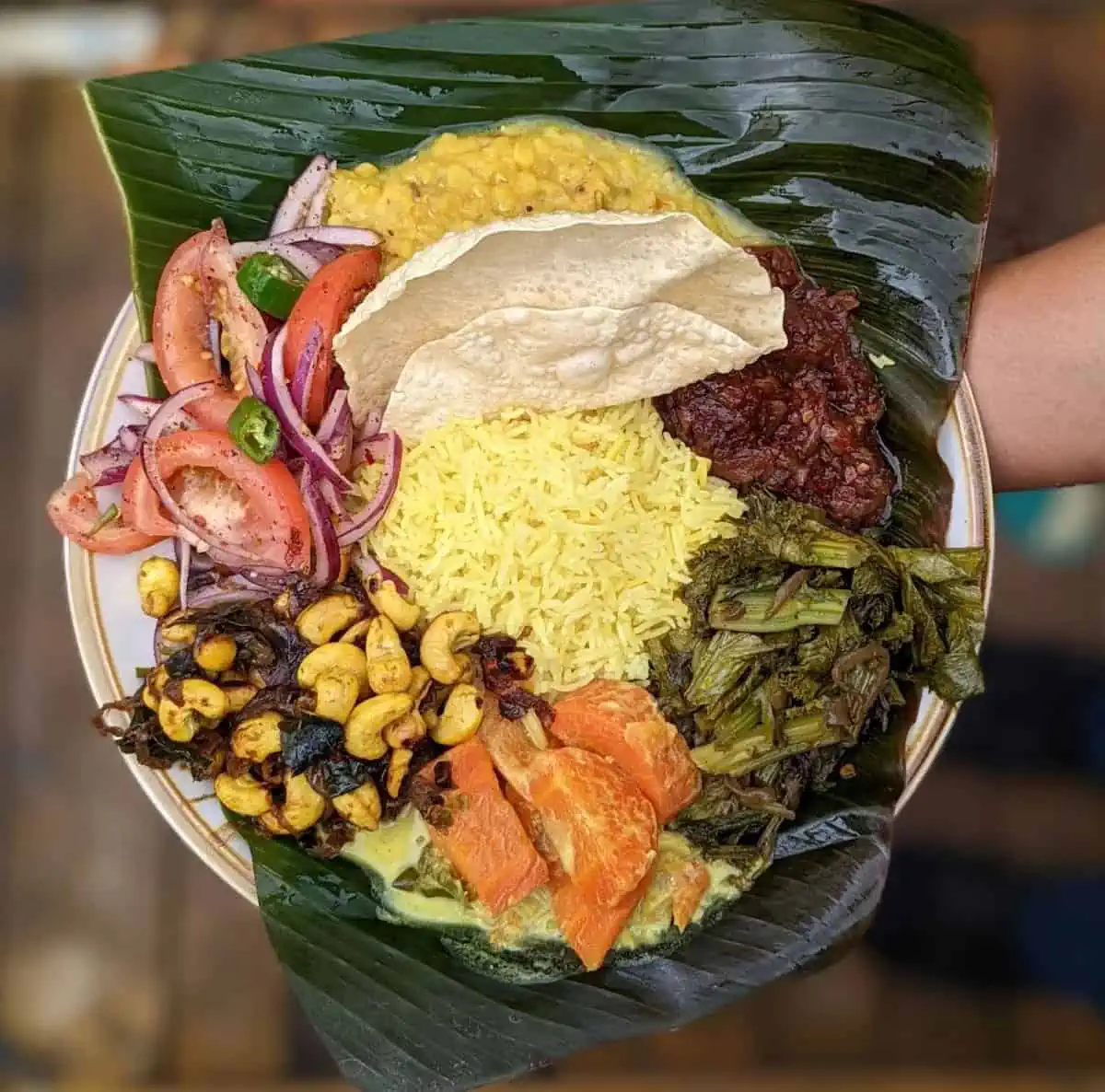 Shining a light on the unsung heroes of Japanese comfort food, Obon Shokudo has garnered national acclaim right out of the gate with its artfully composed bento boxes, onigiri, curry udon, and katsu burgers. There's even sushi for dogs, made of just rice and nori, which you can get for free! Since it was recently awarded the Best New Vegan Restaurant VegOut Magazine, you might want to make a reservation or order ahead.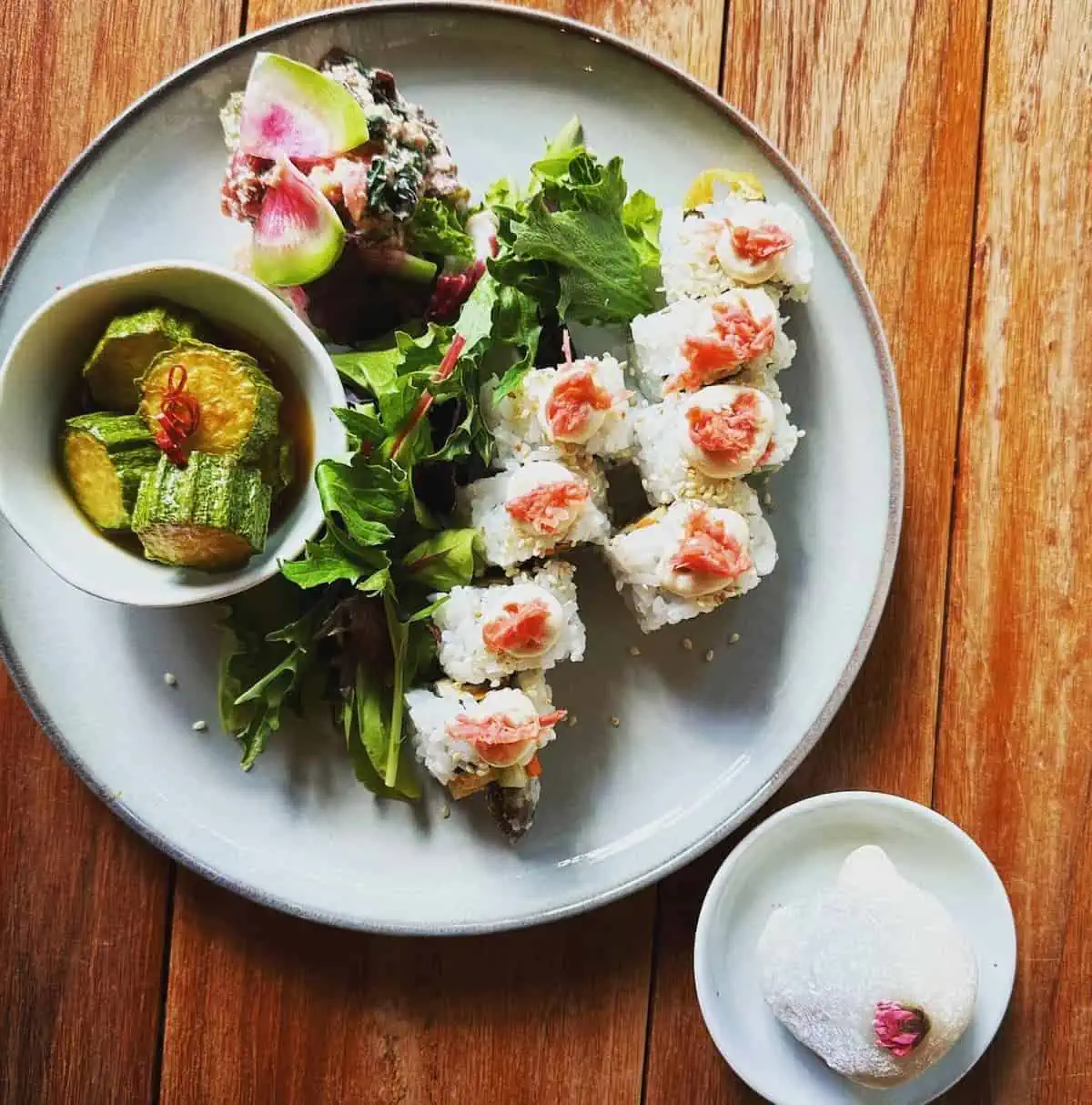 If you've ever enviously eyed buttery naan or bowls of creamy saag paneer, this is where you can finally fulfill those cravings. Everything on the menu is completely vegan, right down to the mango lassi, made with coconut yogurt. For the most variety in one order, go for a thali plate, which combines your choice of curry with eight boldly seasoned sides and garnishes.
Hot and sour soup may seem like a standard offering, but when it's made without egg, chicken stock, or mystery meat, it's truly a special treat. You'll find this and all your favorite authentic Chinese, Chinese American, and Chinese-fusion dishes here, made completely vegan. The menu is about a mile long, so come hungry, bring friends, and plan for leftovers!
Vegan Mexican, Spanish, and Peruvian Restaurants in Portland
Add some spice to your diet; tacos aren't just for Tuesdays! Plant-based Mexican, Spanish, and Peruvian eats always hit the spot, every day of the week.
Transplanted from Valparaiso, Chile to the Pacific Northwest, the flavors of South America are alive and well in these fully plant-based dishes. Ideal for sharing small plates and strong drinks, it's also home to the largest selection of Pisco in all of Portland. Beet-infused pisco cocktail paired with baked or fried empanada, anyone?
For a tiny trailer with a short menu, they sure are pumping out huge flavors. Choose from tacos, taco salad, nachos, or breakfast hash, and get ready to groove. You can't go wrong since everything is 100% vegan and 100% delicious.
This taqueria pop-up turned full-time restaurant serves up more than great Mexican eats. Fostering a sense of community, particularly among queer and trans people of color, Mis Tacones brings everyone together around the shared experience of food. Seitan is the premier protein available in tacos, burritos, tortas, nachos, and empanadas, all boldly seasoned and brilliantly flavorful.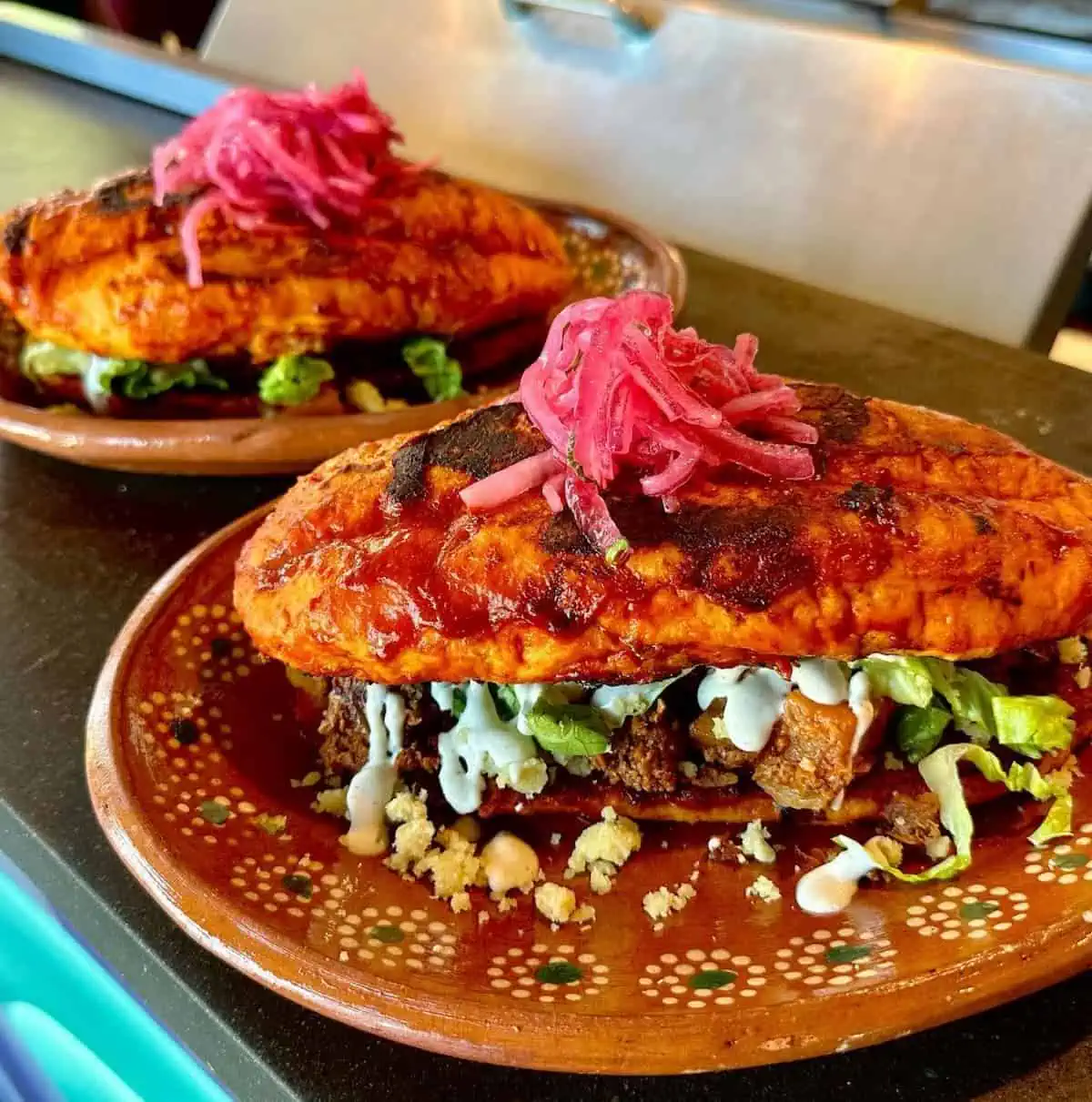 There's a world of flavor found at this pop-up operating out of Fortune Bar. Get everything from burgers and Nashville chicken to elote and nachos. Street tacos and the Crunch Wrap Supreme are top sellers, but you might want to order ahead if you have your heart set on one of these specialties. Supplies are limited and going fast.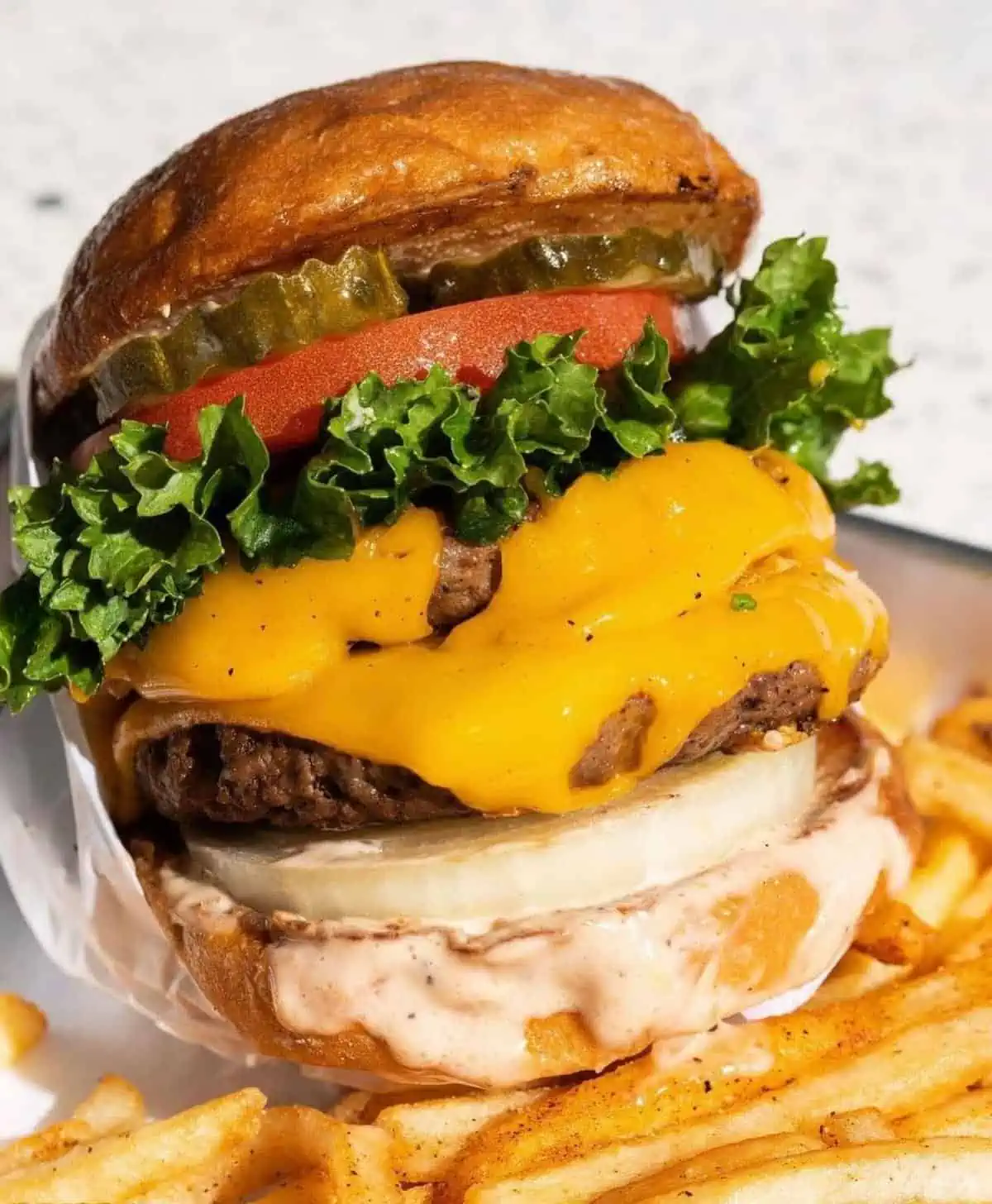 Vegan Beer and Bar Food in Portland
Banish memories of late-night drinking when the best you could hope for was some stale peanuts or limp French fries to tide you over. These modern watering holes have expert mixologists and chefs in the kitchen, focused on making happy hour even more delicious. Who's ready for vegan bar hopping?
For dinner, drinks, and a show all under one roof, take a deep dive into Black Water. Catch live bands rocking out at this vibrant hot spot while sipping creative cocktails and elevated vegan pub grub that's worth a trip all by itself. They pull out all the stops with loaded nachos, chili cheese fries, monster burgers, and gut-busting sandwiches, along with some lighter salads to balance everything out.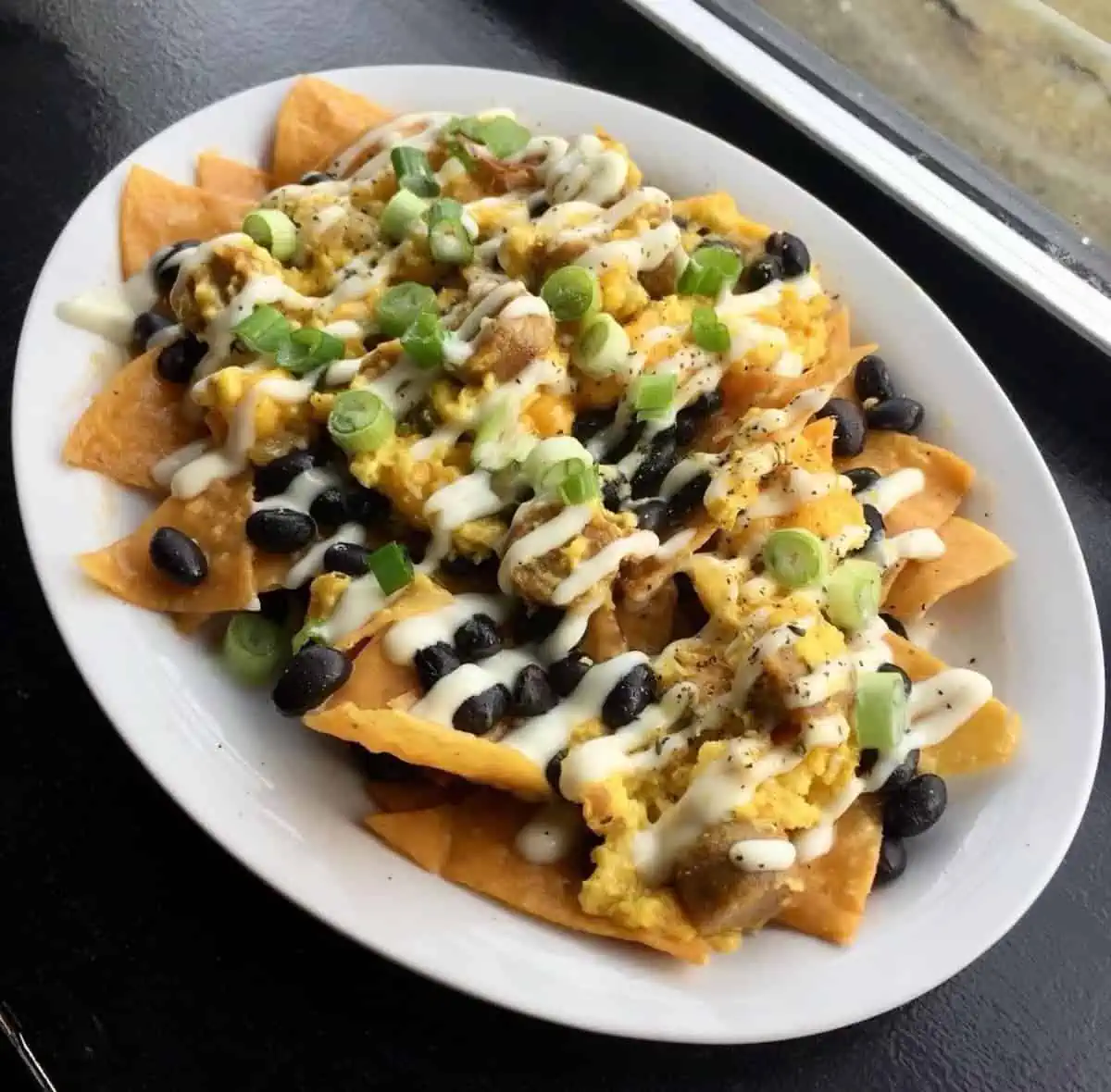 Say hello to your new home away from home. It may be a bar at heart, slinging masterfully mixed cocktails alongside an extensive list of bottles and brews on tap, but it's so much more than that. It's a chill place to relax, catch up with friends, meet new ones, get work done, let loose, or even take the family. Dishes like the Weeping Tiger Sandwich, made with tofu cutlets, avocado, jalapeño, sriracha, and miso mayo on bread. have been winning new fans from day one. Consider this your top late-night haunt, open every day until midnight, and until 2am on Friday and Saturdays.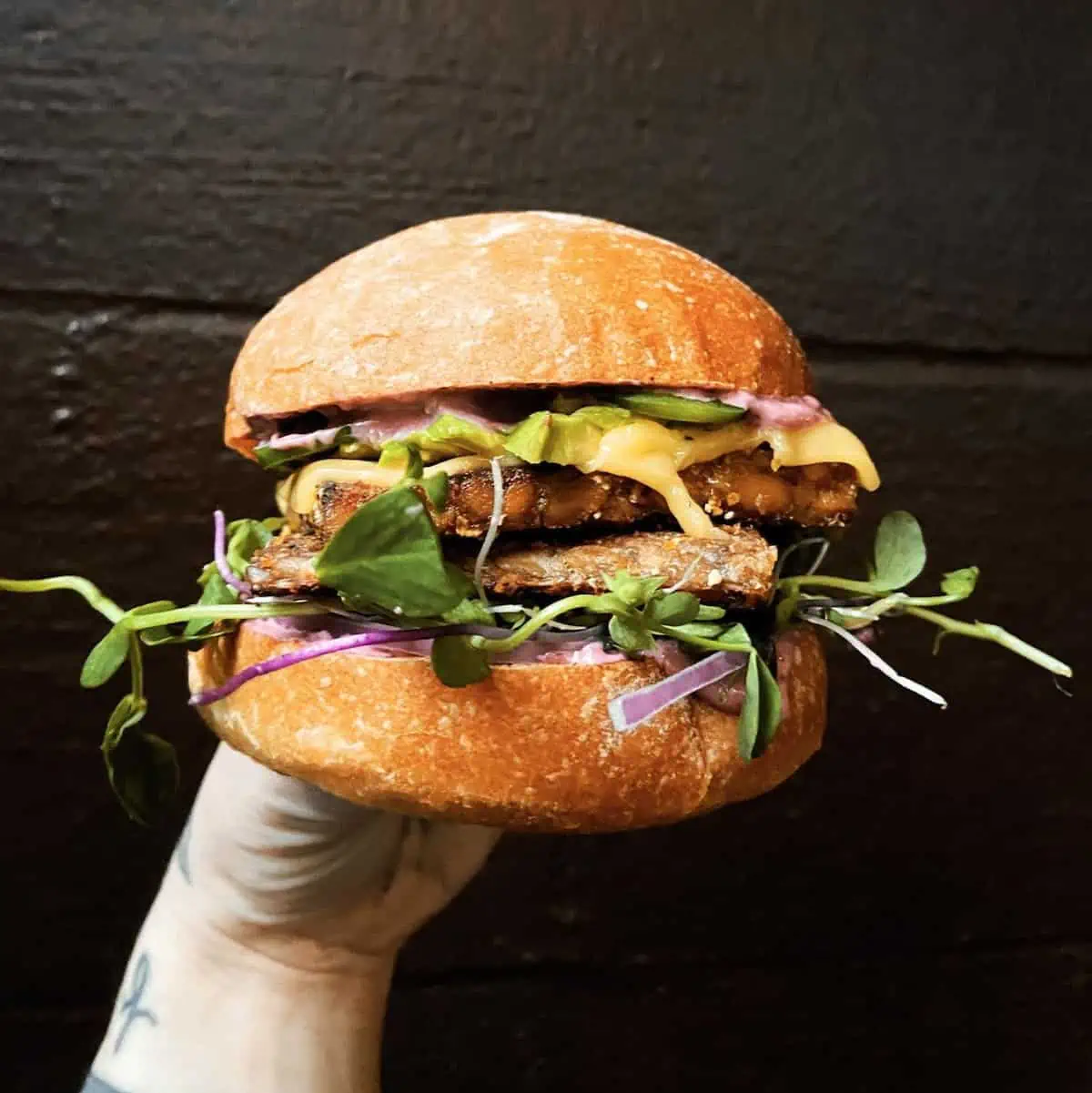 Whether you're an early riser or still out from a long night of revelry, consider this your one-stop spot to detox or re-tox as desired. Pop in for an oat milk latte or an ice-cold beer, or mix it up with Grandpa's Coffee, combing your morning brew with a shot of whisky to get everything in one convenient cup.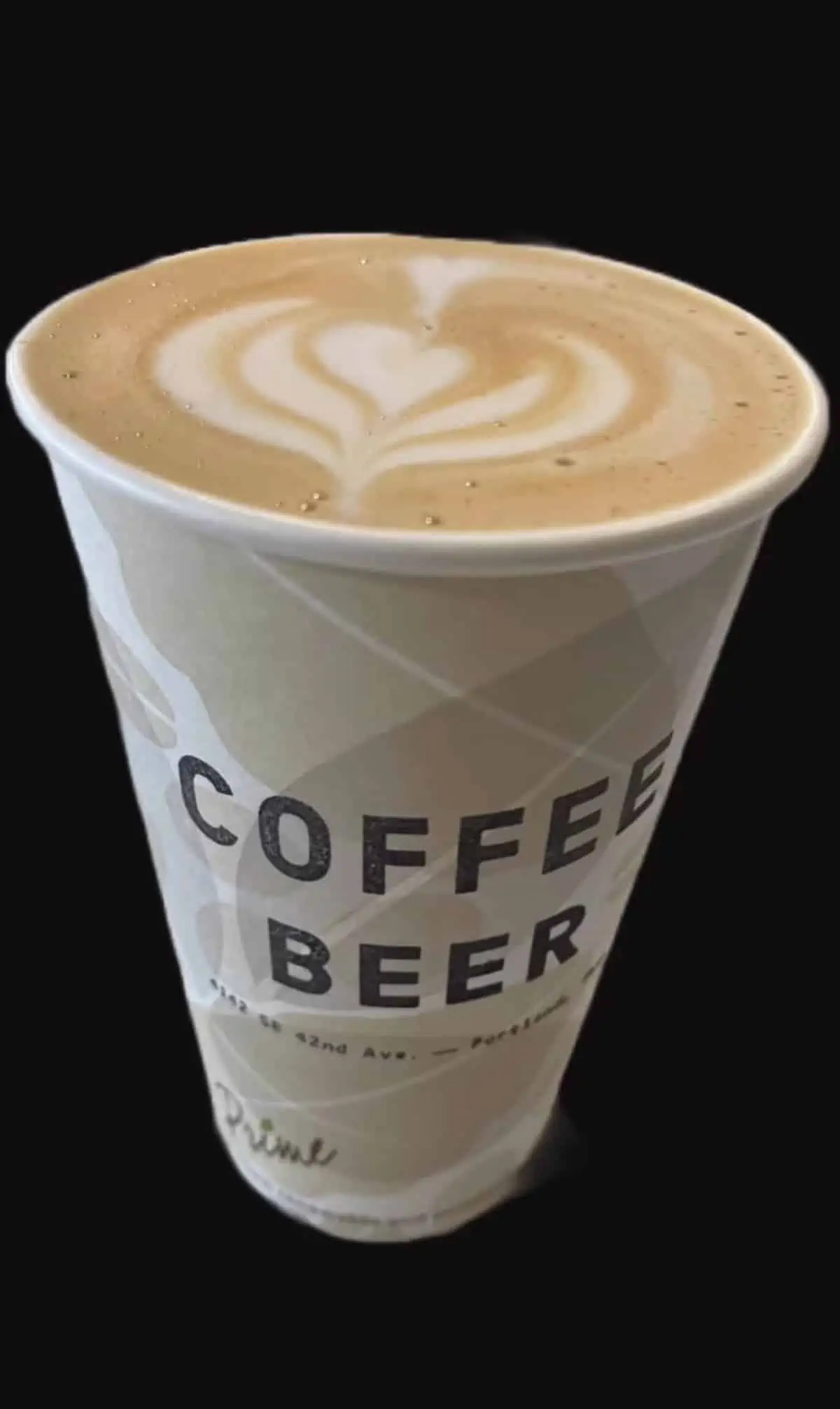 Look for the neon sign on SW 11th St and you'll be headed to the right place. Plant Based Papi is in the kitchen providing sustenance for party people on the dance floor. Cocktails are on the more expensive side, but you can't put a price tag on this fun-loving vibe.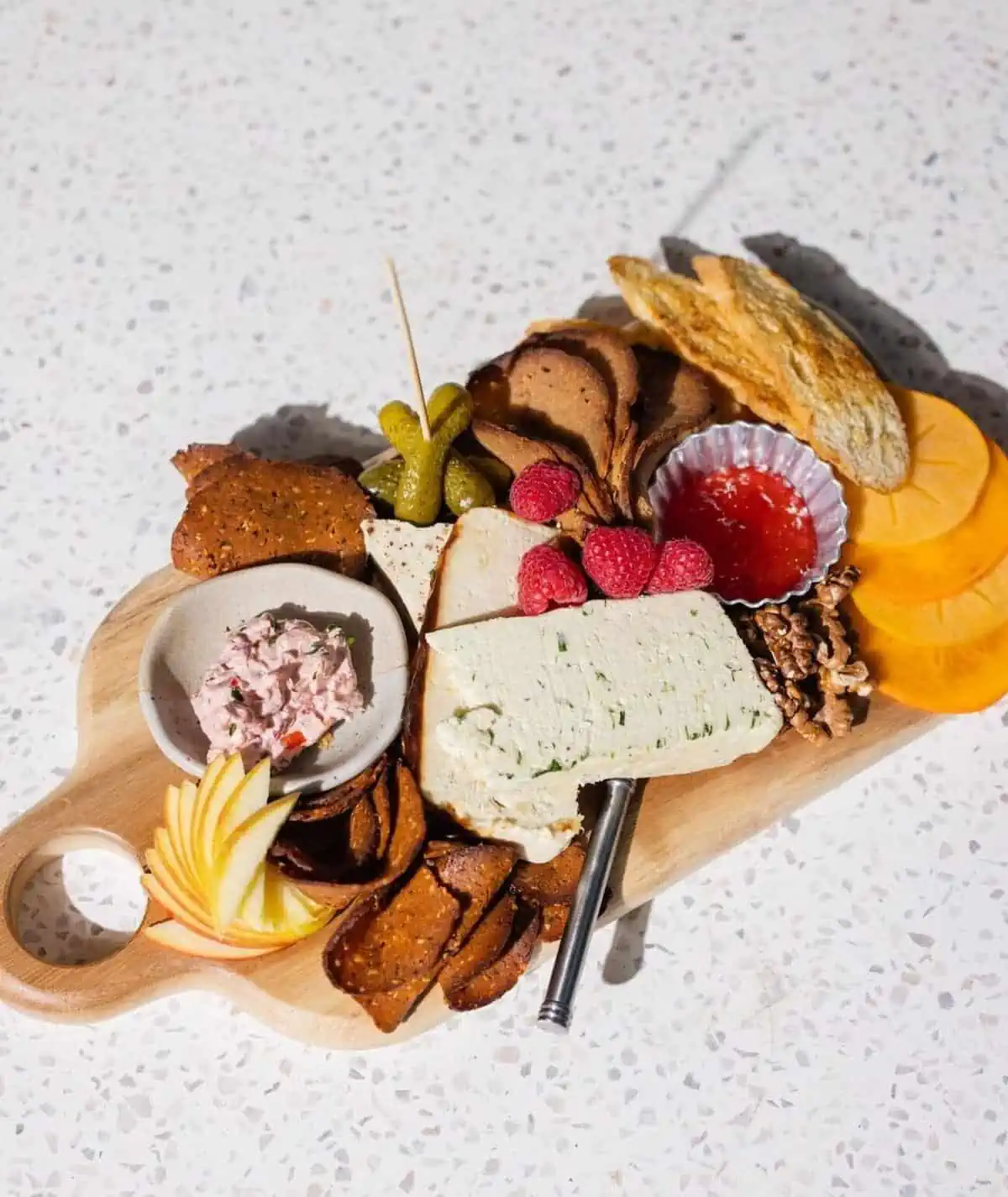 Known as Portland's first kosher brewery, you can order any beer here, as they are all vegan! This cozy local pub offers a sunny porch to enjoy your beverage on and is also dog-friendly!
What's good in the neighborhood? Everything on tap at this bright, dog-friendly bar and plant-based coffee house. Oat milk is the only creamer here, and while light snacks are available, outside food is encouraged. It's a prime space for events like yoga, paint parties, trivia nights, and art openings, so there's always something fun to do and see.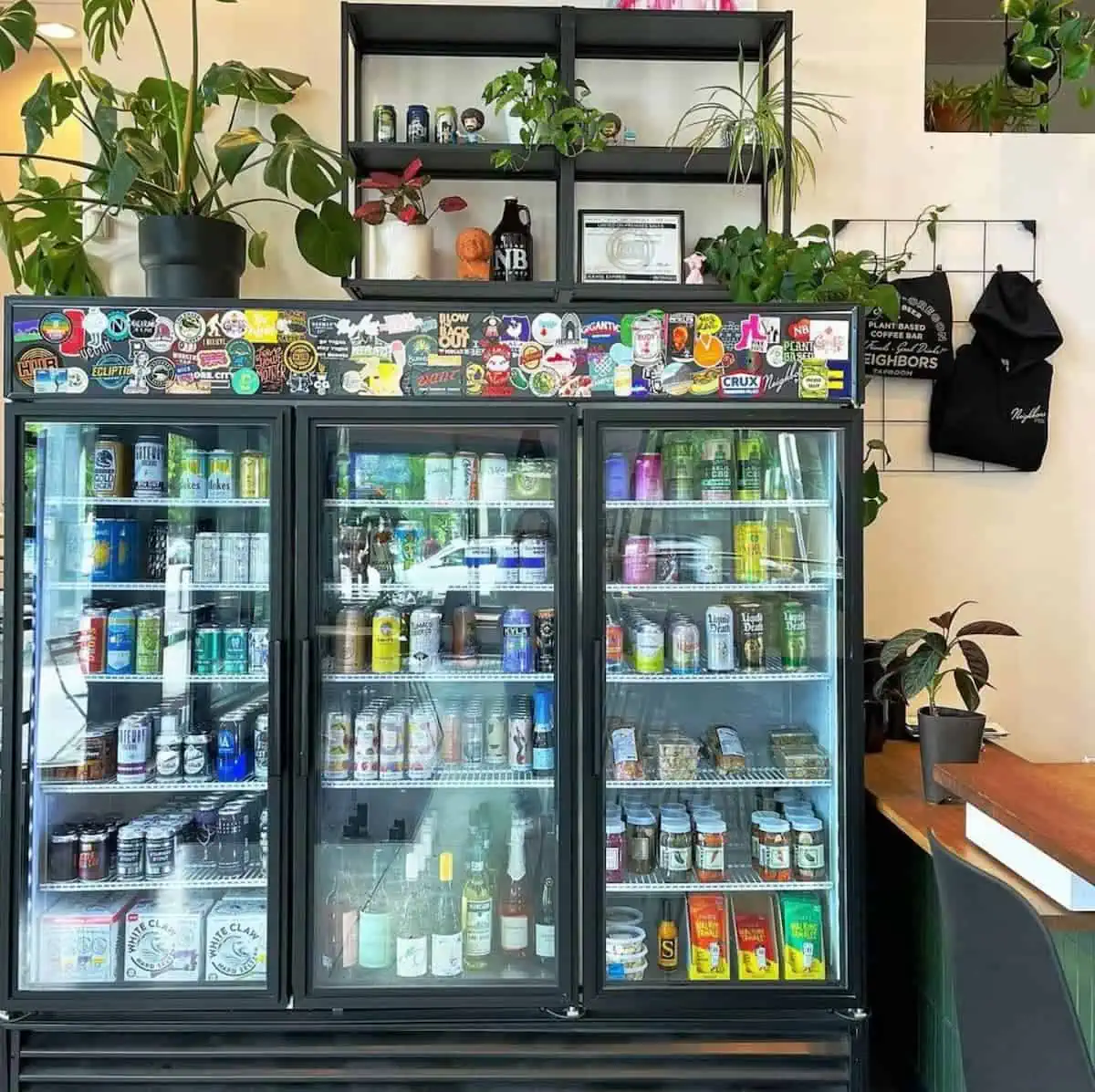 Imagine the ambiance of Hooters, complete with scantily clad women and sports blaring on multiple screens while beer flows freely but add a completely plant-based menu into the mix, and you'd have SportBox. Beyond just watching the game, you can also get into yourself, with e-sports tournaments and video poker if you're in a gambling mood. Dig into potato skins, nachos, burgers, and pizza while cheering on your favorite time. You'll always feel like a winner when everything is vegan!
Dark and mysterious, the atmosphere in this pub specializing in craft cocktails and vegan eats only adds to the appeal. Even in broad daylight, it might be hard to guess that such meaty fare was made of soy curls and tofu rather than animals. Take a seat at the bar to watch cocktails take shape, or retreat to the back patio for a cool, quiet escape from it all.
Vegan Cafés in Portland
Coffee isn't just a beverage in Oregon; it's a whole lifestyle. Cafe culture. Boasting more than 200 specialty coffee shops and micro-roasters throughout the state, including 80 roasters in Portland alone, these Oregonians know their beans.
The walls are black, and the espresso is black, but the smiles shine brightly from the crack of dawn to closing time. For your daily brew, a lavish latte, or light bites from locally sourced pastries, this should be your first stop. Chill inside or on the patio, catch up with friends, or focus in on work. Everyone is welcome, and no one wants to leave.
Whether hot or iced, the only milk lightening these lattes comes from soybeans, coconuts, almonds, or oats. Expect masters of the craft, pouring art into every cup with extra flourishes for special flavors, like genuine chocolate shavings sprinkled on top of frothy mochas. Don't forget to browse the selection of rotating baked goods, and they make some mean chai and matcha, too.
Rabbit food? Perish the thought. Sure, you can get plenty of leafy greens in their abundant bowls, but these are no sad salads. The Incredibi-Bowl is the most popular, and it lives up to expectations, brimming with succulent soy curls, miso-ginger broccoli, and tahini-topped kale so good that you'll want seconds.
Brewing a different type of bean with the same reverence as coffee connoisseurs, hot chocolate isn't just for kids here. Ceremonial cacao pasta, roasted over a wood fire provides a different sort of pick me up, available unsweetened, with coconut sugar, or monk fruit sweetener. Try a sample flight for a taste of 6 different flavors, like Snickerdoodle and Cherry Amor, with a glass of sparkling water as a palate cleanser.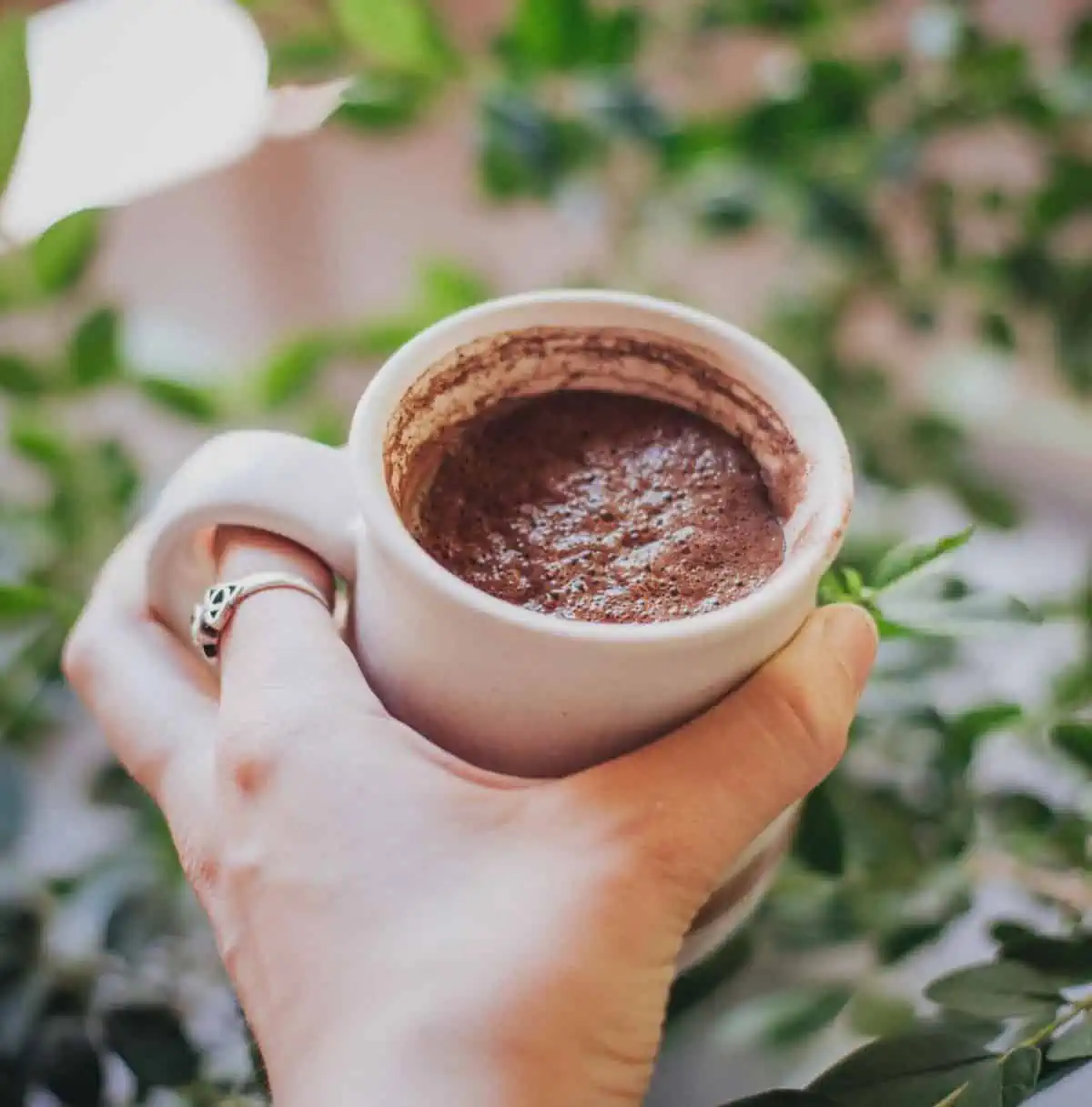 Vegan Bakeries, Donuts, & Sweets in Portland
Dessert should be considered a wholly separate meal, especially considering the incredible treats that await you here. Don't just leave room after dinner; make dessert the main dish!
Doe-NOT pass these fanciful fried treats! Portland's first and only 100% vegan donut shop pulls out all the stops, specializing in handcrafted, seasonal donuts and local coffee. Even the standard, everyday flavors go way beyond boring chocolate and vanilla glaze to include French toast, tiramisu-filled, and birthday cake doughnuts.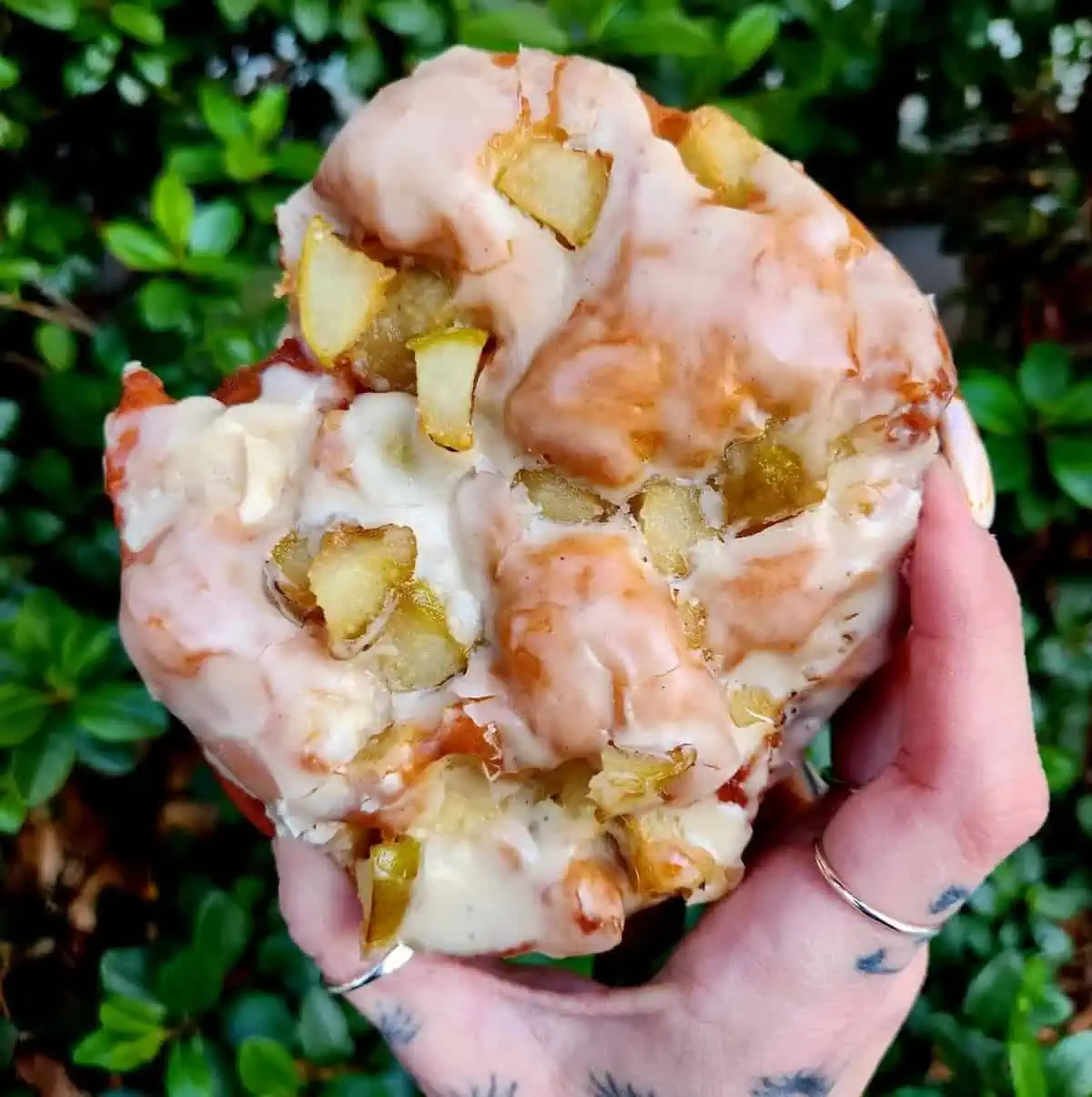 Roll up to get your custom vegan cinnamon roll, bedazzled with more toppings than your average ice cream sundae. There are also gluten-free options so everyone can get wrapped up in these buttery cinnamon buns.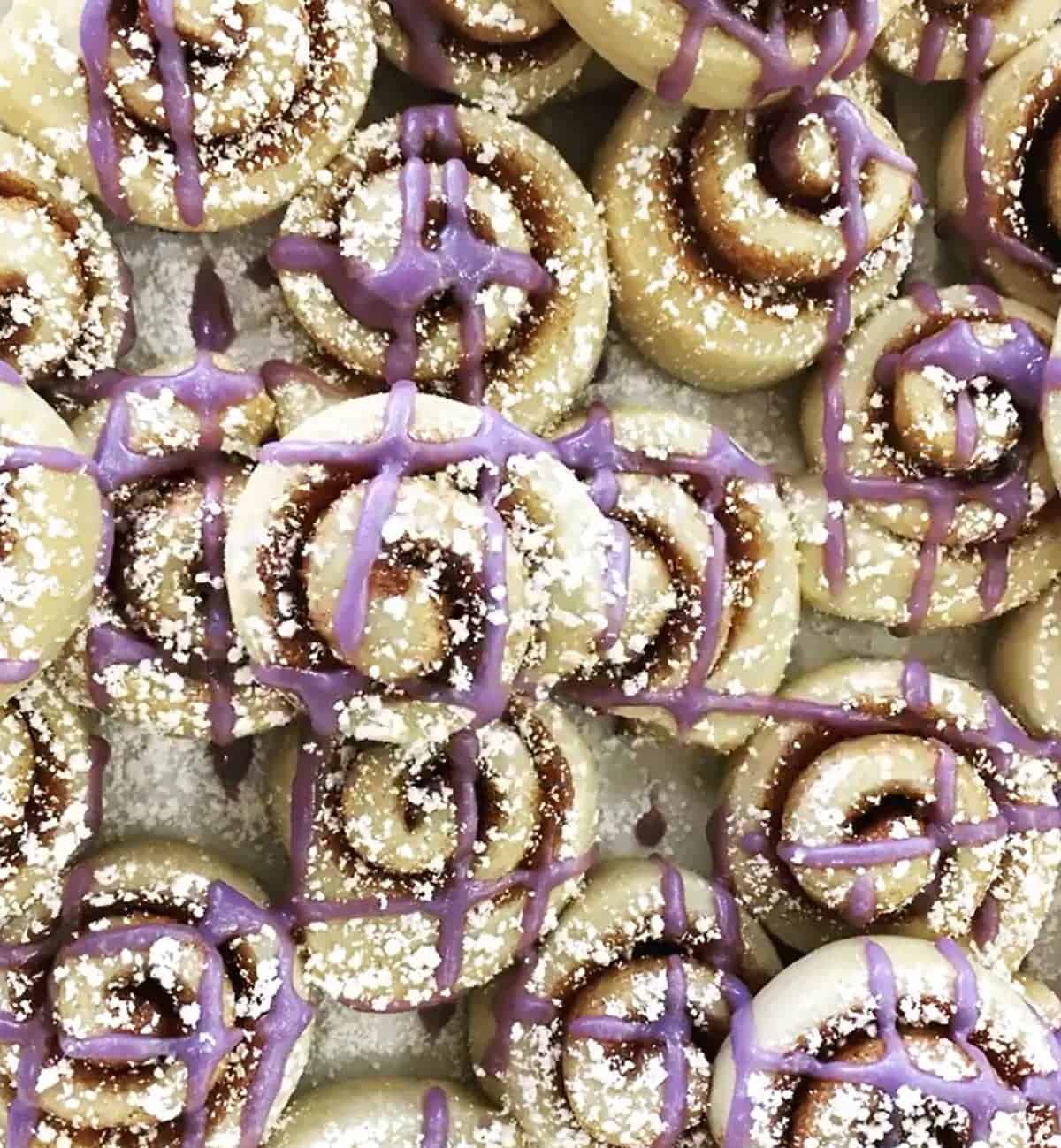 Proving that beans can do anything, chickpeas are transformed into luscious ice cream at this sweet scoop shop. Everything is vegan, gluten-free, and soy-free, including the chocolate and vanilla waffle cones. Don't be shy; sampling is encouraged!
Life is like a box of chocolates. If you're lucky, it will be more like a box of assorted truffles from Missionary Chocolates, because every decadent morsel is a little bite of pure joy. They also make perfect souvenirs to take back home … if you can manage to save them that long.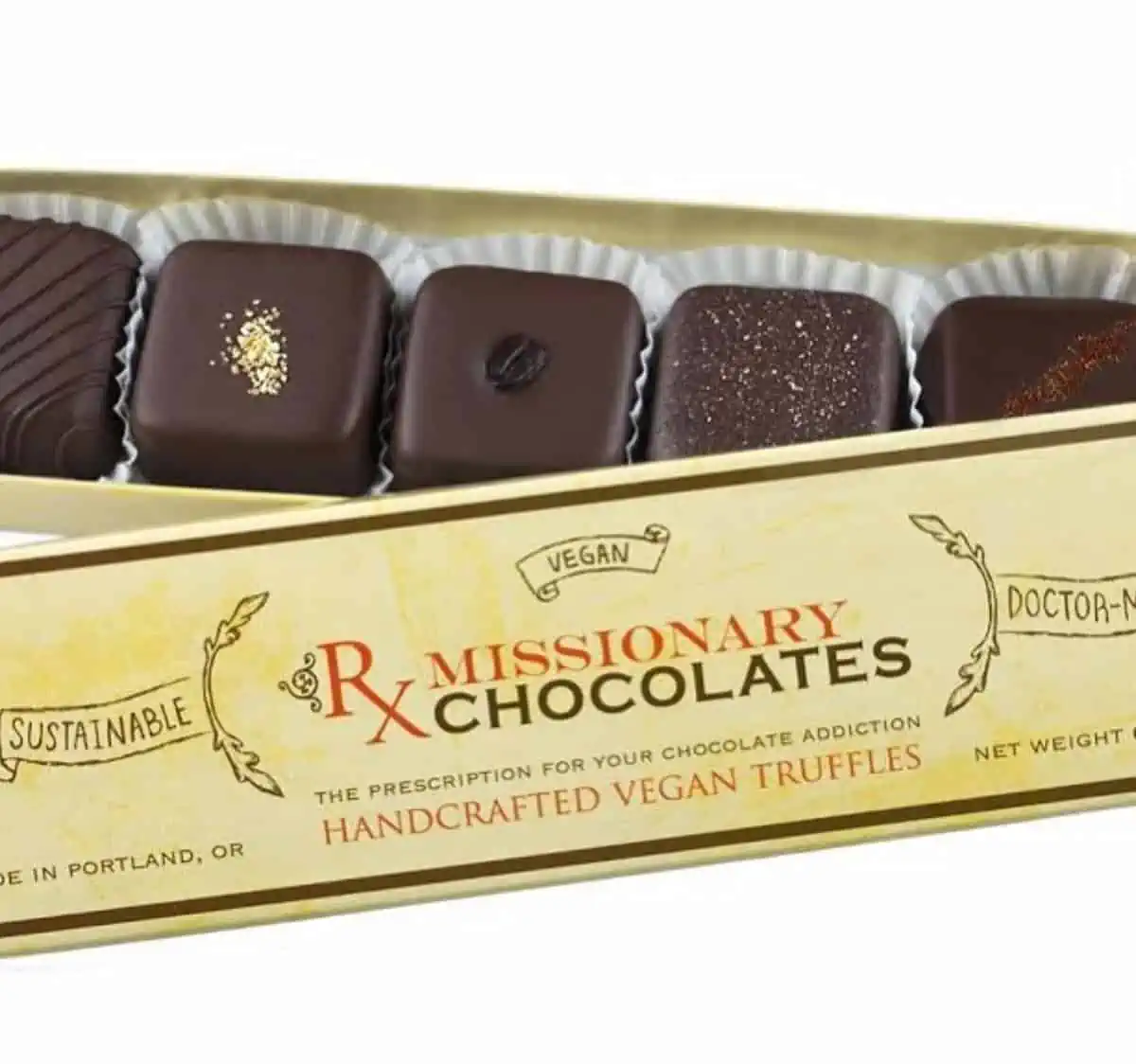 Stationed in the West End of downtown Portland, this brightly lit storefront clad in pastel pink is truly the stuff that sweet dreams are made of. When you want a sweet treat with gluten-free options and adult beverages, this should be your first stop. If you're overwhelmed by the sheer number of pastry possibilities, the pecan sticky buns and cookie monster baby cakes always get glowing reviews.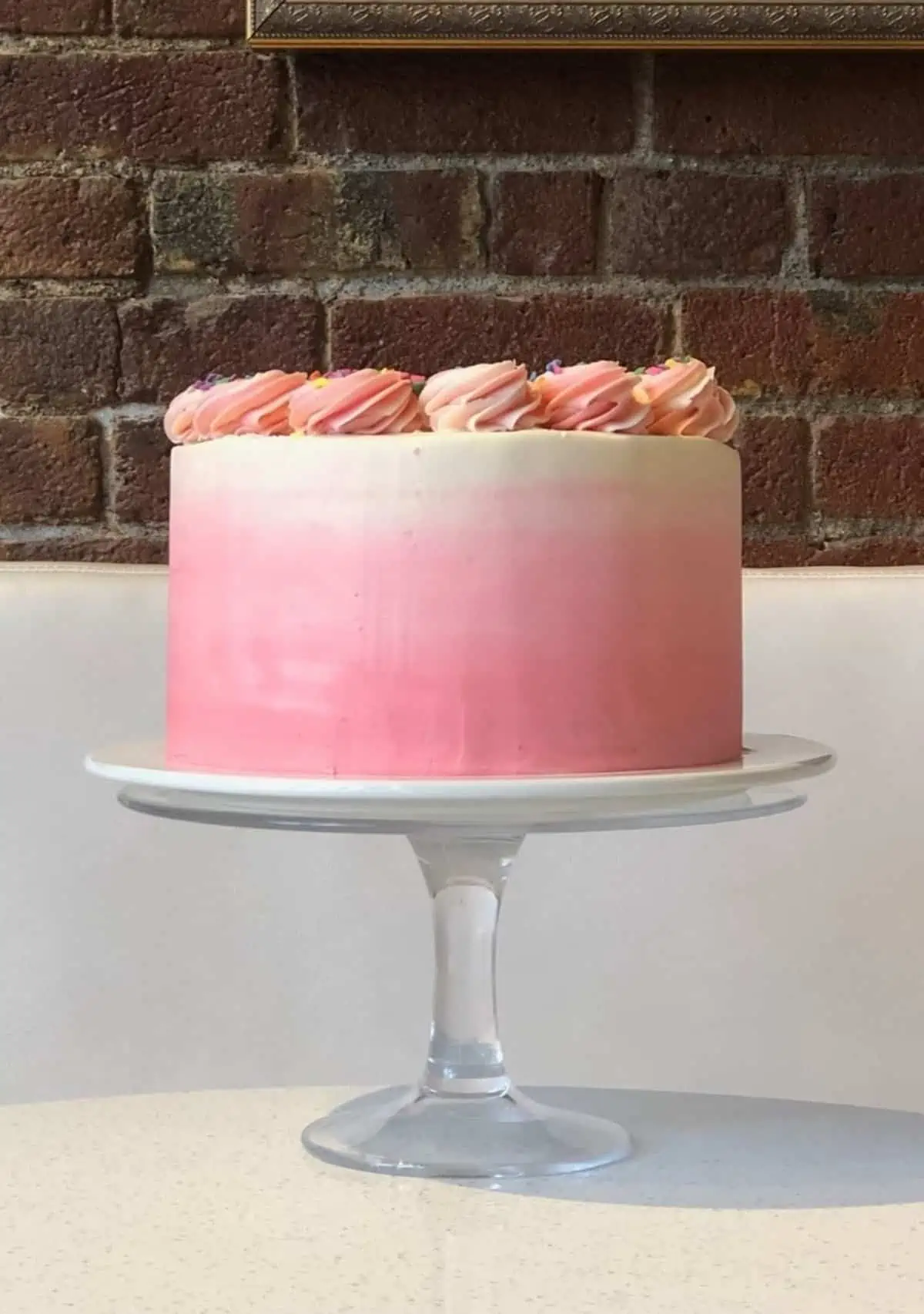 You can find their incredible pasties, pies, and cakes at many other cafes and restaurants throughout Multnomah County, but the freshest, widest variety will always come from the source. Sink your teeth into rich brownies, still warm from the oven, while sipping on an orange-cardamom latte for the ultimate pick-me-up.
Founded in 2005 as Porland's first all-vegan bakery, this cornerstone of Portland food culture has only continued to grow and thrive over the years. Local, seasonal produce is prominently featured across the wide selection of scones, Danishes, cupcakes, cheesecakes, and pies. For more savory cravings, you can look forward to a healthy array of breakfast options, daily homemade soups, sandwiches, and bagels too.
A Portland Gem: Voodoo Doughnuts
Another must-visit while you're in Portland is Voodoo Doughnuts. While not fully vegan, Voodoo Doughnuts has long been revered for its vegan donut selection. They have fun, silly doughnut designs, and you would never know these light, fluffy, beautifully glazed vegan doughnuts were vegan. We'd recommend picking up at least a half-dozen to make the inevitably long line worth the wait!
Surround yourself with overwhelming natural beauty, friendly locals, and more plant-based delicacies than you could ever eat in one lifetime. Portland, Oregon should be at the top of your list of places to visit.
More Vegan-Friendly and Vegetarian Restaurants Portland Has To Offer
When it comes to vegan-friendly restaurants, Portland is an absolute paradise! This list offers lots of great additional options to consider while in the Beaver State. Please note that menu items and offerings may change, so please double-check details with the restaurant before visiting!
More Vegan City Guides
If you love to travel, check out our collection of vegan city guides! You can find the best plant-based restaurants and more. Maybe you can even make time to visit a farmed animal sanctuary in the area! Here are a few popular veg-friendly cities to explore.
We hope you enjoyed this guide sharing the best vegan restaurants in Portland, Oregon. If we missed any of your favorite Portland vegan restaurants, please do show them some love in the comments below. Many thanks to Hannah Kaminsky for her help with this article. Cover photo by The Bye and Bye.