Looking for the best vegetarian and vegan restaurants in Portland? Your biggest challenge will be picking which to visit! There are vegan cafes, vegan bakeries, vegan bars, and beyond covering you for breakfast, lunch, dinner, and dessert. The City of Roses has everything a vegetarian food lover could ever want, from gluten-free goodies to artisan dairy-free cheese. Whatever you're looking for, you will never run out of amazing vegan options in Portland, Oregon!
It's been referred to as a nature-lover's paradise, an oasis of innovators and startups, and a foodie wonderland, all of which could be accurate descriptions. Such simple labels don't do proper justice to paint the full picture of what life is like in Portland, Oregon. This bustling metropolis sits in the shadow of snow-capped Mount Hood, just a short drive away from breathtaking waterfalls, wildflowers, and in the summer, and abundance of wild berries.
It's also home to countless microbreweries and bean-to-cup coffee houses, perfect for perking up or winding down after a day of exploration. For lower impact entertainment, you can always find a wide variety of art shows, theatrical productions, concerts, museums, and so much more.
Portland is a place where individuals and small businesses are celebrated, which has given rise to a thriving food cart scene. Couple that with concerns about sustainable and low-impact living, awareness of animal rights, and a deep connection with local agriculture, it should come as no surprise that there's a wealth of vegan eateries strongly rooted across the urban landscape.
It's Easy Being Vegan in Portland!
Many would say it's the most vegan-friendly mid-sized city in the United States, ranging from high-end fine dining to cheap street eats. For every plant-based craving, you won't just have one option, but an expansive range of choices to indulge in.
Portland even has a "vegan mini mall" — a strip of all-vegan stores on one block that are all vegan. There you'll find Herbivore Clothing Company — where you can get vegan shoes, vegan shirts, vegan bags, vegan belts, stickers, and more. You'll find a vegan cafe and bakery, and there is even a vegan tattoo parlor (Scapegoat Tattoo) next door!
Vegan Junk Food, Fast Food, & Diners
Freshly prepared, classic American fare with speedy service is an easy choice where everyone will find something they want. Whether you want a place with comfortable ambiance or simple a grab-and-go solution, these places will make sure you're fed and content in no time.
Portland's Best Vegan Burgers,
Vegan Southern Food in Portland
Homegrown Smoker Portland: If you can only visit ONE place for a soulful meal, most locals would agree that Homegrown Smoker should be your top pick. This beloved food cart has been a trailblazer in the world of barbeque, smoking soy curls and tempeh low and slow, to create succulent meatless proteins that would any pitmaster proud. Get a plate, a sandwich, or a burrito with all the fixings.
South x Northwest: Southern hospitality meets south-western spice in this northly plant-based oasis. That might sound confusing, but don't worry, you won't need a map to find drool-worthy comfort food. City slickers and country folk alike dig into thick slabs of Nashville Hot Chick'n, Hush Puppies, Black Bean Bourbon Burgers, and Shrimp and Grits with relish. Sunday brunches are something truly special, where you can indulge in all-you-can-eat fluffy pancakes from 10am to 2pm. Consider your weekend plans set.
Dirty Lettuce: Get down and dirty with a cleaner take on southern comfort foods. This is the best fried chicken you'll find north of the Mason-Dixon Line, and it just happens to be vegan! Generous plates of the Crispy Seitan come with two sides like mac and cheeze, cornbread, jambalaya, mashed potatoes, and pretty much all the decadent carbs you could ever want. For KFC cravings, don't miss The Infamous Bowl, which could easily win a blind taste test.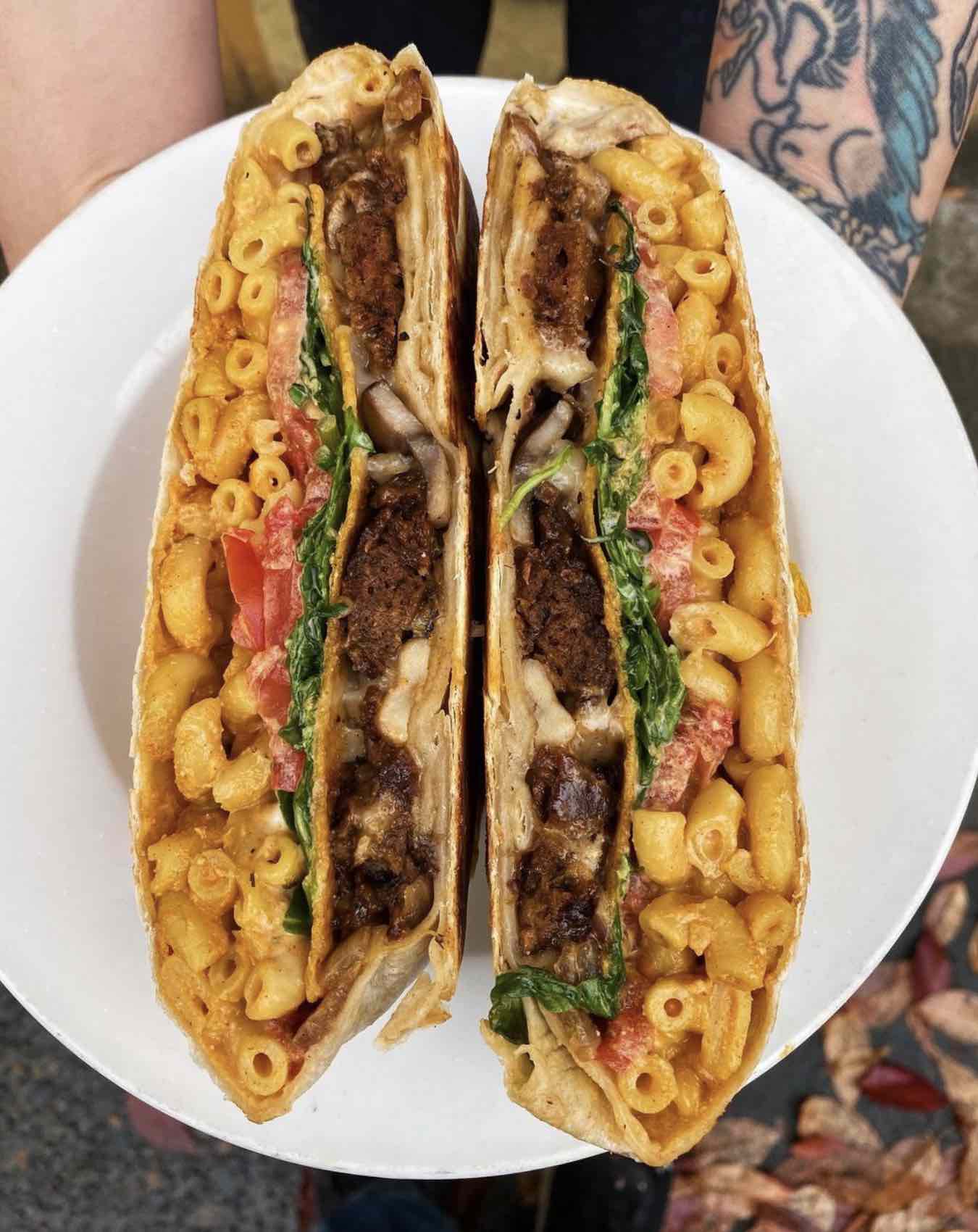 Portland Vegan Cheese Shops
Vtopia Cheese Shop and Deli: You may recognize Vtopia as a prominent artisan vegan cheese brand. This is the birthplace of that cultured craft. Shop for all their finest, funkiest wedges by the ounce, or stick around to enjoy some incredibly cheesy mac, sandwiches, soups, and salads. Just a heads-up: In fall of 2022, they'll be changing their name to Fru Fru Terra, Cheese & Wine Bar and relocating to Southeast Portland.
Cultured Kindness Vegan Cheese Shop: Specializing in small-batch, organic cashew cheeses, these dairy-free delights have been drawing lines since day one. Conveniently located in Portland's very own vegan mini mall, you can try various cheesy dips, snacks, and sandwiches, all while loading up on wheels to go. Don't miss their cheesecakes, which have become an overnight sensation in a wide variety of seasonal flavors.
Vegan Pizza My Heart
While it's no problem to get vegan cheese at almost any decent pizzeria now, you can go above and beyond the basics at these innovative slice shops.
Virtuous Pie: Positive change is all about making better choices that taste great, which is exactly what you get at this 100% vegan eatery. Even the "hot honey" is made from apples! When you want a plant-based pizza party, start with buttery garlic knots, kale Caesar salad, personal pizzas with both gluten-free and soy-free options, and finish with their renowned small batch vegan ice cream. It's a foodie wonderland for both kids and kids-at-heart.
Boxcar Pizza: These Detroit-style pies prove that it's hip to be square. Each thick, 8×10-inch pizza is heavy with layers of scratch-made plant-based cheeses and meats, with both traditional and unconventional flavor combinations. The Buffalo Chicken pizza is a top seller, loaded with breaded and fried tenders, spicy Buffalo sauce, and gobs of vegan blue cheese. Order ahead because they regularly sell out before closing time.
Secret Pizza Society: Judging by the endless tickertape of incoming orders, it looks like the secret is out. The thin, crispy crust is compulsively munchable even without any toppings, but the vegan pepperoni, bacon, BBQ chicken, and other meatless marvels explain why it's Portland's worst kept secret.
Healthy & Fresh Vegan Restaurants in Portland
Seeking a dish as green as a Portland pine tree? These vegetable-centric restaurants are worth a visit!
Vegan Bowls Galore
Carioca Bowls: Get a taste of Rio de Janeiro with the iconic açai bowls it's best known for. Stradling the line between breakfast and dessert, they're a refreshing treat that taste like soft serve, but it made with only frozen fruit. Get yours topped with a rainbow of assorted fresh and dried fruits, nuts, seeds, granola, and nut butters in any combination your heart desires. If you're craving something savory, try the vegan Brazilian cheese bread made from chewy tapioca starch and natural gluten-free.
Native Bowl: Fresh, fast, affordable, and full of flavor, these vegan rice bowls transcend all dietary restrictions and always hit the spot. That hardest thing about coming to Native Bowl is deciding on which bowl to get. Portions are generous and could easily feed two with small appetites, or one ferociously hungry eater.
The Whole Bowl: Hate making decisions when you're hungry? The Whole Bowl will make it easy for you. All they serve is two sizes of their classic combination that consists of brown rice, black and red beans, avocado, cilantro, black olives, salsa, and Tali Sauce. Ask for the vegan version to omit the sour cream and cheese. It's a simple, dependable combination that always delivers on nutritious, delicious satisfaction.
Juice Bars in Portland
Asian and Fusion Vegan Food in Portland
Offering authentic Asian cuisine or more creative combinations, you can find representation from almost all cultures, and sometimes with surprising twists.
Vegan Mexican, Spanish, and Peruvian Restaurants
Add some spice to your diet; tacos aren't just for Tuesdays! Plant-based Mexican, Spanish, and Peruvian eats always hit the spot, every day of the week.
Vegan Bar Hopping in Portland
Banish memories of late-night drinking when the best you could hope for were some stale peanuts or limp French fries to tide you over. These modern watering holes have expert mixologists and chefs in the kitchen, focused on making happy hour even more delicious. Who's ready for vegan bar hopping.
Vegan Cafés in Portland
Coffee isn't just a beverage in Oregon; it's a whole lifestyle. Cafe culture. Boasting more than 200 specialty coffee shops and micro-roasters throughout the state, including 80 roasters in Portland alone, these Oregonians know their beans.
Vegan Bakeries, Donuts, & Sweets in Portland
Dessert should be considered a wholly separate meal, especially considering the incredible treats that await you here. Don't just leave room after dinner; make dessert the main dish!
Special Mention: Voodoo Doughnuts
Another must-visit while you're in Portland is Voodoo Doughnuts. While not fully vegan, Voodoo Doughnuts has long been revered for their vegan donut selection. They have fun, silly doughnut designs, and you would never know these light, fluffy, beautifully glazed vegan doughnuts were vegan. We'd recommend picking up at least a half-dozen to make the inevitably long line worth the wait!
Surround yourself with overwhelming natural beauty, friendly locals, and more plant-based delicacies than you could ever eat in one lifetime. Portland, Oregon should be at the top of your list for places to visit.
More Vegan City Guides:
We hope you enjoyed this guide sharing the best vegan restaurants in Portland, Oregon. If we missed any of your favorite Portland vegan restaurants, please do show them some love in the comments below. Many thanks to Hannah Kaminsky for her help with this article. Cover photo from Canva.com. This article may contain affiliate links that support our work at World of Vegan.