This sweet vegan noodle kugel is easy to make and a perfect casserole dish to serve up on a Jewish holiday or your next family gathering. Noodle kugel is usually vegetarian, but it's also traditionally packed with dairy. This delicious plant-based kugel recipe is totally dairy-free.
Noodle kugel is a favorite sweet dinner casserole among many Jewish families. Unfortunately, traditional noodle kugel is one of the least vegan-friendly dishes around. It's typically made with egg noodles, cream cheese, cottage cheese, sour cream, butter, milk—pretty much every type of dairy there is.
We got to work perfecting this classic Jewish comfort food—which was no small feat. But friends, we nailed it! This is hands-down the best vegan noodle kugel recipe we've ever made and will bring you right back to those celebratory family dinners you enjoyed in your pre-vegan days.
The BEST Super-Easy Vegan Noodle Kugel
Wanna know the best part about this recipe? We were able to create a perfect copycat kugel without calling for a bunch of hard-to-find specialty items like vegan sour cream. We did our best to keep this recipe as simple and accessible as possible, while still making a spot-on replica of the kugel of our dreams. You will need the following ingredients though:
Other than that, you can lean on pantry staples you likely already have at home! Easy peasy.
What is Noodle Kugel?
Kugel, pronounced "KOO-gel" or "KUH-gel", comes from the German meaning "ball or something round". In the Jewish culture, it refers to a sweet casserole with noodle (or potato) base. Either way, it's super rich, creamy, and covered with a scrumptious layer of sweet cinnamon sugar crunch.
All you need to know is that noodle kugel is encouraged to be eaten all year round.
Noodle Kugel, where have you been all my life? As a die hard dessert lover, I can't believe I haven't tried a single vegan noodle kugel recipe before now. After hearing that it's most like a mash up of cheesecake and pasta with a crispy cinnamon topping, all I could think was fill my belly––now!
What's Different About This Vegan Noodle Kugel Recipe?
Traditionally, this casserole is made with as much dairy as possible––eggs, milk, cottage cheese, sour cream, and butter––oh, my! It was a small feat to re-create a recipe that has the same texture, flavor, and spirit of the dish. Difficult, but entirely possible.
Here are the smart swaps that Michelle made in order to ditch the dairy:
Vegan Noodle Kugel—So Many Ways!
Every family makes their noodle kugel a little differently. Some make it with raisins, some make it with fruit (such as pear or pineapple), and some keep the base simple without add-ins. Some make really thick creamy kugels that taste like pudding or even cheesecake and are served for dessert, while others make dinner-style kugels that are a little less decadent. Some add a crispy corn flake topping, while others leave their kugel bare.
This noodle kugel is inspired by my favorite noodle kugel from my family's Jewish holiday gatherings. It's a lighter noodle kugel that can be served for dinner (still decadent though, don't get us wrong) and is topped with a crispy cinnamon sugar encrusted cereal topping. It's divine.
Shout-out to Carrie Lande who brought kugel to my family dinners and inspired this recipe!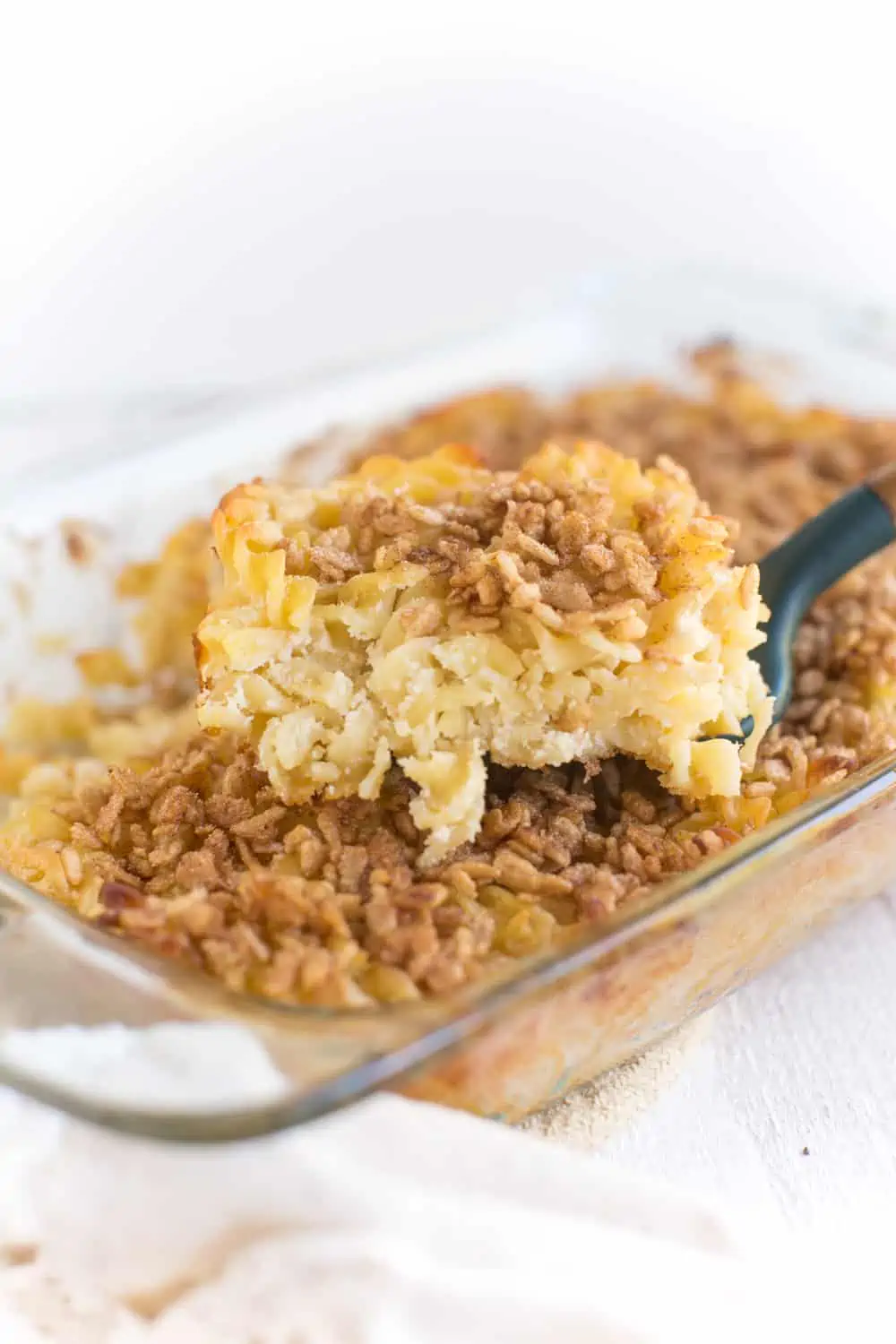 How To Serve It Up
For this sweet-topped holiday casserole, here are a few suggestions for how you can serve vegan noodle kugel recipe that will make it extra special:
Simple Storage
Store any leftovers in a covered container in the fridge for up to 5 days or in the freezer for a few months. Reheat in a microwave or oven when you're ready to enjoy your leftover vegan noodle kugel.
When Do You Eat Noodle Kugel?
Noodle kugel can be served up any time of year. This dish is not passover friendly, but it's a sweet celebratory meal on any other holiday or day of the week. Some popular jewish holidays and occasions include:
More Jewish Holiday Recipes to Try:
Equipment You'll Need
1 pound fusilli pasta
12.3 ounces silken tofu
8 ounces vegan cream cheese
⅓ cup vegan yogurt, vanilla or plain, sweetened, or unsweetened
½ cup vegan butter
½ cup granulated sugar
1 teaspoon vanilla extract
¼ teaspoon salt
Topping:
1 cup crispy rice cereal, such as Rice Krispies
1 teaspoon cinnamon
2 teaspoons sugar
2 tablespoons vegan butter, softened
Preheat oven to 350° F.

Cook pasta until al dente according to package instructions (about 10 minutes). Drain, rinse, and set aside.

In a food processor, add the silken tofu, vegan cream cheese, vegan yogurt, vegan butter, sugar, vanilla extract, and salt and blend on high until fully combines and creamy. It's okay if some texture remains. Set aside.

In a medium bowl, add the crispy rice cereal, cinnamon, sugar, and softened vegan butter and mix until mostly combined, using the back of a spoon to gently mash the butter into the cereal.

In a 9 x 12 baking dish, add the cooked pasta and pour the cream sauce from the food processor over it. Mix it together with a spoon until all the pasta is evenly coated. Sprinkle the cinnamon sugar cereal topping evenly over the top.

Bake for 1 hour at 350° F. The top should get slightly crispy but shouldn't burn. Serve hot and enjoy!
Store any leftovers in a covered container in the fridge for up to 5 days or in the freezer for months. Reheat in a microwave or oven when you're ready to enjoy your leftover noodle kugel.
Calories: 507kcal | Carbohydrates: 63g | Protein: 12g | Fat: 24g | Saturated Fat: 6g | Polyunsaturated Fat: 5g | Monounsaturated Fat: 7g | Trans Fat: 3g | Sodium: 303mg | Potassium: 212mg | Fiber: 4g | Sugar: 17g | Vitamin C: 1mg | Calcium: 57mg | Iron: 2mg
Vegan Noodle Kugel recipe by Michelle Cehn for World of Vegan. Copyright of World of Vegan™, all rights reserved. Article written by Gina House and edited by Amanda Meth. Please note that this article contains affiliate links that help support our work at World of Vegan!