From the distinctive red and white striped buckets to the questionably titled "Colonel" caricature, Kentucky Fried Chicken (aka KFC) has been known for many years for their homestyle fried food and crowd-pleasing, tangy coleslaw. If this type of takeout was a top choice for you growing up, you're going to be tickled pink with our vegan KFC guide.
In the past, when a home-cooked feast was not a quick and easy option, many people took advantage of ordering from this familiar, fast food eatery. Now that we're firmly planted in the "future" and searching for an animal-free option, KFC seems to be out of our reach. But, is it?
Although you can't quite get the mouthwatering vegan meal of your dreams with creamy, vegan mashed potatoes, cool and crispy coleslaw, or flaky, butter-free biscuits, customers are able to procure some plant-based chicken in starting 2022. Will it last? Want to know more? Keep reading!
KFC Launched Beyond Fried Chicken in January, 2022 (But Sadly, It's No Longer Available)
The new Beyond Fried Chicken was a smashing success wherever they've tested it, and although it was available at all 4,000 locations nationwide, they've now taken it off the menu (as of the end of February 2022). Crossing our fingers that it will come back soon––for good.
"We're excited to officially announce Beyond Fried Chicken will be making its national debut on January 10th, 2022. Yes, you heard us correctly. This exciting moment marks the start of the largest plant-based chicken launch EVER in the QSR industry. Stay tuned for more details and get ready to grab a bucket. We told you 2022 was going to be tasty…" – Beyond Meat
Simply glancing at the name of this restaurant chain may have you wondering, "Will there be any vegan options at all?" We hear you. To be sure, it's not usually the first thing you think of when you're considering a delicious meal. But, for those of you who grew up on this Southern comfort fast food fare, it's nice to know that you can go back and have a nostalgic treat once in a while.
Here's what we suggest:
Sides: Select as many vegan-friendly sides as you wish (better yet, get them all!)
Salad: Supplement with a house side salad and light Italian dressing (or ask for a lemon juice packet for a fresher option)
Dessert: Add a packet of applesauce (if you're searching for a healthy option) or apple turnover (if you want a little treat)
Beverage: Buy a Pepsi Fountain drink, lemonade, iced tea, or fruit punch.
Condiments: Choose the a favorite dipping sauce or sweet jelly to go with your meal. (We've always had a weakness for BBQ sauce and grape jelly!)
What's Vegan at KFC?
Homestyle Sides
Baked Beans
Corn on the Cob (make sure they do not add butter)
Green Beans
Secret Recipe Fries
Sweet Kernel Corn
Note: All, or most, of the above contain MSG. If you're sensitive to this flavor enhancer, you may want to stick to an apple dessert (applesauce or turnover) or beverage only.
Salad
House Side Salad (no croutons) with Marzetti Light Italian Dressing
Vegan Dipping Sauces and Condiments
BBQ Dipping Sauce
Grape Jelly Packet
Ketchup
Lemon Juice Packet
Marzetti Light Italian Dressing
Strawberry Jam Packet
Sweet & Tangy Sauce
Dairy-Free Desserts
Apple Turnover
Musselman's Applesauce
Vegan-Friendly Beverages
Capri Sun Fruit Punch
Colonel Lemonade
Pepsi Fountain Drinks
Sweet Tea
Sobe Lifewater
Strawberry Lemonade
Tropicana Beverages (lemonade, fruit punch, and Twister)
NOT Vegan at KFC
KFC Biscuits
Coleslaw, potato salad, and macaroni salad (contains eggs)
Croutons and all dressings (besides the light Italian) contain milk and cheese
Colonel's Buttery Spread (contains milk and is not a vegetable-based margarine)
KFC sauce (contains eggs)
NOTE: At some locations, Cinnabon dessert biscuits are offered, but they also contain milk.
Helpful Hints When Ordering Vegan at KFC
Browse the KFC menu before ordering.
If ordering KFC online or through a delivery service, make sure you clearly specify any substitutions you would like. Especially concerning meat and butter. If you're worried that your request may not be honored (or seen by the server at KFC), it might be a better idea to go there directly to order.
Check out their Full Nutrition Guide, Nutrition Calculator, and Food Allergies and Sensitivities pages to make sure that you are purchasing a vegan-friendly item. The menu items offered at KFC do change and the informational charts seem to be updated regularly.
Be careful when new and exciting seasonal products are offered at KFC. Double check the allergens and ingredients to make sure the item is vegan before purchasing.
Historic Moments in KFC Vegan History
June 2019 – In the UK, "Imposter" vegan chicken sandwiches were given a try with great success. They sold out of all of the sandwiches within 4 days.
August 2019 – For a single day, Beyond Meat and KFC introduced a vegan fried chicken option only in Atlanta, GA. KFC offered nuggets and boneless wings (with dipping sauce) and they both sold out within 5 hours.
November 2019 – Partnered with Lightlife to make a plant-based fried chicken sandwich and popcorn chicken for testing in Canada. They sold a month's worth of vegan chicken in one day and added the sandwich to all locations in August 2020.
January 2020 – All 900 UK KFC's added a Vegan Burger to their menus using Quorn patties. At the end of the month, they had sold one million plant-based chicken burgers.
February 2020 – KFC's Beyond Fried Chicken expanded to North Carolina and Tennessee for three weeks.
September 2021 – KFC announces that they are close to launching their plant-based chicken strips. In collaboration with Beyond Meat, this fried chicken company is concentrating on the both the flavor and texture of the tender to make it as authentic as possible. KFC is hoping for a nationwide release in the near future.
January to February 2022 – KFC launches vegan Beyond Fried Chicken buckets nationwide for a very limited time.
When The Beyond Fried Chicken Was Available, These Were The Options
Though the vegan Beyond Fried Chicken Nuggets were only available for a month from January to February 2022, here is a run-down of what you could order, just in case they decide to offer it again in the future.
Choose between 6-piece or 12-piece a-la-carte sizes. Order without dipping sauces—none of them are vegan.
Make it a plant-based combo meal (includes KFC Secret Recipe Fries which have zero animal ingredients, plus a medium drink). Order without dipping sauces—none of them are vegan.
Order without sauce! Be warned, the dipping sauces: Honey BBQ, Ranch, Honey Mustard, and KFC Sauce— are all not vegan. Be sure to order without sauce.
Why does it say not suitable for vegetarians and vegans? Rest assured, all of the ingredients in the Beyond Fried Chicken itself are free of any animal products. However, KFC fries them in the same fryers as they use for their other chicken. This is a non-issue, as far as we're concerned, because it ultimately makes no difference for animals. But if you can't fathom vegan food made on shared equipment, then this is not for you.
Fascinating Facts About KFC
Kentucky Fried Chicken was originally named Sanders Court and Café and was located in Corbin, Kentucky.
The people of Japan love to enjoy KFC on Christmas Eve.
Signature red & white buckets were not introduced until 27 years after the first KFC was created in 1930.
The secret spice recipe is literally locked in a vault in Louisville, KY. Though the spices are speculated to be a mixture of a special type of pepper, MSG, flour, salt, and sage, nothing has ever been proven successfully. (Strangely enough, you can buy an almost identical blend by Marion-Kay Spices called 99-X.)
Though Harland Sanders did serve in the army, he never attainted the rank of Colonel.
Creating a Kinder and More Accessible KFC Vegan Experience
We're all hoping that this popular Kentucky fried-chicken-and-coleslaw conglomerate will offer a lot more plant-based choices in the future. Once their vegan-friendly chicken strips are off and running, we can only hope that veggie gravy, mashed potatoes, biscuits, and other comfort food options will soon follow. In the meantime, we can always write to, call, or contact the managers of any location to make our requests.
What are your favorite items on the KFC vegan menu? Let us know on Facebook, Twitter, and Instagram!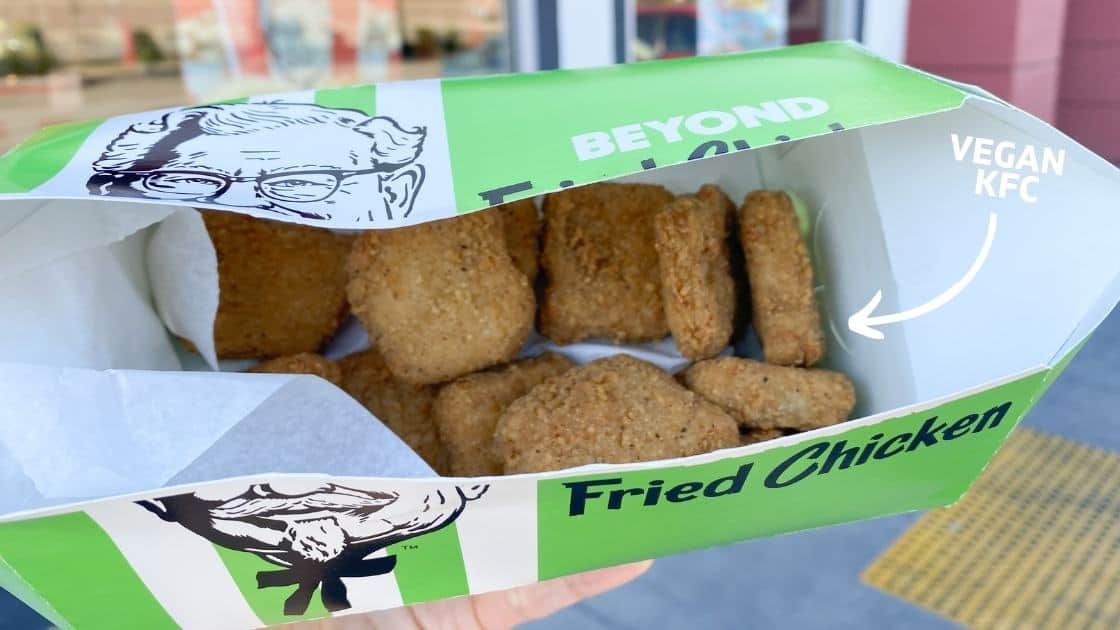 How to Order Vegan at Other Fast Food Chains
We have a whole series of vegan fast food guides to help you find the best options at each location. Take a peek if you're in need of a quick vegan meal on a road trip or with fast food-loving friends!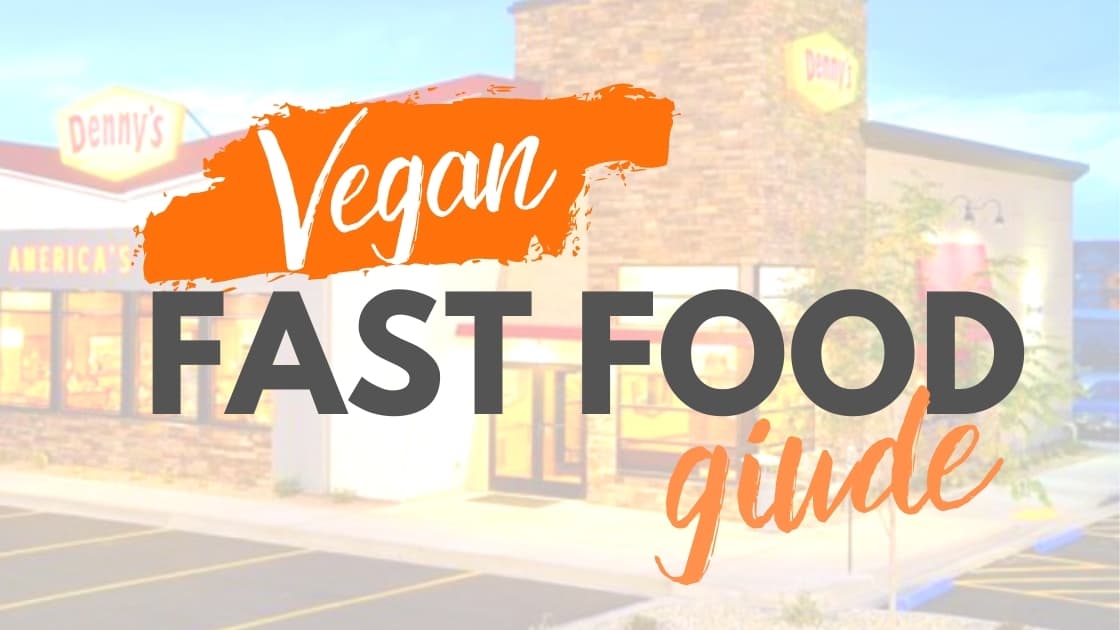 Have you found any other options to be veganizable? Did you find something outstanding that we missed? Let us know by tagging #worldofvegan and sharing your favorite vegan-at-KFC creations with all of us!
This article is not sponsored and we are in no way affiliated with KFC. At the time of this article, the foods mentioned above are vegan. Since restaurants constantly update their menus and add or take away items, please keep this in mind when ordering your food. There may be new items that are vegan at KFC and not listed or items listed here as vegan, which are no longer vegan. Take care to double-check.