On the prowl for the best vegan and vegetarian restaurants in Asheville, NC? We've got quite the list for you! Discover new restaurants in Asheville or revisit the best places to eat! Grab a bangin' vegan breakfast in Asheville or enjoy a fancy dinner at a restaurant in downtown Asheville. Whatever you decide on, there's plenty to keep you full from sunrise to sunset. Here are the best vegetarian and vegan restaurants that Asheville, NC has to offer!
As a historically sleepy, small mountain city, you'd be forgiven for initially overlooking this destination for your next big travel adventure. That said, once you know about the rich arts scene, burgeoning craft beer culture, unspoiled natural, and multiple James Beard Award-nominated chefs, it may very well rise to the top of your list.
Asheville, North Carolina has been called the "Paris of the South" by some, referring to the free-spirited attitude that grants locals and visitors alike permission to indulge in the finer things in life, all while wearing muddy hiking boots, if desired. The picturesque Blue Ridge mountains have views that will take your breath away.
With a cosmopolitan feel but easygoing charm, Asheville is regularly voted one of the best places to live in the US, but you don't need to move here to enjoy it. There's plenty to take in for thrill-seekers, families with young children, and solo travelers alike. That's because everyone is welcome, as is readily apparent by the diverse and abundant range of restaurants specially catering to alternative diets.
Plant-based eaters will find their happy place amongst the many vegan-friendly restaurants concentrated in such a tiny town. Clear your calendar and pack your stretchy pants—you won't want to miss a single bite! Discover new restaurants in Asheville as well as restaurants in downtown Asheville, NC!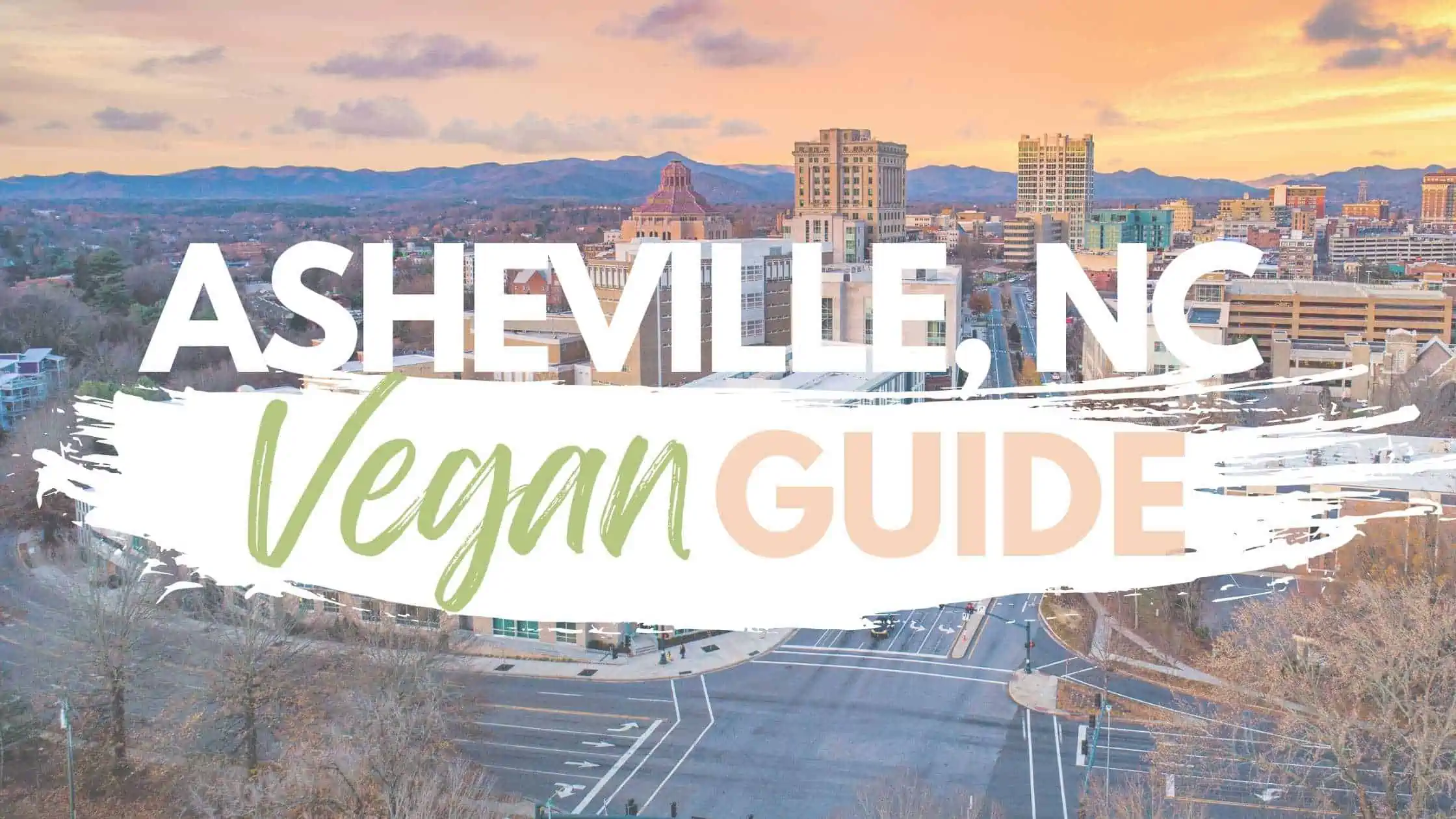 Best Vegan And Vegetarian Restaurants in Asheville for Modern American Food
For an upscale, borderline fancy but unfussy meal, you can find elevated cuisine coming from the most creative chefs in the country. Most establishments are largely omnivorous but will happily accommodate a vegan diet with enough advanced notice.
Emphasizing local produce and slow food, these chefs take vegetables seriously. While the exact dishes shift with the seasons, you can expect gourmet delicacies like broccoli rabe risotto, pesto fettuccine, and meatless chorizo hash.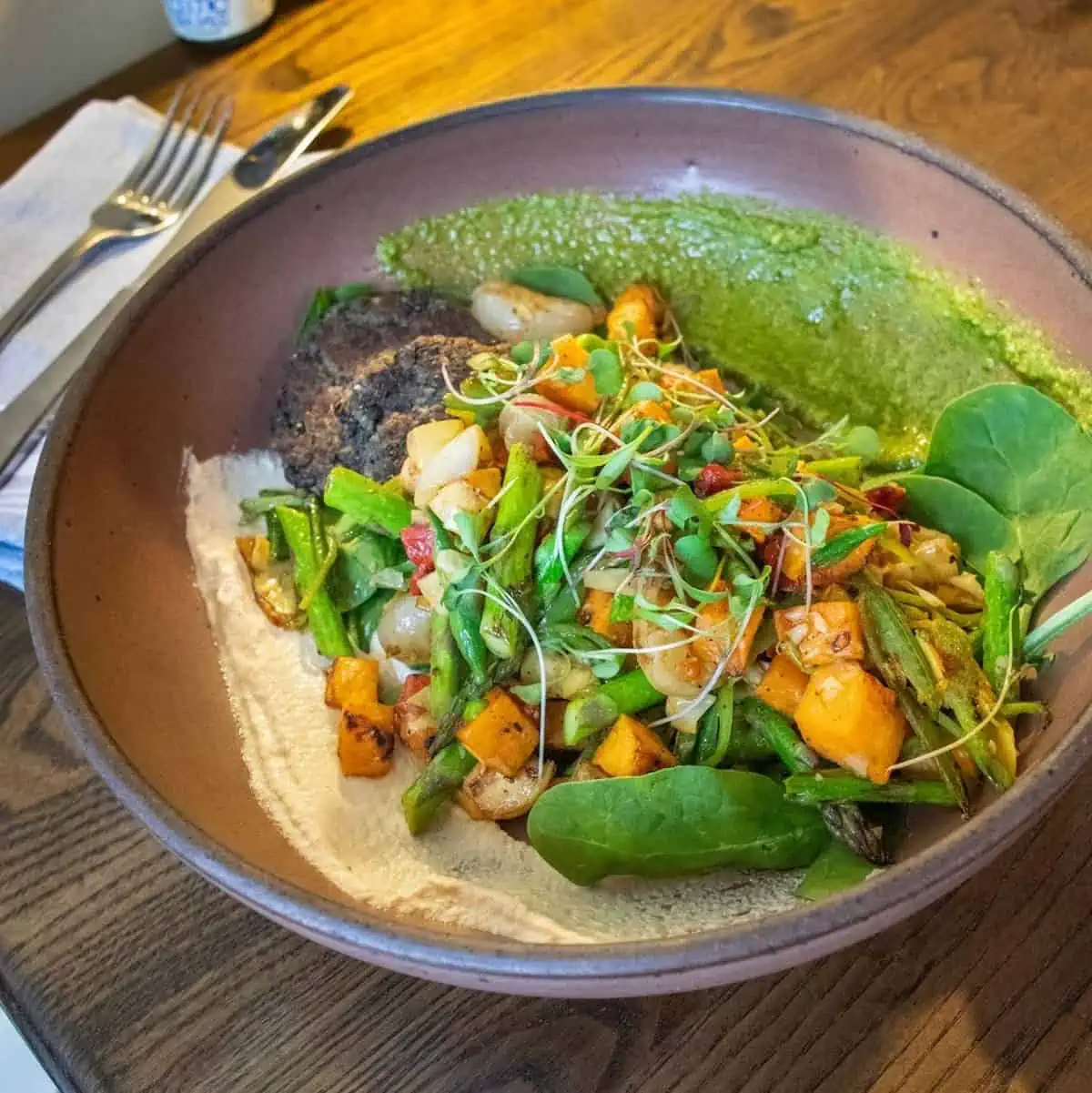 You don't have to be an early riser to take advantage of this breakfast-centric menu with clearly labeled vegan options. The tofu scramble is a comforting classic, but the artfully plated grit cake stack is a unique treat, piled high with wilted spinach, red pepper, squash, caramelized onions, shiitake mushrooms, and southern tomato gravy.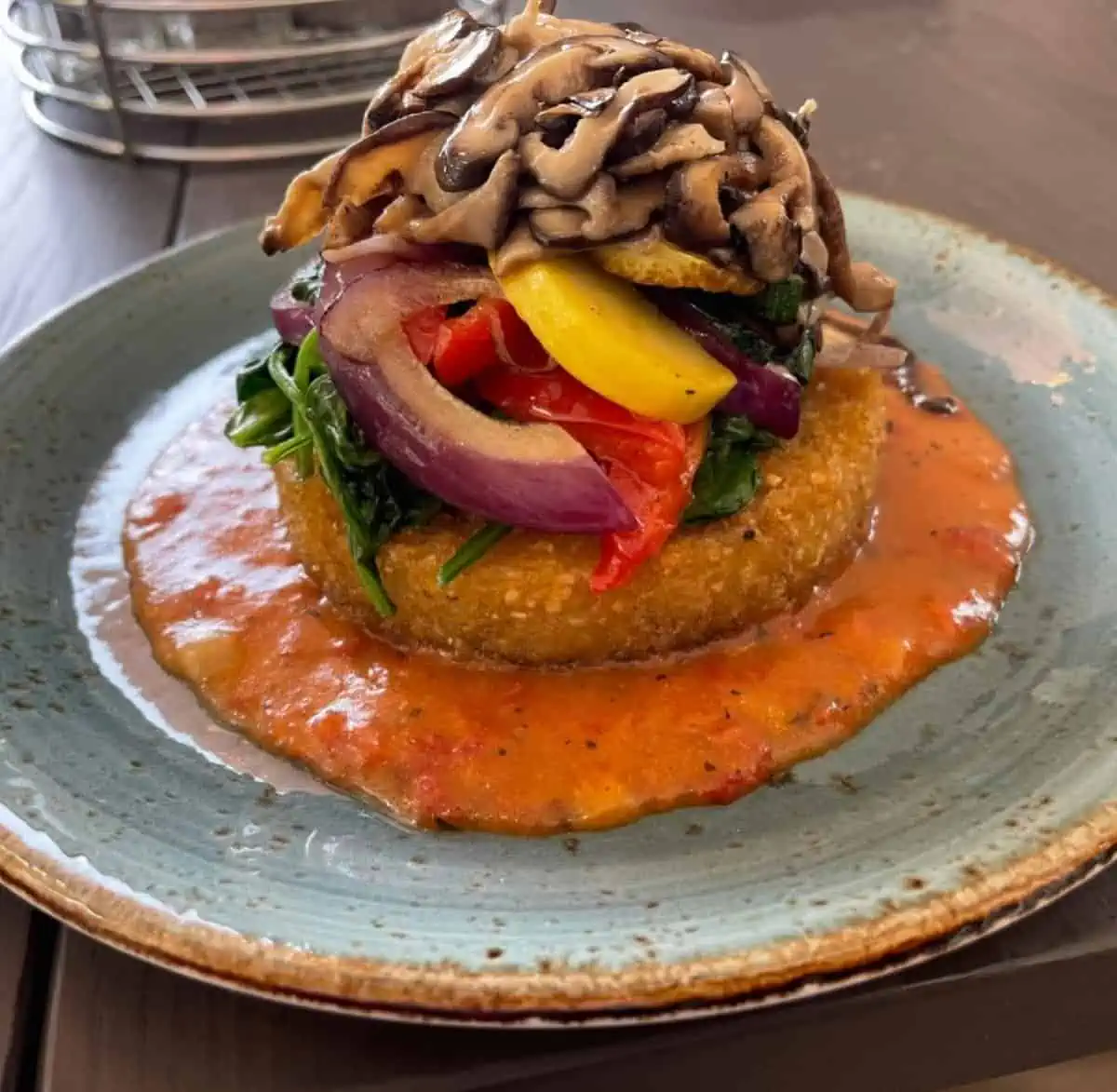 If you can only make it to one special meal, plan to have it at Plant. Widely regarded as the best 100% vegan restaurant around, reviews unanimously rave about the chef-driven approach to gourmet dining without boundaries. That means you can slurp down chewy ramen noodles, dig into raw lasagna, and savor a handmade plant-based cheese board all in the same place.
Best Vegan and Vegetarian Asheville Restaurants For Pub And Bar Food
When you have an embarrassment of riches to pick from, make the most of your time by visiting craft breweries that come with their own wealth of plant-based dishes on the menu. These are the combination restaurants and bars where you can have it all.
It's a brewery, it's a restaurant, AND it's a movie theater?! That's right! Come on by for dinner, drinks, and a show for a complete night of food and fun. The "Did I Mention I'm Vegan" pizza is a bestseller, complete with meatless pepperoni and sausage, red onion, green peppers, mushrooms, black olives, and vegan cheese. You can even ask for it made with a gluten-free crust, too.
Created by Wicked Weed Brewing, this taproom is dedicated to sour beer. Select a tasting flight from over a dozen varieties on draught and then head to the Biergarten for a hearty meal. Everything labeled with a "V" is vegetarian, so double-check that your selection can be made vegan, too. Beyond Burgers and Buddha bowls are always reliable staples.
Belly up to this bar for an expansive list of wines, beers, ciders, and kombucha on tap. Head downstairs for happy hour, and then come back upstairs to the café for dinner. You don't want to miss these hearty, comforting, and healthy classics that range from chili cheese fries to brown rice Buddha bowls.
Best Vegan Soul Food Restaurants in Asheville
Southern food, soul food, and simple American comfort food always hit the spot. Luckily, you're never too far from these easy eats anywhere in Asheville. Some restaurants serve meat but have vegan and vegetarian options clearly marked on the menu.
You don't need to navigate this sandwich shop with trepidation; numerous vegan delights abound on the bill of fare, well beyond the breaded entrees. There's even vegan ranch for dipping your fried Brussels sprouts, and vegan ice cream to blend into a rich milkshake for dessert!
While the buffalo cauliflower stands out as the most popular main attraction, it's equally challenging to resist the signature Whistle Stop. This dish features fried green tomatoes paired with vegan pimento cheese.
It's easy to fall head-over-heels for these buttery, flaky quick breads. You can choose a vegan and gluten-free base to slather with gravy or turn into a sandwich stuffed with veggie sausage.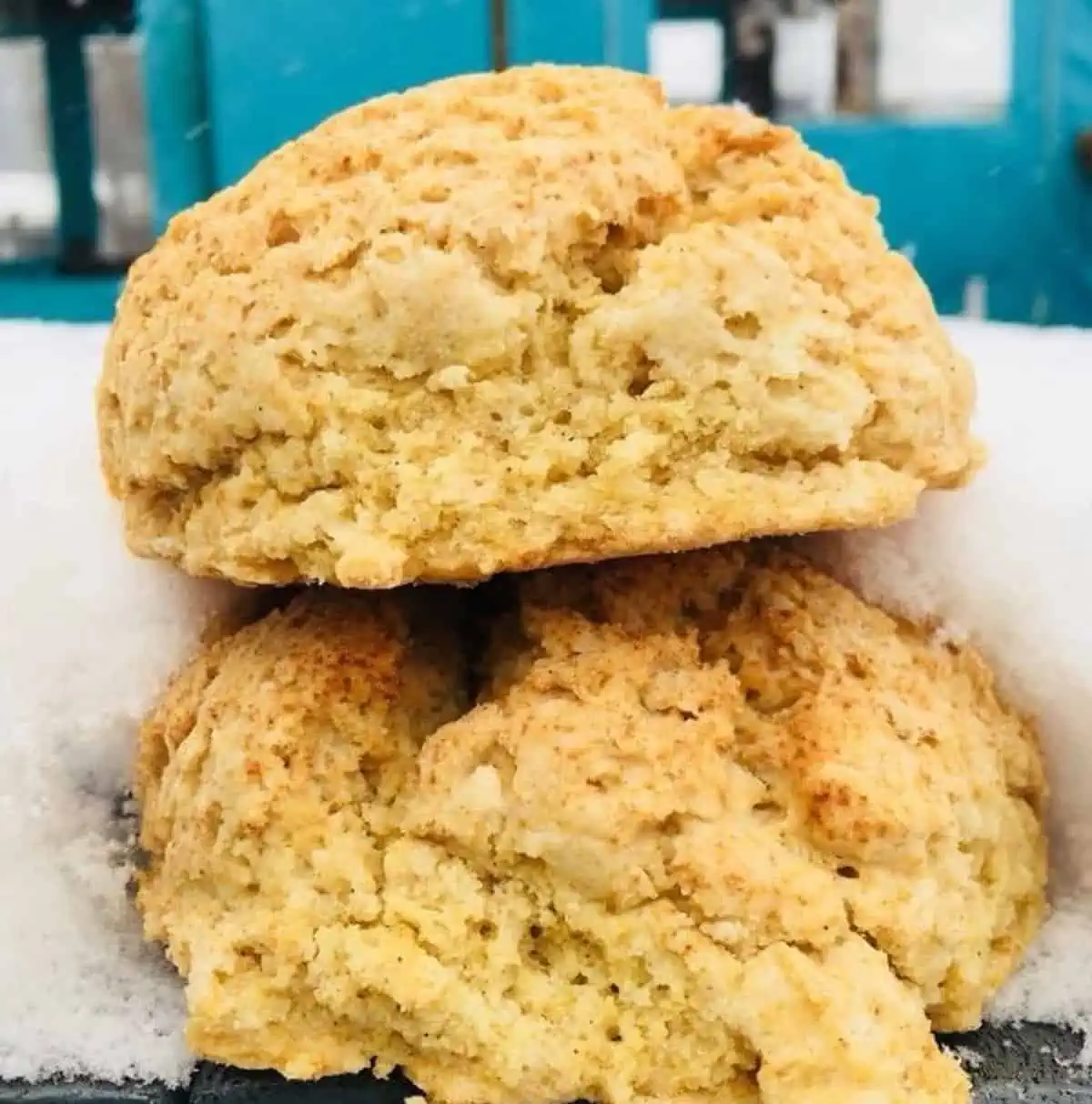 Indulge in healthy yet hearty staples that satisfy both sweet and savory cravings. The well-documented list of plant-based options offers abundant choices. Try the smashed falafel burger for a creative take on a classic American favorite. Don't miss their spicy twist on the kimchi Reuben. With three city locations, make a plan to stop by—even if just for an oat and coconut-based mocha milkshake.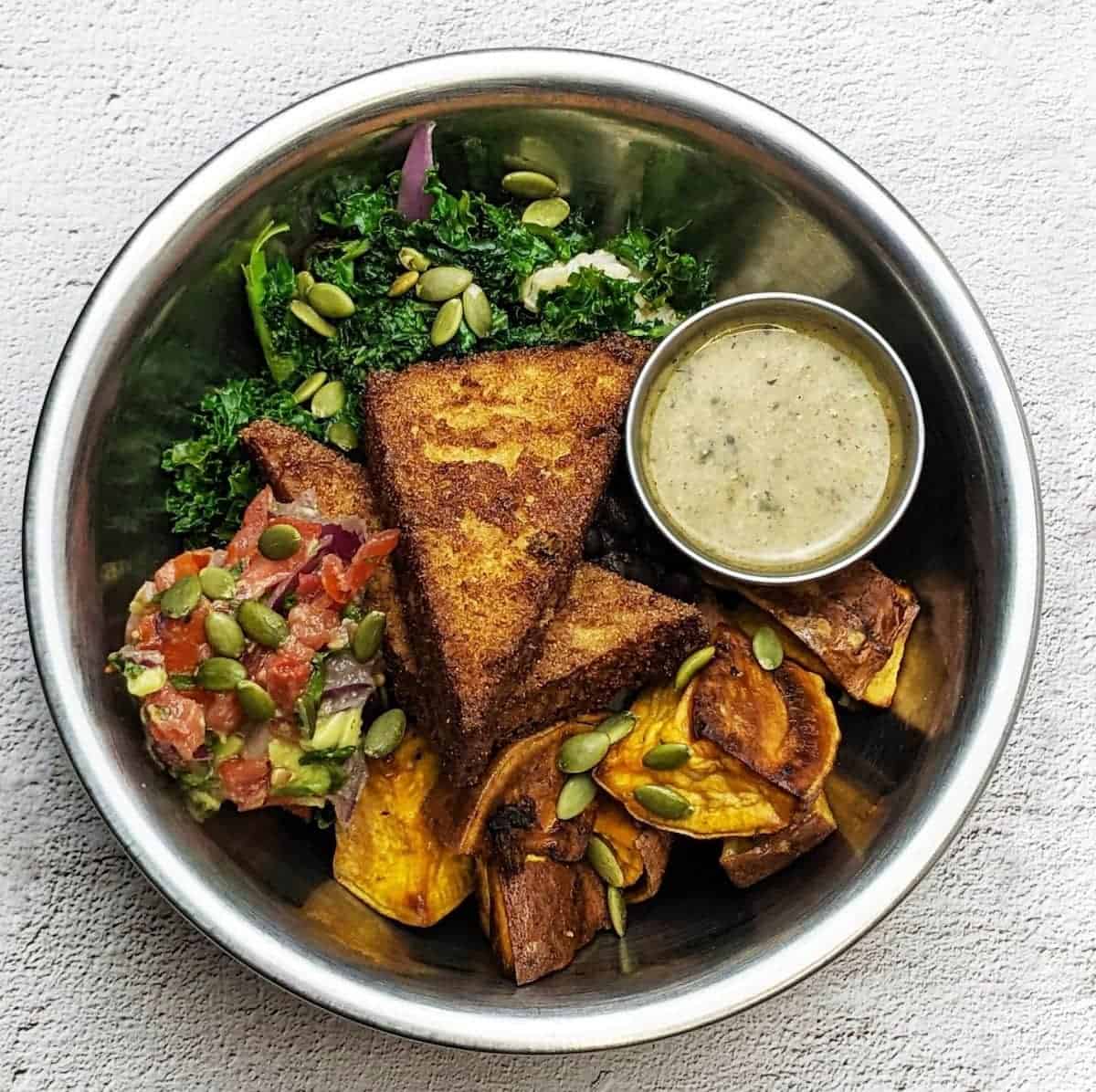 Slinging some of the best vegan food in Asheville, this food truck is on the move! Keep tabs on their travels through Instagram. This way, you can catch glimpses of their acclaimed meatless sliders, fried pickles, and fresh wraps. These delicious offerings typically sell out in short order!
What started out as a food truck has become a brick-and-mortar restaurant! Call it "gourmet garbage" or just straight-up good eats; these burgers and loaded fries go hard on flavor without any concern for etiquette or pretentiousness. Order vegan cheeseburgers, tot burgers, chick'n sandwiches, and even a donut burger! Get a side of fries, soy curls, or mini loaded fries… it's so good!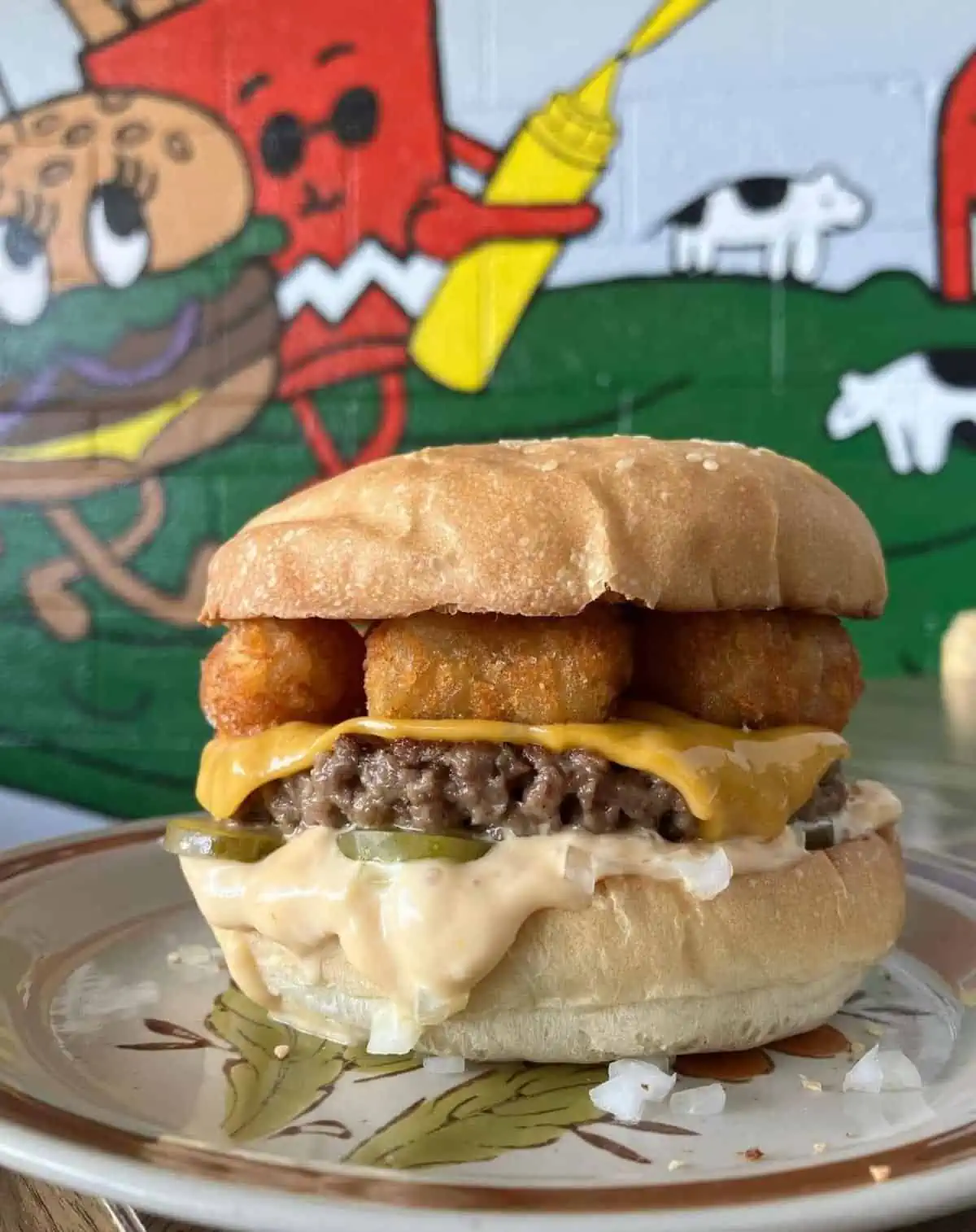 Best Vegan and Vegetarian Restaurants in Asheville With Healthy Food Options
If you prefer wholesome, unprocessed meals and lighter fare, there are plenty of options for you to refuel! These fresh ingredients with fast service won't disappoint.
This Eastern tea room has vegetarian offerings with plenty of vegan ones as well. Choose from their vegan cheese plate, their Kale Caesar salad with dairy-free dressing and vegan cashew seed parmesan, a vegan Cuban, tempeh banh mi, and more.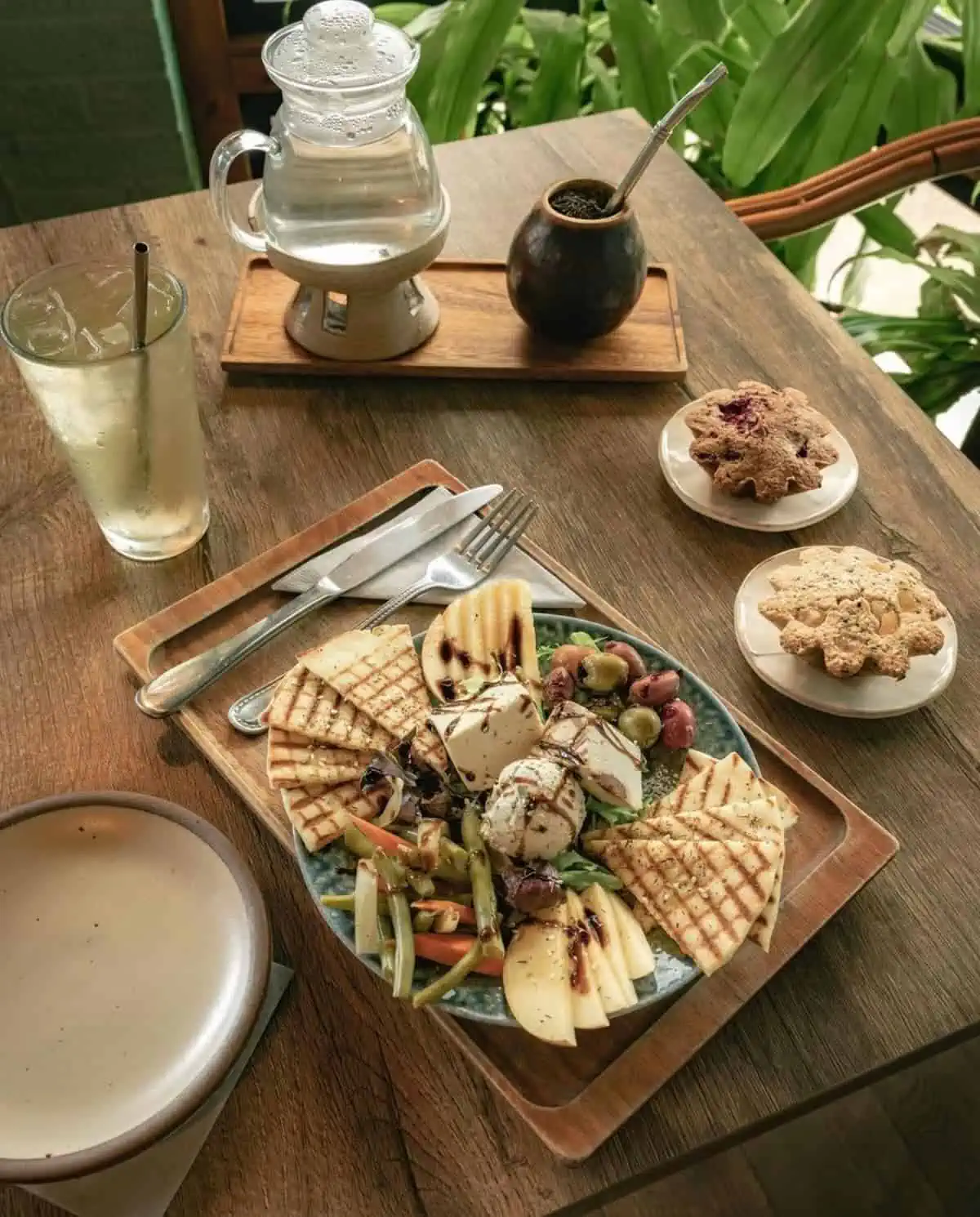 International inspirations manifest in meals that leave you light and well-nourished, with clearly labeled vegan, gluten-free, and nut-free options throughout. No matter how picky your dining companions are, there's truly something here for everyone. Like it spicy? Go for the Buffalo cauliflower tacos. Want it raw? Try the zucchini noodles with pesto and cashew cheese. Craving an old-school deli classic? The Reuben sandwich made with house-cured sweet potato or tempeh pastrami stacks up nicely.
Family-owned and fully plant-based, this is your one-stop shop for cold-pressed juices, smoothies, nut milks, elixirs, and wellness shots. Refuel the right way, without sacrificing great taste. Plenty of these blends, such as the "My Date With Chocolate" taste like decadent desserts, but are made from whole foods with real benefits.
Squeeze the day with cold-pressed juices, seasonal soups, stacked sandwiches, smoothies, and açai bowls. Even the raw cheesecakes are organic and nutrient-dense, made from nuts, not dairy, so be sure to leave room for dessert.
If you are looking for a healthy spot with a menu to please mixed crowds, Simple Cafe is a great choice. They offer healthy juices and smoothies, and vegan choices are plentiful and marked clearly on the menu. Try their carrot lox bagel with vegan cashew cream cheese, vegan black bean breakfast burrito, vegan sausage, egg, and cheese muffin with spicy vegan mayo, vegan tempeh reuben, and more!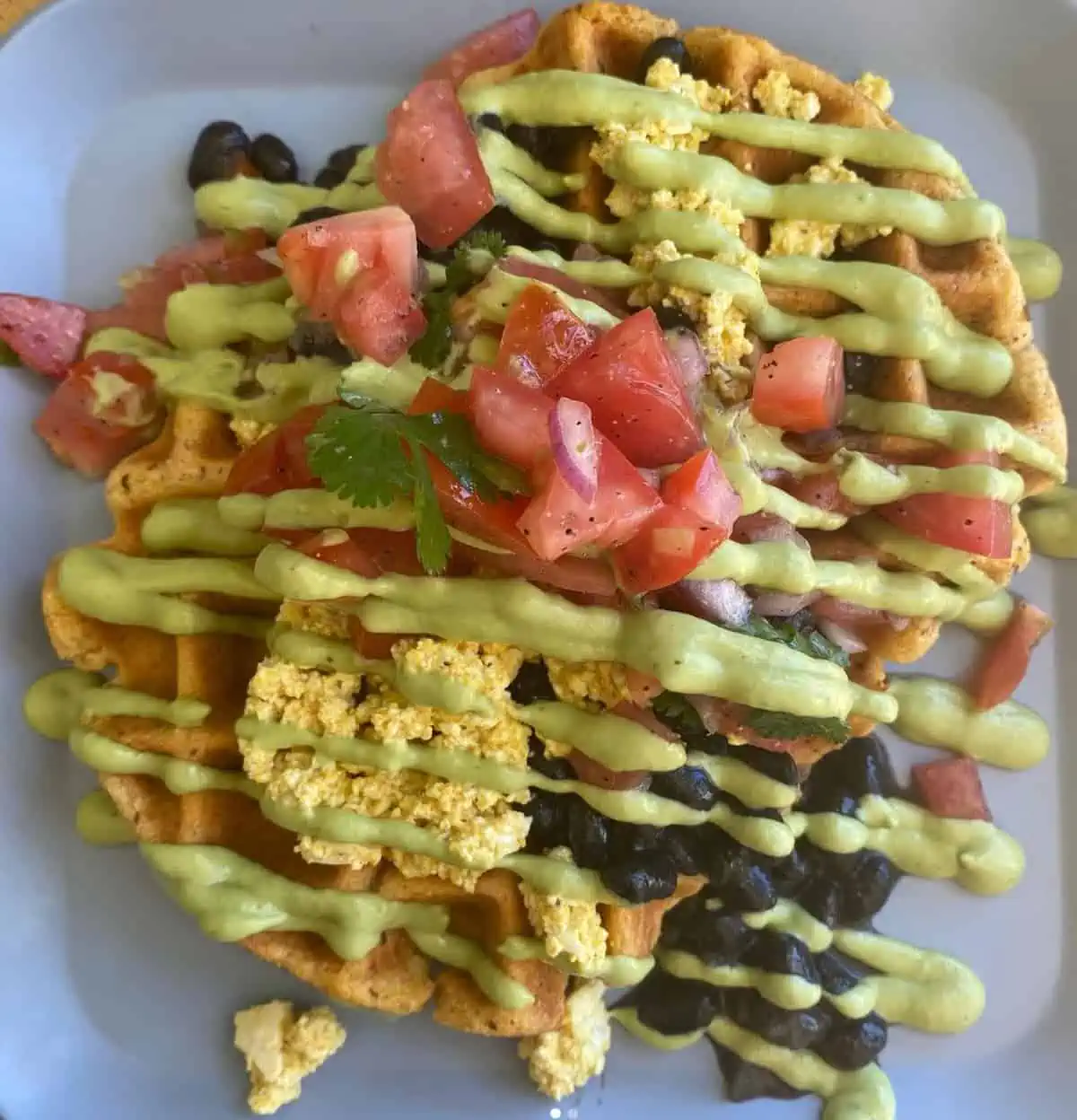 Best Restaurants In Asheville, NC for Global Cuisine: Caribbean, Ethiopian, Middle Eastern, East Asian, and Indian Food
Variety is the spice of life! You can get your thrills any day of the week when you have a world of flavors right at your fingertips. Leave your passport but take your appetite for this culinary adventure. Some restaurants serve meat, but have vegan and vegetarian options clearly marked on the menu.
Ethiopian cuisine is already very vegan friendly, but this innovative establishment takes it one step further by making traditionally meaty meals with plant-based options, such as their richly spiced tempeh tibbs. Your best bet is to go for the vegetarian Messob to get a taste of everything.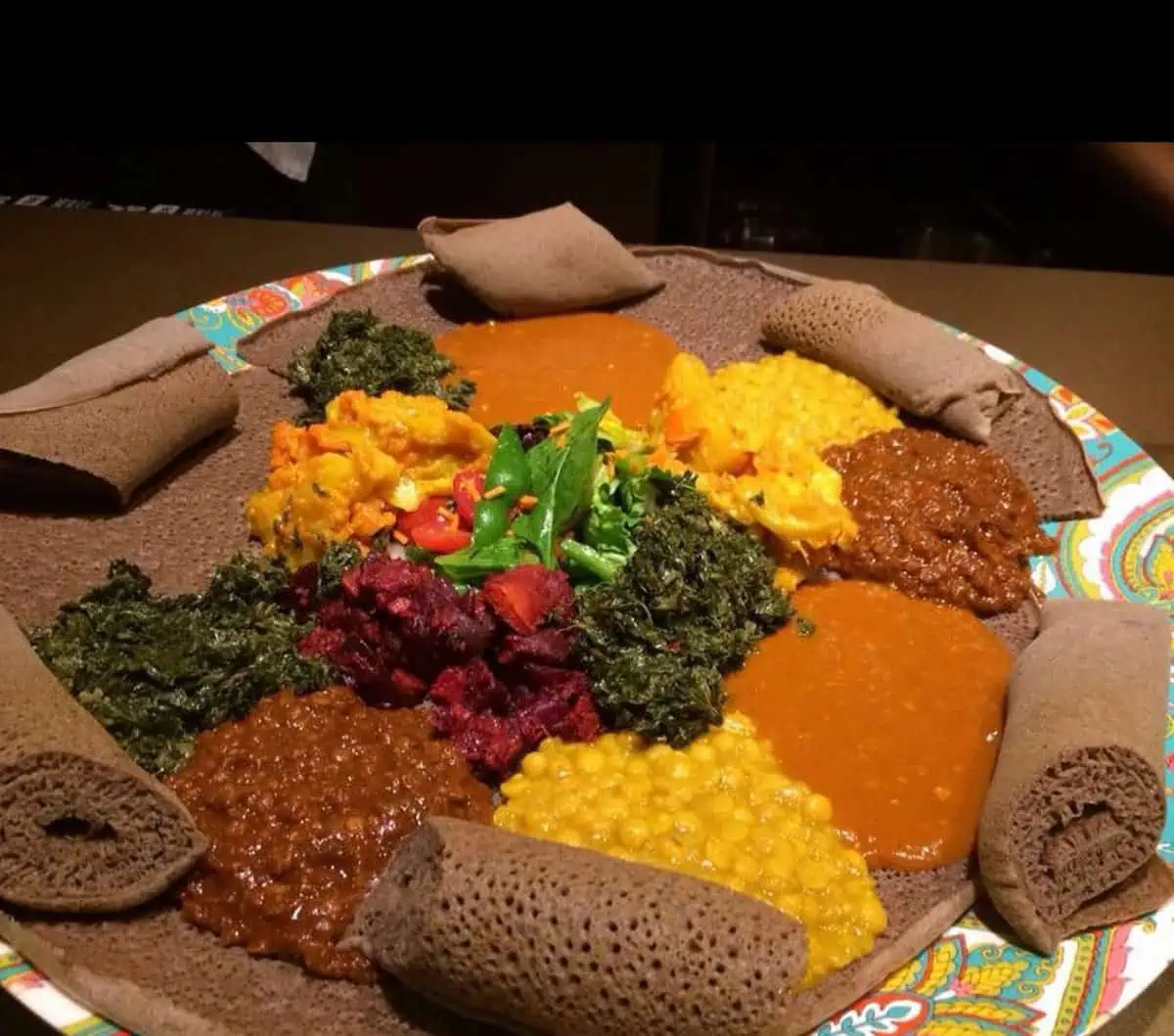 While solidly an omnivorous ode to Indian cuisine, you can rest assured that you won't accidentally get a dish with meat or ghee. Ask for the separate "special diets" menu to get a confidently plant-based meal, with plenty of gluten-free possibilities built in as well. Take advantage of unique offerings you won't find anywhere else, like the incredibly crisp okra fries. Even if you hate the typically slimy pods, this will make you see (and taste) them in a whole new light.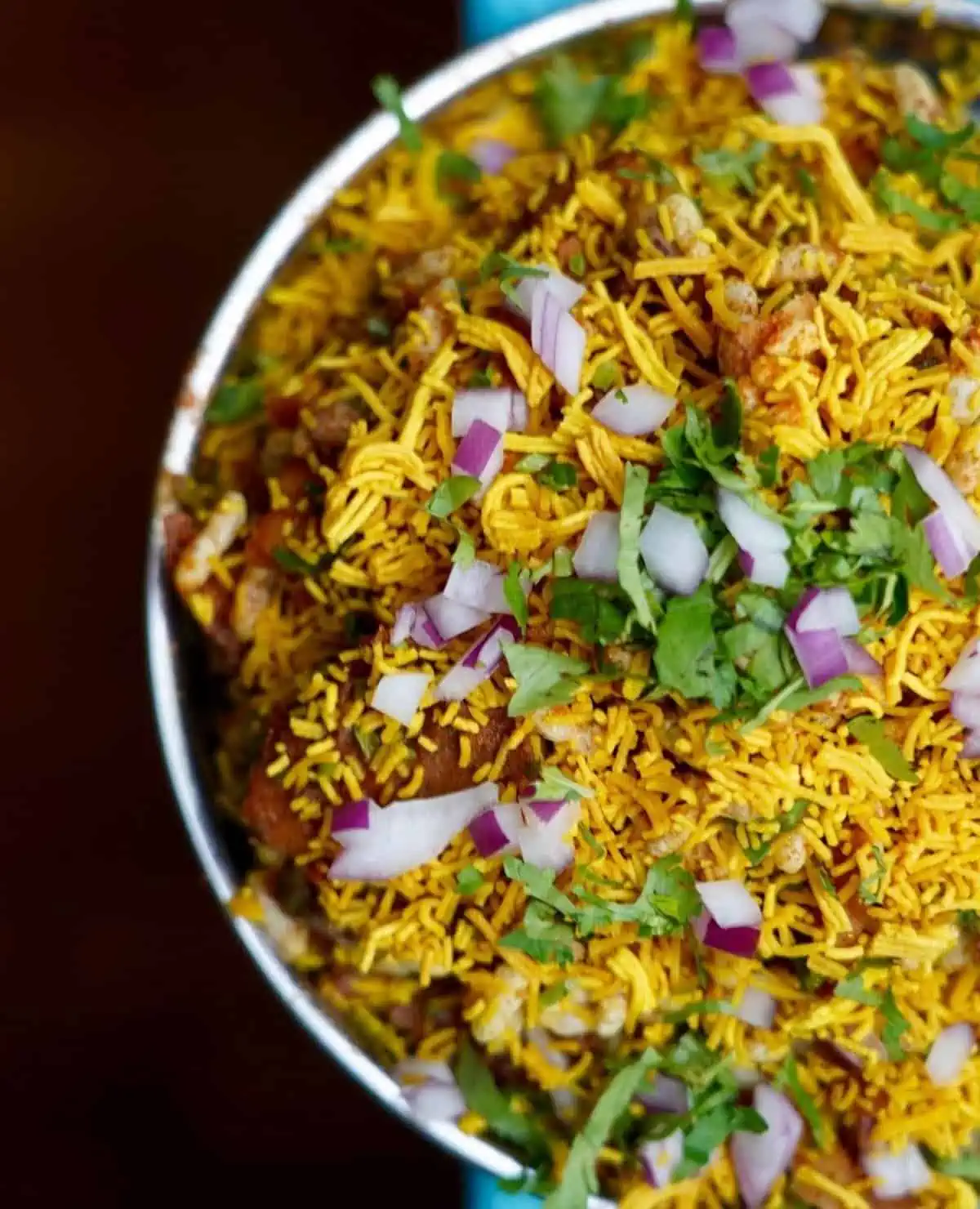 This deli and food truck offers Lebanese street food, with lots of vegan choices that are clearly marked on the menu. Try their hummus, baba ghanouj, Lebanese fries, fried cauliflower, fresh-baked Lebanese flatbread, falafel salad, and beet shawarma wrap, just to name a few of the options. They also cater!
Specializing in Caribbean cuisine, served with laid-back vibes and fresh flavors, this dinner-only spot in the heart of the historic Montford neighborhood is all vegetarian and exceptionally vegan-friendly. The only downside to this hotspot is that they don't take reservations, so come early and be prepared to wait. It's worth your time, even if it takes 1-2 hours to be seated.
Some say this is the hottest ticket in town, and it's not just because of the handmade steamed dumplings. There's an entirely separate menu of authentic vegetarian Chinese small plates, so you can mix, match, and share around.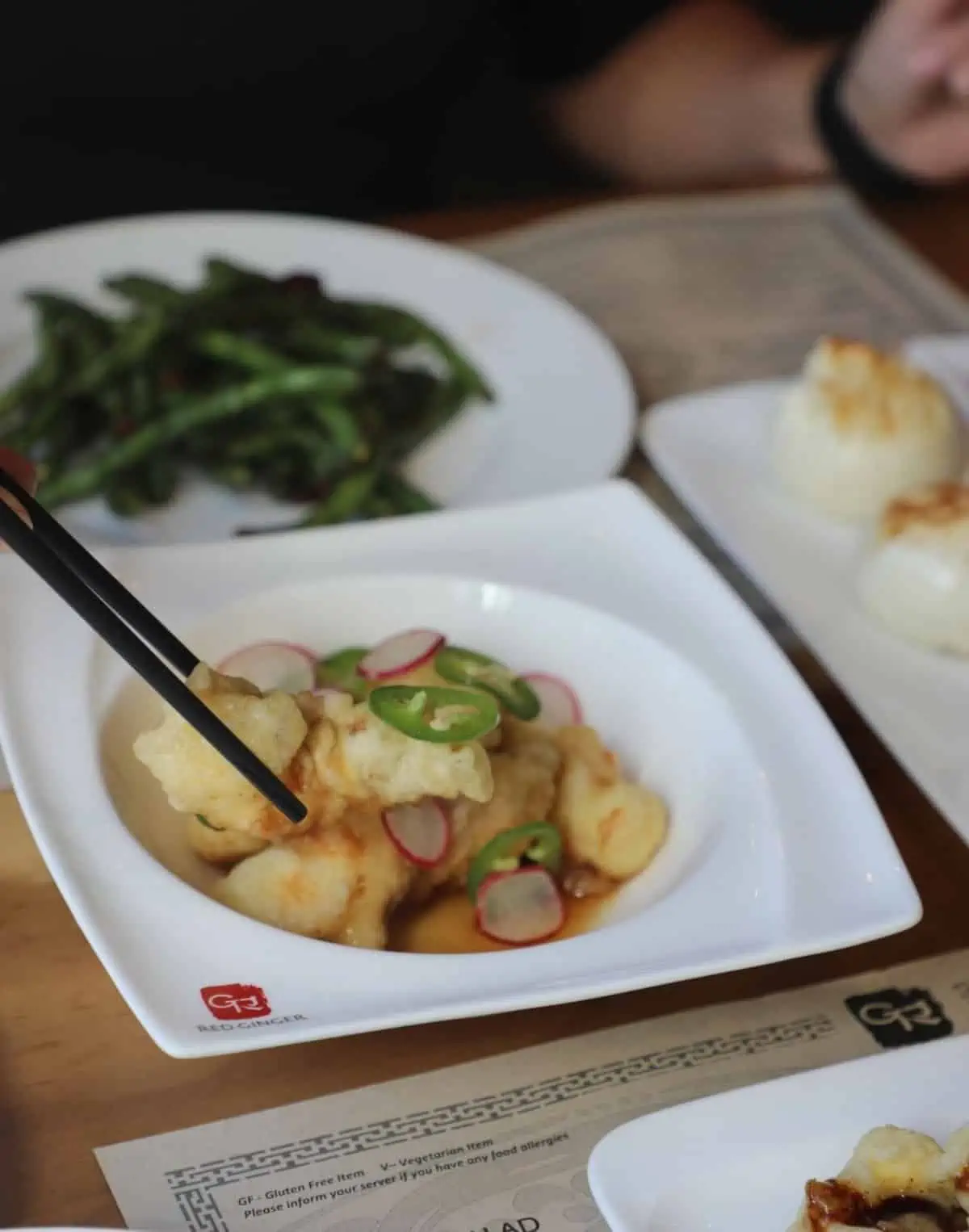 This Middle Eastern food truck offers a fully-vegan menu with crispy falafel, warm pita, and a signature shawarma seasoning. They also offer vegan kofta pita made with Beyond Meat, mushroom shawarma, and a falafel platter. If there's room left, order a side of shawarma seasoned fries and walnut baklava!
Best Vegan Desserts And Treats in Asheville, NC
Let's not sugarcoat it: There are tons of vegan treats to appease your sweet tooth in Asheville. And you don't even need to eat your vegetables first! Skip straight to the good stuff by eating your plant-based dessert first!
This is a completely vegan wholesale bakery in the Asheville area that specializes in delivering a wide range of baked goods and desserts to various restaurants and coffee shops. They offer vegan cakes, cookies, desserts, muffins, croissants, quiches, and more. Order custom-made desserts or attend one of their pop-up events!
This short but sweet list of made-to-order doughnuts comes in chocolate, vanilla, strawberry, or chai, and all can be made gluten-free upon request. Beyond the staples, be on the lookout for special flavors, like the ever-popular Cookies & Cream Crumble or jam-filled favorites.
Masters in the art of cacao, their collection of vegan bonbons would make an incredible souvenir, if you can manage to get them home before digging in. Satiate your cravings by indulging in their plant-based peanut butter chocolate cake while you're in the café or book a tour at their factory to see behind the scenes. Most treats do have eggs or dairy, but the ones that don't more than make up for it.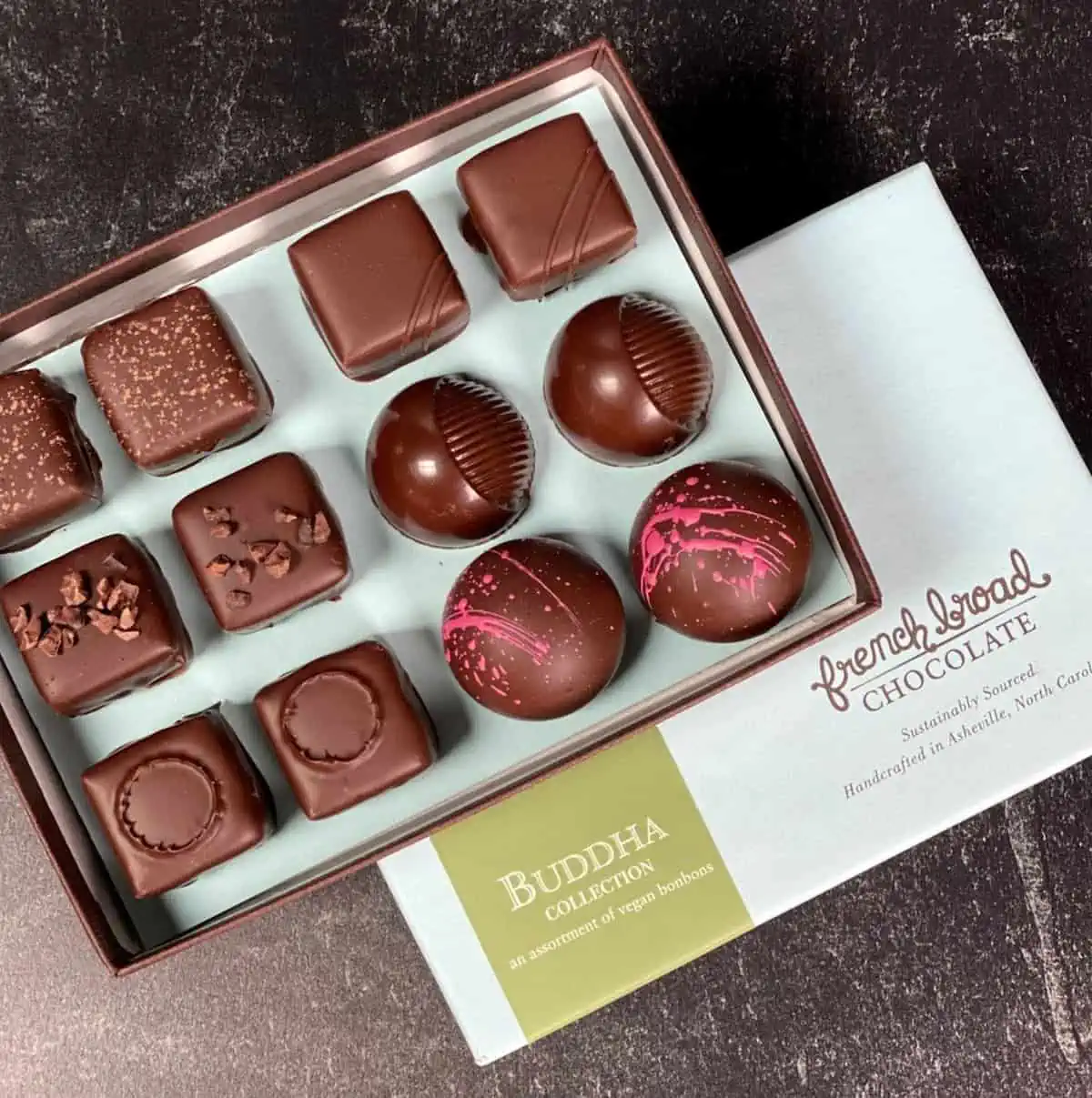 This fully vegan coffee shop offers a variety of plant-based milks for their coffee. Choose from their breakfast empanada, savory croissants, cookies, and even a carrot lox bagel with homemade vegan cream cheese!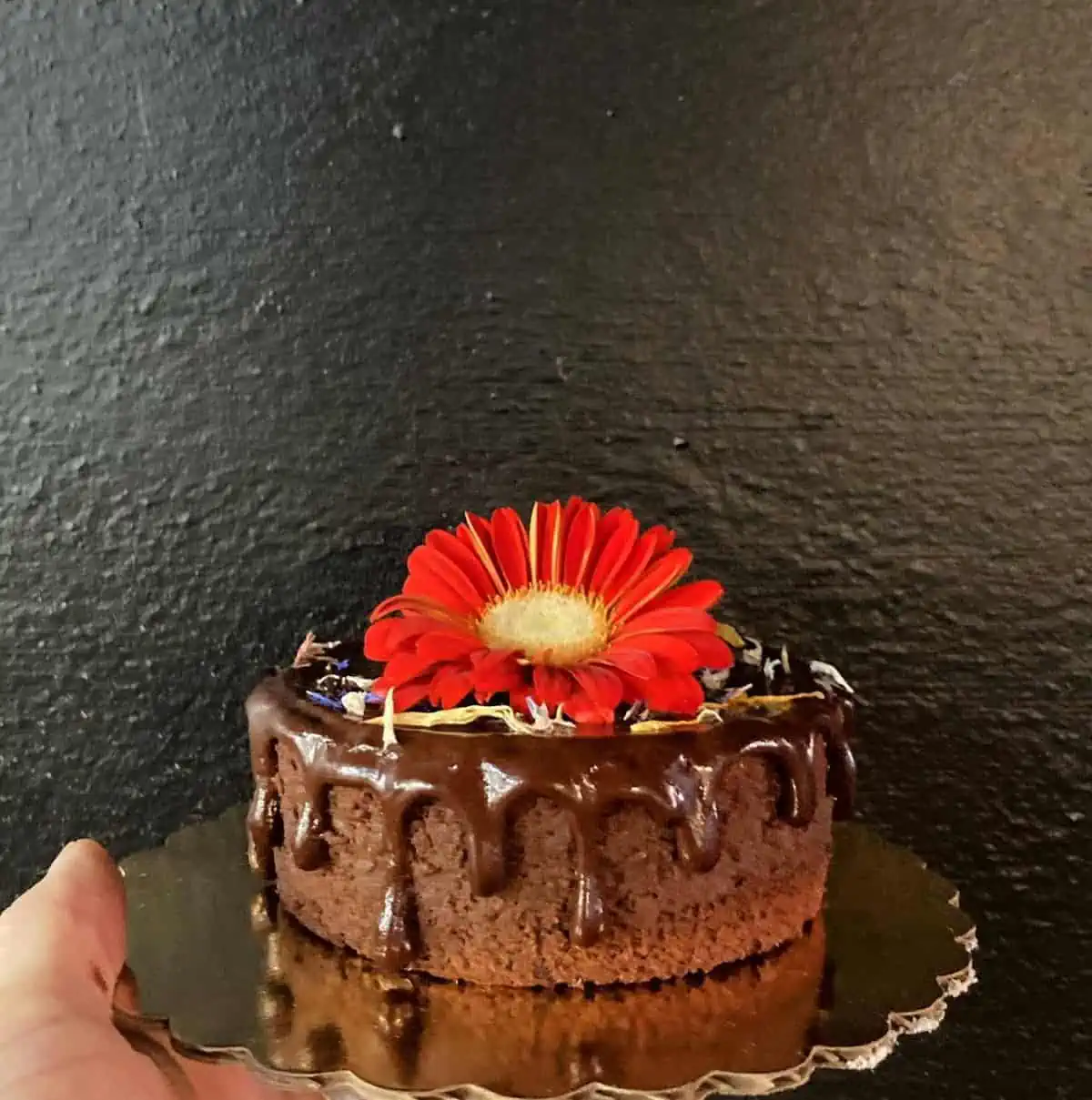 Take five and enjoy a hot latte made with locally roasted beans at one of three locations. What makes them a real treat to visit is their selection of vegan pastries, such as lemon tarts, sesame cookies, and pumpkin muffins.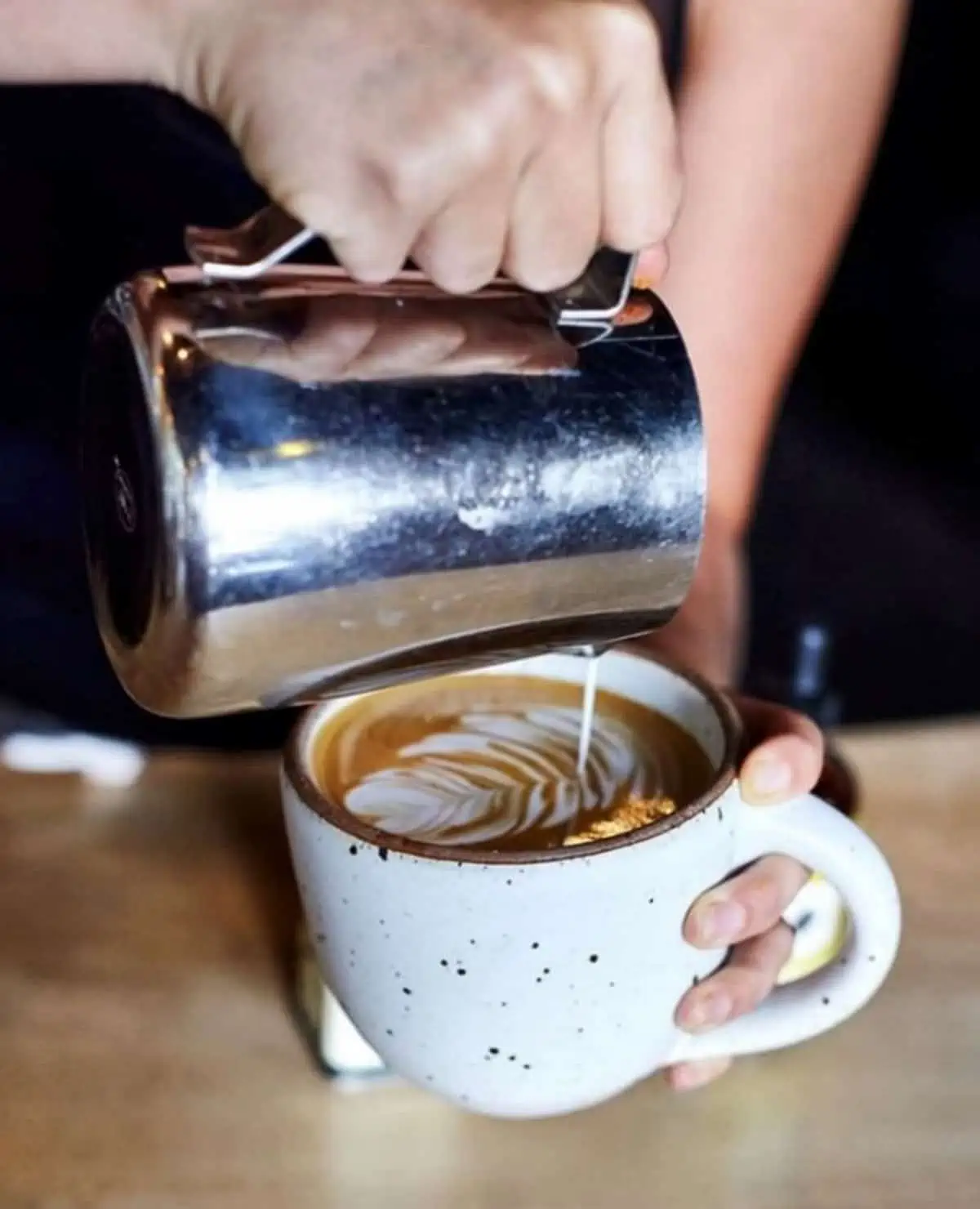 Five compact parlors are committed to promoting happiness through ice cream, which includes dairy-free bases in a regularly rotating array of flavors. They create several bases using oat milk, pepita milk, hemp milk, almond milk, and banana crème. You can also expect at least one sorbet and an option with no sugar added.
This floral design and multi-roaster cafe is a tranquil and peaceful spot to enjoy a cup of coffee. They offer a large rotating selection of baked goods from local bakers, which always includes some vegan options!
If you're craving cake, you'll want to get out here in short order. There's always at least one vegan cupcake available, with a tempting list of possibilities for special orders.
You can have your vegan ice cream and eat it with cookies, too! The only plant-based option is a coconut milk-based ice cream sandwiched between two soft chocolate chip cookies, but that's more than enough to feed your inner child.
Turning conventional menus on their heads, these "twisted" folks go out of their way to label non-vegan donuts rather than the other way around. There are always 4-6 vegan flavors that change daily, both cake and yeasted, but you'll need to come early for the full selection; supply is limited!
Asheville Vegan Restaurant Spotlights
As you can see, there's no shortage of delicious food that's vegan in Asheville, North Carolina. In fact, the most difficult part of finding a vegan meal is deciding where to get it! The availability of vegan-friendly establishments speaks to the compassionate nature of Asheville's residents, visitors, and entrepreneurs.
The atmosphere is laid back and friendly, with its unique downtown area that highlights local breweries, artists, and musicians. If you're planning a visit, or have been in Asheville for a while, check out the places below. You'll be glad you did!
Tucked away in a peaceful corner of downtown, The Laughing Seed is truly a special dining experience. With decor that's inspired by nature's beauty, dining here is similar to being inside a bright and airy greenhouse, where they just happen to serve delicious and creative vegan dishes.
Rosetta's Kitchen and Buchi Bar is another downtown hot spot, with the perfect hangout for college kids upstairs, that serves up bar favorites like their award-winning chili and french fries. The first floor is the ideal place to relax and enjoy some fresh kombucha that they offer on tap. The prices are right, and the menu will keep you coming back for more. The avocado and tempeh sandwich is a winner!
If you're in search of a fine dining experience, the locals know that Plant is a must! Their menu features small plates and entrée options that you will not find anywhere else. The (Plant) Cheese includes a super sharp and tangy cheese, a mild cashew cheese, toasted crostini, pickled vegetables, and sliced apples in Rosemary olive oil.
For the ultimate treat, try the rich and decadent dark chocolate and peanut butter-flavored "Blackout Pie," that's served with raspberry sauce and smooth coconut ice cream.
Last but not least, check out Vortex doughnuts. This place is not exclusively veg, but features the best darn donuts you will ever have the pleasure of eating. The doughnuts are fresh and flavorful. Their signature vortex of dark chocolate on top of a sugar-covered fried goodness will appear in your dreams, along with the apple fritters and vanilla bean frosted doughnuts.
Check out their Instagram for their daily selection, and watch out for their happy hour where you BOGO free.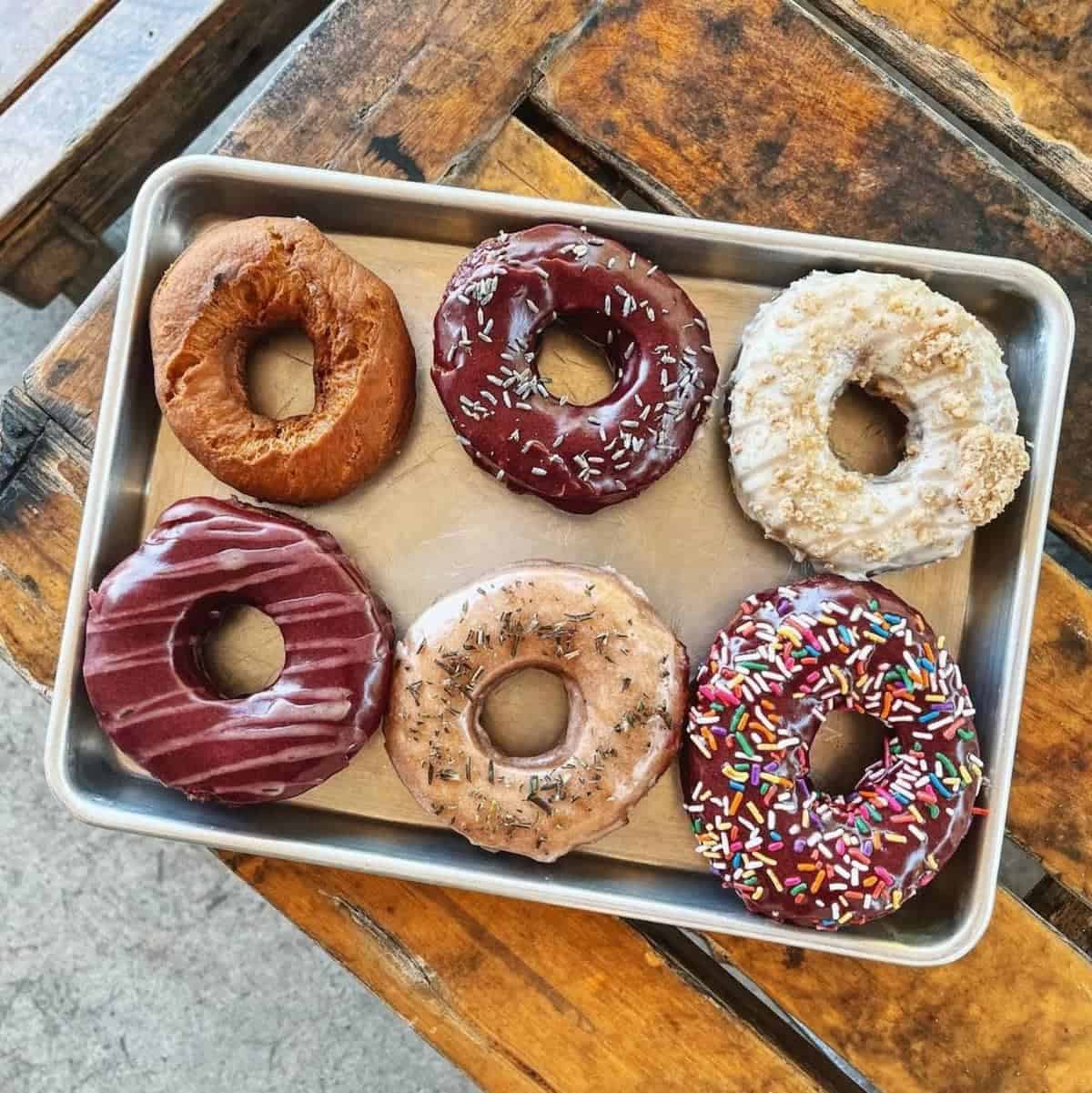 More Vegan-Friendly Restaurants in Asheville, NC
Asheville has lots of options when it comes to vegan-friendly restaurants. Although this list is not exhaustive, these are great choices to consider! Please be sure to double-check the restaurant's website before heading out, as choices may change due to seasonal availability or menu revisions.
More Vegan City Guides
We hope you enjoyed this guide sharing the best vegan restaurants in Asheville, North Carolina! If we missed any of your favorite Asheville vegetarian restaurants, we invite you to highlight them in the comments below. Many thanks to Hannah Kaminsky and Julie Massa for their help with this article. This article may contain affiliate links that support our work at World of Vegan at no extra cost to you. Thanks for stopping by, and we hope to see you again! Cover art credit: Plant