Dear fellow ramen lovers. We created this ramen guide to answer all your burning questions about these glorious noodles. Are ramen noodles vegan? Which ramen brands are vegan? Can vegans eat Nissan Top Ramen or Maruchan ramen? What about ramen broth? What are the best vegan ramen recipes? Read on…and get ready to get your slurp on!
When fresh ramen noodles hit hot flavorful broth, a magical alchemy takes place. Simple and humble ingredients dance together in the bowl, calling you to slurp them up. Whether you grew up on 10 cent ramen packets or enjoy a steaming bowl of fresh ramen at a local Japanese restaurant, some of those options will be off the table when you go vegan. So the question remains—is any of it vegan? Rest assured you can get the most divine ramen on the planet—made vegan—with a little extra sleuthing (and ingredient reading).
What is Ramen and Where Does It Come From?
Best known as a Japanese dish, the origins of ramen can actually be traced back to China. Only around the 1860's, when Japan ended its national isolation and reopened its ports to the outside world, did the noodles begin appearing in restaurants and street food stalls.
Ramen noodles can be used in stir fry dishes, but are classically prepared with a soup base, vegetables, and protein for a complete meal. It's very hearty, comforting, and deeply satisfying, transcending cultural boundaries to become one of the most popular food worldwide.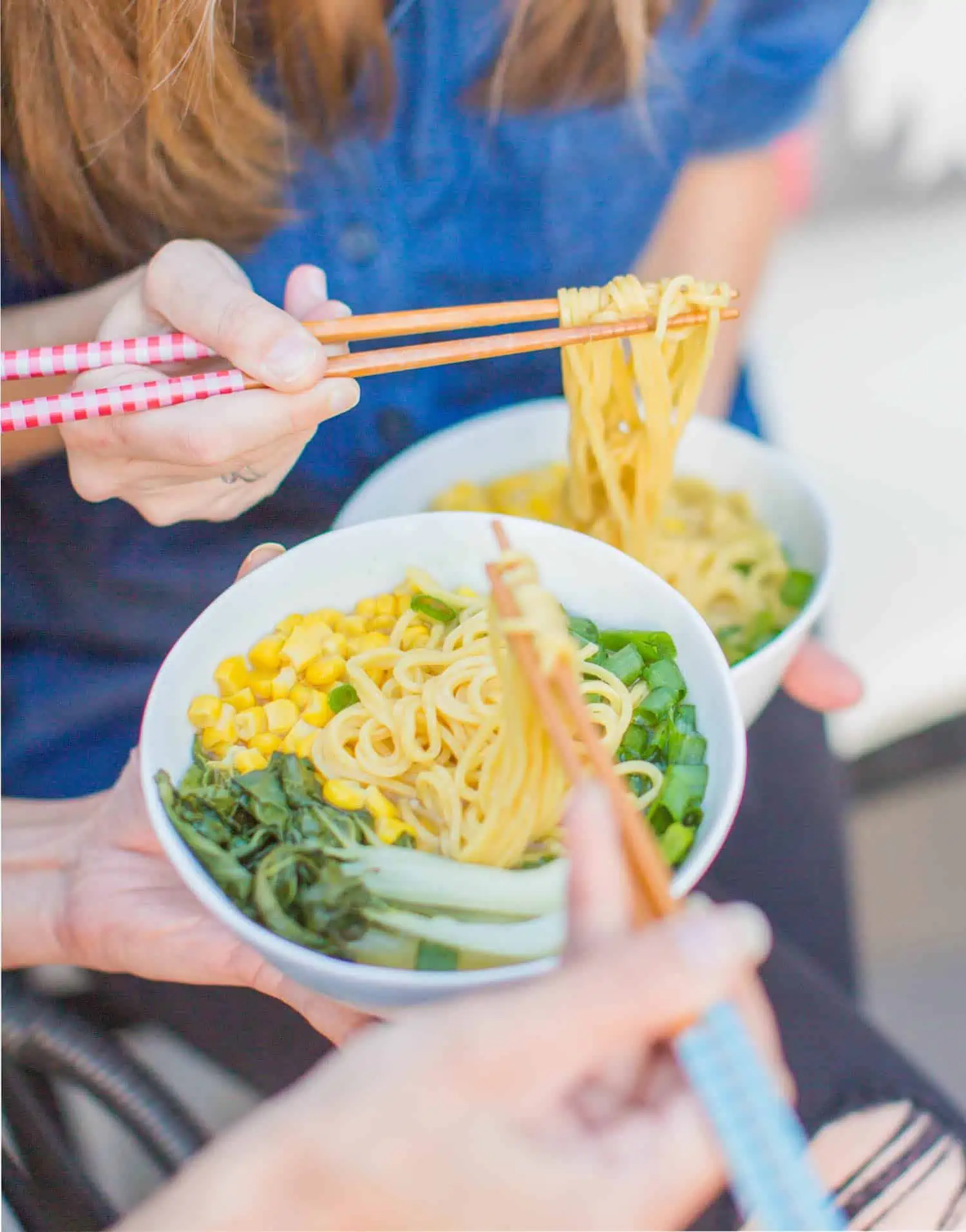 Are Ramen Noodles Vegan? Yes and No!
Yes, traditional ramen noodles are vegan, made of wheat flour, salt, and water. But not all ramen noodles are vegan. Occasionally, high-end ramen shops and specialty noodle makers will create noodles with eggs, supposedly for more tenderness and a buttery yellow color. This is not standard, nor traditional, but you should always ask or check the ingredient label to be sure.
How Are Ramen Noodles Made?
Like so many other types of pasta, traditional ramen noodles are made with very simple ingredients: wheat flour, salt, and water. The dough is kneaded, then rolled, cut, and boiled. What sets them apart from the standard macaroni or spaghetti is the addition of kansui, or alkalized water made from potassium carbonate and sodium bicarbonate. This changes the PH of the dough, creating a uniquely spring, chewy texture.
Homemade vs. Instant Ramen Noodles
Handmade ramen noodles are typically straight, due to the way they're rolled flat and cut with a knife, while mechanized ramen production creates curly noodles extruded by industrial machines. These more processed "instant" noodles are often fried to remove moisture, speed up cooking time, and keep them well-preserved at room temperature for many years. Newer innovations have created air-dried noodles which are much lower in fat and calories.
Traditional Ramen Noodle Soup is NOT Vegan
As an island nation, Japanese cuisine is particularly well known for its frequent use of fish and sea vegetables. While nori, wakame, and other types of seaweed are also common additions, unfortunately, the soup stock itself often gets its rich umami flavor from dashi, which is made from dried bonito, AKA tuna. From there, it's usually infused with chicken, pork, or beef bones, to make matters worse.
Even if it says "vegetable ramen" or "vegetarian ramen" on the menu, there might still be animal products lurking in the soup.
Thankfully, it's very easy to get the same depth of flavor from mushrooms, particularly dried shiitake, which are high in natural glutamates, the chemical components that create umami, or savory flavor. Mushroom stock is readily available in most grocery stores these days, making it easier than ever to start from scratch.
Increasing demands for plant-based options have encouraged chefs to compose meatless, vegetarian, fish-free options for compassionate eaters, too.
Are Instant Ramen Noodles Vegan?
In short: the noodles are vegan, but most of the flavor packets are not vegan.
Invented by Momofuku Ando in 1958, pre-cooked instant ramen noodles packaged with a powdered soup base have taken the world by storm. An essential staple for college students on tight budgets, they're cheap, readily available everywhere, and are ready to eat in 3 minutes or less. Today, billions of bowlfuls of instant noodles are eaten every year around the world.
As is the case with more traditional methods, these instant noodles are vegan, but unfortunately the flavoring packets included are (usually) not. Between the biggest brands, the major exception to this rule is the Nissin Top Ramen, which offers two options without animal products: Soy Sauce and Chili flavors.
Nissin's Vegan Instant Ramen Options:
None of the Maruchan ramen flavor packets are vegan.
Natural Brands of Ready-Made Vegan Ramen
More and more noodle makers are stepping up to the plate, producing vegetarian ramen options to feed the hungry hordes. Seek out these high quality, healthier, and possibly even tastier selections.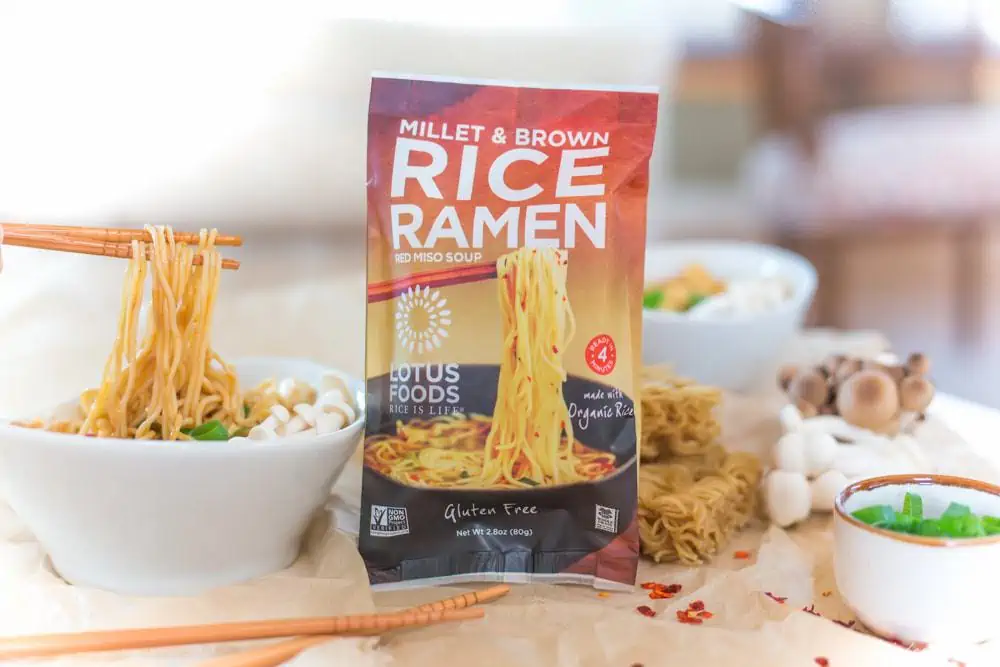 Ramen Noodle Alternatives
If you're seriously craving ramen but don't have any on hand, don't panic! There are plenty of ways around this problem if you get a bit creative. Check out our list of varied and delicious healthy noodles for more inspiration.
Your best bet is to start with standard spaghetti, thick or thin, but boil it in a solution of 2 teaspoons baking soda to every quart (4 cups) of water. It may sound crazy, but it works like kansui, from the outside! Like boiling bagels in lye, this technique creates a springier, chewier bite with just a hint of mineral flavor. It doesn't taste exactly like gourmet, authentic ramen noodles, but it comes darned close, all things considered.
For a change of pace that's a departure from the typical wheat noodle, try swapping out the pasta for one of the following:
Homemade Vegan Ramen Noodles
It may seem daunting to make your own ramen noodles from scratch, but it's really not hard! The formula is simple, made of humble pantry staples, and the process is very similar to making bread dough. Even if you don't want to make the entire dish from beginning to end, you can use these fabulous soups and garnishes to make packaged noodles taste homemade.
Here's how it's done:
Best Vegan Ramen Recipes
Even if you don't want to make the entire dish from beginning to end, you can use these fabulous soups and garnishes to make packaged noodles taste homemade.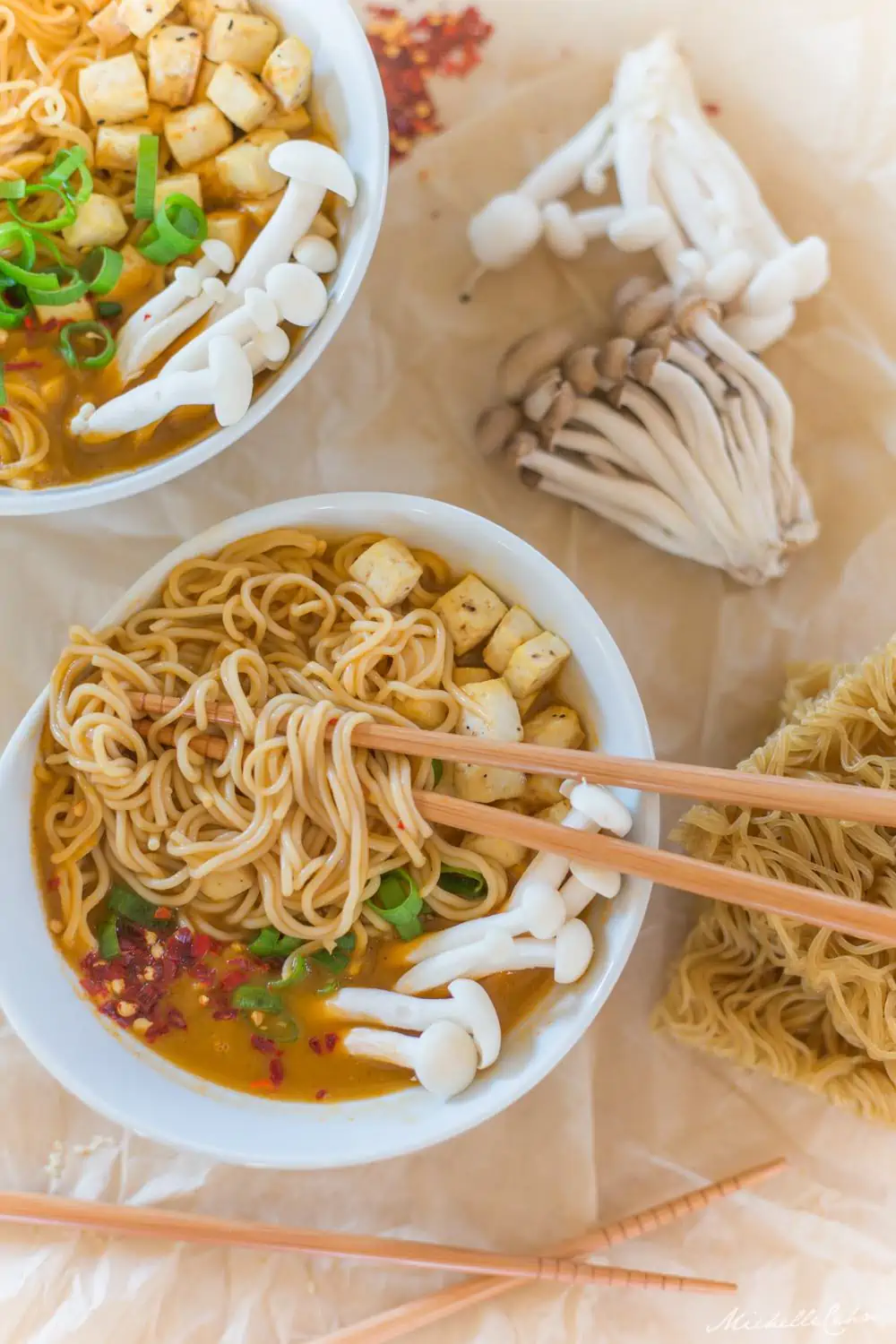 Delicious Plant-Based Ramen Toppings
The best vegan ramen is made with a deeply flavorful broth, but you can also level-up any ramen by adding on some fun toppings! Some of our favorite toppings are:
Help! My Vegan Ramen Broth Isn't Flavorful! 
If you come across a ramen broth that lacks flavor, you can easily add flavor with a splash of extra soy sauce, toasted sesame oil, and sriracha.
Awesome Ramen Recipe Hacks
Did you stock up on dried ramen noodles when they were on sale, but you don't want to eat the same thing for dinner for the next year? Don't worry, ramen is one of the most versatile dishes on earth! Here are just a few ideas for quick and easy ramen hacks:
How to Find Vegan Ramen Near Me?
Looking for a local vegan ramen house or an authentic Japanese restaurant that serves ramen? Head to Happy Cow, Yelp, or Google and search for "vegan ramen" or "vegan Japanese" and see what comes up! If you don't find any results, look for ramen spots near you and give them a call to ask if they have egg-free ramen noodles and vegan broth.
Next time you visit a popular vegan city you may be lucky enough to find an entirely vegan Japanese restaurant. Cha Ya in Berkeley or Shizen vegan sushi bar in San Francisco are just two examples!
If you were wondering, "Is ramen vegan?" we hope this guide has been helpful. This article was written with support from Hannah Kaminsky. Please note that this article may contain affiliate links which supports our work at World of Vegan.