There seems to be an unspoken belief out there that to eat well as a vegan, you need to have chef-level skills and heaps of free time on your hands.
We don't know where this myth came from, but it's simply not true!
While the gorgeous food photography you see on Pinterest and Instagram can look intimidating, we promise you that most vegan fare is pretty easy to put together, especially when you know how to prepare some basic vegan staple recipes and ingredients.
Below are 10 essential recipes that all vegans should have in their culinary repertoire—plus a not-so-essential bonus recipe if you want to be extra. If you're still hungry for more, check out my cookbook, The Friendly Vegan Cookbook, which is packed with dishes that will become staples in your home. Bon appetit!
1. Nut Milk
If you're making a vegan recipe, there's a good chance it will require a plant-based milk. Plant-based milks are an excellent base for smoothies, oatmeal, cereals, baked goods, and vegan milkshakes, but they're also essential for making so many wonderful vegan soups and cream-based dishes.
Nut milks, especially almond- and cashew-based milks, are pretty much ubiquitous in grocery stores across the nation, so you shouldn't have much difficulty in finding a vegan milk to try. Soy milk, oat milk, and coconut milk are growing in popularity, but don't come in quite as many varieties as nut-based milks, from what we've seen.
But…did you know it's super-easy to make your own? Using a base of soaked nuts (cashews and almonds work great), a high-powered blender, and a nut milk bag, you can whip up your own creamy, healthy, delicious nut milk in minutes.
Plus, when you make your own nut milk, you can control how creamy it is, how sweet it is (and what it's sweetened with), the flavor (vanilla almond milk, anyone?) to perfectly fit your flavor preference. You can get a simple nut milk recipe right here!
So if you've been thinking: I don't want my recipes to taste like coconut! Or: Almond milk is too bland! Or: Those milks have too much added sugar!
Fret not, friends. Regardless of whatever recipe you're making or your dietary concerns, we can guarantee with almost absolute certainty that there is a dairy-free milk out there for you.
There are non-nut based milks for those with nut allergies, low-sugar or sugar-free milks for those monitoring their sugar intake, and vanilla- and fruit-flavored milks for those who want to put some gastronomic pizzazz into their cooking.
Whatever your preference, there's a vegan milk out there just waiting to make your recipes pop. And if you've never tried making your own, give it a go! You'll love it.
2. Egg Replacer for Baking
Even if you bake only for holidays and other special occasions, you need to know how to make an egg substitute (because trust us, just thinking you can skip the egg in a recipe never works).
Yes, you can absolutely find commercial vegan egg replacers like this Ener-G egg replacer (which was my go-to in baking for years). You can find these in most grocery stores—and if you can't find them at yours, you can get them online.
But friends, there are many options besides commercial egg replacer that work just as well. Flax eggs, mashed banana, peanut butter, and applesauce are some of the easiest egg substitutes regards of your budget or how vegan-friendly your local supermarket is.
My personal favorite egg substitute is a 'flax egg' because it's flavorless, works beautifully, and has added health benefits. You can make a flax egg by combining 1 tablespoon of ground flaxseeds with 2.5 tablespoons of water. Whisk that together and allow it to sit for 5+ minutes and it will thicken and become a bit gelatinous like an egg. I use this in cookies, muffins, cakes, and beyond!
You can check out our egg replacer guide here.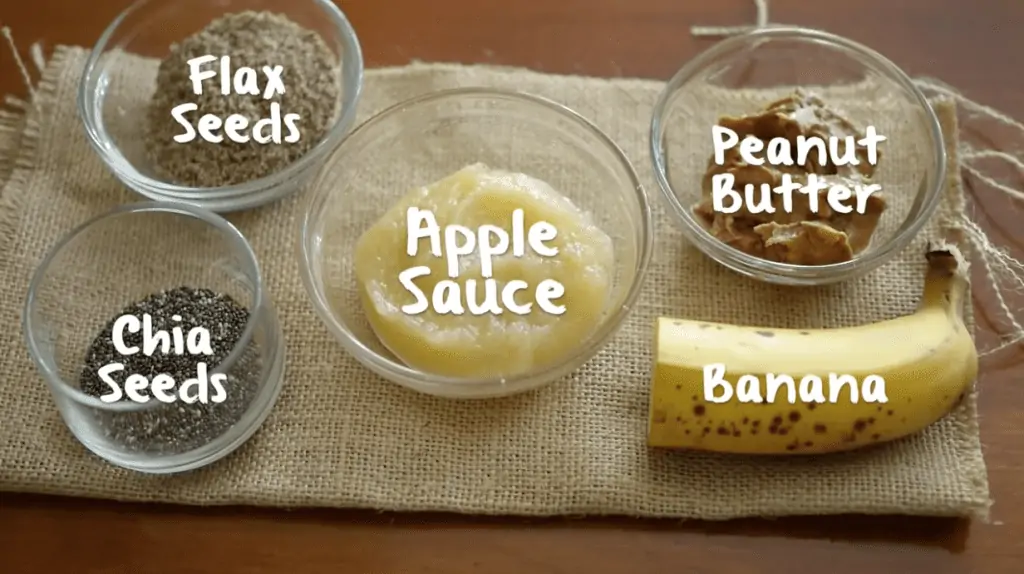 3. An Easy Breakfast Tofu Scramble
Don't have a lot of time in the mornings for breakfasts, but want to stop getting mid-morning crashes because you didn't eat a nutritious morning meal?
Have in-laws visiting who you want to 'wow' with a vegan breakfast creation?
It sounds like you need a go-to tofu scramble. Not only are tofu scrambles protein-packed and super filling, but they're so easy to whip together in the mornings! They're one of our go-tos when we have a few minutes to spend in the kitchen in the morning.
In its simplest form, a tofu scramble is made by crumbling extra-firm tofu into a skillet with oil, sauteed onion and garlic, salt, pepper, turmeric (to turn it yellow), and any other mix-ins you desire. I typically add bell pepper, spinach and sliced baby tomatoes for added nutrition and a pop of color. You can get really fancy by adding black salt (which will give it that egg-like sulfur vibe), vegan cheese, vegan meats, green onions, or avocado.
We love this teriyaki tofu scramble, but there are 1,001 ways to customize your breakfast scramble!
4. A Versatile Cheese Sauce
Okay, we know it's a bit cliche, but we just love nooch when we're craving a cheesy flavor.
But there's so much more to vegan cheese than just sprinkling in some nooch and calling it a day!
We recommend that every vegan know how to prep at least one versatile vegan cheese sauce that can be used for pretty much anything, from macaroni and cheese to fondues.
This vegan cheese sauce (from our vegan mac 'n' cheese recipe) is one of our favorites.
You'd be surprised at how a simple cheese sauce can transforma recipe from just good to being a gastronomic success.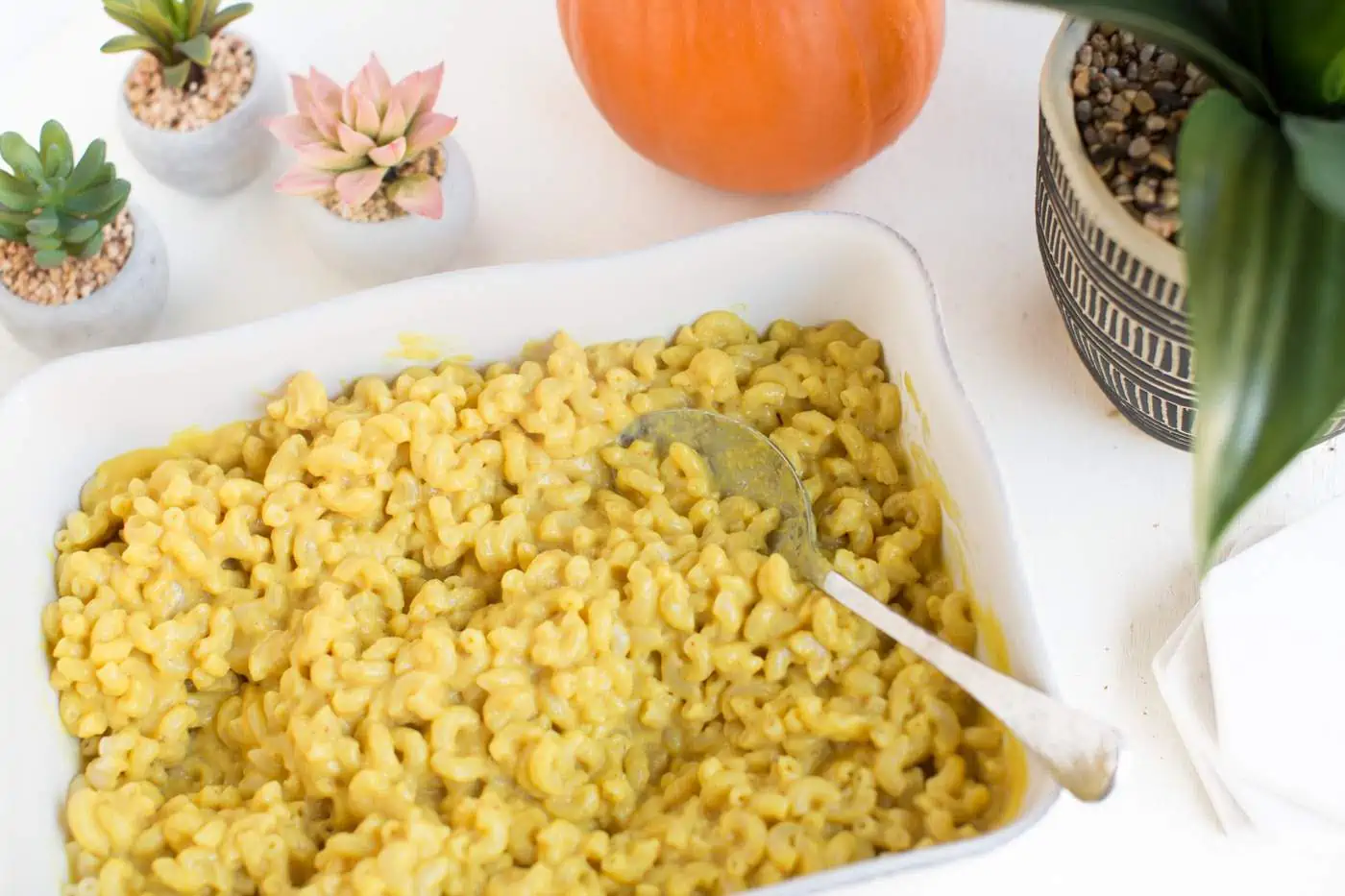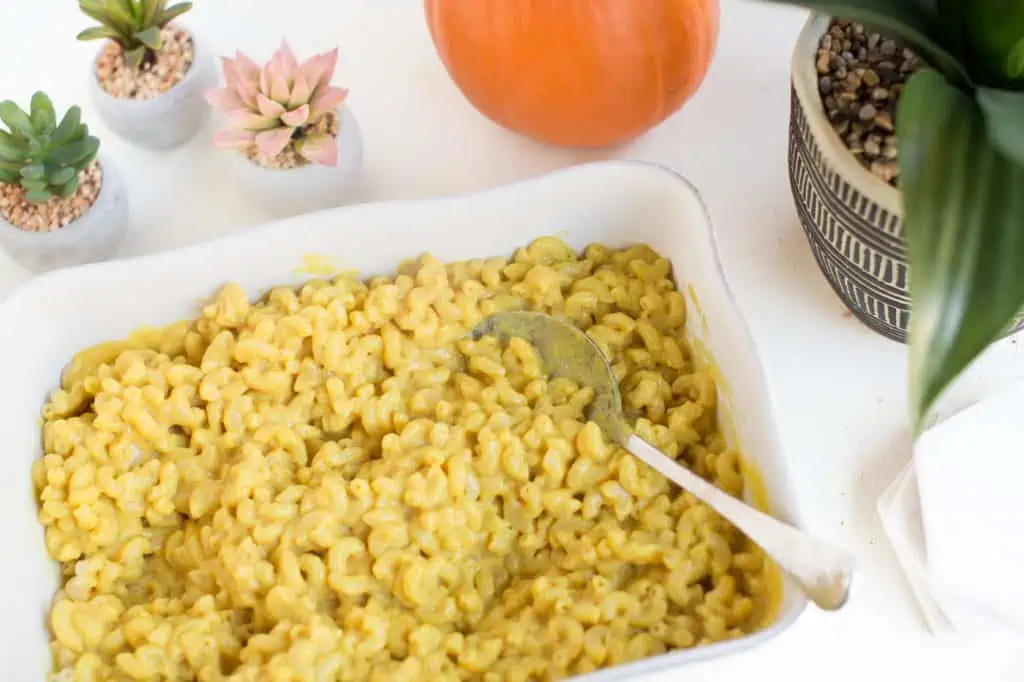 5. Quick & Easy Hummus
Keeping in theme with the other recipes on this list, hummus is incredibly flexible when it comes to cooking as a vegan. If you have a reliable hummus recipe under your belt, you'll have:
A great spread for sandwiches
A gorgeous centerpiece for a hummus board at your next holiday (that complements your fancy vegan cheese, to boot!)
A nutritious dip for crackers and veggies
Tons of money left over from not buying pre-made hummus!
Let me take a quick moment to stress that money-saving bit. If hummus is a staple in your home (like it is for many vegans), making a big batch each week rather than buying a tub off the shelf at the grocery store can save you a lot of money over time. Instead, you can put toward, I don't know…fancy vegan cheese? Family vacations? Your kiddo's college fund?
My dad and I show you how it's done in this vegan hummus recipe and video.
If you don't like traditional chickpea-based hummuses, never fear! You can always opt for another bean-based hummus, like white beans or black bean hummus!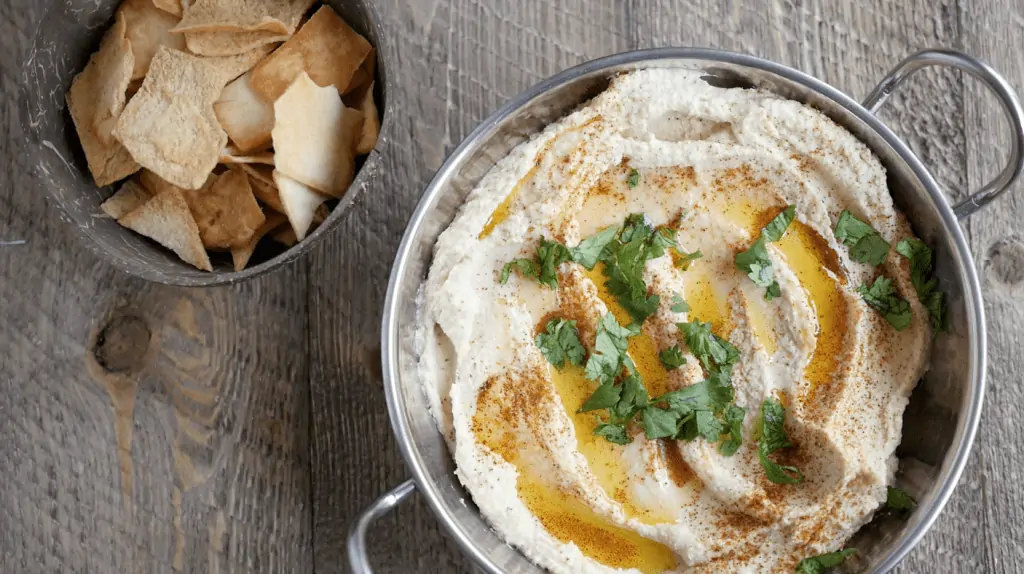 6. A Go-To Soup
Everyone needs a good soup recipe, regardless of if you're live in sunny climates of southern California or northern Maine.
A reliable soup recipe is great for those days when you want a warm, comforting, healthful meal that you can whip together and portion out for the rest of the week.
And of course, there's something about sharing soup, especially something as nurturing as this winter squash bisque, that really bonds a family together.
Here are a few vegan soup recipes we've got for you to explore: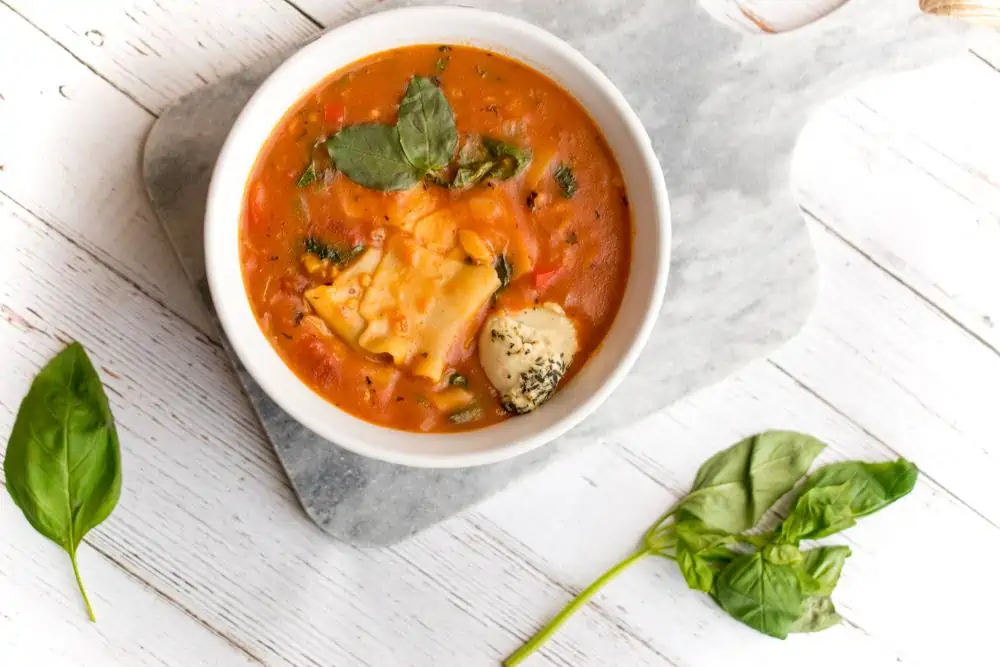 7. A Go-To Cookie Recipe
There's nothing quite like freshly-baked homemade cookies. That smell…it's hard to beat. But even if you don't enjoy baking, or (gasp!) don't enjoy baked goods (who ARE you?), at some point in your life, you're going to have to whip together a batch of cookies.
Why not make things easier on yourself and have a go-to cookie recipe that's great for practically every occasion imaginable, from holidays and birthdays to hosting a dinner for friends?
When we want homemade goodness that will make everyone feel all warm and nostalgic inside, we reach for these widely-loved vegan cookies. When we're looking for something that is a guaranteed crowd-pleaser but also allows for more customization, you'll find us baking up a few batches of super-easy vegan sugar cookies.
Of course, you can never go wrong with a classic vegan chocolate chip recipe, because who would ever deny the goodness of a chocolate chip cookie?
You can find a whole array of expertly crafted cookies in the book: Vegan Cookies Invade Your Cookie Jar. This baking book was written by Isa Chandra Moscowitz and Terry Hope Romero, two of the most trusted vegan chefs out there, so you know the recipes will turn out every time!
8. A Never-Fail Cupcake or Vegan Cake Recipe
Cookies are great and all, but when you want to really impress your guests, it's hard to beat a fancy cupcake or a sumptuous cake.
Got a birthday to celebrate? Want to spoil your co-workers over the holidays? Need to bring cupcakes for the kiddos at school? Whatever reason is calling you to bake a cake (or cupcakes), it's important to have a tried-and-true recipe to turn to.
Baking for a birthday or an event is not the time to experiment with new recipes that may flop. You don't have time for that! And that sort of unnecessary stress can all be prevented by exploring recipes now, under lower-pressure situations. Yes, I'm suggesting you tie up that apron and start baking just for fun. Your housemates will love you for it!
You can get all the foolproof vegan cake and cupcake recipes you'll ever need from these two books:
Even if you feel like there's a slim-to-none chance that you'll never need to make a cake in your life . . . trust us, something will pop up. Besides, everything tastes better homemade!
9. Banana 'Nice Cream'
HOLD up. This isn't a staple in your life yet??
I know far to many brand-new vegans who lament over their long-lost dairy ice cream. First of all, with all the delicious vegan ice creams out there today, there is no reason to lament! Pure silliness.
But beyond that, when you can have creamy, delicious, soft-serve-like ice cream that's actually healthy and can be made in minutes with just one uber-affordable ingredient most of us already have on hand, why wouldn't you eat that all the time?
Banana 'nice cream' is Mother Nature answering our calls, and granting human beings their greatest wish: for the most delicious desserts to be healthy.
You get the point. I stock up on frozen bananas on every grocery trip so that I can make this easy vegan banana ice cream. It's game-changing, friends. Truly game-changing.
Call us a little whimsical, but we'll take any excuse we can to satisfy our sweet tooth while crushing our healthy eating goals!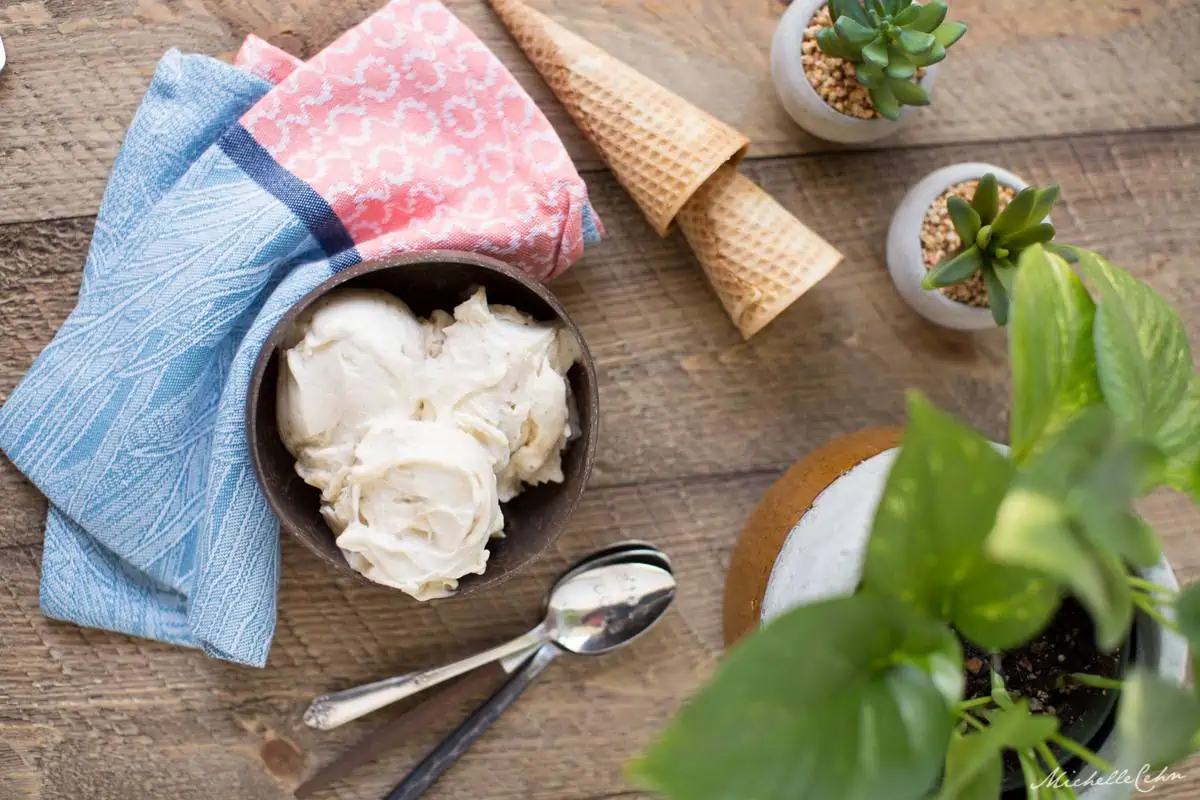 10. Coconut Whipped Cream
You've never had coconut whipped cream? Well then, it's a darn good thing you're here. You need coconut whipped cream in your life, even if you don't like the taste of coconut.
Our coconut whipped cream recipe (which is also one of our most popular pins of all time) is pretty much the perfect addition to top off our desserts, to service with fruit, or to pile on top of our hot chocolate and coffee.
With only three ingredients, it's super-easy to make. But keep in mind: that can of coconut milk will need to chill in the fridge for 24 hours before you can whip it up into cream.
Plus, it doesn't taste like coconut, which means that you can get some creamy sugary goodness to your beverages and desserts without the flavors being overwhelmed by the taste of coconut.
BONUS: A Fancy Vegan Cheese!
We don't know about you, but we're always looking for an excuse to include more vegan cheese in our lives.
But you shouldn't just include any old cheese in your recipe cache—you need a gourmet-style vegan cheese (like this absurdly-easy, no-wait vegan cheese log) for those days when you're feeling fancy or need to impress some guests.
A fancy vegan cheese looks great as a centerpiece on a vegan cheese or hummus board. More than just being good for crackers, fancy vegan cheese can make a great addition to salads, pastas, and sandwiches!
Trust us, our dear herbivorous friends, you need a fancy cheese—and all of the complements and delight it will bring—in your life.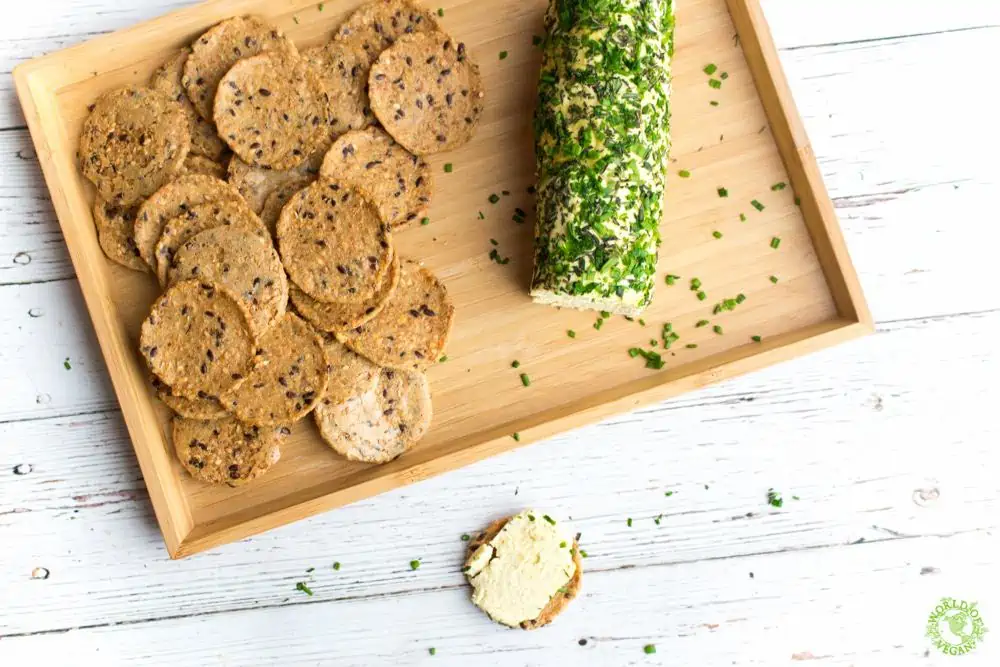 Measurements Made Easy
If you're a newbie to the kitchen and you're having a little trouble with metrics, these two guides are invaluable for cooking conversions:
No need to worry about wonky amounts anymore!
That's A Wrap!
Now that we've gone through our vegan staple recipes, we want to hear from you! What are some foods that you think all vegans should be able to prepare? Let us know over on Twitter.