Balancing disparate sensations of richness and refreshment, qualifying as both a frozen dessert and a drink, milkshakes are a unique taste sensation irresistible to anyone with a sweet tooth. Based on the name alone, it might seem impossible to enjoy on a vegan diet, but that couldn't be further from the truth.
Milk is no longer synonymous with dairy, and nothing is off the table. Whether you're on the road or at home when cravings strike, we've got you covered with the best vegan milkshakes for miles around.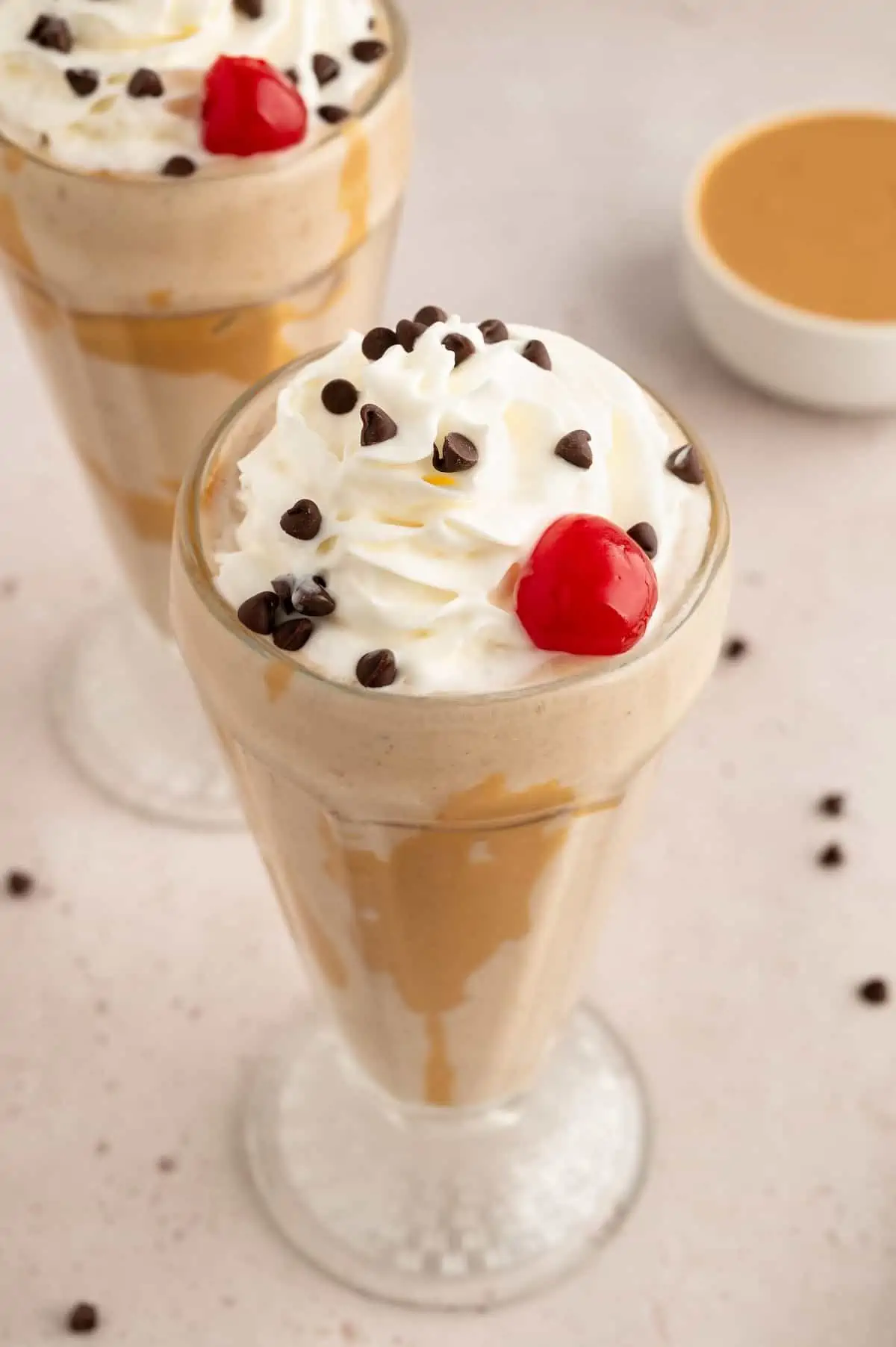 Finding Vegan Milkshakes Near Me
Your options for finding plant-based shakes around the country will vary by location, even within the same franchises. Always double-check with individual restaurants before placing your order, especially in omnivorous establishments.
Mainstream Chains
The most accessible and widely available vegan shakes will come from restaurants serving all sorts of fare. This is a great way to offer a more inclusive meal for everyone and encourage the spread of plant-based options.
Ben & Jerry's: Scooping from the pints that everyone knows and loves, Ben & Jerry's ice cream shops offer so much more than just cups or cones. Not all locations stock non-dairy milk, so call ahead to make sure, or take the extra step of bringing your own! Milkshakes are important matters and there's no shame in going the extra mile.
Starbucks: Granted, these aren't genuine milkshakes, but a Frappuccino made with oat milk, almond milk, or soymilk, hold the whipped cream, can absolutely scratch that itch when nothing else is available. Avoid anything made with a sauce rather than a syrup (like white mocha sauce, caramel sauce, pumpkin spice sauce, etc.) and you'll be good to go.
Fatburger: Made with a blend of cashews, coconut oil, and oat milk, there are four classic flavors to slurp down alongside your Impossible patties. Choose from strawberry, chocolate, vanilla, or banana to end your meal on a truly sweet note.
Shake Shack: Still being teased as a trial at only 10 locations across New York and Florida, some lucky vegans get to enjoy chocolate milkshakes and frozen custard through a partnership with NotCo. Here's hoping it passes the test because it sure looks like a winning bet to me!
Burgerville: As a Pacific Northwest staple, this homegrown chain emphasizes comfort food with quality, which is clear from the abundant plant-based offerings. All their shakes can be made with non-dairy coconut ice cream upon request, in addition to sundaes if you want something to really spoon into.
The Hummus & Pita Co.: You might not expect to find vegan shakes at a falafel joint, but you probably wouldn't expect them to be made of blended chickpeas, either! Even more impressive is that there's no added sugar. If you can't stop by to see for yourself, save the secret recipe to try at home.
Amy's Drive Thru: These Northern California outposts are churning out the same savory entrees we've loved from the freezer section for years, but with one big added benefit: Milkshakes for dessert! There are still dairy options as well, so be careful to specify vegan to make sure you get a vanilla, chocolate, strawberry, orange, or cold brew coffee shake made with a non-dairy coconut base.
Vegan Chains
Nothing is off limits on these menus! Order with abandon and enjoy every bite, knowing with full certainty that your meal is 100% plant based. The only problem might be deciding what to order when given free rein.
Stand Up Burgers: Take a stand and eat like you give a shake! Serving up classic fast food with a side of attitude, this upstart is the brainchild of Veggie Grill founders, so you can expect the same quick service and highly satisfying eats that everyone will love. Don't miss their limited-edition offerings, like the seasonal Peppermint Double Shot Shake, made with espresso, peppermint and chocolate syrups, whipped cream, crumbled Oreos, and crushed chocolate-covered espresso beans.
Next Level Burger/Next Level Clucker: This burger- or fried chicken-centric establishment comes from the same location, and both offer the same round of milkshakes to complete either meal. Expect at least a dozen flavors to chose from on any given day, with plenty of wiggle room to customize however your heart desires.
Project Pollo: Taking Texas by storm with an eye for the entire world, the short but sweet menu includes several compelling milkshakes, made with Oatly oat milk soft serve ice cream. The only thing better than an extra-crispy plant based fried chicken sandwich is one that comes with a cool, creamy shake and a jumbo straw to take it all in.
Honeybee Burger: SoCal is currently the lucky home to this burgeoning business, but soon New Yorkers can drink deep from the same generous cups of cool, creamy vegan shakes. They start with a coconut base and feature fresh, flavorful, homemade additions like strawberry compote and rich dark chocolate sauce.
Plant-Powdered Fast Food: There's nothing "standard" about this selection of bold blends. Sure, you have all the classics in attendance, but there's also a few wild cards like horchata, cookie butter, and the ever-changing seasonal option. Be fearless and try something new! You'll never be disappointed, especially when you start with one of their fully stacked specialty burgers.
Earth Burger: Get in touch with your roots at this small but growing chain based in Central Texas. Earth Shakes feature strawberry, chocolate, vanilla, Oreo, and Peppermint Oreo options to appease the kid in all of us.
Monty's Good Burger: Boasting pickup times of 10 minutes or less, Monty's is directly targeting America's favorite clown and coming for the king's crown. This is the plant-based fast food equivalent that makes no compromises for flavor or ethics. If you can't find room for a full shake after powering down a Monty Meal, you can always ask for a half size, because no one should miss out on the experience.
Best Recipes For Non Dairy Milkshakes
With a full kitchen at your disposal, milkshake cravings don't stand a chance. While classic recipes blend ice cream with milk to make the base, there are plenty of plant-based alternatives for both, in every flavor you could imagine. If you'd like a bit more guidance to make sure you get the ratios right, here are some foolproof formulas with the biggest hits:
How To Make A Vegan Banana Milkshake
By far, the most affordable, accessible, and nutritious approach starts in the produce aisle, rather than the freezer section. Use the natural sweetness and creamy texture of ripe bananas to your advantage and save your precious ice cream for a splurge another day.
The reasonably neutral base is ideal for adding your own unique spin, even if you have minimal ingredients on hand. Peanut butter is my go-to, adding richness, boldly nutty flavor, and even a hefty dose of protein all in one.
For the base, all you need are three simple ingredients to make this easy vegan milkshake: Soy milk, bananas, and peanut butter.
The process to make this vegan milkshake at home is incredibly easy. Simply add all your ingredients to a high-speed blender and blend until completely smooth and creamy.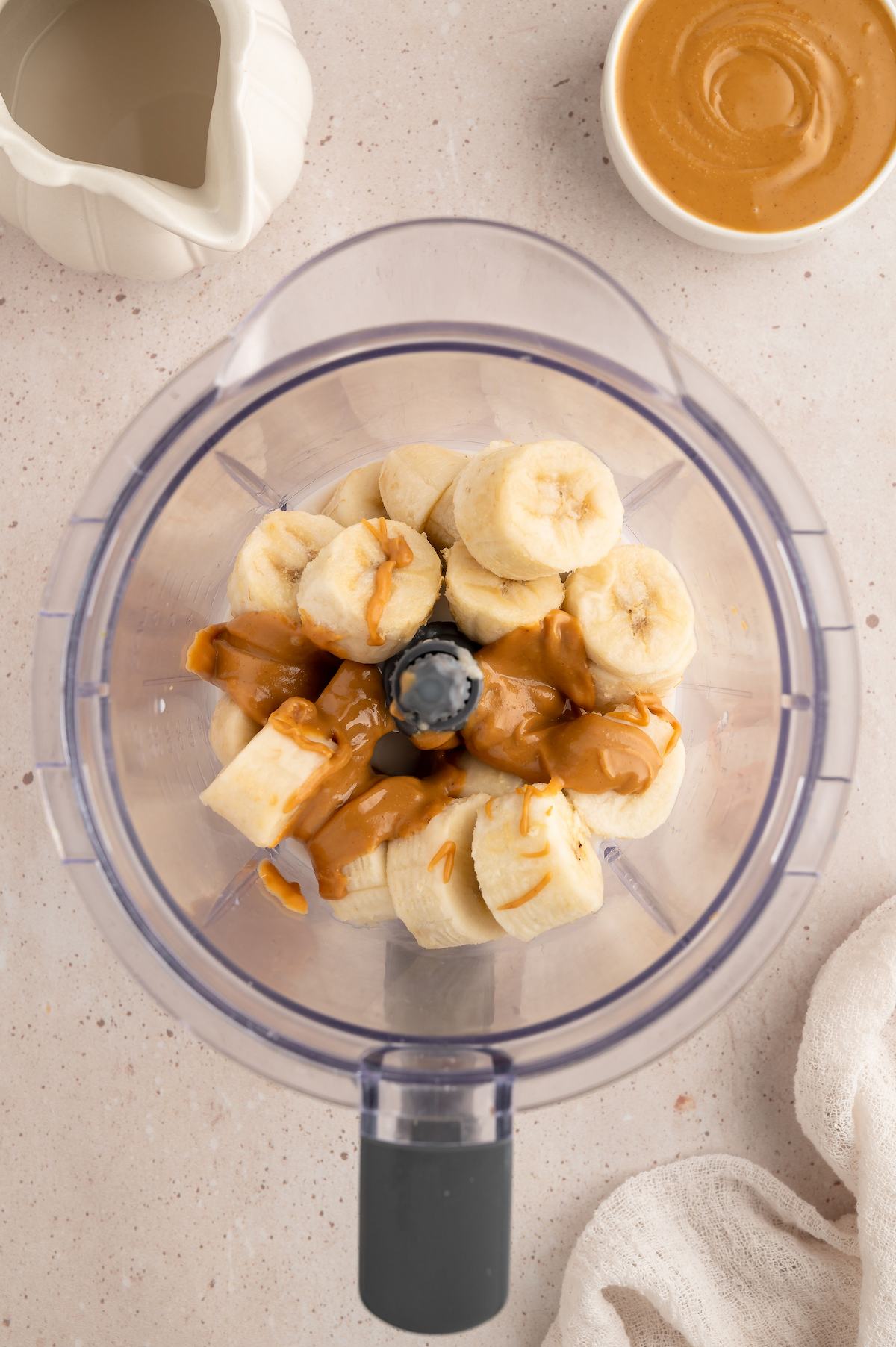 Drizzle the inside of your glass with peanut butter if desired. This is purely decorative so feel free to skip this step! Then pour in the milkshake and top with an extra peanut butter drizzle to keep it simple or top with vegan whipped cream, mini chocolate chips, and a cherry if you're feeling fancy!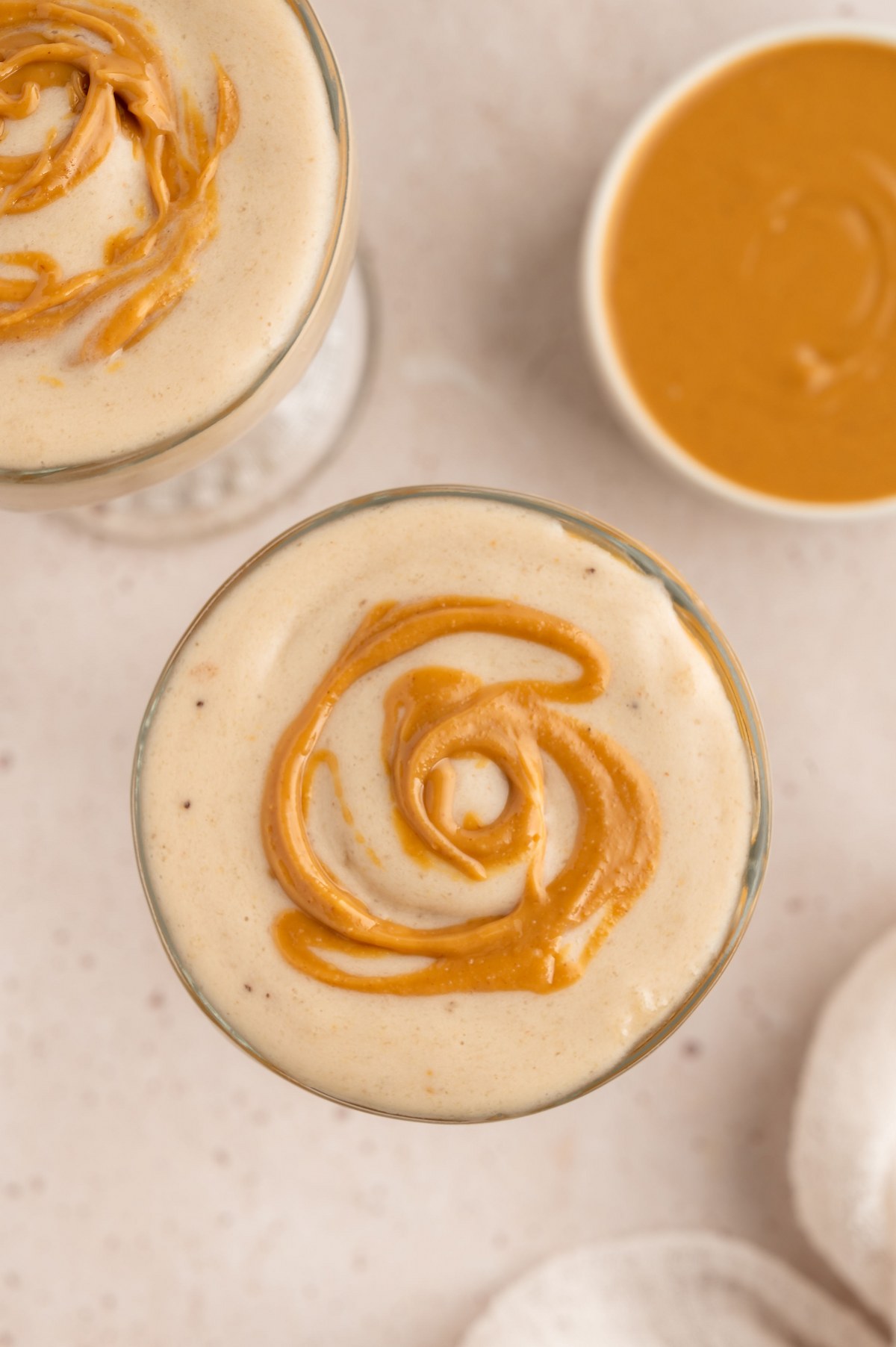 Tips For Success
Vanilla soy milk is my favorite choice since it gives an extra boost of flavor and sweetness that makes this taste like a genuine ice cream shake. Feel free to use any type you prefer, however; sweetened or unsweetened, vanilla or plain, almond, cashew, oat, coconut, and beyond.
Adjust the consistency as desired. If you prefer a thicker shake, add less soymilk. If you'd like a thinner shake, add more!
For a stronger peanut butter flavor, add more peanut butter until you're happy with the results. Use any type of peanut butter but bear in mind that crunchy varieties will leave chunks. Whether that's a good or a bad thing is up to you.
3 bananas, frozen for at lease 24 hours when super-ripe and spotty. Be sure to peel before freezing.
3 tablespoons peanut butter, any type, plus extra for drizzling
1½ cups soymilk, any type of dairy-free milk will work, but vanilla soymilk tastes best
vegan whipped cream, optional
vegan mini chocolate chips, optional
2 Maraschino cherries, optional
Prepare two glasses by drizzling or smearing some peanut butter on the sides. This is purely decorative, so feel free to skip this step!

In a high-powered blender, add the frozen bananas, peanut butter and soymilk. Blend until completely smooth and creamy, stopping to mix with a spoon and remove air pockets as needed whenever your blender struggles to blend.

Pour into two glasses, and if desired, top with vegan whipped cream, a drizzle of peanut butter, mini chocolate chips, and enjoy!
To get a perfect peanut butter drizzle, warm the peanut butter in the microwave for a few seconds first and then drizzle with a spoon.  
If you prefer a thicker shake, add less soymilk. If you'd like a thinner shake, add more milk! 
For a stronger peanut butter flavor, add more peanut butter (and visa versa). 
Any type of peanut butter will work in this recipe. And yes, peanut butter is vegan! You can use natural peanut butter as a healthier option. Skippy-style peanut butter that contains added sugar and oil will make an even more decadent shake. You can even make your own peanut butter!
Vanilla soymilk (the sweetened kind) is the creamiest option that makes this taste like a true dairy ice cream shake. But any type of milk will work here—sweetened or unsweetened, vanilla or plain, almond, cashew, oat, coconut, and beyond. 
Calories: 380kcal | Carbohydrates: 52g | Protein: 13g | Fat: 16g | Saturated Fat: 3g | Polyunsaturated Fat: 5g | Monounsaturated Fat: 7g | Sodium: 193mg | Potassium: 1019mg | Fiber: 6g | Sugar: 29g | Vitamin A: 809IU | Vitamin C: 28mg | Calcium: 268mg | Iron: 2mg
This vegan milkshake guide was written with support by Hannah Kaminsky and edited by Rachel Lessenden. Recipe for vegan peanut butter banana milkshake was developed by Michelle Cehn and photographed by Amanda McGillicuddy for World of Vegan, all rights reserved.